Almost a year ago, Apple introduced macOS Mojave. While we love this stylish operating system, it's high time for a renovation, isn't it?
Mac lovers, rejoice! This fall, we'll see a bunch of new features coming with Catalina—a new macOS. Let's see what's coming up in this fresh operating system and how to install its beta version on your Mac for a sneak peek!
But first, let's check out some basic questions.
macOS Catalina FAQ
What is the current macOS?
The current macOS is Mojave, version 10.14. It was released on September 24, 2018.
What is the latest macOS?
The latest macOS presented this summer is Catalina, version 10.15.
What is a beta version of Catalina macOS?
Currently, macOS Catalina is only available as a public beta version, which means it can be downloaded and tested by anyone before the finalized version is officially released. A beta version is very similar to a release version, but may still contain minor flaws.
When will macOS Catalina be released?
The official release date is not defined yet, but, according to Apple, macOS Catalina is coming this fall.
Yes. Both the public beta version and the release version of macOS Catalina are free for installation.
Which Macs are compatible with macOS Catalina?
macOS Catalina, as well as its beta version, can be installed on the following computers: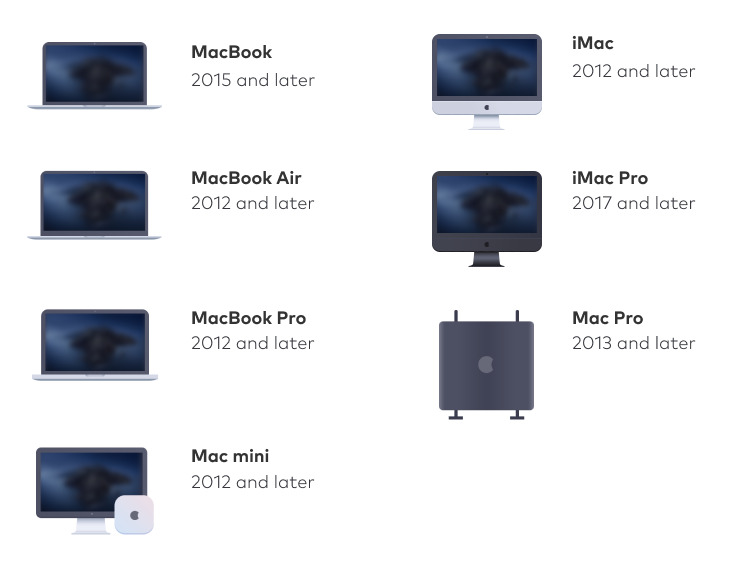 You can easily check out your Mac model and age:
Go to the Apple menu in the upper-left corner of your screen
Select About This Mac
See it right away in the Overview section
Should I try macOS Catalina beta version?
Sure, it's thrilling to explore the new macOS firsthand! However, you must know that reinstalling a macOS is not an elementary task (although, we'll try to make it easier for you with our step-by-step guide below). A beta version may also contain some flaws, so the installation may not be easy on your specific Mac. If you're still curious, give it a try.
How long will it take me to install macOS Catalina beta?
It depends on how many files you've got to back up and whether the installation goes smoothly. On average, it takes one to a few hours.
macOS Catalina features that make it really cool

The newest macOS updates are truly exciting; moreover, all of them are aimed at enhancing your experience. For a quick overview of the new macOS Catalina features, check out this video:
iTunes is transforming into three new apps
If you ever felt that iTunes had become too cluttered, you're not alone. Say goodbye to it and meet Apple Music, Apple Podcasts, and Apple TV—three separate apps to meet your media needs. The design of all the new apps is similar to that of iTunes, so you won't have a hard time adapting to them.
Another great thing is that they all synchronize seamlessly. All the media you had in your iTunes library will now be transferred into new apps. Moreover, you'll be able to pick up where you left off on any of your devices. Start watching a new episode of a show on your iPhone in a taxi and continue on a Mac at home.
Another cool thing to add to this transformation is Apple TV+, an upcoming media streaming service, which will also be supported by Apple TV app.
iPad apps are now available on Mac
Apple made it easier for developers to modify their iPad apps so that they run on Macs. Now the tech guys don't need to create Mac apps from scratch and you can enjoy the apps you missed. Work in Jira, be sarcastic on Twitter and drive like crazy in Asphalt 9—just like you used to on your iPad.
Mac display can be extended with iPad
Did you hear about Sidecar? It's a new macOS Catalina feature that lets you use your iPad as a second Mac display. You can connect the two devices wirelessly within 10 meters or use a cable to keep your iPad charged.
Now, you can have different apps shown on the two screens, or you can display the same content on them. The first option is handy when you want to work in one app and reference another one. Displaying the same content can help you with presentations.
Additionally, you can use Apple Pencil to draw, sketch, or write on your iPad and have these updates reflected on your Mac right away.
Screen Time works better for adults and kids
No matter how much you are excited about macOS Catalina by now, you may still want to reserve some time for your offline life. Screen Time feature is here to help you with that.
You can monitor how much time you spend on your Apple devices as well as specific apps or websites. Further, you can set usage limits across iPhone, iPad, and Mac. You can do it both for yourself and for your children.
To avoid little tragedies, such as a game or a chat interrupted by a shut-off, you can use the "One more minute" option to wrap everything up.
Security and privacy are increased
Apple works steadily at enhancing privacy and security of their users. Even more things are under your control with macOS Catalina. The new Find My app helps you locate a missing Mac via Bluetooth. Also, there's Activation Lock that makes you the only person who can erase and reactivate your Mac in case of theft or loss.
Moreover, now all apps you use are checked for security issues. They should get your permission before accessing your documents. You'll be notified if any app tries to capture your keystrokes or screen content.
Finally, the system files of macOS Catalina are reliably separated from all other data on your Mac, so they can't be accidentally overwritten.
Voice Control provides better accessibility
Voice Control is one of macOS Catalina's most handy features that lets you control your Mac using just your voice. You can navigate between apps and use them easily. In particular, dictating and editing texts is now more efficient. Voice Control understands the context and knows that when you say "delete that", it refers to what you just typed.
We are especially glad to note that Voice Control processes audio on your device, not a remote server, so your personal data remains private.
Another nice thing is that Voice Control is also available on iOS and iPadOS, so you can use all your Apple gadgets with equal ease. Check out how this feature works in practice!
Mail protects your peace of mind
At times, emails can be overwhelming. Luckily, Mail app in macOS Catalina gets a few updates to keep you undisturbed.
First, you can now block all emails from specific senders so that they'll be automatically moved to the trash. If a certain thread gets too active, you can mute it. Unsubscription is also made easier. Now you don't need to scroll to the end of the message for the link—instead, it appears just above the email header. That all seems handy, right?
macOS Catalina annoyances

To be fair, not all of the macOS innovations may fit your specific needs. Though there are practical reasons behind each of them, they still may feel like annoyances.
macOS Catalina is incompatible with older Macs
As we have mentioned above, macOS Catalina is compatible with quite a lot of Mac models tracing back to as early as 2012. However, older Apple computers won't be able to get this update, at least officially. So, if you crave for the newest macOS, consider getting a new device.
Sidecar requires a new OS on an iPad
Sidecar feature—a display extension with an iPad—is designed for iPads with iPadOS, which is not released yet. It will be an update to the current iOS 12 and will become available in fall 2019.
If you want to test the Sidecar feature now, you will need to install a beta version of iPadOS on your iPad.
32-bit apps are no longer supported
The apps you use are based on either 32-bit or 64-bit technology. 64-bit apps are more advanced, can access more memory, and let your Mac work faster. Most vendors are releasing new versions of their apps as 64-bit ones.
However, you may be used to certain older programs, such as Microsoft Office 2011, Adobe Illustrator CS5, or Final Cut Pro X 10.3.4. Too bad, you won't be able to run these exact versions on macOS Catalina. The same goes for some games you might have mastered by now, including Call of Duty, Civilization IV, Doom 3, or Quake 4. Check out more Mac apps that won't be supported.
Again, the solution is simple—break away from old habits and get an upgraded version of your favourite tool or game. You have an excellent opportunity to finally check out a new app!
The beta version of macOS Catalina may not run smoothly
Note that public beta versions of software are intended for test-driving by curious users. The company relies on their feedback for final polishing of the software. Thus, the public beta version of macOS Catalina may still be unstable and contain bugs. You can't be 100% sure how it will perform on your specific Mac.
Some users report that the installation won't start or gets interrupted. Sometimes, their Mac runs slower with the new macOS. In certain cases, their apps don't work as they're supposed to.
For this reason, if you'd like to try macOS Catalina, install it on your secondary Mac or a partition of a hard drive on your main Mac. Moreover, back up all the information you have on your device. We'll discuss it in detail in the next section.
How to install macOS Catalina Public Beta: a step-by-step guide

So, you've made up your mind and you want to test-drive the newest macOS before the release date? Let's do it together! Get ready to spare a few hours and make sure you have a good internet connection.
Step 1. Clean up your Mac
You will need up to 20 GB of free space on your Mac to install macOS Catalina beta. In fact, this is a good occasion to get rid of all the useless files. Do it quickly and easily with MacKeeper. It's Safe Cleanup tool will help you get rid of junk files, Duplicates Finder will remove identical copies of files, and Smart Uninstaller will deal with the apps you no longer use. You can control the whole process, so no important files will be deleted.
As 32-bit apps won't be supported by macOS Catalina, you'll want to get rid of those and get their 64-bit versions. Here's how to do it:
Go to the Apple menu in the upper-left corner of your screen
Select About This Mac
Click System Report
Select Software > Applications
See 64-bit (Intel) column. 64-bit apps are marked with "Yes", and 32-bit ones are marked with "No"
Update the 32-bit apps manually or using MacKeeper's Update Tracker tool.
A change of an operating system is a radical update for your Mac, so you need to make a reserve copy of your data beforehand in case something goes wrong.
Conveniently, there's Time Machine, a built-in tool on your Mac to help you back it up. Just follow these steps:
Connect an external storage device to your Mac

If a dialogue window appears, confirm that you want to use the drive to back up with Time Machine

If there's no dialogue window, go to the Apple menu in the upper-left corner of your screen
Select System Preferences > Time Machine
Click Select Backup Disk and choose your connected device. The backup process will start soon
Wait for a Backup Complete notification
For more details on backup process, check out our Mac backup guide.
We also recommend paying special attention to your media library. With macOS Catalina, iTunes will be transformed into three new apps, and it is expected that all your media will be transferred automatically. However, there's no harm in being careful.
Your media was backed up with Time Machine, but you can make an extra backup of your iTunes library to be safe:
Make sure all your media is downloaded on your Mac

Open iTunes and go to the File menu in the upper-left corner of your screen

Select Library > Organize Library

Check the box next to Consolidate files and click OK

Find your iTunes folder using Search in Finder

Copy your iTunes folder to an external storage
Step 3. Join the Apple Beta Software Program
Participation in the Apple Beta Software Program is free. You'll just need to remember your Apple ID account details to sign up:
Sign up using your Apple ID

You'll be prompted to the Guide for Public Betas page
Click Enroll your Mac in Get Started section
Click Download the macOS Public Beta Access Utility
A file called macOSPublicBetaAccessUtility.dmg will be downloaded
Step 4. Install macOS Catalina Public Beta
Now you have to choose between two options:
1. Install the new macOS instead of the old one
or
2. Divide your hard drive into two parts and install macOS Catalina Public Beta on one of the partitions
If you are ready for a full renovation and don't have much free space, just install the beta macOS from the downloaded file like any other software.
If you have enough space, the partition option can be handy, as you'll be able to switch between the two macOSs whenever you want.
To install macOS Catalina Public Beta on a partition, do the following
Go to Finder and select Applications
Click Utilities > Disk Utility

Select your disk (the first one on the list)

Click Partition button above
Select Add Volume, name it and define its size. You will need up to 20 GB for macOS Catalina Public Beta

Install the new macOS from the file you have earlier downloaded choosing the new partition as a destination
Upon installation, you'll be able to switch between the two operating systems:
Go to the Apple menu in the upper-left corner of your screen
Select System Preferences > Startup Disk

Select the partition you need and restart your Mac
Enjoy your new operating system!
Looking forward to the new macOS 11? Here's our overview of macOS Big Sur.