Great news for Mac fans! Apple has finally announced the official release of macOS Catalina and Mac users can go ahead and install it right now. Just before you do that, we'll run through some features and explain how to download it.
macOS Catalina facts

Version number

10.15

Release date

October 7, 2019

Name origin

Santa Catalina island in Southern California

Previous macOS

macOS Mojave
Curious Mac users may have already had a sneak peek of the new macOS by downloading macOS Catalina Public Beta. However, many of you decided to wait as you either knew there could be bugs and other issues in a beta version of macOS or you simply didn't realize this release was happening. Either way, you can now enjoy the latest Mac OS and all that it brings!
What's new in macOS Catalina?
macOS Catalina 10.15 is full of new features to enhance your experience and let you make more out of your Mac and other Apple devices. Let's have a look at the key updates.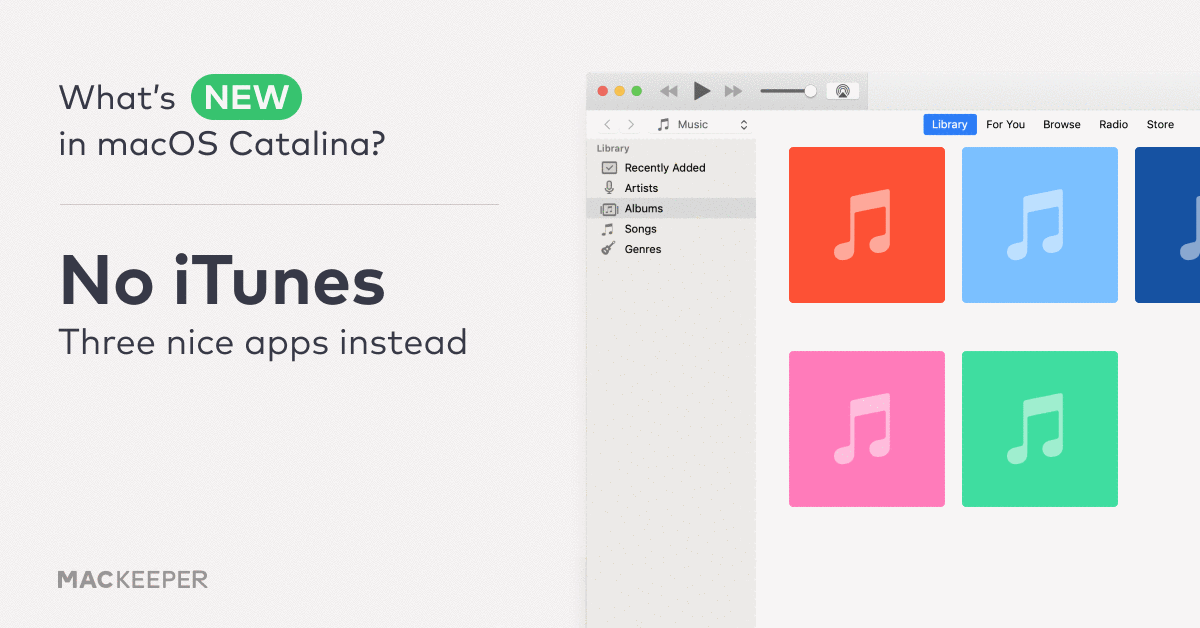 Apple Music, Apple Podcasts, and Apple TV replace iTunes
Apple has decided that it's time to drop one of their most significant apps—iTunes. Don't worry though, the functionality is still there, it's just been split out into three new media apps that are seamlessly synced. They're called Apple Music, Apple Podcasts and Apple TV.
Importantly, there's no need to worry about your media library when you upgrade to macOS Catalina, as the music, movies, and podcasts from your iTunes will simply move over to the new apps. Another great feature in the new macOS is that you can swap between devices and continue to watch or listen to your media, wherever you left off.
iPad apps are now available on Macs
macOS Catalina features a new technology called Mac Catalyst which allows developers to easily adapt iPad apps to Mac. So, now you can enjoy Twitter, Jira, TripIt and many other apps on a Mac. More apps are yet to come!
iPad can extend a Mac display
With Sidecar, a new macOS Catalina tool, you can use your iPad as an additional Mac display. You can simply connect your iPad to your Mac wirelessly or with a cable to start enjoying this new feature and charge your iPad as you work. If you're a graphic designer or a creative, you can use your iPad to draw, sketch or write with Apple Pencil using any third-party Mac app that supports a stylus.
Apple Arcade features exclusive Mac games
One hundred new games will be available to Apple Arcade subscribers in the nearest weeks. For $4.99 per month, you will have unlimited access to a variety of games, which you can play on a Mac as well as on iPhone, iPad, iPod touch, and Apple TV. Similarly to the way music and movies are synchronized across your devices, your games can be paused and picked up on any of your gadgets too.
Apple has included lots of new games for players of all ages, from action games to puzzles and adventures. Whatever takes your fancy!
Check out this short overview video of some of the new titles.
To find out more about the features that come with macOS Catalina, check out our detailed overview of the improvements.
How to download and install macOS Catalina?
It's pretty easy to upgrade to macOS 10.15. However, it's important to ensure that your Mac is ready and your files are safely backed up!
Step 1. Check whether your Mac is compatible
Some of the older Macs won't support macOS Catalina. This operating system can be installed on the following newer computers: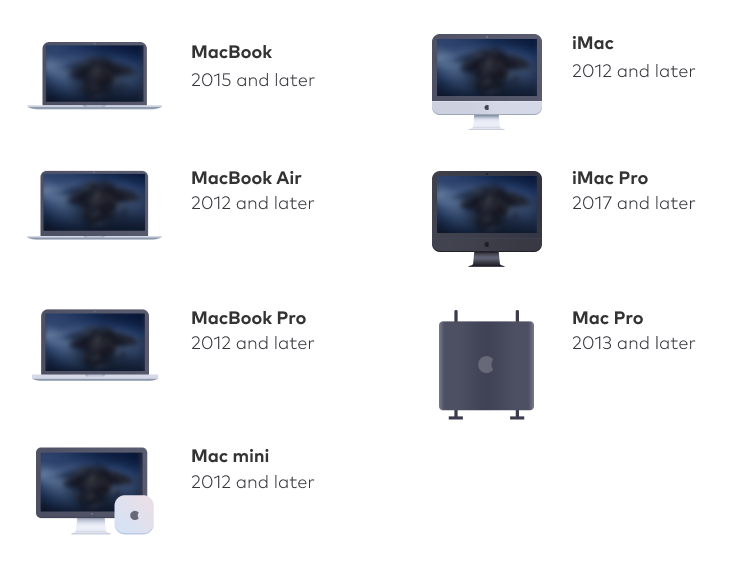 To check out your Mac model and age, do the following:
Go to the Apple menu in the upper-left corner of your screen
Select About This Mac
See the details in the Overview section
Step 2. Make sure you have enough free space
According to Apple, to install macOS Catalina, you'll generally need 12.5GB of storage space. If you upgrade from OS X Yosemite or earlier, it will take up to 18.5GB of space.
You can easily learn how much free space there is on your Mac:
Go to the Apple menu in the upper-left corner of your screen
Select About This Mac
See the details in the Storage section
If you don't have enough space, you'll need to free it up. You can do it manually or by using an automated solution such as MacKeeper. With MacKeeper, you'll easily get rid of junk files, duplicates, and useless apps.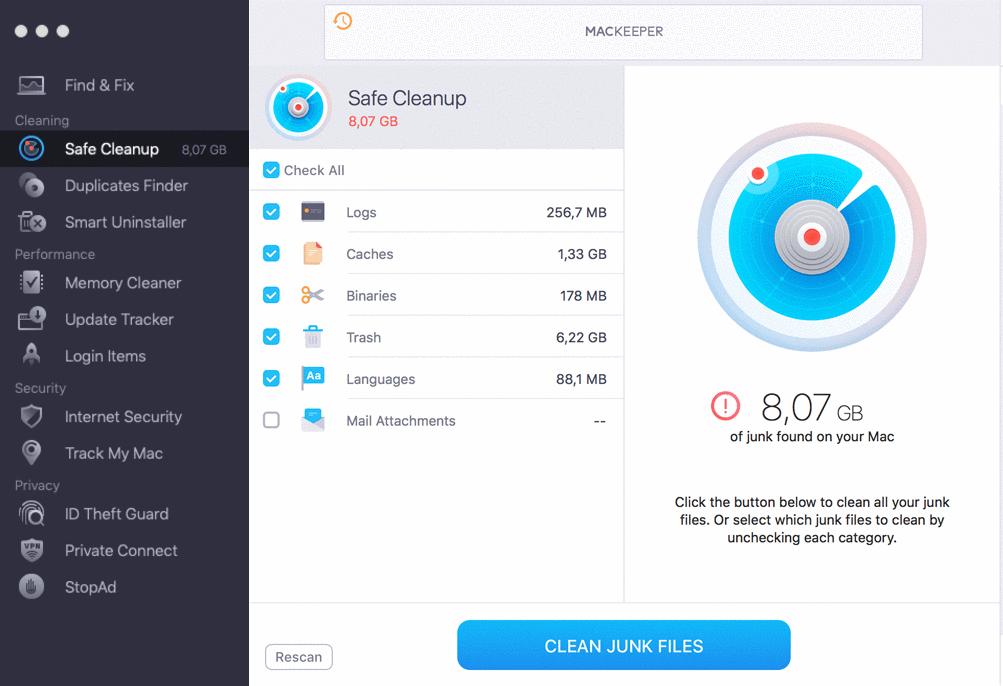 Step 3. Review your apps
One specific feature of macOS Catalina is that it only supports 64-bit apps and the older 32-bit ones won't work with the newest macOS. Here is how to review your apps:
Go to the Apple menu in the upper-left corner of your screen
Select About This Mac
Click System Report
Select Software > Applications
See 64-bit (Intel) column. 64-bit apps are marked with "Yes", and 32-bit ones are marked with "No"

Update the 32-bit apps by getting their newer versions from App Store or from their developers' websites.
Step 4. Back up your Mac
Switching to macOS Catalina shouldn't affect the files you have. However, it always makes sense to make a reserve copy of your data before making significant changes to your Mac.
Be sure to use Time Machine, a built-in Mac tool, to help you back everything up. Here is what you need to do:
Connect an external storage device to your Mac

If a dialogue window pops up, confirm that you want to use the drive for a backup

If there's no dialogue window, go to the Apple menu in the upper-left corner of your screen
Select System Preferences > Time Machine
Click Select Backup Disk and select your connected device. Soon, the backup process will start
Wait for a Backup Complete notification
For more details on the backup process, check out our Mac backup guide.
Step 5. Download and install macOS Catalina
Go to App Store

Enter "macOS Catalina" in the search box.

Click View > Get

Follow the installation guidelines to complete the process
Enjoy your new macOS! We hope your experience will be smooth but if you ever encounter any difficulties, see our guide on overcoming macOS Catalina issues.
Looking forward to the new macOS 11? Here's our overview of macOS Big Sur.