Updated: July 15, 2020 | 7 min read
5 Easy Ways to Empty Trash on a Mac
Did you know that there are multiple ways to clear Trash on your Mac? Try these ones to empty all of the Trash:
Right-click on the Trash icon on your Dock—Empty Trash
Open the Trash folder—click the Empty button in the right upper corner of the window
Right-click anywhere in the Trash folder—Empty Trash
Open Finder—click on Finder next to the Apple logo—choose Empty Trash
Select a file or files and press Cmd+Alt (Option)+Delete keys to immediately remove files
Now, if you want to find out how to delete certain items in the Trash, undo deleting from the Trash bin, and more—scroll down!
How to delete certain items from Trash?
Sometimes you feel like keeping items in your Trash bin for some time before deciding whether to finally say good-bye to them or put them back. In the meantime, other files keep accumulating and taking up disk space. Not to clutter your Mac—try deleting only certain items.
Go to the Trash folder
Hold Cmd button and click on the items you'd like to delete
Right-click on any selected file—choose Delete Immediately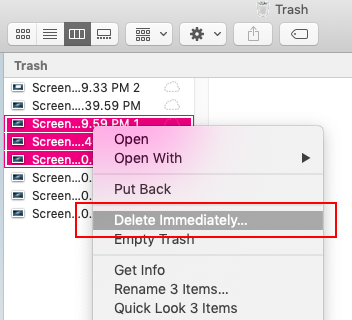 Note: Once choosing Delete Immediately option you won't be able to undo deleting the selected items in the Trash.
How to force empty Trash on a Mac?
If, for some reason, you can't empty the Trash, try restarting your Mac and clearing the Trash bin once again. If restarting didn't help, do this:
Click and hold the Trash icon in the Dock and wait for context menu for Trash to popup
Press and hold the Option key or the Shift+Alt (Option) keys
Choose Empty Trash from the context menu
Release the keys
If for some reason you're unable to empty the Trash—try these steps to troubleshoot the Trash problem.
How to undo empty Trash on Mac?
If you've only moved your files to Trash, restoring deleted information is rather easy. But things get more complicated after you clear up Trash as well.
What happens when you empty your Mac's Trash? Are the files gone for good? In fact, they're not, at least instantly. When you delete files from Trash, macOS just hides them and marks the space they occupy as free for the new data. Until you add some new files to your Mac, you can actually recover the files deleted from Trash.
However, to undo empty Trash, you'll need specialized software. So you better be careful about emptying Trash in the first place. You can secure yourself

To be on the safe side, follow these steps:
Go to the Finder menu—choose Preferences
Click the Advanced tab
Tick the checkbox next to Show warning before emptying the Trash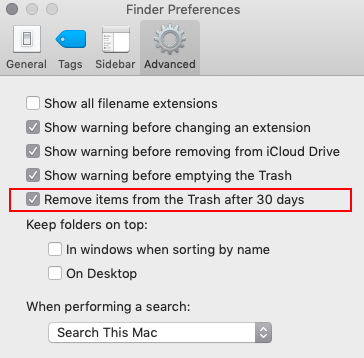 How to automatically empty Trash on a Mac?
Sending files to the Trash won't instantly delete them for you. They'll still occupy memory on your Mac, until the Trash is emptied. As a result, you might be running out of free space. If you keep forgetting to clear files you don't need anymore—let the option to automatically empty Trash folder do this for you.
Open Finder
Click on Finder next to the Apple logo—choose Preferences
Go to the Advanced tab
Tick the checkbox next to Remove items from the Trash after 30 days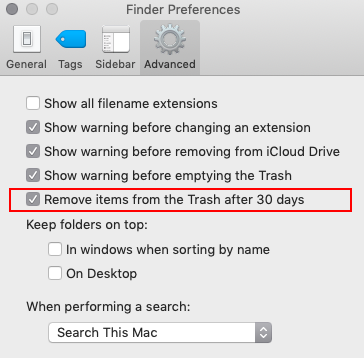 Or:
Click on the Apple logo—About this Mac—the Storage tab
Click on the Manage button—Turn On Empty Trash Automatically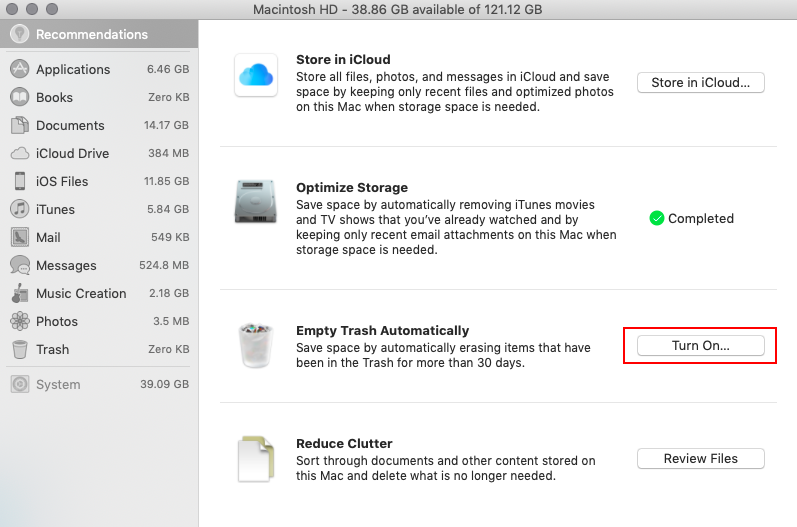 How to secure empty Trash on a Mac?
If you're running older macOS versions (between OS X Snow Leopard 10.6 and OS X Yosemite 10.10)—you can enable secure deleting files on your Mac. Note that this feature is not available in the latest macOS versions.
What does it mean? As we discussed earlier, when you empty Trash in a usual way, the files are not immediately removed but rather marked as available for overwriting. Meanwhile, secure empty Trash command launches instant overwriting of the deleted information with meaningless data. This way your files are removed in a more reliable way and it's nearly impossible to restore them. This option is good for sensitive files but you need to use it with caution.
To do this from any open Finder window:
Open Finder menu—choose Secure Empty Trash
Or:
Click on and hold the Trash icon in your Dock
Press and hold the Cmd key—click on the Trash icon—Empty Trash will turn to Secure Empty Trash—choose this option
Emptying the Trash on your Mac is much easier than dealing with a garbage can in real life—a few clicks and all the unnecessary files are gone. Use any of the methods in this article to enjoy more free space on your computer!