Mac Tips
February 02, 2018 | 8 min read
How to Back Up Your Mac
How to use Time Machine on Mac
Access, save, and enjoy your data using iCloud
Back up your data with other online solutions
Your Mac is great, but no computer is immune to problems. That's why it's important to ensure your valuable data is backed up and saved regularly. If you're not sure why you need to back up your apps, music, data, documents and system files, here's three very good reasons:
Get access to your data from any device

Ensure your data is cloned in case you get a new Mac

Save your time and money to restore lost data
There are lots of ways to make sure your files are kept safe, most of them require you to save a copy of your files somewhere other than your Mac. That could mean saving your data online or onto an external drive, amongst other options.
Apple offers several built-in options for Mac users, in order to back up data. We'll explain the best ways for you to back up your Mac!
How to use Time Machine on Mac
Use Apple's in-built backup application in order to keep an up-to-date copy of all of your files on your Mac.
Find out how to back up a Mac with Time Machine
To get started with Time Machine, all you need is an external hard drive. Any of these will work:
A hard drive connected via USB, FireWire, or Thunderbolt

A macOS Server on your network or Mac Time Capsule

An external disk connected to an Airport Extreme Base Station on your network
When you connect your external hard drive, you'll be prompted to use this drive to back up with Time Machine.
Choose Encrypt Backup Disk and then
Select Use as Backup Disk
If you're not prompted to use Time Machine, you can set everything up in System Preferences.
To enable Time Machine on your Mac manually:
Go to System Preferences from the Apple menu, from Dock or Spotlight
Click on Time Machine icon
Click Select Backup Disk button
Check the Back Up Automatically option to automatically back up your Mac.
The first time that you back up your Mac with Time Machine could take some time, depending on how many files you have. After that, Time Machine will back up your data periodically; hourly, daily and weekly. It only updates the files that have changed since the previous backup, which makes future backups much quicker.
You also have the ability to start a backup manually. You can simply select the clock-like icon from the Time Machine menu, in the menu bar, and chose the Back Up Now option.
Backup Settings
If you want to control other aspects of your Time Machine backup, click the Time Machine menu bar icon, and then click Open Time Machine Preferences.
Here's a look at what you can do:
Stop automatic backups by deselecting Back Up Automatically
Cancel the in-progress backup by clicking Skip This Backup
Exclude items or folders from your backup by clicking Options, followed by "+" to select the items you want to exclude
That's Time Machine in a nutshell. It's really easy to restore your files in the event that something happens to your hard drive—or if you want to recover specific files that you accidentally deleted.
Access, save, and enjoy your data using iCloud
What is iCloud?
iCloud is Apple's online cloud-based service that allows you to store and access your apps, music and any other valuable data without taking up space on your Mac.
How to back up your Mac to iCloud
1. Go to System Preferences from the Apple menu, from Dock or Spotlight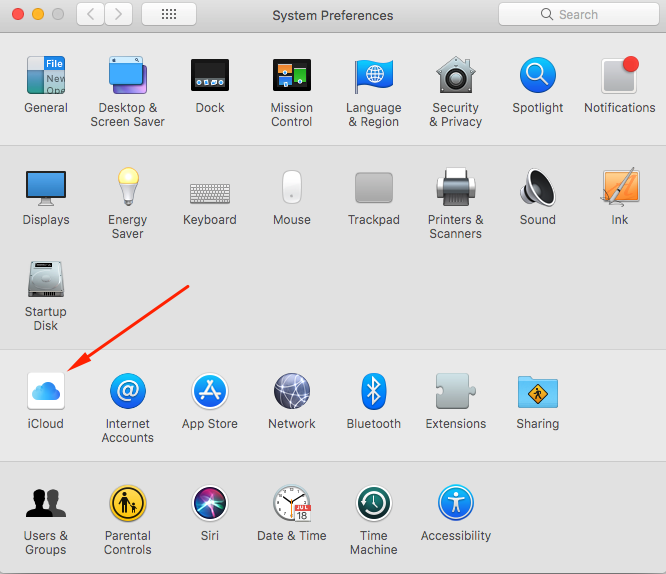 2. Click on the iCloud icon
If you're not logged in, enter your Apple ID and password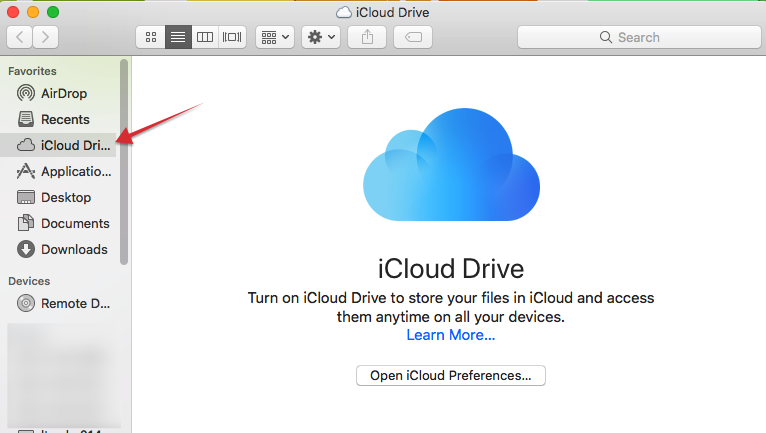 3. Select the data that you want to back up
4. Alternatively, you can access iCloud Drive on your Mac
Go to Finder
Open iCloud Drive folder

To backup your data, you can make a copy of your files on the drive or on an external drive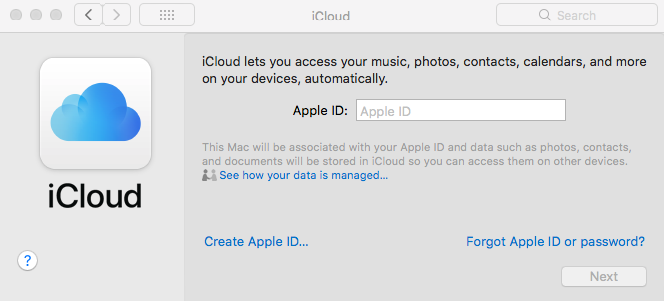 Back up your data with other online solutions
If for any reason you don't like the way that iCloud works, you can choose from a number of other cloud-based online services to save and store your data. The most popular alternatives to iCloud are DropBox and Google Drive. They all do quite similar things, it's really down to your personal preference as to which option you use—below you can find a quick guide to get you started with DropBox and Google Drive.
Setting up DropBox and Google Drive
To use either service, you need to start by doing the following:
Sign up for an account on the official websites

Download and install the software

After the installation, you will be redirected to the web version, where you will be guided to upload files and folders.

In the case of DropBox, a folder will be created in Finder, where you can easily drag and drop files to make the backup copies.
Whatever option you decide to go for, make sure that you have your data saved and backed up somewhere other than your Mac. If there ever is an issue, you'll be extremely happy that you took the time to ensure your files are all saved and accessible.