Mac Tips
March 12, 2019 | 8 min read
How to Choose the Best Mac for College
We've prepared a student's guide to help you choose the best Mac for college. Learn about the main features you should pay attention to, consider the top 3 Macs we recommend, and find out how to use student discount for Apple desktop or Macbook.
Choosing the best Mac for education
Macs—especially Apple laptops—are hugely popular among students. They are portable and fast, have a lower virus risk, and boast a longer battery life compared to any other popular laptop.
A Mac you buy for education will provide you with support through all your courses and will likely be a computer you'll want to (and be able to) carry on using for several years after you graduate.
Choosing the best Mac for college depends on the kind of student you are, the type of assignments you'll get, and your general expectation of a computer.
We've considered the most important factors you'll need as a student and provided a sophisticated overview to help you choose the best Mac for studying.
What you study matters: the best laptops for students of different majors
As we've previously mentioned, the choice of the best Mac for studying depends on your major. The process of studying includes both theory and practice, and it's important to be able to work on all the specific tasks you're required to complete during the course.
If you're studying some specific majors and are planning to deal with photography, coding, music production, or filming up to and beyond graduation, we recommend you look for the best Mac for your profession—not just a laptop for a student.
Earlier we wrote about the best Mac for photo and video editing, for graphic design, for app development, and for music production. Check out these articles, if your major will involve any of these topics intensively.
MacBook Air for studying
We'd recommend the MacBook Air as the best laptop for general college study. It's so light and thin you can take it to all your classes and to any study sessions. Take notes, review your lesson material, and draft your essays wherever you are most comfortable—this laptop is the perfect companion. Plus, the Air's super battery life means you're not likely to charge your Apple laptop for up to 12 hours.
Furthermore, it's the cheapest model of Apple laptops, which is a great start for a future specialist.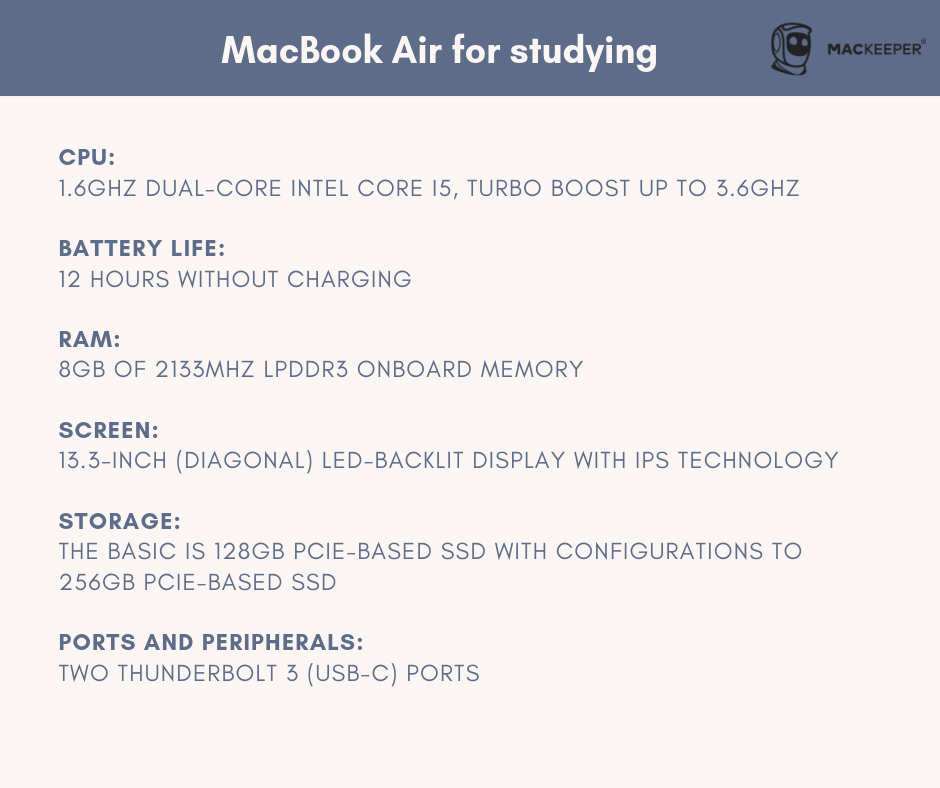 MacBook Pro for studying
The MacBook Pro is a powerful and portable laptop, even in its basic configuration. Consider this option if you're planning to work on complex large projects that require your computer to have an advanced processor, large storage, or a high-resolution display, including for majors in design, computer development, architecture, among others. This option is also a great option for creators and researchers that are often on-the-go or in the field.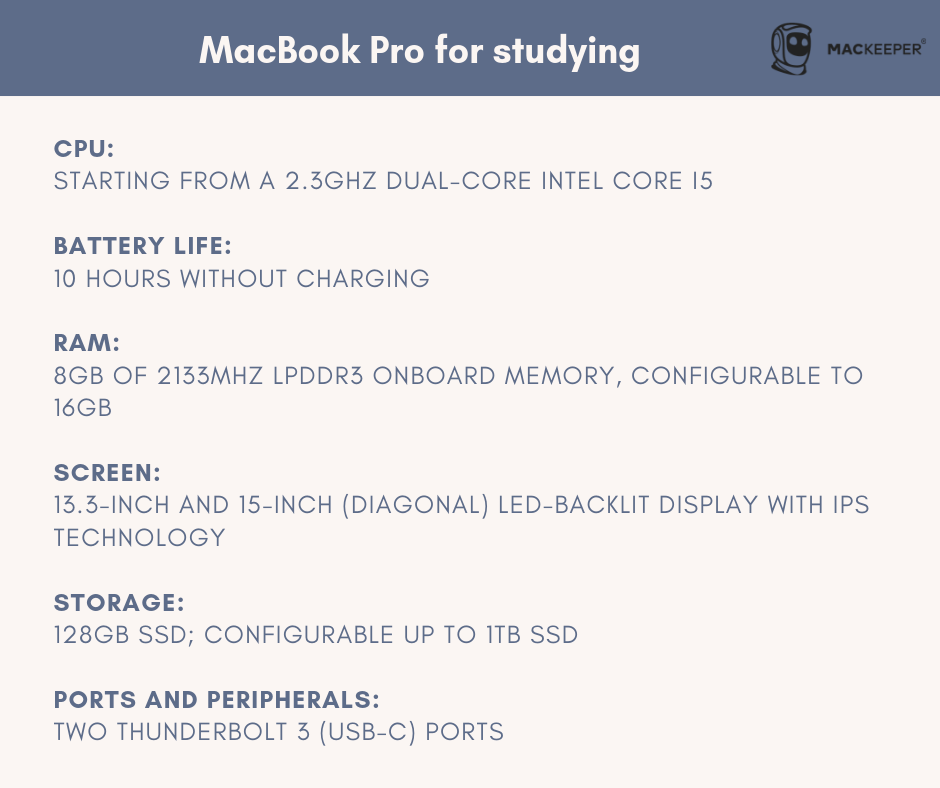 Note: If you need a laptop simply for researching on the web and drafting written assignments, the MacBook Pro will be a waste of money.
Mac mini for studying
The Mac mini is another great option to choose, especially if you already have a monitor, a keyboard, and a mouse. You can easily take it to school and keep everything with you if you go home for holidays or on a semester abroad.
In the 2018 version, Mac mini was updated to be even more powerful. Also, the number of ports and peripherals guarantees that all the devices you need to be connected. This option is great if you anticipate doing your work mostly from one place on big projects.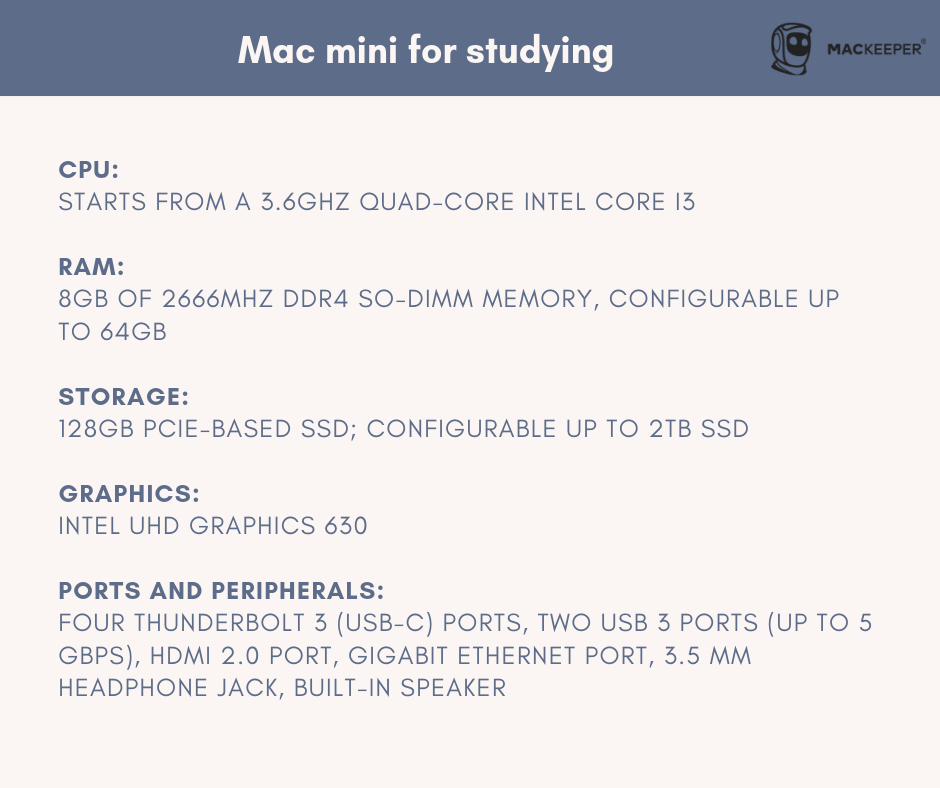 Apple student discount and Education Pricing
You can save on a new Mac for your studies with Apple Education Pricing. Learn about the discount you can get as a current or newly accepted college student.
Education Pricing is available on all Mac models for students, staff, faculty, and homeschool teachers. Please note that you will be asked to provide acceptable documentation as proof to get the discount.
Apple has also made it easier and more affordable to make volume purchases for schools and universities. Learn about Mac discounts for your educational institutions on the official website.
Apple not only supports educational institutions but also prepares students for their future careers. You can develop your professional skills as well as get a hands-on experience by becoming an AppleCare Advisor, joining the team as an intern, or applying for a scholarship.
Note: The Apple student discount also works for the music-streaming service subscription costs. Get a 50% discount for Apple Music if you are attending university full-time. When you sign up for Apple Music, click 'Are you a University Student?' to be directed to the verification system.
We've listed the best options according to the overall combination of price, performance, and portability that you'll need as a student. Choose the best Mac according to your preferences and lifestyle, and don't forget about the special student discount!