Privacy
October 28, 2019 | 9 min read
Teaching Your Kids Privacy and Security Online
When we're young, we learn how to be safe at home, at school, and most importantly—on the streets. We learn the importance of being aware and vigilant of dangers. The same principles apply online, that can help us protect our digital selves, by keeping personal information private and protecting access to our online accounts.
Children are often very active internet users. According to the research by Safeatlast, kids spend more than 11 hours per week online. What's more, two-thirds of children have negative experiences while surfing the internet or doing their homework, and less than half of parents realize it [1].
For that reason, it's important to explain the dangers of the online world and how children can stay protected. To help ensure your children stay safe, here are some of the most common threats to discuss.
Inappropriate content
Your children can easily discover inappropriate content when they surf the web, either because they search for sites that aren't blocked or find it by accident. Recent research data actually suggests that more than 50% of children aged 11 to 16 have seen explicit material online, and one-third of children from 12 to 15 found different kinds of discriminatory content on the internet.
That inappropriate content includes information or images that may upset and embarrass your child. It could be anything from material aimed at adults or that's not targeted at their age group, or content that could lead your child into unlawful or dangerous behavior.
Research also suggests, 1 out of 10 children aged 8 to 11, claims they have seen something worrying and disturbing online [1]. That can, unfortunately, lead to aggressive or unsociable behavior.
Cyberbullying
Bullying is often perceived as something that happens in the school playground or even at work, with one person picking on a more vulnerable person. The reality of the online world is that bullies can target individuals from behind their computer through comments, posts or content sharing across social networks, chat rooms or messaging apps.
Almost 70% of children have been bullied online. 36% of those bullied are girls and 31% are boys. These so-called cyberbullies might do that to harass or threaten someone and will often hide behind anonymity. It can have a very detrimental effect on children, leading to stress, anxiety, and low self-esteem. It was even researched that 16% of teenagers have considered suicide because of being bullied [1].
Some parents are aware that the online behavior of their children can lead to cyberbullying, but sadly they are not doing anything about it. You can help your child or children by discussing this with them and letting them know to come to you if they experience any cyberbullying.
Online fraud
Children can be very vulnerable to online scams because in general they simply haven't had the worldly experience of an adult. When targeted with something like an email that suggests you've won a prize, many adults might be suspicious; children, on the other hand, might open the email.
There's a huge array of scams that target personal information in order to gain money—from offers of free presents and discount coupons to someone asking for you to complete a survey. It's not surprising then that more than 1 million kids were the victims of online frauds, two-thirds of which were age 7 or younger. About 4 out of every 10 children encounters offers like these and only one third of them decides not to pursue the offer.
What can you do to keep your child safe and ensure they understand privacy and security online?
Explore the internet and apps together when they start to use a computer, as 43% of children will behave more carefully after receiving parental guidance and supervision.

Start with the basics and explain that nothing online is ever 100% private, as 53% of teenagers don't make their social profiles private. Plus, 55% of them share personal information with strangers, including photos, passwords, and phone numbers [2].

Install apps and settings that help to limit the time your child spends online.

Be a role model and show your children how to block or report sites, as well as surf the web normally.

Help your children to understand why some information should be kept private, relate that to real-world examples, and explain what criminals can do with that information.

Talk to your children about online

threats and dangers

and set up some rules about how and when they can use the internet.

You can regularly ask your children about their time on the internet, what they have seen, which sites they have visited and what interested them.

If you decide to let your children have social accounts, ensure you set them up for them.

Do not trust websites that don't include a list of personal information that will be collected and how it will be used.
With your guidance and help, your children will learn the importance of online privacy and security and will feel more confident surfing the web—so you'll probably feel happier, too!
Some basic rules to keep your children safe online
In general, most children are aware of basic online rules. However, 7 in 10 children know that it is dangerous to give out their passwords, but less than 4 in 10 use complex passwords and change them regularly.
In good news, almost 80% of children would ask for adult help and support if threatened or blackmailed, and they would report something suspicious or inappropriate that they'd seen online.
To make it easier for your kids to remember how to stay safe online, you can help them to remember three words that relate to digital security and privacy—remember, check, and think.
Remember—everything you put online stays online. You will not be able to remove it completely.
Check—find out who you provide information to and how it will be used.
Think— consider whether to publish information if it might be harmful to you or someone close to you.
You can also explain the following to help ensure everyone in the household stays protected.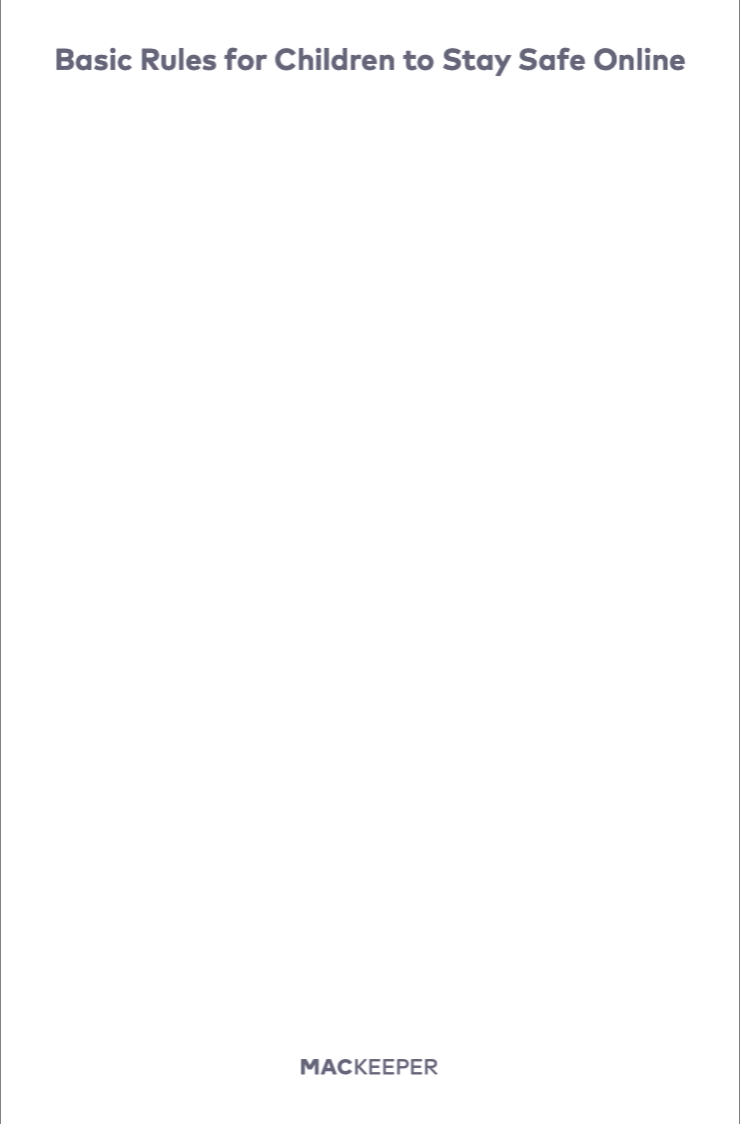 Remember, the internet is like a large city—it's great to explore, while it's also full of both good and bad things and people. It's definitely a place to keep your child supervised and equipped with information so that they can learn and make conclusions and set comfortable boundaries for themselves on the web.
As a parent, you are not always able to protect your child from all of the online dangers out there. However, you can really help. Additionally, you should always encourage your child to have an open and honest dialogue with you, and to get help and support whenever needed.
Sources:
[1] https://safeatlast.co/blog/kids-online-safety/
[2] https://www.guardchild.com/