Updated: October 01, 2020 | 8 min read
How to Delete Pictures on a Mac
Photos capture memories and significant life moments that you want to save and keep for years to come. It is especially easy to share images across Apple devices. This way, tons of photos often end up on your Mac's hard drive.
However, you should delete duplicates and accidental shots to free up space on your internal disk. A duplicate is created every time you edit or crop a photo. They eventually pile up in your Mac's storage space causing it to slow down and function abnormally.
The simplest way to avoid the accumulation of duplicates is to regularly clean them up. You can do it manually or with specialized software to speed up the process. Let's see how to delete pictures on a Mac in different ways.
How do I delete photos from the Photo library on a Mac?
The Photos app will send you a warning if you attempt to import a picture that is already stored on your MacBook or has an identical name and time created. However, duplicates are saved under a different name and vary by date and time made from the originals. This causes the system to ignore them—hence, you need to clear them out either manually or through an app that can automate the process.
Bear in mind that if your photographs are synchronized through the cloud, the pictures that you erase on your MacBook will also be removed from other devices connected to your iCloud network.
How to delete images from the Photos library on Mac:
Launch the Photos app
Select the pictures that you want to delete. To select a photo, click on it once
Alternatively, choose multiple files by holding the Shift key and clicking on the first and last photographs among the ones you don't need. If the files that you want to remove are not next to each other, click on them while holding the Command (⌘) key
Right-click on the selected images and click on Delete from the drop-down menu, or press the Delete key
Confirm the action and empty your Trash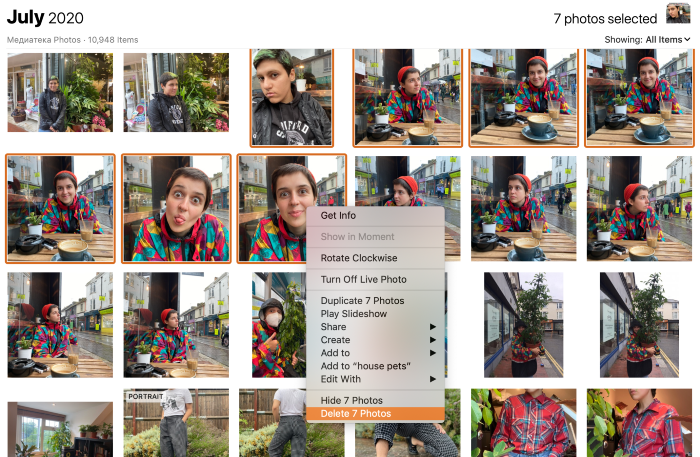 How to delete an entire album in Photos library
The Photos app collects your pictures into albums that you can find in the left side panel. You can edit and delete any of these albums. To do that, take the following steps:
Launch Photos
Choose the album that you want to erase
Right-click on it and select Delete album from the menu that appears
If you want to skip past the confirmation step, press Command (⌘) and Delete keys together—you'll see the album disappear from the list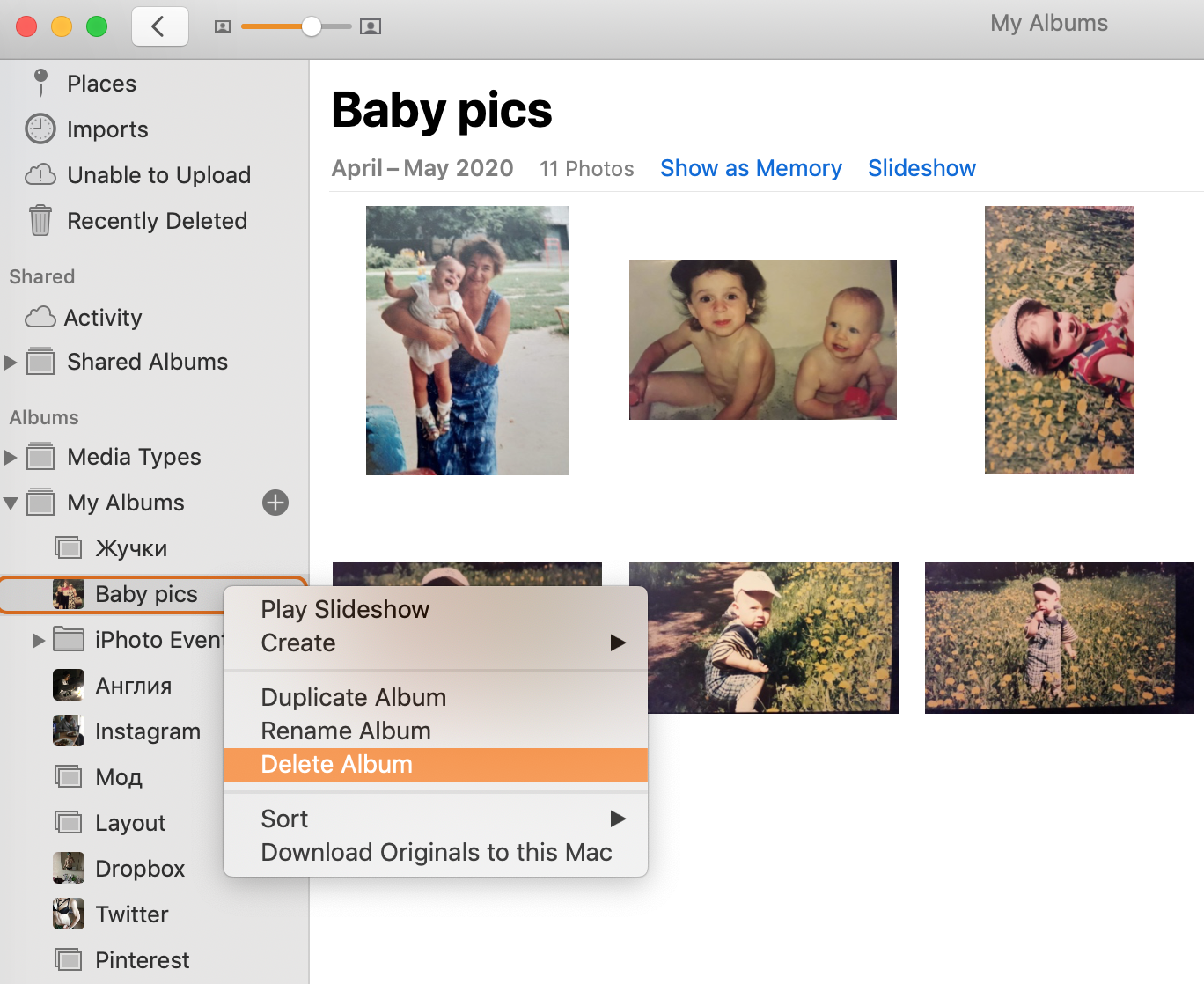 How to delete all photos on your Mac
At times, you might need to delete all the photos you have on your Mac—for example when you're selling it. It is quite easy to do so. Just follow these steps.
Launch ‌Photos‌
Go to ‌Photos‌ in the left pane
Select all photos by pressing Command (⌘) + A
Press Delete
Go to Recently Deleted in the left pane
Click Delete All at the upper right corner of the window
Click OK to confirm
How to recover deleted pictures in Photos library
If you deleted a couple of photos by accident, you will have 30 days to recover them. After the 30 days, they will be destroyed forever.
You can find all of your deleted images in the Recently Deleted folder in the Photos app. Launch the application and scroll down to the end of the left side panel with all the other albums. In the folder, select the images that you want to restore—they will be marked by a blue checkmark. Then click on the Recover button in the top right corner of the window.
How to permanently delete pictures
You can fully wipe photos and videos instead of storing them for 30 days. To do that, launch the Photos app and go to the Recently Deleted folder. Select all the desired files and click Delete in the top right corner of the window to make them disappear irreversibly.

Removing duplicates with MacKeeper
It's understandable if cleaning up your photo library causes you anxiety as you are afraid of accidentally deleting the good shots. Besides, it is still boring and time-consuming to check out all of the photos manually.
Here's a solution—opt for specialized software that will resolve the issue. MacKeeper is capable of freeing up your Mac's memory from image duplicates in a matter of minutes. It's also useful for deleting accumulated cache and other digital junk that is wasting storage space and slowing down your Mac.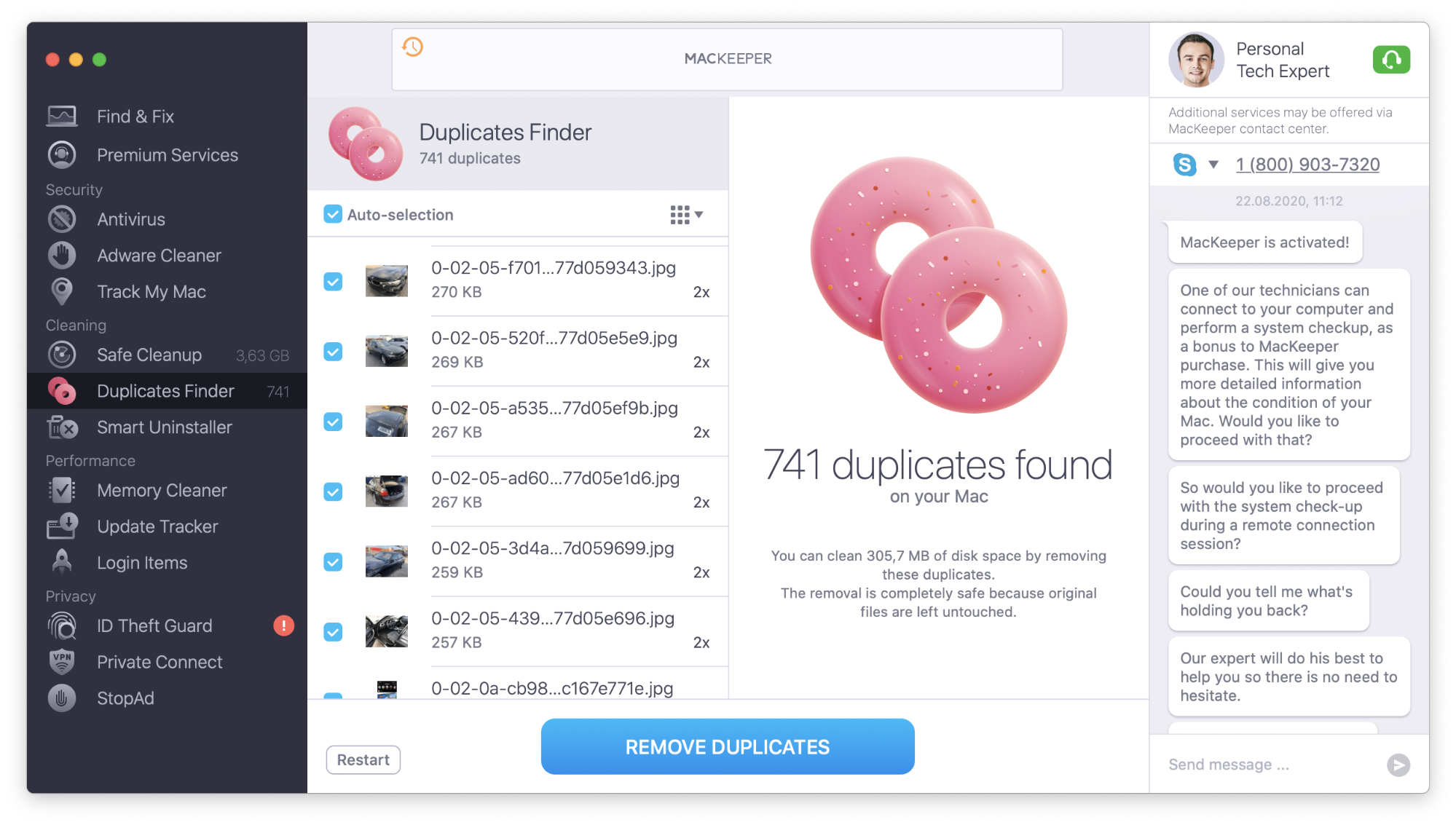 MacKeeper can find identical photos in your library even if they have different names. The client will provide you with a list of files that can be deleted—it won't erase anything without your permission. Once you confirm, the Duplicates Finder tool will clean up your storage disk. Make your valuable time matter by choosing the best way of clearing your MacBook from photo waste.
FAQ
Why can't I delete photos from my Mac?
There isn't a clear reason why this error would occur. However, there are several things you can do to fix it:
Restart your computer
Update macOS
Reset the SMC
Reset NVRAM
Launch in Safe Mode
Can I delete photos on my iPhone and keep them on my Mac?
If your devices are synced through iCloud, deleting a picture from the library on any one of them will also remove it from the others. You can turn off iCloud to store them separately on all devices. When you want to delete photos from iPhone, plug it into your Mac with a USB cable and move them manually. Alternatively, use AirDrop to transfer them wirelessly via Bluetooth.
Read more: