Updated: October 01, 2020 | 17 min read
How to Speed Up a Slow Mac? Tips to Make your Mac run faster
Most Mac users are familiar with the frustration of their Mac working at an annoyingly low speed. Even new devices develop this flaw. What is it? Why does it happen? Your MacBook may be running slow for many reasons—from a busy browser to an overloaded CPU and overheating.
This article will outline the most common reasons for poor Mac performance and present you with detailed solutions:
1. Use Activity Monitor to identify resource-hungry processes
You can withdraw any unnecessary background programs overloading your CPU through the Activity Monitor.
To open and employ the Activity Monitor:
Go to Finder → Applications → Utilities → Activity Monitor
Go to CPU tab
Double-click on an app that's using up a lot of CPU to open an information window. Note: Make sure you know the app you're about to close
Click on Quit to kill the process

2. Check System Preferences
Another location where you can identify unnecessary operations taking up your computer's power is System Preferences. Open it by clicking on the Apple menu from the menu bar on the top of the screen and selecting the System Preferences heading. In the bottom panel of the window you will see any custom items you've added to your system (for example, you're likely to see Flash Player there). Delete anything that you're not using as it is taking up your memory space and CPU.

3. Manage your startup preferences
You might have noticed that a surplus of programs that your computer launches upon startup makes the whole process unbearably slow. Luckily, you can easily minimize the workload yourself:
Go to the Apple menu in the menu bar on the top of the screen
Click on System Preferences, then follow to Users & Groups
Go to Login Items
You will see the apps that your Mac activates automatically when you restart it or turn it on. Delete anything that you don't need to be on immediately upon startup.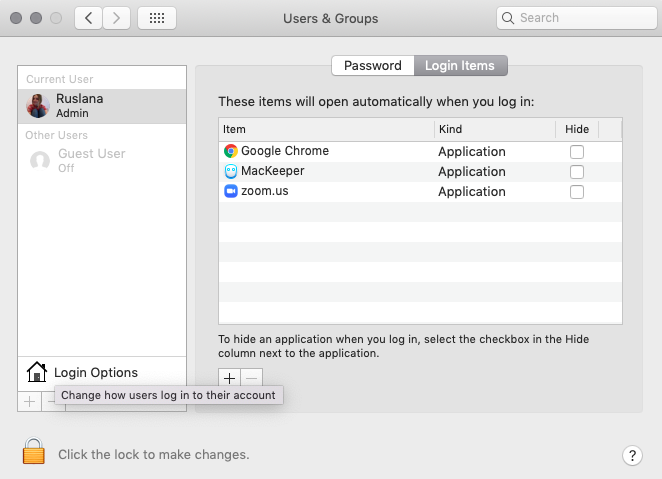 Alternatively, you can use MacKeeper to easily select the apps you want to launch on startup.
4. Free up some storage space
A lot of people say that they can't work in a messy room and need a tidy space to be productive. It's the same with Macs—it's annoying, but you shouldn't occupy all of your hard drive space if you want your computer to work efficiently.
We recommend having at least 20GB of free disk space on your Mac as it is used to write cache and swap files for a variety of programs. Check how much space is left on your Mac's disk by going to the Apple menu and clicking About This Mac. In the Storage window you will find the details about your storage space—how much is occupied and by what.

Next, click on the Manage button—Recommendations tab. Here, what interests us is the Optimize Storage option. By turning it on TV shows and iTunes movies you've already watched will be deleted automatically. Besides, the Reduce Clutter option lets you see what large files are wasting your space and from there you can delete them (check the screenshot below).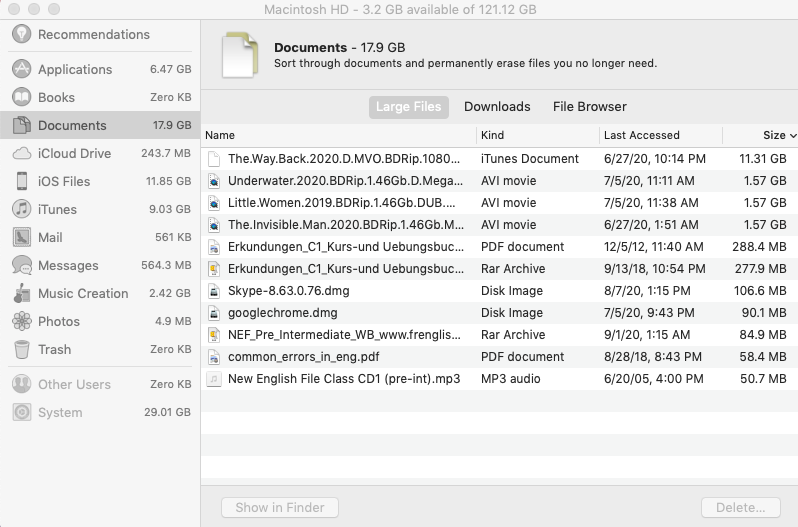 Alternatively, you can make use of cleaning software such as MacKeeper. Its Safe Cleanup feature removes all the junk files, cache, mail attachments, and trashed documents simultaneously—it's much faster and more efficient than doing the job manually.
5. Disable iCloud sync
If you've recently taken a few pictures and uploaded documents into iCloud Drive or the Photos app, your cloud will be synchronising them between multiple devices in the background. Moreover, if you work with several screens and mainly save files on your desktop, additional time will go to synchronise them as well as your Apple devices. This will cause your MacBook to work slowly.
To prevent this, reduce the number of documents in the Desktop folder so that iCloud Desktop doesn't have to sync them with your other screens. For example, consider saving files to the Documents folder. You can also turn off automatic synchronization of your photos with iCloud so that the app isn't prompted to integrate all of your Apple devices whenever Photos is on.
6. Update your macOS and applications
Up-to-date software is important for your Mac's health—most of all because it ensures that all the key security features are up and running. You can check if there is anything pending by going to the Apple menu and following System Preferences → Software Update.Choose the option Automatically keep my Mac up to date.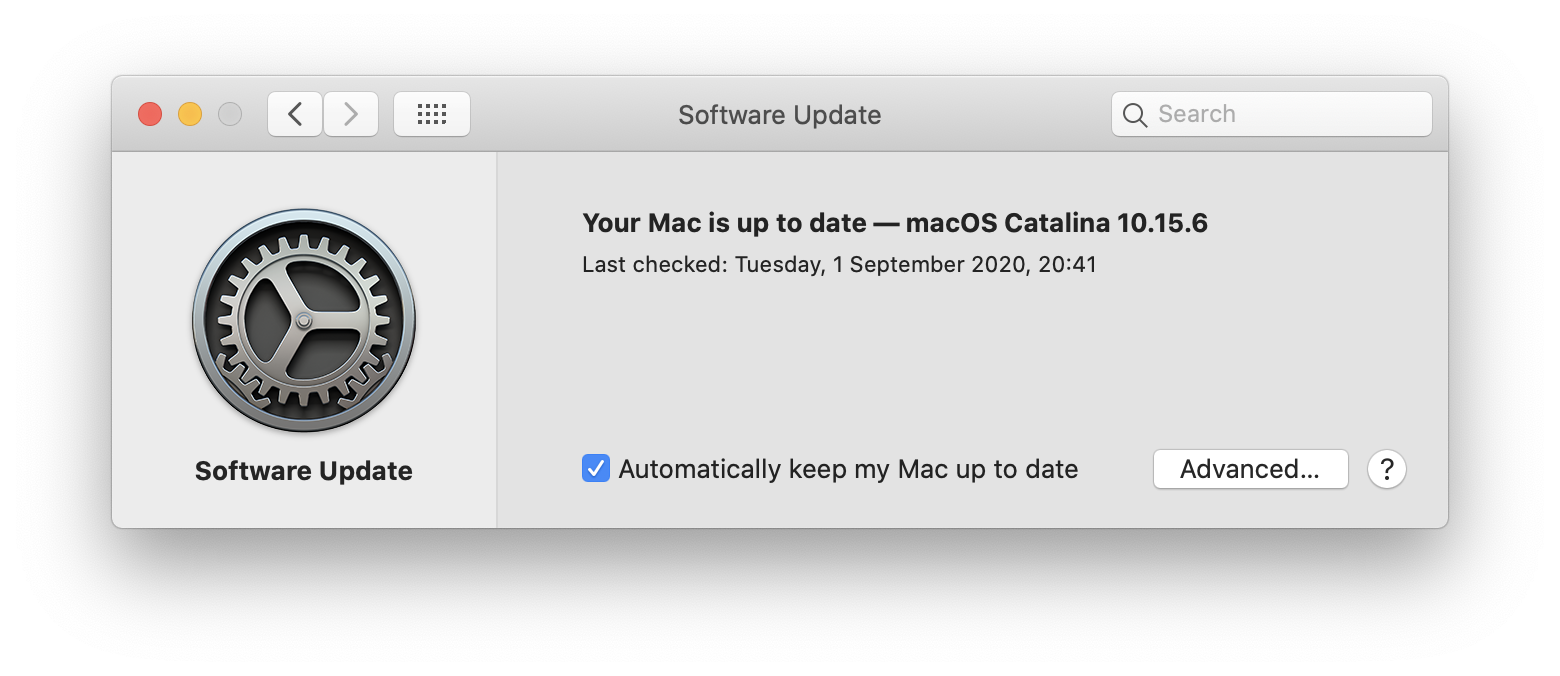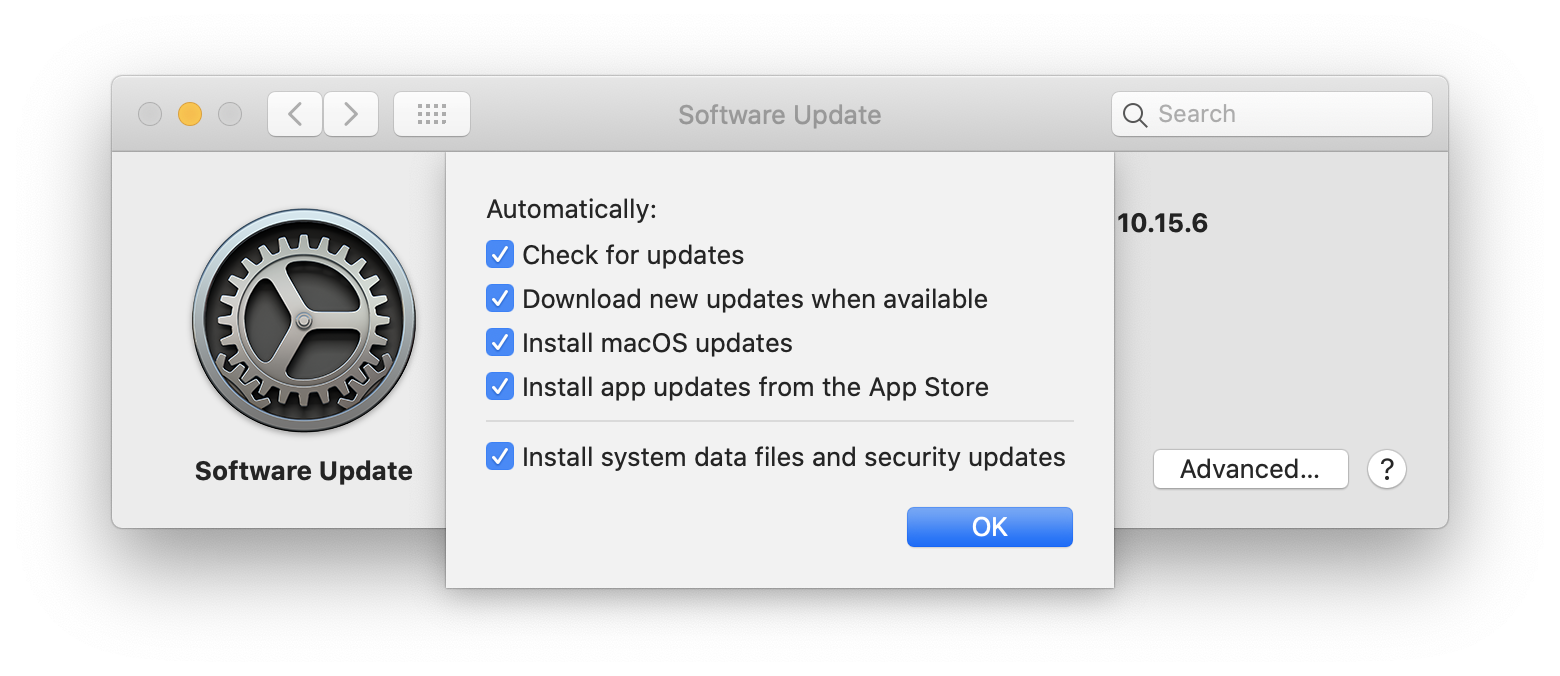 Keeping your applications at their latest version is also important to avoid security breaches and glitches on your Mac. Go to the App Store and click on Updates in the sidebar on the left. Any apps that have a pending update will display a request. Third-party applications that you're running from the internet, such as Skype, will need upgrading separately—if anything needs to be done you will be informed with a pop-up notification at the top right corner of your screen.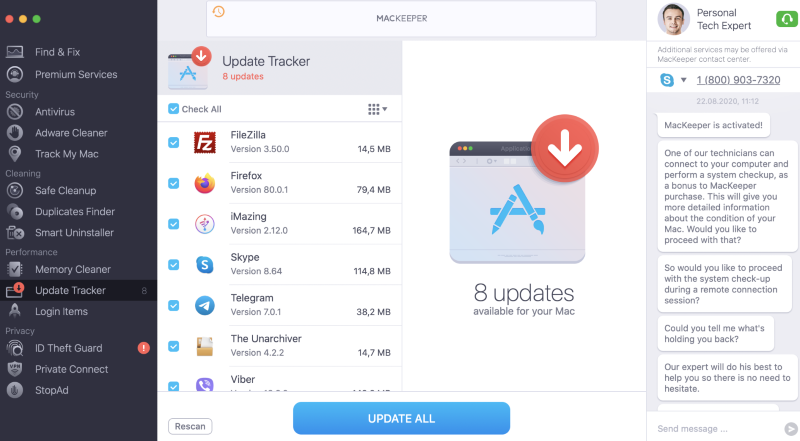 Another option is to run the Update Tracker scan in MacKeeper. It will show all the available apps' updates. And there's no need to update each app separately—as you can update all apps in one click.
7. Reduce visual effects
As MacBook users, we take visual effects for granted and rarely notice that they're there. However, they may consume a substantial chunk of your computer's power by simply running in the background. For example, features such as transparency and dock can be quite high-maintenance.
How to manipulate visual effects:
To minimise energy spendings on the Dock, go to System Preferences, and then click on Dock. Untick the boxes next to Animate opening applications and Automatically hide and show the dock. It can make your Mac experience slightly less UI-enriched, but its performance will improve slightly
Disable transparency by going to System Preferences → Accessibility → Display. Check the box next to Reduce Transparency. Transparency makes windows pick up any interface elements from their background, creating an interesting color effect. By turning it off you simply expose their plain design.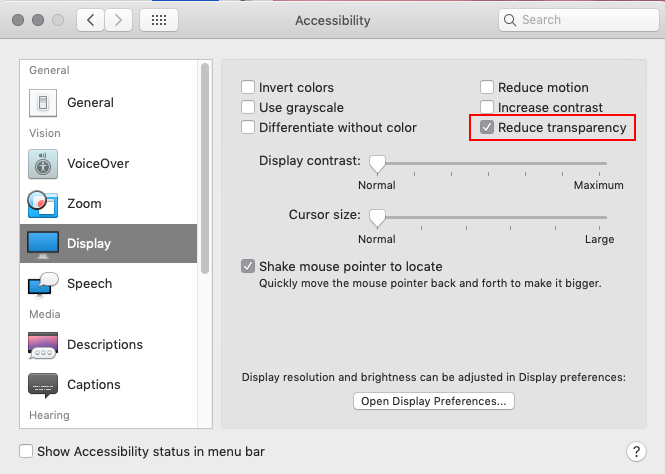 8. Free up RAM without getting a new module
Before you start on this step, go to Applications → Utilities → Activity Monitor → Memory. At the bottom of the screen you'll see a window titled Memory Pressure. How is it looking for you? If it's mostly green, then your RAM is doing just fine.
However, if it frequently turns red, then you might need some extra RAM space. RAM stores the code of your Mac and all the data on your computer for it to be continuously read and written. If the memory pressure is too high, your device will be experiencing a significant slowdown.
Here you have two options: either free up some RAM, or purchase a bigger RAM module.
Note: You can upgrade RAM only if you are an iMac or Mac Pro user.
How to use Terminal to clean RAM:
Open Terminal (Applications → Utilities → Terminal)
Type in sudo purge—a command that triggers RAM and cache clearing. Press Enter
Enter your account password in the pop-up window that appears

Another way to clear out your memory is by using MacKeeper's Memory Cleaner tool. It's cheaper than getting a whole new module and works just as efficiently.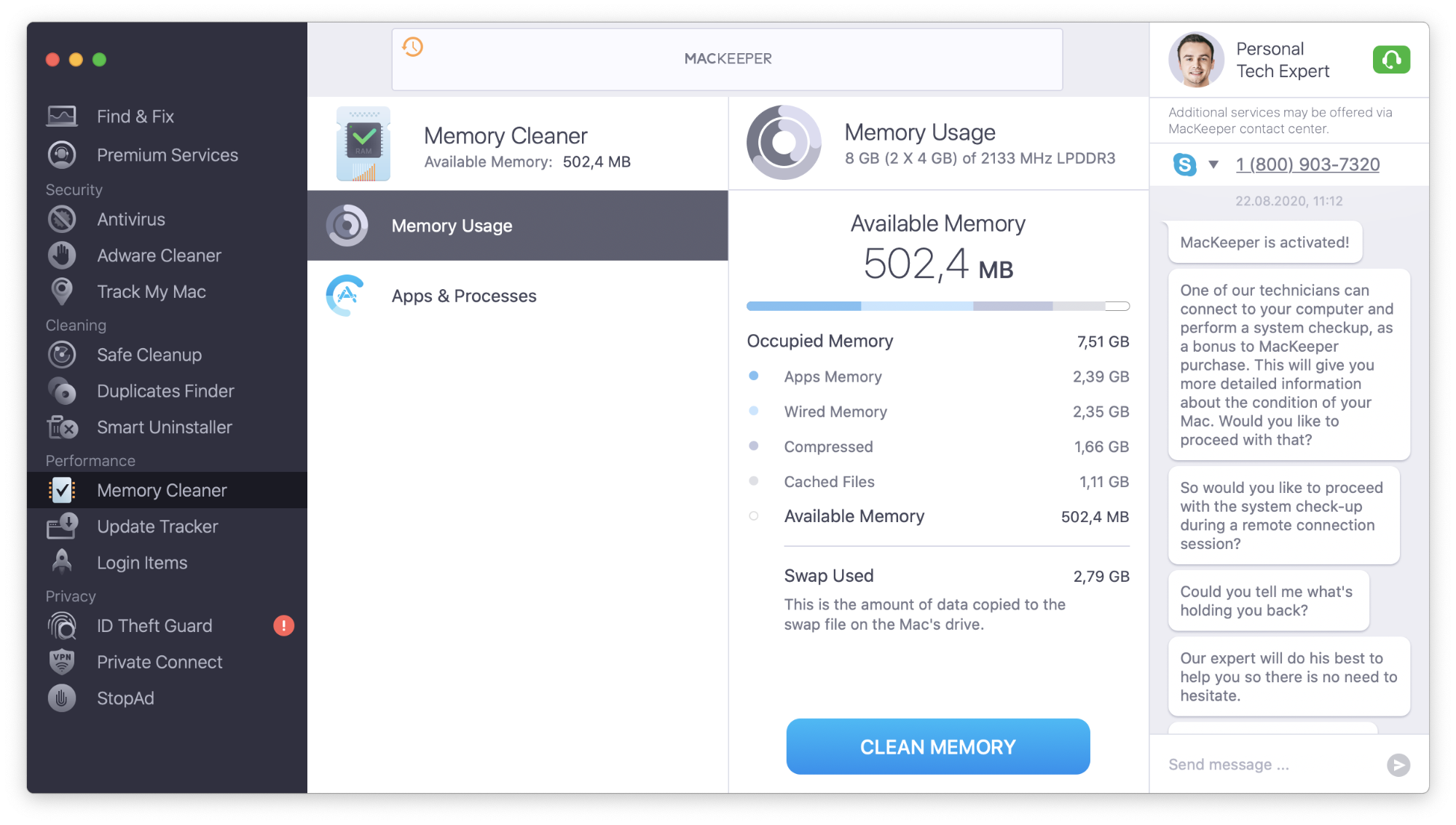 If you do decide to invest in a new memory module, you should only get a genuine one by Apple—don't look for any products from third-party manufacturers. They might be cheaper, but the risk that they will damage your Mac is very high.
9. Reduce Spotlight Indexing
Spotlight's indexing is a way for the tool to record the locations of all files and applications on your Mac. The whole operating system depends on this, so even though indexing may be slowing down your drive, deleting it is not an option. Besides, it doesn't perform a full reindex all the time—just after a software update.
However, indexing of unnecessary files and programs still creates irritating delays. You can get rid of apps that you don't need in the search system by going to System Preferences → Spotlight → Privacy. Drag files and folders into the list of locations if you don't want them available for Spotlight search. This way you'll reduce the amount of data that's indexing and ultimately speed up your Mac.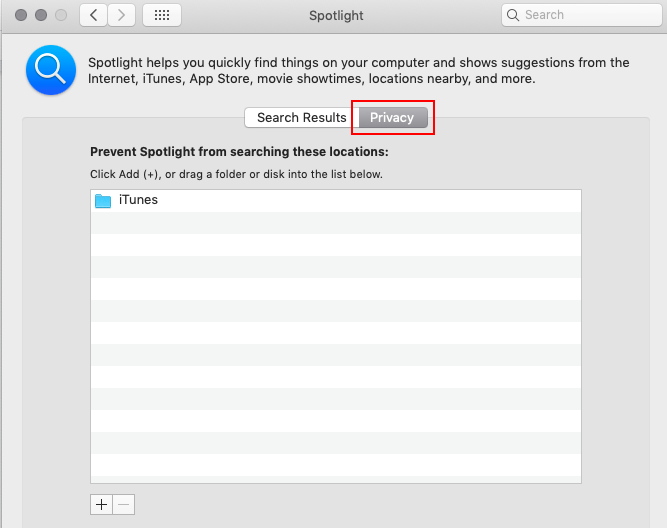 10. Use SSD instead of HDD to speed up your Mac
One of the ways to speed up your Mac is to tackle its hardware. Substitute its hard drive for a solid-state disk—it's a newer generation, faster alternative. SSD draws less power and uses up less battery, boosting its life by approximately 30 minutes. Although their capacity is smaller compared to HDDs, they have a range of advantages: shorter booting time, absence of vibrations and noise since there are no moving parts, little heat production, and higher writing speed.
Before upgrading to an SSD, don't forget to have a full backup of all of your data. For example, use Apple's Time Machine tool. Make sure to choose a Mac-friendly format on the new drive, preferably APFS+. Additionally, install the newest version of macOS—more detail about that in the following sections.
11. Reset NVRAM and SMC
The general advice for those whose Mac is working slow is to close some apps and restart the computer. But how to improve your Mac's performance if those don't work? Resetting SMC and NVRAM is recommended.
SMC controls such basic functions like letting your Mac know when to start and stop working, so, naturally, your computer will be glitching if something is wrong with those processes. To reset SMC, shut down your Mac, then hold Shift + Control + Option + Power button for 20 seconds. Turn the Mac back on by pressing the power button.
NVRAM contains information about such basic configurations of your computer like language and timezones. Upon reset, these functions go back to the default state—it will boost your Mac's speed, but you'll need to reset any custom settings. To reboot NVRAM, shut down your Mac and press the power button again when it's completely off. When you see the grey screen, hold Command (⌘) + Option + P + R until you hear the startup chime again. Then you can release the keys.
12. Check your Mac for malware and viruses
Malicious software is a big setback for your computer's functioning. When you download a virus file from the internet, it infiltrates your Mac's entire system and attaches itself to numerous files across the hard drive. This way, even if you delete the source file you won't get rid of the malware. Pay attention to the symptoms—if you notice delayed work speed, annoying pop-up ads, suspicious messages, lagging keyboard, and disappearance of your personal files, then your laptop is likely to have a virus.
For a general user, removing malware from Mac's system is incredibly difficult. That's why there are instruments like MacKeeper to assist you. Get rid of all the malicious software in no time and stay protected.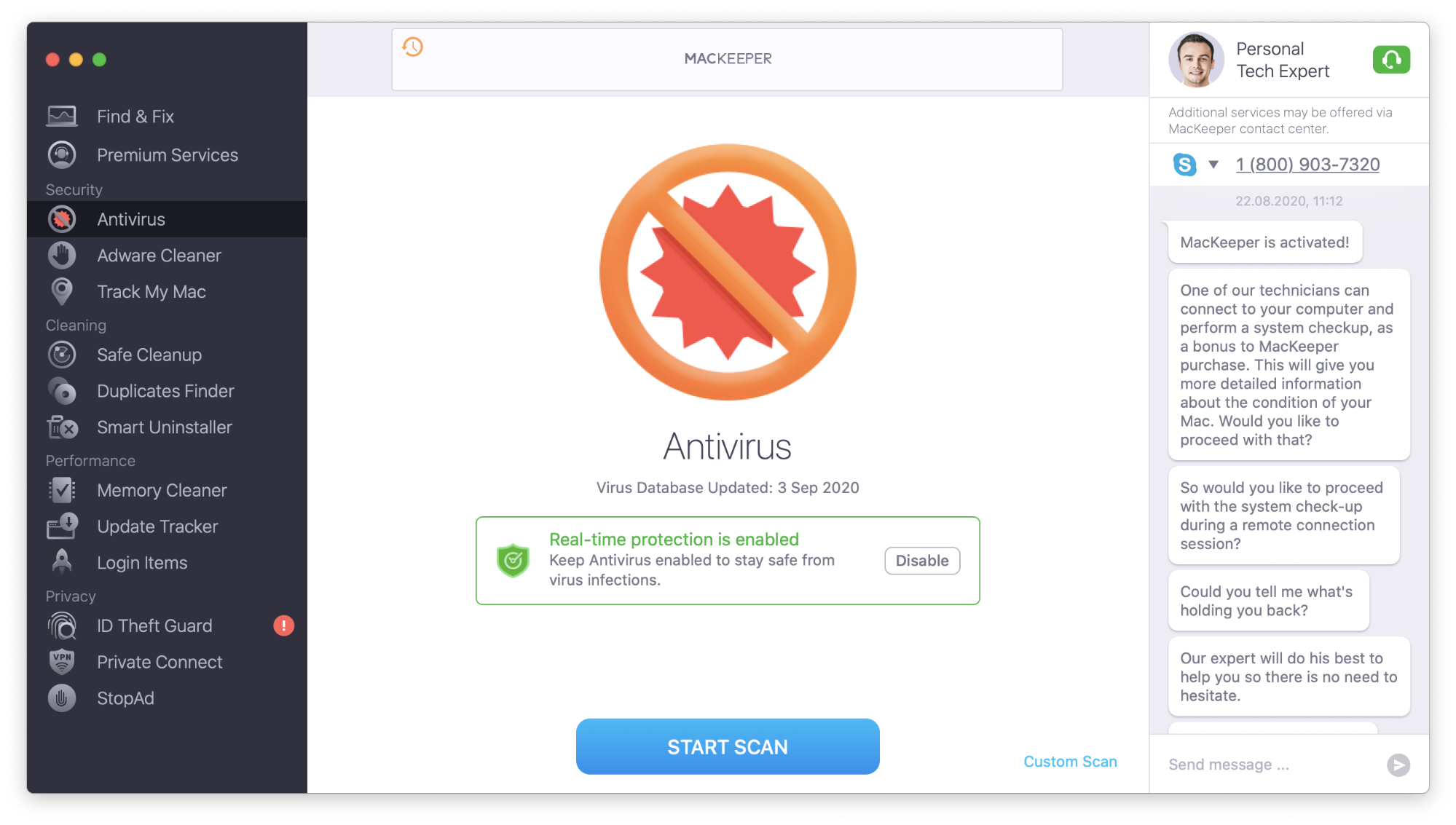 13. Reinstall macOS
If you still haven't found an answer to how to make your Mac run fast, your final solution should be a reinstallation of the entire operating system. It's quite a dramatic measure that you have to prepare for—backup all of your files to an external hard drive, make sure you have admin privileges and get a clean flash with at least 32GB of memory. If you're confident in the decision, the procedure is not that complicated.
When the installation is done, you will be presented with a brand-new, clean operating system. You can restore your backup from iCloud or Time Machine. If you used an external drive to store your data for this procedure, you'll now be able to download all the information manually.
14. Close unnecessary applications
At first, sight, having many apps working may seem completely harmless—surely the brand-new processor must be able to cope with the workload. Regardless of the laptop's age, an overloaded CPU is detrimental to Mac's productivity.
CPU load over 70% occurs when numerous applications are operating. It causes the cooling fans in the Mac to work harder, eventually leading to the laptop overheating, malfunctioning, and working slowly.
Here's what you can do to avoid CPU overload:
1. Close all unnecessary programs from the Dock
Right-click on the app that you want to terminate—click on Quit in the drop-down menu. If it doesn't seem to close—right-click on its icon in Dock and choose Force Quit.
2. Use the App Switcher instead of the Dock:
Press Command (⌘) + Tab to open—close any undesired programs by selecting one and pressing Command (⌘) + Q while the mouse is pointing at it.
15. Other ways to improve Mac's performance
Reduce desktop clutter
Have you ever been looking for a folder on your desktop, but in vain, because of way too many files there? This is a typical situation if you take screenshots or tend to save files on your desktop. Try deleting the ones you don't need anymore or change the default screenshot save direction.
It's an excellent idea to try using Desktop Stacks if you're running macOS Mojave or higher. It groups files on your desktop and doesn't let them get scattered.
To stack your desktop files:
Right-click anywhere on the desktop—choose Use Stacks from the drop-down menu.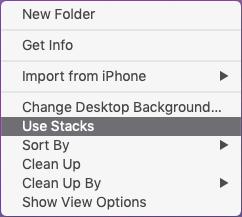 Empty the caches
Wondering if it's high time to clear the cache on your Mac? We recommend doing this regularly. For example, your Mac caches images, text, and media files on the websites you browse, so that a web page loads faster next time you visit it.
Using multiple browsers makes it a bit harder to clear the cache because if you do this manually you'll need to access each browser separately. Spare yourself the trouble and run the Safe Cleanup scan in MacKeeper. How does it work? Safe Cleanup gives you an overview of different types of cache, not only the browser one.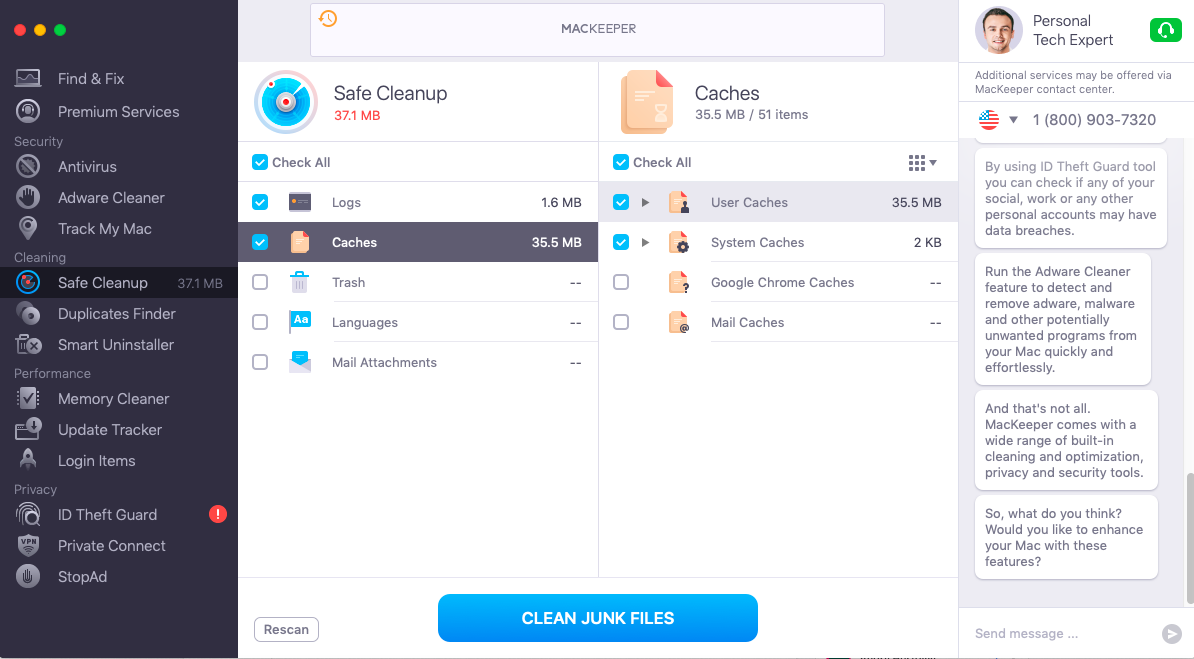 As you can see, there are plenty of ways to speed up your Mac. Choose the ones you like to keep your Mac running smoothly!