Mac Tips
August 07, 2020 | 8 min read
macOS 11 Big Sur: Try the Public Beta Version
Everyone's excited to see what's behind the curtain of the next macOS Big Sur coming this fall. If you can't wait that long—the public beta is out ready to be installed and tested.
What are the stages of the new macOS release?
There's a typical macOS release schedule, including developer, public, and the official release. Let's see what's the difference.
Developer beta
For sure, developers are more privileged and are definitely forerunners in testing of the new macOS. If you're a registered developer you could download the developer beta version of the new macOS starting 22 June 2020. If not—regular users can also enroll in the Apple Developer Program. Paying a fee of $99 a year will grant you access to developer beta builds and even publish your apps in the App Store.
Public beta
If you're not ready to deal with developer beta (which is usually rather raw) but you also can't wait till fall 2020 for the new macOS Big Sur to come out, then the Apple Beta Software Program is just for you! This pre-release lets you install the macOS Big Sur public beta and provide Apple with your feedback on it.
This version has just appeared, and further, we'll discuss how to get and try it.
However, be ready that some bugs are inevitable—you might be unable to open apps after their updates or even face apps not working as it happened in macOS Catalina. By reporting these issues you can contribute to the improvements in the official release so these bugs would get fixed to make the macOS Big Sur experience truly smooth.
Official release
Having passed all of the beta stages, the next macOS official release lets all users with compatible Macs upgrade to the new macOS. macOS Bis Sur will go public in fall 2020.
How to get and install the public beta
Getting the macOS Big Sur public beta requires some steps. Let's run through the list of what should be done before installing it.
1. Check your Mac's compatibility
First and foremost—your Mac's compatibility. Bummer, if you were hoping to upgrade and your Mac is not compatible anymore. Not to get your hopes high—here are the Macs compatible with macOS 11:
MacBook

2015 and later

MacBook Air

2013 and later

MacBook Pro

Late 2013 and later

Mac mini

2014 and later

iMac

2014 and later

iMac Pro

2017 and later

Mac Pro

2013 and later
To compare your computer to a list of compatible devices, learn its model and age:
Click on the Apple Logo—About this Mac
Open the Overview tab to check your Mac's model and year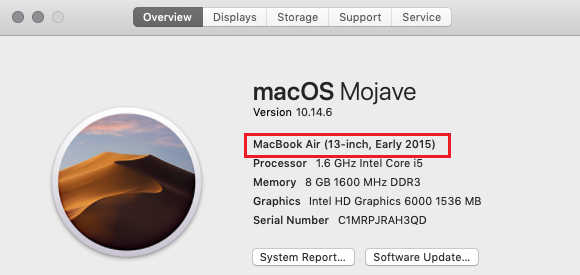 2. Clean your Mac
Why clean your computer? Won't upgrading to the beta version give a clean slate to your Mac? The thing is that it is highly recommended to detox your Mac from old apps leftovers or clear the startup drive of some outdated cache in order not to hamper the macOS Big Sur beta installation.
Running MacKeeper will make the preparation easier as it can automatically detect leftovers and old cached files. You'll just need to delete them in a few clicks.
3. Back up your Mac
As public beta may contain some errors and inaccuracies, back up your Mac by using any of these three methods. Bugs are pretty common and if you decide to stop using the new macOS—backing up your machine is a remedy when something is not functioning right. Besides, Apple strongly recommends to do so before installing beta versions of any new macOS.
4. Join the Apple Beta Software Program
Things taken care of, we can proceed to the installation itself. Joining the Apple Beta Software Program is the next step. What you'll need to enroll? A valid Apple ID and consent to this program are the main requirements.
Sign in with your Apple ID and password or sign up if you haven't done this before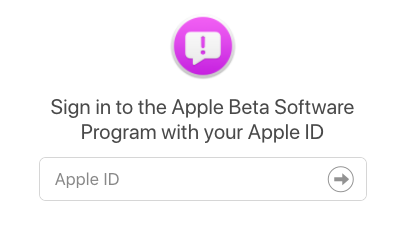 5. Install macOS Big Sur Public Beta
Having successfully signed in:
1. Look for Enroll your Mac under the Get Started section
2. Check again if you've backed up your Mac—then click Download the macOS Public Beta Access Utility button

3. Go to the Downloads folder and click on the macosDeveloperBetaAccessUtility.DMG file to open it. Alternatively, open this download in your browser
4. Click on the macosDeveloperBetaAccessUtility.pkg in the new window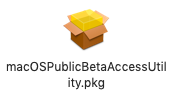 5. Follow the steps to install the software—click Continue
6. Click Continue once again—then Agree to the terms of the software license agreement
7. Click Install
8. Type in your password click on Install Software
9. Wait till the installation is complete—open System Preferences—click on the Software Update icon
10 Wait for the message saying that macOS Beta is ready to download
What's new in macOS Big Sur?
It goes without saying that the next macOS is going to be something familiar, yet new and improved. You must already have heard about the introductions—but let's get a brief overview of them.
Design. It is just breathtaking. Vivid colors and smoother shapes is a small part of what was redesigned. From now, macOS Big Sur users can enjoy the unified symbol language and sounds that are just music to your ears.
Safari. If you are not still using Safari on your Mac—its new features will tempt you to consider switching to Safari. The main focus was made on privacy—with a built-in Privacy Report you can take control over online trackers and in addition to that you'll be notified by Safari if any of your passwords have been compromised.
Messages. The improved Messages will make your online communication easier and definitely add more fun to it. From now you can mention a person in your conversation or search for some information within your dialogue.
That's just a small bit of what macOS Big Sur has to offer. Check out our preview on macOS Big Sur's new features!
All things considered, the public beta is there for you waiting to be installed. Just think over and decide whether to go for it or take it slow and wait till the official release.