What annoyed you most while your parents were bringing you up? Was it their constant prohibition of the most fun pastimes and tastiest goodies? Was it their habit of dressing you in a most ridiculous way? How about imposing bedtime a bit too early?
Sharenting—a new trend in family life
These days, parents' tools for frustrating their children go beyond saying "no" and imposing curfew. Now parents are armed with another surprisingly nasty thing: a smartphone. Moms, dads, and well meaning family post thousands of photos and videos of their kids on social media, usually without the child's consent. Also known as "sharenting," there seems to be a remarkable phenomenon among parents and guardians to frequently share their kids' photos and milestones online and, sometimes, in unsettling detail. After the child discovers what the internet is, such publications may be a shocking surprise to them.
The statistics are striking. Almost a decade ago, a survey showed that 92% of toddlers in the US had a digital footprint by the time they were two. A 2018 UK Children's Commissioner report estimates that by the time a child reaches the age of 13, parents have posted roughly 1,300 photos and videos of their kid online.
Surely, parents share all these sweet photos and stories out of joy, pride, and care. But the outcomes for the kids are ambiguous.
How sharenting affects a child's self-esteem
So, what do kids actually feel when they discover their photos online? For a recent piece in The Atlantic, a journalist talked to seven children, who expressed all kinds of emotions when they found their digital presence—from shock and frustration to joy and pride.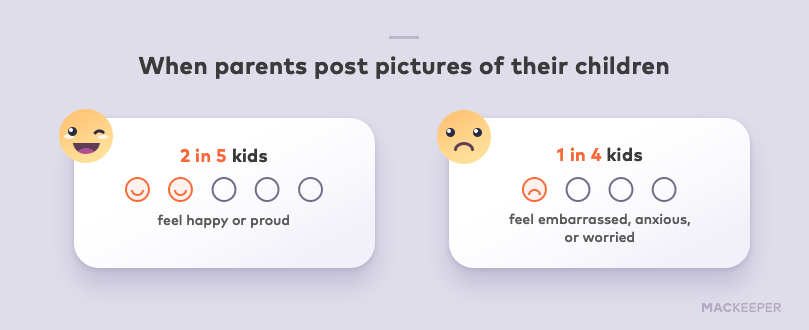 These feelings can have considerable consequences over time. When a child feels no control over sharing their private information, it may undermine their general belief in their right to privacy. Things can become more extreme when a parent or guardian is a so-called "helicopter parent"—intrusively "hovering" over the child and their actions. Not only do they interfere deeply with the life of the child, they also expose it into the public realm adding layers of pressure. "This type of parent is well-meaning and well-intentioned but also can be over-protective and misguided. The harm to the said child can destroy the child's self-worth, self-image, and self-esteem to the point of humiliation and to the extreme point of having suicidal ideations," says Dean Tong, a Forensic Trial Consultant.
Furthermore, if a particular photo or video is too unusual or embarrassing, it may lead to mockery and bullying at school. This is especially destructive for the self-esteem of a young person. It may lead to mistrust and alienation from peers as well as parents.
However, things may escalate in a completely different way. A child's photos and videos may become viral and massively liked on Instagram and YouTube. Some child Instagram stars have millions of followers. The same is true for young YouTube influencers. Usually, these kids enjoy their popularity and their self-confidence is quite strong.
Yet, stardom might be hard to bear for a child. At the height of fame, kids are followed everywhere by their fans. But when their popularity fades, youngsters may feel devastated as they lack the recognition they have become accustomed to.
How sharenting alters family relationships
If things develop functionally, kids form mighty teams with their parents while working towards the success of their channel or the editorial choices of their images. When there's an atmosphere of collaboration and consent at home, things work fine with casual photo and video sharing. This might be an enjoyable and bonding experience for any family. Unfortunately, it is not always the case. When a child's pictures and personal details are published without their involvement and approval, it can cause real family drama.
This is what happened between blogger Christie Tate and her daughter. When the fourth-grader discovered that all her life had been documented in photos and essays on her mother's blog, she was shocked and frustrated. Thrusting a laptop into her mother's face, the girl exclaimed, "Why are all of these pictures of me on the internet?" Then, she asked whether her mother could take the essays and pictures off the internet. The woman refused. Moreover, she did not want to refrain from further blogging. "I'm not done exploring my motherhood in my writing," the writer said. "And sometimes my stories will be inextricably linked to her experiences."
Disturbingly, according to a survey in the UK, only 6% of parents worry whether their child would be unhappy about the images they had posted. Meanwhile, the process of sharing on social media can be educative and nurturing. "If we take a moment to share our thought process with our children about posting or not posting online, we can teach them a lot. For example, a parent might say, 'Hmmm, I don't think I am going to post this photo online. Instead, I'll print it and add it to our album,'" suggests Maria Sanders, LSW and PCI Certified Parent Coach. Including the child in the necessary decision-making can serve as a great space to bond and educate youngsters about the internet, how it works, and the consequences of sharing online.
From ads and memes to identity theft: misuse of children's photos
Apart from having psychological effects, carelessly shared photos of kids may backfire in various unexpected ways.
Firstly, images can be used to create ads, memes, and similar web content. There are so many people on the web who care nothing about intellectual property rights let alone about someone's feelings.
What is worse, shared information can be exploited for identity theft—the use of personal details to get credit, loans, and other financial benefits. "Through social media, it has never been easier for fraudsters to gather the key pieces of information required to steal someone's identity," says Jodie Gilbert, Head of Digital Safety for Barclays.
"Wait a minute!" you can say. "It's just a Facebook photo of my baby, their name, and my name. I'm not going to post our address, their Social Security number, or anything like that. How can it be dangerous?" The thing is, there's already a lot of information about you and your kid online, apart from what you've shared on Facebook. As machine learning algorithms become more and more advanced, it is increasingly easy to link all this information together. This is why, by disclosing such details as one's birth date or a mother's maiden name, you make child identity theft easier for cybercriminals.
What is the legal perspective on sharenting
Facebook, Instagram, and YouTube actually forbid the creation of accounts by users under 13 and for good reason. "The 'Children's Online Privacy Protection Act' (COPPA) of 1998 is designed to protect children under age 13. COPPA applies to information collected from the said children, but not about them. United States law does allow parents to post photos of their children on social media accounts notwithstanding any moral or privacy objections raised by COPPA," explains David Reischer, Esq., Attorney & CEO of LegalAdvice.com.
In contrast, strict privacy laws in France rule that grown-up kids can sue their parents for publishing intimate details of their lives without consent. Penalties can be as severe as a year in prison and a fine of €45,000 (over $50,000).
In countries with less-detailed legislation, youngsters and families should probably rely on common sense and strive for mutual agreement about social sharing. Regardless of where you live, however, discussion, compromise, and consent are sincerely good for all families, and the experience of sharing family details and photos can be a valuable, healthy process of boundary-setting and building mutual respect.