With multiple internet-connected gadgets often controlled by a single app on your phone, it only takes one hack and your favorite gadgets can easily become compromised, leaving your data vulnerable to misuse.
It's important then to ensure that our favorite gadgets are as secure as possible. We're going to take a close look at some of the world's most popular gadgets, such as wearables, smart cars, portable devices, as well as smart medical equipment, and discuss the best ways to protect your personal data.
Wearables, such as smartwatches and fitness trackers
Wearable technology has become more and more mainstream over the last few years, with many people wearing fitness trackers, smartwatches, and even smart clothes on a daily basis.
With the wearables tracking and collecting data that relates to our heart rates, sleep patterns, daily routines and a lot more, it's very important for us to protect that data and ensure that wearables aren't used to spy on their owners.
That's possible because every wearable has at least two sensors—an accelerometer and a gyroscope. Hackers can use the data that's tracked or collected in multiple ways, importantly it is information that is unique to the user.
To keep data safe when you use wearables, you can take these steps:
Review the privacy policy of each wearable before accepting it by default.

Turn off the "location tracking" option as your location can reveal a lot about you.

Update your device when prompted. New updates may contain security and privacy fixes.

Avoid using unsecured networks, for example, public WI-FI.
Connected cars and other smart vehicles
Most modern cars and many other vehicles are integrated with various smart features, from the ability to connect to the internet to having features that can be managed remotely from a smartphone—such as locking, unlocking and changing the temperature.
Hackers are able to use the internet connection to access data, or take control over the features that can be managed remotely. That's potentially dangerous and can lead to the loss of private data.
To prevent your car or other smart vehicle being attacked, you can do the following:
Use the apps and accessories from the official manufacturer.

Service your car properly.

Update its firmware regularly.

Ensure the smartphone used to control the vehicle has antivirus software.
Smart speakers, headphones and hearables
Wireless speakers, headphones and other smart hearing devices use an over-the-air connection such as Bluetooth or Wi-Fi to connect to other devices, such as computers or speakers. Most of them also have an in-built microphone, often used for phone calls.
Even though that is very handy in many instances, it also gives hackers the opportunity to listen in on real-life conversations. The only real security measure here is to switch off Bluetooth when not in use and chose not to connect to public Wi-Fi connections.
Intelligent yoga mats
Yoga is an activity that's had a huge rise in popularity over the last few years, with almost every gym incorporating yoga sessions. It's not surprising that entrepreneurs have developed intelligent yoga mats that can do a whole bunch of things that include position-tracking and real-time suggestions.
That is pretty neat however as the mat is portable and is often brought into the office, a gym, shopping mall, your car and any number of other places, it can be a data security risk. If the privacy policies aren't strong and security measures aren't in place to limit it from connecting to public Wi-Fi, it could become infected with malware and spread that to a users' other connected devices.
Smart medical equipment
Smart Healthcare equipment can be used to save lives, diagnose early and improve our well-being. It can also mean that particular type of smart device can be linked to very important personal data. In this case it becomes a target for hackers who may be keen to steal sensitive data to steal a persons' identity to carry out tax fraud, forge prescriptions or even sell prescription drugs over the dark web.
Tips to prevent data and security risks with gadgets
As noted from all the information you've read here, it's imperative to take measure to prevent your personal data being compromised when you use smart devices. Here are the basic precautionary measures to stay safe: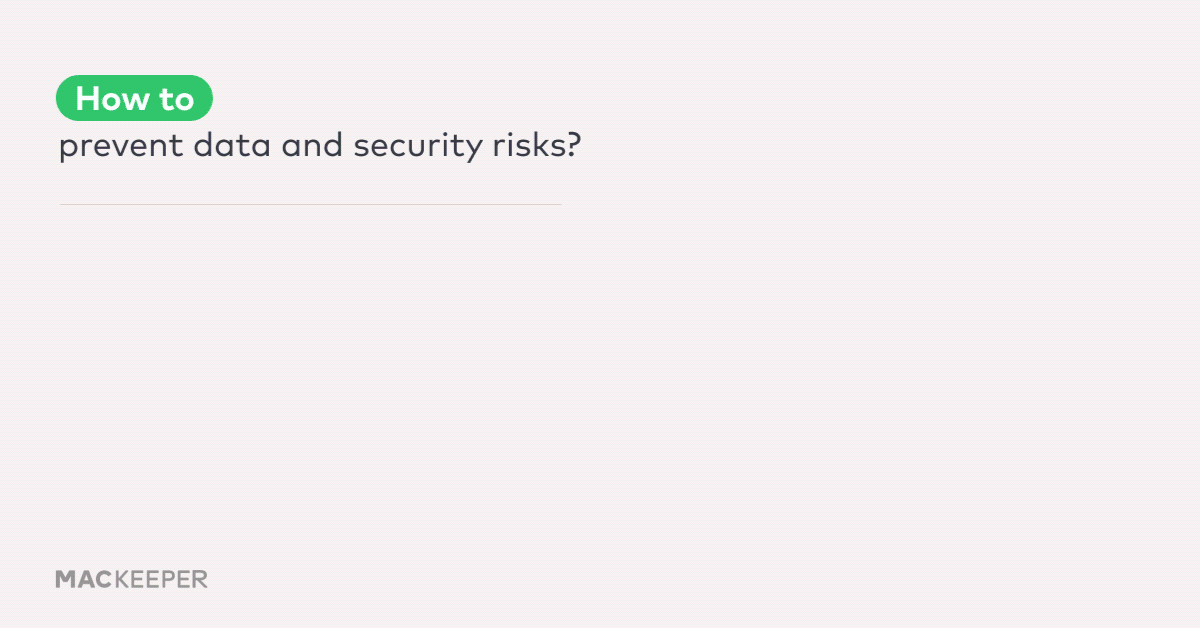 Screen lock your gadget or device with a secure password or fingerprint if possible.

Check the app's access permissions and the information you allow it to process.

Keep your login passwords strong. Try to include 12 characters, numbers, symbols, and a mix of upper and lower case letters.

Keep your devices up-to-date with the latest software.

Use secure Wi-Fi networks.
So what's the bottom line then? With the amount of internet-connected devices growing for use in our homes, cars, offices and to be worn on our bodies, we've got to be as smart as these devices when it comes to security.
Install security software. Make sure your router's firewall is on. Read up on security and online privacy tips. Talk to experts about your concerns. Understand the risks to your personal data from something as simple as connecting to a public Wi-Fi network. Take proactive measures in order to minimize risk to your other connected devices and importantly to your sensitive and valuable personal data.
Ultimately, this mix of knowledge and technology is what's likely to keep you safe in the future.
Read more: