Do you want better home security, more efficient energy consumption, and cost-savings? With smart home technology you can get all of that and more, all controlled and managed from a central location. You're also able to gain valuable insights into your home and life habits, so you can make intelligent decisions and healthy changes.
In the past, smart technology at home has had a focus on home entertainment and simplistic energy-saving, however nowadays it encompasses so much more. Whether you're someone who travels and wants to ensure their home is secure or simply someone who enjoys a coffee brewed when they wake up, there is smart technology for you.
As with all technology, it's important to understand the benefits as well as the potential risks and dangers. The major dangers of smart homes are related to the data that travels between your connected devices and the internet. We'll give you an idea of the most popular smart home devices and how to keep your smart home safe from attacks.
What are the most popular smart home devices?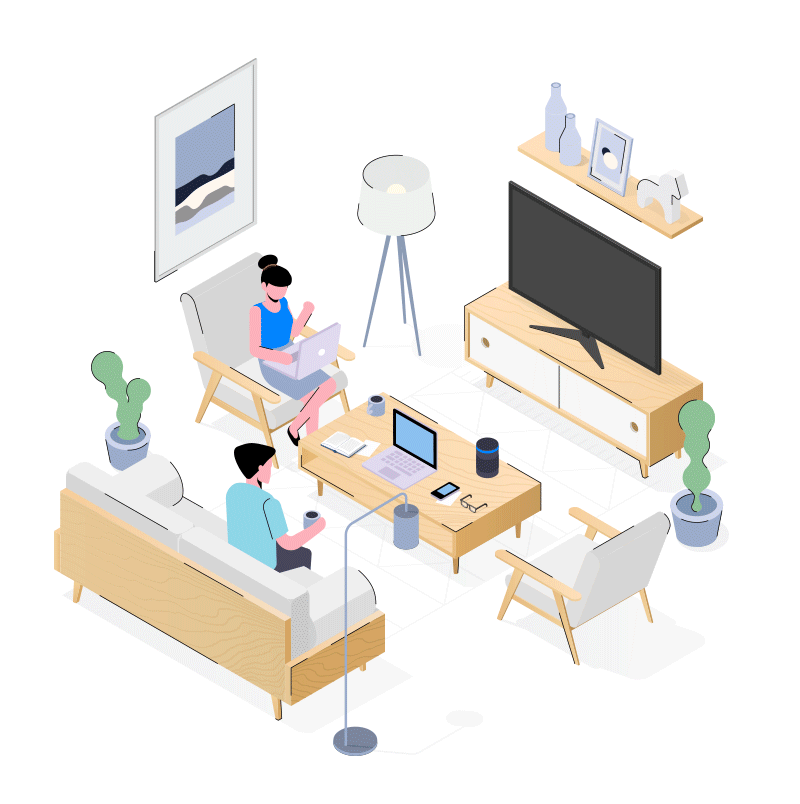 Whether you want to get some great gadgets into your home, or if you're someone who focuses on your energy consumption and home security—here are some of the most popular types of smart home technology devices around, to get you started.
Smart home assistants: Bluetooth speakers equipped with artificial intelligence that can read news, complete purchases, play music, search for information—activated by your voice.
Smart TVs: A TV that has an extensive range of features that allow it to stream music and videos, browse the internet, and view photos. The latest models include smart home integration and voice control.
Security cameras and systems: You can remotely connect to your Wi-Fi enabled security system from an app on your smartphone. Receive notifications if something suspicious has occurred and use a two-way microphone to speak to your kids or a delivery person.
Smart light bulbs: A great step to saving energy and money. Smart light bulbs allow you to switch lights on and off from your smartphone and track usage via an app. You can also integrate them into your smart home security system.
Smart video doorbells: With one of these Wi-Fi enabled gadgets you're able to talk to whoever rings your doorbell from your smartphone using a two-way speaker. You can integrate them into your security and save video clips to the cloud.
Smart locks: These locks provide sophisticated access control. You can lock or unlock a smart lock from a smartphone, with fingerprint recognition or with sensor proximity control. It's another smart device to integrate into your home security system.
Smart thermostats: Beyond simple automation of your heating and cooling systems, many of these devices use motion sensors to detect when you're in or out in order to switch modes and save energy. Others use geo-fence technology, to know when to switch on or off, based on your location.
As exciting as these smart devices are, if you own one or plan to create your own smart home environment, you need to be aware of the privacy and security challenges of a smart home.
Smart homes at risk of cyberattacks
If you've taken the plunge and decided to invest in some great technology at home, this will be of interest. Your smart home devices are connected to the internet via a Wi-Fi connection that can be used to collect a lot of sensitive information. There is a recent example of a cyberattack on a smart home, where a hacker managed to hack a smart light bulb in order to extract the owner's Wi-Fi password and login data, in under an hour.
At the very least you will want to protect yourself and set a unique password for each smart home device that you have. Don't make a very common mistake by reusing one password for all of your devices!
The danger of smart security cameras
If you set up a smart security camera you'll definitely want to change its default password. Otherwise it can become a security risk and enable hackers to take control, remotely spy on the owners, and potentially broadcast to the internet.
There are even websites that continuously search for vulnerable smart security cameras. You really don't want to be one of those owners that appears online. Below we'll discuss some of the security challenges of a smart home and how you can protect yourself.
What are the most common smart home security challenges?
Identity and personal data theft. Identity theft happens when cybercriminals steal your online personal data and impersonate you. They can then use that data to obtain a loan, make purchases, or damage reputation, amongst a long list of other potential things.
Easy location-based tracking. Cybercriminals can send a malicious link via smart devices. The link can look like a regular notification or an ad. If the homeowner clicks the link and it somehow stays open for a while, the hacker will get the house's location.
Difficulty understanding if a device is infected. Unlike computers that use antivirus software to prevent, detect and remove malware, it's not quite so simple with smart home devices. However, if they're installed as a system, there may be some remote monitoring that is offered which could add an extra layer of protection.
Use of default and common passwords. As mentioned earlier, there are hackers who specifically search for smart home devices that share common passwords or use a default password, in order to access your private data such as credit card and identity information.
Particular vulnerability to data leaks. Smart home devices are particularly vulnerable to data breaches, by being connected to the internet and to other smart home devices. All of their connections have the potential to make private data accessible.
Is having a smart home safe?
Smart devices are vulnerable to cyberattacks to the same extent as computers are. However, smart gadgets have access to more data than the regular laptops. This can have a huge impact leading to highly unwanted outcomes.
However, by following a few simple rules an owner of a smart home can raise their protection significantly.
Find out how to secure your smart home
Always change default usernames and passwords. Never use the factory passwords to any device in your smart home, be it a smart light bulb or a smart hairbrush. Make sure you always set a unique password for each device.
Install updates regularly. Software updates for you smart devices are important as they can include patches and security fixes. You don't always need to wait for updates, simply head to the manufacturers' website on a regular basis to install manually.
Disable any features you don't need. Your smart home devices will come with a range of features and services, such as remote access as an example. If you don't need to use it, make sure you disable it.
Think about what data you record. Although smart home devices have become more and more reliable, no one is a hundred percent protected against a cyberattack. Have a really good think about what information you are happy to expose to the rest of the world. If you don't want particular information shared

, have a second thought about whether or not you need a smart device for that particular function.

Change the name of your Wi-Fi router. The default name usually consists of the manufacturer's name and a model. Choose a unique name that has nothing to do with the manufacturer, model or your address.
Only access your smart home devices from the safe networks. Never connect to your home devices using public Wi-Fi—use a VPN with privacy features if you need to check any of your smart home information while you're out and about.
Keep the devices' serial numbers secret. Don't publish the model, make or serial number on forums or social media. Better to contact the customer support directly if you need help.
Secure your internet connection. Encrypt your Wi-Fi connection and change the password regularly. Alternatively, you can set up an additional router exclusively for your smart devices and avoid connecting your phones and computers to this network. You can also create a guest network for visitors.
Use two-factor authentication when possible. This may be a little bit more time-consuming, but when it comes to data privacy, it's worth the time. If your smart device comes with a two-factor authentication capability, use it.
As you will have noted from this article, to have smart home devices or a smart home system in your home can bring great benefits. It's important though to stay aware of the potential threats and dangers of smart home devices. Enjoy the technology but remember to follow some simple steps to keep your data safe.
Read more: