Struggling to find a show on Netflix that you know people are getting in other countries? That's because different Netflix regions get different content. But don't go canceling your subscription just yet, because there's good news — you can use a Netflix unblocker to access those other regions. The most common way to do that is to watch Netflix through a VPN (a virtual private network). Keep reading to find out how.
How does a VPN unblock Netflix?
Watching Netflix via VPN is the same as accessing geo-blocked websites. The process is quite simple — the VPN connects you to a country of your choice, so the website you're trying to load believes you're in that country. So, for example, you could use a VPN to trick a site into thinking you're in the US when you're actually in France.
Note: It's a good idea to use VPN services with static IP addresses, as Netflix makes you turn your VPN off that frequently in comparison to VPNs without a static IP address.
To watch Netflix with a VPN, follow these steps:
Download and install a trusted VPN tool
Launch it and connect to the preferred location
Try to watch a show that is unavailable in your Netflix region
How to use MacKeeper VPN to Watch Netflix
You can easily watch content from different Netflix regions using the VPN Private Connect tool in MacKeeper.
Here's how:
1. Download MacKeeper
Download and install MacKeeper
Go to the VPN Private Connect tab
Click Open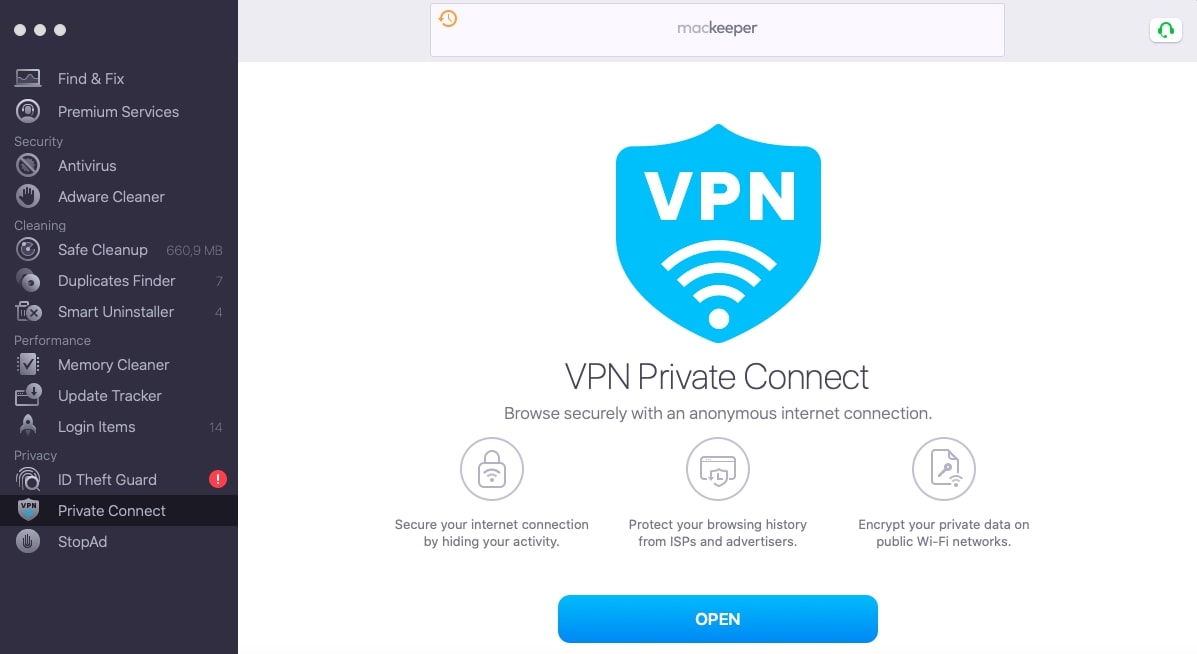 2. Select preferred VPN location
Enter your user name and admin password, if prompted, to install an additional VPN component
Click Install Helper
Choose the preferred VPN location from the list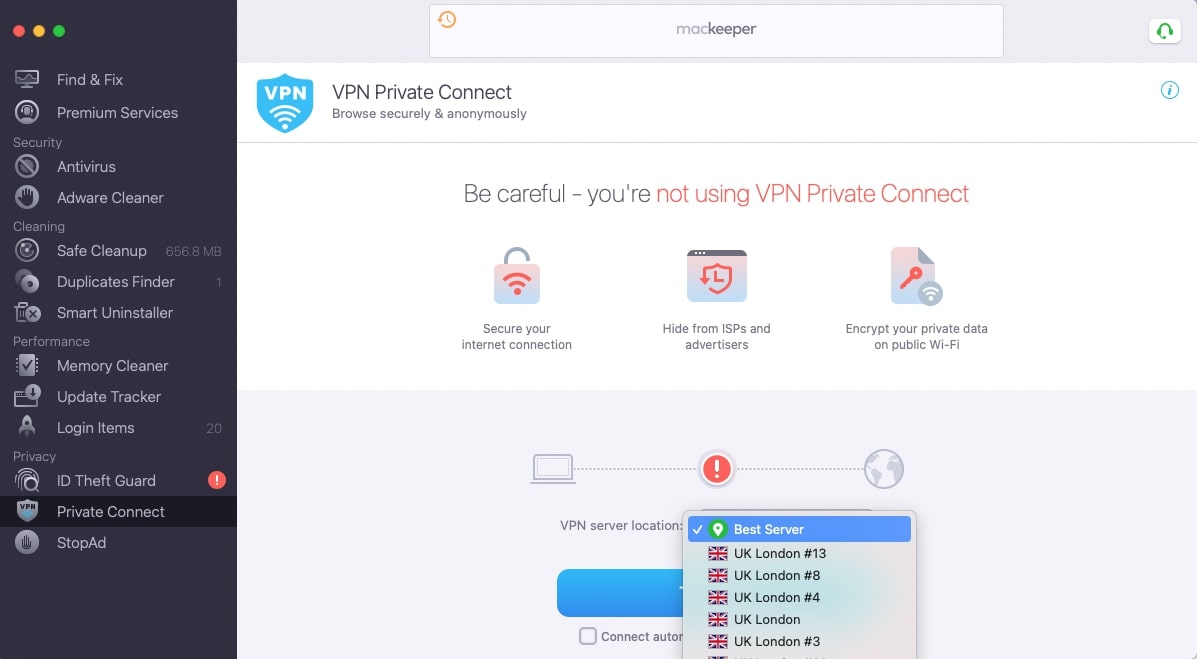 3. Connect to the VPN
Click Turn On, and wait for it to connect
When the VPN is connected, you'll see a message saying You're using VPN Private Connect
Click Turn Off when you're finished with the VPN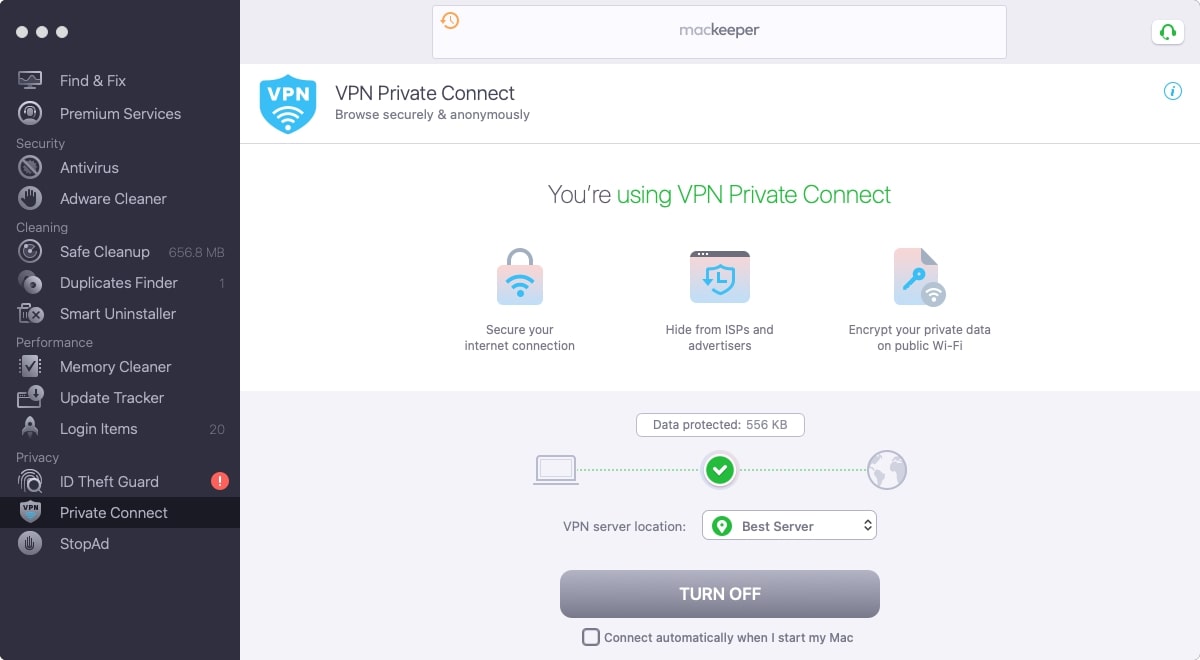 Pro tip: If you want VPN Private Connect to launch automatically when you boot your Mac, tick the checkbox next to Connect automatically when I start my Mac.
Using VPN Private Connect with Netflix
VPN Private Connect in MacKeeper is a perfect match for watching Netflix.

Here's what you can do with it:
Secure your private data while browsing with the new MacKeeper 5 version
Keep your browsing speed high when surfing the net
Connect to any of 50 countries, with 296 locations on the list
Connect automatically to VPN when you start your Mac
Protect three Macs simultaneously, with the 12-month plan for three Macs
We tested VPN Private Connect and tried to unlock a movie on Netflix (I am Mother). Here's what happened:
With VPN Private Connect turned off, the movie didn't show up in the search

2. But with VPN Private Connect turned on and connected to Sweden, the movie appeared in the search results. This shows that Netflix detected our region as Sweden

A tip: If you aren't able to access the content you're looking for, try signing into Netflix first and then turning on VPN and refreshing the search.
And that's all there is to watching content from different Netflix regions. So if you like watching movies and shows from other countries, just install MacKeeper, and let it unlock a whole new selection of movies and TV shows for you.
FAQ
Why does Netflix block VPN?
Netflix makes agreements with copyright holders around the world to stream their content in particular regions. When Netflix streams are accessed in countries they're not licensed in, Netflix is in violation of those contracts. That's why it blocks VPN services.
Is it legal to use a VPN with Netflix?
Watching Netflix using a VPN isn't illegal in most countries. However, there are several nations that limit, restrict or even prosecute people for using VPN services. So before using a VPN, make sure you're not breaking any rules.

Here are some countries that restrict VPN use:
China
Iran
UAE
Russia
Turkey
Iraq
Belarus
North Korea
Why is Netflix not working with VPN?
This can be caused by a number of reasons like an interrupted internet connection or a VPN tool crashing unexpectedly.

To fix Netflix not working with your VPN, try some of these solutions:
Check that your internet connection wasn't interrupted
Check if the VPN tool is working properly — try quitting and launching it again
Connect to a different location in your VPN tool
Use private browsing mode
Quit and reopen the browser you're watching Netflix on
If none of these steps help, restart your Mac, then try the VPN again
How do I know VPN is working?
Check the status of the VPN in the tool you've chosen
Try Googling something like news. The search results may differ from what you would normally see. They might be in a different language, for example
If you're using VPN Private Connect, look for a small MacKeeper icon in the menu bar with VPN on it. This means the tool is working
How can I watch Netflix USA without VPN?
To unblock US Netflix content, you need to either physically be in the USA or use a VPN. If you're not ready to subscribe to a paid VPN, you could try a free one, but the quality of these is far from guaranteed. Plus there's no way of knowing if they're secure.
Which VPN country is best for Netflix?
The catalog of TV shows on Netflix differs depending on the location. So, which countries get to watch the best-rated movies and shows?
The top three countries with the most Netflix content available (as of January 2021) are:
Related blog posts: