Don't miss your chance to get
up to 50% OFF
in our Black Friday Security Race!
Grab Discount
Say goodbye to ads and trackers
Ready for ad-free browsing and a faster Mac?
1. Stop annoying ads in their tracks
2. Block trackers spying on you
3. Mute pesky browser notifications
Nobody likes ad interruptions or reading a website full of banners. Let MacKeeper's StopAd extension block them for you.
How it works
Stop ads on all or selected sites

Use extension in Chrome and Safari

Save time and increase focus
Download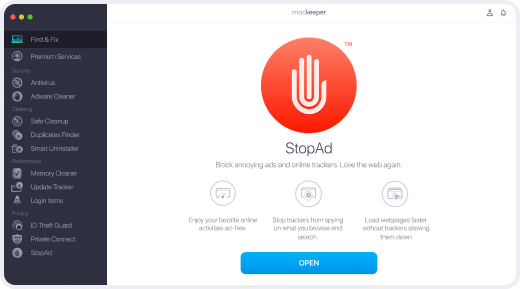 StopAd's tracker blocker may help webpages load faster, while preventing site trackers from following your online preferences.
How it works
Ads won't chase you after searches

No trackers means better deals online

Websites won't be able to profile you
Download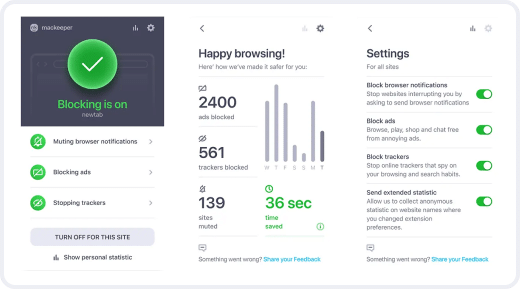 StopAd won't allow websites in Chrome to send you irritating notification requests. Unless you want them.
How it works
Play, search, and shop without interruption

Forget about alerts annoying you

Count the sites StopAd has muted in Chrome
Download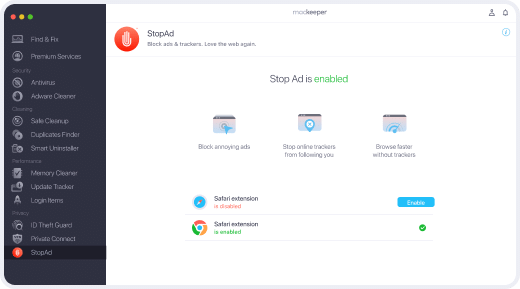 Read reviews from trusted tech media
We've got everything your Mac could need
MacKeeper is more than an ad and tracker blocker. It's the whole package.

Remove Mac malware
Prevent adware infections
Deep scan your Mac for viruses
Get real-time malware protection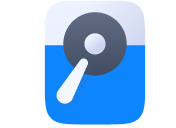 Instantly clean up junk
Safely uninstall apps
Delete duplicate files
Get real-time malware protection
Ready, steady, go

—welcome to our Black Friday Security Race!

Be the first to get secured and grab your perfect discount!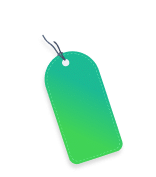 Limited offer
Monitor for personal record leakss
Scan for malware infections
Protect from viruses in real time
Browse anonymously through VPN
Quit memory-draining apps
Remove junk files and unused apps
Chat with tech support 24/7
FAQ
How does the MacKeeper StopAd feature work?
StopAd is a browser extension that blocks ads in Chrome and Safari for Mac. In addition to preventing ads from loading, it stops website trackers from following your online activity. Read a detailed tutorial about StopAd here.
What data can online trackers collect from you?
Online trackers can collect vast amounts of information about you and your Mac. This includes your location, web browser, what sites you've visited, your version of macOS, and much, much more. This information is used for things like targeted advertising and website analytics. MacKeeper's tracker blocker app stops this and keeps your privacy protected.
How is it different from a VPN?
StopAd is completely different from a VPN. StopAd blocks ads and trackers from running, whereas a VPN will hide your IP address and make it look like you're located elsewhere. You can use a VPN and still have ads, and trackers will still be able to get other information from you. MacKeeper's Full plan includes a VPN as well as an ad blocker, so you can use both simultaneously.
How does it affect browsing experience?
While using MacKeeper's ad blocker for Mac, you can benefit from a faster, less distracting web browsing experience. But, you can also allow ads and trackers on sites you choose. This is useful if you want to support a website and don't mind the ads they run. You decide how much StopAd impacts your browsing experience.
Should you block cookies?
Cookies aren't just useful for advertisers and website owners—they can be helpful for you, too. Some cookies save things like login information and website preferences, which can improve your experience on some websites. However, they're not strictly necessary, and it's safe to block them.
System Requirements:

macOS 10.13 or later, 100 MB of spaceFull requirements

Latest Software Version:

6.2, Jan, 2023

Pricing:

Starting at $10.95/month

Developer:

Clario Tech DMCC
**Notarization is not the App Review. The Apple notary service is an automated system that scans your software for malicious content.