Browse securely with a Mac VPN
Unblock restricted sites and hide your browsing preferences with MacKeeper's VPN client.
Don't risk your data
Keep it hidden with a secure VPN connection.
1. Secure your payments
2. Hide your activity from ISPs
3. Protect your Wi-Fi data
VPN (or Virtual Private Network) works like a safe tunnel between you and a website. Shop or bank online risk-free—your payment data is encrypted.
How it works
Extra layer of payment security

Military-grade encryption (AES-256)

Automatic connection at startup
Download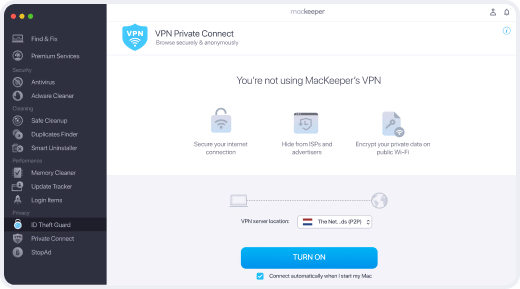 Websites and Internet Service Providers are always ready to sell your browsing history to advertisers. Using Mac VPN software helps disguise what you do online to stop this from happening.
How it works
Stop ISP from trading your data

Avoid getting followed by advertisers

Connect fast without spoofing a database
Download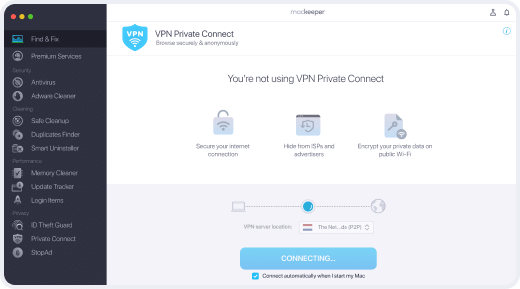 Love password-free Wi-Fi? Hackers do too, but a VPN client for Mac can outsmart them. It makes the data you send over Wi-Fi anonymous, thus impossible to steal.
How it works
WebRTC Leak Shield

DNS Leak Protection

300+ server locations in 50 countries
Download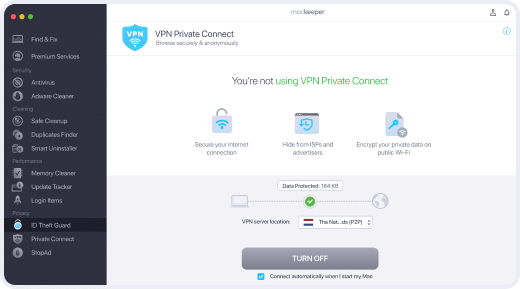 Read reviews from trusted tech media
VPN for Mac is just 1 out of 12 brilliant tools
See the other awesome things MacKeeper can do for your Mac.

Remove malware
block viruses in real time
scan for malicious files
monitor for suspicious apps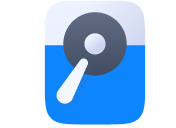 Free up disk space
delete useless files
remove duplicates and similar photos
get rid of unused apps
Enjoy our Security Care Season—protect your Mac now!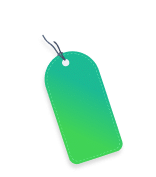 Limited offer
Browse anonymously through VPN
Scan for malware infections
Protect from viruses in real time
Remove junk files and unused apps
Quit memory-draining apps
Chat with tech support 24/7
Monitor for personal record leakss
FAQ
How can I set up a VPN app for Mac?
1. Open MacKeeper
2. Select VPN Private Connect and click Open
3. When prompted, enter your Mac password and click Install Helper
4. Click Turn On and enjoy a safe and secure connection
Do I need to turn on VPN manually every time?
You can, but there's an easier way:
1. Open MacKeeper, and select Private Connect from the left sidebar
2. Select the Connect automatically when I start my Mac checkbox (it's under the blue Turn On button)
3. MacKeeper VPN will always be on to safeguard your data
Can I connect to VPN without opening MacKeeper?
Sure. Click on the MacKeeper logo in your top menu bar. Next, click the shield icon in the dashboard. Done!
Is VPN enough to help me stay private?
It will encrypt your connection, which is essential for privacy. For total privacy, we recommend turning on MacKeeper StopAd to block ads and ID Theft Guard to monitor for password breaches.
Can you be tracked when using a VPN?
VPN changes your IP address so there's no way to track your real location. Some sites or internet providers may see that you're using a VPN client, but they can't track your actual browsing activity.
System Requirements:

macOS 10.13 or later, 100 MB of spaceFull requirements

Latest Software Version:

6.2, Jan, 2023

Pricing:

Starting at $10.95/month

Developer:

Clario Tech DMCC
**Notarization is not the App Review. The Apple notary service is an automated system that scans your software for malicious content.