Installing any cracked software is risky. But what exactly can happen to your computer? We tested a number of pirated MacKeeper versions to find out what hides behind promising options such as "MacKeeper free download full version crack", "MacKeeper crack for Mac" or "MacKeeper activation code free".
What you risk when installing cracked software?
Any computer program that exists is a product of human effort. Tech experts invest a lot of time and thoughtful work in creating new innovative software products. They help users communicate, have fun, travel, and at times even earn money.
It's logical that software come at a certain price to the consumer. However, the internet is full of offerings to download paid applications for free and whilst it might be tempting to save a few bucks and get the desired program without paying is it worth the risk?
First, when you download cracked software, obtain a free activation code, or otherwise bypass the purchase process, you are breaking the law and besides the illegalities of this, you have the immediate danger of encountering software problems to your computer.
When you download a pirated application or game, you never really know what you are getting. You rely on the distributors of the program who pursue their own goals. Here's what can happen.
Option 1. You get the software you wanted
If you are fortunate, the program you download is the one you expected. The tools to activate the program worked and your computer has experienced no harm. In this case, the distributor just wanted to lure you to their platform to watch numerous ads. This is how they monetize their website.
Option 2. You get corrupted software
The distributors of a pirated program can alter its content, but sometimes they're not the only one who can do it. The software can "call home", or in other words, communicate with the server of its developer. This way, the legal software owner may detect a cracked issue of their program and limit its functionality. There are many examples of this in the gaming world: game developers use various tricks to punish pirates, from adding indestructible monsters to distorting images in illegal game versions.
Option 3. You get malware
Recent research proves that one in three websites offering free entertainment content can harm the user's device by injecting malware. In these instances, the malware attackers can steal your credentials and access your accounts, lock your computer demanding a ransom, bombard you with endless popup ads, and more. Eventually, it may cost you a lot more than the actual cost of the app you wanted to install for free.
What happens when you download a cracked MacKeeper?
MacKeeper is a subscription-based suite of security and privacy tools for Mac. You can scan your Mac with MacKeeper for free, but you need to purchase a license if you want to use MacKeeper's advanced tools and fix issues with your Mac.

Yet, there are thousands of offers on the web aimed at bypassing the necessary purchase of the software. Pages with titles such as "MacKeeper premium license free download" contain long instructions and flashing buttons. All of them offer to download cracked MacKeeper and to give you a free activation code for MacKeeper.

We safely tested 10 random pages of cracked offers installing the downloaded files onto a macOS 10.14.3 run computer. In all 10 tests, none of the websites and files downloaded contained the MacKeeper app. As for the other software that was installed, we have no information about its origins or authenticity. The following information is examples of what we saw during the installation process.

In two cases we couldn't download anything despite clicking on a blazing button.

In one case, we were prompted to register and enter credit card details. Moreover, it was necessary to buy a VPN service in order to proceed.
In 7 of the cases, programs looking like Adobe Flash Player and Opera browser were suggested for installation.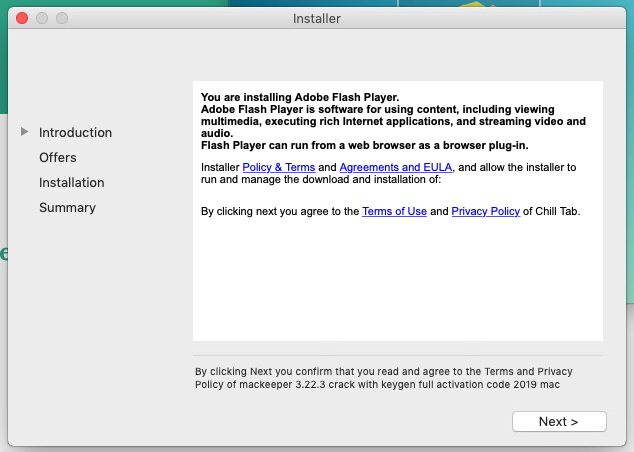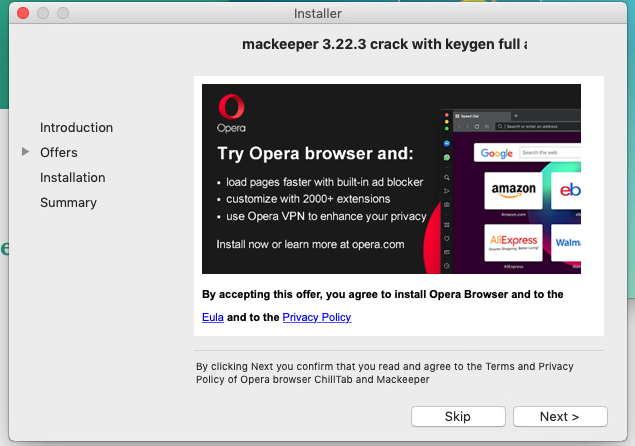 Most worrying of all, there was one attempt of a malicious Safari extension installation. Fortunately, it was blocked by macOS 10.14 due to its upgraded security mechanisms, though users of earlier macOS versions will not be protected against this harmful browser extension installed.

Another nasty thing that happened was a malicious script that attempted to install more applications for unwanted advertisement.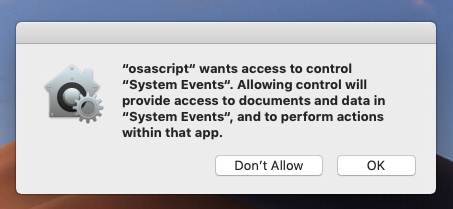 All in all, there was no MacKeeper installer available and we only experienced trouble receiving unwanted programs.
And what kind of programs were they? Were they viruses in disguise? Upon installing the suggested programs, we scanned the system with KnockKnock/VirusTotal services. Three applications were detected as malware.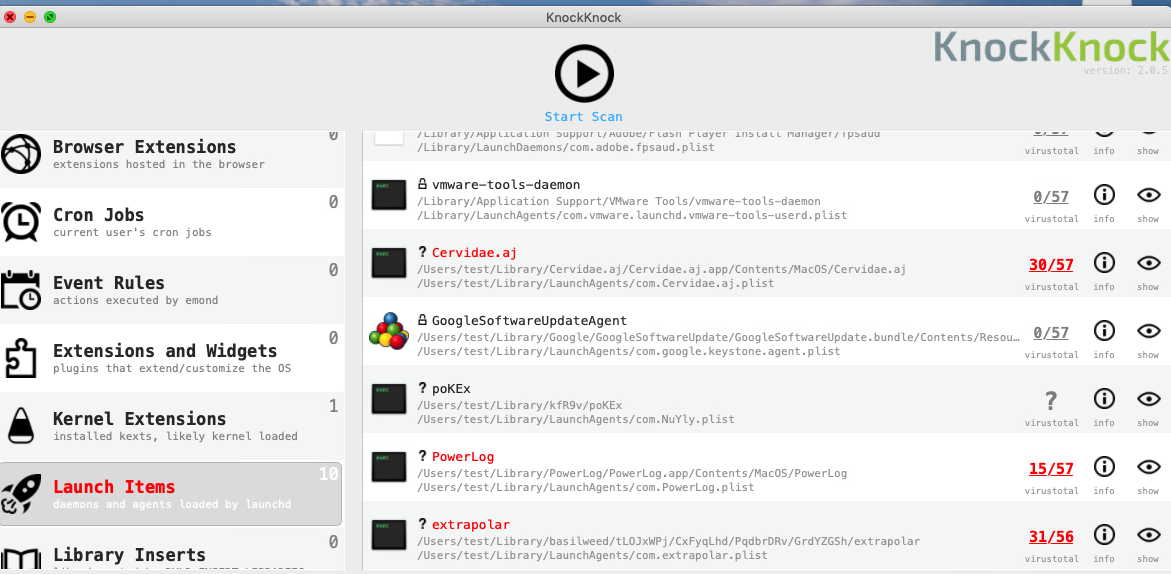 Scan reports prove that all of them were adware—a type of malware that displays unwanted advertisements.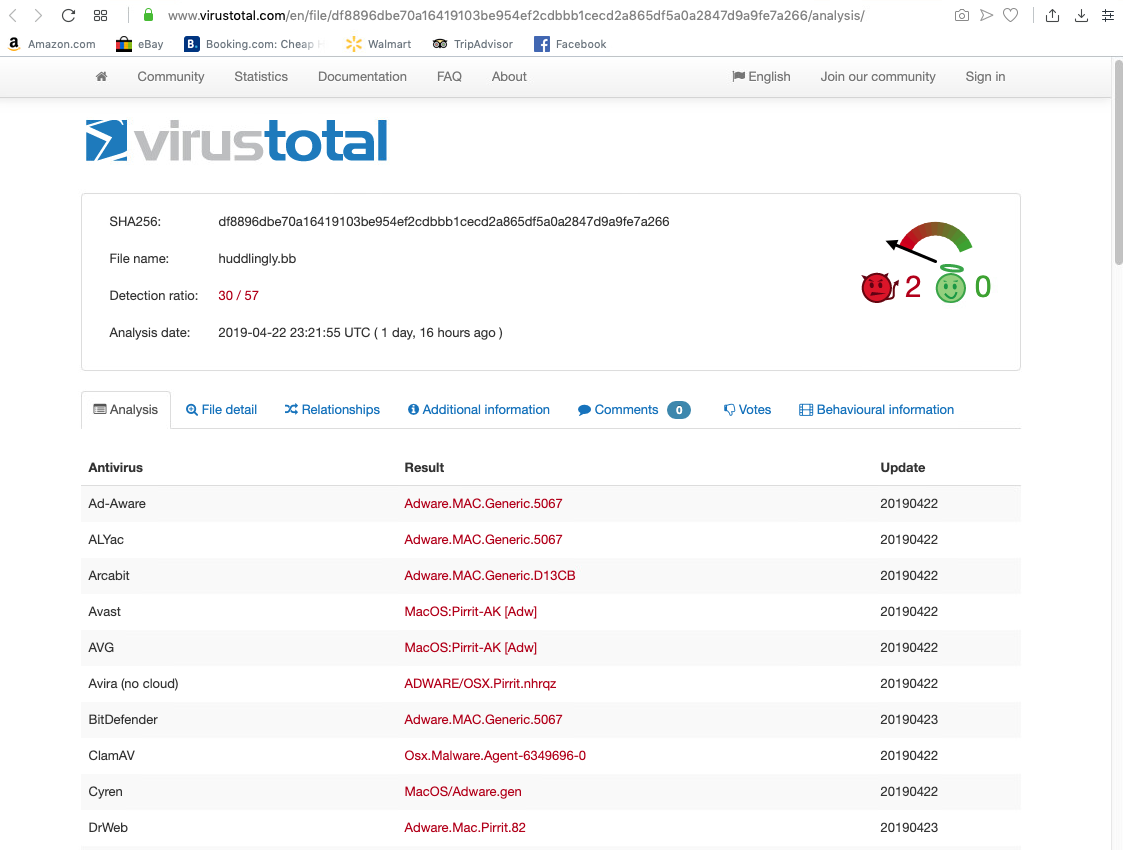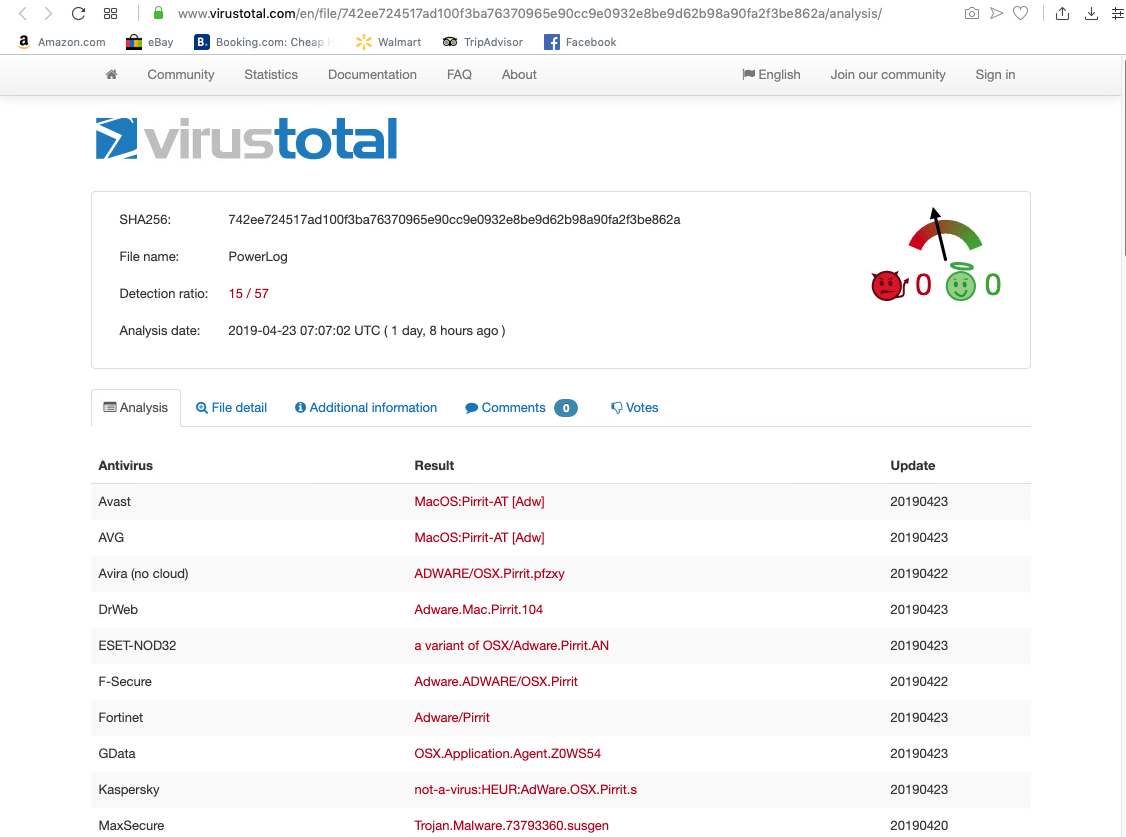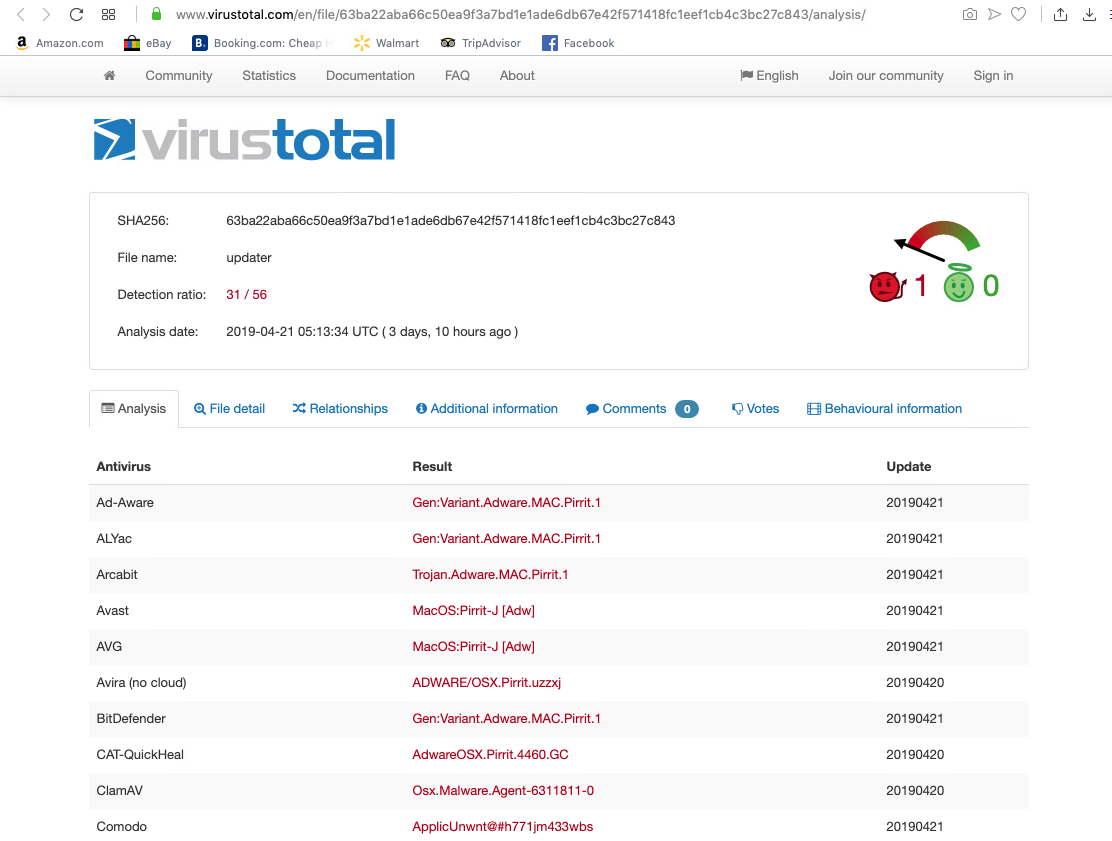 How can we sum up our little investigation? While trying to get a free copy of MacKeeper, you will most likely install unwanted programs that will show you annoying ads. Instead of a solution to protect your computer, you will get harmful ones. This is not what you want, right?
As a comparison, let's see what the genuine MacKeeper activation process looks like.
How to activate MacKeeper properly?
To receive your MacKeeper activation code, you just need to do the following:
Download

and install MacKeeper

Receive your activation code and enter it in MacKeeper
At any stage, you can contact the support team by phone or email as well as by chat available in the app and on the website 24/7.
Taking these simple steps is better than putting your Mac at risk, isn't it? We hope you enjoy your MacKeeper experience!