Run our Mac cleaner.
Get some space back.
Clean your Mac of all junk. MacKeeper safely removes unnecessary files, apps, extensions—whatever eats up Mac storage.
Get MacKeeper when Mac cleanup goes wrong
Full disk space
Too many browser extensions
Incomplete app uninstallation
Safe Cleanup
Wave goodbye to junk files
Give your MacBook some breathing room. 
Our Safe Cleanup tool is a storage cleaner that seamlessly removes logs, caches and more, plus empties the Trash—all in a snap. What will you do with all that free extra space?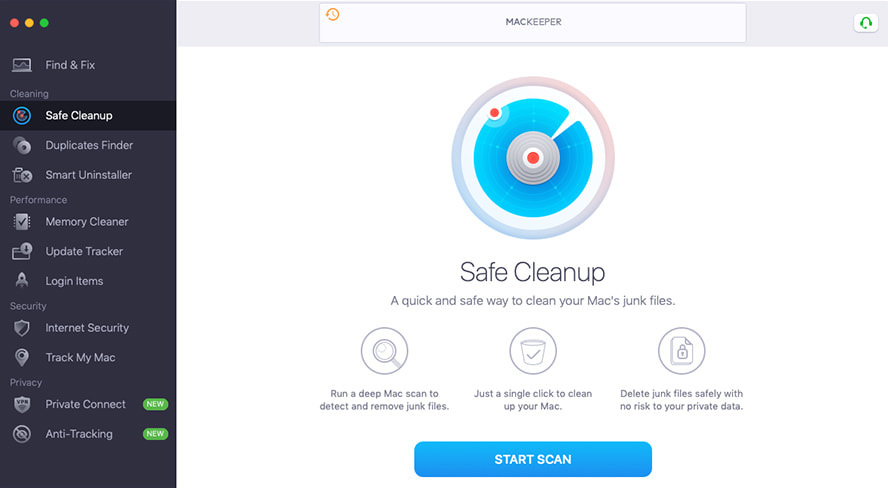 Deep scan gives your disk
space back
Thorough junk cleanup

across macOS
Personal files stay
safe and untouched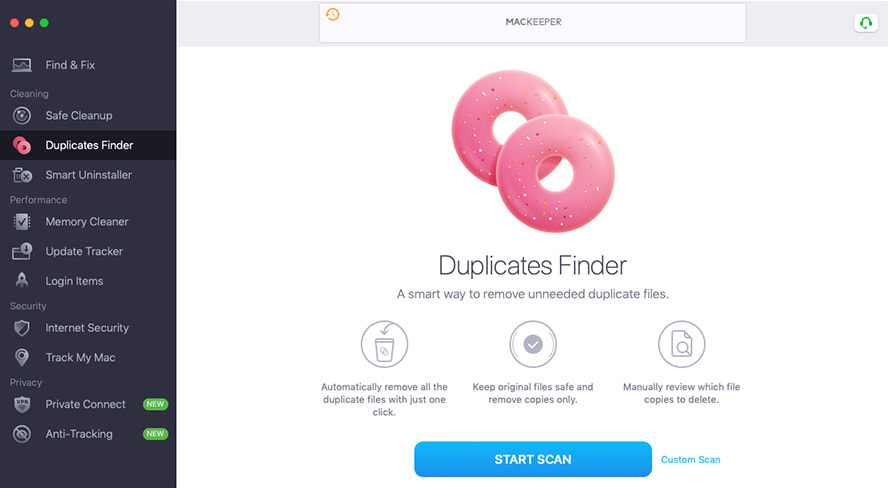 Duplicates Finder
Clean my Mac, get my disk space back
A clean Mac isn't magic. Duplicates Finder hunts down copies of files and deletes them from your Mac. It's the fast, easy way to reclaim your disk space and clean your Mac system—everything the best Mac cleaner should do.
Nothing is deleted
until you confirm
Original files are 

kept safe
System files are
left intact
Smart Uninstaller
A genius way to clean up Mac apps for good
Smart Uninstaller finds and deletes all those app leftovers scattered throughout your Mac, so the apps you no longer want are gone for good. Need more disk cleanup? It even finds and removes unwanted widgets, plugins, and browser extensions.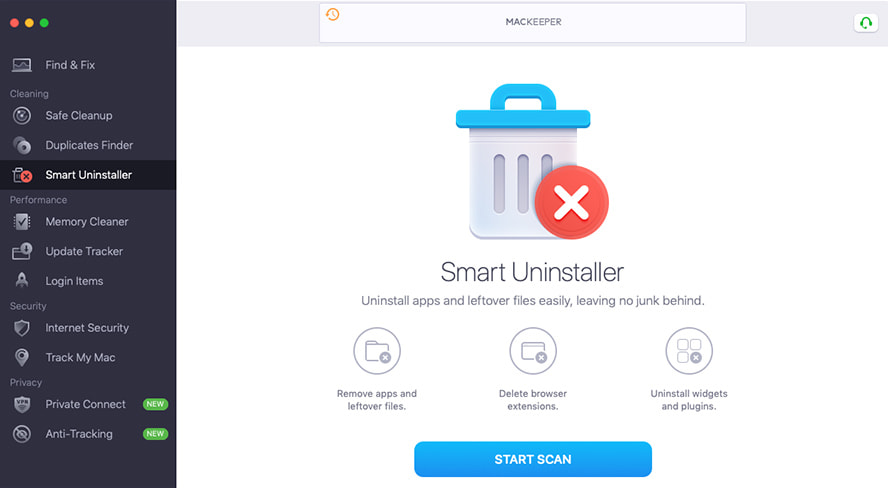 Get rid of 

leftover files
Remove browser
extensions
Uninstall useless
apps and plugins
Sit back—one click is all it takes
With Find & Fix, a single button starts your scan, finds items, and fixes them right away. The best Mac cleaners should be this simple.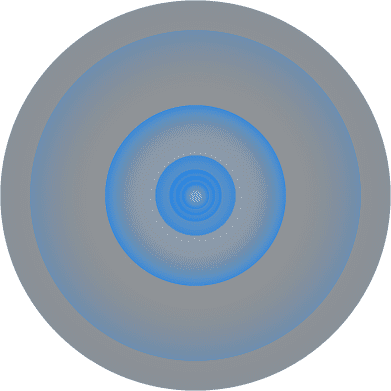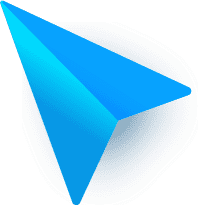 Safe Cleanup FAQ
How do I clean my Mac quickly?
The Find & Fix feature scans all MacKeeper tools at once so you can fix all items in a click. Run Find & Fix for an all-in-one quick Mac scan:
Step 1. Open MacKeeper, and select Find & Fix at the top of the left sidebar.
Step 2. Click the blue Start Scan button at the bottom of MacKeeper window
Step 3. Wait until the scan is finished.
Step 4. Click Fix Items Safely.
Can I remove duplicates files from my Mac? Is it safe?
The Duplicates Finder feature detects all duplicate files on your Mac. These are unneeded file copies that usually waste disk space. Duplicates Finder removes them in a click so you get megabytes or even gigabytes of extra disk space back.
Removing duplicates is completely safe as it always leaves at least 1 copy of each file. You can either use the automatic selection or select the copies manually.
What are junk files?
The system junk files are caches, logs, unused languages, and basically any files that are created by the system over time, but they are not deleted automatically after that. Over time, system junk files may pile up and clog the Mac. There's no way to prevent the system from creating junk files. That is why weekly scans are highly recommended in order to keep your Mac fast and clean.
Should I remove Languages?
Languages are unnecessary localization files for applications that support multiple languages. Apps are often equipped with localization files, so that customers from different countries can use the app in their native languages. Usually, a customer needs only one preferred language, so the others can be removed to make the Applications folder more lightweight.
How often should I run Find and Fix?
We recommend running it once a week or once every two weeks to keep your system in good condition.
Need help?
It's here, in the app.
Direct access to help with your Mac issues is available right here in the MacKeeper app. Get help from real people who live and breathe everything Mac, 24/7.
Start Chat
Personal tech expert
Mac cleaner is just the start
Here's what else MacKeeper can do.
Join over 3 million Mac users
Millions of users from all over the world trust our Mac cleaning software. Download MacKeeper, we'd love to have your back, too.
Download
*as of April 2018