Try a memory cleaner designed to cure slow Macs
MacKeeper will free up RAM in a click while safely quitting memory-hungry processes—so your Mac can finally run faster.
Download
Can a memory cleaner app really help?
1. Free up gigabytes
2. Control memory usage
3. Stop memory-hungry processes
The spinning wheel is a sign you're maxing out your memory—that's why apps keep acting up. MacKeeper can automatically clear your RAM so you notice a real improvement in your Mac's speed.
How it works
one-click RAM cleanup

no need to restart your Mac

instant slow Mac solution
Download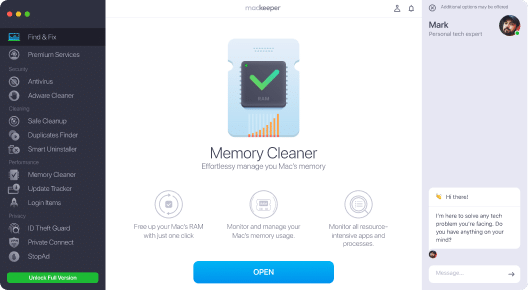 MacKeeper's Memory Cleaner tool shows how your memory is used and how much RAM is occupied or available.
How it works
check compressed memory size

monitor occupied memory

see remaining memory space
Download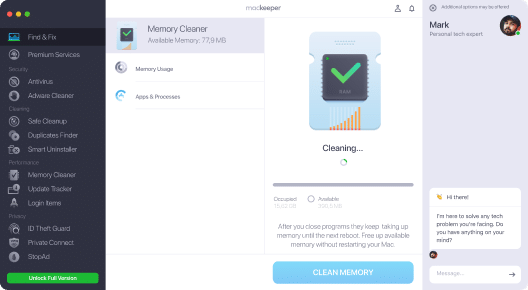 Discover what's eating up your Mac's memory. Run MacKeeper to find the most resource-consuming apps and processes, then quit them for faster performance.
How it works
sort apps by RAM usage

find the biggest memory gobblers

easily stop heavy processes
Download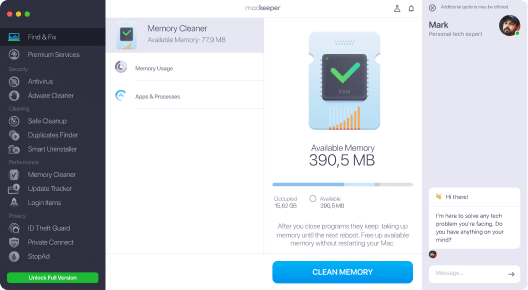 Check out reviews from trusted tech media
It's a Mac memory cleaner with benefits
MacKeeper makes your Mac clean, fast, and secure, all in one go.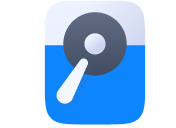 Clean up disk space
delete unnecessary files
remove duplicates and similar photos
get rid of unused apps

Protect from malware
scan your Mac for malware
block viruses in real time
monitor for suspicious apps
Which MacKeeper version is right for you?
Grab a free test drive of our RAM cleaner tool for Mac.
Quit memory-draining apps
Remove junk files and unused apps
Scan for malware infections
Protect from viruses in real time
Chat with tech support 24/7
Browse anonymously through VPN
Monitor for personal record leakss
Our users often ask
How do I clean my Mac's memory?
Open MacKeeper
Open

Memory Cleaner

Click

Clean Memory
That's it. You should enjoy extra Mac RAM in just a couple of seconds.
Is memory cleanup free?
The first cleanup is absolutely free once you've created your MacKeeper account. For another memory cleanup, you'll need a MacKeeper license.
How will cleaning RAM affect my Mac performance?
RAM or Random Access Memory is the temporary data storage space that your Mac uses to load apps and processes. This means the more RAM memory available, the faster your Mac should run.
Is it safe to clean your Mac's memory?
Absolutely. Smart memory cleaners are extra careful when optimizing Mac RAM usage. For example, MacKeeper is unable to quit system processes, so it marks them with a lock sign to always keep your memory cleanup safe.
How is it different from a Safe Cleanup feature?
MacKeeper's Safe Cleanup feature removes junk files stored on your hard drive. Memory Cleaner does a slightly different job by freeing up resources your Mac uses to run apps and launch processes.
System Requirements:

macOS 10.13 or later, 100 MB of spaceFull requirements

Latest Software Version:

6.2, Jan, 2023

Pricing:

Starting at $10.95/month

Developer:

Clario Tech DMCC
**Notarization is not the App Review. The Apple notary service is an automated system that scans your software for malicious content.