Have you ever actually read an app's Privacy Policy before you accept the Terms of Use? Have you heard the term EULA? Well, if you have, then most likely you're either a lawyer, someone who is particularly concerned with your consumer rights, or you work in tech. In this case, any of those would be a good thing.
Well, if you don't know much about that, and tend to click through Privacy Policies and Terms of Use documents, you're not alone. In fact, a 2017 Deloitte survey revealed that 91% of consumers in the US don't read legal terms and conditions before accepting them [1].
So what are these documents, why are you asked to agree to them and do you really need to read them word-by-word? Here we'll give you a few tips on the key things to look out for, so you save your valuable time and can skim through to the most important parts.
Why do users ignore Privacy Policies and Terms of Use?
A major reason for skipping legal texts is that they can be overwhelmingly lengthy and detailed. There have even been pieces of art created around the concept of how small humans really are in relation to giant corporations and their lengthy legal jargon. A great example of that was Dima Yarovinsky's project I Agree, in which he visually showcased the Terms of Use for services such as Instagram, Snapchat, Facebook, Twitter, Tinder, Google, and WhatsApp [2].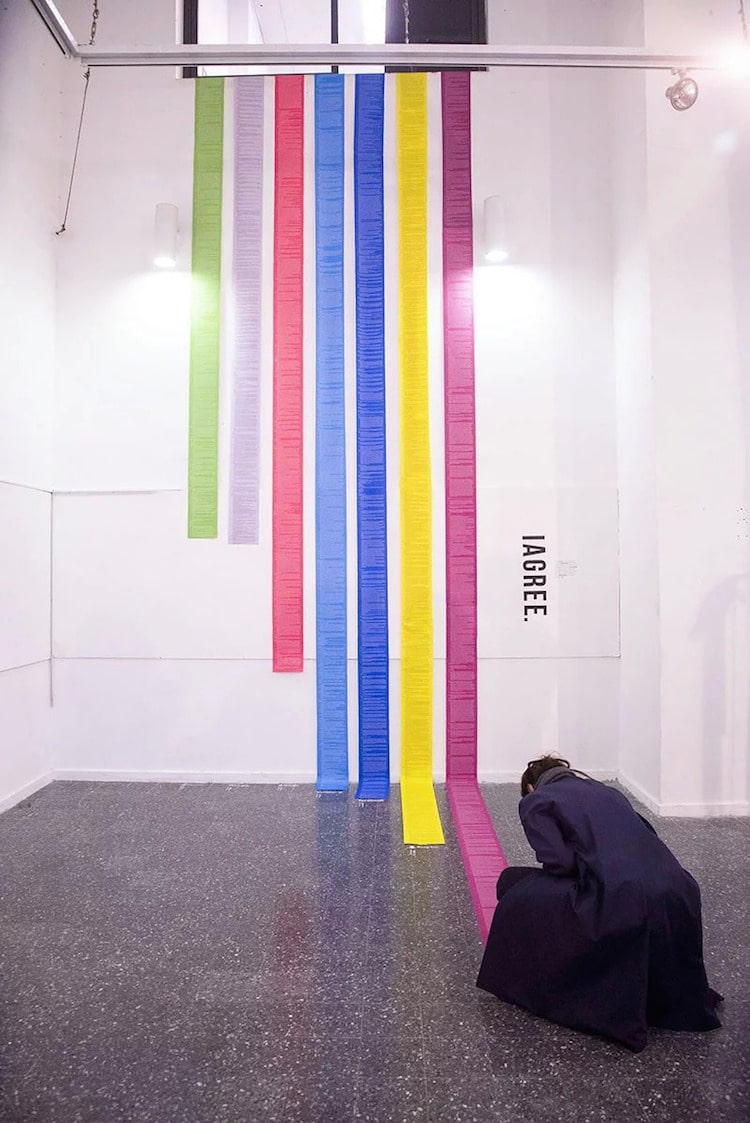 These documents aren't just long, they're often very complex, and written in legal prose that would confuse most readers—sometimes accidentally and sometimes by design. Some research by The New York Times suggested that the Facebook Privacy Policy is actually harder to read than Stephen Hawking's "A Brief History of Time" [3].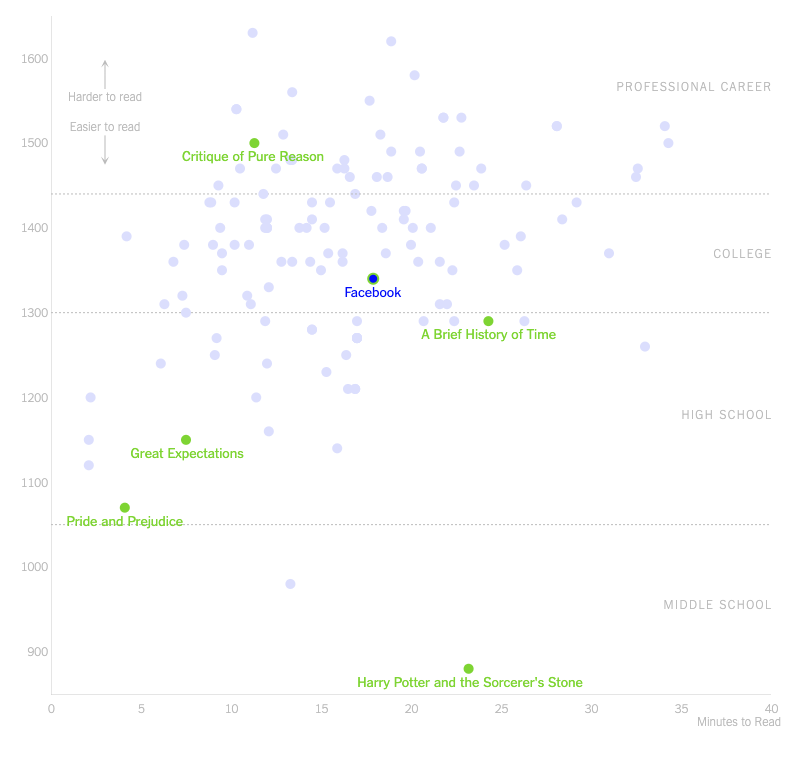 What is a user agreement and how can they differ?
In simple terms, a user agreement is a formal agreement made between the owner of a piece of software, such as an app or website, and the end user—that's probably you! That gives you the right to use the software or service, and it gives the business owner protection against misuse as well as a legal right to collect information about you.
Let's find out more. So what kind of agreements are there?
Terms of Use (also known as "Terms and Conditions" or "Terms of Service" ) regulate the use of a website or a mobile app. This document outlines rules on payments and subscriptions, community interactions, copyright protection, and so on.
Privacy Policy describes what kind of data a company collects from its users, how the company collects it, and what it does with the data.
EULA (End User License Agreement) gives a user the right to download a certain app (a copy of the software), provides rules for its use, explains copyright protection, and so on [4].
As you're probably aware, most apps and web services that you use collect your personal data. It's often not obvious what that data might be used for. Let's focus then on personal privacy aspect which is broadly outlined in a Terms of Use document and set in detail in a Privacy Policy.
Why is it important to read Terms of Use and Privacy Policies?
Boring as they seem, user agreements exist for a reason. It is basically the only way to understand what happens to your personal information and decide whether you're OK with it. Why is that important?
Free services are paid with your personal data
For many digital businesses, collecting and selling your personal information is their primary way to make money. They provide details of your online activities, preferences, and location to advertisers and get paid for that data. In turn, advertisers become able to show you personalized and more efficient ads. Privacy policies explain what types of your personal details are collected and shared this way.
To be precise, data breaches happen every single day. The more companies handle your private information, the higher the risk of hackers stealing it. After reading through a Privacy Policy, you may decide not to use a particular app, because of how they will use your data. It's your choice.
Your consent is legally binding
Imagine you found out that a social media network used your personal information—perhaps your image, taken from your profile, was included in their marketing campaign. You might be upset and wondering how that could happen. The chances are that when you agreed to the Terms of Use and Privacy Policies, you gave your consent—because you didn't read through all the fine print.
What tools can help you read Privacy Policies and Terms of Use?
As we've discussed, the issue with long and unreadable user agreements is something we need to tackle, as we all need to understand what we consent to when we click "I agree". Luckily some clever people out there have created automated solutions to help users quickly understand what they are dealing with. Here are a few of those:
Terms of Service; Didn't Read (ToS;DR)
This is a project launched by a team of activists back in 2012. They rate various Terms of Use and Privacy Policies by highlighting their crucial positive and negative aspects. Currently, the tosdr.org website contains about 300 short reviews of the most popular services' terms. It includes information that relates to Google, Amazon, IMDb, The New York Times, Minecraft, and more. The project is open to new participants so you can contribute, too!
What is really clever, is that the creators of ToS;DR created extensions for all the popular browsers. That means, whenever you visit a website that is in the service's database, you can click on the extension icon and see a review of its terms. You can get this extension on tosdr.org [5].
This service provides AI-powered summaries of various Privacy Policies. If you head over to pribot.org/polisis, you can choose a policy out of a large database and see what user information a certain company collects and what it does with the data.
Let's see how Polisis analyzes Google Privacy Policy: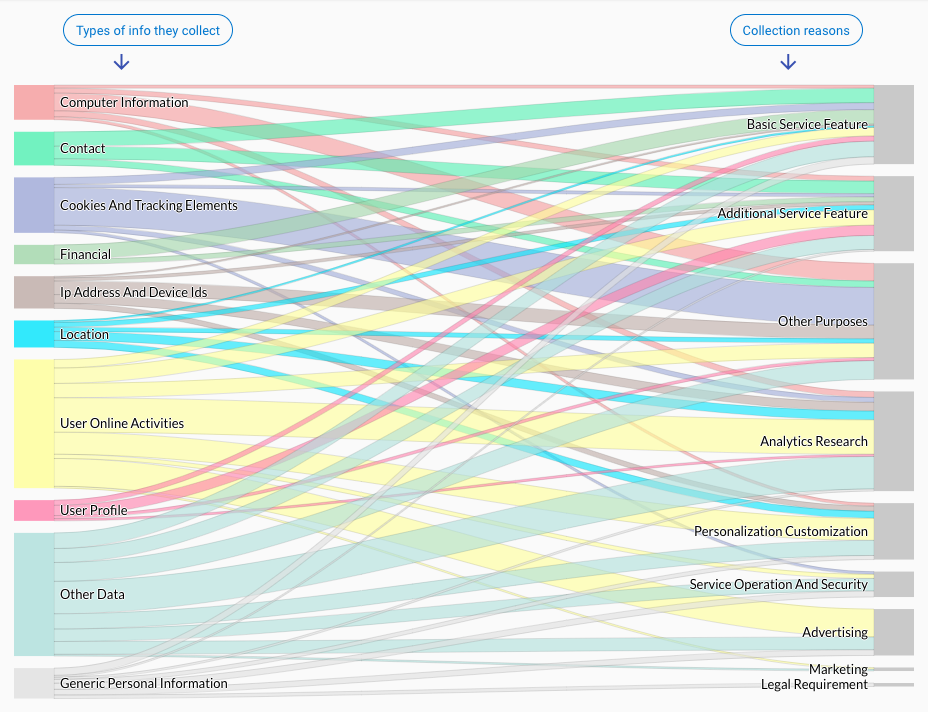 It might be interesting to note that Google collects user location data. Why do they do that? According to this chart, the company uses it for basic and additional service features, analytics research, personalization, and other purposes, but not for advertising. Similarly, we can examine other data collection and use.
This service is also available as an extension for Chrome and Firefox browsers. It helps you quickly check out the pros and cons of a certain website's policy. In case you're still puzzled, there's a chatbot called PriBot designed to answer questions on Privacy Policies [6].
How to read Privacy Policies and Terms of Use quickly?
AI-based solutions are great but still not perfect. There's always a possibility of a mistake. A certain document can be updated or moved within a website and a robot may not be able to analyze the latest policy. Legal wording can be tricky too, and the truth is, sometimes a human can understand the context better than a machine.
More and more companies try to make their documents more user-friendly. For example, we structured our own Privacy Policy in layers. You can quickly look through the top layer to read all the key elements of the document. If you want to learn more, you can expand certain sections such as "Data Sharing" or "Privacy Settings" and dive into the details.
If you deal with a wall-of-text kind of a document, try the following tips to simplify its analysis.
1. To learn what personal information is collected and how it is stored and shared, search for certain words in the text. Use "Cmd" or "Ctrl" + "F" hotkeys to search for the following:
collect

store

user data

personal information

use

advertising

offers

promotion

share

third parties

partners

security

encryption
2. To understand what rights and obligations exist between you and the company, look for the following terms:
may

must

understand

acknowledge

accept

agree

authorize

opt-out

delete

discretion

at any time
3. Pay attention to the text written in all caps or in fine print—it may contain important exceptions or limitations.
You now have all the tools you need to quickly grasp even the most intricate user agreements! No longer will you freely click though the Terms of Use and Privacy Policies!
As you take your online privacy more seriously, you might also like to check out another online tool that protects you from covert trackers that follow your online behavior. Discover StopAd, a new privacy tool from MacKeeper— it hides annoying ads while you browse and prevents advertisers from tracking you. Enjoy worry-free browsing!
Sources:
[1] https://www.businessinsider.com/deloitte-study-91-percent-agree-terms-of-service-without-reading-2017-11
[2] https://gizmodo.com/these-giant-scrolls-are-the-hellish-user-agreements-you-1825822690
[3] https://www.nytimes.com/interactive/2019/06/12/opinion/facebook-google-privacy-policies.html
[4] https://www.termsfeed.com/blog/differences/
[5] https://tosdr.org/
[6] https://pribot.org/