The more you use your Mac, the more it will accumulate files and other data. A lot of that information is stuff you want — your documents, photos, videos, and so on. But a large part of it will also include unnecessary data that just clogs up your Mac, slowing it down and taking up space.
Thankfully, there are plenty of applications that will scan and remove all that clutter for you. But what's the best Mac cleaner software available right now? Here are seven we think are worth checking out.
| | |
| --- | --- |
| Best All-in-One Solution | MacKeeper |
| Best Mac Cleaner | |
| Best Free Cleaner | |
MacKeeper 5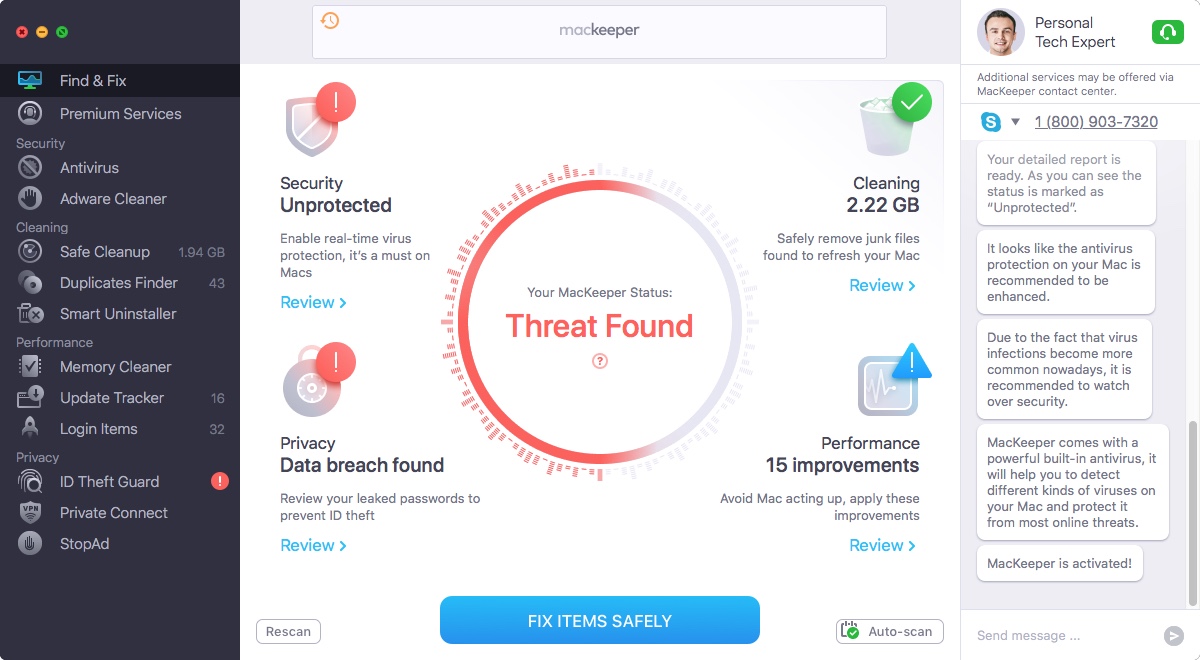 macOS versions: macOS 10.11 and higher
Price: $16.95 per month or $119.40 for the per month plan if billed yearly. Often discounted, though. Currently, $71.40 a year for one Mac, which works out at $5.95 per month. For $89.40 a year, you can cover three Macs (reduced from $358.20)
MacKeeper has a couple of tricks up its sleeve that other Mac cleaners don't. Not only is it a junk cleaner and optimization tool, helping to speed up your computer; it also includes real-time antivirus protection, and it offers VPN (virtual private network) access.
Another interesting security feature is ID Theft Guard. Just enter your email address, and MacKeeper will let you know if your account is ever found in collections of breached data found on the web.
MacKeeper also incorporates a memory cleaner, an update tracker, a duplicates finder, a smart uninstaller, and the ability to tweak your Mac's startup items. And like CleanMyMac X and MacCleaner Pro, it includes a smart scan feature called Find & Fix. This scans for problems related to security, cleaning, privacy, and performance, and then remedies them.
In our case, it found 1.94GB of junk, plus duplicate files and data leftover from uninstalled applications. It also found 15 outdated apps and various security issues, including that our email address had been associated with a data breach somewhere.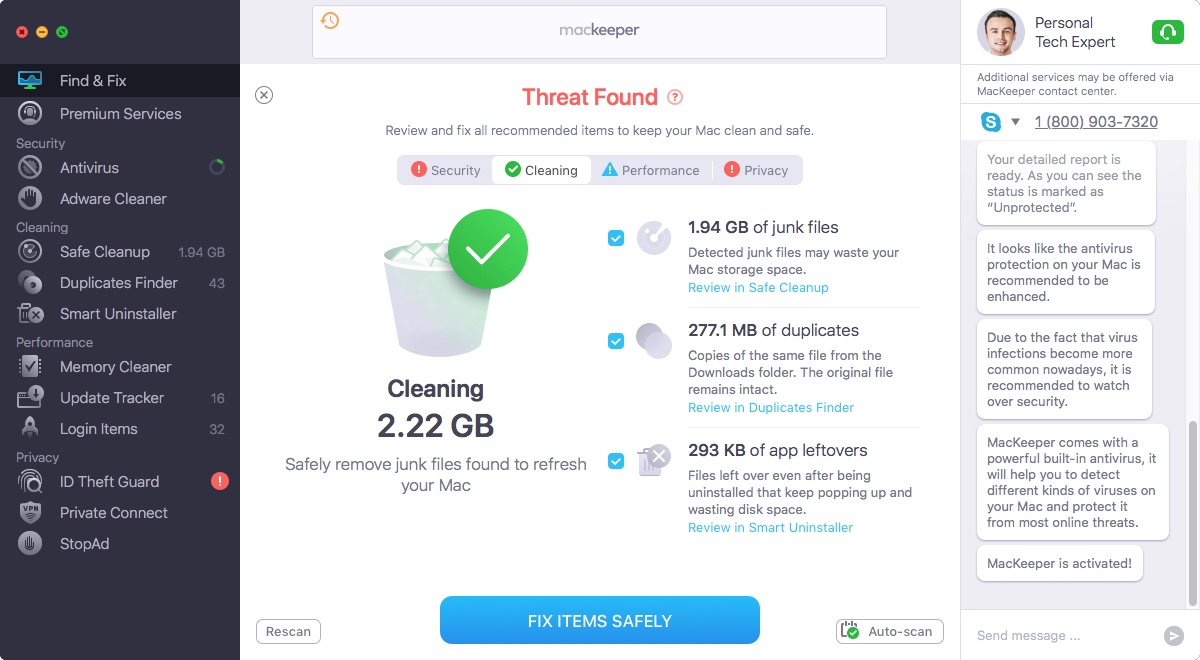 In other words, if it can help with your Mac's security, maintenance or optimization, it's probably included in MacKeeper.
CleanMyMac X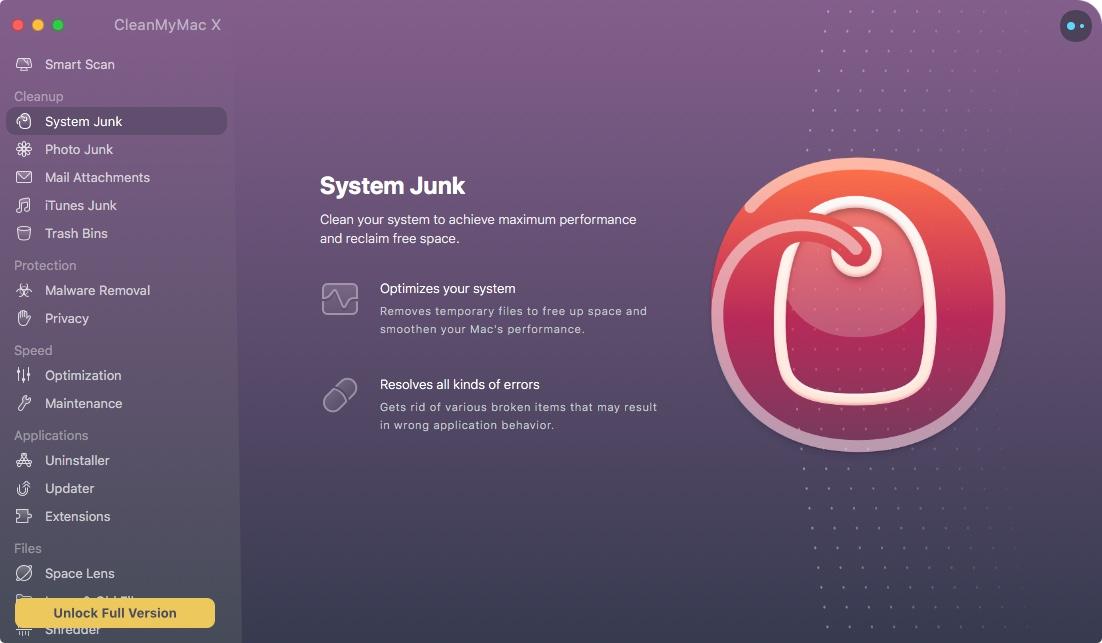 macOS versions: OS X 10.10 or higher
Price: $39.95 for one Mac per year, $79.90 for two Macs per year, $199.75 for five Macs per year. Or one-time purchases $89.95 for one Mac, $179.90 for two Macs, $449.75 for five Macs
CleanMyMac is a popular all-in-one Mac system cleaner and anti-malware application, which does a number of different things. As well as identifying and removing system junk in the Mac operating system, it can search your photos, mail attachments, iTunes, and trash bin for unwanted data.
Like Cleaner One Pro, it has a Smart Scan function that combines a number of features: Cleanup, Protection, and Speed. That came back with 1.49GB of system junk we could remove, plus junk files in our trash bins, iTunes, and in our photos.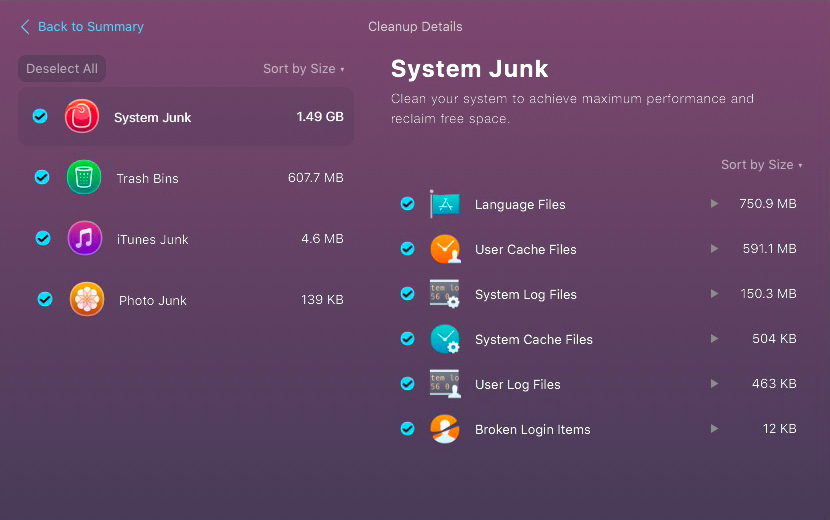 Furthermore, you can speed up your Mac with the optimization and maintenance parts of the program. And it features tools to uninstall apps, manage extensions and safely delete sensitive data. Similar to DaisyDisk, it enables you to see what's taking up all your disk space, with a clear, easy-to-navigate graphical interface.
Security-wise, CleanMyMac offers a malware scanner and some basic privacy features. It doesn't seem to include real-time antivirus protection, though, so it won't stop you from picking up malware in the first place.
AVG Cleaner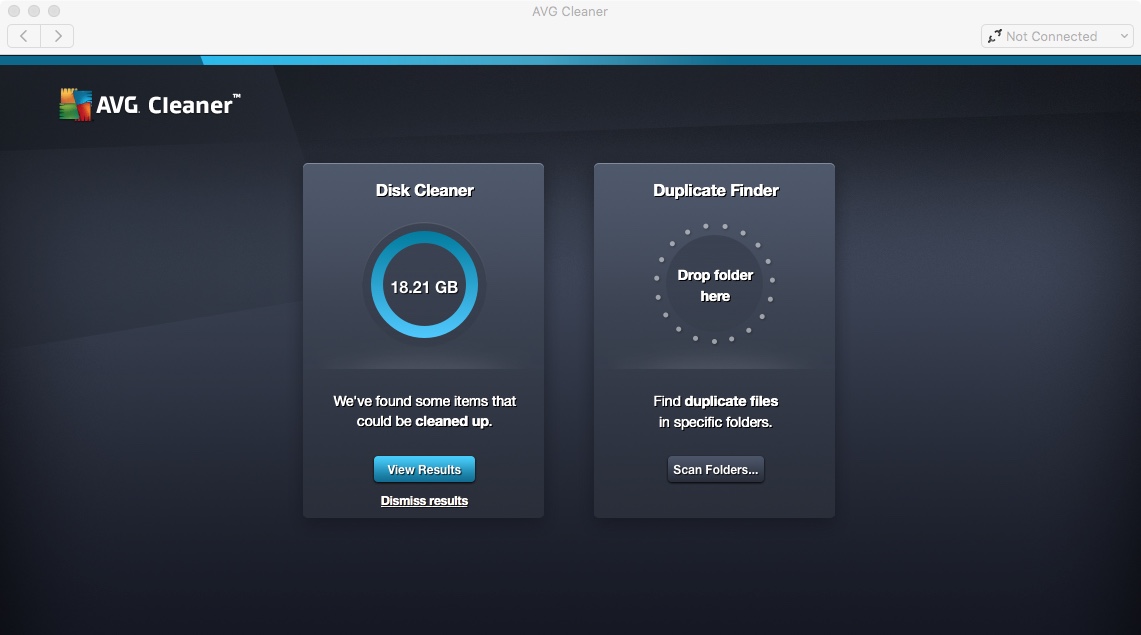 macOS versions: OS X 10.8 or later
Price: Free
Available to download from the App Store, AVG has only two functions: Disk Cleaner and Duplicate Finder. That's much less than the majority of Mac cleaning software. There are no security features, no optimization tools, and really nothing beyond the basics.
However, AVG Cleaner is available completely free of charge, so while it may be limited, it's okay for something that won't cost you anything.
After running a scan, AVG Cleaner will enable you to quickly delete downloads, trashed files, application caches, junk files, and logs. You can simply select everything and click the Clean button, but we would recommend looking through the Downloads section first to make sure you don't delete something you want to keep.
For us, it found 18.21GB of data that could potentially be cleaned up. That sounds like a lot because it is. But in fact, 17GB of that was our download folder, which most other Mac cleaners keep separate from their junk scans.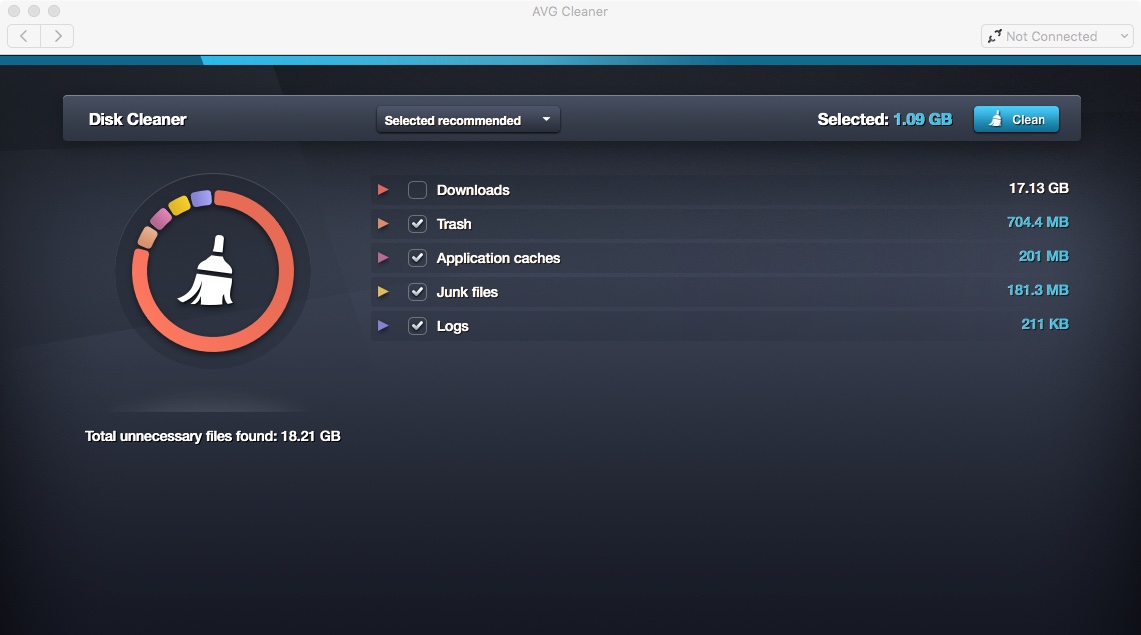 There's not much else we can say about AVG Cleaner, because it's such a minimalist app. It might be worth checking out AVG Ultimate if you're interested in the developer's more powerful apps.
Cleaner One Pro
Price: $19.99 per year for one device, $59.99 per year for five devices
It's not immediately clear how to open Cleaner One Pro once you've installed it. Running the application adds an icon to your menu bar, from which you can run a quick clean or memory optimization. From here, you can also open the full app, by clicking on 'System Optimizer'.
As well as a junk cleaner, Cleaner One Pro has several additional features. Among them are a big files finder, a duplicates finder, a startup manager, and a file shredder to delete data securely. The Smart Scan function combines a number of these, and you can choose which types of scan to include.
When we ran it, it found 28.7GB of data to potentially clean. However, 19GB of that was large files in our downloads folder.
Cleaner One Pro doesn't include any security capabilities, but it's a competent Mac cleaner. Being able to customize what you scan with the Smart Scan feature is something we particularly like. It's not quite as feature-packed as some of its competitors, but it's certainly one to consider.
CCleaner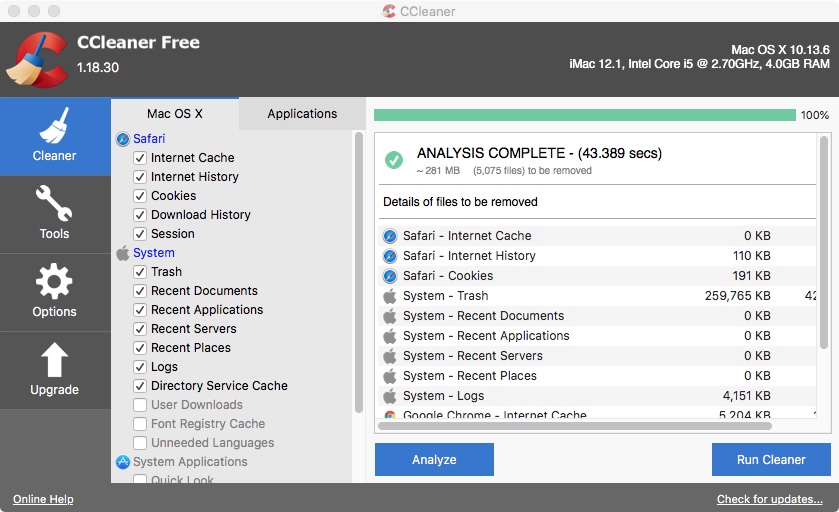 macOS versions: OS X 10.10 or later
Price: $24.95, currently reduced to $19.95
A long-time favorite of Windows PC users, the optimization tool CCleaner first came to Apple Macs in 2012. It aims to do one thing and do it well: to find and clean out unnecessary data. It looks for unused files, trash, and cached information that can be safely deleted
It also removes tracking cookies and other browsing data, which can help protect your privacy.
In our test, CCleaner returned 281MB of cached or junk files that we could cleanout. These included system data and files from our web browsers. What's not included is large files, duplicate files, or start-up items, all of which can be scanned for in a different part of the program.
CCleaner's additional tools consist of Uninstall, Startup, Erase Free Space, Large File Finder, and Duplicate Finder. You also get automatic history clearing in your web browser, real-time monitoring of junk files, automatic updating, and priority technical support.
However, CCleaner doesn't include any security features, so if you need virus scanning, VPN or anything like that, you should try something else.
Onyx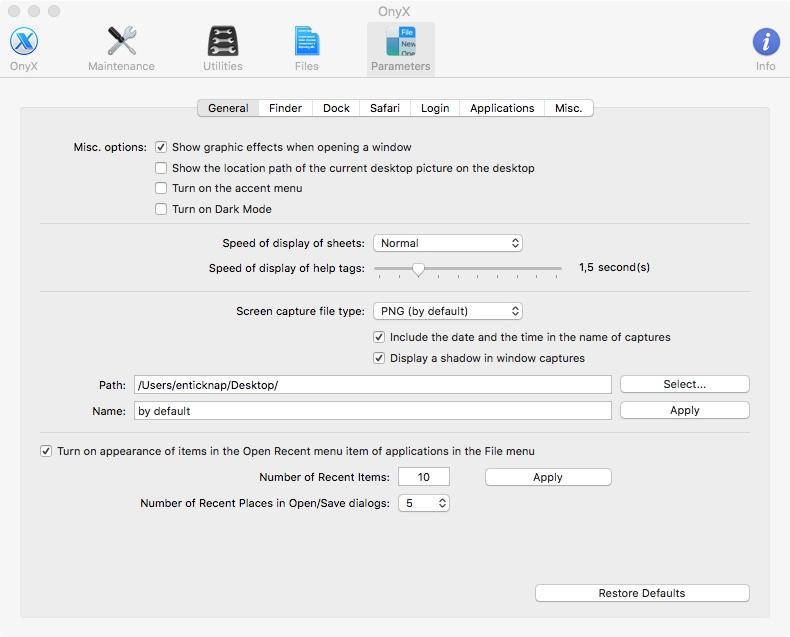 macOS versions: OS X 10.2 or later
Price: Free
Onyx is a free app that does a variety of maintenance tasks, a few of which may help speed up your Mac. It verifies the structure of your system files, rebuilds various caches and indexes, and it cleans out all kinds of junk files.
It also tweaks several elements of your Mac's behavior, such as animation effects, visibility of your files and folders, and more. A lot of it is quite specialist, though, and not the kind of thing average users would benefit from.
Onyx doesn't scan your system like other Mac cleaners, though. Instead, you choose which caches and folders to clear out, but it doesn't tell you if there's anything in them or if you'll free up space by doing so.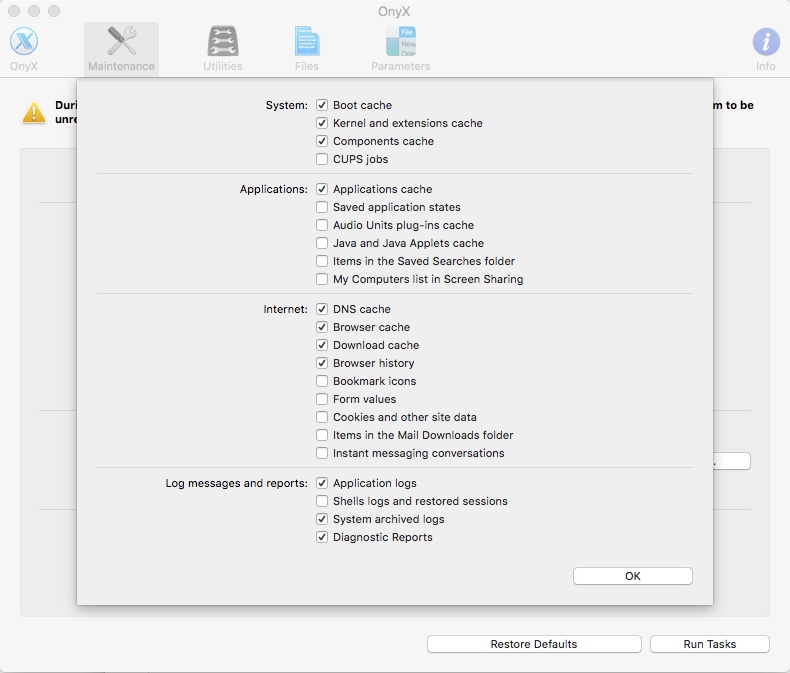 Onyx enables you to do a lot of advanced tasks, like running scripts and accessing UNIX manual pages. These are clearly aimed at experts, and some of them could even damage your Mac if you don't know what you're doing.
DaisyDisk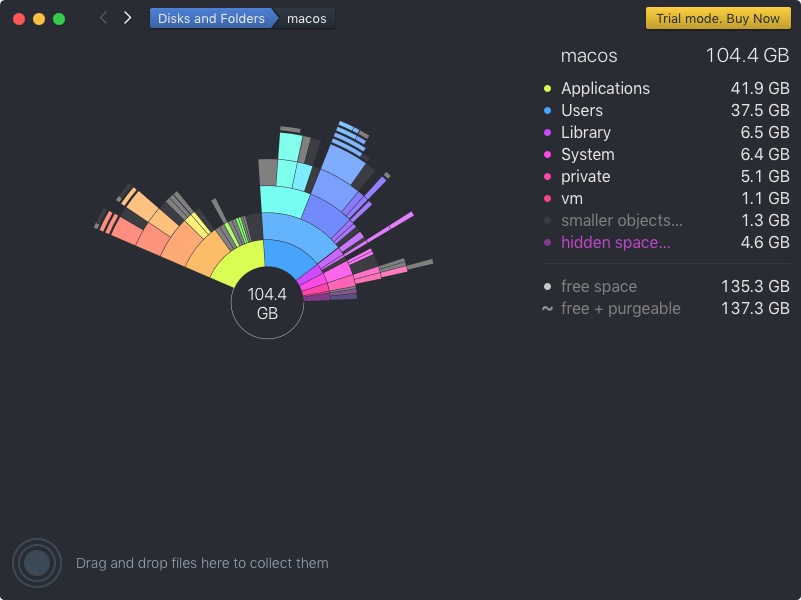 mac OS versions: OS X 10.5 or later
Price: $9.99
DaisyDisk isn't so much a Mac system cleaner as a tool that can help you decide how to free up space and perform basic maintenance yourself. What it does do is scan a drive or folder (whichever you choose) and then tells you the location and size of every file and folder.
When it's done running a scan, it presents you with a color-coded graphic representing the top-most folders. The bigger the sections of the graphic, the larger the contents of that folder. Extending out from the center, the sections get smaller but follow the same colors, so you can see big files or folders within other folders.
Best of all, if you click on any segment of the graphic, it opens up a new one that follows the same principle. So you can keep clicking and drilling down. Not only does it help you quickly locate files that you might want to delete, it looks amazing too.
Unlike the other software in this list, DaisyDisk doesn't automate any of the file deletions and it doesn't promise to speed up your Mac. But it will help you quickly work out what's taking up all your disk space so you can manually remove things.
Disk Doctor Pro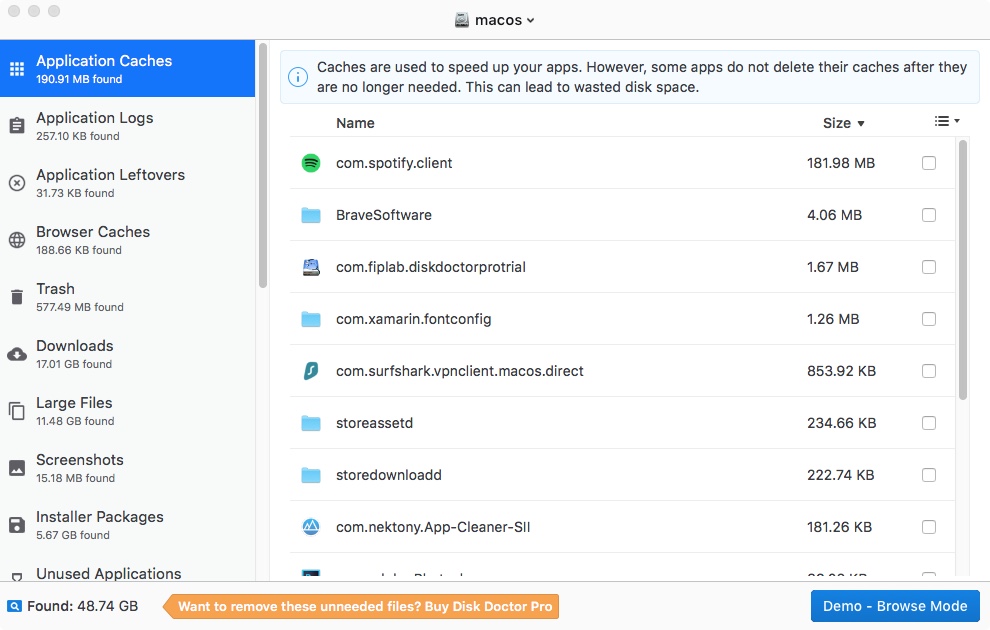 macOS versions: OS X 10.9 or later
Price: $9.99
Disk Doctor Pro is essentially the big brother of Disk Doctor, a small but well-respected disk cleaner available for just $2.99 from the App Store. There is some crossover between the two, but the Pro version is more powerful and makes it easier to look through and analyze the results of a scan.
With Disk Doctor Pro, you can clear various caches, temporary files, and logs. As soon as you open Disk Doctor Pro, it runs a scan. In our test, it said it had found 48.74GB, but this huge figure included things like our downloads folder, large files, screenshots, installer packages, and unused applications. Competing Mac cleaning software can do the same thing, but they don't normally include this data in their scan totals.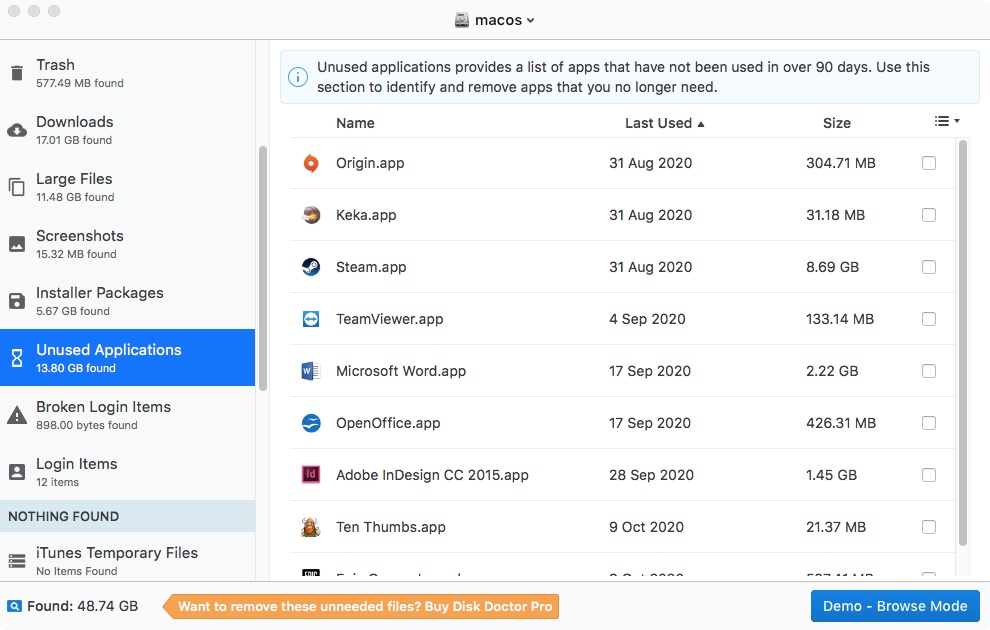 Nevertheless, Disk Doctor Pro is a neat little application at a great price, but it's still quite limited in what it can do. It also doesn't seem to do that much more than the cheaper version, despite costing three times as much. That said, it's still less than $10, so if you need a cheap junk cleaner for your Mac, it's a good option.
Just don't expect any fancy extras, like security, optimization or privacy features, or one-click cleaning.
MacCleaner Pro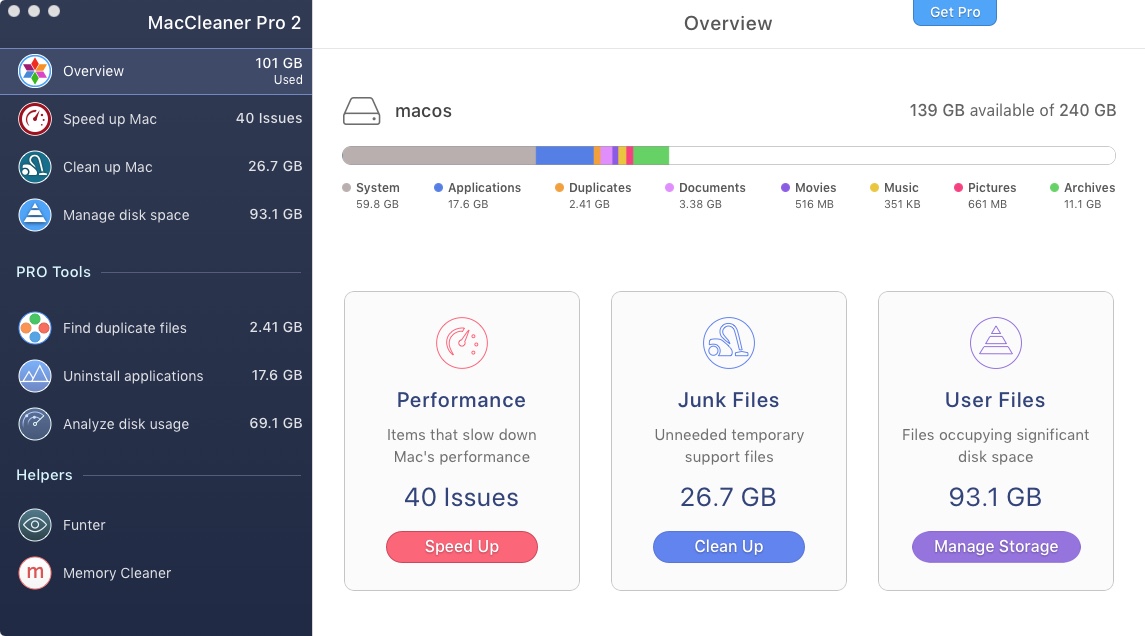 macOS versions: OS X 10.11 or later
Price: $44.95
The main features of MacCleaner Pro are Speed Up Mac, Clean Up Mac, and Manage Disk Space. Speed-up options include freeing up RAM and disabling startup items. The disk space manager lets you see a list of all your files and folders and how big they are, so you can quickly free up space on your Mac. Lastly, the Mac cleaner clears system caches, installation files, downloads, and more.
Our test returned 26.7GB of files we could potentially clean up. Once again, our downloads folder made up the majority of this, but it also suggested 5.77GB of installation files, 3.4GB of language files, and 459MB of cached data.
The PRO Tools part of the app includes a duplicate finder, an app uninstaller, and a disk space analyzer, which is exactly the same as DaisyDisk, right down to the graphics and animations.
Additionally, MacCleaner Pro includes two 'Helpers', mini-apps that run from your menu bar. Funter is designed to help you find hidden files, while Memory Cleaner does exactly as its name suggests.
MacCleaner Pro offers a good mix of Mac cleaning and optimization tools. It doesn't include anything for security or privacy, though, so you should bear that in mind if those are important to you.
Mac Cleaners FAQ
Do Mac cleaners really work?
Mac junk cleaners do a few different things. They can speed up your Mac, free up space and help protect your privacy by deleting tracking cookies.
The effectiveness of speed optimization depends on your Mac's hardware and just how many junk files it's hiding. In some cases, running a scan and clean can really make your Mac feel noticeably faster.
And there's no doubt they can help to free up space by identifying files you may not need anymore.
Will a Mac cleaner slow down My Mac?
If your Mac is very old, some of the larger cleaning applications may cause some drag if they're set to run constantly in the background. However, the majority of Macs will be fine. Most Mac cleaning software is designed to be undemanding in terms of system resources.
If you do try to run modern disk utilities on an extremely old Mac and find they slow down your computer while running in the background, you may benefit from running them only as and when needed. That way, you can still benefit from their optimization and maintenance features.
Are Mac cleaner apps safe to use?
With anything that finds and deletes files, there is always a chance that something important could be trashed by mistake. That could cause system instability or other problems.
Thankfully, specialist Mac cleaning software like MacKeeper, which can automatically delete data, knows which files are junk and which are not. Disk utilities like DaisyDisk, however, only tell you the size of files and leave it up to you to decide whether or not they're safe to delete.
If you know what you're doing, that's great, but if not, you could easily remove something your Mac needs.
Which is the best Mac cleaner on the market?
Choosing the best Mac cleaning software depends on exactly what you're looking for and what your budget is.
If you want a free tool to clear out caches and other temporary files, we think AVG is a good option. It's not feature-packed, but it does a reasonable job of cleaning up a Mac.
If you want a more thorough Mac cleaner, MacCleaner Pro, CleanMyMac X, Cleaner One Pro, and MacKeeper are all excellent. They show exactly which files can be cleaned out, allowing you to remove everything with one click. They all feature smart scans as well, to roll in other benefits, such as optimization and maintenance.
Some Mac cleaners seem to pad out their results by including contents from the downloads folder. Neither MacKeeper nor CleanMyMac X do that, so they're our favorite cleaners.
But MacKeeper includes some features you just don't see in its competitors, including ID safety, real-time antivirus, and VPN. That's why we think it's the best all-in-one solution on the market.