CleanMyMac is one of the most popular Mac-cleaning apps around at the moment. Founded by the Ukrainian developer MacPaw in 2008, it offers a large number of tools for cleaning, optimizing, and protecting Macs.
It's available on subscription, but you can also pay for a lifetime license — though this is notably more expensive.
In this review, we look at all of CleanMyMac's different features, and how they can help your Mac to run more effectively.
CleanMyMac X features overview
Although it does offer some basic security and privacy tools, CleanMyMac X is primarily a cleaning and optimization app. It can quickly scan for and remove a variety of different data, including caches, log files, and attachments. And it has tools to optimize your Mac's performance too. These are all split into five categories: Cleanup, Protection, Speed, Applications, and Files.
Cleanup tools
System Junk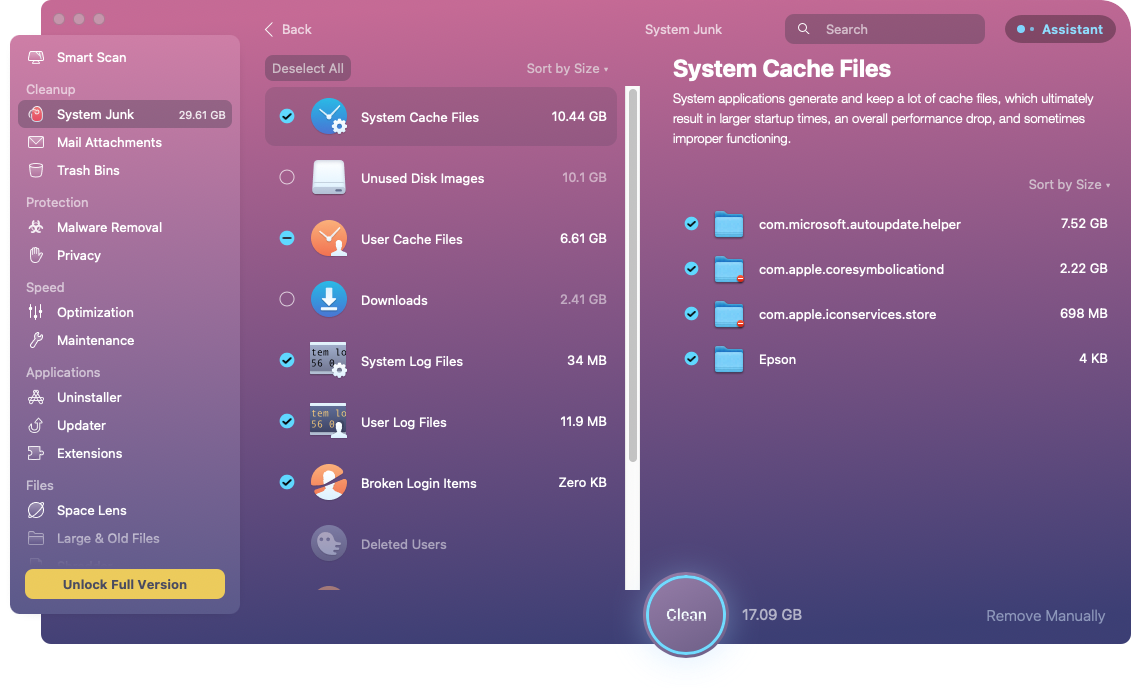 Using the System Junk scanner, you can find all kinds of unnecessary data on your Mac. This includes system and user caches, unused disk images, log files, downloads, and more. As with most Mac cleaning tools, this is much faster than finding these files manually. That means you can clear up disk space on your Mac in no time at all.
Mail Attachments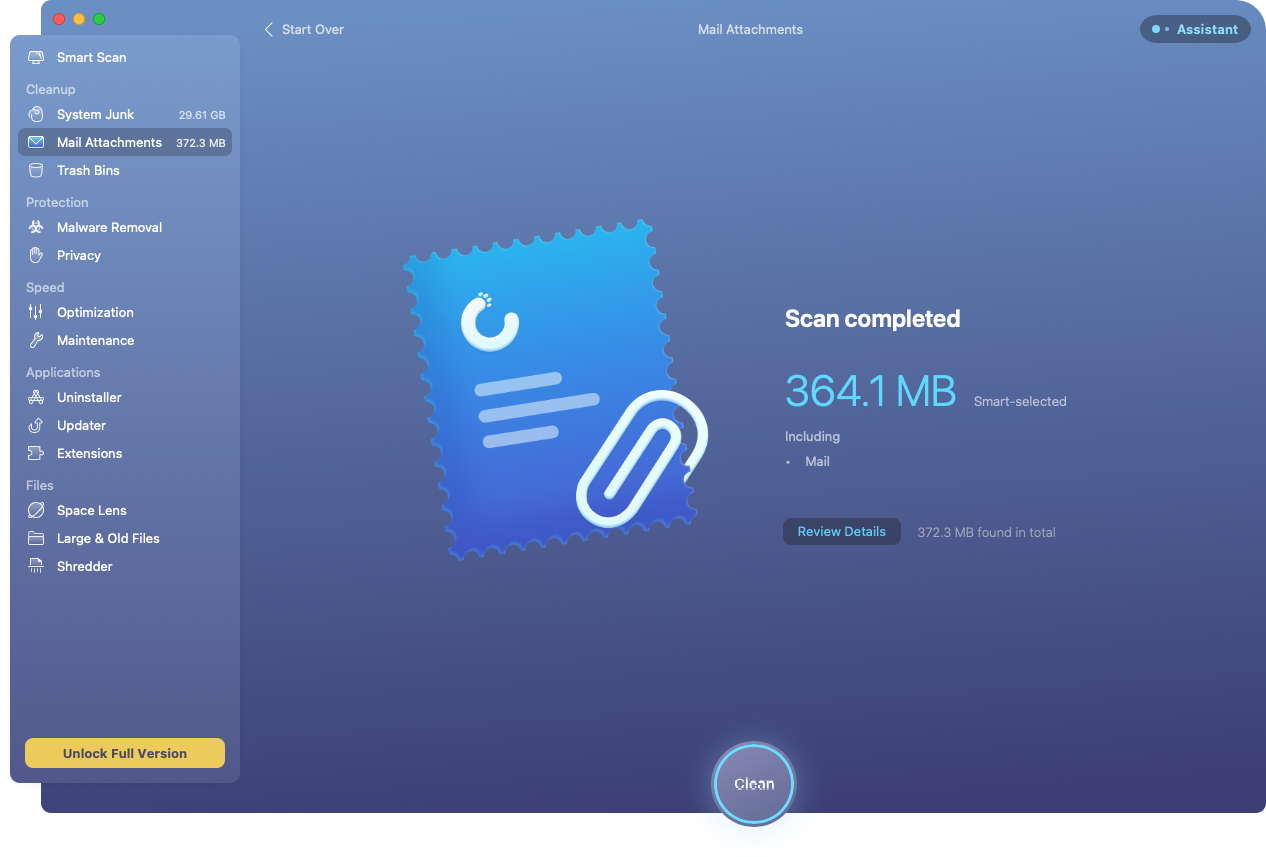 The Mail Attachments feature scans your Mac for email attachments that have been downloaded onto your system disk. With a single click, you can then delete them. But don't worry: the CleanMyMac will only remove local file copies, while the originals stay safely stored in your inbox. Also, it won't delete files if you've modified them, which is handy, as you're likely to want to keep those.
Trash Bins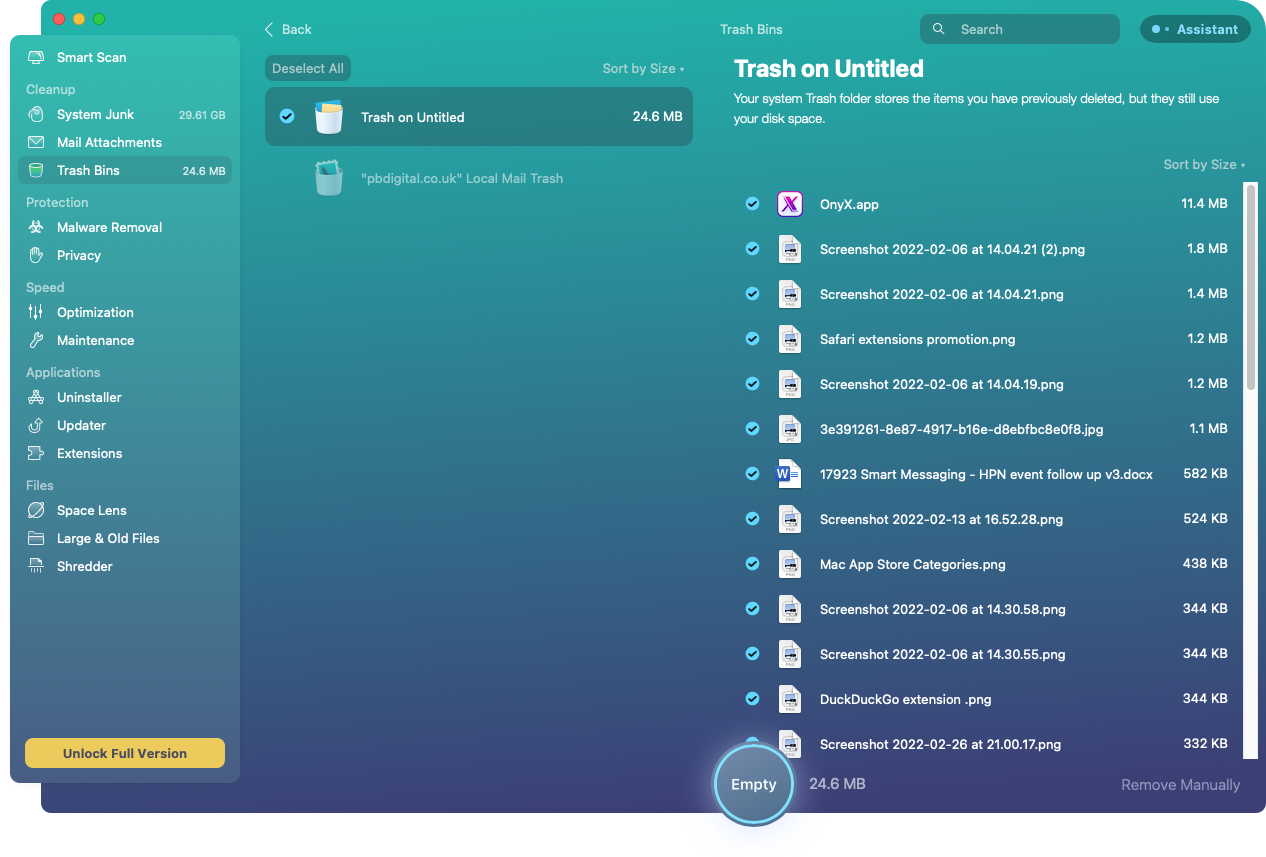 CleanMyMac's Trash Bins tool doesn't just empty your normal trash. It also looks for trashed files in other places on your Mac, including in Mail and your photo library. This isn't a hugely useful feature, though, to be honest. It's much quicker to use a keyboard shortcut to empty your trash than it is to open up a separate app.
Protection
Malware Removal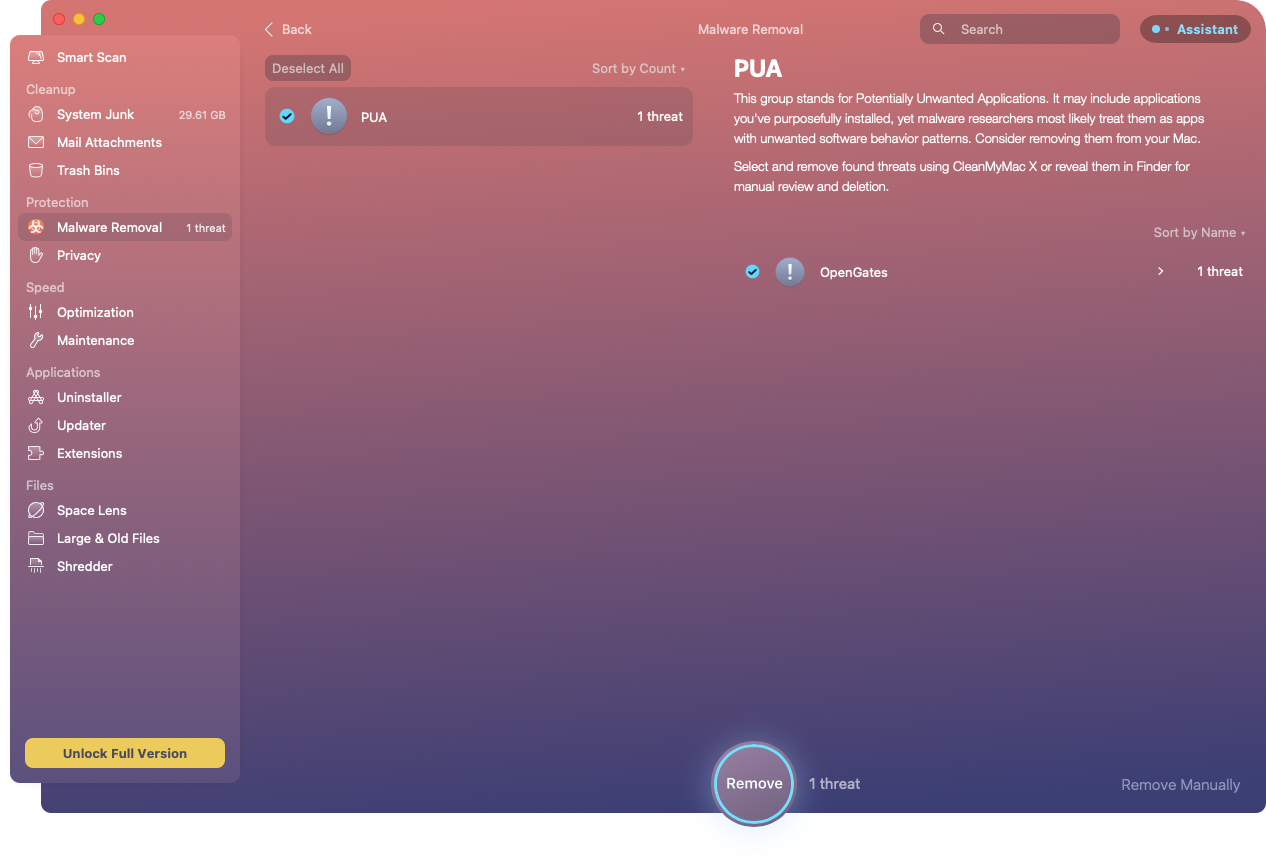 If you need antivirus, then you'll be pleased to learn CleanMyMac offers real-time protection, as well as on-demand scans. As well as searching for viruses, worms and other such threats, it will also find and remove potentially unwanted applications (PUAs), which can include adware, pirated software and other software that might not be trustworthy. There isn't a way to schedule scans, but the real-time protection should be all you need.
Privacy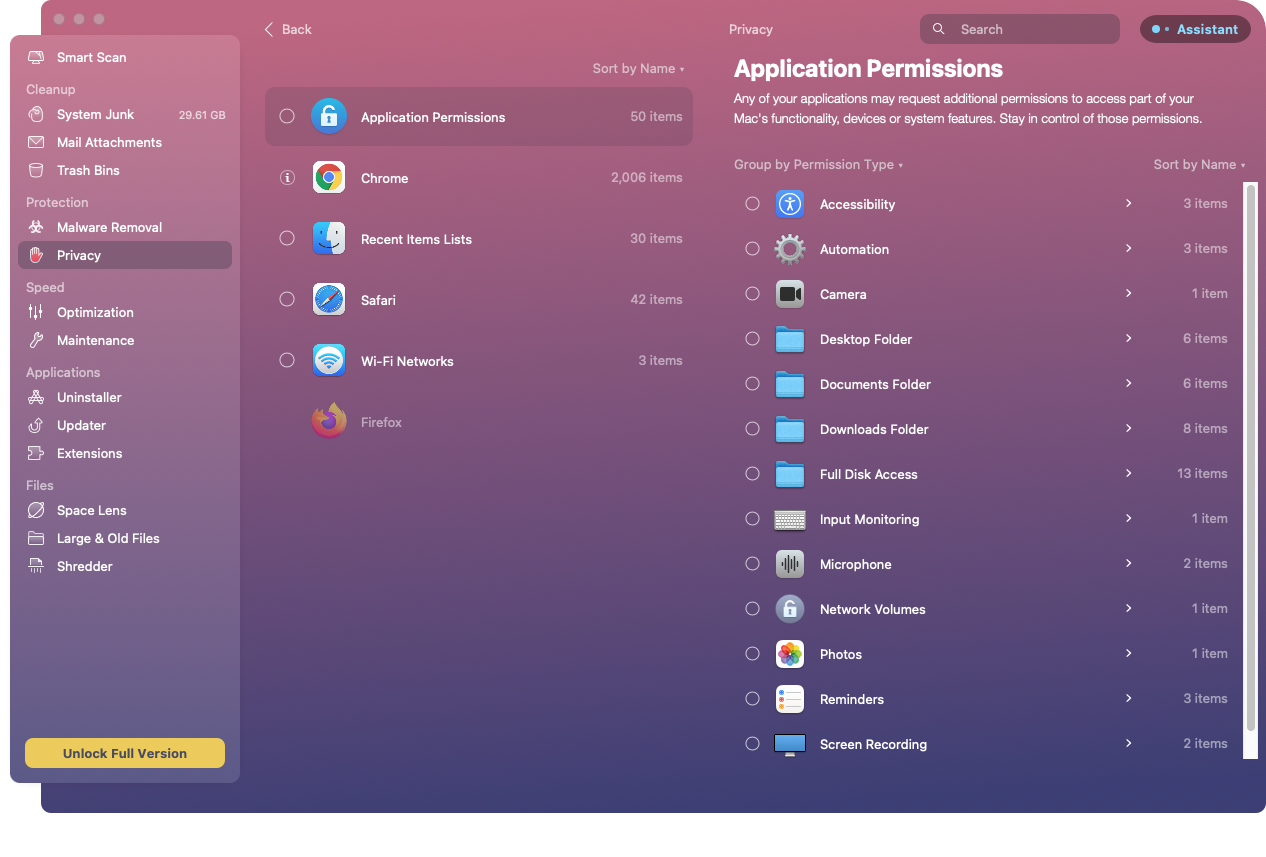 In the Privacy section, you can clear out browser histories, auto-fill data, and other information your web browsers collect about your online activity. Plus you can delete your chat data from apps like Skype. If you use a lot of these apps and you want to stay private, this tool could save you some time. Otherwise, you might not find it that useful.
Speed
Optimization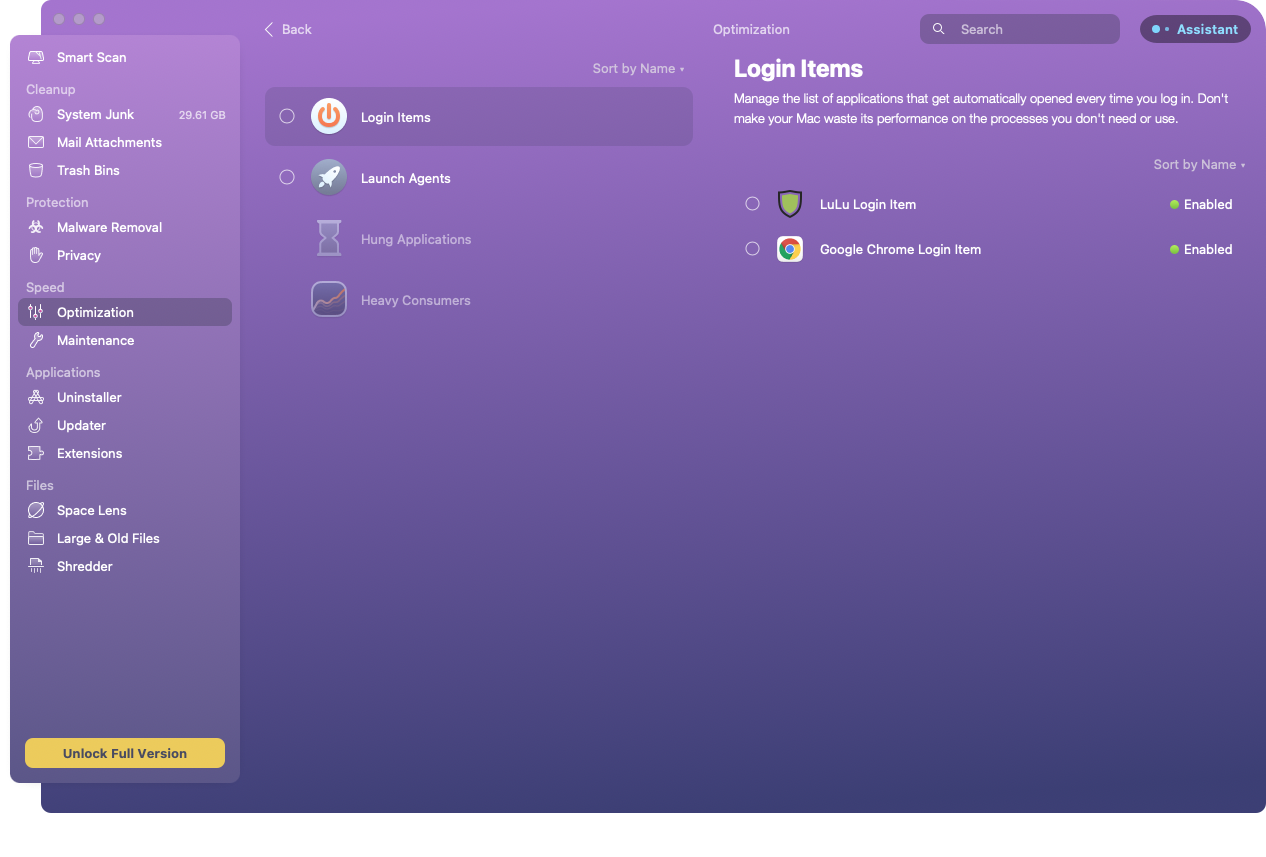 This part of CleanMyMac is all about taking control of what's running on your Mac when it starts. You can manage apps as well as launch agents, which run in the background. This basically mirrors what you can already do in macOS's System Preferences but with more control and a greater list of processes, you can prevent from starting with your Mac.
Maintenance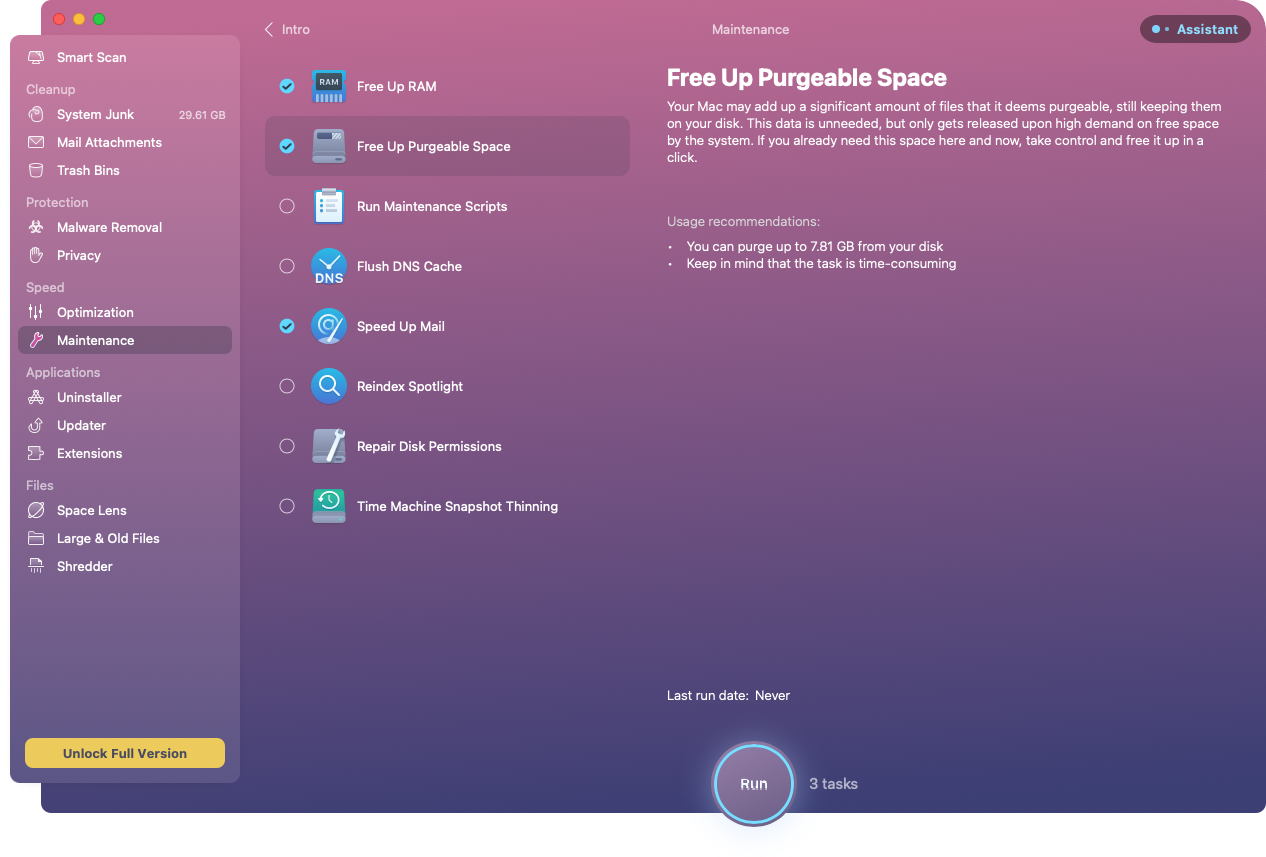 The app allows you to clean your memory and optimize the operation of your Mac by running maintenance scripts, closing resource-intensive programs, terminating hung-up programs, freeing up RAM, and so on. Simply choose the scripts you want to use, then click the Run button. How much of a difference these things will make depends largely on the age of your Mac and how you use it, but it's a useful little selection anyway.
Applications
Uninstaller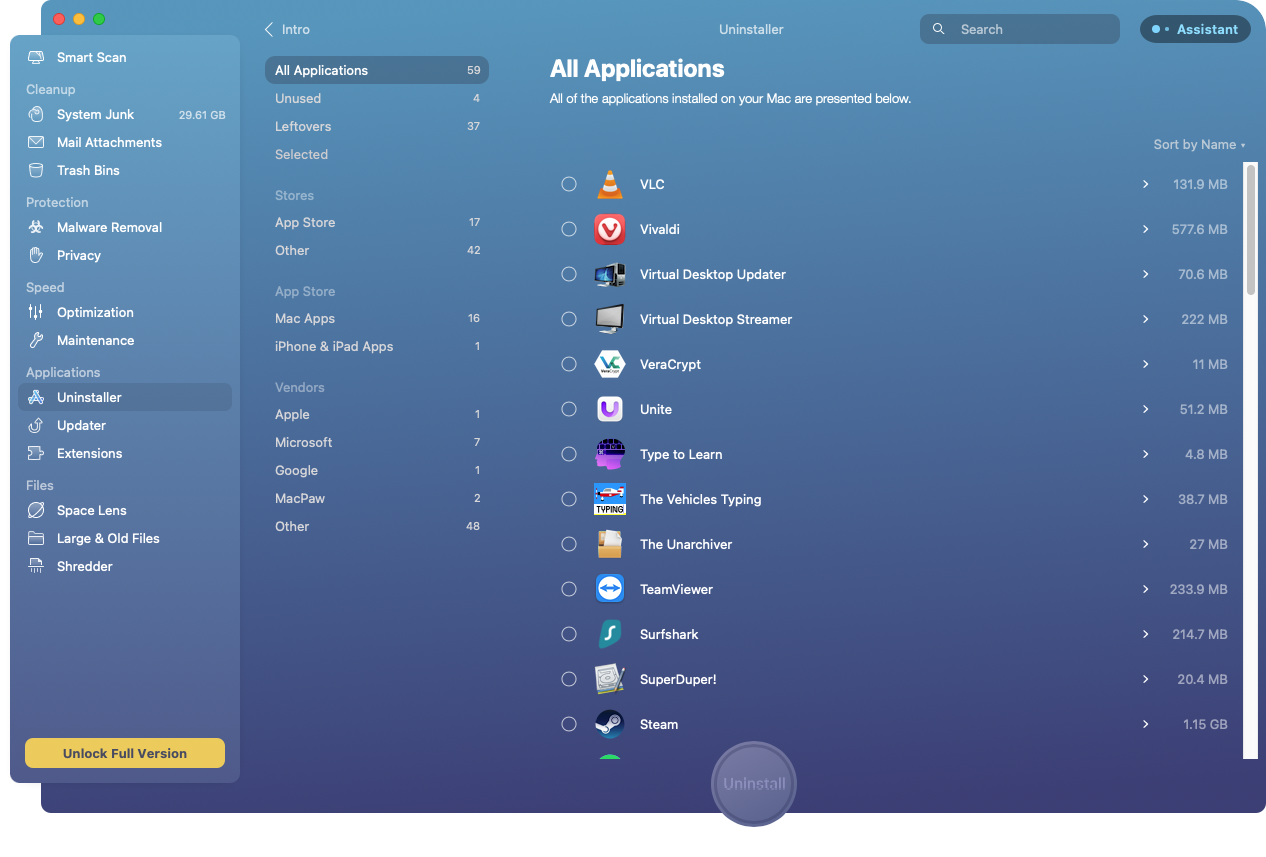 Sometimes, it can be hard to get rid of an app completely. Finding all the app leftovers manually can also be a challenge — their many locations are almost impossible to detect. So CleanMyMac X can do it for you, and uninstall the app with all its remains. It can also reset apps to their initial state. The best thing about the uninstaller is how it categorizes all the types of data you can potentially remove.
Updater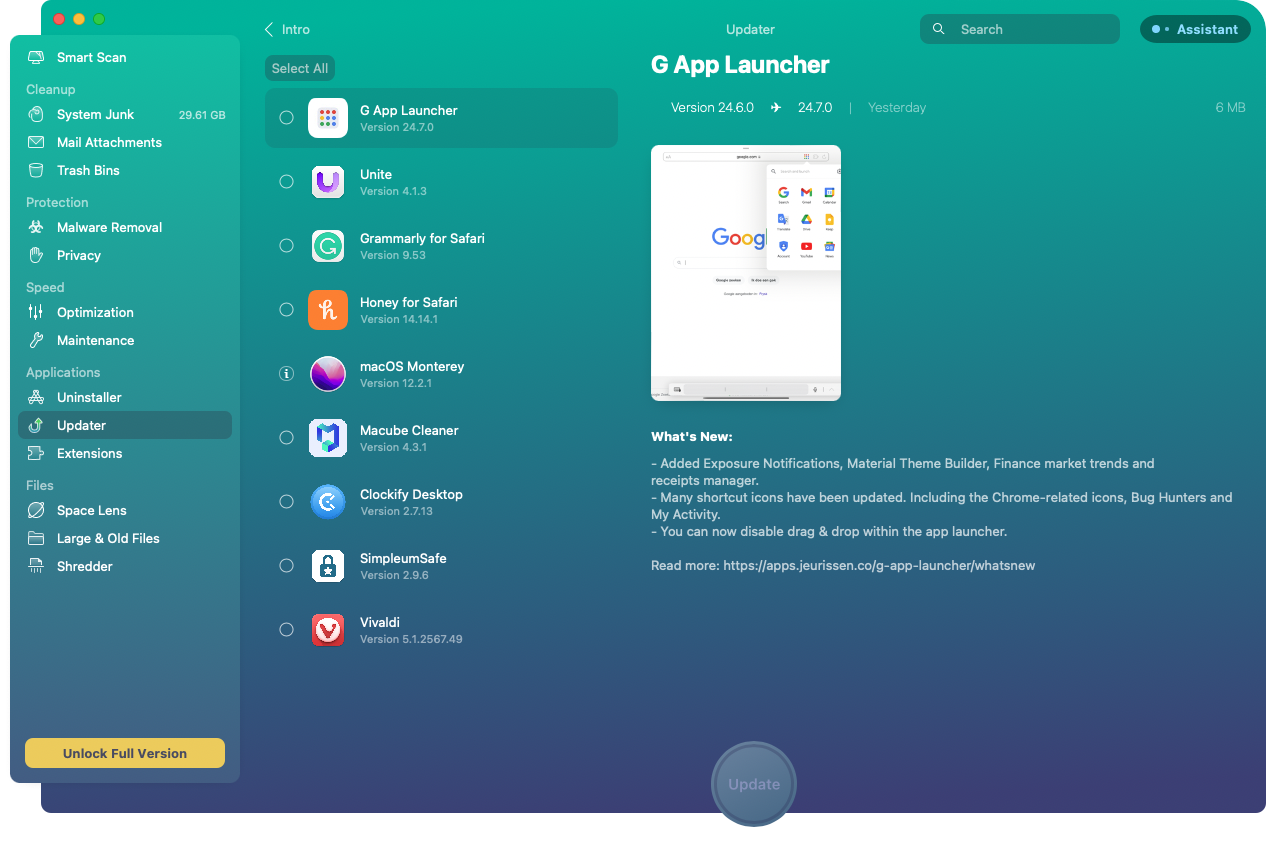 The Updater looks for updates for apps installed on your Mac. You can then select all the apps you want to update, and it's just a case of clicking the Update button. This is actually a pretty handy feature, because it means you don't have to update each app separately.
Extensions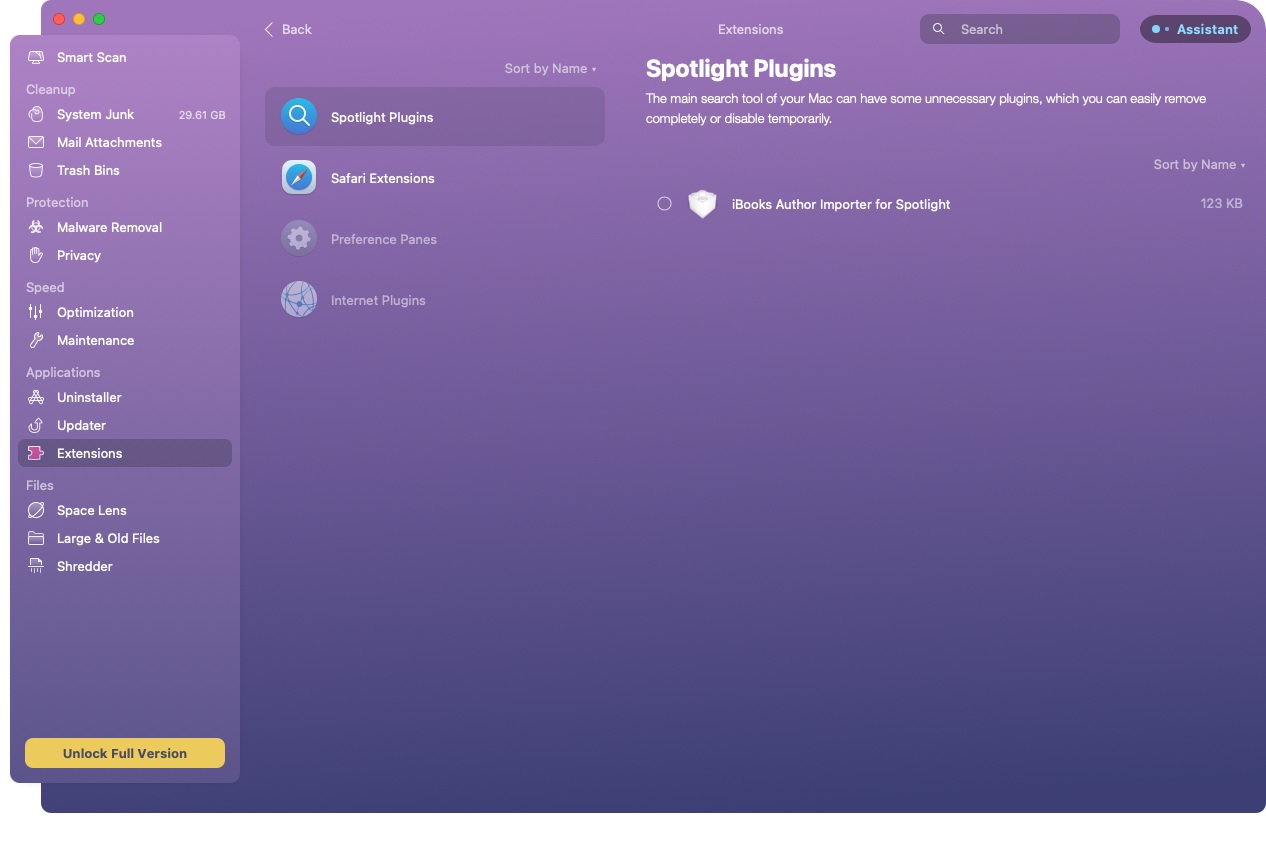 System extensions, like widgets, plugins, and dictionaries all take up space on your Mac. They can also slow it down and potentially cause compatibility issues. CleanMyMac's Extensions tool is designed to make it easy to review what extensions you have installed and to remove them.
Files
Space Lens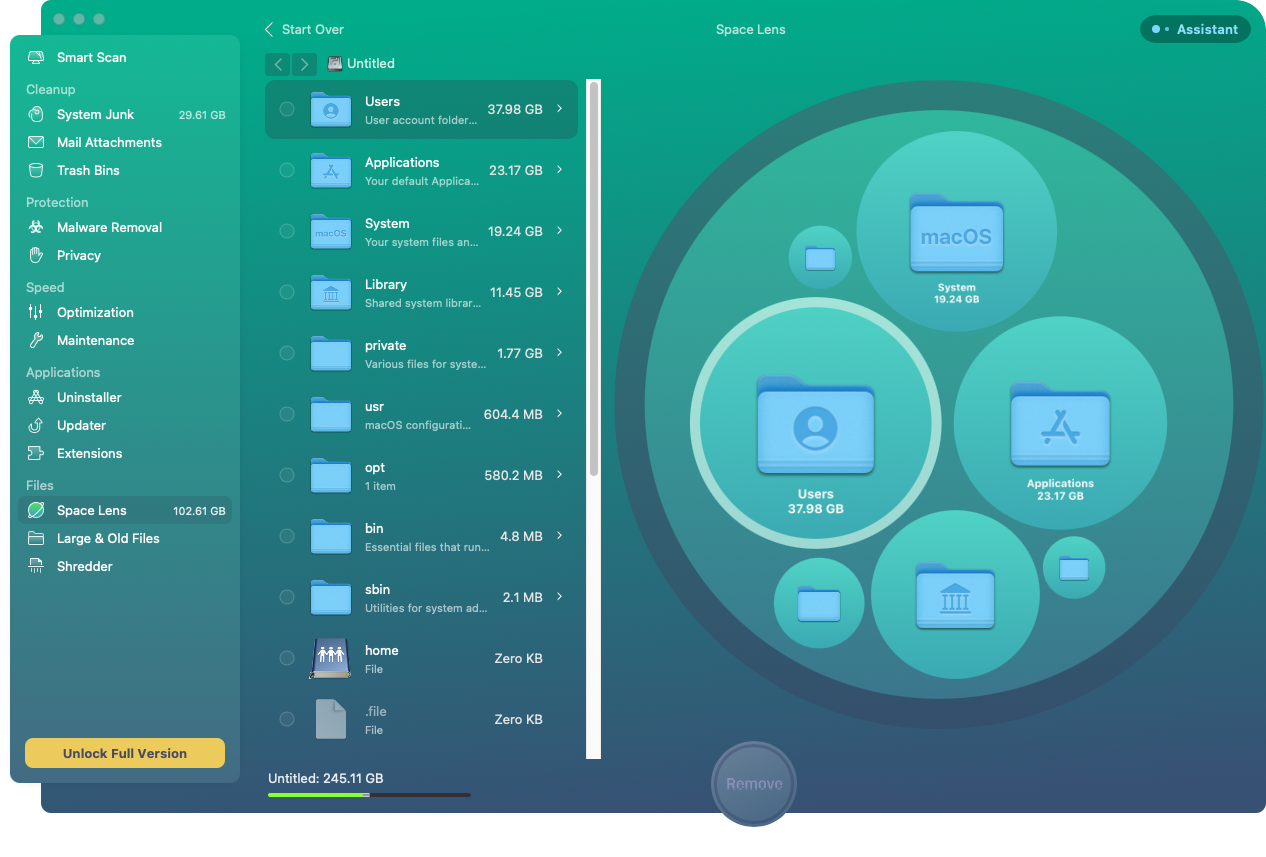 Sometimes, you just want to know what's taking up all your Mac's disk space so you can decide what to keep and what to delete. That's what Space Lens helps you do. It scans your Mac and produces a visual map of your storage, with bigger files and folders being represented by larger icons. You can then quickly drill down into folders to find out what's using up your storage.
Large & Old Files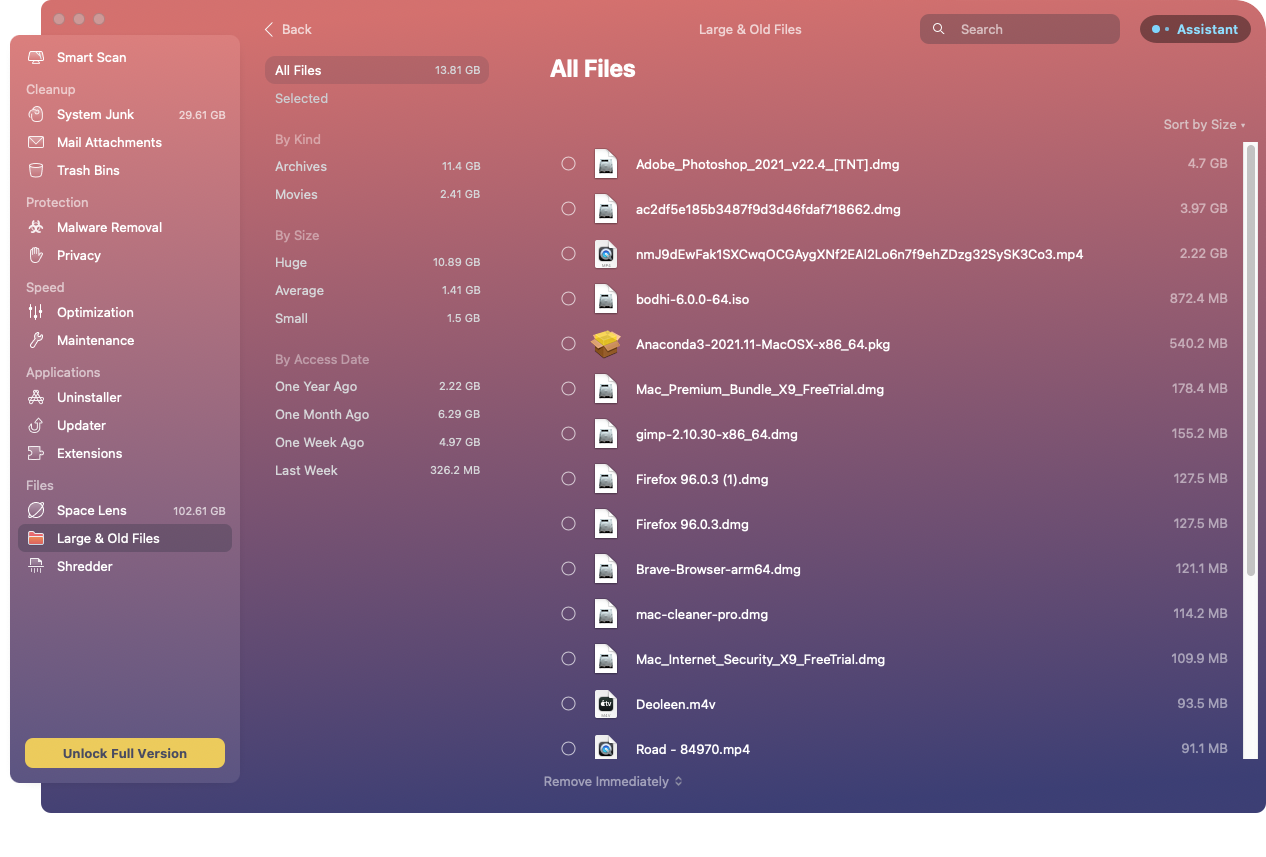 As the name suggests the Large & Old Files tool looks for files on your Mac that you might want to delete because of their size or age. macOS already has a tool like this built-in, which you can access from About This Mac, so why bother with CleanMyMac's version? Probably the main reason would be how it automatically sorts files — it lets you view files by kind, by size, and by access date. This is more user-friendly than macOS, which just gives you a long list.
Shredder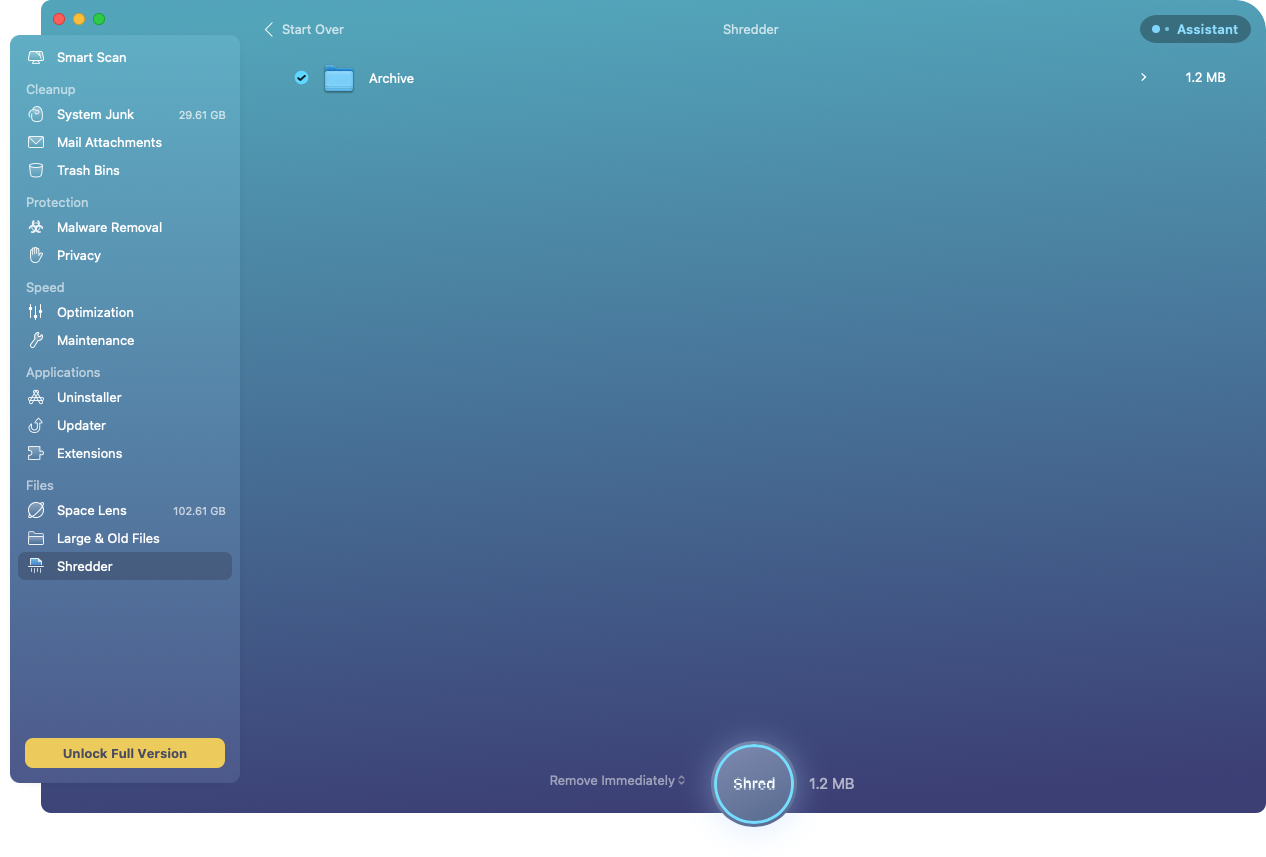 The Shredder tool is designed to erase data securely, so it can't be recovered. If you're working with any sensitive data and need to leave no trace behind, this is the tool for you. To use it, simply select any folders or files you want to delete, then click the Shred button.
CleanMyMac Assistant
In the top-right corner of CleanMyMac, you'll find the Assistant. Click this, and you'll get a list of recommendations. These are all the different ways CleanMyMac thinks you could clean, optimize, and protect your Mac. If you're not sure how to use this software most effectively, these recommendations will no doubt be useful.
CleanMyMac vs MacKeeper
Broadly speaking, these two apps do the same kinds of things, but they do have a few differences.
Here's how CleanMyMac and MacKeeper compare:
| | | |
| --- | --- | --- |
| Features | MacKeeper | CleanMyMac |
| Real-time antivirus | ✔️ | ✔️ |
| Dedicated adware scanner | ✔️ | |
| Browser extensions | ✔️ | |
| Memory optimization | ✔️ | ✔️ |
| Identity protection | ✔️ | |
| VPN client | ✔️ | |
| Duplicate file finder | ✔️ | |
| Storage visualization | | ✔️ |
| File shredding | | ✔️ |
To learn more, check out our CleanMyMac vs MacKeeper side-by-side comparison.
Is CleanMyMac worth it?
CleanMyMac X has a lot to offer. It does a good job of cleaning out junk files and unneeded apps, and it comes with plenty of ways to optimize your Mac's performance. The antivirus protection works okay too.
The only place it's really lacking is in privacy protection. It doesn't monitor your email addresses and inform you if they've been hacked. It doesn't offer any ad blocking browser extensions either. And if you want a built-in VPN service, you won't find it in CleanMyMac either.
FAQ
Is CleanMyMac malware or a virus?
No. CleanMyMac is a legitimate app. It's notarized by Apple, which means it contains no malicious components and has been deemed safe.
Does Apple recommend CleanMyMac?
CleanMyMac is a software solution designed by the Ukrainian company MacPaw Inc., which is not related to Apple in any way.
Is CleanMyMac free?
No, the app provides subscription-based payment methods and lifetime licences with additional costs for every major upgrade. A one-year subscription will cost you $39.95 for one Mac per year, $79.90 for two Macs per year, or $199.75 for five Macs per year. There are also one-time purchases — $89.95 for one Mac, $179.90 for two Macs, and $449.75 for five Macs.
Read more: