Ukrainian software company MacPaw released its first product within the first couple of months of its foundation back in 2008. These days, MacPaw's CleanMyMac is one of the most popular cleaning apps.
What is CleanMyMac?
CleanMyMac is a powerful app designed for Mac cleaning, optimization, and protection. The main functionality includes (but is not limited to) app update and removal, deletion of unneeded files, junk removal capabilities, RAM management, and malware detection.
CleanMyMac X features overview
CleanMyMac X's features are mainly devoted to cleaning and optimization, although they also include some privacy and protection tools as well. So how to clean my Mac with CleanMyMac? Let's delve deeper into the features to understand more.
Junk Files Cleanup
Mac users may not be aware of the quantity of useless files stored on their devices. This is why CleanMyMac X finds and sorts those unnecessary files, as well as detecting useless caches of various apps. The only action required from you to remove it—press the ''clean" button afterwards.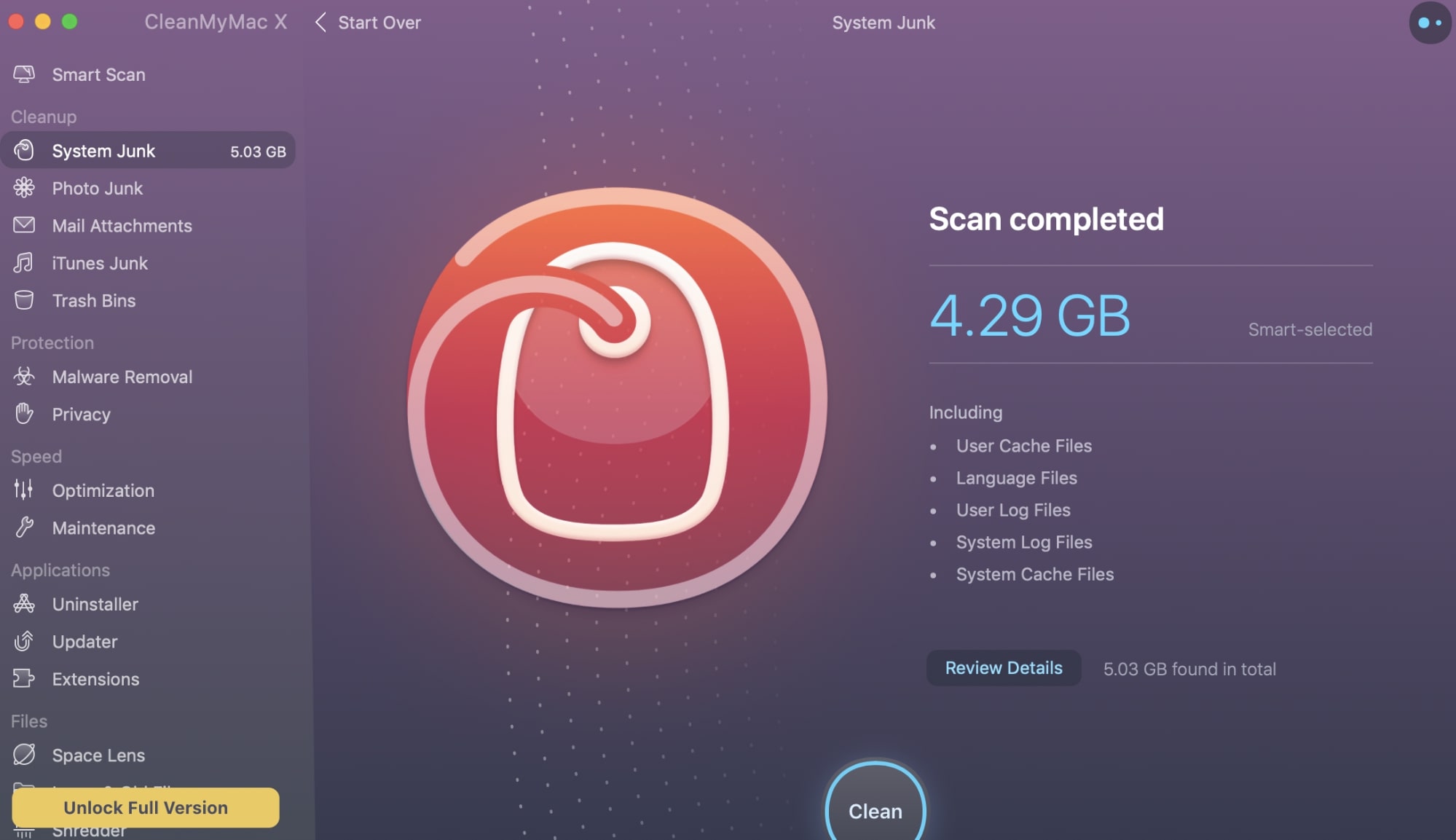 Apps Uninstaller
Sometimes it can be hard to get rid of an app completely. Finding all the app leftovers manually can also be a challenge—their many locations are almost impossible to detect. So CleanMyMac X can do it for you, and uninstall the app with all its remains.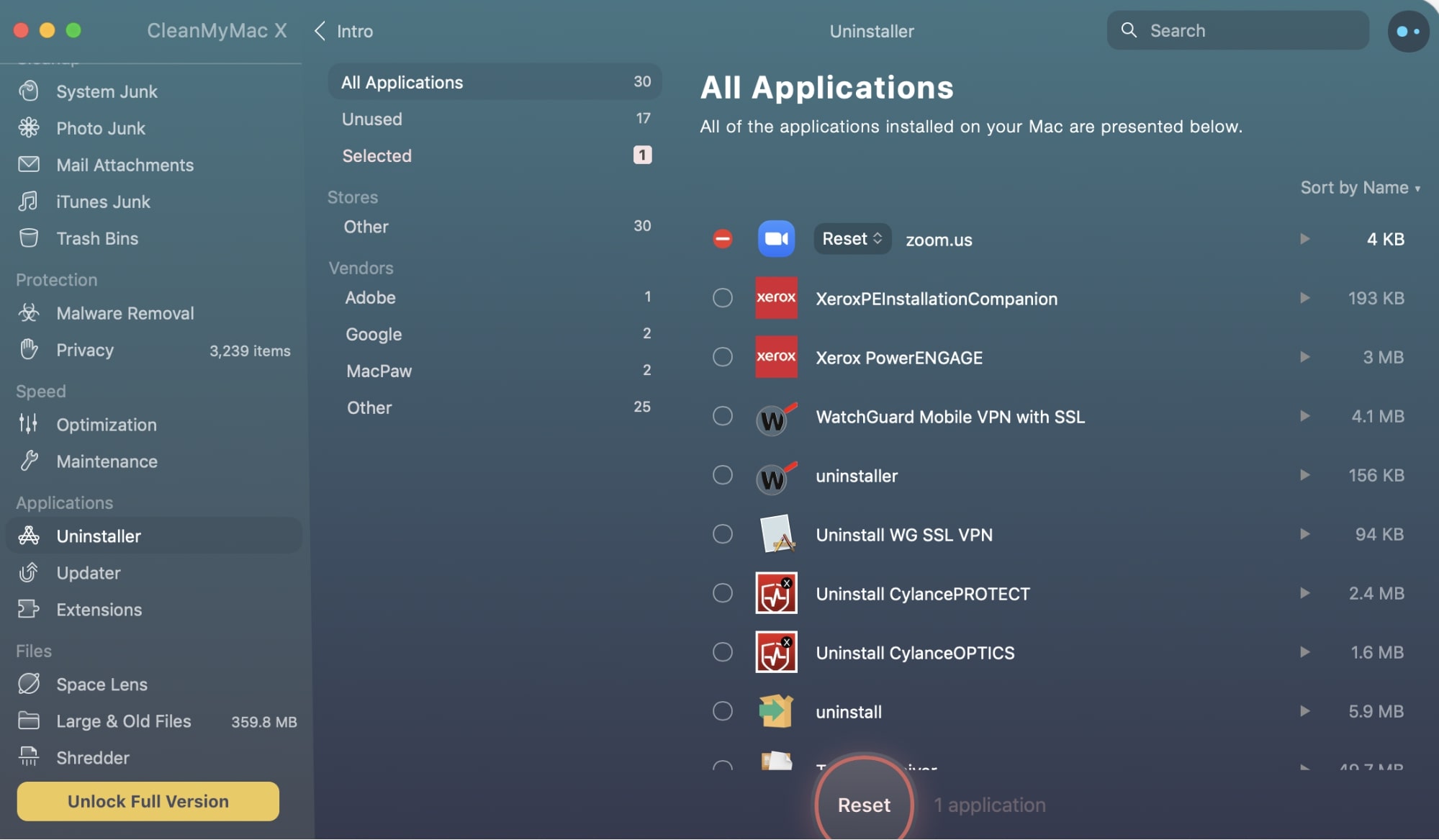 Large and Old Files Removal
CleanMyMac X is able to scan your Mac and detect hidden, yet highly space-consuming, files. But don't worry—none of them will be removed without your permission. The app organizes all the files for you to view conveniently. You then have 4 options to choose from—remove immediately, remove securely (with no ability to recover), move to folder, or move to trash.
Browsing Data Deletion
CleanMyMac X keeps an eye on your privacy by allowing you to delete your browsing data easily in a couple of clicks. As easy as it sounds.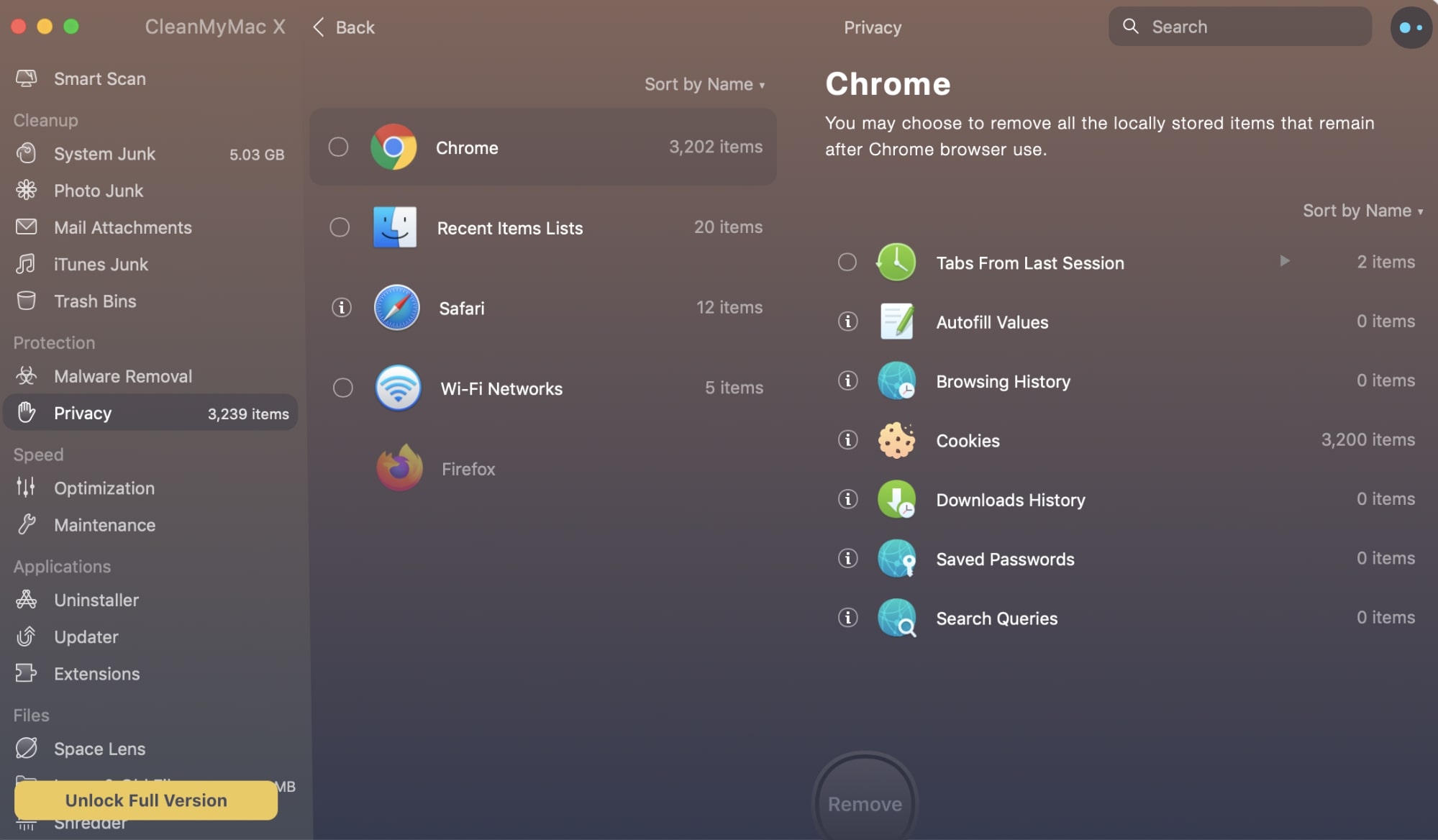 Mail Attachments Cleaning
This doesn't mean that the app will delete all your attachments with no further access to them. CleanMyMac will only remove local file copies, while the originals stay safely stored in your inbox. It stops you clogging up your device with lots of useless files.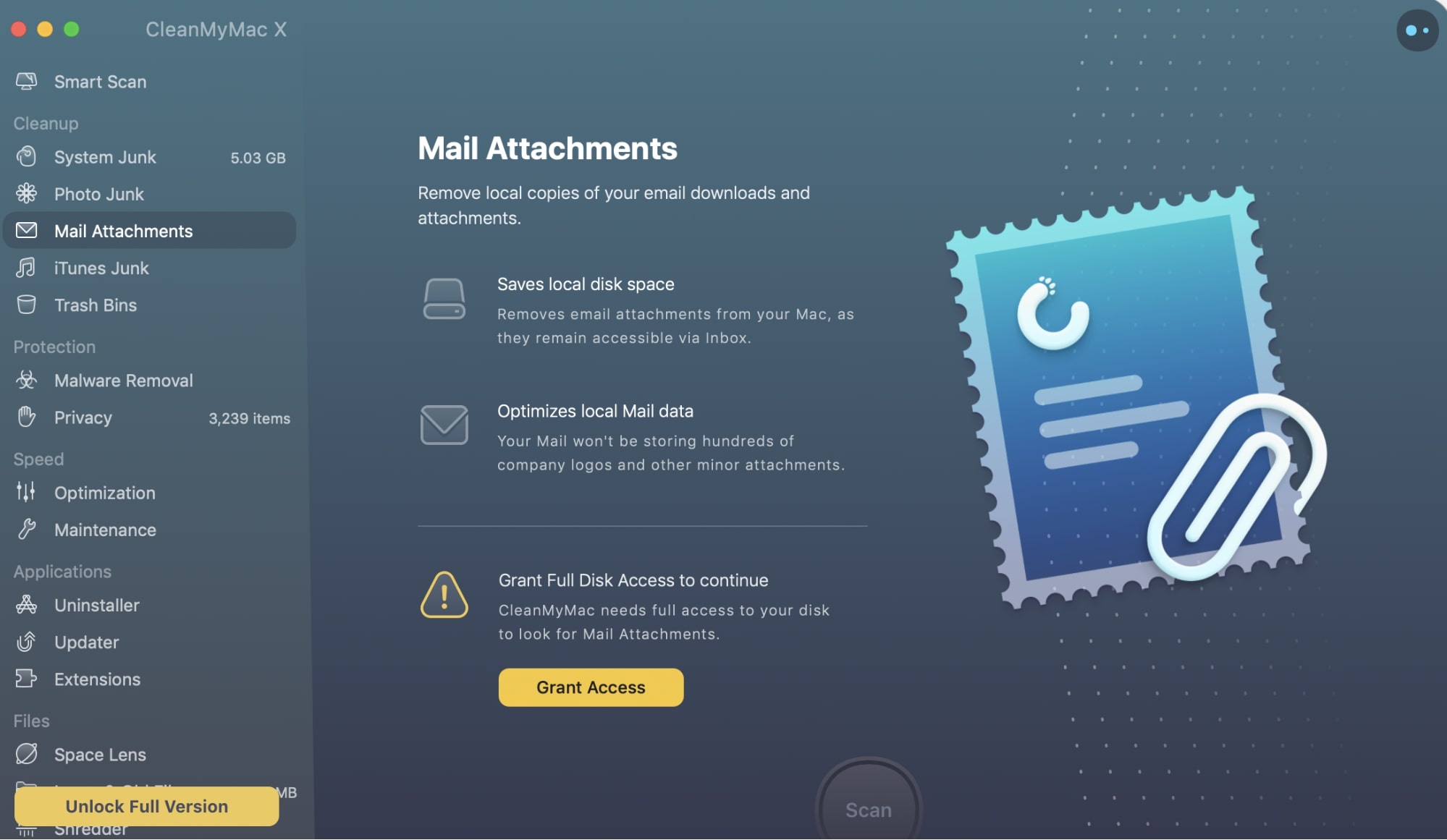 Deleting Chat Data in Messengers
This feature enables you to delete your chat history in messenger apps (in Skype, for example) before someone else can get access to it.
Unused DMG Deletion
We install a huge number of apps on our Macs and then leave them to stagnate there. However, these DMGs can consume a huge amount of your precious space. CleanMyMac X helps to find these DMGs and removes them in one simple click.
Document Versions Cleanup
There are a lot of apps that keep cached copies of every project revision—this is especially true for photo-editing, coding, video-editing, design apps, and so on. CleanMyMac X finds these copies and deletes them. If you want them to be deleted, of course.
Personalized Cleanup Tips
If you feel it's too complicated for you to deal with Mac cleaning on your own and you've got lost among all the functions available, you can use the CleanMyMac Assistant. It will guide you through a personalized cleaning procedure—suggest best next steps, advise on the tools you need, remind you of incomplete actions, and so on.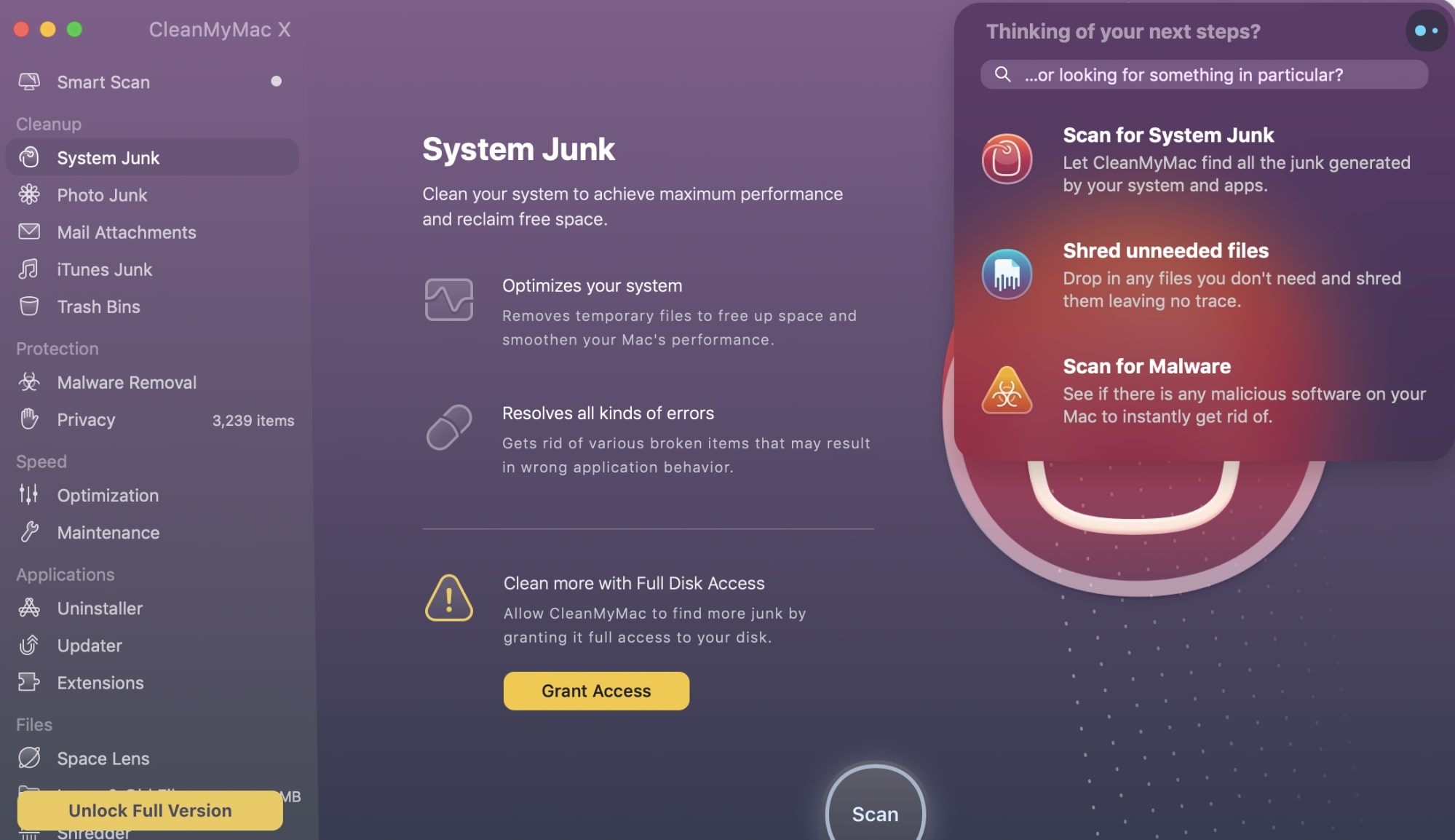 Malware Removal
CleanMyMac X protects Macs from different kinds of malware. Once you scan your Mac and detect malware, CleanMyMac suggests which ones you should delete instantly.
The app scans your Mac to check for the presence of ad scripts. Then all you have to do is press delete. Though adware is not necessarily harmful to your device, it might track your personal data and share it with third parties.
Mac's Memory Usage Management
CleanMyMac's RAM management functionality helps to reduce the load of resource-intensive apps on your Mac's memory, which may lead to improved productivity.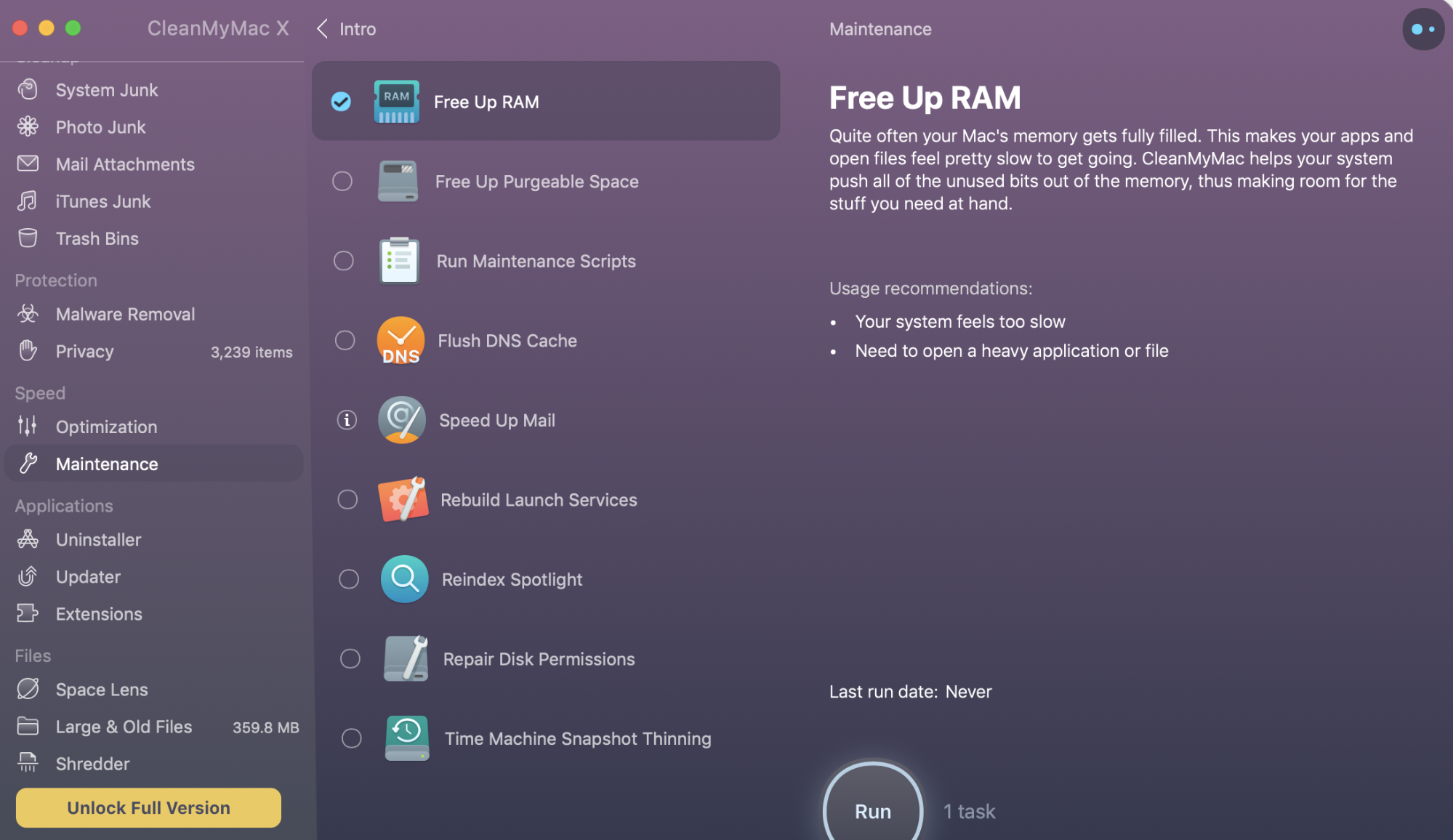 Update Tracker
The app keeps track of all the available app updates and reminds you to update your apps at the right time. This is necessary to get the best performance out of your Mac.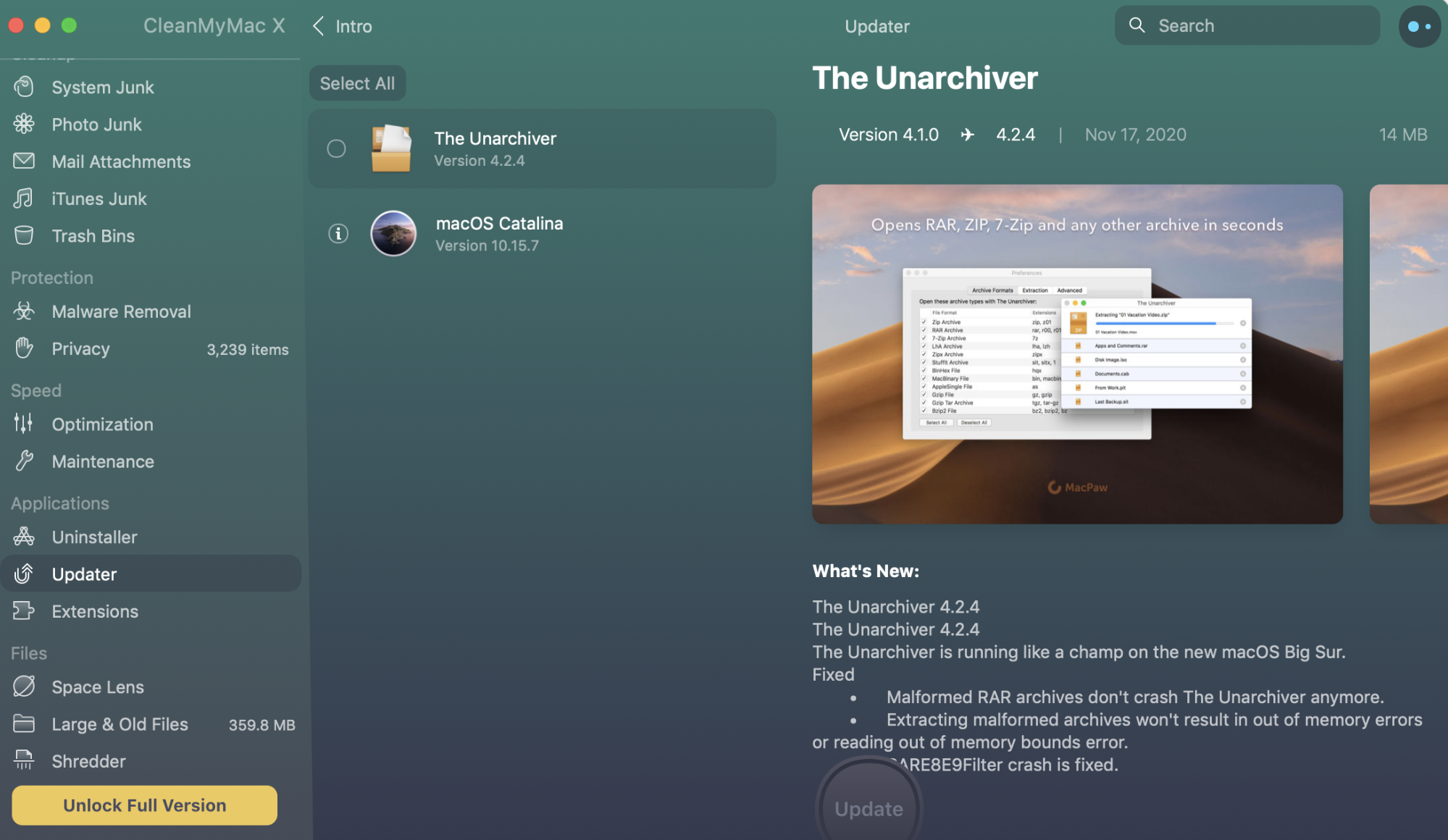 Application Reset
CleanMyMac allows you to reset your app to the most recent version. It means clearing all the data from the selected app and making it run just like the downloaded one. This can result in a better overall performance.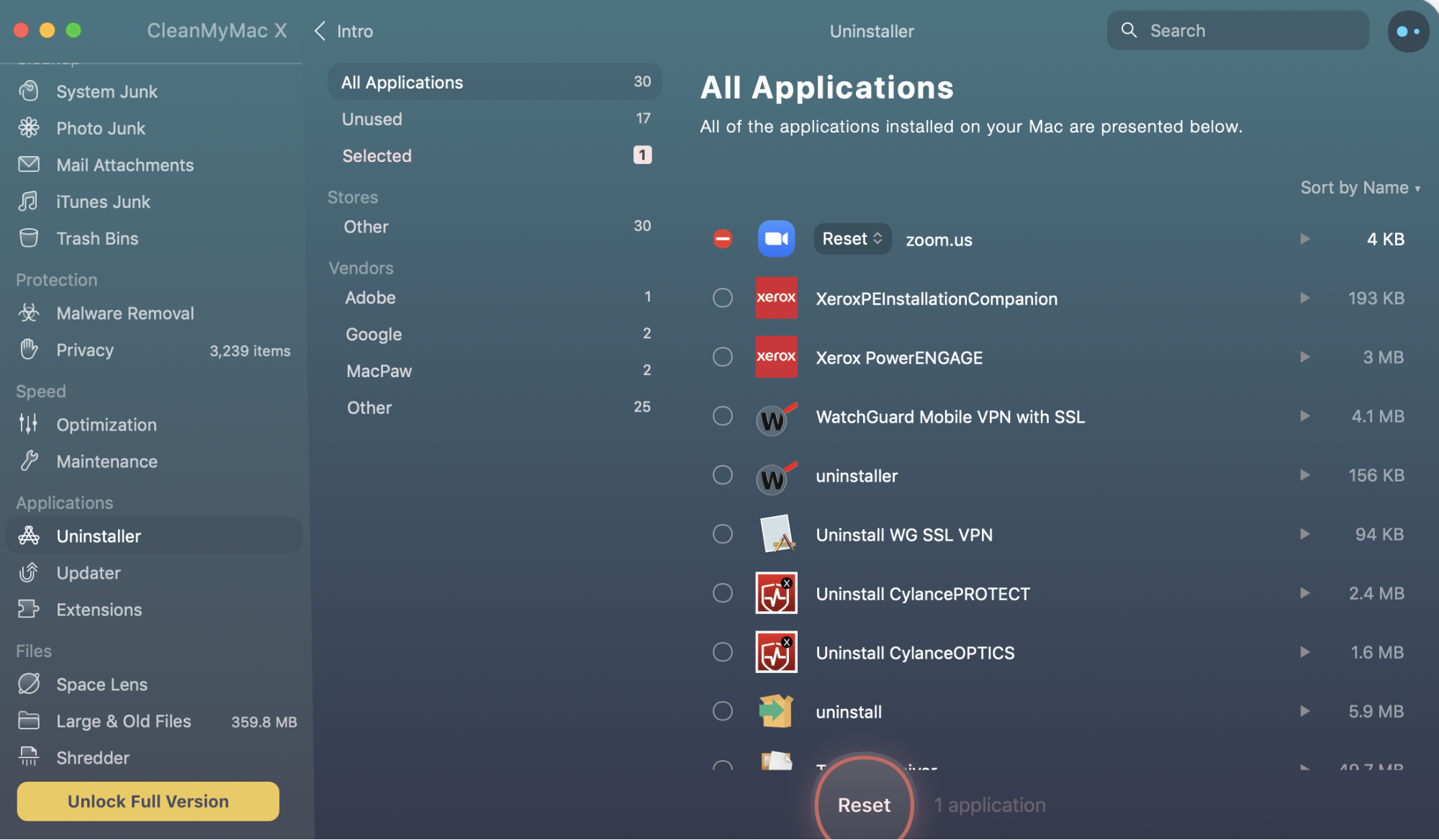 Login Application Management
The app helps you get rid of unnecessary, damaged, or hidden login items, which may slow down your Mac launch. CleanMyMac X shows you all the programs running in the background and, by doing this, helps you to reduce the load on your processor.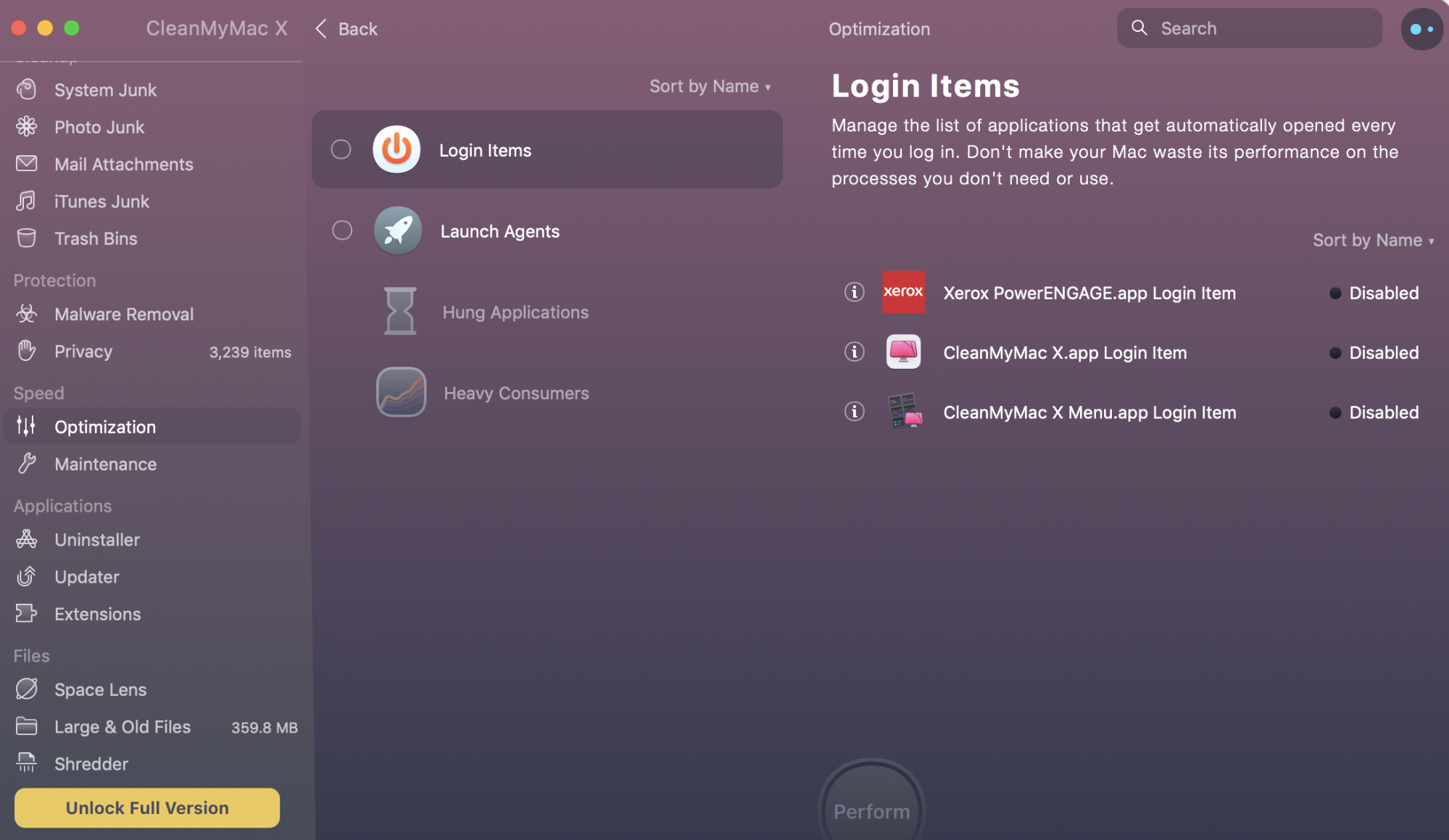 Maintenance Tools
The app allows you to clean your memory and optimize the operation of your Mac by running maintenance scripts, closing resource-intensive programs, terminating hung-up programs, freeing up RAM, and so on.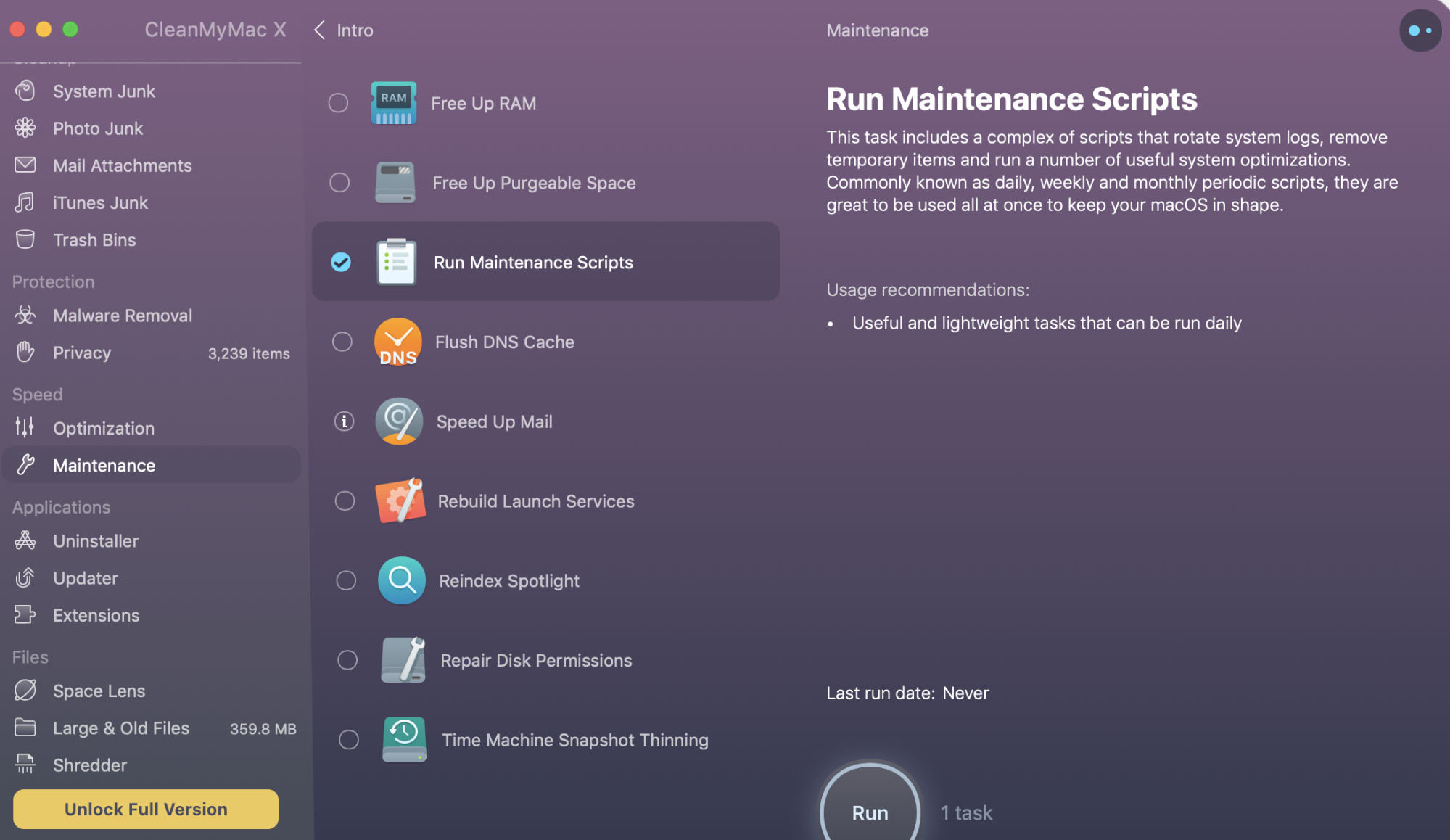 CleanMyMac vs MacKeeper
CleanMyMac and MacKeeper have many things in common — both apps can expertly clean and optimize your Mac and they are both notarized by Apple. CleanMyMac's main focus is cleaning and optimization with a few protection capabilities. MacKeeper is a more comprehensive, multilayered solution. Apart from smart cleaning and optimization features, the app provides real-time antivirus and adware protection tools, powerful VPN, ad-blocking and anti-tracking tools, data breach monitoring capabilities, and more.
Check out our CleanMyMac vs MacKeeper side-by-side comparison.
Is CleanMyMac worth it?
CleanMyMac X is a widely-used app for good reason. It keeps your Mac clean from junk and useless apps, optimizes your device, and even features some malware protection tools. Does CleanMyMac work as a data protection tool or help secure your connection? Unfortunately, these capabilities are absent.
In conclusion, the app is helpful if all you need is a Mac cleaning and optimization solution. However, you need to remember that hackers and scammers get smarter with every year that passes, and you still need to take advantage of some powerful protection apps to keep yourself secure online.
FAQ
Is CleanMyMac malware or a virus?
No. CleanMyMac wasn't featured in any scams or fraudulent activities. Moreover, the app is notarized by Apple, which means it contains no malicious components.
Does Apple recommend CleanMyMac?
CleanMyMac is a software solution designed by the Ukrainian company, MacPaw Inc., which is not related to Apple in any way.
Is CleanMyMac free?
No, the app provides subscription-based payment methods and lifetime licences with additional costs for every major upgrade. A one-year subscription will cost you $39.95 for 1 Mac, $79.90 for 2 Macs, and $109.75 for 5 Macs. Lifetime purchase is $89.95 for 1 Mac, $179.90 for 2 Macs, and $449.25 for 5 Macs.
Is CleanMyMac safe to use?
Yes, in terms of security, we can say CleanMyMac is legit. However, please remember that there is always the possibility of user error because the app has full disk access. This means you should be very careful before deleting any files which have a role that is unclear to you.
Read more: