In this article you will find the following:
The file organization on your Mac is a mess, making it difficult to easily find important files. Or maybe you're not a fan of the way Finder organizes files. This isn't ideal if you keep confidential files on your Mac or use it to store and manage work files.
Many tools are the best on the market and make Mac exceptional—Finder isn't one of them. You need a Mac file explorer that won't make the task of managing your precious files frustrating, and our team is here to help.
Before we start

Using a good file manager means nothing if your files aren't well taken care of. Many file managers host unwanted, pesky files you don't know are there. You typically collect them when you download apps and software, and they remain on your Mac undetected for long. Solution? Using software that's specially designed to cope with those files for you.

MacKeeper's Safe Cleanup is an excellent addition to your file management system. It thoroughly, quickly, and safely rids your computer of all redundant files. The result is you only keep the files you need and reduce clutter, which makes navigating your files easier. Also, your Mac performs smoothly with fewer hiccups that are caused by an overcrowded system.

Start clearing your Mac with MacKeeper's Safe Cleanup tool today:

Download MacKeeper on your MacBook Pro or MacBook Air device
Select Safe Cleanup on the left and hit the Start Scan button
MacKeeper will list the files it intends to delete. If you're happy with the selection, hit the Clean Junk Files button and enjoy an optimized Mac.
There are several options available to help organize your files on your Mac. Continue reading our selection of the best tools to manage your files on your trusted Mac device.
Reasons to try out Finder alternatives
MacBook devices are famous for handy tools, like the ability to view hidden files. However, new users might want to pull their hair out when dealing with Finder, while older Mac users may find they need more from a file manager.
Here's why Finder isn't perfect as a file management tool:
Finder can perform rather slowly
It isn't updated as often as other macOS apps
It annoyingly adds .DS_Store files to the folders you open
Renaming multiple files can be a tedious task to undertake
Syncing folders can be equally frustrating
Finder has limited cloud storage and remote server capabilities
Viewing capabilities are also limited, making it difficult to look at multiple photos and videos at once, which is rather time-consuming
With no dual-pane mode, you're stuck having to work with multiple tabs and windows for simple tasks
It's not suitable for people working with many files and data due to its limited functionality
The search function isn't always reliable or user-friendly. For example, it doesn't support case-sensitive searches.
Top 10 file organizers for Mac
If you're searching for more options to organize files on your Mac, look no further. We've compiled a list of 10 file organizers you can try as a macOS alternative file manager. Compare the prices, pros and cons, and choose the best one based on your needs.
1. Commander One
It's a good option for anyone looking for a reliable dual-panel file manager for their Mac device. It makes moving and copying files easy tasks, not to mention the shortcuts and file paths it provides for simple actions, like editing, copying, compressing, deleting, moving, and creating folders.
Commander One offers a free trial with in-app purchases. Get it from the App Store.
| | |
| --- | --- |
| Pros | Cons |
| Commander One is a user-friendly, customizable interface | The trial version offers limited features |
| It offers a free trial | |
| Shortcuts make navigation easy | |
| It connects to a wide range of servers | |
| It encrypts online connections using 256-bit Advanced Encryption Standard | |
| It has advanced search capabilities | |

2. XtraFinder
As the name suggests, XtraFinder isn't a replacement for Mac's Finder. Rather, it can be used alongside Finder, bringing helpful features that complement it. Think of it as a helping hand that gives you a better overall file management experience. XtraFinder allows you to use dual-panel mode at your discretion and disable it as you wish. It's a good option if you enjoy Finder for the most part, but need something more from it.
A free trial is available and you pay a $4.99 one-time payment thereafter.
| | |
| --- | --- |
| Pros | Cons |
| XtraFinder performs fast | It doesn't allow you to view hidden files |
| It's customizable | There's no support for Mac ARM |
| The interface is user-friendly | |
| It supports macOS versions from 10.6 (Mac OS X Snow Leopard) | |
| The app is updated frequently | |
3. Path Finder
Produced by Cocoatech, this solution closely resembles Mac's Finder, which makes switching to it a breeze. Its functionalities are similar to those of Commander One, especially those that aid productivity, like file compression, support for numerous cloud storage services, and connection protocols. The file manager is suitable for professionals, like designers, software engineers, and teachers.
Path Finder offers a 30-day free trial, and you can choose from the following packages:
$2.95/month
$16.50 for six months
$29.95 per year (subscription)
$32.95 for a one-year license.
| | |
| --- | --- |
| Pros | Cons |
| Using Path Finder is easy, thanks to its similarities to Finder | The features may be confusing to some users |
| It has quick dual-pane file copying | |
| It provides support for iOS file operations | |
| It gives native support for Apple silicon devices | |
| You'll benefit from a Secure Delete feature | |
| It's easily accessible favorites pane | |
| It supports Apple's AirDrop feature | |
| You'll get an advanced access control list editor (assists with file and folder permissions configurations) | |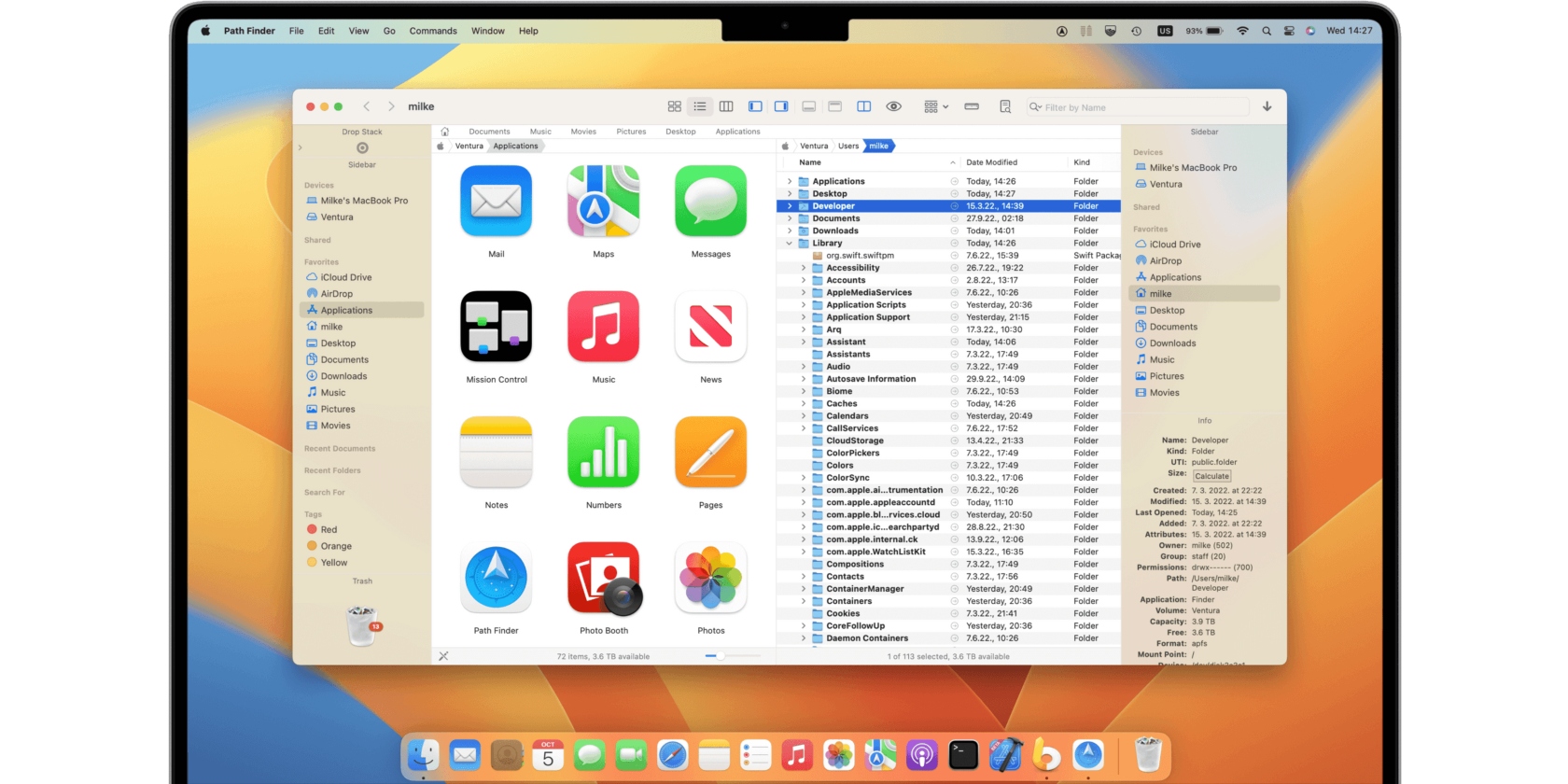 4. TotalFinder
TotalFinder is a plugin from BinaryAge that's best for Mac users who quite enjoy the simplicity of Finder but want some added features. It's a more vibrant option that allows color labeling for better organization. The ability to easily navigate between tabs makes it convenient to work and easy to stay productive. Thanks to its simplicity and modern look, anyone can use TotalFinder.
You can try TotalFinder for 14 days from its official site. A one-time purchase sets you back $12.
| | |
| --- | --- |
| Pros | Cons |
| The tab system helps aid productivity | TotalFinder isn't compatible with M1 MacBook devices |
| It allows you to view hidden system files | |
| The plugin allows you to bring up Finder using hotkeys | |
| The Folder On Top feature allows you to quickly access your favorite or important folders | |
| It's user-friendly | |
| It boasts a modern interface | |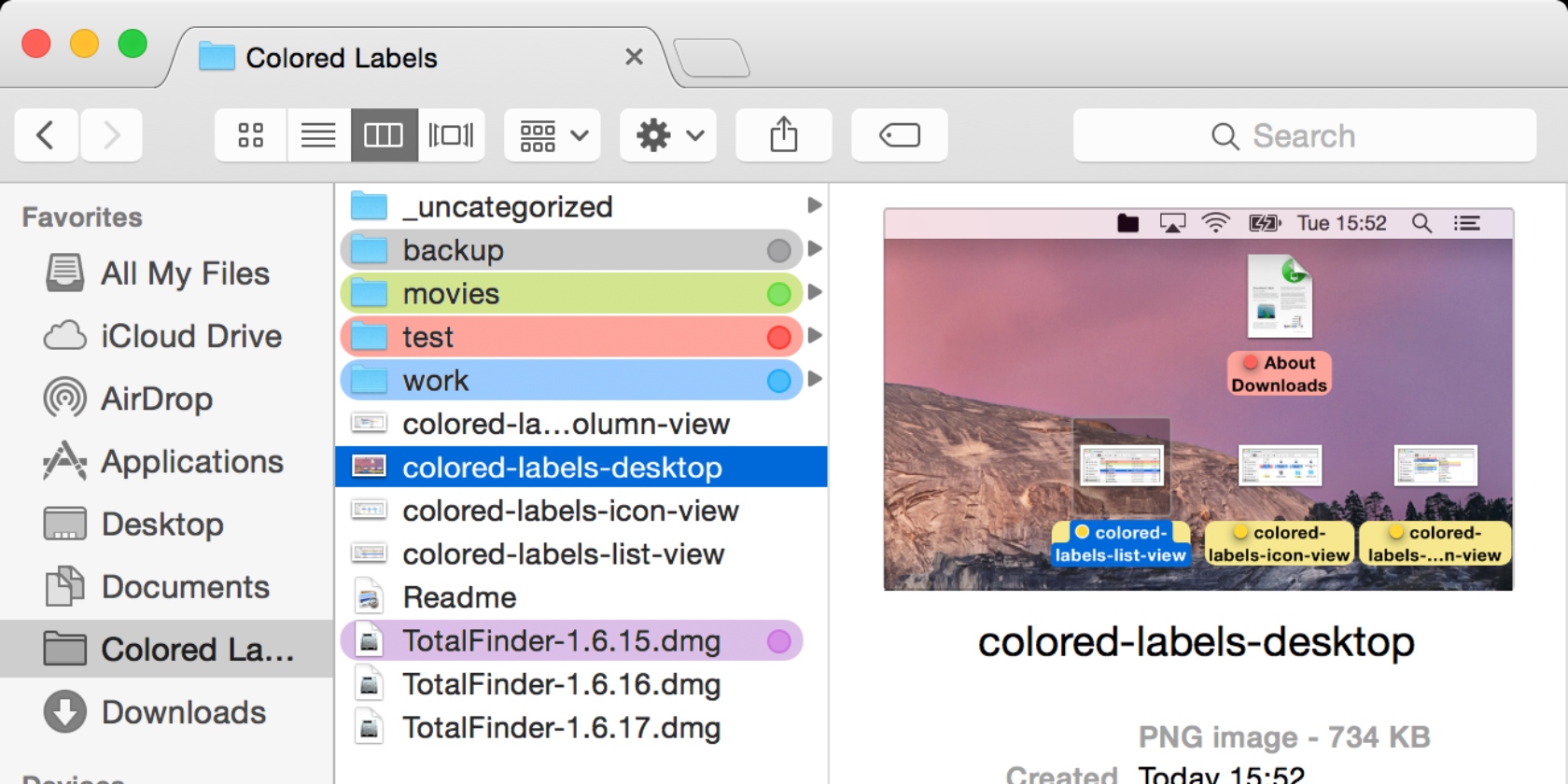 5. Transmit 5
It's a reliable app that is updated regularly, which ensures that any bugs or issues that might pop up are quickly taken care of for your safety and to protect your privacy. This makes your Mac secure, which is paramount because you store your files and personal data on it. Manage files quickly and easily with Transmit 5.
Transmit 5 comes with a 7-day free trial and costs $45 thereafter. Get it here.
| | |
| --- | --- |
| Pros | Cons |
| Transmit 5 allows you to manage files on multiple drives and servers | Transmit 5 is a little pricier than other file managers |
| It can synchronize folders | |
| The interface is user-friendly | |
| You can easily sync your files across devices using the Panic Sync feature | |
| The dual-pane view is faster than Finder | |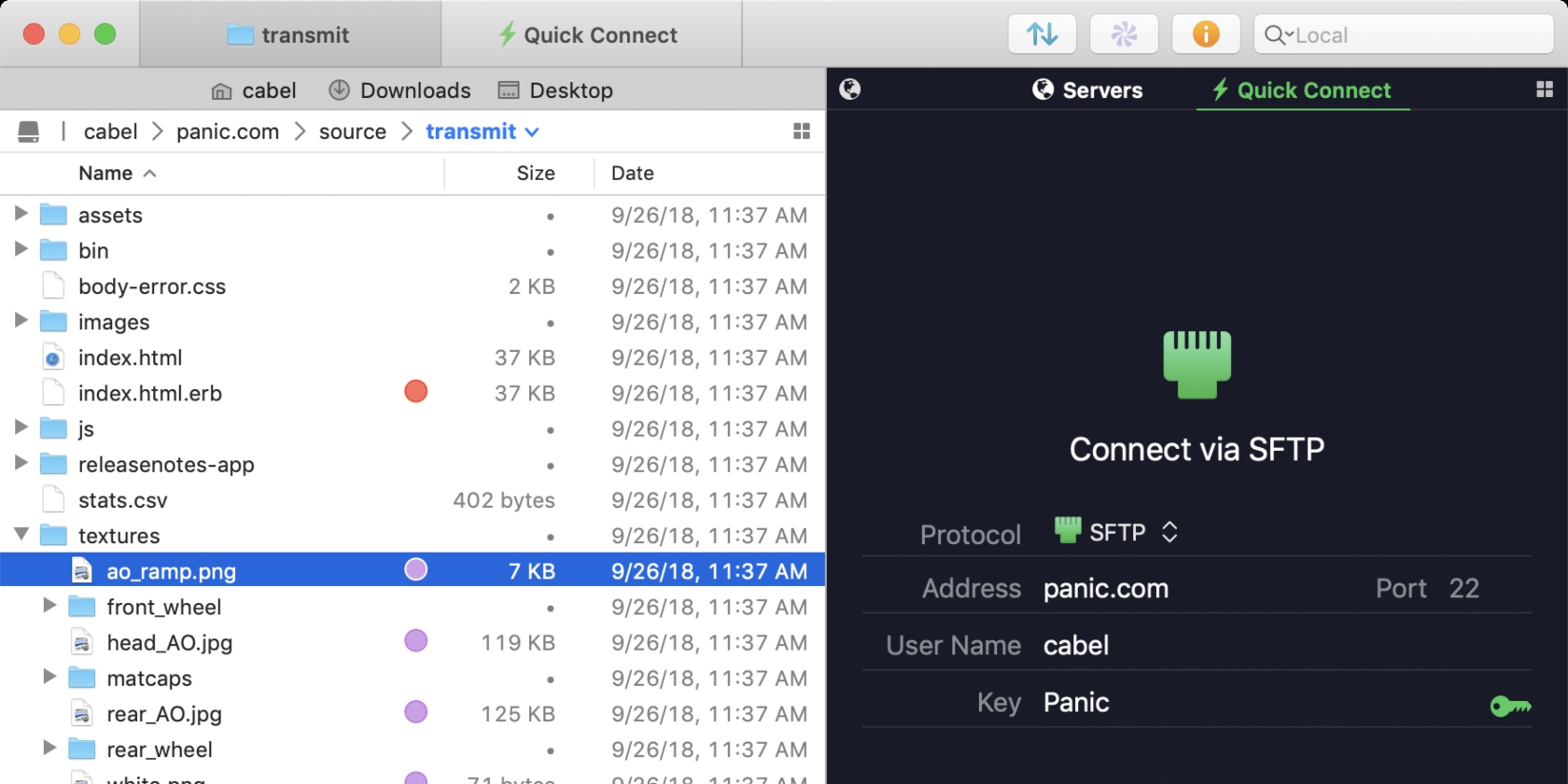 6. Nimble Commander
If you're looking for convenience or functionality (or both), Nimble Commander is the dual-pane file manager you need. This is a no-frills app, containing only what's needed. For example, it doesn't have a ton of unnecessary buttons, just a Share menu and a directory tree.
It's suitable for people working with lots of data. Try it yourself.
| | |
| --- | --- |
| Pros | Cons |
| The 30-day trial gives you ample time to familiarize yourself with the app | Targeted at advanced users, like IT professionals, system administrators, and software developers |
| Nimble Commander supports mouse functionality | |
| It allows you to connect to remote FTP and SFTP servers | |
7. CRAX Commander
CRAX Commander is a file manager with a straightforward, easy-to-use interface. What sets it apart is its customizable interface. For instance, you can move and replace the buttons on the work panel. You can also change the font size and background color to your liking.
CRAX Commander offers a free trial and costs $25.99 thereafter. Test it too.
| | |
| --- | --- |
| Pros | Cons |
| You can easily drag, drop, copy, and move files | It can experience issues when working with FTP |
| You have the ability to reconfigure hotkeys for your convenience | |
| You can customize the interface for your comfort | |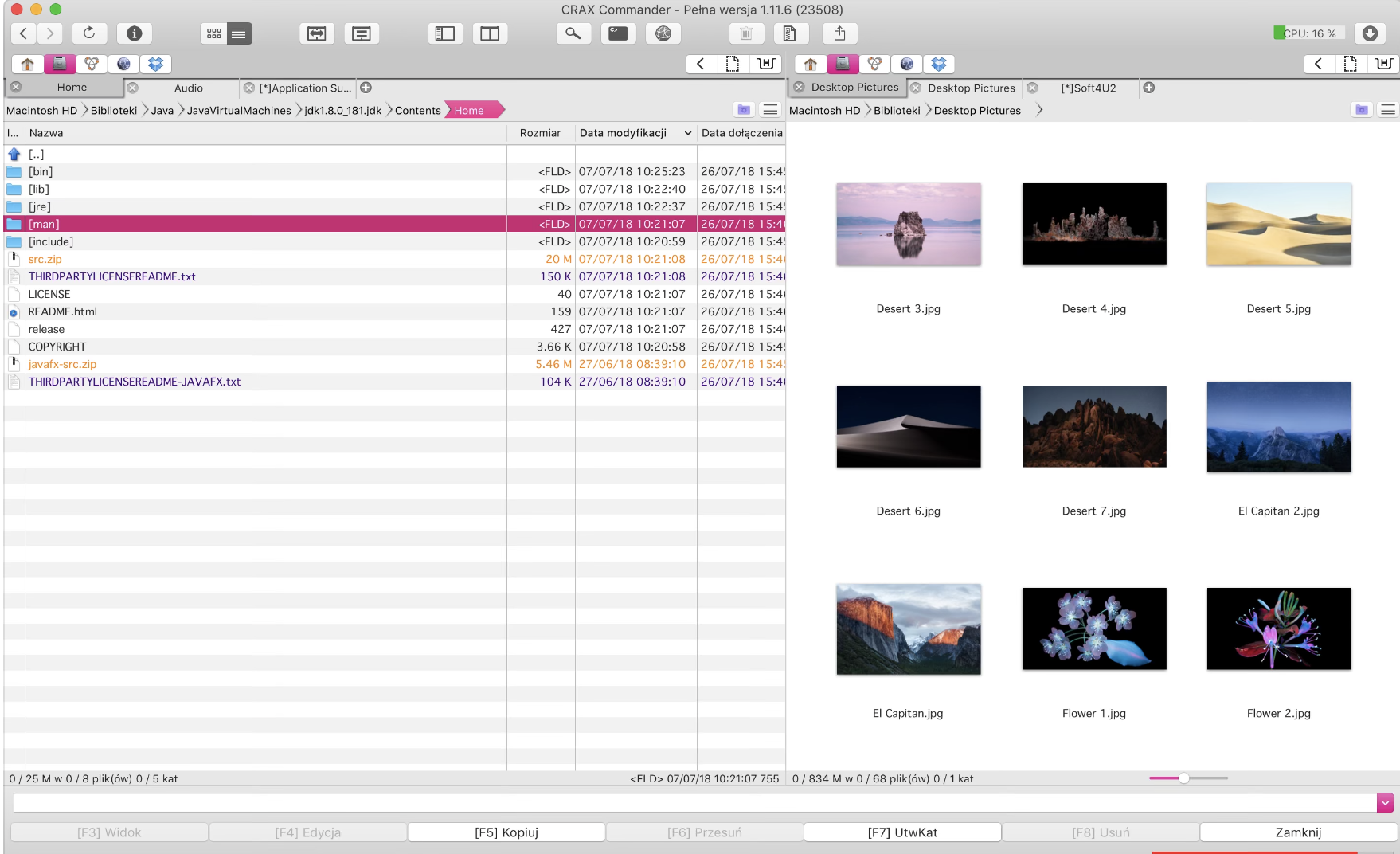 8. Dropover
It's a temporary file holder that helps you move files smoothly as an alternative solution to what you're used to. This makes it a great addition to use alongside other file managers. Instead of moving files by selecting them, Dropover creates temporary shelves instead, and the shelves can be modified with ease. You can also select files from various folders.
Dropover comes with a 14-day free trial, and the full version costs $3.99. Take it from App Store.
| | |
| --- | --- |
| Pros | Cons |
| You don't have to ditch your existing file manager | It can't be used as a complete file manager, only alongside one |
| It's useful for other tasks in addition to moving files | |
| It allows you to store files temporarily | |
| You can share files to multiple cloud services | |
| Your favorite actions can be displayed in the shelf action menu | |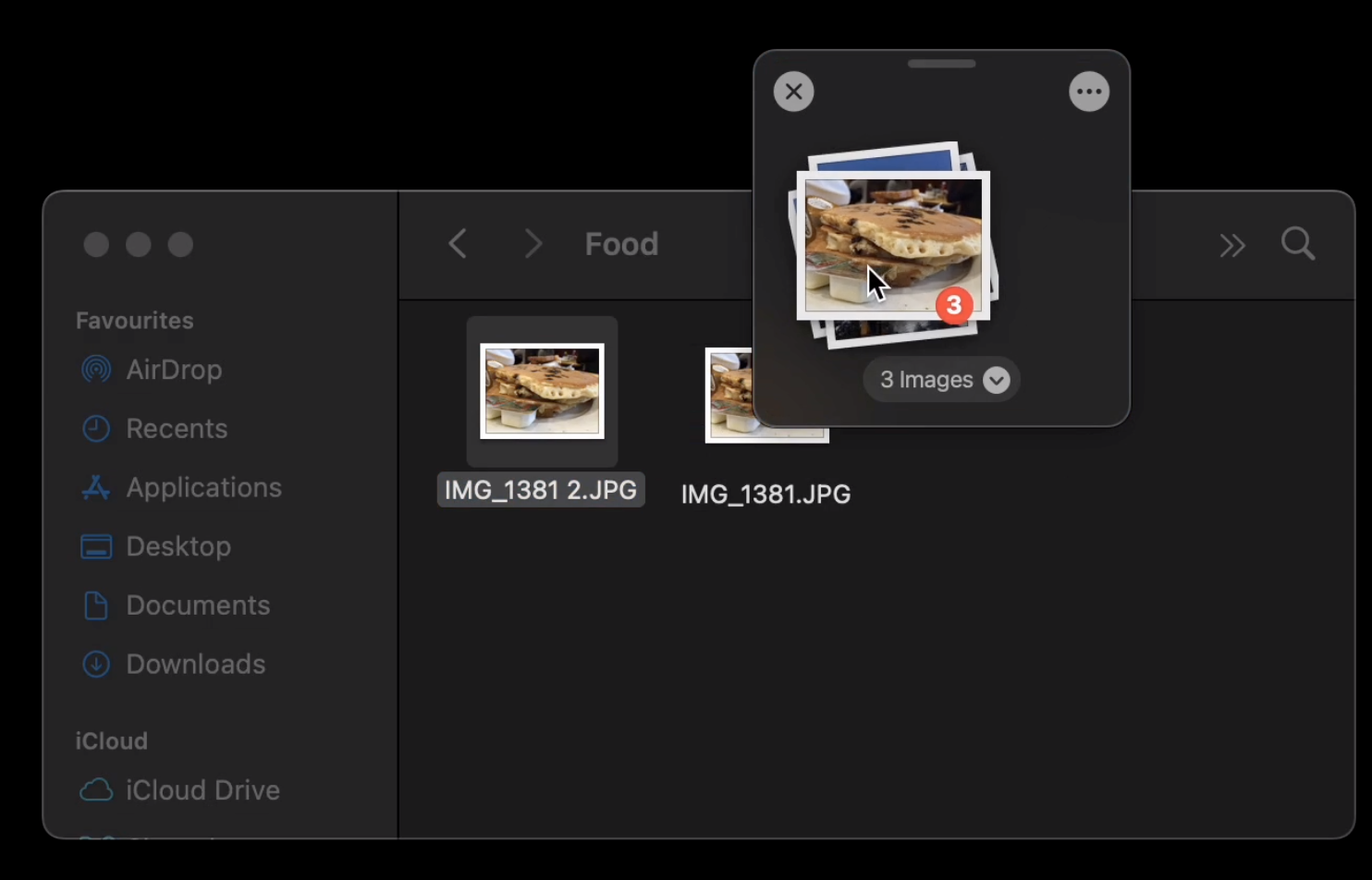 9. HoudahSpot
This file explorer works well with Mac's Spotlight search and makes finding files quick and easy. So, why use both HoudahSpot and Spotlight? It's quite simple, really. HoudahSpot sorts through Spotlight search results thoroughly to return much more targeted results, which increases the chances of finding whatever you're looking for. The faster you locate your files, the more your productivity is boosted.
HoudahSpot offers users a free trial and paid options at the official site:
Single User License: $34. This is for one user, but can be used on unlimited computers
Family License: $52. This is for family members living in the same household.
| | |
| --- | --- |
| Pros | Cons |
| You can filter results by date | It doesn't search system files |
| It allows you to search for files in multiple destinations, like your mail, files, and folders | You can only find Spotlight-indexed files |
| You can save searches as templates for the future usage | |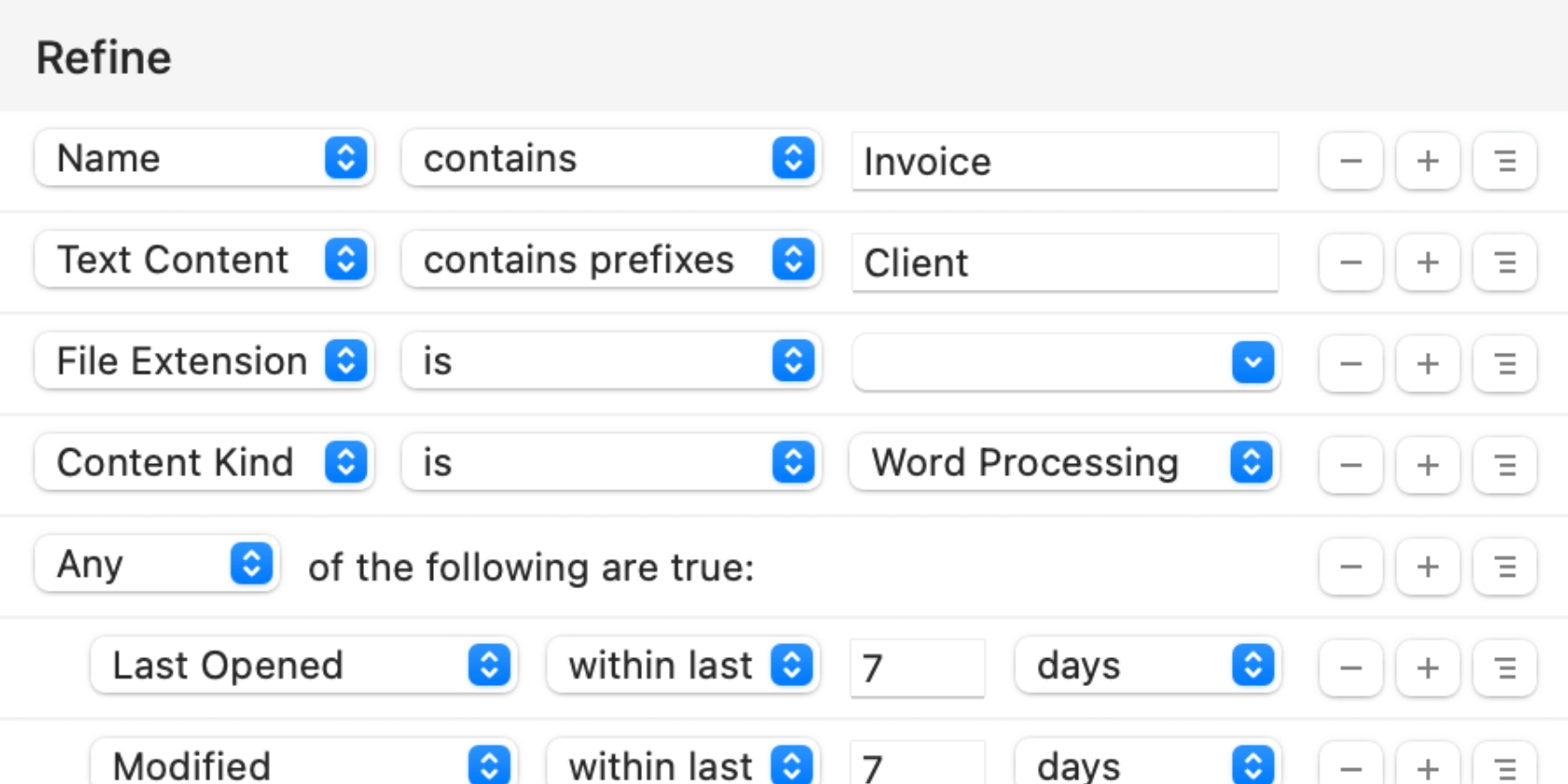 10. Marta
To be objective, it isn't a fully developed Mac file organizer. However, it's suitable for users on a budget, given that it's a completely free Mac file manager, unlike other file managers. Marta supports a host of Finder's basic functions, like sharing, editing, deleting, and copying files. It also offers dual panels.
Check it here and give it a try.
| | |
| --- | --- |
| Pros | Cons |
| It's completely free and suitable for the cost-conscious user | You can't rename multiple files at once |
| It offers dual-panel support | |
| It has file path visibility | |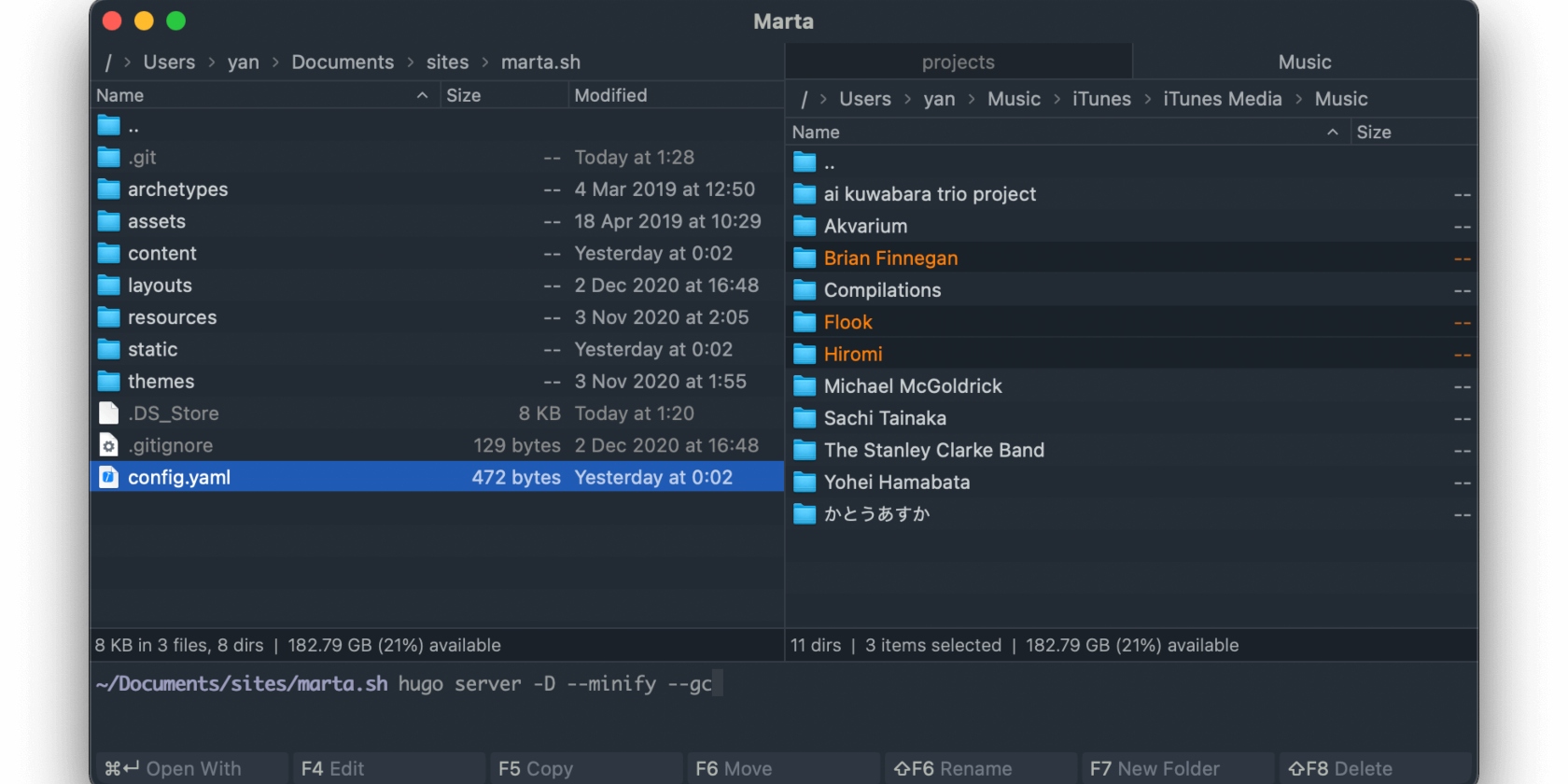 Choose the best file managers for Mac
Mac's Finder is great, but it's not the best. There are tons of options you can try that are more user-friendly and have better functionality. Fortunately, you don't have to do the work of finding a suitable one yourself. Use our handy guide and useful tips to find a file organizer that works for your needs and budget.
Equally important is to use a cleaning software that will help boost your Mac's performance. MacKeeper's Safe Cleanup tool rids your Mac of redundant files to help it perform smoothly and cut down on clutter. Use it regularly for best results.