In this article you will find the following:
If you want to take a screenshot or record video of your Mac's screen, you'll need a snipping tool. These apps let you capture your entire screen or just a portion of it. You can then edit, annotate, or share the results.
As many Mac owners will know, OS X and macOS come equipped with a pretty good snipping tool. In earlier versions of the OS, it was called Grab, but now it goes by the name Screenshot.
For many people, the Screenshot app is all they'll ever need to take a screenshot on Mac, but there are also third-party alternatives. These usually include additional features that aren't in Screenshot. But what are the best snipping tools for Mac? Keep reading to find out our selection.
Before we start

The more screenshots and screen recordings you make, the more likely you're to create duplicate files. Keep it under control with MacKeeper's Duplicates Finder. It lets you quickly find and delete unneeded copies from your Mac.

Open MacKeeper and select Duplicates Finder
Click Start Scan
When the scan is finished, select what you want to remove and click Remove Selected.

Duplicates Finder can even find photos that are similar but not the same. Check out MacKeeper today and see what it can do.
LightShot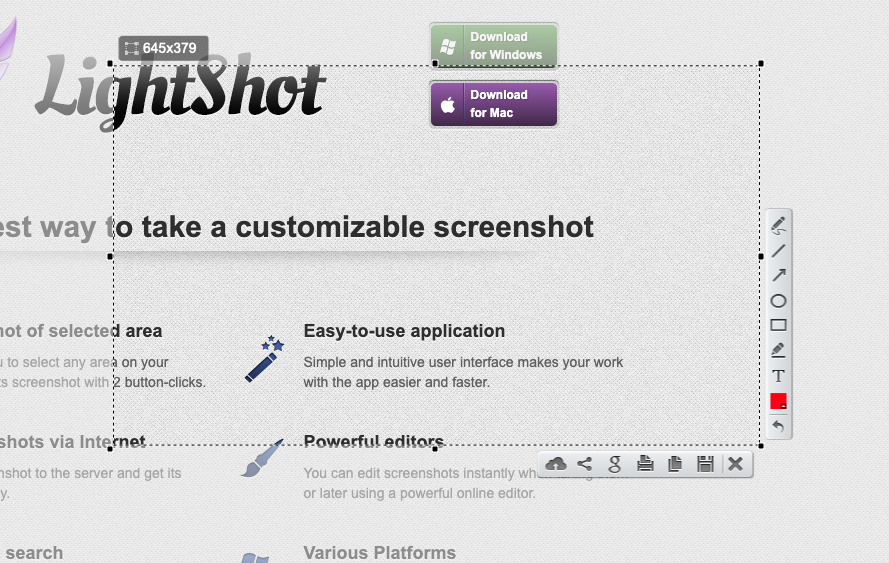 LightShot is available for free as an app or a browser extension. Either use the LightShot icon in your menu bar or the keyboard shortcut to bring up the snipping utility. You can also change the keyboard shortcut in the app's preferences.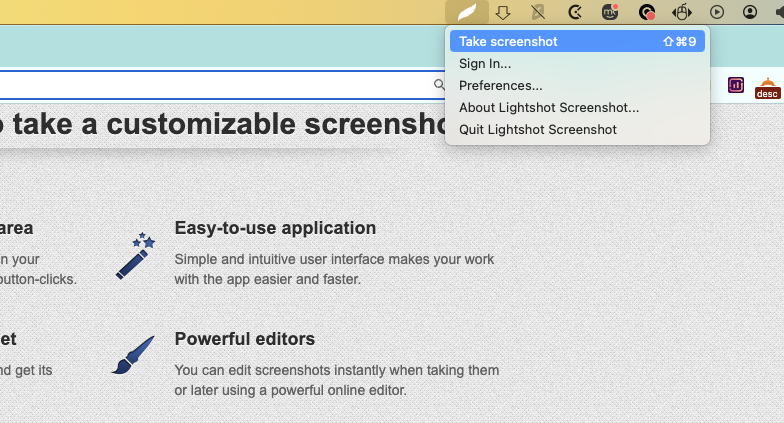 Rather than just saving a file or copying your selection to your clipboard, LightShot gives you a selection of options.
Upload your selection straight to LightShot's cloud
Share to your social media accounts
Search in Google Images
Print
Copy to clipboard
Save as a file.
You also add annotations and highlights before you take the shot, rather than after.
| | |
| --- | --- |
| Pros | Cons |
| Edits a snapshot before you record it | Doesn't record video |
| Uploads shots instantly to the cloud | |
| Free to download and use | |
Loom Screen Recorder
| | |
| --- | --- |
| Website | https://www.loom.com/ |
| Price | Free (paid subscriptions available) |
| Platforms | macOS, Windows, Firefox, Chrome, iOS, Android |
Loom Screen Recorder is primarily a screen recording program, meaning it's designed mainly for capturing video and audio. However, it also has screengrabs as a beta function.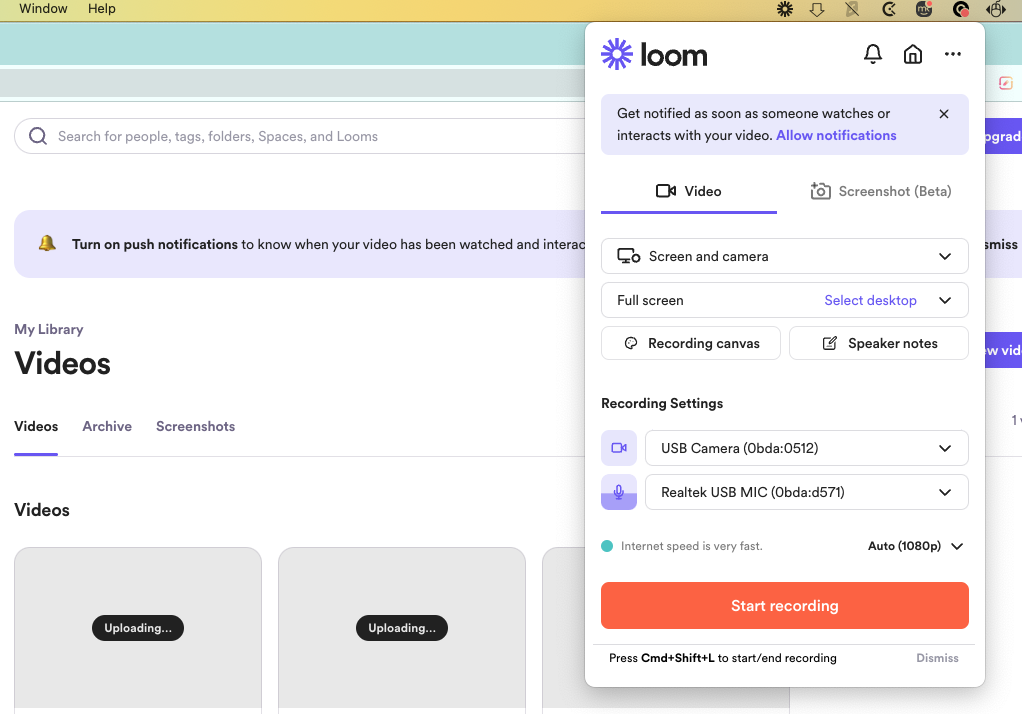 As well as recording your screen, Loom can capture your webcam and mic input. This makes it ideal for recording meetings, but you can use it however you want. Unlike other snipping programs, Loom functions as an online workspace tool, so you'll need to create an account first.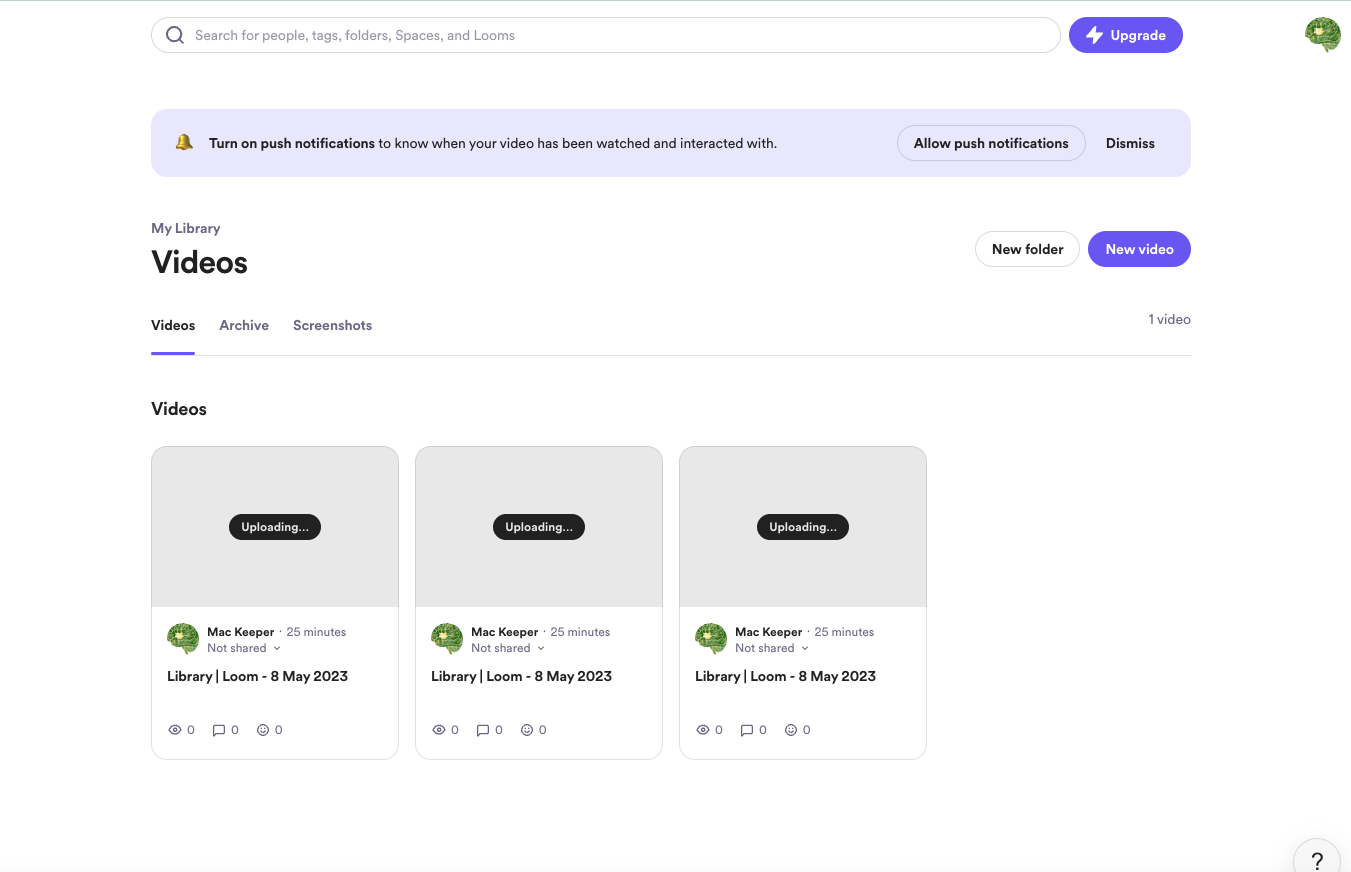 Other useful features of Loom Screen Recorder include:
A preset background instead of your desktop in recordings
An ability to add notes that won't be seen in your recording
A browser extension for capturing without the desktop app
Screenshots of your whole screen or a selection.
| | |
| --- | --- |
| Pros | Cons |
| Records your screen, webcam, and mic | The sniptool is limited and doesn't offer annotations |
| Recordings are automatically backed up online | No option to store recordings on your Mac instead of the cloud |
| Free Starter account | |
Snagit
Snagit is collaboration software aimed at business users. It lets you record video and take pictures of your screen.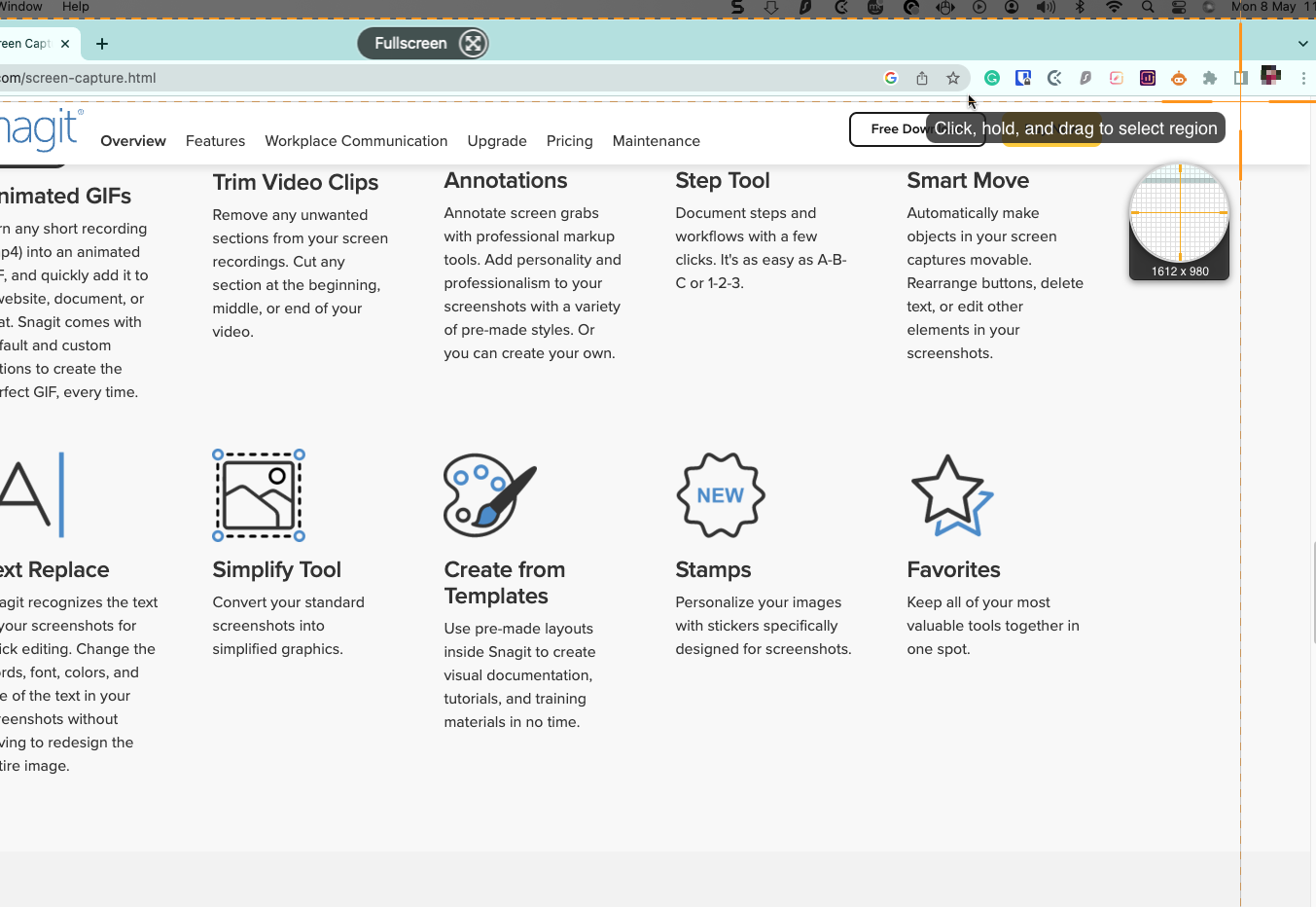 However, it's not only that. Snagit does a lot of other things for you:
Adds annotations and highlights as you record video
Makes panoramic, scrolling screenshots, letting you capture whole web pages
Extracts and pastes text from screen captures
Creates GIFs from photos and screenshots
Uploads files to the cloud
Records your webcam and mic input
Turns screenshots into simplified graphics.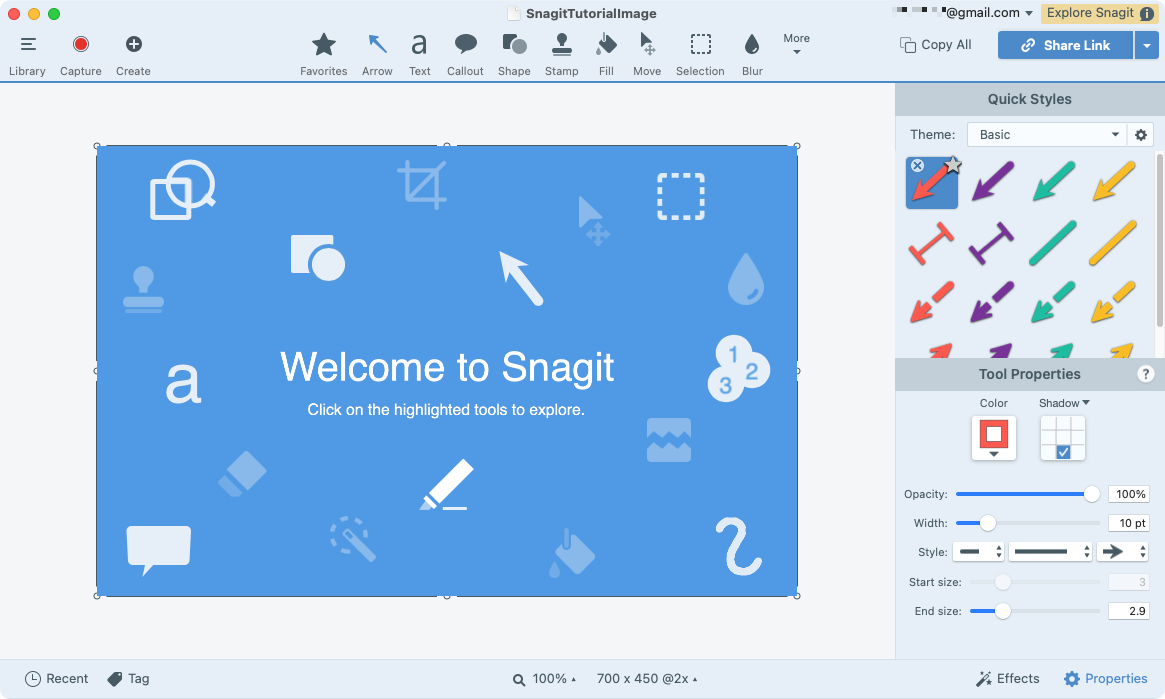 You can access all these features from the menu bar or the Snagit widget. There are also keyboard shortcuts if you need to quickly whip out your digital scissors and cut something out.
| | |
| --- | --- |
| Pros | Cons |
| Lots of powerful collaboration features | Expensive if you just want a cutting tool |
| Free trial available | Overkills if you don't need it |
| Panoramic screenshots | |
Flameshot
Flameshot is a free, open-source cutting tool, focused on screenshots. But what makes it one of the top snipping tools for Mac?

The real power of Flameshot comes from the edits you can do to screenshots before you take them. As well as capturing either your whole screen or a section, the app lets you:
Add shapes, lines, and text
Insert numbered annotations
Move the selection box
Upload images to the cloud
Pin an image to your desktop
Save to a file or copy to your clipboard
Pixelate portions of pictures
Command line options.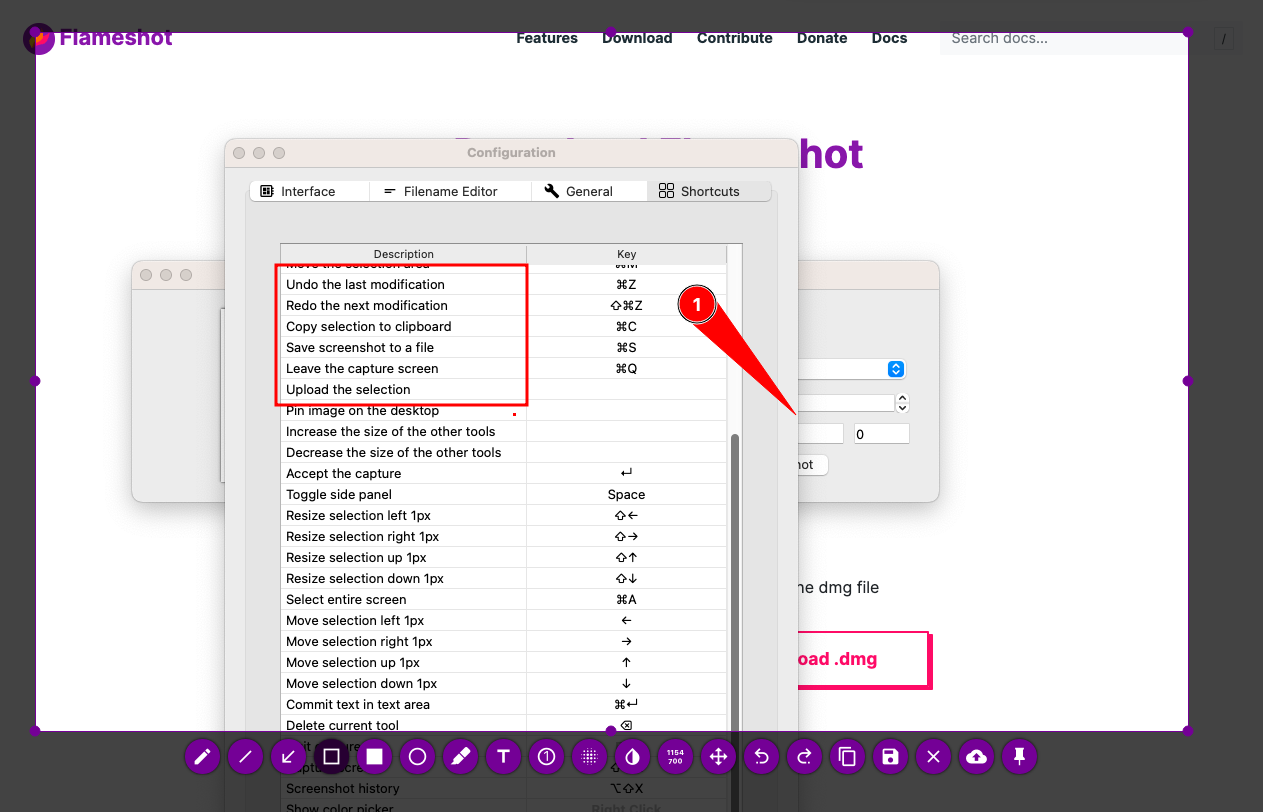 If you work with a lot of screenshots, Flameshot is a great addition to your toolbox.
| | |
| --- | --- |
| Pros | Cons |
| Free and open source | Doesn't record video |
| Edits images before sharing them | |
| Saves your photos online | |
TextSniper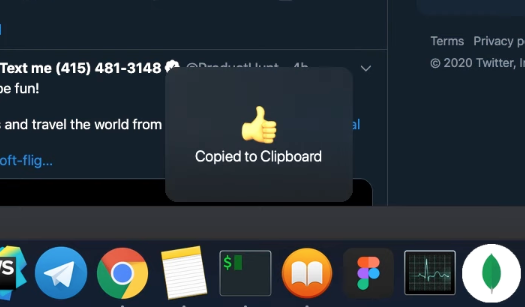 Unlike most of the apps we're looking at here, TextSniper doesn't snip images. As its name suggests, it actually captures text—specifically non-selectable text. That could be captions in a YouTube video, for example, or in a still image, PDF, or presentation.
Once installed, you simply select a portion of your screen, and TextSniper will turn what it sees into text using optical character recognition (OCR). This is automatically copied to your clipboard, so you paste it straight into another document.
Other helpful features of TextSniper include:
Read barcodes and QR codes
Text to speech
A customisable shortcut.
If you need to get a lot of text out of images and don't want to type it out manually, TextSniper is ideal.
| | |
| --- | --- |
| Pros | Cons |
| A quick, easy way to extract text from photos | Doesn't capture images or video |
| Only $11.99 for an unlimited license | Free trial only available through Setapp trial |
| Reads barcodes too | |
CleanShot X
CleanShot X is a pro image clipping and screen recording app for Mac. As a premium program, it goes far beyond what the standard Apple equivalent offers, boasting more than 50 features.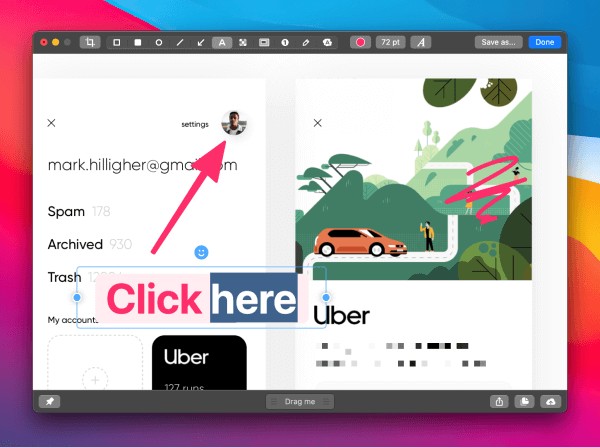 CleanShot X's core features allow you to:
Easily add annotations, shapes, and highlights
Pixelate or blur parts of your images
Combine multiple images without leaving the app
Add a custom background to screenshots
Instantly share or save your files
Make scrolling capture for apps and websites
Record videos and GIFs
Edit video, including cutting and trimming
Upload to the cloud.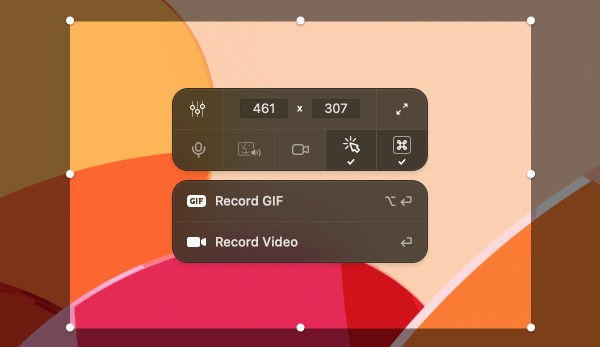 There are, of course, free alternatives, but CleanShot X offers a good balance between features and cost.
| | |
| --- | --- |
| Pros | Cons |
| Lots of different features | No free trial |
| Scrolling image capture | |
| Backup of your files to the cloud | |
Droplr
With so many cheap and free snipping tools for Mac, you might wonder why it's worth paying for a Droplr subscription.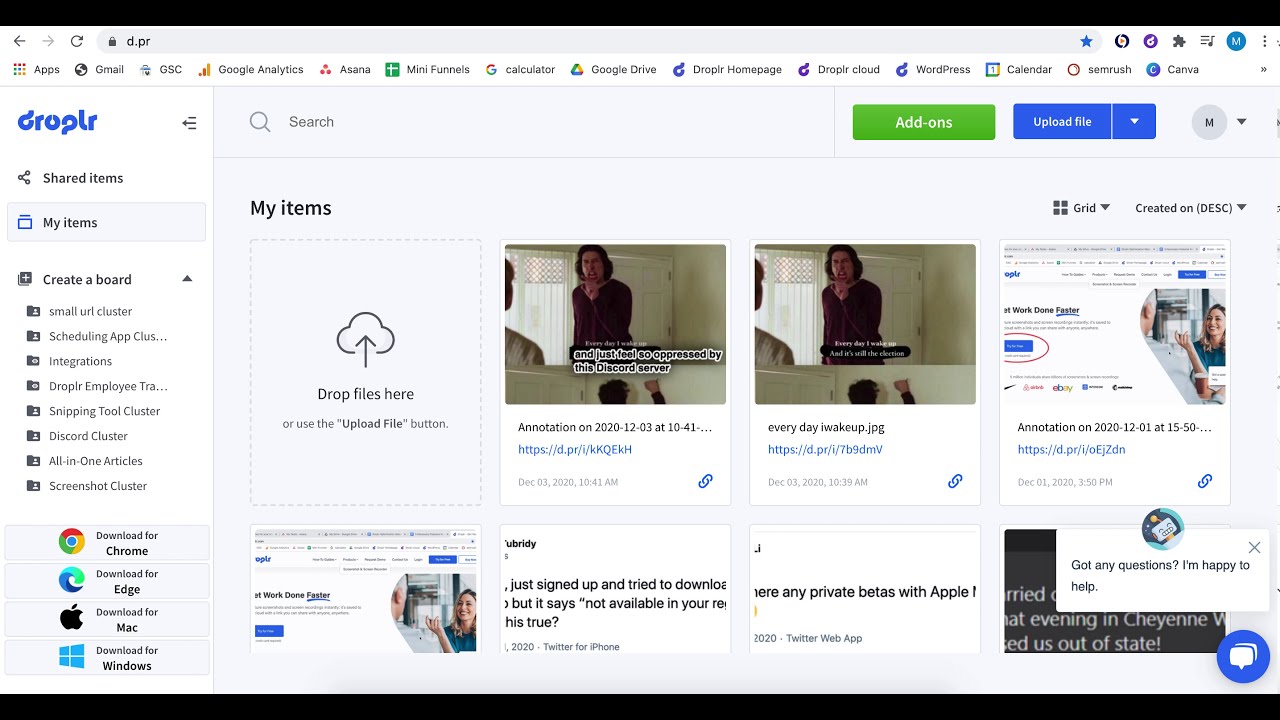 As with other premium solutions, Droplr lets you record not only screenshots and video, but also webcam and audio.
Other useful features include:
Creation of animated GIFs
Adding annotations and other elements to screenshots
Sending files to the cloud autimatically
Download in a variety of formats
Sharing files and seeing online analytics
Integration with other software
Password protected folders
Uploading files up to 10GB in size
Self-destructing files.
Your Droplr subscription also gets you access to 100GB of online storage, and a max bandwidth of 500GB per month. These kinds of features are why Droplr is worth considering for pro users.
| | |
| --- | --- |
| Pros | Cons |
| Integrates well with other apps | You need to provide payment details to get the free trial |
| Self-destructing files for extra security | No free account |
| Large amount of online storage | |
Skitch
Skitch is a screenshot app from Evernote, and if you sign in with your Evernote account, you can save pictures to it.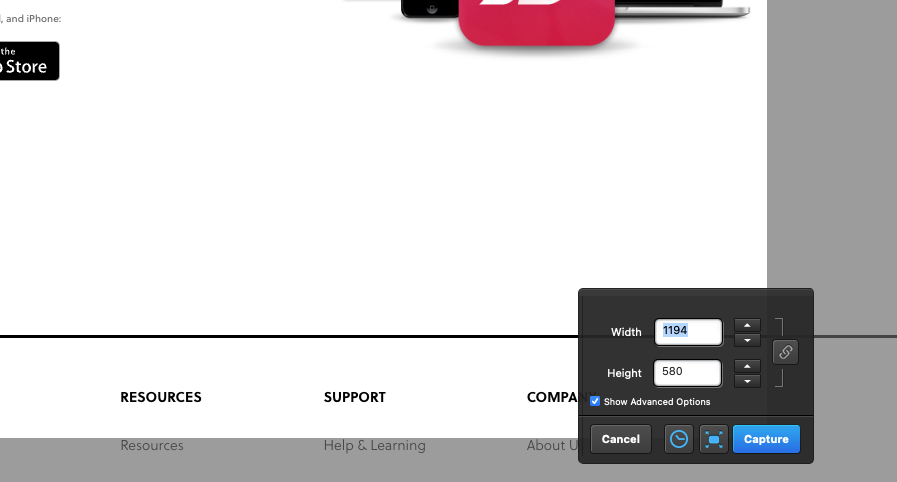 Like similar apps, Skitch lets you capture the whole screen or a selection, as well as timed shots. Once you've created a shot, you're taken to the Skitch interface, where you can make edits, including:
Adding arrows, annotations, and shapes
Adding text
Pixelating parts of your image
Adding highlights
Changing the color of arrows
Sharing or pasting into other apps
Saving in a variety of formats.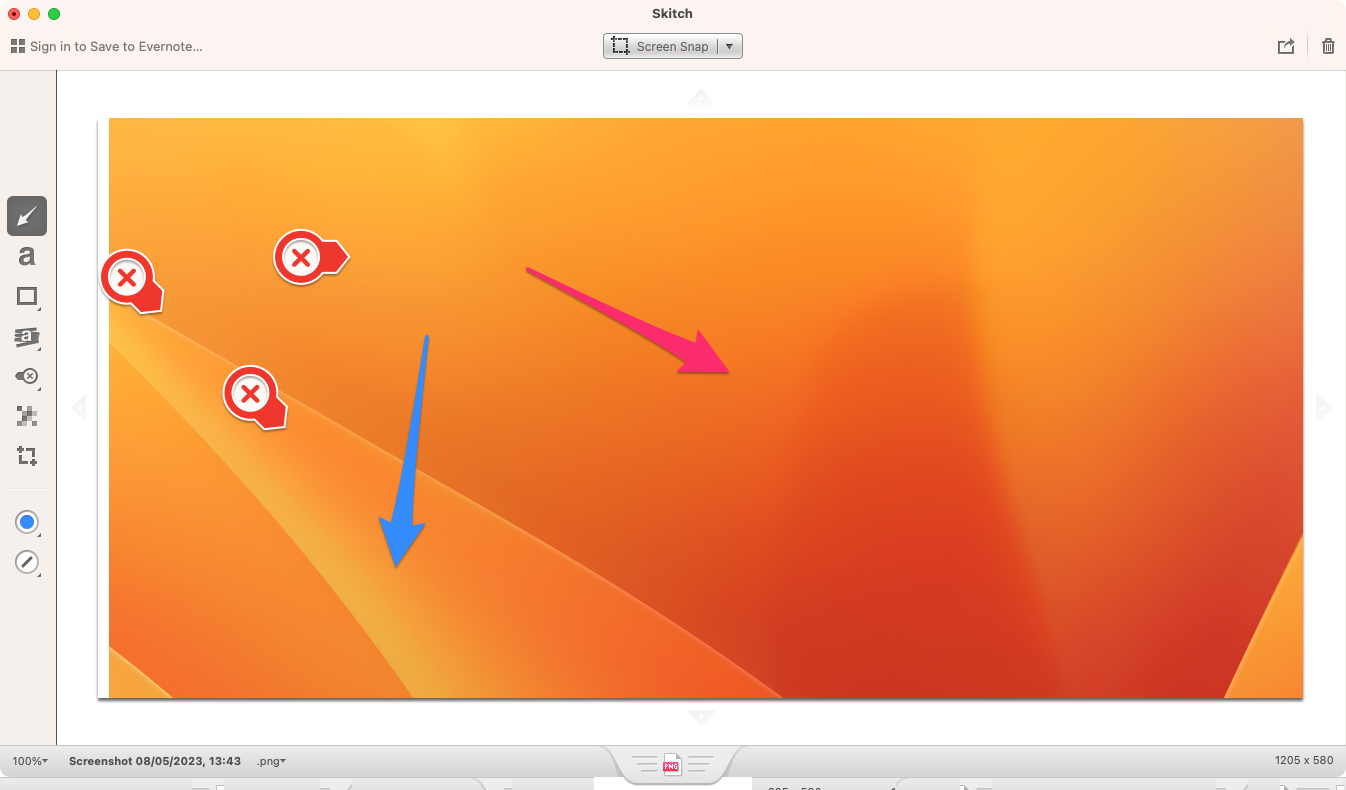 Skitch is easy to use, but there are better clipping tools around. If you have an Evernote account, though, this Skitch might be something you want to consider using.
| | |
| --- | --- |
| Pros | Cons |
| Free of charge | Doesn't record video |
| Uploads images to Evernote | The interface is a bit clunky |
| Good basic functionality | |
Monosnap
| | |
| --- | --- |
| Website | https://monosnap.com |
| Price | Free (premium subscriptions available) |
| Platforms | macOS, Windows, Chrome |
Monosnap is another snipping tool for Mac that's meant for business users. In this case, though, there's a free account, and the monthly subscriptions start from just $3 a month. If you choose the free version, you get:
2GB of cloud storage for screenshots and recordings
100MB file size limit
Blur parts of your images
Up to five minutes of recording time
Annotate images and add text
Short links to your files
Integration with Zoom and YouTube.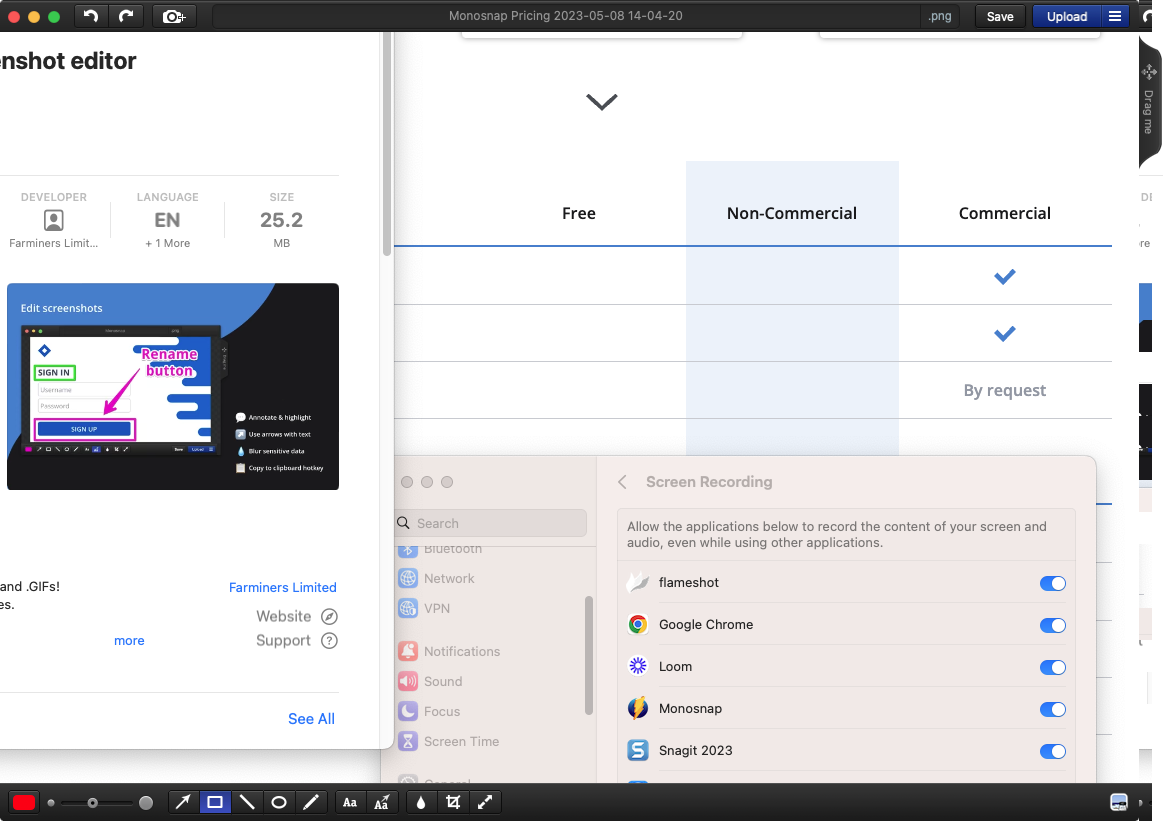 If you pay for a subscription, you get unlimited video recording time, more storage space, more interrogations, and other benefits. Snipping tool itself works well, letting you save files to your computer or the cloud, and in a variety of formats.
| | |
| --- | --- |
| Pros | Cons |
| Cheaper subscription than some alternatives | Missing some advanced features |
| Free account is available | |
| Easy to use | |
Zight
| | |
| --- | --- |
| Website | https://zight.com/ |
| Price | Free (premium subscriptions available) |
| Platforms | macOS, Windows, Linux, Chrome |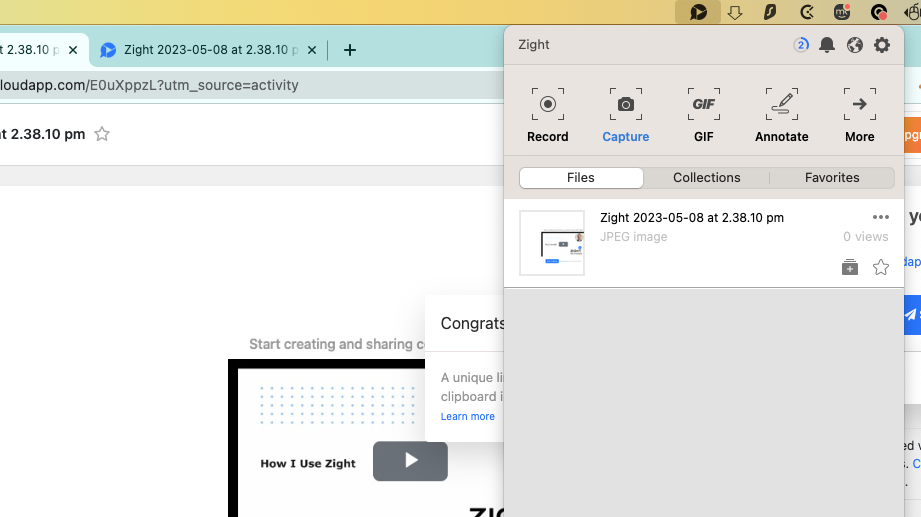 Formerly known as CloudApp, Zight is a snipping and collaboration tool with a focus on business users. It does have a free subscription, though, which gets you:
Up to 25 captures
Video recording up to 1min 30sec in length
Up to 720p video recording
Basic analytics
Add annotations, shapes, and text to images
Pixelate images on the fly
Auto-uploading to the Zight cloud.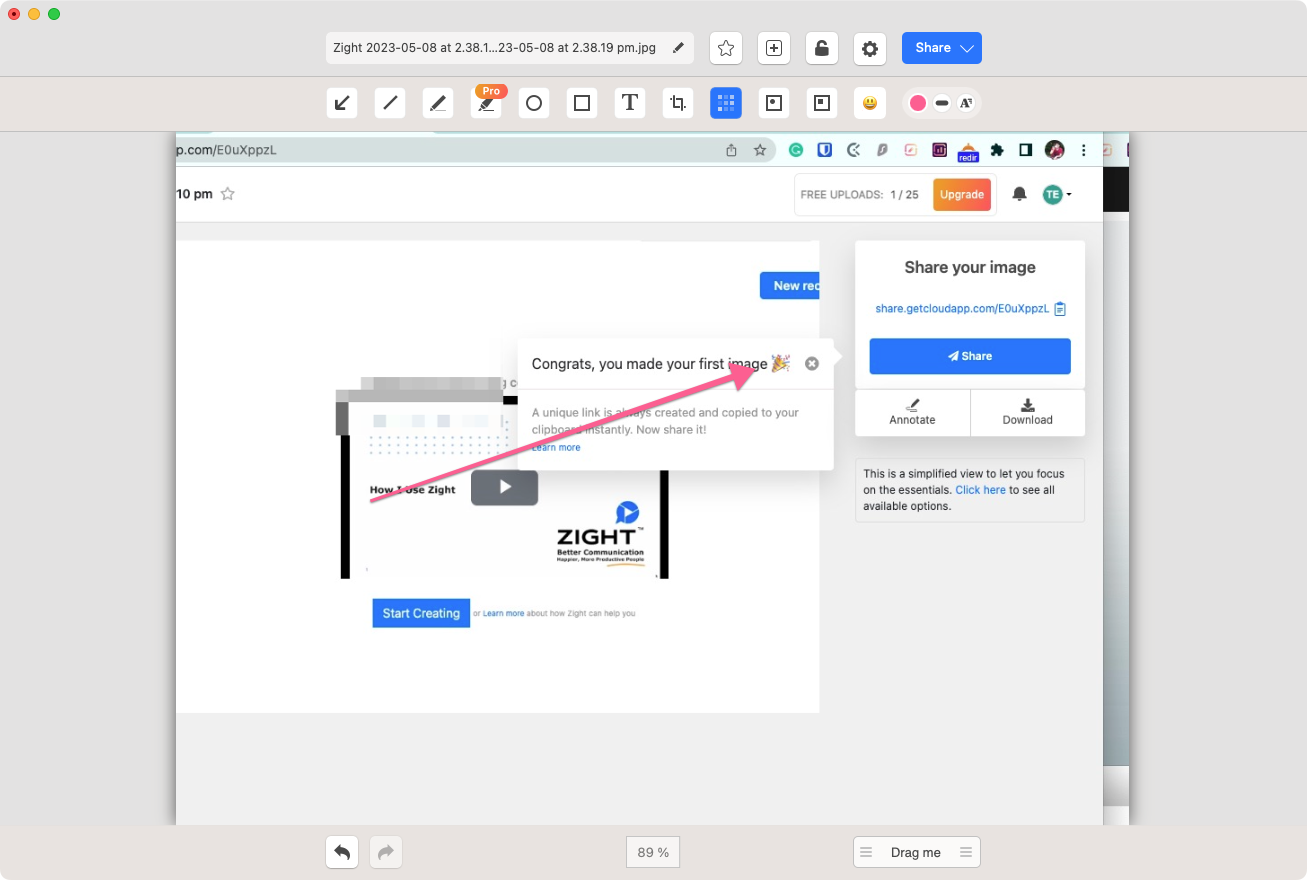 Capturing pictures and video is simple using shortcuts and the Zight icon in the menu bar. Everything is automatically uploaded to the cloud, and from there you can share your content, or continue to edit it.
| | |
| --- | --- |
| Pros | Cons |
| Free account available | Free account is very limited |
| Easy capture video or images, and add annotations | |
| Everything is back up online | |
SnapNDrag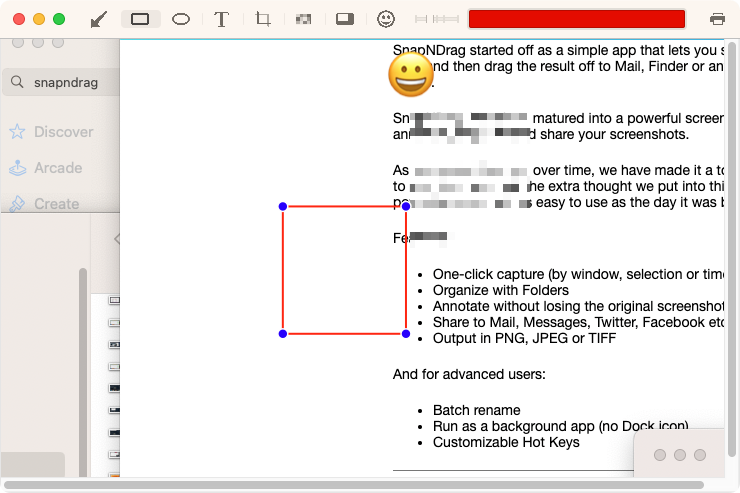 Although the SnapNDrag website mentions a free version, it only seems to link to SnapNDrag Pro. That costs $9.99 from the Mac App Store. If you search the web, it's easy enough to find the free version, which offers these features:
Captures a selection, a whole screen, or a window
Offers timed capture
Adds annotations, text, and more
Pixelates parts of your images
Adds emoticons
Shares and import into other apps
Saves in a variety of formats.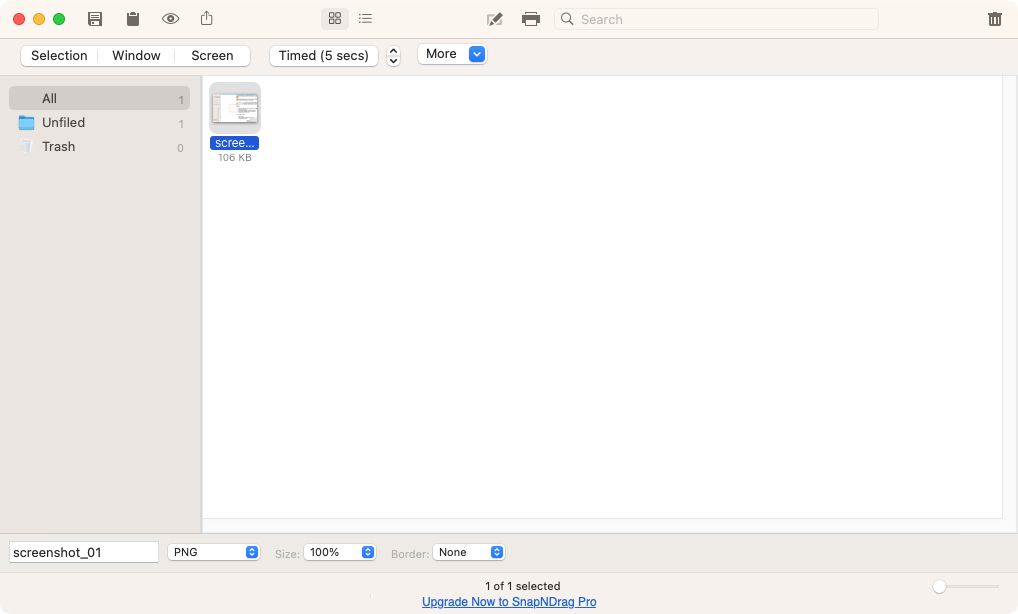 If you upgrade to the pro version of SnapNDrag, you get extra features, like batch renaming, keyboard shortcuts, a menu bar tool, and scaling options. These are still fairly basic functions, but the pro version only costs $9.99.
| | |
| --- | --- |
| Pros | Cons |
| Simple and easy to use | Extra features feel like they should be free |
| Upgrade price is low | Free version is hard to find |
| You see all your screenshots in one place | |
Which snipping tools make the cut?
Whether you're using an iMac, MacBook Air, or some other Apple system, third-party snipping tools make it easier to clip and share from your screen. Most can be controlled with keyboard shortcuts, some offer cloud storage, and nearly all of them make annotations easier.
If you need collaboration features, it's worth trying some of the subscription tools. Otherwise, there are plenty of free options that will more than suffice. And of course, the snipping tool built into macOS is pretty good too. It lets you record video, view the Mac clipboard history, and more.
Whatever tool you choose for your Apple computers, just remember to use MacKeeper's Duplicates Finder so you don't swamp your storage with unneeded copies!