In this article you will find the following:
If you're running out of space on your Mac or want to archive files, an external solid-state drive (SSD) hard drive is a quick, easy way to add more storage to your Mac. They also offer excellent performance and increasingly good value, with prices dropping all the time.
Advantages of SSDs include:
Speed: SSDs are much, much faster than traditional hard drives
Ease-of-use: Most external SSDs come pre-formatted, so all you have to do is plug them in and start using them
Cost: Newer Macs, including M1 and M2 models come with relatively low amounts of storage. External SSDs are cheaper than paying for a Mac with a bigger SSD
Weight: Traditional hard drives use a lot of metal, both inside and out. SSDs, in contrast, are largely plastic, so they weigh very little
Size: Because they don't use spinning discs, like hard drives, SSDs can be much smaller
Noise: SSDs don't contain any moving parts, so they don't make any noise.
If you're wondering how to get more storage on Mac, it's easy to see why SSDs are such a good option. The only problem is choosing one. There are so many great products around, so to help you find the best external SSD for Mac, we've put a list of the top six.
Before we start

When you're transferring files from your Mac to a super-fast external SSD, you don't want to be slowed down by a lack of memory. Using MacKeeper's Memory Cleaner, you can close down unneeded background processes and free up RAM in an instant.

Open MacKeeper, and select Memory Cleaner

Click Open
Click Clean Memory.

It's as easy as that. With more RAM free to you, you can often get snappier performance, allowing you to complete tasks faster. Give MacKeeper a try today and see for yourself.
Samsung SSD T7
Coming in a range of capacities, right up to 2TB, the Samsung SSD T7 gives you a great mix of storage space and speed. With top read and write speeds of around 1GB/s, transferring data to and from this drive is impressively fast.
Its performance is no doubt thanks to its mix of embedded PCIe NVMe technology and USB 3.2 Gen 2 connection—compatible with the Thunderbolt ports on Macs. As well as being up to 9.5 times faster than external hard drives, the Samsung SSD T7 is also twice as fast as the older Samsung SSD T5.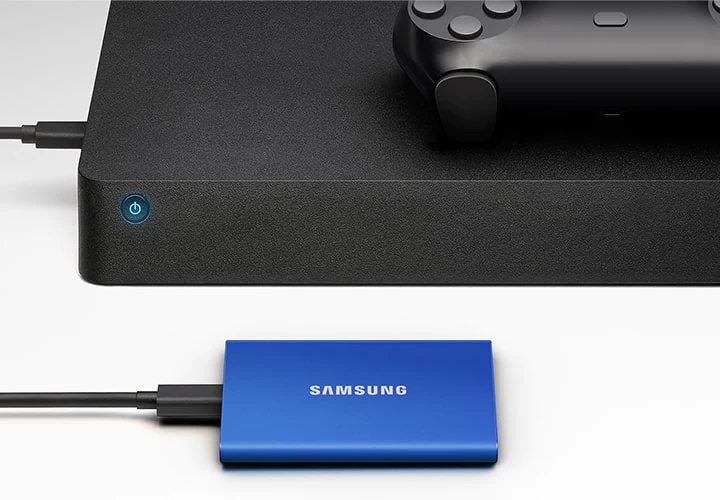 This drive also keeps your data safe and sound. As well as shock resistance, it offers thermal control features to keep its insides cool at all times. That's important because this thing is tiny. The Samsung SSD T7 is about the size of a credit card, and although it has a solid aluminum enclosure, it weighs just 58g.
The Samsung SSD T7 also comes with embedded software for Windows and macOS. You can use this to set up a password and get the latest firmware.
So what does this kind of performance cost? The starting price is $69.99 for the 500GB model, climbing to $179.99 for the 2TB, but the price is currently reduced on the Samsung site and with other retailers.
| Pros | Cons |
| --- | --- |
| It's very, very fast | The included software isn't great |
| Shock resistance | |
| Compact and looks great | |
LaCie Rugged SSD
| | |
| --- | --- |
| Website | https://www.lacie.com/products/rugged/ |
| Starting price | $179.99 |
| Capacities | 500GB, 1TB, 2TB, 4TB |
| Connection | USB 3.2 Gen 2 |
| Max read speed | 1050MB/s |
| Max write speed | 1050MB/s |
| Colors | Orange |
| Size | 98mm (H), 65 (W), 17mm (D) |
| Weight | 100g |
Traditionally enclosed in bright-orange rubber cases, Lacie's Rugged range of external drives are built to be physically robust as well as visually striking. The Lacie Rugged SSD carries on that tradition but uses the fastest storage tech available. So if you're looking for speed in a drive that can take being bashed around, this product should be perfect.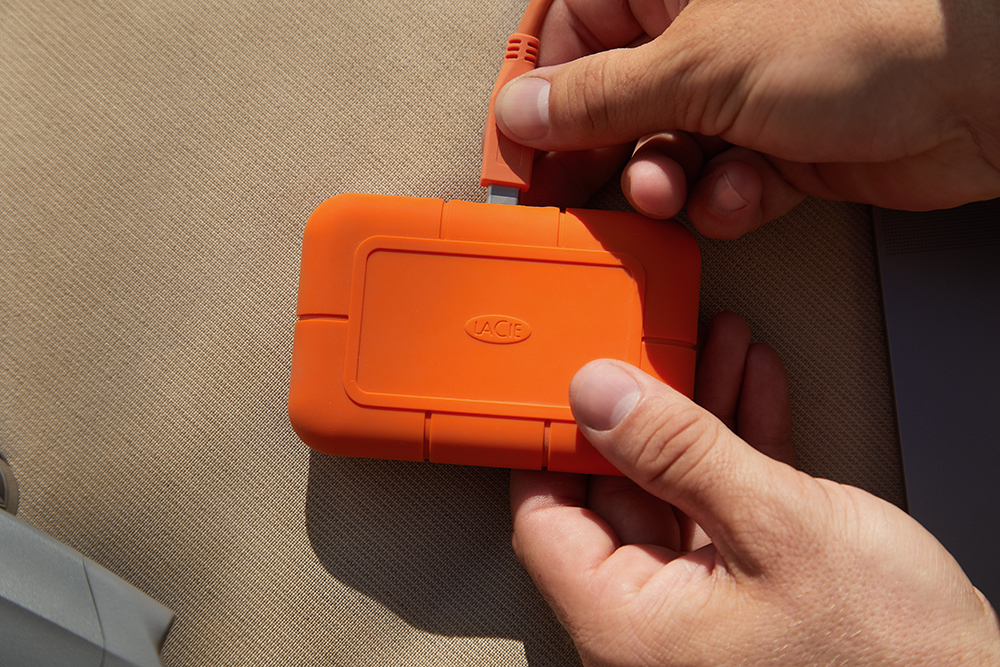 The rubber casing doesn't protect the drive from drops of up to 3m and two tons of crush resistance. It's also waterproof and dust-proof—specifically to the IP67 standard. It's particularly recommended for those who work in extreme conditions or who work outside a lot. Examples include photographers and filmmakers working on location. You also get data protection, thanks to an on-board encryption and password system.
The Lacie Rugged SSDs USB 3.2 connection is compatible with Thunderbolt, so it's ideal for Mac users. You get transfer speeds of up to 1050MB/s thanks to its NVMe technology, and capacity goes up to a massive 4TB. There's also a Pro version that offers speeds of up to 2800MB/s.
This high performance and strong build quality don't come cheap, though. Lacie's suggested price for the base 500GB model is $179.99. By the time you get to the 4TB model, you're looking at an eye-watering $839.99. If you're on a tight budget, this probably isn't the SSD for you.
| Pros | Cons |
| --- | --- |
| IP67 protection | Very expensive, particularly at higher capacities |
| Great performance | |
| Encryption for data protection | |
SanDisk Professional G-Drive SSD
If you search for the G-Drive range of external disks, you're likely to find it also sold under the G-Technology brand. This is thanks to a series of corporate acquisitions, which ultimately resulted in Western Digital buying SanDisk and renaming its G-Technology brand as SanDisk Professional.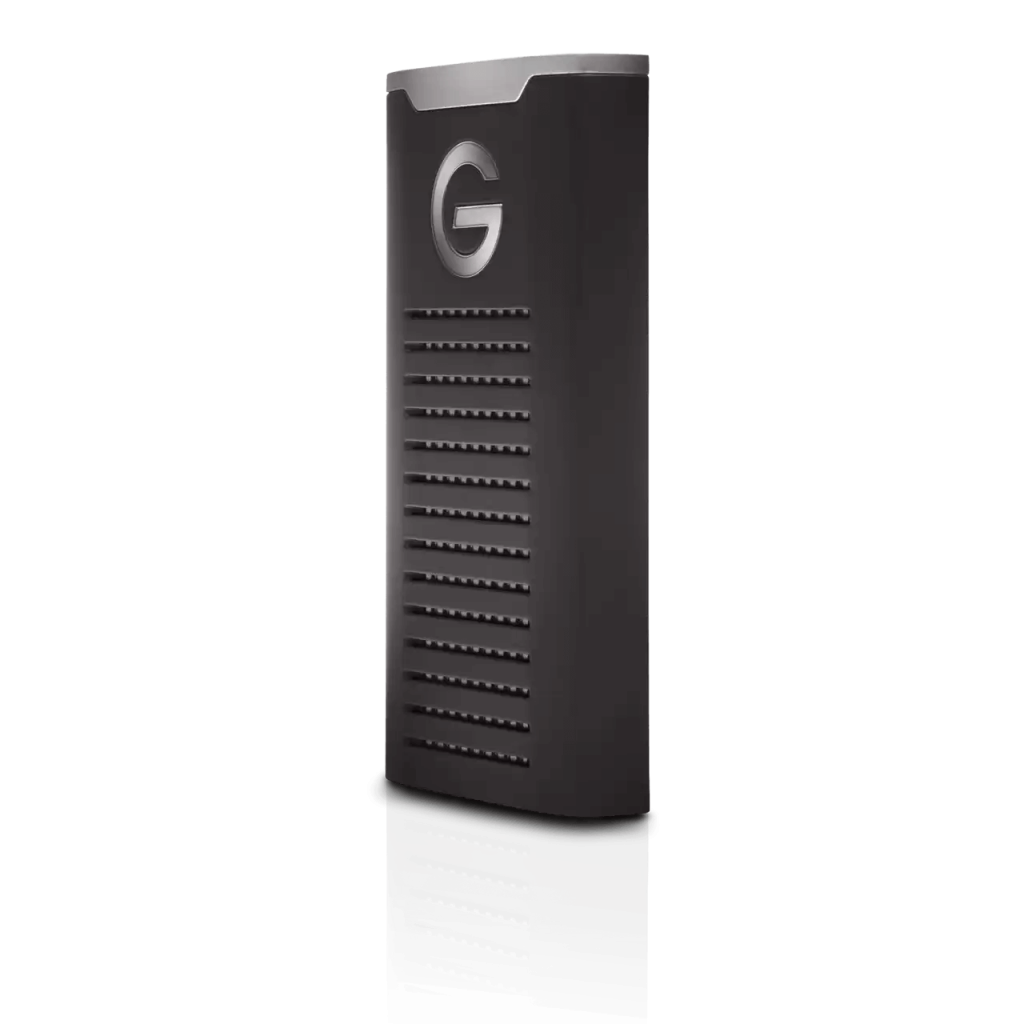 Just looking at SanDisk Professional G-Drive, you can see it's a premium product. Coming in a small, ruggedized enclosure, it gives you the same IP67 water and dust resistance as the Lacie Rugged SSD, as well as the same 3m drop protection and two-ton crush resistance. Plus, you can encrypt the drive using SanDisk's downloadable software.
Performance-wise, it again matches the Lacie device, with max speeds of 1050MB/s for read and write. Its USB 3.2 Gen 2 interface uses USB-C, but you also get a cable for backwards compatibility.
With so many similarities to the Lacie Rugged SSD, price becomes an even more important distinguishing point. Its starting price for a 500GB unit is $139.99. The top model, a 4TB drive, costs $679.99. These prices are by no means cheap, but they are more affordable than Lacie's Rugged SSD, and you can find it for even less if you shop around.
This mixture of performance, build quality, and pricing makes the SanDisk Professional G-Drive one of the top external SSDs for Mac.
| Pros | Cons |
| --- | --- |
| Great performance | Still quite expensive |
| Cheaper than similar drives | |
| Robust casing for water and dust protection | |
Crucial X6 Portable SSD
The first thing that strikes you about the Crucial X6 is its size and shape. It's a small square with rounded corners, which can easily fit in the palm of your hand and weighs just 40g. The Crucial X6 doesn't claim the kind of durability of devices like the SanDisk Professional G-Drive, but it offers drop proofing of up to 2m—no doubt thanks to its light weight.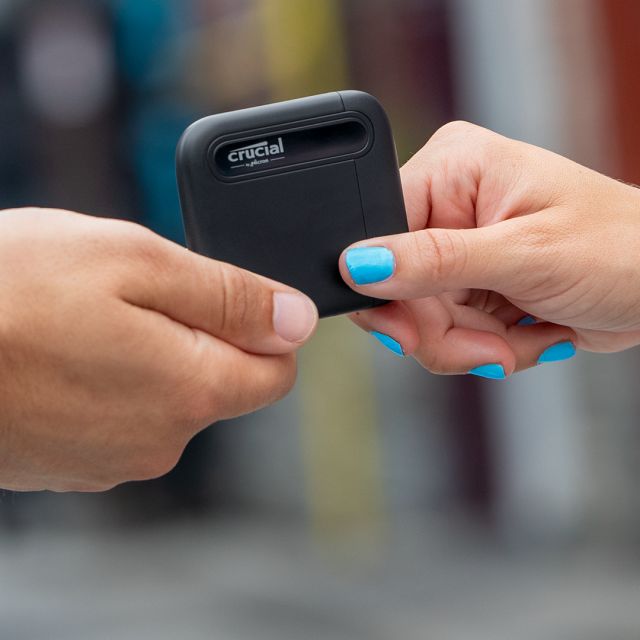 But don't let the Crucial X6's diminutive size put you off—this mini device is still one of the finest external SSDs you'll find.
Like many new external drives, it connects via USB 3.2 (USB-C). This allows the base 500GB model to achieve peak read speeds of about 540MB/s. The 1TB, 2TB, and 4TB versions can reach up to 800MB/s.
These speeds are some way short of the best external SSDs around, but the X6 has value on its side. Prices start at $69.95, rising to $279.99 at the top end. Crucial doesn't provide details of the maximum write speeds, but real-world tests show it to be somewhere in the region of 350MB/s. Not amazing, but still up to 5.7 times faster than traditional hard drives.
The Crucial X6 isn't the fastest external SSD for Mac, but it's one of the greatest around for everyday home use. Professionals who need a high-end storage device might want to spend more, of course, but if you're on a budget, this is optimal.
| Pros | Cons |
| --- | --- |
| Good value for money | Not as fast as alternatives |
| Compact size and light weight | |
| Looks great | |
Seagate One Touch SSD
Similar to the Samsung drive, the Seagate One Touch SSD has an understated look to it. It's a small metallic rectangle, weighing a mere 45g, with a subtle Seagate logo in one corner. But as with many external SSDs, this little package packs a big punch.
Simply plug this USB-C device into your Mac, whether it's a MacBook Air or Pro, an iMac, or something else. Then enjoy speeds of up to 1030MB/s. That's very slightly short of the top theoretical speeds of other SSDs we've looked at here, but nothing worth worrying about—particularly when you start looking at the price.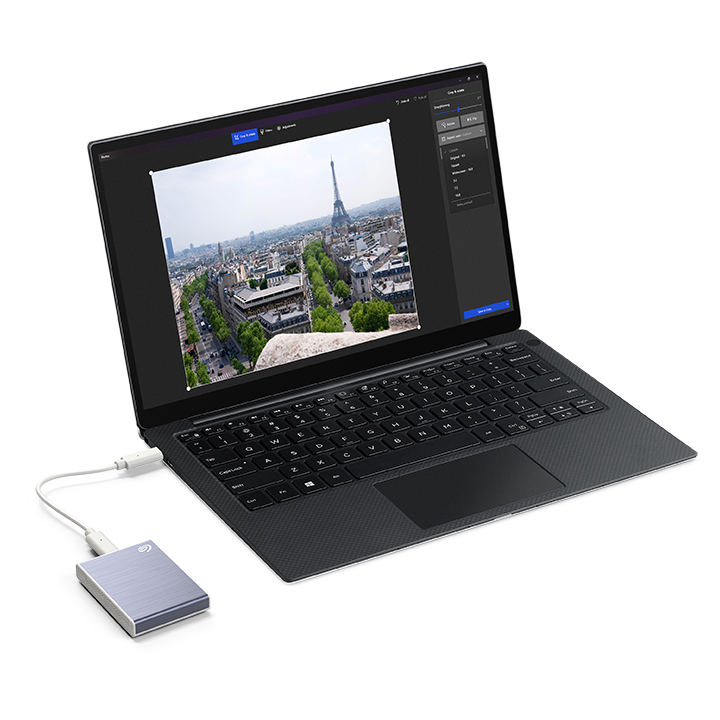 The recommended price of the 500GB Seagate One Touch SSD is $94.99. That goes up to $309.99 for the top model, which offers 2TB of storage. That makes this drive a little more expensive than the Crucial device but considerably cheaper than the Lacie and SanDisk products, despite offering similar performance. Of course, with those, you're also paying for the ruggedized enclosure too.
Nevertheless, the Seagate One Touch SSD is an excellent external SSD, which will easily fit in your pocket. It's well priced, and you can encrypt your data using the company's free One Touch Hub software. There's no 4TB model, as there is with other products, but this drive offers a fantastic balance between capacity and price.
| Pros | Cons |
| --- | --- |
| Excellent performance | Not quite as cheap as others |
| Offers good speed for the price | |
| Compact design | |
Glyph Atom RAID Rugged SSD
| | |
| --- | --- |
| Website | https://glyphtech.com/products/atom-raid-ssd |
| Starting price | $99.95 |
| Capacities | USB 3.2 Gen 2 |
| Connection | 500GB, 1TB, 2TB, 4TB |
| Max read speed | 950MB/s |
| Max write speed | 950MB/s |
| Colors | Black |
| Size | 68mm (H), 120mm (W), 12mm (D) |
| Weight | Not provided |
Glyph is as well known as the other brands, but its products are well worth checking out. The company specializes in high-end storage devices, assembling them all in its New York factory.
Despite its pedigree, though, the Atom RAID Rugged SSD is more affordable than you might think. The 500GB model costs just $99.95. The 4TB is $599.95—not cheap but still less than some of its competitors.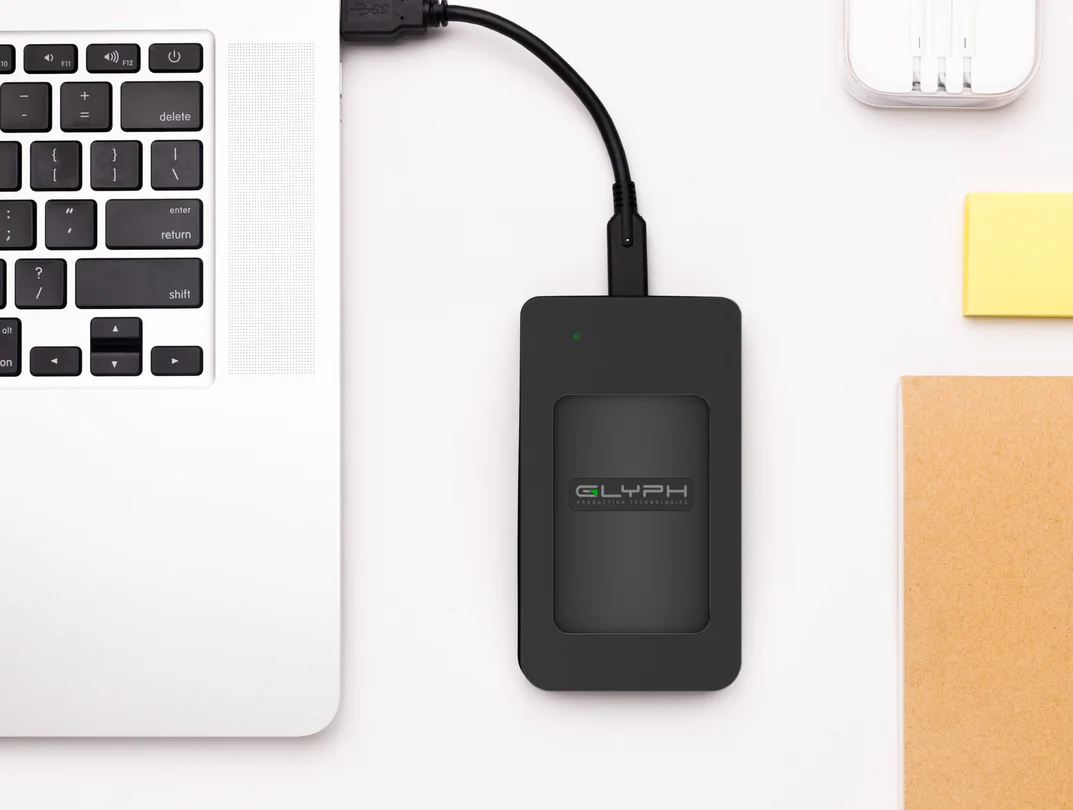 The Glyph Atom RAID Rugged SSD offers similar performance to some of the other SSDs we've looked at here. It boasts read and write speeds of up to 950MB/s through a USB 3.2 (USB-C) connection.
However, the way it achieves those speeds is quite different to most other drives. The word 'RAID' in its name is there because this is a RAID 0 device, also known as a striped array. Basically, this means data is split across multiple disks and then the parts can be accessed simultaneously to speed up data speeds.
As great as RAID 0 can be, it does have one major drawback. If one of the disks in the array fails, all of the data across all of the disks becomes unreadable. For that reason, you may prefer to stick with a non-RAID external SSD instead.
If you decide you're okay with a RAID product, you'll be pleased with this reasonably compact design with its aluminum enclosure. It's sold as a rugged unit, but there's no information on the Glyph site regarding water or dust resistance, nor crush or drop proofing.
| Pros | Cons |
| --- | --- |
| Good speed for the money | RAID 0 isn't for everyone |
| Assembled in the US | Unclear if it has IP67 rating |
| Reasonably compact | |
Final tips before you go
A few things to consider when buying an external SSD for your Mac:
Connectivity: Most modern external SSDs will use some variety of USB connection. Just be aware that newer generations of USB allow for faster transfer speeds
Internal technology: There are a few different types of SSD tech. You don't need to know what they all are, but you should be aware that some are faster and more reliable than others
Manufacturer: It may be tempting to save some money and buy a cheap, unbranded SSD. But if you're storing anything important, you should buy from a reputable company and consult reviews like the one you're reading now
Warranties: Like any electronic device, external SSDs can go wrong. Make sure to check what kind of warranty comes with whatever drive you're thinking of buying
Speed: Obviously, faster is better. Be aware, though, that the speeds quoted by SSD makers are the maximum achievable in ideal conditions. The truth is you're likely to get something a little slower in real life
Price: SSDs remain relatively expensive compared to traditional hard drives. Even so, if you compromise on storage space or speed, you should be able to find something for your budget.
Get the most out of SSDs
We've only looked at some of the best SSDs for Mac. The fact is there are many more, and they're better and better all the time. Whatever your budget, you'll find something that matches, and even the slower SSDs are several times faster than hard drives.
Just make sure that if you're looking to buy an external SSD, you know how to get the best out of it. For example, check out our guides on running an SSD health check on Mac and how to find an external hard drive on Mac. And if you want to get optimal performance, keep your RAM clear with MacKeeper's Memory Cleaner.