In this article you will find the following:
13 years ago, in April 2010, MacKeeper was launched—kicking off a new era in cybersecurity. What started as an anti-theft tool evolved into an all-in-one toolkit for MacBook users. In the years since, we've reached multiple milestones and attained notable certifications in the industry.
Our main achievements include…
ISO 27001 certification audit. It means that MacKeeper is in line with the latest information security best practices
AV-TEST certification. MacKeeper's tools have been put through rigorous tests and found to comply with the highest security standards. In other words, when you use MacKeeper, you can be sure you've got the real deal
AppEsteem certification. MacKeeper has met all the compliance requirements set by AppEsteem, which certifies security apps and similar services. Given that the AppEsteem certification protects the users of security apps, you can rest assured that your computer is in safe hands
Notarized by Apple. This is a guarantee from Apple that the MacKeeper app is safe to install and doesn't contain any malware.
Before we start

Protecting your personal information has never been more important. That's why MacKeeper's Antivirus tool went viral as a reliable solution that ensures your Mac doesn't house any malicious threats. It even scans the hard drives you connect to your computer to ensure they don't corrupt it. If you care about protecting your data, don't waste time—get MacKeeper's Antivirus tool today.

Start protecting your Mac in a few simple steps.

Download MacKeeper on your Mac
Click on the Antivirus option on the left, followed by the Start Scan button at the bottom of the screen
Follow the on-screen prompts to delete any threats found by MacKeeper.
On this 13th birthday celebration, we wanted to recap MacKeeper's achievements over the last 12 years.
Let's remind you about what MacKeeper is
MacKeeper is an all-inclusive cybersecurity tool that helps protect your Mac from intruders, hackers, and bad actors. Each tool has been expertly designed to safely tackle specific issues on your Mac—all with your privacy in mind.
Below is a list of MacKeeper's features and their benefits.
Feature

Sub-features

Problems it solves

MacCleaner

Safe Cleanup

Empties trash
Removes junk files (caches, logs, etc.) in one click
Keeps your personal files protected
Increases free storage space
Improves your Mac's speed

Duplicates Finder

Deletes similar-looking copies of your files (with no harm to originals)
Brings all your files in order, especially in Downloads and Photo Library

Smart Uninstaller*

*it's sold as a separate feature, but it belongs to MacCleaner's composition

Quits memory-draining apps
Removes plugins, browser extensions, and leftover files
Uses your disk space mindfully
Improves the performance of remaining apps
Prevents the existence of malicious software on your device

Antivirus

-

Detects and removes malware, viruses, trojans, and worms in real time
Provides full/custom scan
Sends alerts if something critical is found

Adware Cleaner

-

Blocks annoying ads and banners in your browser
Mutes browser notification requests
Stops adds sending you pop-ups

Mac Optimizer

Memory Cleaner

Frees up your Mac's memory
Quits useless processes for an extra push
Stops memory-draining apps from running

Update Tracker

Controls the use of the most secure app versions
Shows all available updates in one place
Leaves it up to you to choose which updates to install or skip

Login Items

Reduces startup time
Finds hidden apps that keep launching
Removes useless items from startup

VPN

ID Theft Guard

Prevents your personal data (passwords, card credentials, phone number, SSN, etc.) from leaking
Safeguards your emails
Keeps your payments safe
Monitors data breaches 24/7

Private Connect

Allows anonymous browsing to avoid advertisers following you on the web
Forbids sites and internet providers from accessing your browsing history, thereby keeping your online activity private

Ad Blocker

StopAd—extension for Safari & Chrome

Blocks annoying ads on all/selected sites
Stops online trackers from following you
Allows faster browsing
Increases focus (no interruptions while surfing the net)

24/7 Help Center - only for Premium users

-

Guides and helps you through the initial setup and beyond
Get acquainted with our values
At MacKeeper, our values inform everything we do.
We put our customers first. Our technology is designed with you in mind. Your privacy is our priority
We take responsibility. We recognize that we're responsible for the way you experience our products. Our experts are always available to you through chat should you run into any issues with the app
We love what we do. We have a deep passion for this kind of stuff—everyone should be safe online
We try to surpass ourselves. Hurdles are inevitable, but we're committed to overcoming every obstacle we face. Driven by our passion and armed with a team of innovative minds, we'll continue to better ourselves for your sake.
We're different. We don't claim to have superpowers, but when passion meets expertise, the possibilities are endless.
Each year is a step forward
It's been an eventful 12 years, with lots of amazing milestones we're proud of. More importantly, each milestone has helped us improve, so we can better serve you—our customer.
Let's take a walk down memory lane as we remember some key moments in MacKeeper's history.
2010: Inception
In April 2020, MacKeeper launched a beta version of our anti-theft solution, now ID Theft Guard. Anti-theft was geared toward…
Protecting your sensitive information and personally identifiable information (PII) from being leaked on the dark web
Searching the dark web for data dumps containing your email address
Protecting your banking information during the payment process.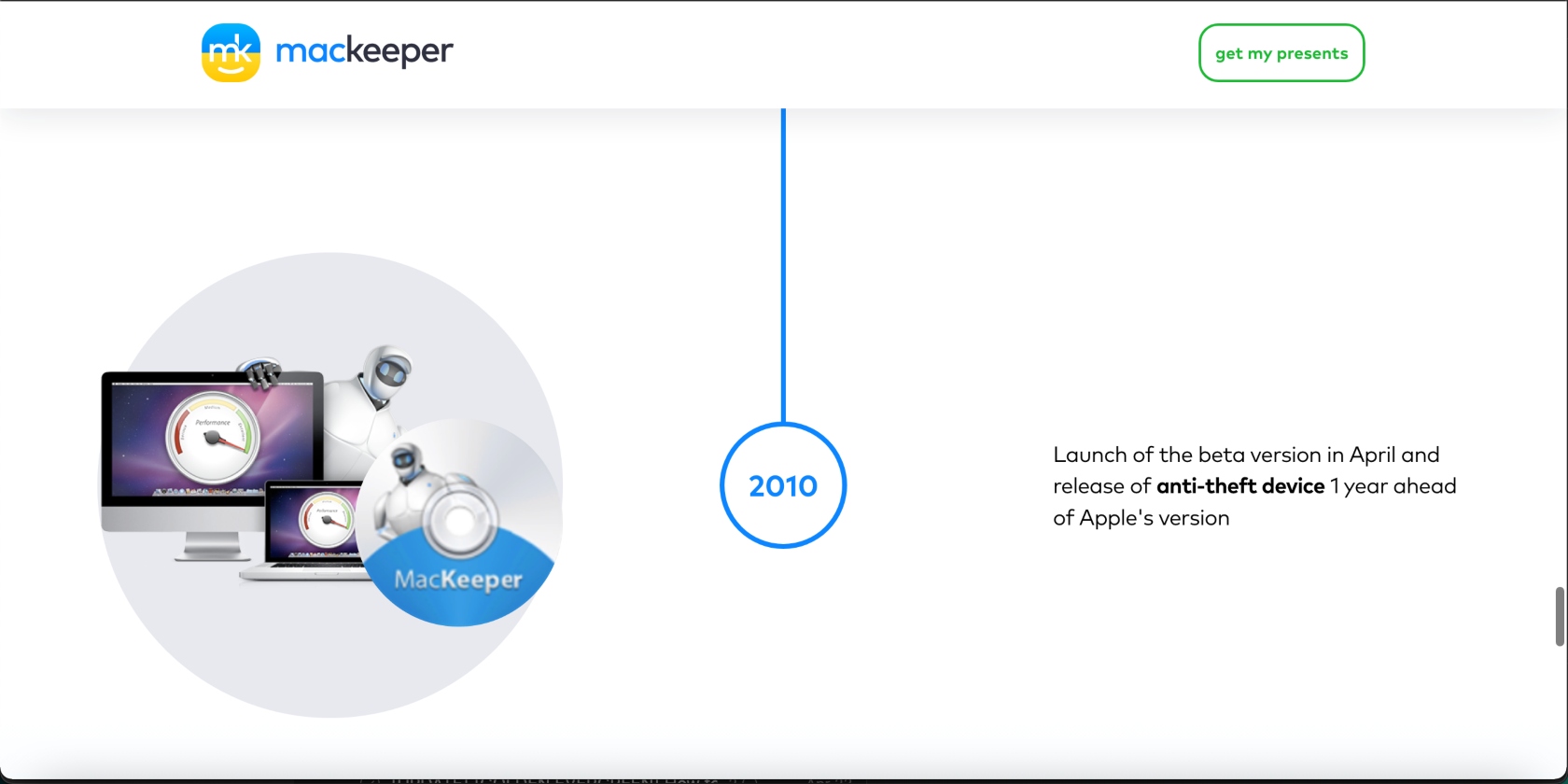 2011: Building trust in the community
Word started getting around, and more people became interested in what MacKeeper had to offer. By 2011, more than a million people trusted us with their privacy journey as we surpassed 1 million installations.
2012: Forming relationships with MacKeeper users
From the more than 1 million app installations in 2011, we gained 740,000 regular customers. These are people who took a chance on MacKeeper and stayed. Relationships are at the core of what we do. Without them, we wouldn't be able to continuously improve our product.
2013: Connecting with the MacKeeper community
Between 2011 and 2014, we launched educational webinars to help people get better acquainted with MacKeeper's products. We also incorporated the following updates:
Added live chat, giving you quick and easy access to an expert team member should you get stuck using our tools
Integrated 16 apps into MacKeeper 3.
2014: Introducing MacKeeper to the world
We took MacKeeper to the world stage when we launched MacKeeper 3.0 at the MacWorld conference. The launch introduced us to more Mac users who didn't yet know about MacKeeper. Check out what was said about MacKeeper at MacWorld Live.
2015: Establishing our voice in the tech space
By 2015, we had reached 20 million downloads and 1 million requests worldwide. We rolled out a brand-new cleaning tool—Memory Cleaner. We also got to showcase our new Human Inside feature at CES 2015—a world-renown tech event that introduces new innovations in technology.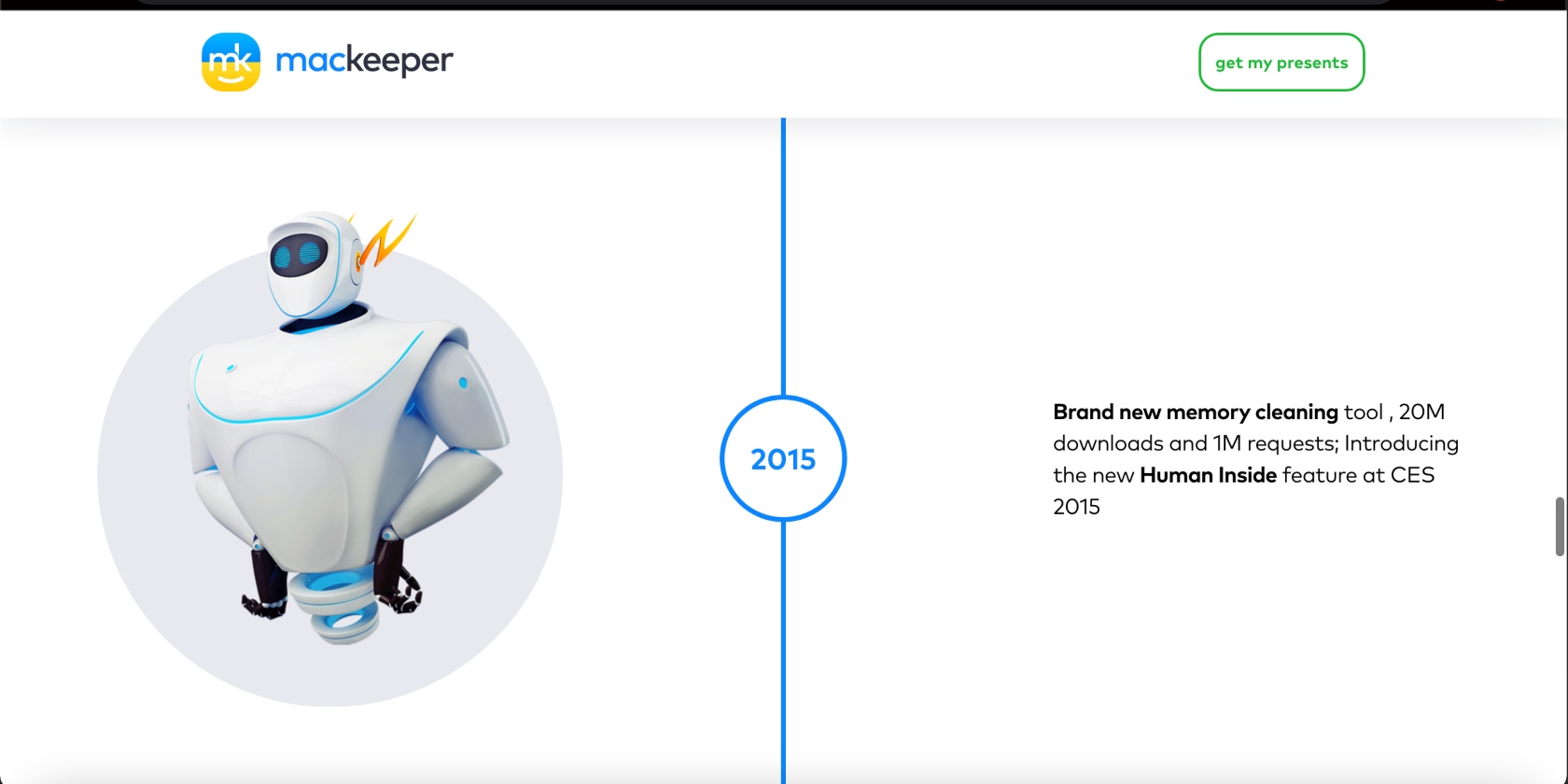 2016: Venturing into the research space
MacKeeper was proud to launch our Security Research Center alongside Chris Vickery, which was featured at CES in Las Vegas. It was established to find and report data breaches so that the people affected could take action and protect their personal information. Through it, we discovered US Air Force sensitive data, which was a notable achievement that showcased the extent of our skills and research.
Also, we hosted 9 webinars that were attended by 2000 participants. ​​This was part of our continued effort to educate our customers and the industry about our tools. ​​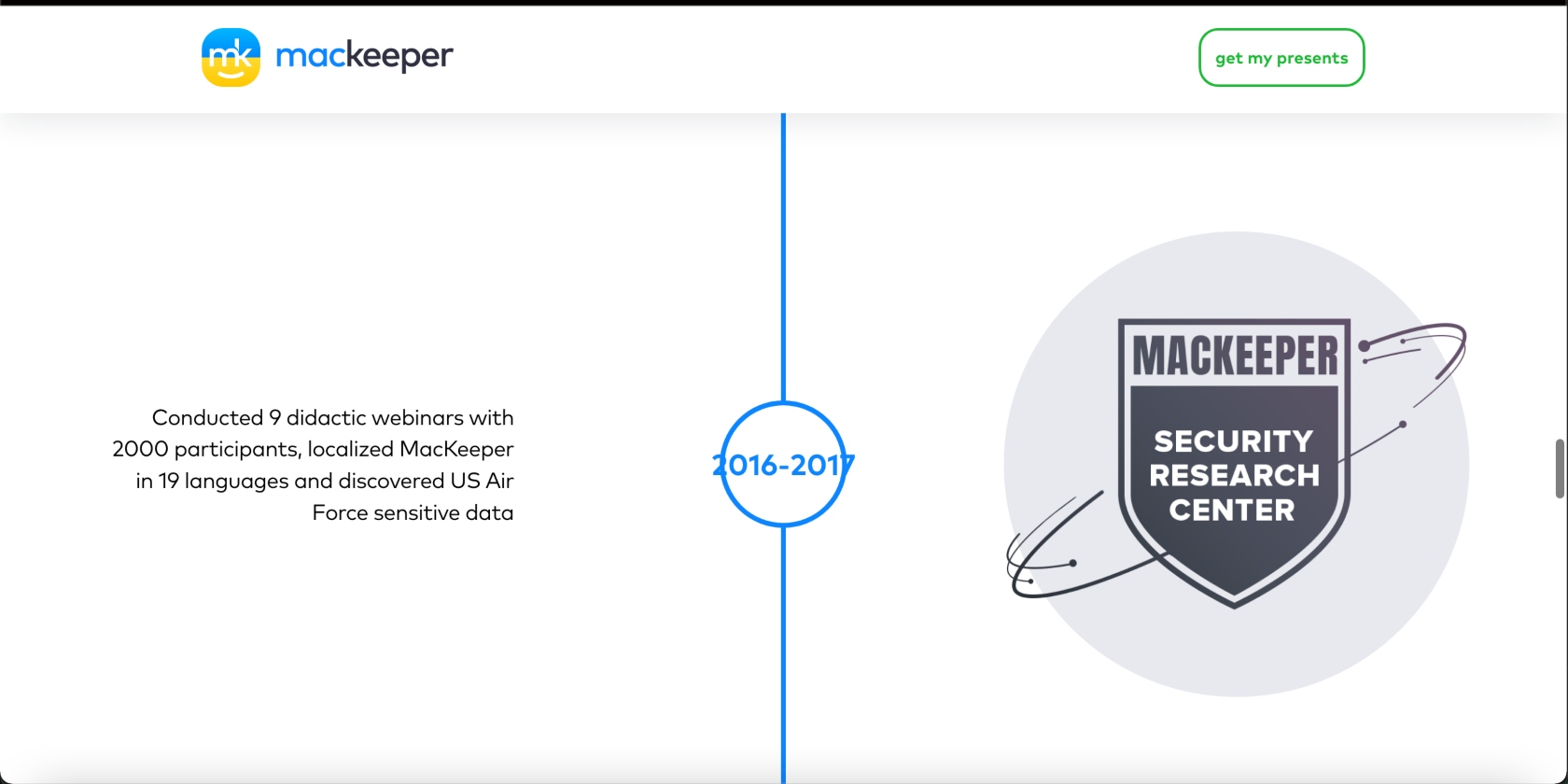 2017: Improving MacKeeper's accessibility
We understand how important it is for our product to be accessible to as many people as possible across the globe. That's why MacKeeper was rolled out in 19 languages for the first time in 2017, thereby empowering even more individuals to protect their privacy.
2018: Turning MacKeeper into a comprehensive security solution
2018 was an eventful year at MacKeeper. We released MacKeeper 4.0 with the following new features:
Anti-tracking to prevent bad actors from monitoring your activity while browsing
A VPN client that allows you to browse the internet anonymously, thereby making it harder for hackers, bad actors, and your internet service provider (ISP) to track your activity
Real-time adware detection to prevent annoying pop-ups from dampening your browsing experience.
We also improved the Expert problem scan to make it more effective.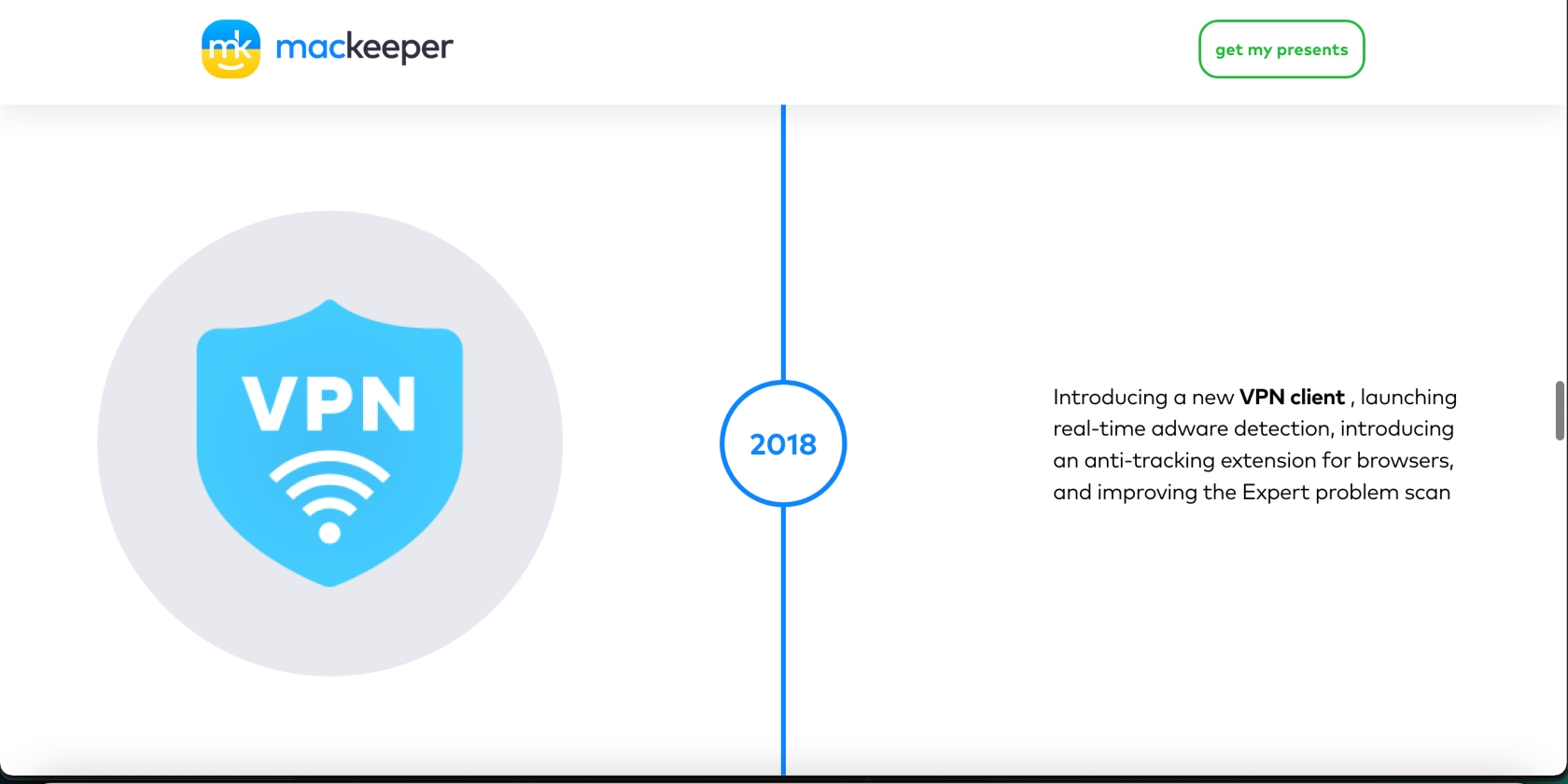 2019: Gaining more recognition in the industry
MacKeeper was honored to be awarded an AppEsteem certification in 2019, which is given to apps that are compliant. This assures you that our security standards are up to par and that our app is reliable instead of taking our word for it. We also improved StopAd and rolled out our data breach monitoring tool.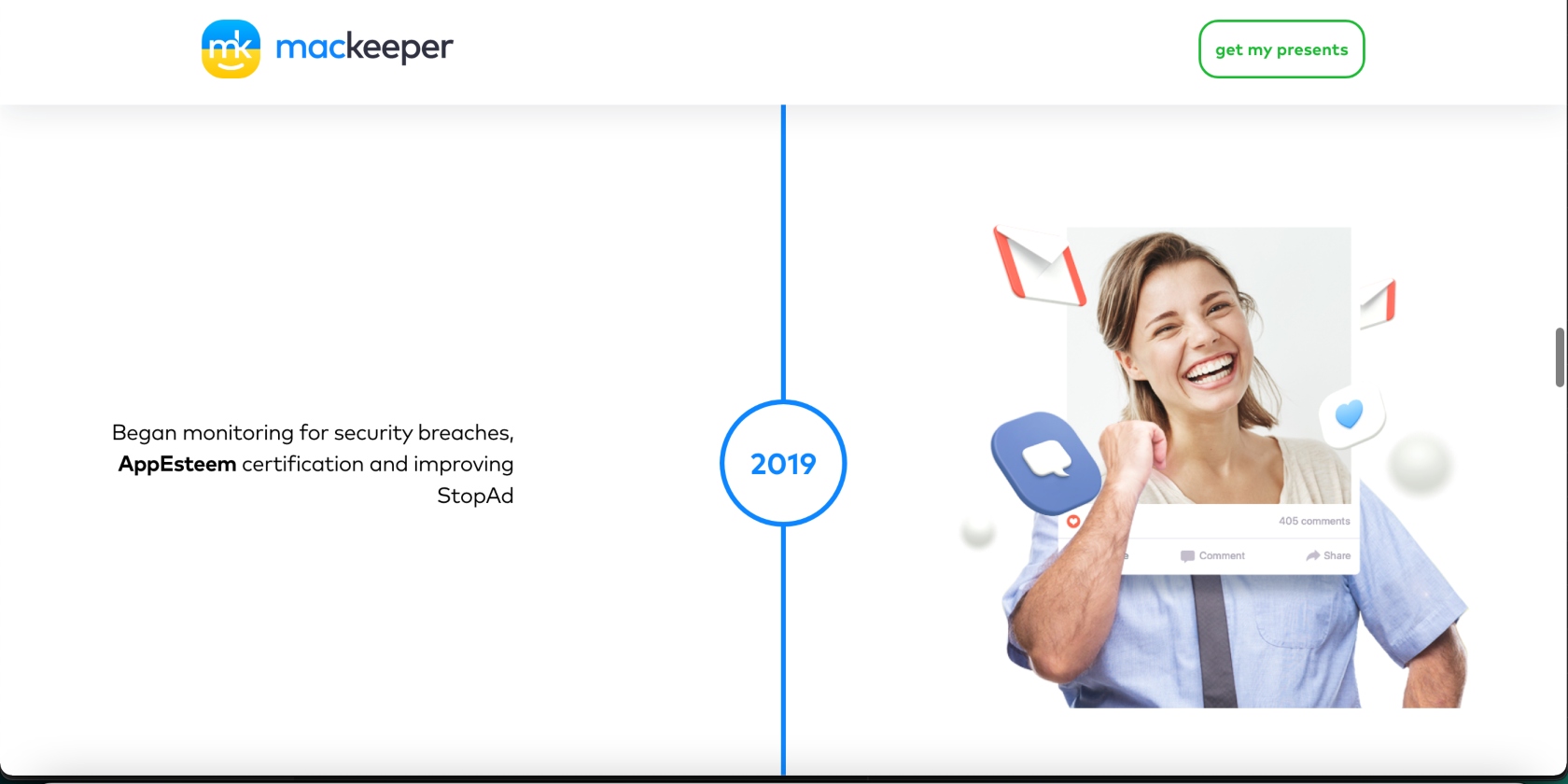 2020: Getting certification from industry heavyweights
We released MacKeeper 5 and continued to get the industry's stamp of approval:
Notarized by Apple
Certified by AV-TEST
Received ISO 27001 certification
Received 4.7 out of 5 stars from Trustpilot.
We also introduced real-time virus detection with a proven detection rate of 99.7%.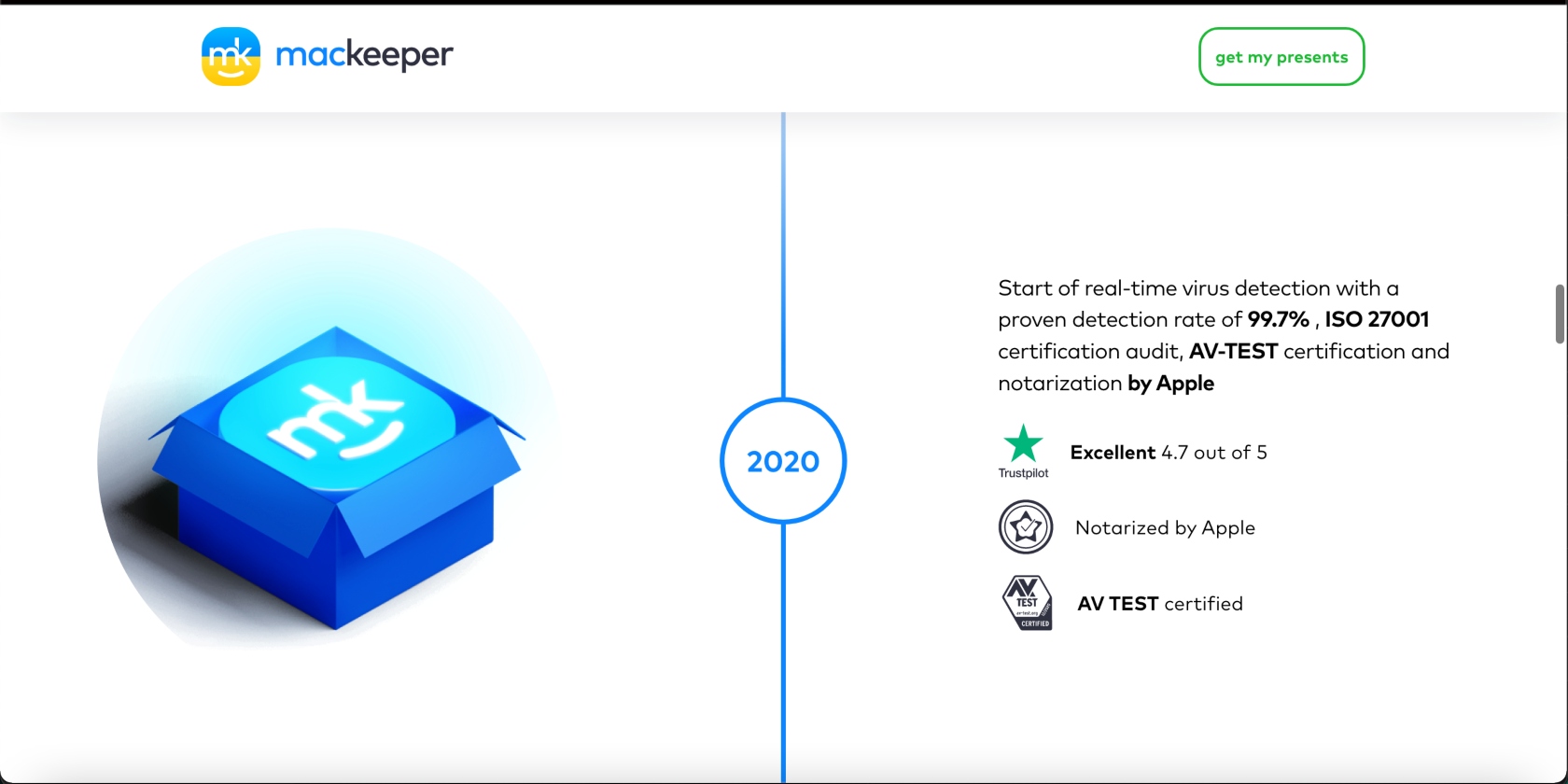 2021: Becoming a more streamlined, user-friendly app
We gained over 60 million users as more people learned about MacKeeper and trusted it to protect their MacBooks. We also continued to learn and improve MacKeeper in the following ways:
Rolled out a new dashboard that made it easier to navigate the app
Updated our Chrome extension
Improved our antivirus protection.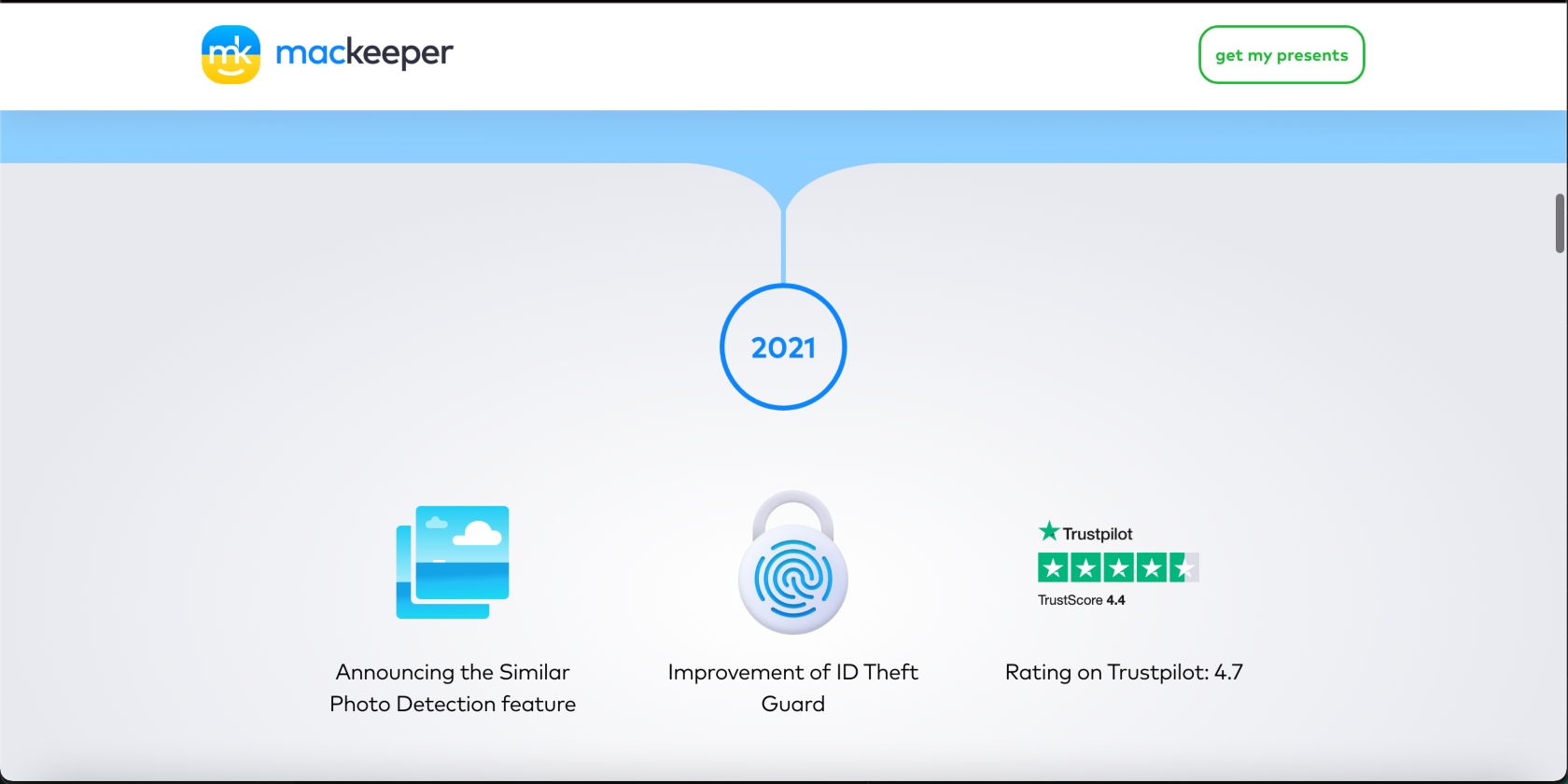 2022: Standing in solidarity with Ukraine
2022 was a challenging year for Ukraine. With the bulk of our team hailing from this beautiful country, the company faced the toughest conditions to survive. Our team powered through electricity cuts, rocket attacks, economic recession, and global market fluctuations. But we remained committed to providing our customers with the support and quality they're used to and expect from us.
Special offer in honor of a holiday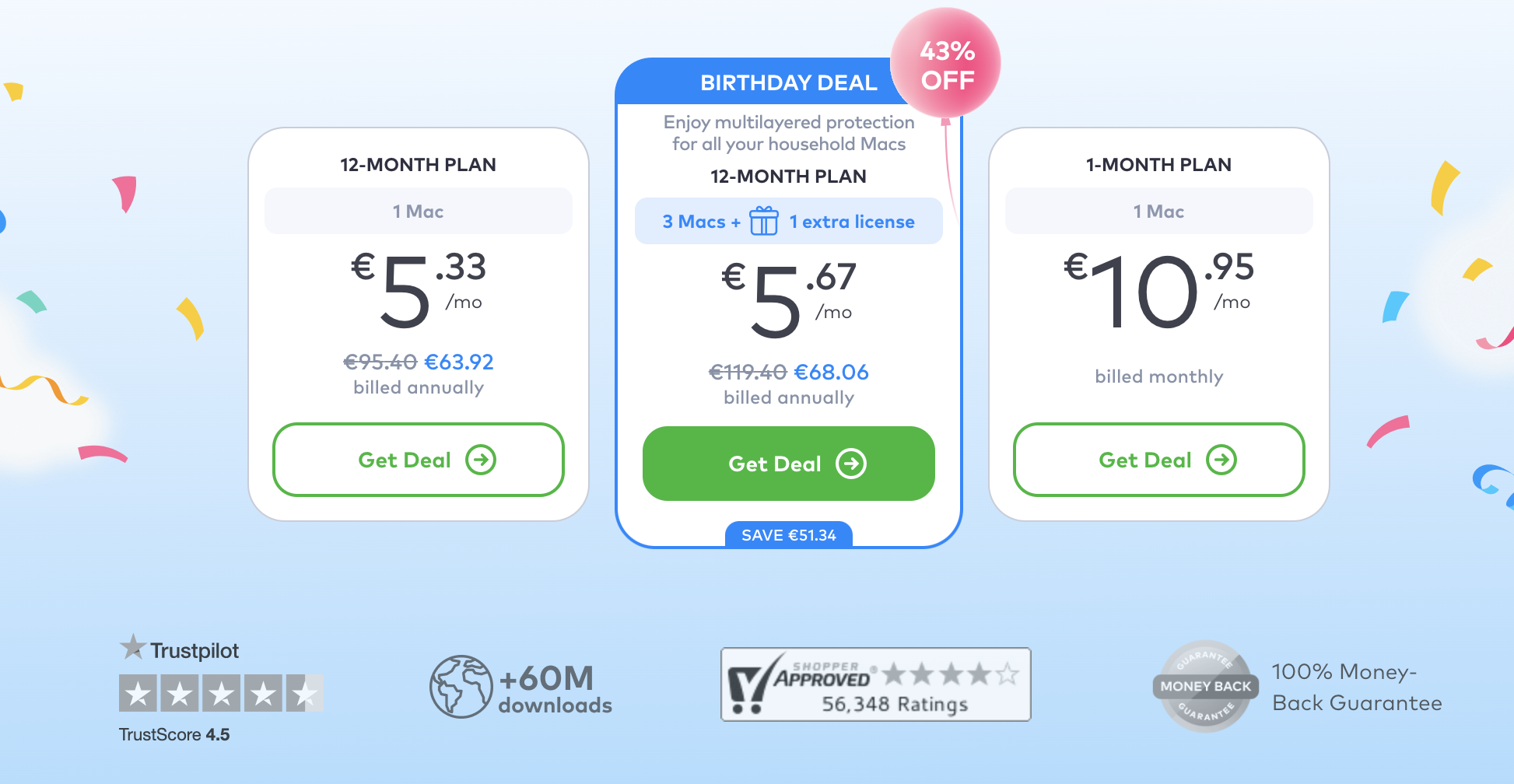 Celebrate MacKeeper's birthday with us by claiming our special offers.
Offer 1: Get 30% off a 12-month MacKeeper subscription, which comes with protection for up to 3 MacBook devices and a bonus additional license
Offer 2: Get 15% off a 12-month MacKeeper subscription that offers protection for one MacBook device.
Are you ready to try MacKeeper?
Download MacKeeper today to take advantage of our offers and start protecting your Mac right away.
Long life to MacKeeper—stay with us!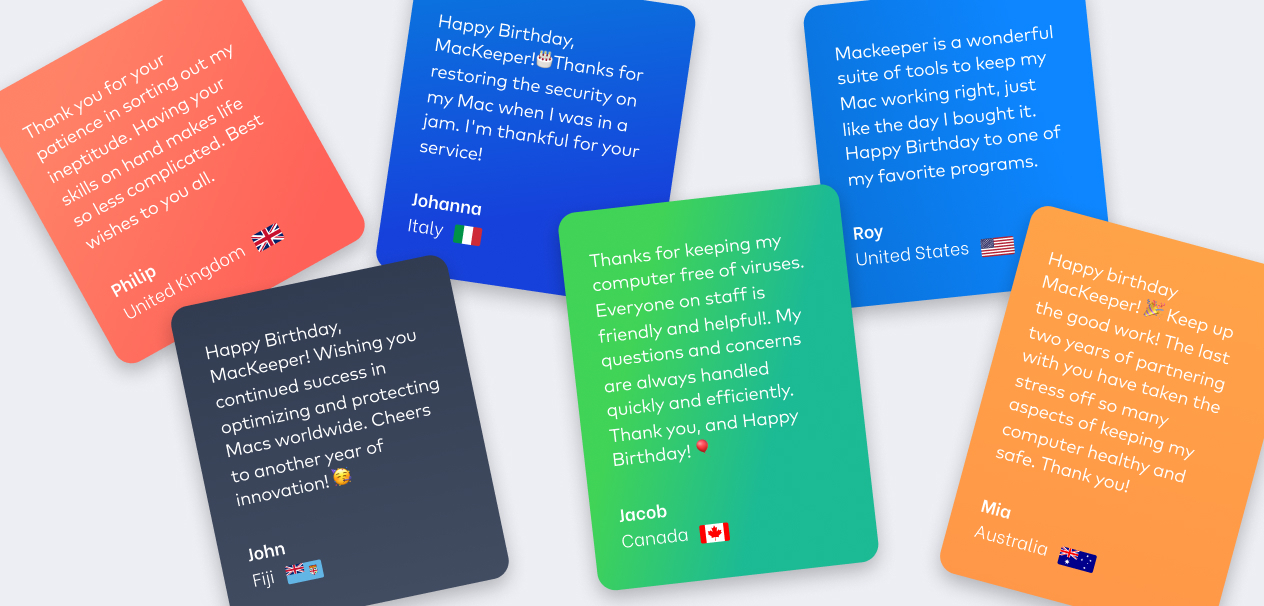 At MacKeeper, we're constantly innovating and improving our product with the help of users' feedback, regular market research, and advanced analytics. These priorities make MacKeeper your go-to, reliable solution if you want to…
Protect your Mac from viruses and malware
Keep your Mac clean and performing optimally
Block annoying pop-ups
Browse the internet safely and anonymously
Protect your personal information
Be alerted when your email address is involved in a data breach.
Start enjoying all these benefits right away.
Read more about us here: