Have you been waiting for the new MacKeeper 5 to arrive? We have! In this blog post, we'll tell you all about the next generation of MacKeeper. Read on and see how it's got even better!
If you go down memory lane, the previous 4.0 version was released three years ago. During this period, multiple updates brought significant improvements and new Privacy features. MacKeeper 5 is our grand finale and a fitting testament to the company's transformation after its acquisition by Clario Tech Limited. Now MacKeeper can boast Apple notarization, AppEsteem certification, and what we also consider vitally important — 4.8 stars voted by its users at Trustpilot.
In addition, MacKeeper 5 is winning the attention of well-known media publications. For example, Computer weekly covered the company's transformation journey, and PC Mag's editor had a thorough inspection of each and every MacKeeper tool.
Read on further to find out about what's new in MacKeeper 5:
What's new in MacKeeper 5
MacKeeper 5 is a multifunctional, intuitive, and easy-to-use tool powered by multiple protection tools like a built-in Antivirus and VPN. In short, it can secure peace of mind by cleaning, tuning up, and protecting your Mac.
Design
MacKeeper 5 has a refreshed new look. Its logo underwent some changes too. To prove it — here's the evolution of the MacKeeper logo!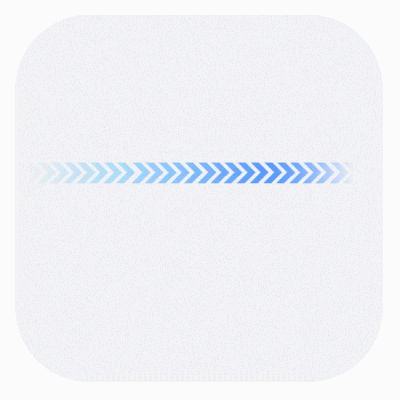 Look for the redesigned MacKeeper 5 logo in your Dock.

The finesse of the new design will make your MacKeeper 5 experience smooth and enjoyable. For example, the redesigned Find & Fix tool gives great visual representation and navigation through the overall MacKeeper scan results. These are not the only benefits that accompany the new version. Let's move on to its improved functionality.
MacKeeper 5 improved functionality
Whatever your Mac experience, no great technical skills are required from you to use MacKeeper 5 and its tools.
Why is MacKeeper 5 better? With it you can:
Run a Find & Fix scan to detect what's wrong with your Mac — from insufficient disk space to malware residing in your Mac's system. And all in one click. It's as simple as that.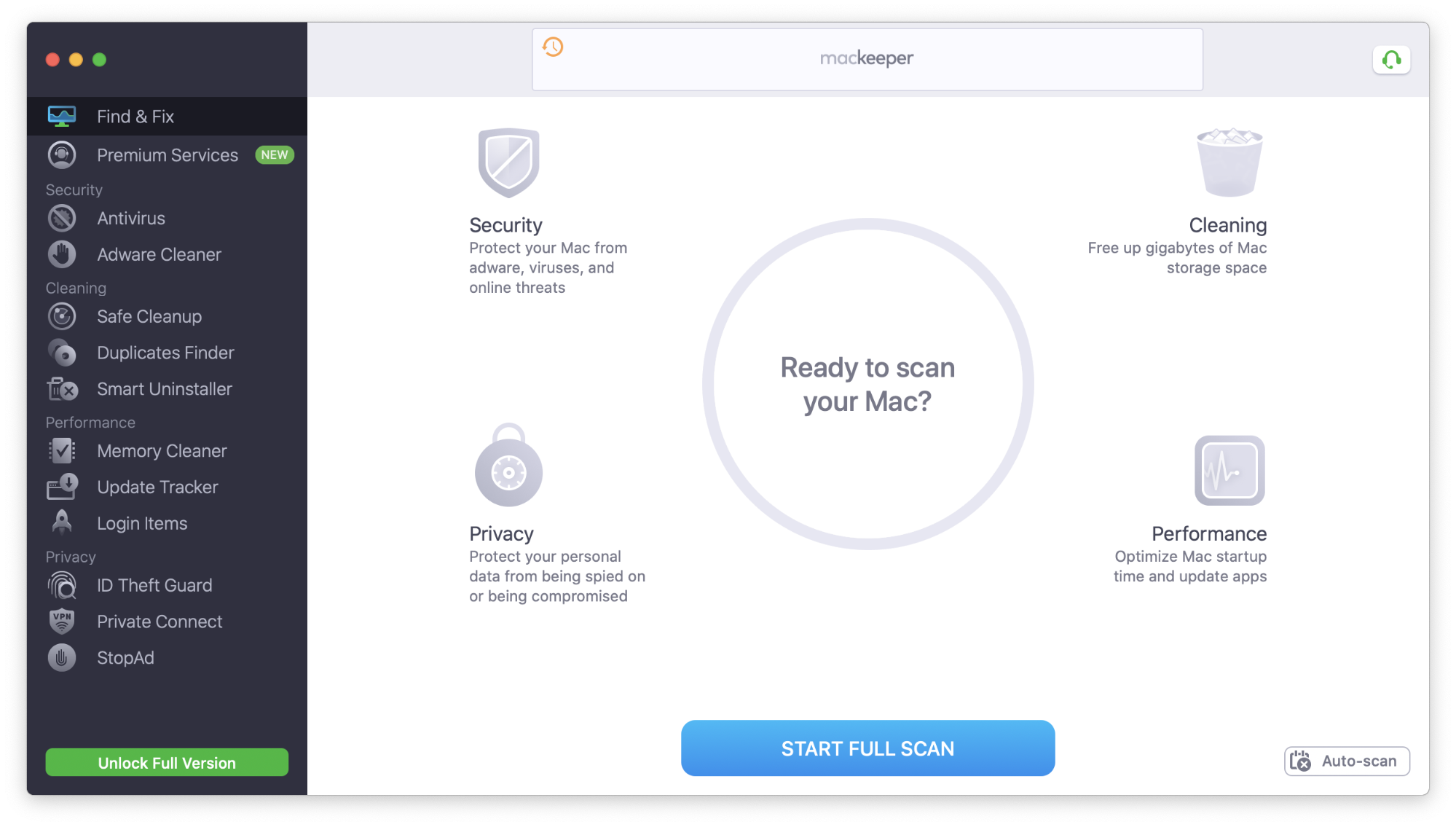 Enable Auto-scan to let MacKeeper 5 check your Mac every 24hrs and send smart notifications if any issues need your attention
Turn on real-time protection to instantly detect and delete a virus, malware, or adware once they manage to find a way onto your Mac
Browse anonymously, faster — the new VPN can secure your private data while you browse without losing connection speed with the newly added 296 locations in 50 countries
Check your emails for data leaks with the ID Theft Guard tool. Use it to secure your compromised emails. And the good news is that you can scan as many emails as you want
Get expert support 24/7 — call or chat with real people and get answers in plain English. No confusing abbreviations or tech jargon here.
MacKeeper 5 benefits
Run a one-click scan to detect, review, and fix items safely on your Mac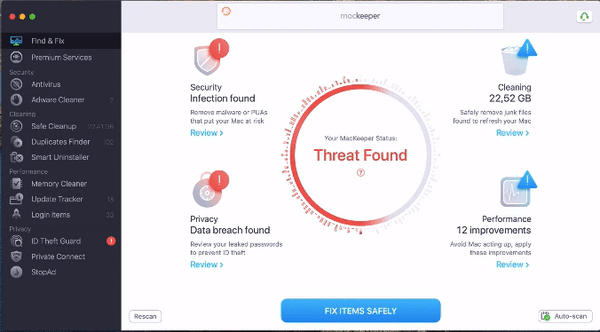 MacKeeper 5 is an all-in-one app for all the cleaning, performance, privacy, and security needs of your Mac.
24/7 support via chat, email, or call, whichever is most convenient for you
Free up disk space by deleting apps you don't use, useless files, and duplicates
Improve your Mac's startup time by disabling apps that are unnecessary at Mac startup
Real-time protection and malware scanning that works quietly behind the scenes, so you don't get distracted from your tasks
Get unlimited VPN access and connect to multiple locations to encrypt your connection whenever you surf the web
Free up RAM whenever you use memory-intensive browsers or play video games or each time you see the rotating beach ball on your screen
Get on-demand expert help to troubleshoot software related issues with any of your devices with the add-on "Premium services" — all without leaving your home
Protect all of your online accounts from data breaches with 24/7 monitoring and alerts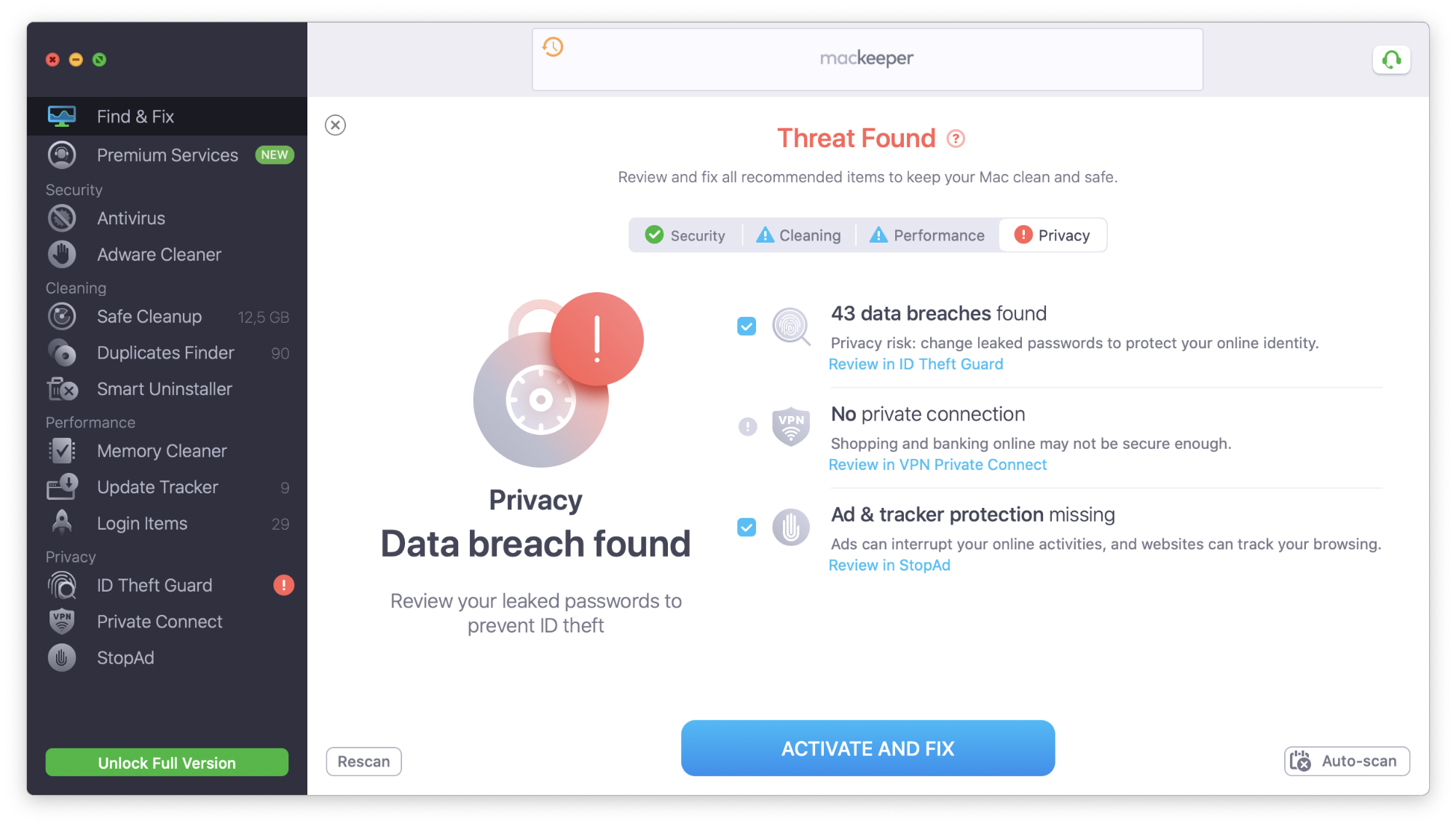 Protect 3 Macs in your household with the MacKeeper 5 family plan.
MacKeeper 5 features
MacKeeper 5 includes all the cleaning, performance, security, and privacy tools that you need± — just like its predecessor, MacKeeper 4. And all in one app, of course. Here's the complete list of its features:
Find & Fix — Check your Mac in one click and get a bird's eye view of your Mac's storage, performance, and security capability. With the new Find & Fix in MacKeeper 5, you can see and manage suggested improvements from a single dashboard with just a few clicks.
"Premium services" add-on feature — one of the most appreciated features amongst our customers. Our expert team of remote assistants can help you troubleshoot any software related problems — not just with your Mac, but any device. The premium services team is available 24/7.
Security — Protect your Mac from threats lurking online.

Antivirus — Turn on real-time protection of your Mac to keep viruses and malware at bay
Adware Cleaner — Detect and delete malicious, potentially unwanted apps and those that annoy you with ads in your browser.

Privacy — Safeguard your data privacy while online.

ID Theft Guard — Scan and monitor your personal or work emails for breaches and get instant alerts about a data breach.
StopAd — enable the StopAd extension in Chrome or Safari to free your browsing from annoying ads or push-notifications in Chrome.
VPN Private Connect — Get unlimited VPN access to go online anonymously. MacKeeper 5 will choose the best server for you, but if you need to connect to a specific location — you can choose from 50 different countries.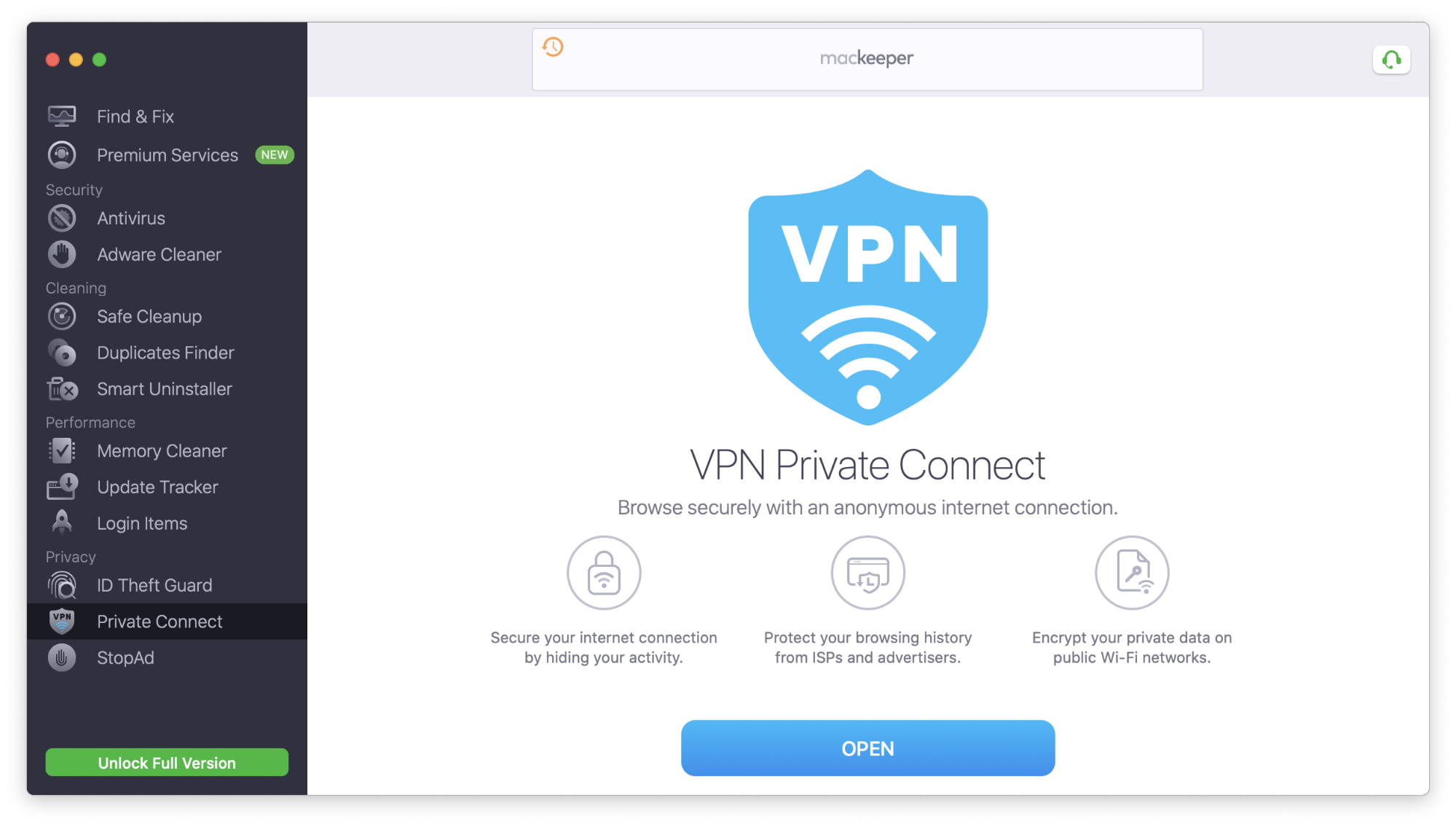 Mac Cleanup — Uninstall software that you don't use, get rid of unnecessary files, and remove duplicates to free up disk space.

Safe Cleanup — Clean junk files, mail attachments, and empty the Trash folder on your Mac.
Duplicates Finder — Find and say good-by to duplicates wasting your precious disk space.
Smart Uninstaller — Securely remove unused or unneeded apps, widgets, plugins, browser extensions, and leftovers.

Performance Optimization — Keep an eye on your Mac's memory usage, update your apps, and speed up your Mac at launch.

Memory Cleaner — Free up your Mac's memory without restarting your Mac.
Update Tracker — Scan for available updates and update your apps with one click.
Login Items — Review and disable apps from loading on startup and slowing down your Mac.

Customer Support — Get quick replies to your MacKeeper-related questions 24/7 with real people via call, chat, or email.
Wrapping up
If you're still sitting on the fence about whether to install MacKeeper 5 or not — don't hesitate — try it now! Cleaning and protecting your Mac the traditional way won't save you time — but MacKeeper 5 will! Just let it do its job.