October 08, 2020 | 8 min read
How to See a Wi-Fi Password on a Mac in 5 Easy Ways
The last time you looked at your Wi-Fi router was when you first set it up, and now all of a sudden you need to connect a new device. Maybe you're having some friends over and they're asking for a Wi-Fi password, but there is no way you can remember it without looking at the back of the router.
If you have never changed the password, you can, of course, go and look for it there. But it's not a safe practice and we recommend that you change the password to a unique one from the start. And regardless of whether you've already done it or not, there are far more comfortable ways to view the Wi-Fi password on your Mac.
Check the default password first
Before you do anything, you can always try the old and safe method of looking at the back of your router. When you buy a router, you are always provided with a default password that you can find under the SSID line on its back panel. It will stay the same after setup unless you change it yourself (which we strongly advise you do).
Reset your network router
If you have changed the Wi-Fi password from default and there is no way you can remember it, try resetting the network router. It can be an annoying, long operation, but what's important is that your password will be set to default again.
To reset the router you will need two things: the router itself and a bent paperclip (or another long and thin object). Hold the router in your hands and look for a small pinhole button on the side. Press the button with the paperclip for approximately 10 seconds. When you let go, all of your custom settings, including the password, will be erased.
See Keychain Access on your Mac
If none of the physical methods work, you may start wondering how to find the Wi-Fi password on a Mac without involving the router. This is where Keychain Access comes in handy. It's a macOS utility that stores all of your passwords. This means that you won't need to memorize or write down any of them again. Conveniently, the app stores the passwords for all Wi-Fi networks that you've ever connected to.
To see Wi-Fi passwords on Mac you'll need to have administrator privileges. If that's not an obstacle, here's what to do:
1. Press Control + Space to activate a Spotlight Search window. Find and launch Keychain Access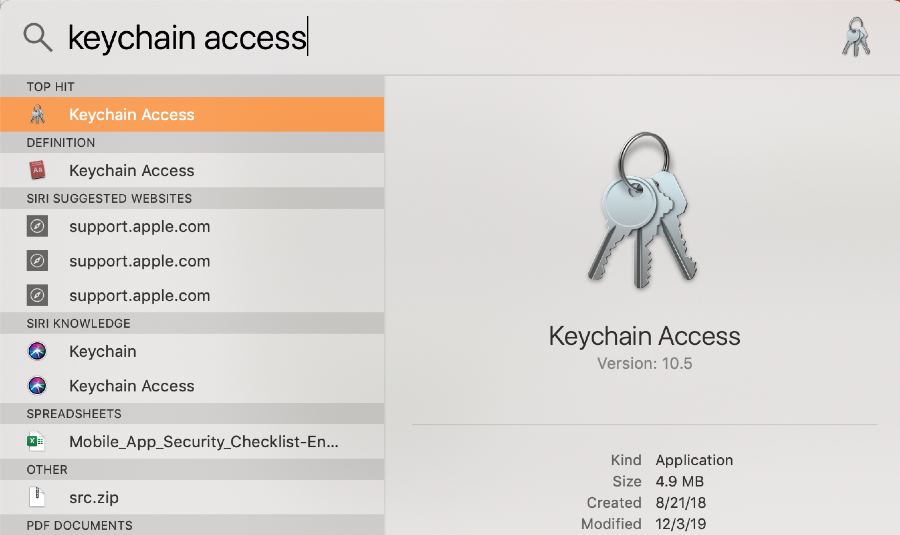 2. In the top left side panel, select System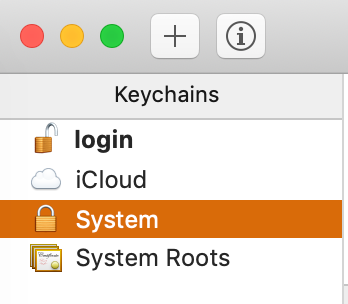 3. In the bottom left side panel, click on Passwords. This will open a list of all Wi-Fi networks that your MacBook has connected to
4. Locate your current network's password either by using the search bar on the top or by scrolling through the list
5. Double-click on the correct heading to open the network's information window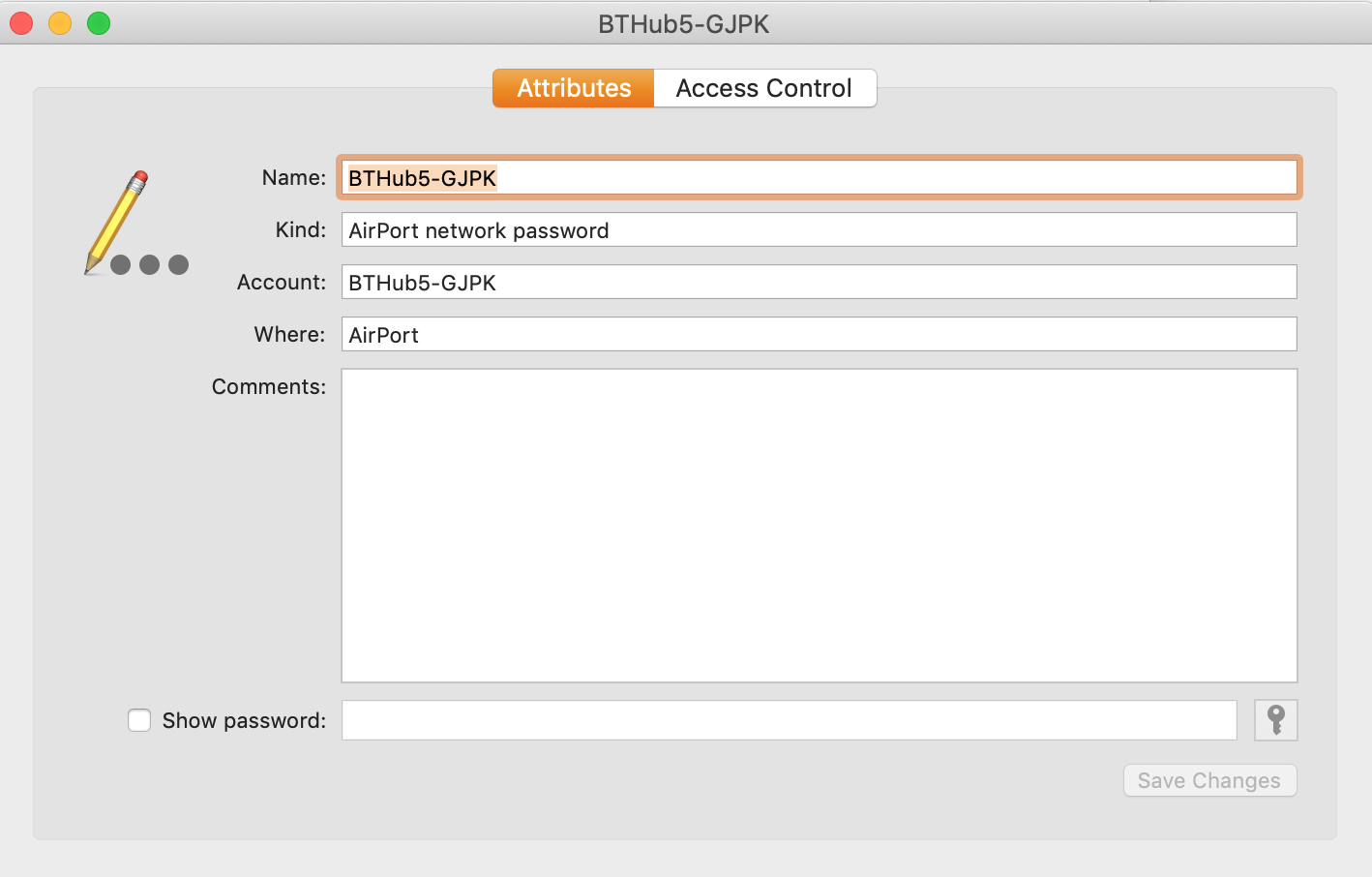 6. At the bottom of the window, tick the box next to Show password
7. Enter your admin password
8. This will show the Wi-Fi password on your Mac

Go to Terminal on your Mac
Terminal app is a built-in utility on macOS that enables managing your computer through the command line. To avoid going back and forth to the menu, you must know the commands that perform your required tasks.
You can use Terminal to view a Wi-Fi password on Mac, but you need to know the exact name of the network.
How to check a Wi-Fi password on Mac with Terminal:
1. Launch Terminal. Open Finder and go to Applications → Utilities → Terminal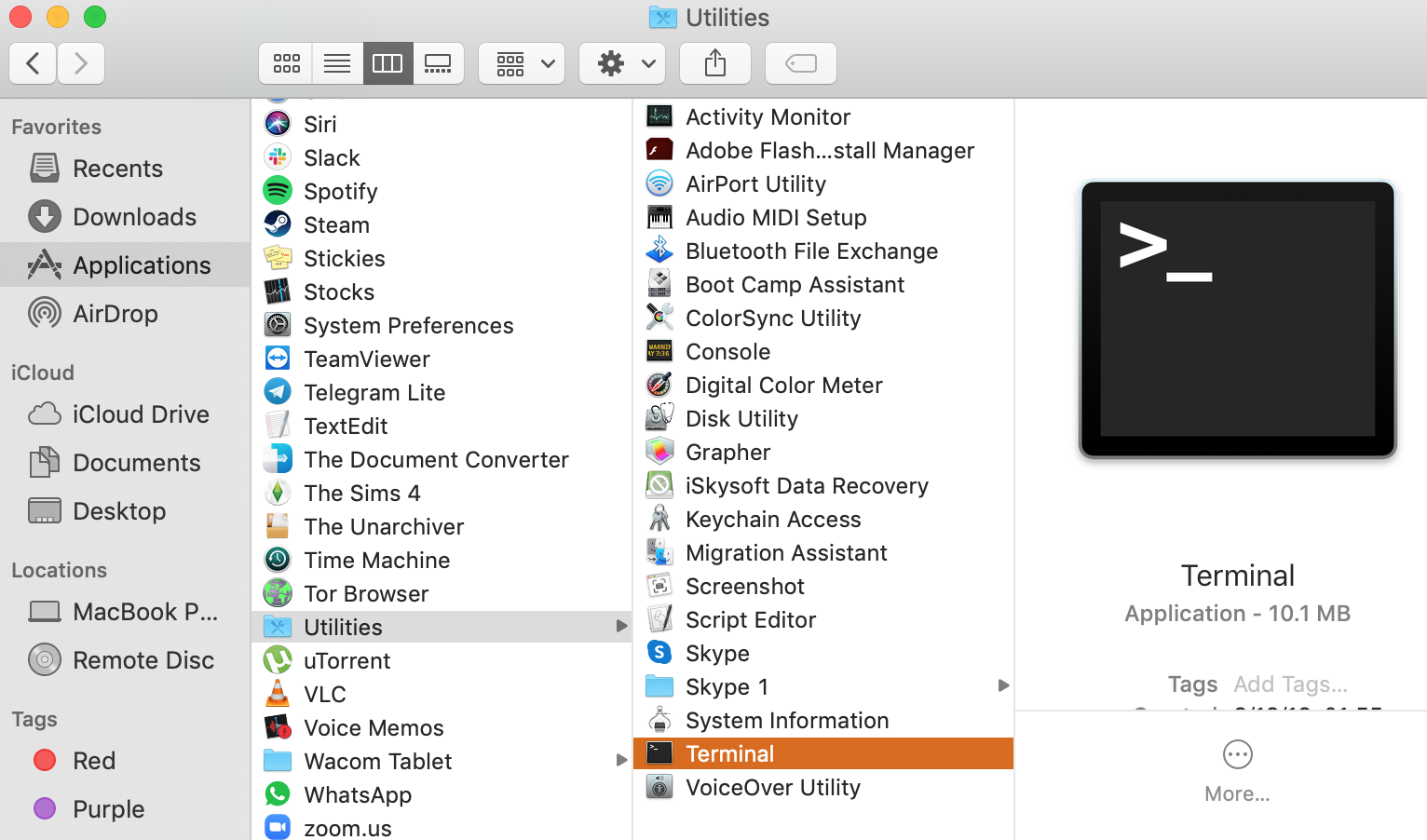 2.Copy and paste the command security find-generic-password -ga wifiname | grep "password:" with the name of your Wi-Fi network in place of wifiname
3. Hit Enter
4. Type in your admin password and press Enter again
5. The password will be displayed underneath.

Use iCloud combined with Keychain Access
If you use iCloud to synchronize your devices, Keychain Access passwords will be saved on the cloud as well. This is useful if you have recently changed the Wi-Fi password with another Apple device.
You can look it up if you open Keychain Access again—but this time, instead of going to the System folder, switch to iCloud. Then you simply need to find the Wi-Fi network and view its password as before.
Copy the password and go back to System. Find the network's name again, open the information window, and show the current password. You'll notice that it's different, simply erase it and paste the correct details in the field.
If you want to share the password with someone, this feature is enabled starting from macOS High Sierra and iOS 11. The only condition is for the two exchanging devices to trust each other.
FAQ
How do I change the password on my Wi-Fi
Open your preferred browser and type in 192.168.0.1 or 192.168.1.1 in the address bar. An authentication window will appear where you need to insert your user credentials. Most routers are set by default to have "admin" for both your user name and password. If you need more details, you should check the manual that came with your router.
Go to Settings and select Wireless. In the Wireless security pane, you'll find the Password heading. Type in your new password and click on Save.
Why are my saved passwords not working?
If your password was saved as an autocomplete in your browser settings, check that you're entering your user name correctly. Make sure that you're not using Caps Lock and that you selected the right language.
If you have recently changed the Wi-Fi password with another device, you'll have to renew System passwords in Keychain Access.
***
If you have other questions about your MacBook's passwords and connections, read more: