How large would tech giants be if they were countries?
The companies earning more than countries
We all know that some companies earn an incredible amount of money, but did you know some earn more than entire countries? We've done the maths to see which businesses earn so much they eclipse nations on the world map, with some even proving to have a bigger revenue than the whole of Europe.
While a sunny holiday in a technology firm like Apple might not sound that enticing, given they earn more than the GDP of Italy, it might not be too far off the agenda.
Apple is worth more than 96% of the world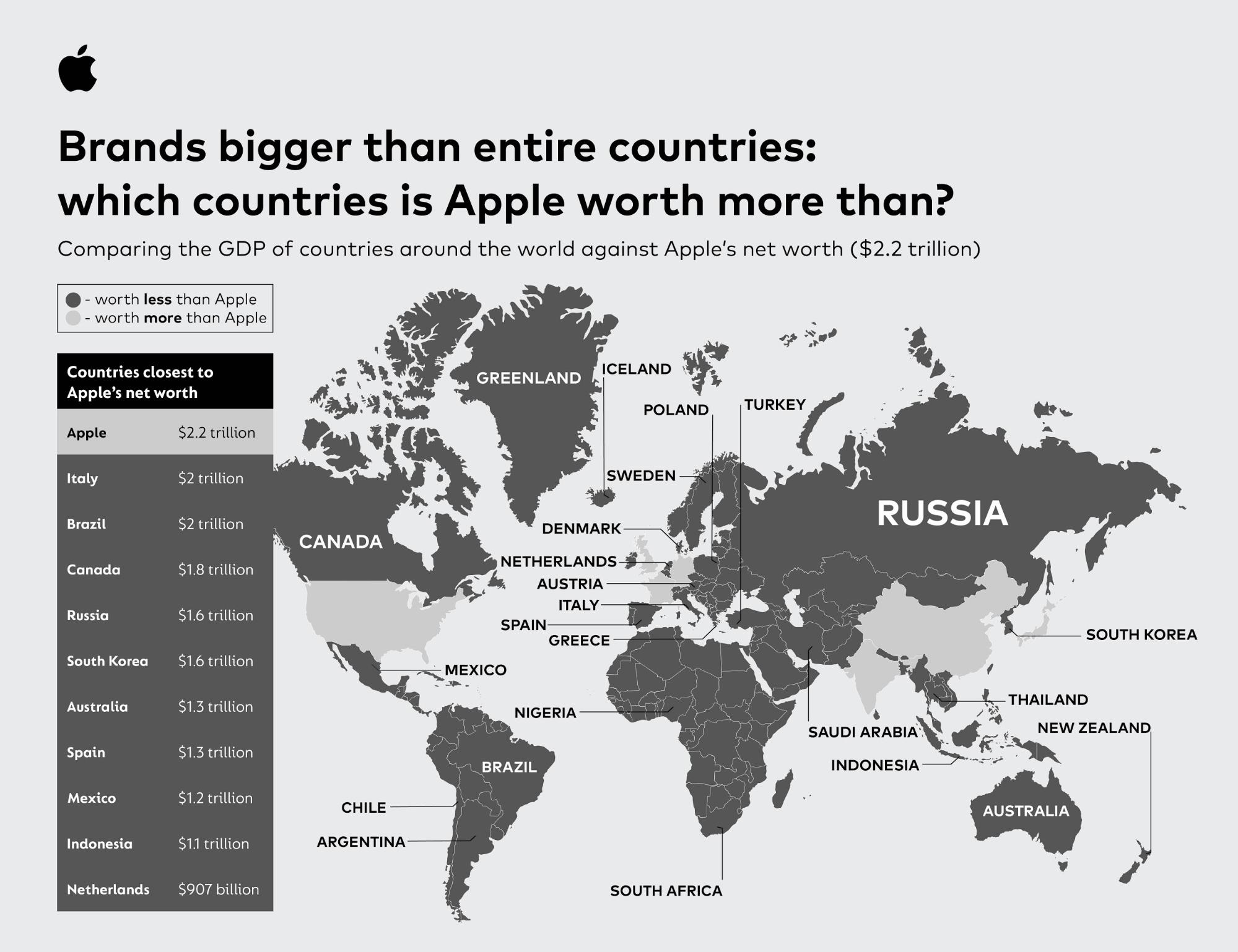 Apple's gargantuan net worth means it exceeds the GDP of countries like Italy, Brazil, Canada and Russia. In fact, there are only seven countries in the world with a higher GDP than Apple's $2.2 trillion - meaning the tech giant is richer than a whopping 96% of the world. Apple would take the place of the 8th richest country in the world, but would only need to increase its value to above $2.72 trillion to usurp France from seventh place. If Apple wants to move up the rankings, they better sell a few more iPhones and MacBooks to close that $500 billion gap.
Microsoft would be as large as Canada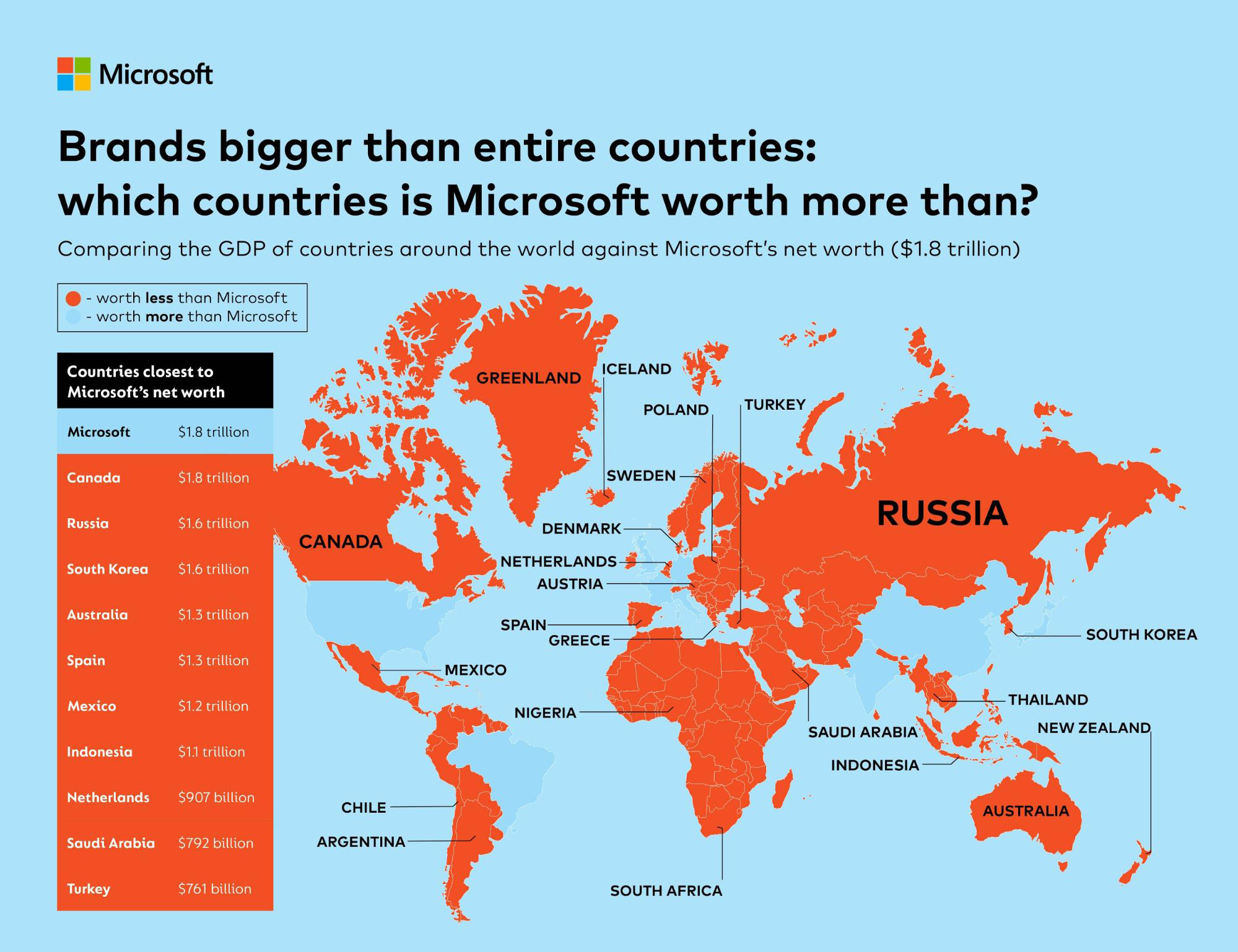 Microsoft's $1.8 trillion market cap puts it as the third largest company in our list (after Apple and Saudi Aramco, the petroleum and gas company). This puts its value on par with the GDP of Canada, and richer than many developed economies including Australia, Spain and Indonesia. In fact, both Apple and Microsoft have a greater market cap than all of Central Europe and the Baltic countries put together!
Amazon's $1.6 trillion value would make it the 14th richest 'country' in the world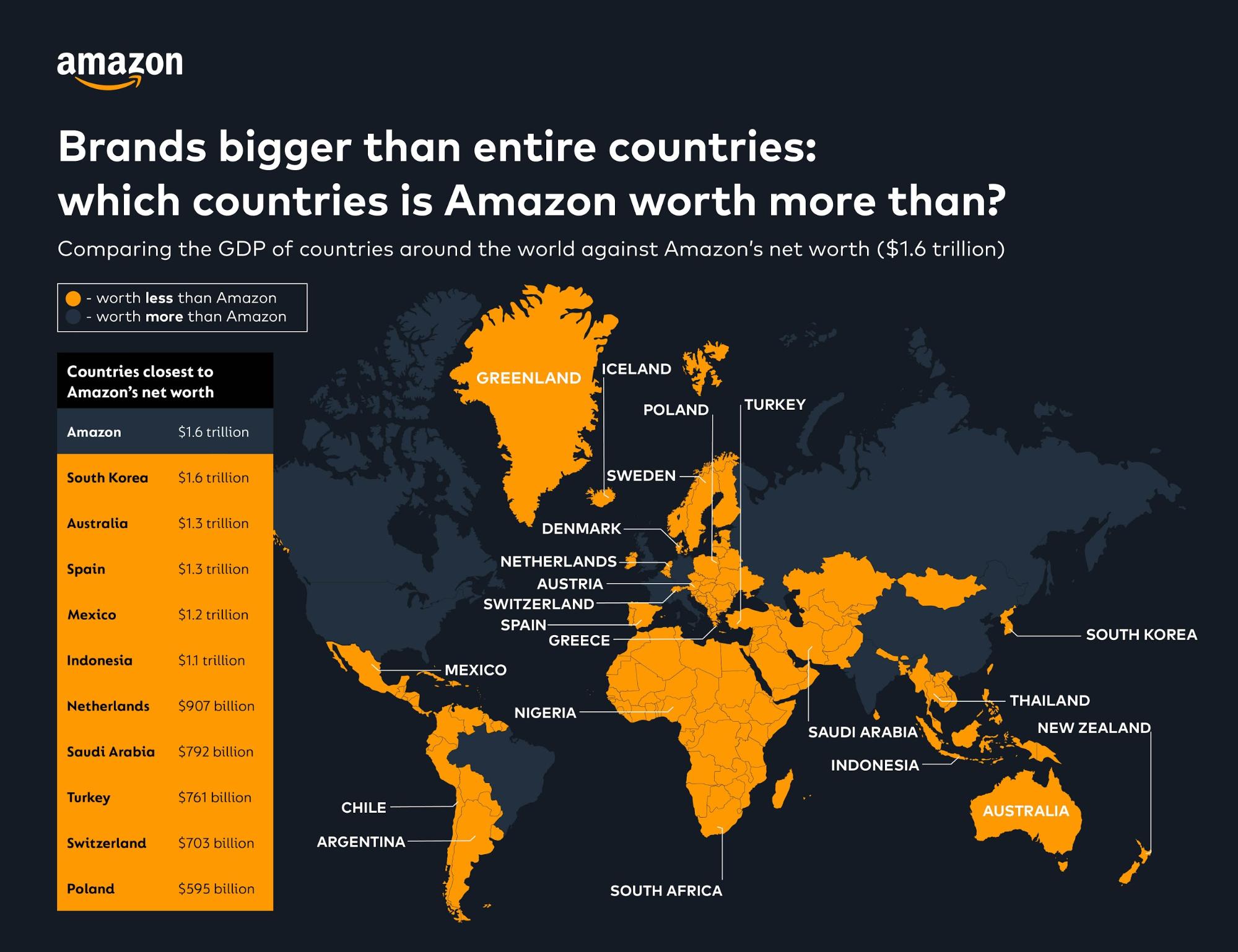 Online retailer Amazon is without a doubt one of the biggest tech giants worldwide, and has only seen it's sales soar over the COVID-19 pandemic. It's market capitalization of $1.6 trillion makes the company richer than 92% of countries on the globe.
But just what would Amazon as a country be like? Well, if you look at the company revenue versus GDP per head on average, it appears the residents of an Amazonian country would be very well off indeed, if its wealth was shared equally.
Looking at the total company revenue and the amount of staff employed by Amazon the revenue per head would be $351,531, more than any country in the world.
The destination with the highest GDP per capita in the world is Bermuda, with $117,089 — showing that with their high value and low 'population' sizes, these tech giants would have a massive GDP per capita as countries of their own.
Even Facebook would be wealthier than over 150 countries around the world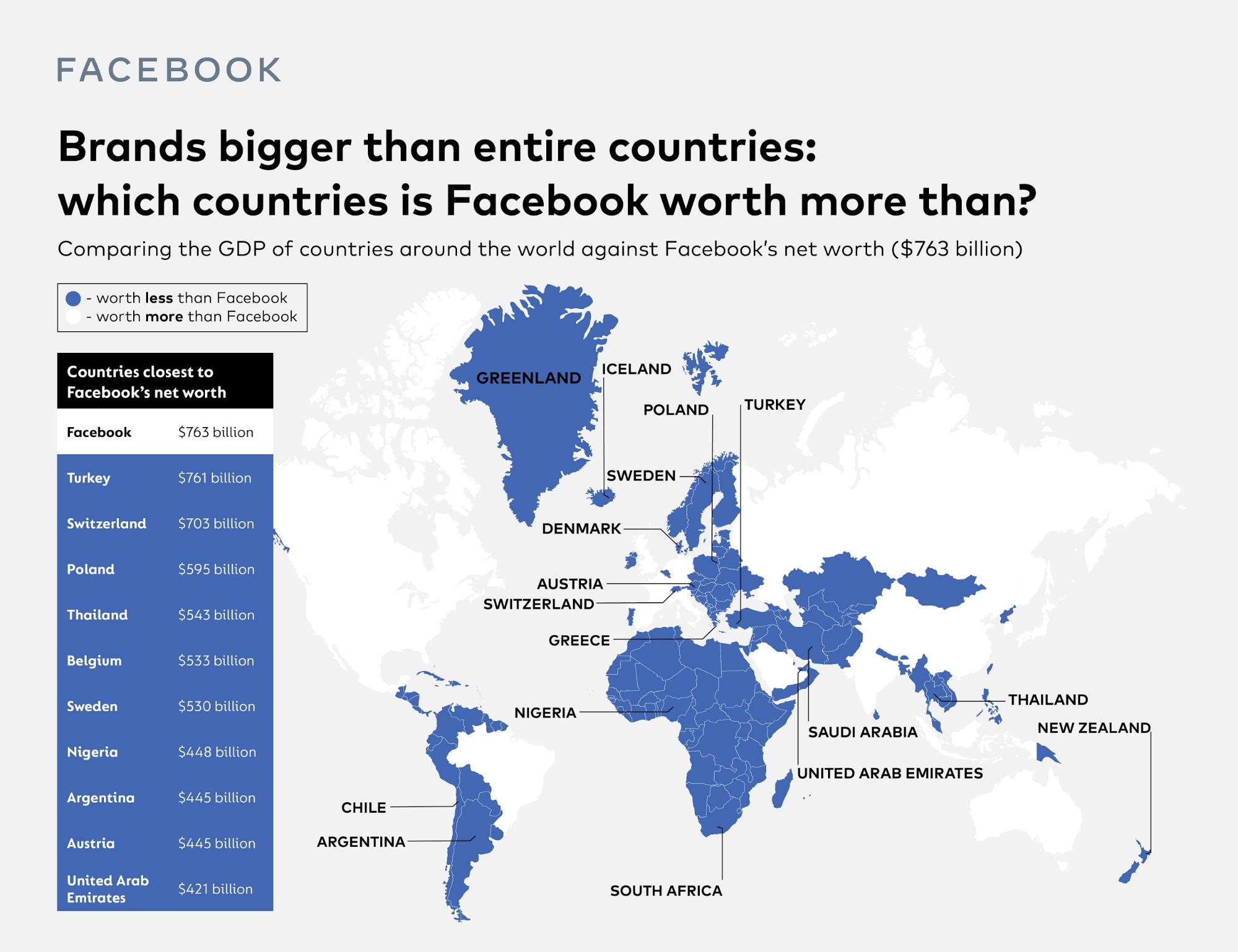 Whilst Facebook may not be in our top ten of companies with the highest value, with a market cap of $763 billion it is still a huge global player on the world stage. If Facebook were a country, it would be wealthier than Switzerland, Sweden and the UAE combined. The social media giant, which also owns the likes of Instagram and Whatsapp would rank as the 26th wealthiest country in the world but will the rise of new social media platforms see them increase their value exponentially sooner rather than later?
The countries with the most cash
It's not just global businesses raking in the billions. Through taxes and exports, countries are also earning a fortune to aid national causes. Global nations (as a whole) are bringing in an immense amount of money — the total world GDP has recently been calculated at over $87 trillion.
The United States is the world's richest country, with a 2019 revenue of $21.4tn. As huge global exporters of goods and food, the States earn money through the products they make, the food they grow and the companies who call them home. Amazon, Apple, and Google are just a few with their headquarters stateside.
Next in line is China. Another country that's home to several massive brands, they had a 2019 GDP of $14tn, profiting in particular from the world-leading technology market that they dominate.
In third place is another Asian superpower, Japan. The home of Sony, Hitaachi, Toyota and more, their incredible range of technology and finance businesses saw them earn a 2019 GDP of $5tn.
The world's richest companies
We've based our richest companies list on the value of their market capitalization versus the country's gross domestic product (GDP), and also looked at how much the companies earned in 2019, the last year their revenue would have been unaffected by the Covid pandemic. While you might have heard of some of them, others do the bulk of their work behind the scenes, earning huge fortunes without us ever hearing about them in the press.
Countries v companies — our table shows where companies would sit in the global rankings
| | | |
| --- | --- | --- |
| No. | Country/Company | Nominal GDP (country) or Market Cap (company) |
| 1. | United States of America | $21,433,200,000,000 |
| 2. | China | $14,342,900,000,000 |
| 3. | Japan | $5,081,770,000,000 |
| 4. | Germany | $3,861,120,000,000 |
| 5. | India | $2,868,930,000,000 |
| 6. | United Kingdom | $2,829,110,000,000 |
| 7. | France | $2,715,520,000,000 |
| 8. | Apple | $2,296,000,000,000 |
| 9. | Italy | $2,003,580,000,000 |
| 10. | Saudi Aramco | $1,990,000,000,000 |
| 11. | Brazil | $1,839,760,000,000 |
| 12. | Microsoft | $1,827,000,000,000 |
| 13. | Canada | $1,736,430,000,000 |
| 14. | Russia | $1,699,880,000,000 |
| 15. | Amazon | $1,688,000,000,000 |
| 16. | South Korea | $1,646,740,000,000 |
| 17. | Alphabet (Google) | $1,411,000,000,000 |
| 18. | Australia | $1,396,570,000,000 |
| 19. | Spain | $1,393,490,000,000 |
| 20. | Mexico | $1,268,870,000,000 |
| 21. | Indonesia | $1,119,190,000,000 |
| 22. | Tencent | $909,510,000,000 |
| 23. | Netherlands | $907,051,000,000 |
| 24. | Tesla | $807,820,000,000 |
| 25. | Saudi Arabia | $792,967,000,000 |
| 26. | Facebook | $763,460,000,000 |
| 27. | Turkey | $761,425,000,000 |
| 28. | Alibaba | $730,440,000,000 |
| 29. | Switzerland | $703,082,000,000 |
| 30. | Poland | $595,858,000,000 |
Ultimately, nine companies would make their way into the top 30 wealthiest countries in the world, all with a lion's share of the world's total GDP.
The majority are big tech giants; Apple, Amazon, Tesla, Google, Tencent and Facebook. However, Saudi Aramco would come in as the world's tenth richest country, showing the value and power of petroleum and oil in the world economy.
Walmart has bigger revenue than Nigeria, Austria and Argentina
Whilst it may not compete in terms of market capitalization, from company revenue alone, Walmart's massive global income makes it a bigger financial power than many countries, with Nigeria, Austria, Argentina, Iceland and Ireland all coming up short. With a GDP of $523bn, the supermarket giant makes Ireland's $388bn look like loose change.
If Walmart was a country it might not be the worst thing in the world. You could probably live there quite happily, with a varied assortment of cuisines, fashions and home furnishings keeping things interesting!
Could any company overtake the USA?
As the current richest nation in the world, the USA's $21tn looks pretty hard to overtake. But given the scope big businesses have to expand their offerings, their growth is potentially unlimited. After a few more years of iPhone upgrades and accessories, the United States of Apple could well be our new global leader.
Looking for ways to keep your finances secure?
While you might not have a few trillion to play with, every pound you earn is important. Our secure VPN software makes it harder than ever for fraudsters to access your financial data, keeping your hard-earned cash under lock and key. You never know where it could take you.
Methodology
We looked at countries' nominal GDP and compared these against the market capitalization value of the top companies in the world, allowing us to rank the companies alongside the countries of the world. This would show us which companies would have a greater value than certain countries. Additionally, we worked out the GDP per capita by dividing the company value to employee ratio, giving us figures that were similar to a GDP per capita for a country. We also looked at company revenue as another talking point.
Sources:
All figures were correct as of 21 February 2021.