Tips for Choosing the Best Web Browser in 2020
2020 is all about security and privacy. Browsers are struggling to provide their users with security features and a smooth browsing experience. This guide is for you in case you are looking for the best web browser or if you want to try something new.
These days the best internet browsers are:
Choosing a web browser depends on what features you'd like to have in it. So, what would you be looking for in a browser? The answer is most likely: speed, security, and privacy. Let's review browsers according to these criteria.
Chrome — the security leader
Google Chrome is the most popular browser in the world preferred by nearly 70% of users. Let alone it continuously works to be among the most secure browsers. With a slick and simple interface, it's no wonder Google Chrome is the most popular and mainstream web browser worldwide.
Pros
Chrome is stable and comes with thousands of useful extensions. It also enables filtering the content with parental controls and is highly customizable. In addition, you're not limited to one platform as it works on macOS, Windows, Linux, Android, and iOS. And it's super easy to clear its browsing history.
A strong built-in password generator is handy as keeping track of all of your passwords is a challenge. And you can check if your passwords have ever been compromised.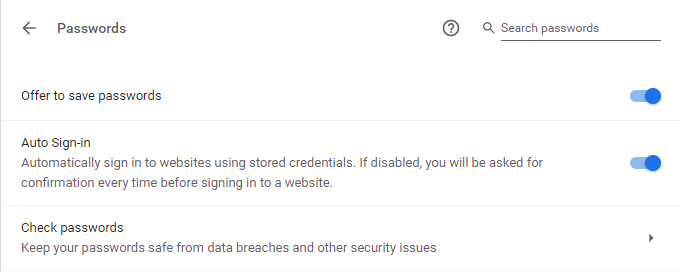 Chrome's synchronization is one of the best among other browsers. It doesn't matter if you are using work or home computer, Mac or PC — Chrome keeps all your settings and bookmarks at hand. The process of importing and exporting bookmarks is really easy too.
Cons
Chrome is the most resource-consuming browser. In case your computer has too little RAM like 2 GB, Chrome may slow down your machine and tabs may be freezing when you're browsing. If you go to the menu bar and check apps that use a significant amount of your Mac's resources, Chrome is likely to be on that list.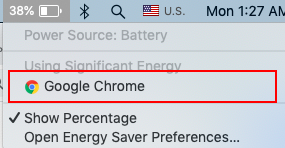 Google is also known to be using your browser data to track your online habits and suggest context advertising everywhere you go with the items you were googling recently. Besides, frequent browser alerts can be rather annoying. However, turning off Chrome notifications is not that difficult.
If you keep an eye on free disk space, be aware that Chrome takes up more space in comparison to other browsers. Be ready to have some extra space on your computer before installing it.
And no built-in VPN or cryptocurrency locker may be a deal-breaker for many users. If you're still hesitating about Chrome — read further to find out more about other best browsers.
Safari — the fastest runner
If you're still wondering if Safari is the right choice for you — buckle up as the next macOS Big Sur will change your perception of this browser. Apple on its official website claims that Safari is the best and fastest browser for Mac, iPhone, and iPad. Let's see why.
Pros
When it comes to online shopping with Safari, integrated Apple Pay makes it even easier and faster. Your credit card information is strictly confidential and by no means ever shared when you use Apple Pay. And turning on Apple Pay is just a few clicks away in Safari Preferences.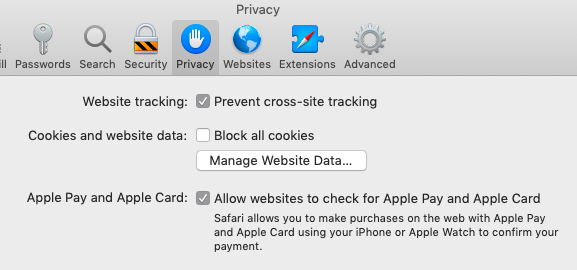 The Intelligent Tracking Prevention tool analyses online trackers and advertisers and gets rid of the tracking data they leave behind. Apart from that, Safari thinks ahead and blocks suspicious and harmful websites before you even visit them. Besides, you might try using Safari in the incognito mode too.
Automatically generated passwords by Safari are robust and once allowed — they will be filled in for you — no stress over keeping all the passwords in your mind.
If you're both an iPhone and a Mac user — the Handoff feature is just right for you. With it, you can continue your browsing session across your devices. To put it simply, open a tab in Safari on your iPhone and access it on your Mac.
As Apple claims, Safari is the world's fastest desktop browser outperforming Chrome, Firefox, and Edge browsers. That's indeed impressive and a great advantage, right?
Cons
When it comes to disadvantages of using Safari, it might be really inconvenient to transfer all your precious bookmarks from other browsers. However, with macOS Big Sur and its reinvented Safari, you will be able to import bookmarks or passwords from Chrome to Safari.
Another drawback is that macOS and iOS users can take greater advantages than Windows users as Safari was primarily developed for browsing on Apple devices.
Mozilla Firefox — the сustomization champion
Mozilla Firefox is another veteran on the list of the best web browsers. It is known as the pioneer in plenty of web capabilities, customization, and online privacy. A huge list of available extensions makes it even more attractive to users. Let's see what it has to offer.
Pros
Firefox works on multiple platforms, including both desktop and mobile. But the best thing is Mozilla's customization options — install an add-on and get a lot of tweaks, which aren't available to other browsers.
Our favorite is Multi-Account Containers extension as with it you can create a separate box for each of your online accounts, so no need to open another browser just to check banking information or your work email.

The mobile version of Firefox offers cool interfaces. And like in Safari you can share a tab open in Firefox from any device in case you're logged into your syncing account. Basically, you can instantly share an Amazon link with the book you want to order from your phone to your computer.
Cons
Mozilla underwent some vulnerability threats back in 2019. Two security vulnerabilities were revealed aimed at employees of Coinbase, a crypto exchange. This proves that no total privacy can be guaranteed by any popular browser.
Like Google Chrome it is a memory extensive browser. Be ready to have a slower performance in case you're working in multiple tabs and have a lot of extensions installed.
Using Firefox for Mac feels a bit sluggish as it doesn't offer the multi-process architecture as other browsers do. Some design solutions, like separating search bar and URL bar, might be confusing if you haven't worked in this browser before.
Opera — the built-in privacy pioneer
The Opera browser has been there for ages. It has unique features others don't. So what makes Opera one of the best privacy browsers?
Pros
The answer is that many users opt for Opera because of its free built-in VPN, so there's no need to install a separate VPN app on their computer. So far, no other browser offers such a built-in tool. Masking your IP address when browsing or shopping became simple with Opera.
What brings Opera to the next level is the Crypto Wallet for cryptocurrency. And the good news is that it's not only for desktop Opera. You can access this crypto wallet from Opera Touch on your iPhone or Opera on your Android.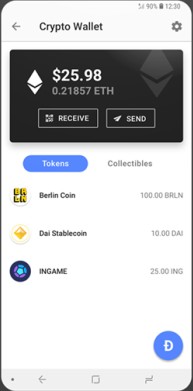 Opera syncs across all the devices you use it on, saving your passwords along with browser history, which is pretty convenient.
Light and dark modes, in-browser messaging from its sidebar, and much more can make you consider using Opera on a regular basis.
Cons
Opera is not compatible with some older websites and may not load them properly. So, be ready to look for alternative browsers to access those.
Some experts recommend installing antivirus to work alongside Opera's built-in VPN as it may not be enough for private browsing.
And a slightly different interface may make it harder to get used to browsing in Opera.
Brave — the alternative privacy browser
It got its name for a reason. Brave is known to be one of the safest and private browsers as it has all it takes for an alternative browser. If you get extremely annoyed by ads bugging you — just give it a try.
Pros
Brave is designed to block ads and trackers by default. Interestingly, Brave neither sees nor stores what you browse. That's why it's one of the best privacy and anonymous browsers. So with this safe browser, you can forget about the tricky schemes of targeted ads. Customize your shield settings and get a report on how many ads or trackers are blocked by Brave.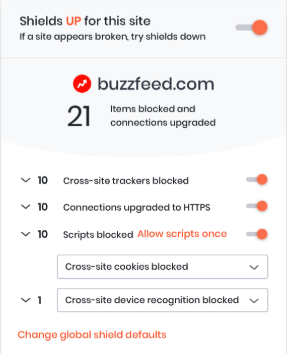 The numbers speak for themselves. Brave loads news sites up to 6 times faster than most mainstream browsers such as Chrome, Safari, and Firefox — on both desktop and mobile.
When it comes to bookmarks just let Brave import them for you on a welcome tour page once you get started with this browser.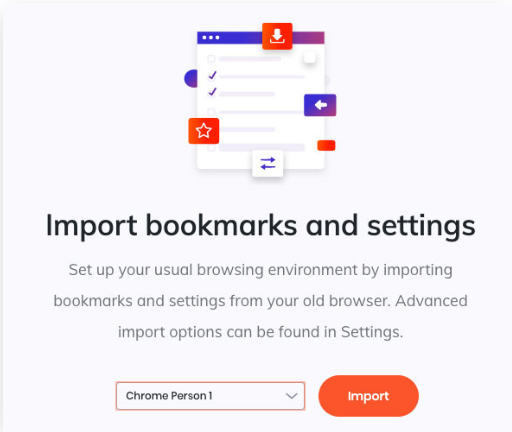 Cons
Being relatively new on the market, Brave may be falling behind with regulars updates.
Besides, if you're running macOS, be ready to have macOS X 10.10 or higher to be able to install Brave as it is not compatible with older OS X versions. The same is for iOS as it requires iOS 12.0 or higher.
DuckDuckGo — the browsing innovator
Have you already heard about DuckDuckGo? If not, check out why you should consider choosing this browser.
Pros
DuckDuckGo is a 3-in-1 solution that can work as a standalone mobile browser, a browser extension, and a search engine. DuckDuckGo comes with such privacy tools like an encryption enforcer, a tracker blocker, and a private search engine, of course.
The mobile browser offers great speed and has a number of cool perks. For example, you can clear all the browsing data and the current tabs with just a click or get a Privacy Grade for each website, ranking from A to F to check how protected you are.
What is unique about DuckDuckGo's search engine is a built-in shortcut called !bangs. !bangs can instantly take you to search results on other websites. So, if you know what you'd like to search on another website like Amazon or eBay — !bangs will take you there in no time!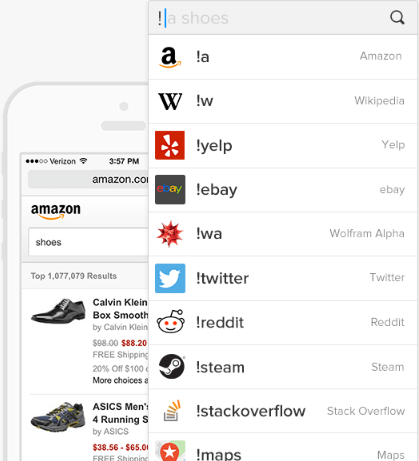 Their private search engine doesn't track what you search. The DuckDuckGo browser extension, as well as the mobile app, block Google trackers across the web. Once you visit a website, DuckDuckGo will redirect you to the encrypted versions of the site whenever possible. And it doesn't gather or share any of your personal information.
Cons
DuckDuckGo doesn't have a desktop browser version and offers less cool features than some other browsers do. However, if you actively browse on your phone — DuckDuckGo mobile app is a great find.
Some users find it less convenient as DuckDuckGo doesn't remember your search history. However, this is an advantage for privacy, right?
Chromium — the DIY browser
As an open-source browser project by Google, Chromium can be modified according to your needs. If you know how to code you can build your own web browser by working with the Chromium source code. Alternatively, you can download this browser "as is".
Pros
Chromium supports almost all of Google Chrome features and syncs between your devices. It provides a fast and secure computing experience for people who spend a lot of time on the web. Besides, a number of browsers, including Brave, Opera, and Microsoft Edge, are based on Chromium code.
When it comes to privacy, it collects and transfers less information than Chrome does.
Cons
Chromium has no automatic update mechanisms as well as no Flash Adobe support. You must download and install updates manually. In addition, it is more prone to crashes than Google Chrome.
For regular internet users, Chrome would probably be more convenient. If you're an advanced user or place a high value on privacy or DIY customization — Chromium is the best option.
***
To sum up, a choice of the best web browser for Mac actually depends on what you value most. If you want to add some speed, go for Safari. If you're looking for the safest browser to use on your desktop, feel free to choose from Chrome, Opera, or Brave. For mobile — DuckDuckGo is a catch and if you're into coding — Chromium is just right for you. Enjoy your web surfing experience!