In this article you will find the following:
Apple makes a conscious effort to keep its users safe with several preventative measures from hackers, such as two-factor authentication (2FA) and asking security questions. However, you can sometimes encounter problems with the latter—especially if you forgot Apple ID security questions. Issues can also occur if Apple suspects that your login credentials are under threat.
In situations where you're unable to reset or answer your security questions, you risk spending more time looking for answers and less time using your iPhone, iPad, or Mac how you otherwise would've wanted to. But don't worry, as I'll help you change Apple security questions and get back on track.
I'll split this guide into two parts. First, we'll together discuss why you can't reset Apple security questions. Then, you'll discover what you can do about it. So, let's get started.
Before we begin

The most common reason why you're unable to reset your Apple security questions is viruses and malware. So, one of the best ways to stop the problem from occurring in the first place is to protect your device from such cyberattacks. MacKeeper's Antivirus tool can help keep your Mac safe from over 99% of known online threats.

To use the MacKeeper Antivirus solution:

Go to Security > Antivirus > Launch Antivirus
Select Next after MacKeeper enables your Antivirus solution
Enable real-time protection by going back to the Antivirus tab and selecting Enable
Click on Open Preferences
Tick the boxes next to MacKeeper to ensure that you have round-the-clock monitoring.
Reasons you can't reset security questions
Before I identify how to reset your details if you can't remember Apple security questions, knowing why you aren't allowed to will help both diagnose the problem and prevent it from recurring. Here are some of the main reasons why you might struggle to set your questions again:
Your identity isn't verified: In some instances, you might need to verify your identity with Apple. You can typically do this with a photo ID, such as your passport—and not providing sufficient information could contribute to being unable to change your security questions for Apple ID.
Apple is trying to protect you: You might not be able to reset your security questions because Apple thinks that something is wrong, such as someone else trying to hack your account. In these situations, your best option is to contact Apple Support.
Too many failed login attempts: The maximum number of login attempts varies—but regardless of how many you're allowed, you can't exceed it. If you do, you must wait eight hours before trying to reset your details.
Apple ID might not be working: Sometimes, Apple's servers can drop. When that happens for your Apple ID, you'll need to wait until everything's working again before you can reset your security questions.
How to reset Apple security questions
As annoying as it is when you can't remember Apple security questions, two possible solutions are available.
Below, I'll show you how to reset your Apple ID with both methods. These tips should work regardless of the Apple device you have, and you don't need the latest operating system software to get started.
Go to the Apple ID website and reset Apple security questions
The best place to reset security questions for Apple ID is the iForgot website. Once you've been through the process that I'll reveal in a moment, you should have a new security question that you can keep handy when needed. After you find Apple ID password, follow these steps:
Go to appleid.apple.com
Log into your Apple ID account
Click on Sign-In and Security on the left-hand toolbar if it's not already chosen; you should have this selected by default
Tap the Account Security tab
Select Change security questions under the Security tab
Enter your new security questions
Hit Update and type your Apple ID password.
Contact Apple Support
If you need to unlock Apple ID, you can always contact Apple Support to reset your security question instead. The company's support team is reachable in numerous ways, namely via the Apple Support app and by contacting them directly on the phone. So that you can decide which option is easier for you, I'll walk you through both.
Using the Apple Support app
The Apple Support app is only available on iOS and iPadOS as of late May 2023. Here are the instructions you should follow to contact Apple while using the service:
Download the Apple Support app
In the search bar at the top, type the problem you're having and hit Next
When you see Reset Your Security Questions, click on the Get Started button
Your device will transport you to iforgot.apple.com, where you'll need to log in with your Apple ID. Do this and follow the instructions you're asked to there.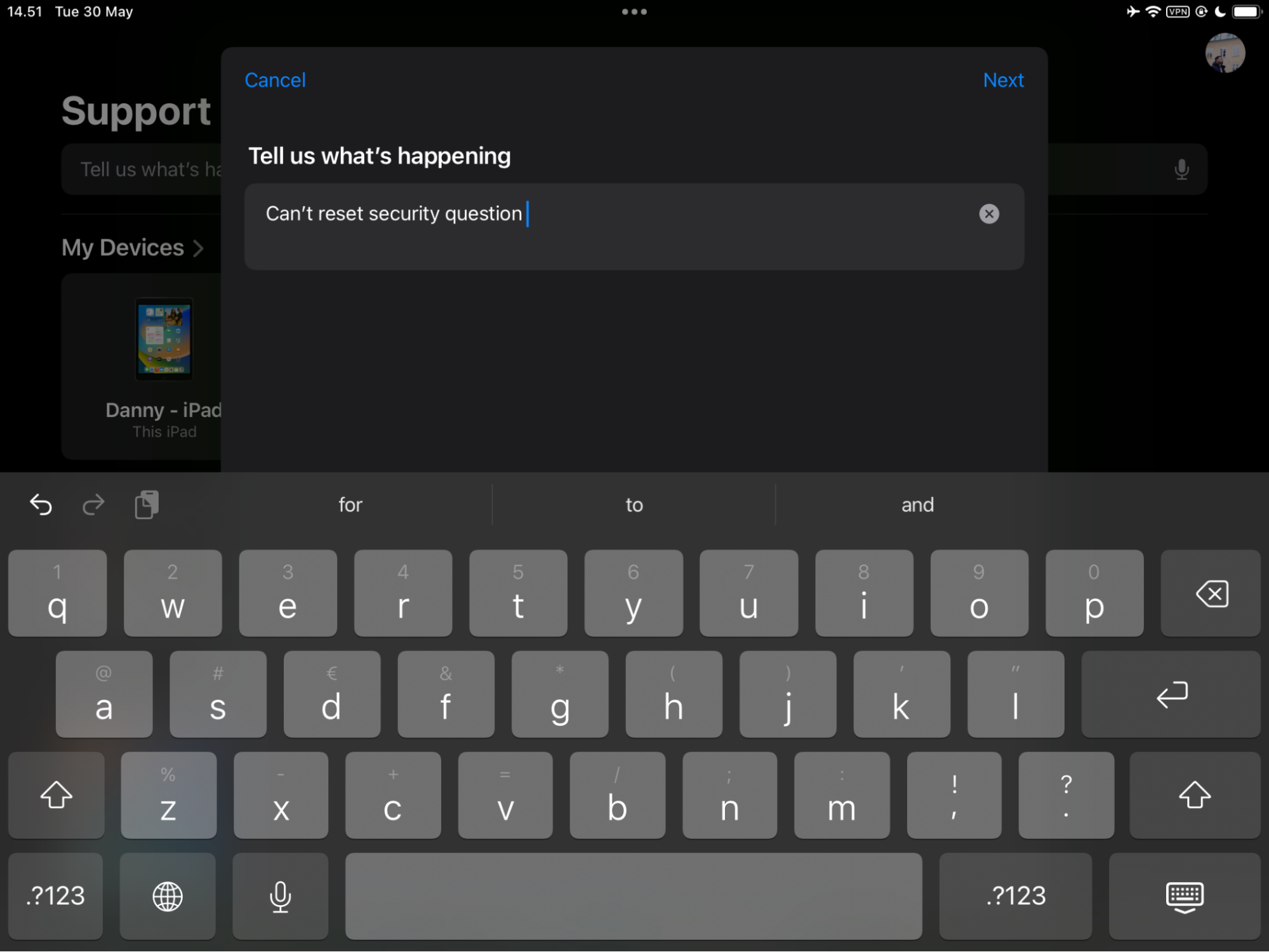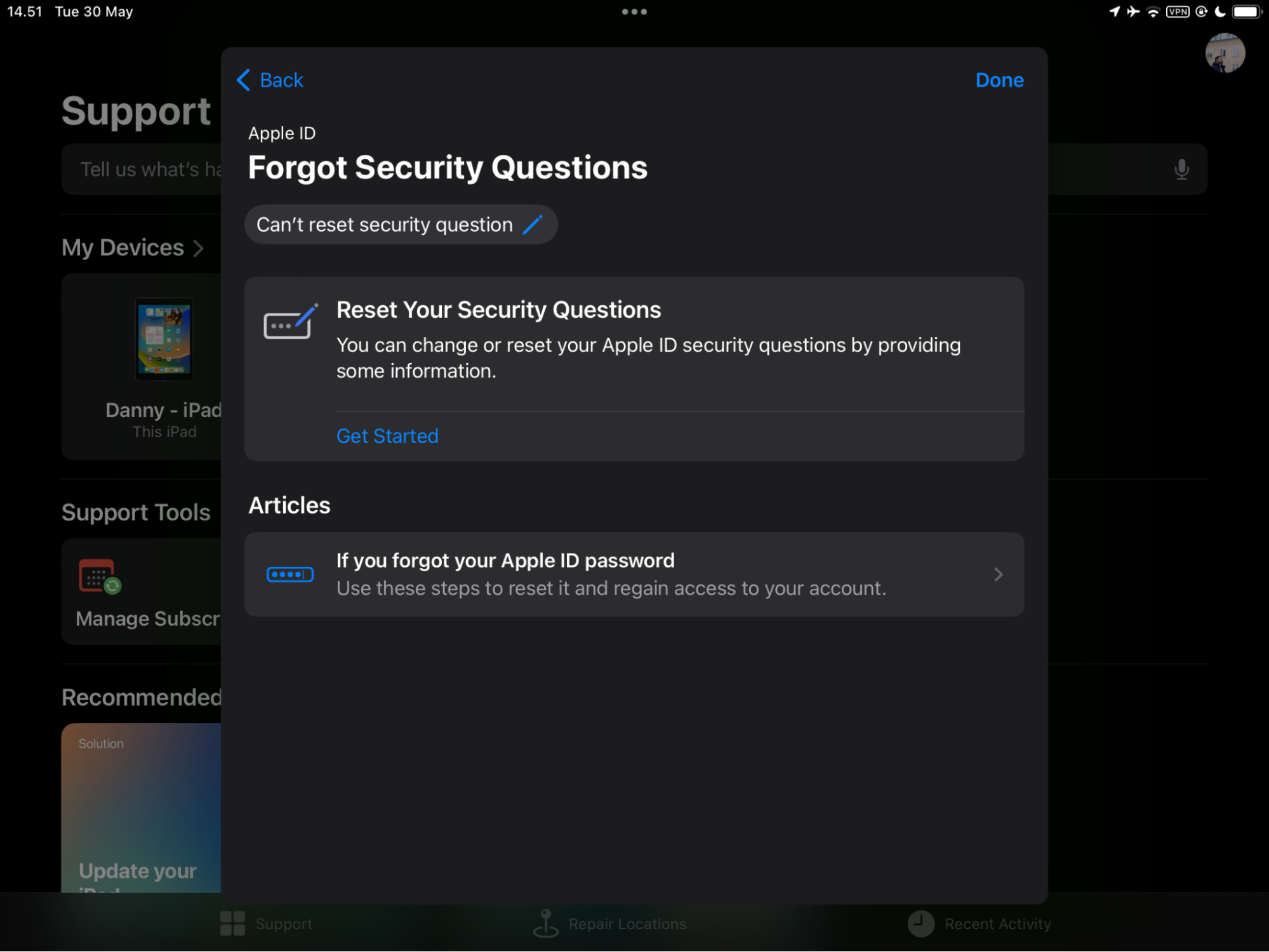 If you're on a Mac, you can go to support.apple.com instead of downloading the app. When on the site, you'll also need to type your problem into the search bar.
You can also tap the Repair Locations tab to find nearby places where you can get your device fixed.
Contacting Apple Support
Note that you'll likely have to verify your identity when contacting Apple to reset your security questions. With that in mind, make sure that you have your ID ready to submit if needed.
How you get in touch with Apple's support team will vary depending on where you live. The company has a list of phone numbers for each region on its website.
Resetting your Apple security questions should be easy-peasy now
The main reason why your Apple security questions aren't resettable is probably due to your MacBook getting hacked. Signs to look out for include apps that consume significant energy in the Activity Monitor, along with overheating and strange apps appearing on your computer when you sign in.
Resetting your security questions can help ensure that you limit the amount of damage caused, and you can go to the Apple Support app or website to receive help. In the future, prevention is the best cure—use MacKeeper's Antivirus tool to identify threats as soon as they happen.