In this article you will find the following:
Although macOS and OS X already have a lot of security features built in, viruses and other malware can still slip through. Infections are mainly caused by trojans and backdoors.
For that reason, it's a good idea to install an antivirus app on your Mac. But which one? In this guide, we'll look at some of your options to help you find the best antivirus for your Apple computer, whether it's an iMac, MacBook Pro, MacBook Air, or something else.
Before we begin

If you're worried about the safety of your Mac, why not try MacKeeper? Not only does it include real-time and on-demand anti-malware protection, it's a full optimization, privacy, and cleaning tool. It's everything you need to keep your Mac happy and healthy. Try it out today, and see what it can do.
Top 11 effective antivirus solutions for Apple Macs
MacKeeper's Antivirus
| | |
| --- | --- |
| Pros | Cons |
| A whole suite of optimization, cleaning, and privacy tools | Premium services cost more |
| VPN client included | Doesn't have ransomware protection |
| Easy to use | Only works on Macs |
| Real-time protection + anti-adware | |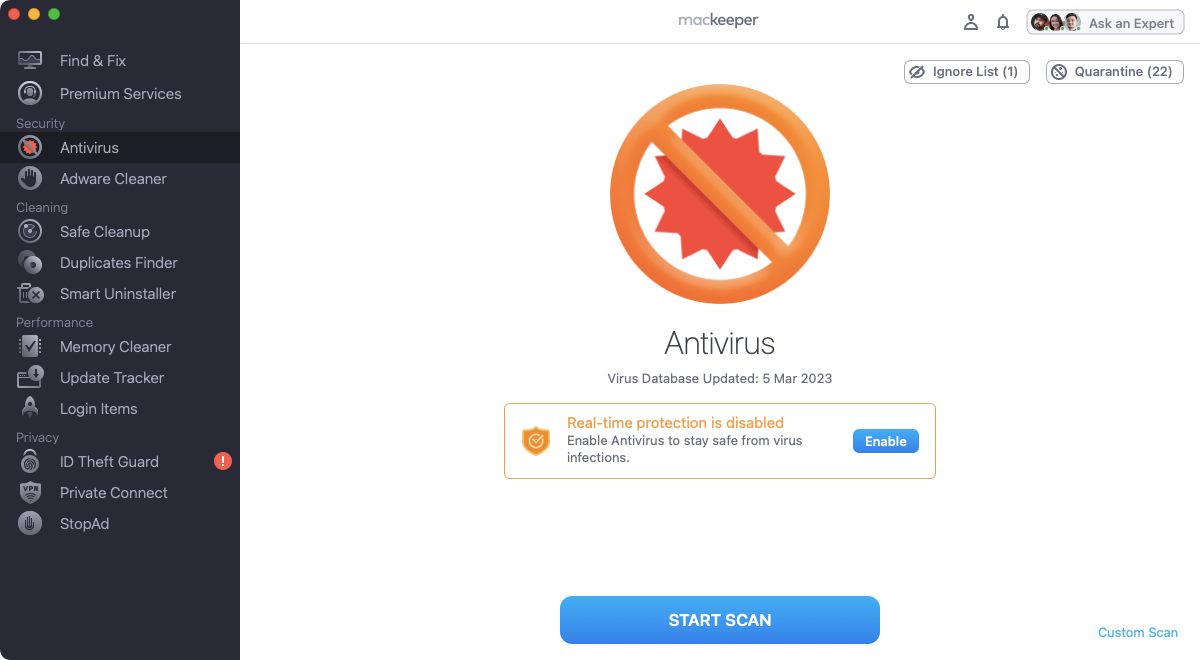 MacKeeper is a complete suite of handy tools for Macs. As well as a virus scanner, it includes many other features, such as:
Memory Cleaner
Smart Uninstaller
StopAd
Safe Cleanup
Private Connect VPN client.
It all comes packaged in a user-friendly interface, which makes it a great way to keep your laptop or desktop machine in tip-top condition.
MacKeeper's Antivirus doesn't have ransomware protection or firewall features, but it provides solid protection against most forms of malware, making it easy to scan Macs for virus activity. Indeed, it showed a 100% detection rate in an independent test from AV-TEST.
MacKeeper lets you run on-demand scans, which you can use on your entire Mac or limit to a particular drive or folder. But, vitally, it includes real-time protection too. That means MacKeeper is constantly monitoring your Mac, and if it spots anything suspicious it will let you know.
You also get a separate Adware Cleaner, plus StopAd, which blocks not only advertisements but also internet trackers. Plus, you can get help from a Mac security expert at any time by tying questions into the built-in chat interface. Combined with the built-in VPN and ID Theft Guard, which lets you know if your personal credentials are compromised, MacKeeper makes it easy to keep your Mac safe and secure.
You can download MacKeeper for free and try out each feature, and if you decide to get a subscription, you'll find it to be reasonably priced. A rolling monthly plan costs $10.95, but you can reduce that by around 75% by signing up for a 12-month plan for three Macs.
Ultimately, it's the combination of versatility, great pricing, and protection that puts MacKeeper among the best security software for Mac.
Clario's Antivirus
| | |
| --- | --- |
| Pros | Cons |
| Good basic protection for a range of devices | Limited compared to some other solutions |
| Built-in advice on setting up protection | Features differ across platforms |
| A variety of tools to protect your Mac | |
| Includes VPN at no extra cost | |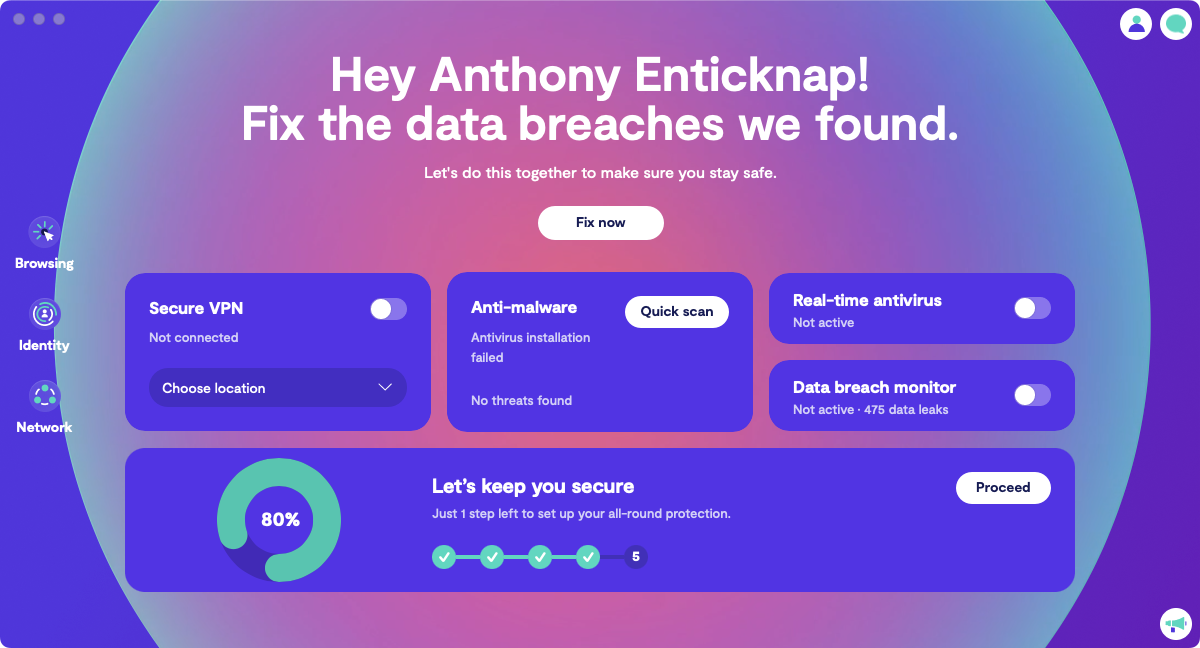 If you just want simple protection with no unnecessary complications, Clario is well worth a look. Like its sister app, MacKeeper, Clario has been shown to have a 100% detection rate, but it's also a more straightforward app, focused largely on privacy protection.
Clario includes:
On-demand scanning and real-time anti-malware protection
A VPN client
ID Theft Guard for data breach monitoring
Ad blocking.
There are no advanced security features like anti-ransomware, but Clario offers a good level of protection anyway. And, more than any other security app on the market, it's incredibly easy to use. Clario's interface is beautifully designed and clear, and the app makes security simple by giving you recommendations on how to protect your Mac using its various features.
Like MacKeeper, Clario has a feature that lets you get help from a Mac security expert at any time. Just click the Ask an expert button in the top right of the app, and one of Clario's team will help you.
Another plus point for Clario is it's not just a Mac app. You can also get the program for iOS, Android, and Windows, making it a great way to protect all your devices. You can pay $8.99 for a monthly rolling subscription or less than half that if you sign up for 12 months. Either way, one license will protect you on three devices.
Norton Antivirus
| | |
| --- | --- |
| Pros | Cons |
| Includes a firewall as standard | Expensive compared to other solutions |
| Unlimited VPN built in | Too many different licenses |
| Handy password manager | No cleaning or optimization tools |
| Very little impact on performance | Free trial requires credit card details |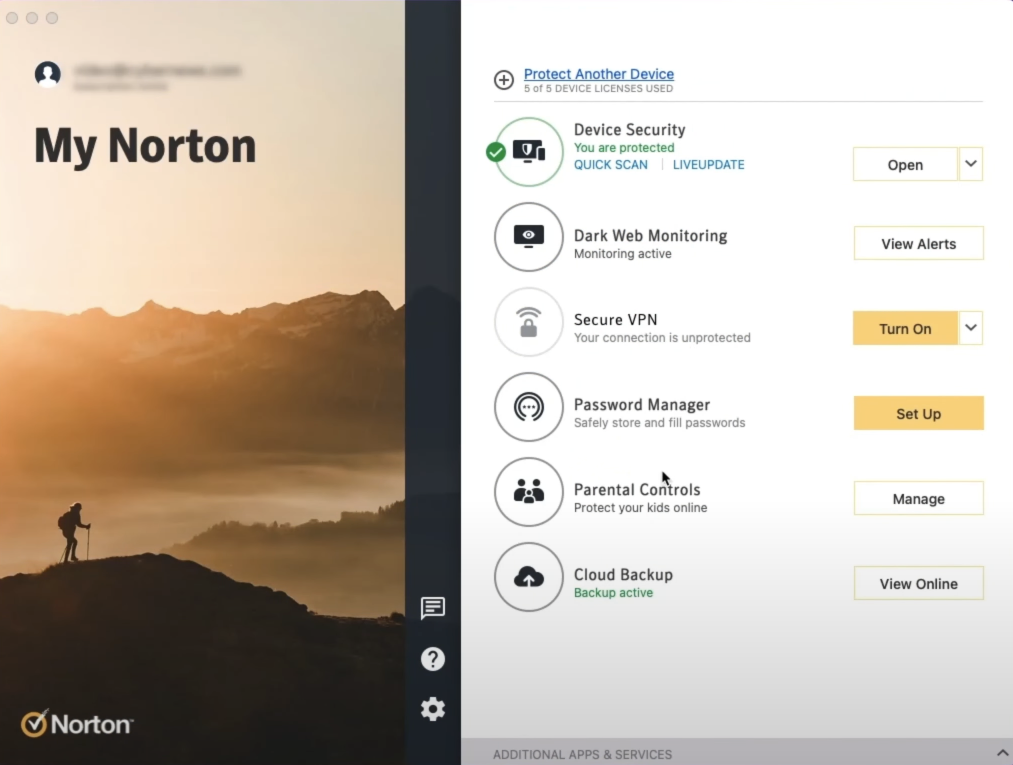 Next up on our list of the best anti-malware for Mac, we have one of the oldest names in the business. There are several versions of Norton available, giving you varying levels of protection. They include Antivirus Plus, 360 Standard, 360 Deluxe, and 360 Select. The sheer number of different licenses is a bit overwhelming, so for the sake of simplicity, we're focusing on the Standard version here.
As well as real-time and on-demand malware protection, Norton 360 Standard includes:
A Smart Firewall, which will protect your Mac from any unwanted network intrusions
A VPN client
The Norton browser extension, a website checker
Cloud backup
A password manager.
This is all great, but there's one major drawback. The Standard license only covers you on one device. The normal annual price is $89.99 a year, and there are no monthly subscription options. That's a lot for one device.
If you want to add more devices, you'll need to pay for the Deluxe license, which covers five devices, or Premium, which covers 10. Of course, this also increases the price, but you get additional features, including parental controls.
Considering Norton's pedigree, it's perhaps no surprise that Norton 360 Standard is focused heavily on security only. If you want optimization and cleaning tools as well, you'll either need to buy them separately or use an all-in-one solution instead.
Avast Antivirus
| | |
| --- | --- |
| Pros | Cons |
| Free version offers good basic protection | Premium version doesn't add enough |
| Premium version includes ransomware protection | Expensive to upgrade |
| Wi-fi protection feature | |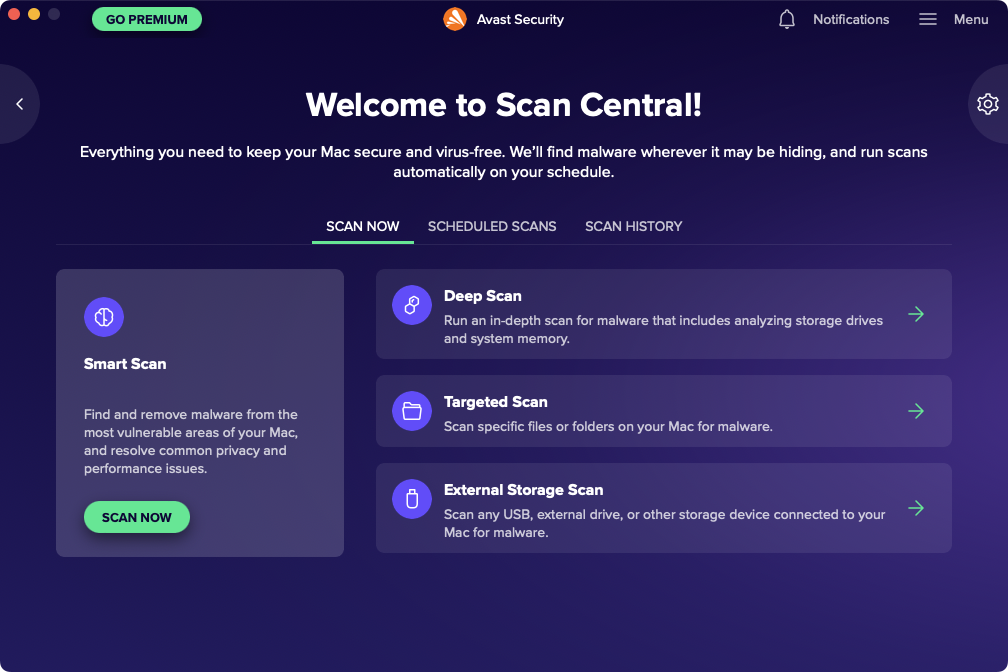 Avast made its name by offering pretty cyber-security software for free. Whether you need to find and remove viruses, spyware, or some other malware, this capable detector will do the trick. The free version offers on-demand real-time protection and a browser extension that will stop unsafe sites and web trackers from affecting your Mac.
If basic protection is all you need, Avast is a good option for free. But if you need anything more than that, then you'll have to pay for the Premium version. It'll cost you $75.99 a year, and you'll get a few extra features. They include ransomware protection to prevent unauthorized changes to your personal photos and files. That should, in theory, stop ransomware from encrypting your files and making them inaccessible to you.
You also get an enhanced version of Avast's Wi-Fi Inspector feature. The free version lets you see what devices are currently on your wif-fi network. In the premium version, you get extra information, including if there are any security vulnerabilities.
Avast's other premium features include:
Anti-phishing
Safe browsing feature to help you avoid fake shopping and banking.
These features are useful, but it's questionable whether they're worth paying nearly $76 for. What's worse is your Avast license only covers one device. If you want to protect more devices, you'll have to pay around $15 more for a license that covers 10 devices, including Android, iOS, and Windows.
Avast certainly isn't a bad security solution at all, one that makes removal of viruses easy. But you get more for your money from other apps like MacKeeper.
McAfee's Antivirus
Website: www.mcafee.com
Platforms: macOS, iOS, Windows, Android, ChromeOS
| | |
| --- | --- |
| Pros | Cons |
| Protection for an unlimited number of devices | Expensive if you're only covering a few devices |
| Protection scores for up to six people | Single-device license is relatively expensive |
| VPN included with all versions | Free trial requires a credit card |
| Some good upgrades if you want them | |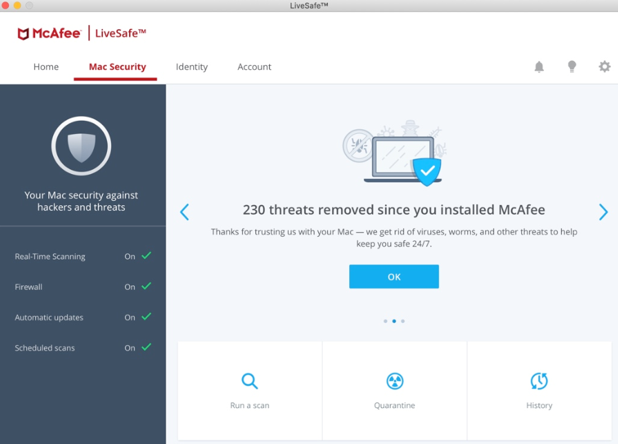 McAfee is another name that's been in the cyber-security game for a long time. Does it offer the best malware removal for Mac, though?
As with other tools such as Norton, there are a few different versions of McAfee, including the McAfee+ range. For our purposes here, we're looking at McAfee+ Premium, which sits below McAfee+ Advanced and McAfee+ Ultimate.
Although McAfee offers discounts on the first year, the standard price for McAfee+ Premium is $149.99. That's quite a hefty price tag, but what does it get you? Quite a bit, as it turns out.
All three McAfee+ licenses give you access to the app's full suite of security features. That gives you:
Antivirus
File shredder
Web protection
Firewall
Expert online support
Individual Protection Score.
Best of all, you can use these features across unlimited devices on a single license. And the Protection Score, which rates your online safety, lets you create profiles for up to six family members. Suddenly, that large price doesn't seem so large.
You also get a password manager, a VPN client, and identity theft monitoring. If you upgrade to the other versions, you can unlock a variety of financial services and protections. Among them, credit score reports, $25k coverage for ransomware losses, and up to $1 million for losses incurred due to identity theft.
You can also opt for a Basic version, which only covers one device. That's $84.99 a year and gives you the features of McAfee+ Premium. There's also a range of family plans, which stretch the financial benefits to more people.
If you have a lot of devices to protect, then McAfee+ Premium is well worth considering.
Bitdefender Antivirus
| | |
| --- | --- |
| Pros | Cons |
| Includes ransomware protection | VPN is limited without an additional purchase |
| Browser extension for ad blocking | No firewall |
| Great value from multi-year licenses | No password manager |
| Free 30-day trial | Mac-only unless you upgrade to Premium |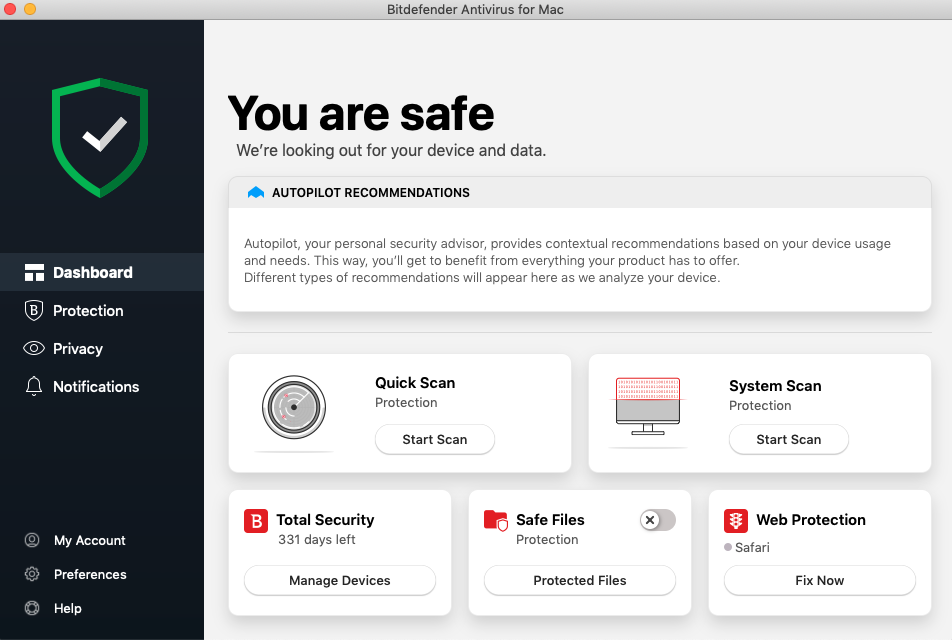 Bitdefender is another macOS security suite that gets consistently high scores from independent testers, including AV-TEST. Its performance in this area alone puts it among the best virus protection for Mac. But that's not the only reason it often comes recommended by those who have used it.
Aside from its real-time and on-demand protection, it also includes:
Adware blocking and removal
A VPN client
Web protection
An anti-ransomware feature called Safe Files.
As with other ransomware protection tools, Safe Files lets you select files and folders you want to protect. If any program tries to make changes to those files and folders without your permission, you'll be told about it. That should stop ransomware from locking you out of your most valuable data.
The VPN client, however, is much less useful. By default, you only get 200MB of data a day through the VPN. If you want to do anything more demanding than browsing a few web pages, you'll need to pay for a separate Bitdefender Premium VPN. It's a similar story if you want password management features too.
Without those features, Bitdefender for Mac can be yours for $39.99 a year for one device or $59.99 for three devices. You can save a lot more if you choose a two-year or three-year plan. If you spend more, you can upgrade to Bitdefender Premium Security, which gives you unlimited VPN traffic, the password manager, up to ten devices, and support for iOS, Windows, and Android, as well as macOS.
Malwarebytes Antivirus
| | |
| --- | --- |
| Pros | Cons |
| Good basic protection in free version | Free version doesn't include real-time protection |
| Cheaper than other solutions | Missing features from Windows versions |
| Works on a range of platforms | |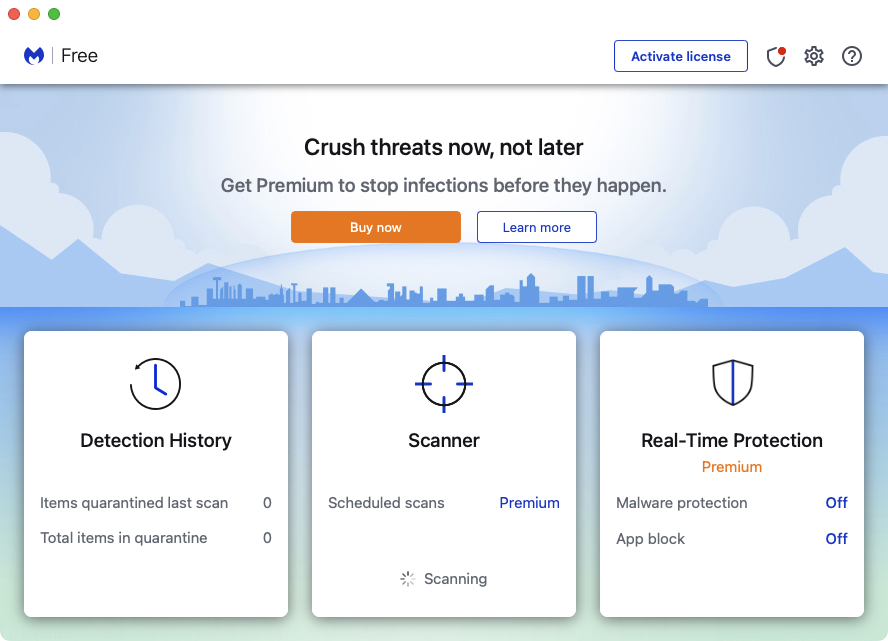 Another big name in the free antivirus market, Malwarebytes has a range of premium licenses too. It's also another app that started out on Windows before more recently adding a Mac version.
With Windows dominating the operating system market, that's likely the company's priority, and it shows. While the Mac and Windows versions of Malwarebytes both offer capable antivirus protection, the Mac edition is missing several features. For example, you don't get phishing or ransomware protection, which are both available with Windows. What you do get is antivirus, monthly security health reports, and an intuitive user interface.
If you choose to upgrade from the free version to a subscription, you get:
Scheduled scans and real-time protection
App blocking
Ad blocking.
The free version is limited only to on-demand virus scans. Provided that's all you need, then Malwarebytes will do the trick, as it frequently performs well in independent tests.
But real-time protection should really be considered a necessity, so you'll need to get a subscription if you want that and the other premium features. Is it worth it, though? You can protect one device for $3.75 a month, or five for $6.67, both billed annually. For $8.33 a month, again billed yearly, you can add a VPN service. These prices certainly aren't bad, and they're lower than many of Malwarebytes' competitors, but the Mac version is just too simple to offer good value. If you have to protect Windows, Android or iOS devices as well, then it makes more sense.
Avira's Antivirus
| | |
| --- | --- |
| Pros | Cons |
| Free version includes real-time protection and scheduled scans | VPN isn't much use without a paid subscription |
| Free version also includes a password manager | Doesn't have as many features as some other tools |
| Junk cleaner included for free | |
| Easy to use | |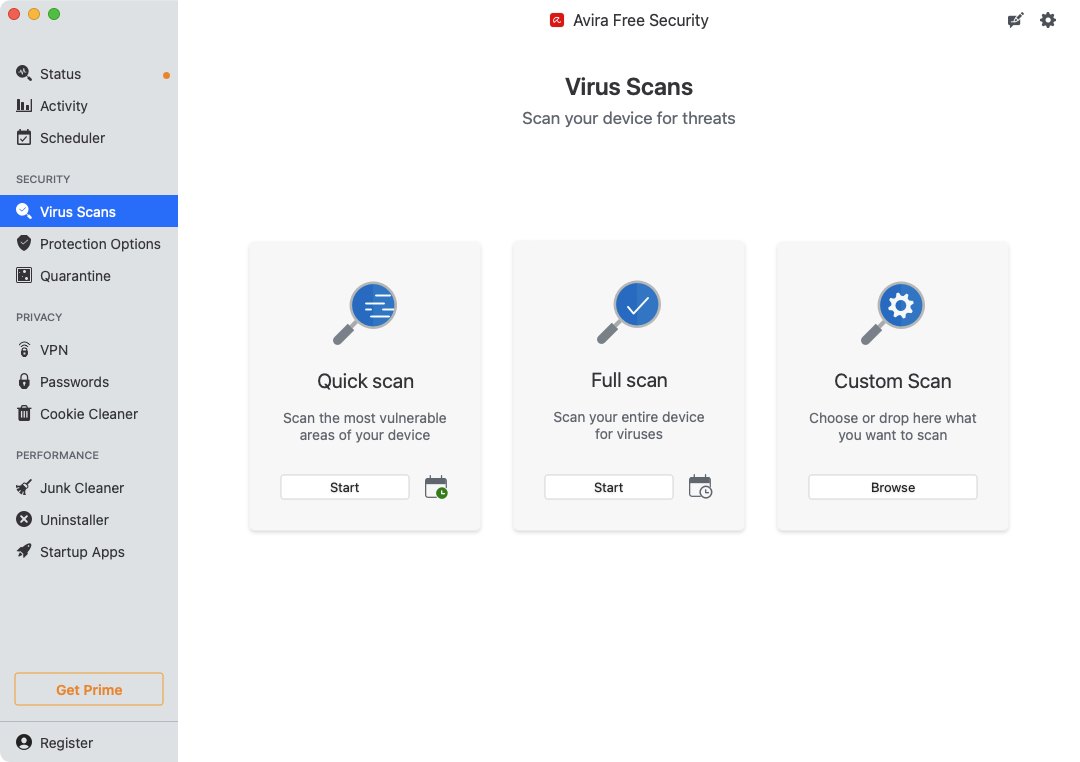 Proving that free antivirus apps don't have to be overly limited, Avira offers not only on-demand and real-time antivirus but a selection of other handy features. Without ever paying a penny, you can schedule scans, use the Junk Cleaner feature to remove unneeded files, and access Avira's password manager tool. You can even use the Avira Phantom VPN, but you're limited to 500MB a day, which will run out fast.
Avira also offers good virus protection, with consistently high scores from AV-TEST. This is to be expected from a company that's been in the security market for since the 1980s.
With this impressive level of free protection, is there good reason to upgrade? Perhaps. Avira offers three products you could upgrade to: Avira Antivirus Pro, Avira Internet Security, and Avira Prime. It's not entirely clear what the first two of these add on top of the free version, but Prime unlocks a range of extra features that make it stand out. They include:
An unlimited VPN client
Premium mobile apps
Data breach scanning
An uninstaller features
A startup app remover.
At $9.99 a month for five devices, it's not too badly priced, and you can save by paying for a one-year or two-year license. You can also choose to cover an impressive 25 devices, which reduces the cost per device even more. Those licenses work across macOS, Windows, Android, iOS too, so you can quickly get a lot of value from your subscription.
Kaspersky Antivirus
| | |
| --- | --- |
| Pros | Cons |
| A wide array of features | Prices go up a lot after the first year |
| Very low introductory prices | Government bodies have issued warnings about the company |
| Good antivirus performance | |
| Includes optimization features | |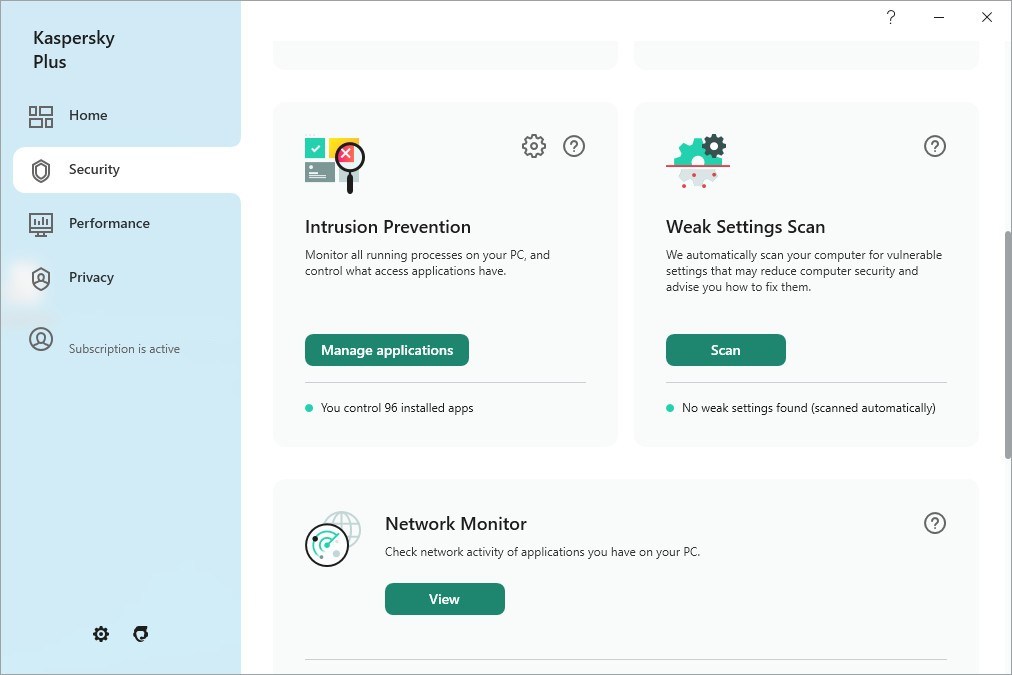 Kaspersky has recently overhauled its Mac security product. Kaspersky Internet Security for Mac, which has consistently performed in independent tests, is no longer available. Today, you get a choice of three protection plans: Kaspersky Standard, Kaspersky Plus, and Kaspersky Premium. All three of these plans are multi-platform, covering you on macOS, Windows, Android, iOS—although how many of those you can include depends on which license you choose.
All of the plans include a large number of features. The Standard plan includes:
Real-time protection
Online payment protection
Device space cleanup
Anti-phishing
Anti-ransomware
Performance optimization.
With Plus, you get everything in Standard plus an unlimited VPN, hard drive health monitoring, a password manager, and more. Premium adds identity protection, 24/7 remote IT support, data leak checking, and more, plus Kaspersky Safe Kids free for a year.
Whichever plan you choose, you're getting a solid, well-designed security suite from an experienced company. And although price isn't the most important quality when it comes to your cybersecurity, it's worth pointing out all Kaspersky's introductory prices are incredibly cheap, starting from just $16.99 a year. Of course, that price goes up after the first year. Standard for three devices is $56.99 a year, and all the plans go up from there. Kaspersky does offer a 30-day free trial, but you have to hand over your credit card details anyway, which isn't ideal.
Unfortunately, there's a pretty big question mark hanging over Kaspersky. Although no one has specifically accused the company of wrongdoing or found anything wrong with the app itself, some security experts have warned organizations to be wary. For example, the UK's National Cyber Security Centre wrote to government departments suggesting the drop solutions from the Russian security company.
Intego's Antivirus
| | |
| --- | --- |
| Pros | Cons |
| Very Mac focused | Hasn't had an AV-TEST score for a while |
| Great design and usability | Tools all come as separate apps |
| Has historically done well in independent tests | |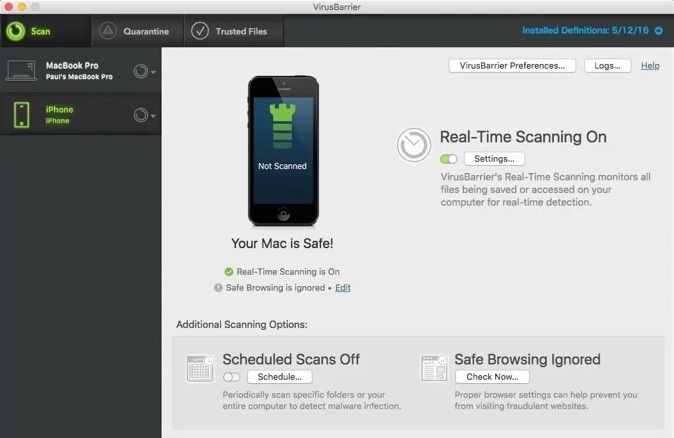 Unlike most of the antivirus tools here, Intego started out on Macs, before later adding a Windows version. That means, like MacKeeper, it has a long history of working with Apple technology. Does that mean it's actually any good?
In terms of antivirus protection, Intego's last AV-TEST assessment saw it achieve top marks. That was in June 2021, so it was a few years ago, but there's no reason to think the company isn't continuing to perform in this area.
Intego's solution comes in three flavors—Mac Internet Security X9, Mac Premium Bundle X9, and Mac Premium Bundle + VPN. The Premium bundle includes all the basic Internet Security features, such as real-time protection, a firewall, and anti-phishing. On top of that, it adds:
Mac Washing Machine, a duplicate file remover
ContentBarrier parental controls
Personal Backup for safeguarding important files.
And the VPN version is the same as the Premium Bundle, but it adds a VPN client.
Instead of a single app, Intego comes as separate apps. This isn't a huge inconvenience, but it's not as intuitive as having a single, unified interface for all the tools. The good news is all these apps are easy to use and beautifully designed—not unusual for a Mac-first app.
Cost-wise, Intego starts from $49.99 a year for Internet Security for one Mac, while the Premium Bundle starts at $84.99. The cheapest you can get the VPN is $134.99.
You can also choose to cover three or five Macs instead, as well as two-year terms, saving on per-device costs. It's not clear whether this covers Windows devices too. The company doesn't offer Android or iOS versions either, which other security tools include as standard.
If you're mainly looking to protect Macs and don't mind paying extra for quality, Intego is a good option. But there are alternatives that do similar things for less.
TotalAV Antivirus
| | |
| --- | --- |
| Pros | Cons |
| Good test scores for AV-TEST | Gets quite expensive after the first year |
| Optimization and cleaning tools | Claimed ransomware protection is limited |
| Simple, straightforward design | |
| Handy duplicate file finder | |
TotalAV is another trusted name in the cybersecurity industry, often achieving high scores in independent tests. But it's not just an antivirus app—the most basic version, Antivirus Pro, includes:
Anti-phishing
A browser extension for Safari and Chrome
Junk clearing
Disk space visualization
Duplicate file finder.
Upgrading to TotalAV Internet Security adds a VPN client. Up from there is Total Security, which adds ad blocking and a password manager.
TotalAV, like most security suites, has a straightforward, easy-to-use design. On the left, you'll find all the tools, listed and categorized, and you simply choose the one you want. As well as on-demand and scheduled scans, you get real-time protection too.
Although TotalAV claims to have ransomware protection, this appears to be part of the antivirus feature. In other words, it's not like Bitdefender's ransomware protection, for example, which lets you prevent changes to chosen files and folders. That's something to bear in mind if you need that kind of feature.
Overall, TotalAV offers good protection, with some useful tune-up, privacy, and cleanup tools. It falls down a bit on pricing, though. Antivirus Pro costs $29 for the first year, but then shoots up to $119 in subsequent years. That covers three devices, including iOS and Android, but it's still high. To add the VPN, you're looking at $145 from the second year for five devices. Ad blocking and password management is $179 a year after the first year for six devices.
For the first year, TotalAV is a bargain, but beyond that, other solutions offer similar features and much better value.
How to choose the best security software for Mac
Here we've looked at just some of the most popular antivirus tools for Mac, but there are many more. With all of them, these are the kinds of qualities you need to consider:
Real-time protection: This means your Mac is being constantly monitored. So if any malware ever gets on your machine, you'll know about it before any damage can occur.
Scheduled scans: Scheduled scans let you choose predefined times for quick or deep virus scans.
Ransomware protection: This lets you select files and folders to protect, preventing any unauthorized changes to them.
VPN: Privacy is a big part of security, and a VPN client is a great way to protect yourself. As well as encrypting your web traffic, it'll hide your IP address and location too.
Browser extensions: These add-ons usually block annoying ads and trackers, while others also prevent malware from taking hold.
Usability: A clear, intuitive interface makes it easier to achieve results. Thankfully, most apps offer a good user experience, but some are definitely better than others.
Value for money: Great security is worth paying for, but that doesn't mean you shouldn't be looking for good value. Think about what features you need, and try to get as many as you can without overspending.
Compatibility: Make sure your Mac is supported. Has the app's developer created a version that works with Apple M1 Macs? Are more recent operating systems like Big Sur and Monterey covered?
Security is more than just antivirus
Although many people ask do Macs need antivirus, the answer is a resounding yes. Thankfully, practically all security apps these days offer solid core antivirus protection, and real-time protection has largely become standard. MacKeeper's antivirus for Mac, for example, offers real-time protection and is independently tested.
But there's more to security than antivirus, and what differentiates security solutions is often the extras—things like optimization and cleaning tools. These factors need to be taken into account when choosing a security app.
And, of course, you should always follow basic security tips like avoiding dodgy links and email attachment. Combined with MacKeeper's Antivirus, you can avoid ever having to deal with malware problems.