How to Check Your Mac for Malware
Times have changed, and so has malware. Gone are the days when its sole focus was geared towards PCs. Now, Mac is also being targeted by all kinds of malware.
But don't start worrying quite yet. Our guide will help you safeguard your device from malware. With any luck, your Mac will avoid any infections and run smoothly indefinitely.
Table of Contents:
What is malware?
Malware is short for malicious software, which is a broad term for viruses, worms, adware, ransomware, and other computer programs designed to inflict harm.
While some malware simply annoys you with pop-up ads, others can seriously slow down your Mac. There's also malware that can steal your personal and financial information. Put simply, all malware is different, and you don't want any of it on your Mac.
Signs of a malware infection
How do you know if your Mac is infected with a virus? Unfortunately, the presence of malware is not always immediately clear. Some viruses that are particularly pernicious can take up residence on your Mac for months without you even noticing them. But in most cases, it's not too difficult to tell if your Mac has a malware problem.
Look out for these signs of a malware infection:
Nothing ruins a potentially productive day like a slow Mac. Is the sudden sluggishness of your Mac caused by a hardware issue? Perhaps. But it's more likely to be a symptom of malware infection, especially if your Mac is new. So postpone a Genius Bar appointment just yet.
If you are suddenly bombarded with ads and intrusive pop-ups, adware is to blame. Even though it is not the most malicious form of malware, it is arguably the most annoying. Here's when an adware cleaner for Mac comes into play.
When your Mac is infected with a virus, your browser homepage may change without your consent. While reversing this change is not difficult, it must be done by hand, which is a needless inconvenience.
Unwanted redirects to suspicious websites are yet another sign of malware infection. Not only does it spoil your browsing experience, but it also tracks your browsing habits.
An alert message informing you about a Mac malware detection is a scam attempt. Usually, the alert message prompts you to call a phone number or click the OK button. Don't do it — avoid becoming a cybercrime victim.
Ransomware locks your data to extort money from you. You may receive a message informing you about a fine you need to pay. Cybercriminals can also hit you with an outright ransom demand.
So now you know the common signs of malware infection. Although prevention is always better than the cure, if you do spot one or more of them, it's time to start malware removal.
How to set up and run an automatic malware scan on Mac
Malware cannot sneak up on you if you scan for it regularly. Think of it as a routine essential to the normal functioning of your Mac. Rather than dealing with malware when it's too late, you should proactively seek out any unpleasant surprises hiding on your device.
Of course, few people love their Mac enough to run daily malware checks manually. What you need is a simple way to run a security check on Mac automatically. Ideally, via an unobtrusive app that lives on your device and takes care of it for you. I am referring, of course, to MacKeeper, which is designed to do just that.
MacKeeper removes any malware plaguing your Mac and safeguards it against online threats in real-time. The app has been certified by an IT security research organization based in Germany, the AV-Test Institute. After passing rigorous tests, MacKeeper earned top scores in protection (99.7% malware detection), performance, and usability.
Here's how to protect your Mac with MacKeeper:
1. Download, install and launch MacKeeper
2. Select Antivirus from the left sidebar and click Launch Antivirus
3. Wait until Antivirus is enabled and click Next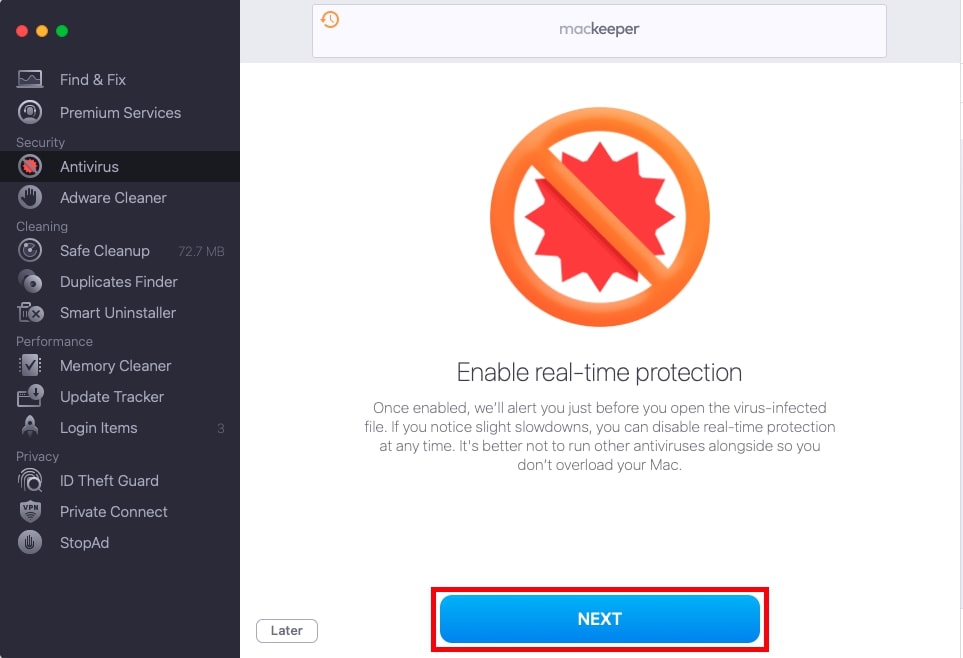 4. In the next window, click Open Preferences
5. Select Security & Privacy settings and click the lock icon
6. Enter your computer password and click Allow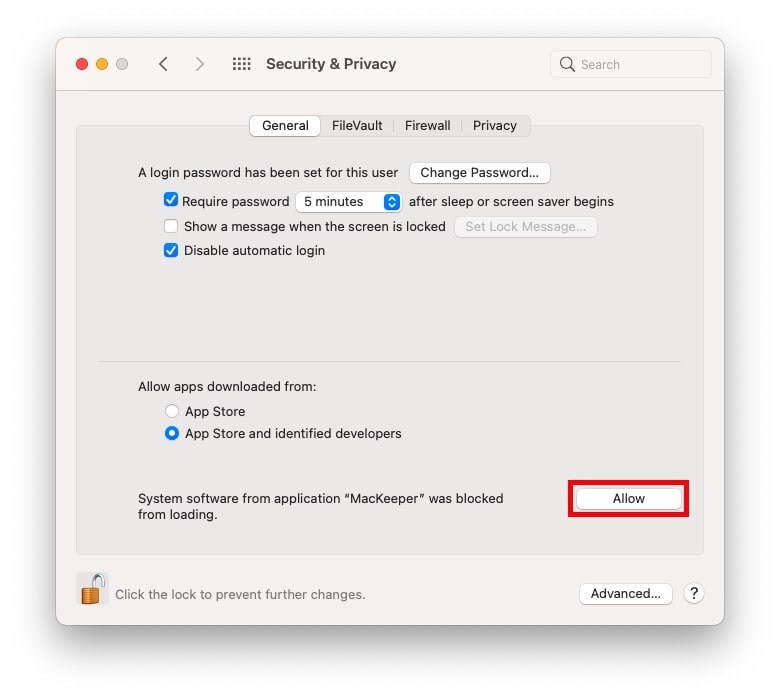 And that's it. Now MacKeeper can protect your Mac in real-time.
You can use the app to speed up your Mac in more ways than one (or in a number of ways — it not only finds malware, it can also be used to clean your memory You can use the app, not only to find malware but also to clean memory. Go and try MacKeeper for yourself and return to the boundless joy of a seamless Mac experience.
How to remove malware manually
If your malware problem is not particularly challenging, you can easily deal with it manually. While we grant it isn't the fastest way to remove malware, it might still work.
Remove suspicious apps
Not only do apps gobble up storage space, but some of them can also harbor malware. Go through all your apps carefully and remove the ones you don't remember installing.
Remove suspicious extensions
Extensions improve your browsing experience, but they can also ruin it by slowing down your Mac or letting a malware infection in.
Clear the Downloads folder
Everything you download onto your Mac goes into the Downloads folder. However, along with useful files, it can also contain viruses. Therefore, consider clearing the Downloads folder out regularly.
Important: Some deleted files cannot be restored. Therefore, you should be absolutely certain that what you are about to delete is a virus rather than an important file. If you are not a tech-savvy Mac user, leave the task of malware removal to the experts.
Tips to protect your Mac from malware
Apple goes to great lengths to guard your Mac against malware. Mac's built-in antivirus XProtect runs continuously in the background to seek out and quarantine harmful software. Gatekeeper is a security technology designed to ensure that only safe apps are allowed to run on your device. There's also App Sandbox mode which allows you to isolate some apps and contain any damage they may cause.
Indeed, Apple is vigilant about the security of your Mac. But it doesn't mean you should let your guard down.
Having Mac virus protection helps a lot. You should also follow these simple tips to keep your Mac safe.
Watch out for suspicious emails
Never respond to emails asking you to provide personal information or install an app. And never ever open emails with attachments from unknown senders. But most importantly, always follow your gut: if an email seems suspicious, it probably is — stay away from it.
Keep your Mac up-to-date
Make sure your Mac always runs the latest software. When notified about software updates, install them immediately. By following this simple rule, you'll get rid of any security flaws regularly addressed by Apple.
Install apps from reliable sources
With every app from an unreliable source comes a risk of malware infection. Therefore, ensure that only trustworthy software runs on your Mac. The easiest way to do it is to download all apps from the App Store or the websites of reliable software developers.
Be wary of browser pop-ups
Look closely at any pop-up prompting you to do something. Does it have a poor quality logo, spelling errors, or an URL? Don't click on it if it looks even slightly suspicious.
Stay away from free downloads
Although not all free software is unsafe, some free apps do have the potential to harm your Mac. Before downloading any free software, make sure you trust its developers.
Takeaway message
Once your Mac is infected, malware can stay there forever, ruining your user experience and compromising your privacy. Unless, of course, you follow this guide on malware removal. And even then, success is far from guaranteed.
Because of the widespread threat of malware, it's essential to adopt safe browsing habits. It also never hurts to have a solid antivirus installed on your Mac.
With a pinch of precaution and a little bit of caution, your Mac will stay virus-free.
Read more: