Updated: September 29, 2020 | 15 min read
What Is the Best Mac for Kids in 2020?
Before we start

Mac protection is the first thing you should think about before buying a Mac for your kid. Keeping devices secure is hard enough for adults, so it's very important to ensure your kid's Mac is safe too.

Get MacKeeper and let your Mac protection be one less thing to worry about. The app will effectively protect your kid's Mac from malware and viruses as well as ensure its smooth operation.
Time keeps moving forward quickly meaning each future generation will be increasingly computer literate. Indeed, today's kids are familiar with computers from a very early age. Watching cartoons, educational videos, playing games, and creating content are all popular activities among children.
The older they get, the more questions about which personal gadget to buy them arises. Let's discuss the main problems and criteria when choosing a Mac for a child.
Here's a quick summary of the best Apple computers for children:
Kids' laptops: how early is too early?
Digital devices are an essential part of our daily lives. Computers, tablets, and projectors are now used regularly in schools and kindergartens. However, the concept of distance learning is becoming more popular — for instance, your kid can learn foreign languages with the help of a native speaker, and continue their education while traveling using a computer.
There is learning software and games for even the youngest users starting from six months old. But what is the optimal age for a child to be introduced to technology?
It is down to each individual and depends on whether the child's cognitive system is prepared to handle a device. On average, a two- or a three-year-old kid is ready to use gadgets. Further, six-year-old kids often want to try blogging, browse social media, and explore YouTube content. All you need to do is to explain the basics of digital literacy to your child. Then you can simply set up parental controls on the laptop or tablet to assure their safety and away they go.
Why buy your children a Mac
Parents all over the world love MacBooks for their extended parental control functions. They help to protect children from online dangers, or when the youngsters download third-party apps and games. You can set up a time restriction for the computer's activity, control browser history through your own device, and limit certain apps.
Macs can also help unlock your child's creativity. For example, a 2020 MacBook Air will work well with amateur photo and sound editing, which a younger child may want to try. However, if they want to edit videos, create 3D models, or learn programming, you should look into getting a MacBook Pro.
What you should look out for when choosing a Mac for kids
When you're choosing a MacBook for your kids, note the following things:
The laptop's components. There should be enough power and memory for your child to be able to do homework and play games.
The battery life. If you're buying a second-hand MacBook, make sure its battery has been recently replaced or the number of cycles is still at a reasonable capacity.
Safety and parental control options. There should be a recent macOS version allowing you to keep an eye on your kid's screen time and online security.
If your child isn't going to edit 4K videos in Adobe and store terabytes of content, it's best to go for a simpler model rather than an expensive MacBook Pro.
Remember children tend to be careless with technology, so get a protective case for the laptop to ensure it survives any occasional falls.
Storage
The amount of memory your computer requires depends on the types of tasks your child will use it for. For example, creating and editing images or playing games will require a lot of free storage space. However, if the Mac is only used for text editing and watching YouTube videos, the most basic hard drive will do.
Display
The most recent MacBook models are equipped with bright Retina displays. Improved color accuracy and high resolution will be pleasant to look at and won't harm your child's eyes. Moreover, MacBooks automatically change their brightness depending on the lighting in the room, minimizing the risk of eye damage.
Weight and size
A big and bulky laptop will not suit your child. If you're purchasing it for them to study, a light and compact device will be easy to carry to school to demonstrate their work and use in class.
Battery life
You should go for models with the longest battery life. This will save you from constantly having to charge the computer and make it possible to use when traveling and during lessons.
Price
Knowing that kids can be quite easily distracted, remember an expensive laptop can be lost or broken by accident. So try to choose cheaper and refurbished models.
MacBook Air for Kids
MacBook Air is the thinnest and lightest laptop by Apple and has received a range of technological improvements in 2020. Apple increased the power and capacity of the device while still keeping it the cheapest model of the entire range. The old and problematic Butterfly Switch keyboard was replaced with the new and far more agreeable Magic Keyboard.
Furthermore, the new MacBook Air tends to be kinder to the environment, being made from 100% recycled aluminium.
MacBook Air (2020) has the following specs:
Battery life: Up to 12 hours
Weight: 1.290 kg
Screen: Retina display with the resolution of 2560x1600 px
RAM: 8GB, configurable to 16GB
Storage: 256GB SSD, configurable to 512GB
Even though the MacBook Air isn't designed for gaming with advanced graphics, some light games from Steam will run smoothly.
Mac mini for kids
Initially introduced by Apple in 2005, the Mac mini is a small computer which has been continuously improved since. The device is square-shaped and very compact: 16.5 cm wide and 5.1 cm tall, weighing just 1.31 kg. The modest dimensions hold vast functionality.
You can connect a Mac mini to an external monitor, keyboard, and mouse. It is possible to connect several monitors if you like. Optionally, you can purchase a remote control panel so you can play music, video, and slideshows. An HDMI port allows you to connect the computer to most TVs with ease.
Mac mini (2018) has the following specs:
CPU: 3.6GHz quad-core Intel Core i3, configurable to a 3.2GHz 6-core Intel Core i7 with Turbo Boost up to 4.6GHz
GPU: Intel UHD Graphics 640
Memory: 8GB, configurable to 64GB
Storage: 256GB SSD, configurable to 2TB
Ports: four Thunderbolt 3s, two USB 3s, an HDMI 2.0 and a Gigabit Ethernet port, plus a headphone jack
The computer has a Wi-Fi module compatible with a standard IEEE 802.11a/b/g/n.
Used or Refurbished MacBook Air for kids
If you don't have any specific thoughts about the type of Mac you'd like for your child, you might be looking for a budget option. In this case, we recommend you browse through refurbished or second-hand models of the MacBook Air.
This is a perfect solution for parents who don't want too much fuss: most quality refurbished options will do for the basic needs of your kid such as schoolwork and YouTube sessions. You won't spend a lot of money and will still get an excellent Apple product with all of its advantages.
The specs may vary depending on the release year and modifications applied to the specific computer.
Safe MacBook for kids
Once you've bought an Apple computer for your kids, you must make it safe and comfortable to use.
First things first — create a user account for the child and set up parental controls. When you launch the computer for the first time, an admin account is created too. You will be able to access it and impose restrictions to the child's account through the System Preferences.
To create a user account for your kid:
In the Apple menu in the top left corner of the screen, click on System Preferences → Parental Controls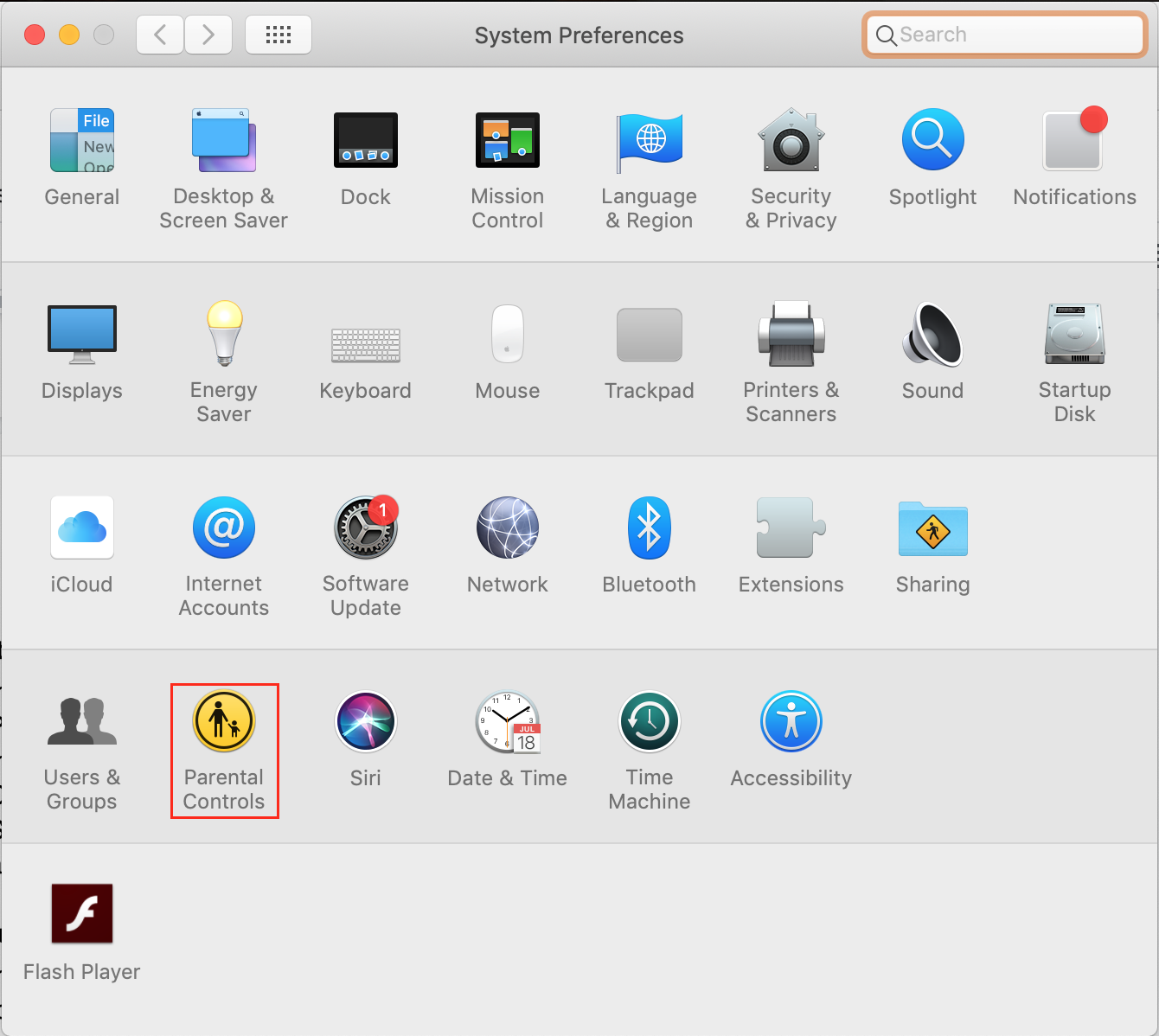 1. In the menu, select Create a new user account with parental controls
2. Click Continue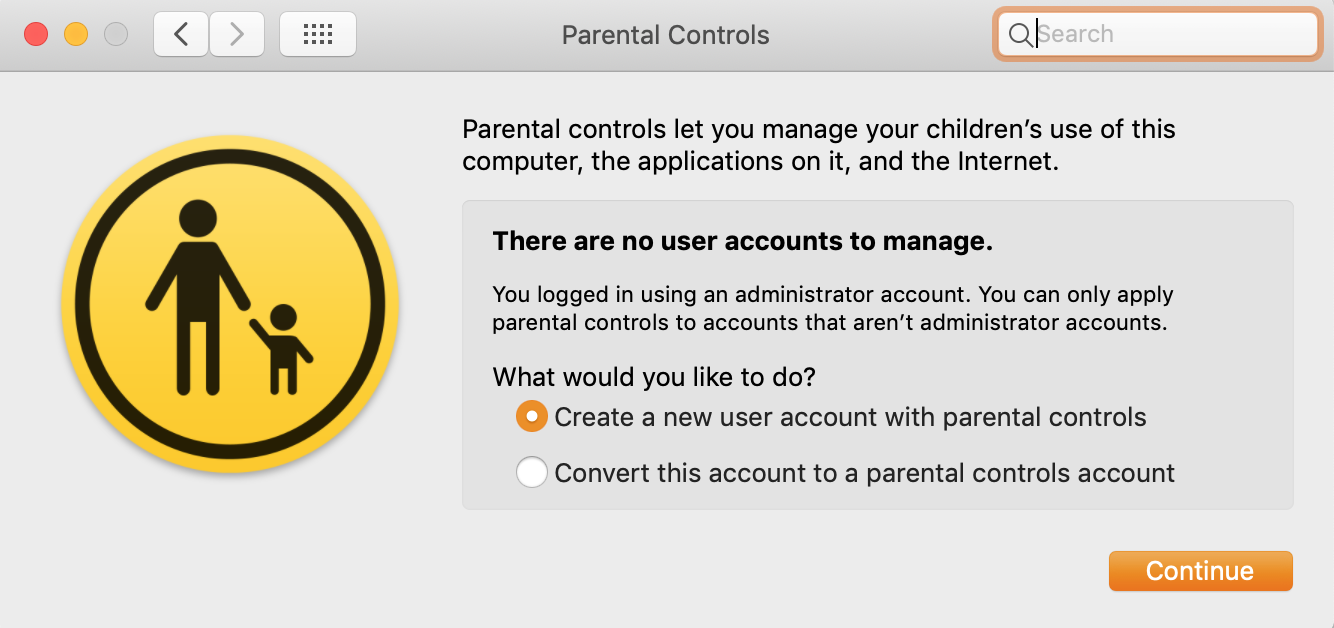 3. Set up the parameters for the new account. Put in the child's age, create a username and choose a safe password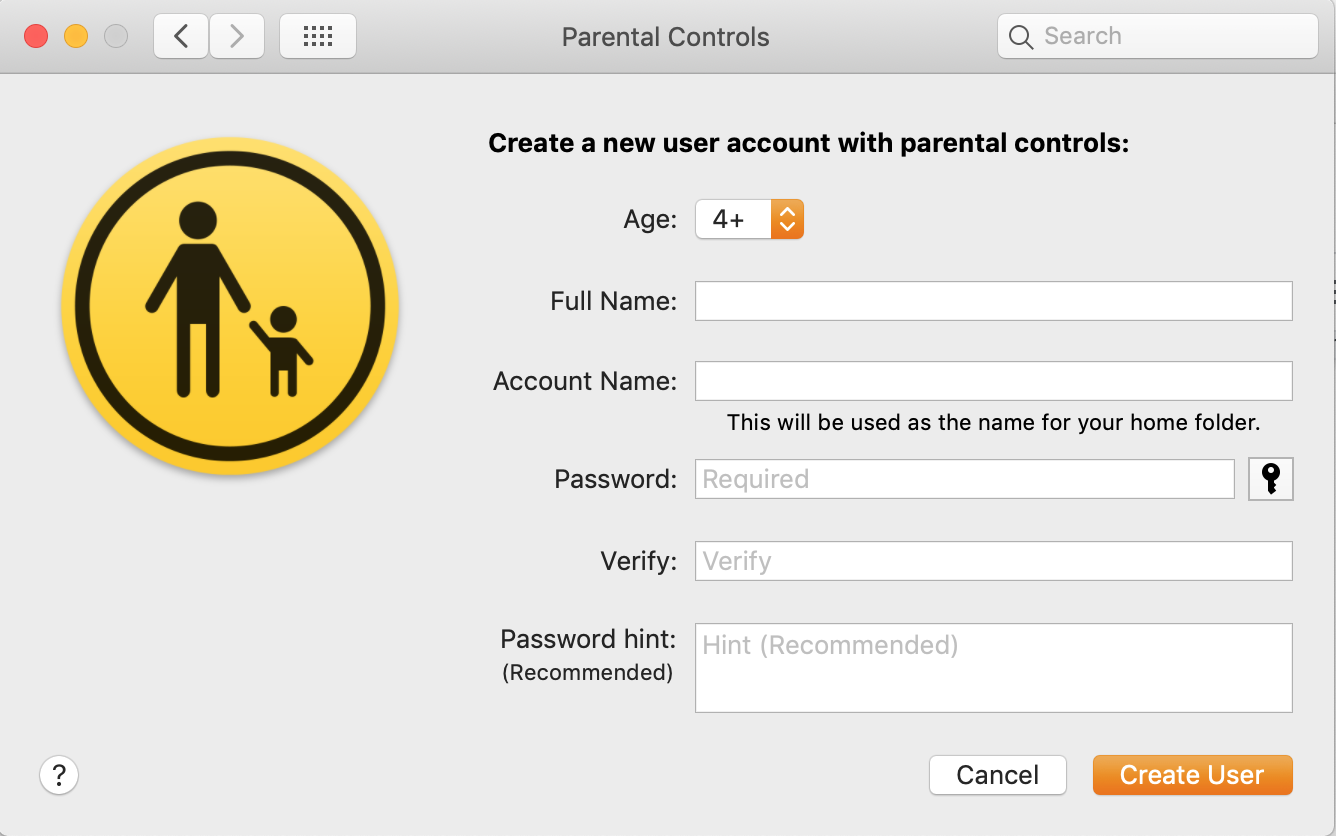 Now you need to change the parental control settings:
1. In the Apps tab, select whether the use of camera is available, allow or restrict access to the Game Center, limit the email addresses to which mail can be sent, and choose any applications you don't want accessible on the Mac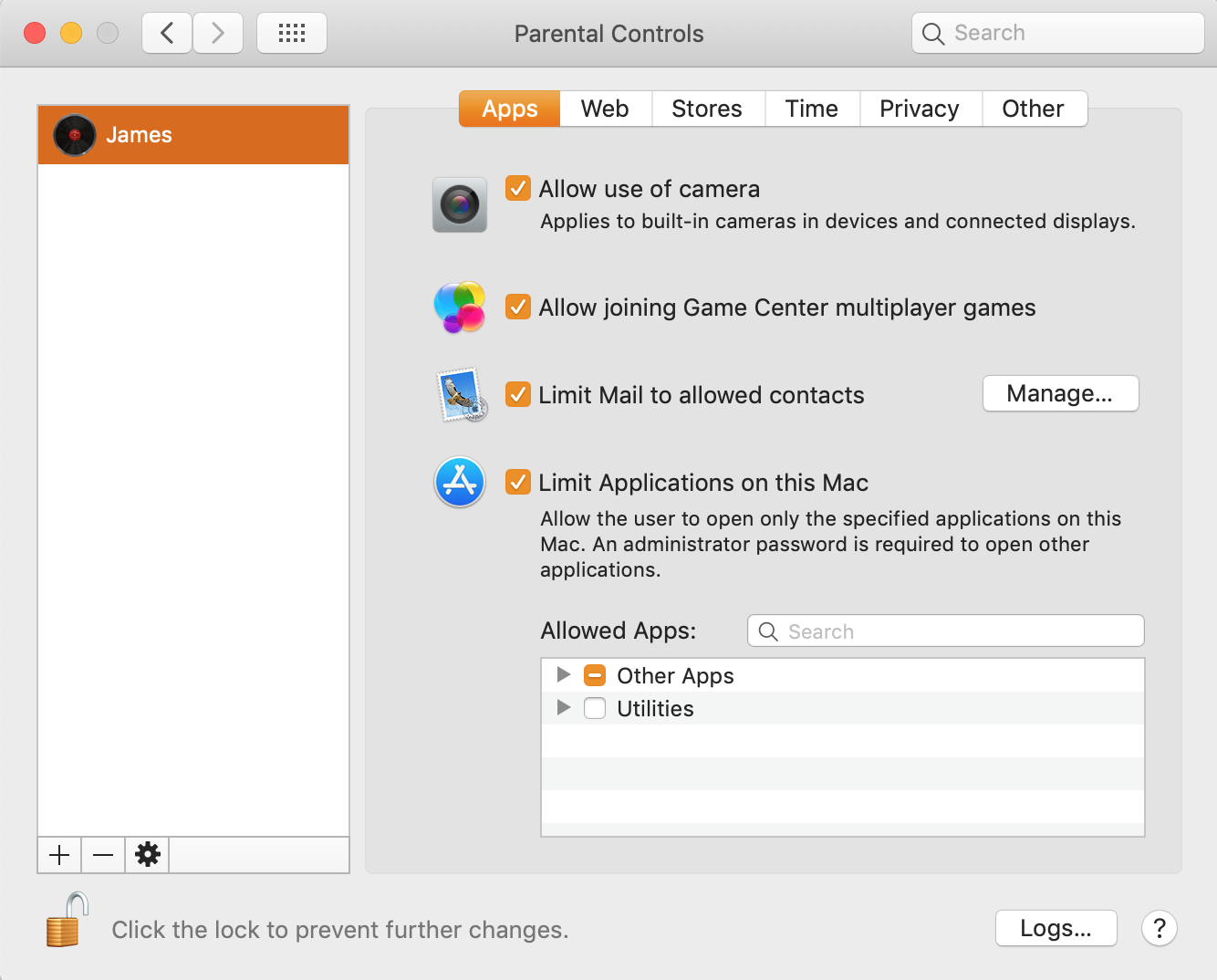 2. You can restrict access to any website in the Web tab. You have several ways of limiting content by only specifying certain safe websites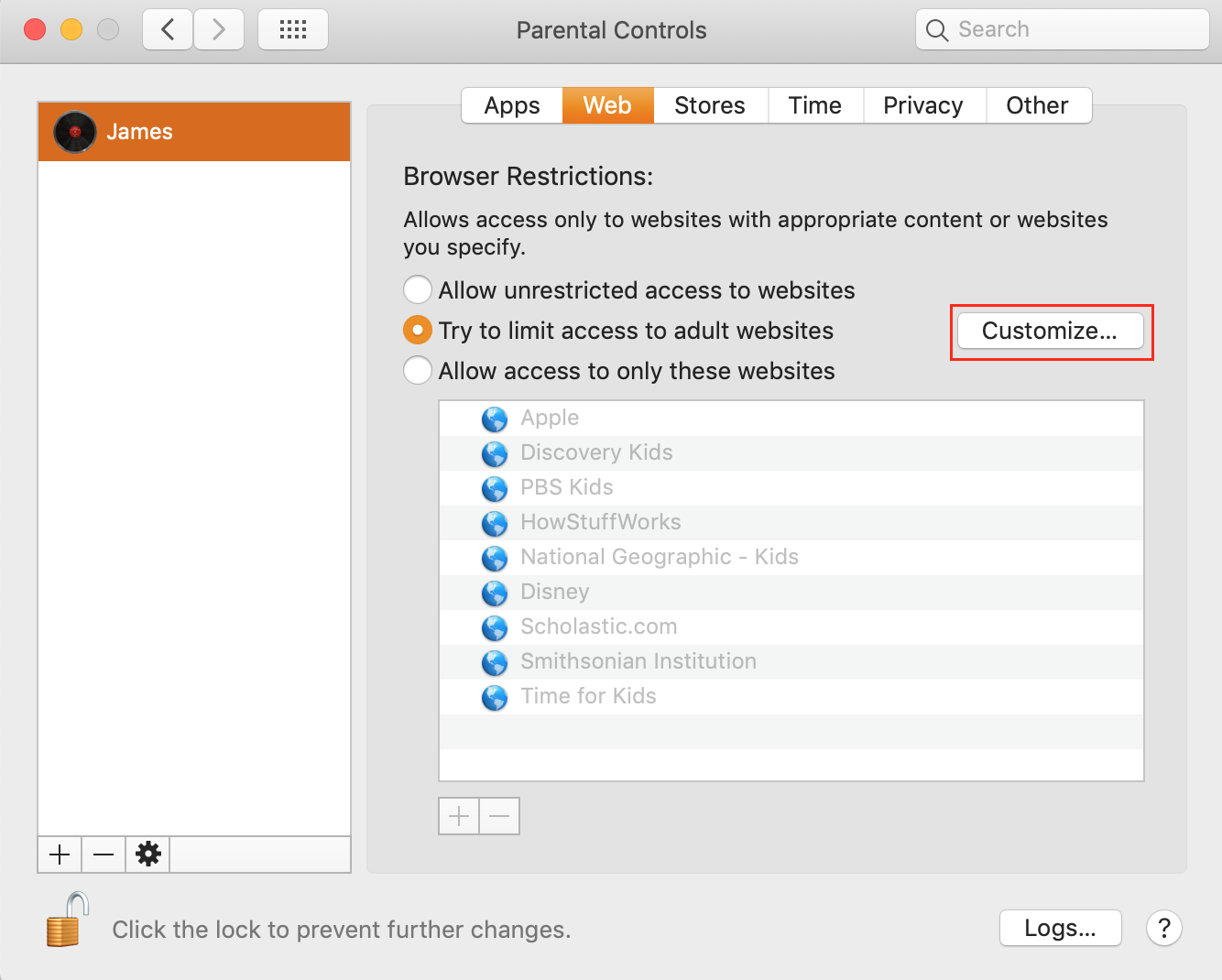 3. In the Stores section, you can limit access to music, movies, TV shows, books, and applications in the iTunes Store
4. You can limit the amount of time your child can use the computer in the Time tab. The wide variety of settings enables you to set up restrictions for different days, hours, and screen time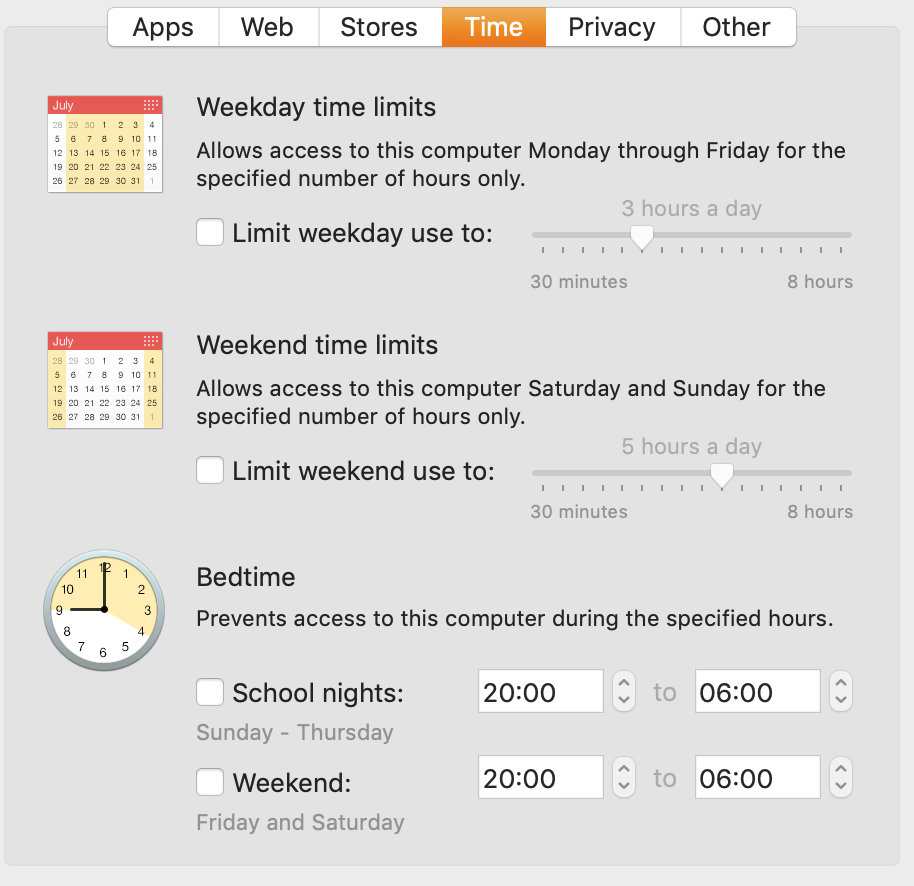 5. In the Privacy tab, you can select any apps you don't want to access the private information of your kid, such as photos, locations, and contacts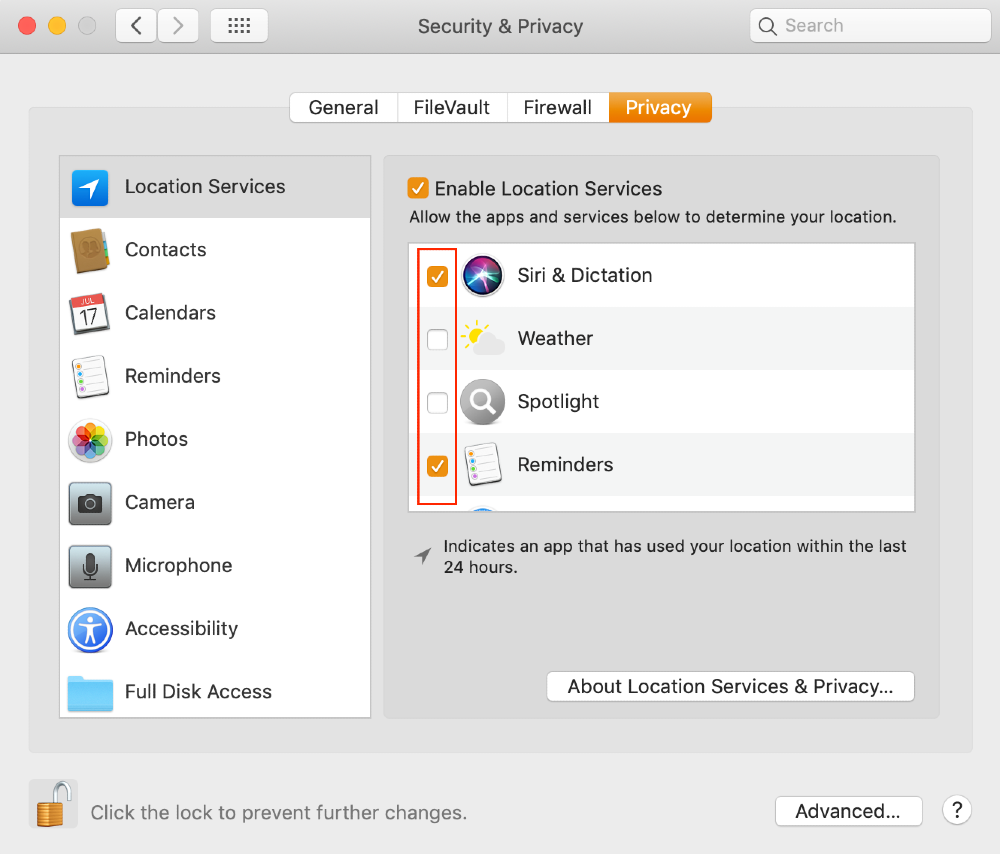 6. In the Other tab, you can block access to Siri, ban curse words, and browse additional control options
7. By clicking on the Logs menu in the bottom right corner of the window, you can view the history of actions of your child, all the websites they have visited and the applications they've used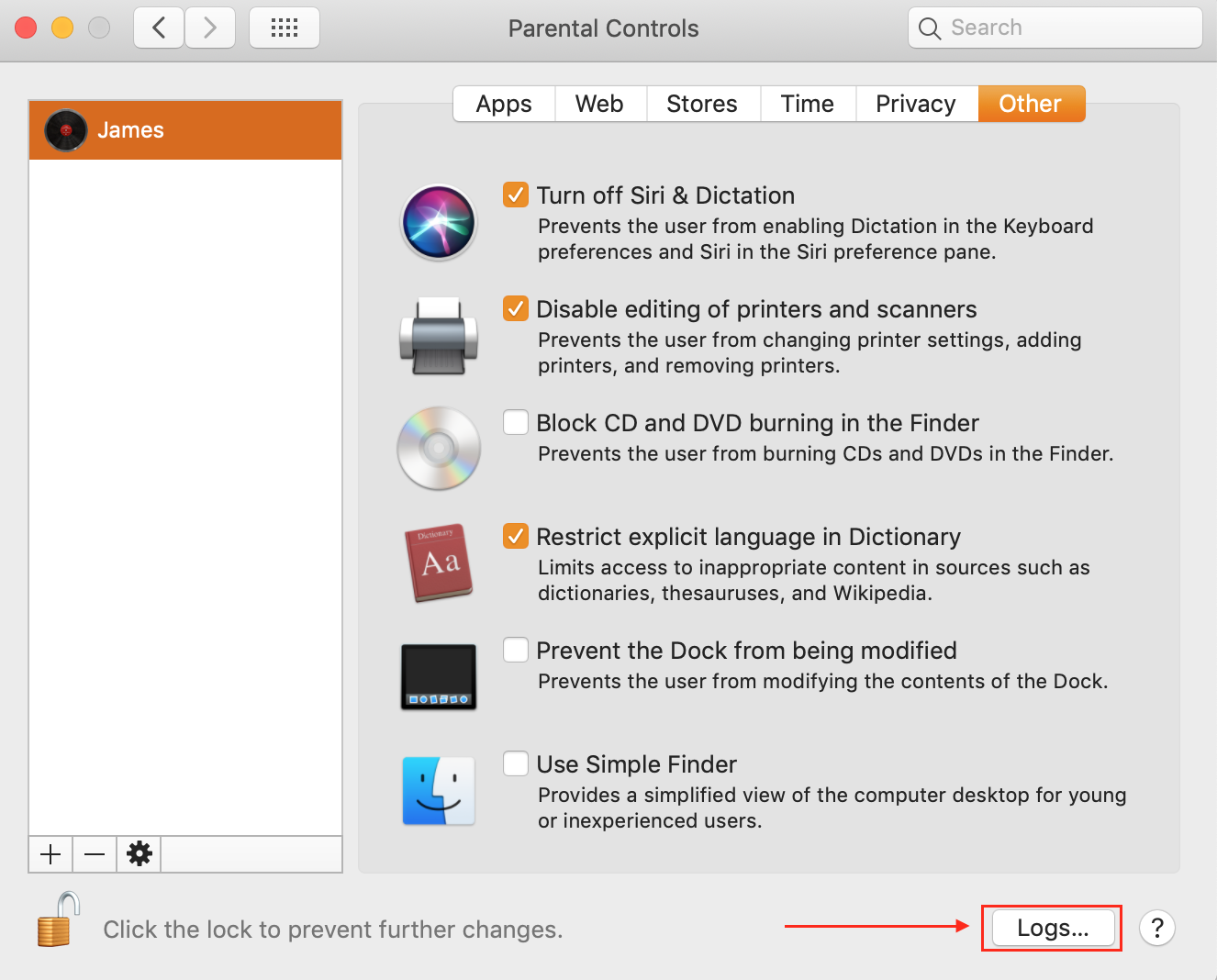 If the laptop is used by multiple children, you can set up the controls separately for each child or simply copy the settings from one user account onto another. You can do this by clicking on the settings button in the left side pane.
For enhanced safety of your child's Mac, consider using MacKeeper. Its security tools will keep the computer protected from malware and adware. Moreover, MacKeeper includes a set of cleaning and performance tools to help optimize your Mac's storage and memory. This is especially important if you chose an older second-hand computer slowed down by age. Finally, MacKeeper's StopAd will block ads and prevent your child from clicking on shady banners.
You can run MacKeeper together with your child to teach them to take care of their device as well as their own privacy and security online.
The final verdict: which kids' computer is the best?
Apple's MacBooks are a great choice for children. They will become indispensable for both education and fun due to their reliability, durability, low weight, and high performance. Meanwhile, you can sleep soundly knowing your child's online safety is secure thanks to the abundance of parental control options.
FAQ
At what age should a child get a computer?
Nowadays, kids are surrounded by technology from the early days of their life. However, they are not capable of understanding and differentiating between images on the screen until they're about six months old. After that, they can distinguish colors and shapes, but it's still best to limit the amount of time they spend in front of the screen.
At the age of five to seven years, children become independent enough to use computers for learning and to play games. This is the best time to teach them digital literacy and think about buying them a personal computer.
What is the best first computer for a child?
When choosing a child's first computer, maintain a balance between price and quality. It has to be a good, but inexpensive device, as the child is quite likely to accidentally break it. Ideally, it would also be light and small enough for them to be able to carry it.
Out of the Mac devices currently on the market, a Mac mini is perhaps the best option. It comes at $799 for the base model — all you need is a keyboard, mouse, and monitor you're likely to already have at your home. If you want to save even more money, you can look at refurbished MacBooks. Happy shopping!
Read more: