Unless your children are particularly advanced, they aren't going to need the most powerful Macs on the market. They'll need something that's easy to operate, with enough processing power to handle everyday tasks like streaming movies and maybe playing some games. Really, any Mac made within the last five years is going to be fine.
A refurbished or second-hand Mac is a great idea for kids, but if you're looking for a new system, which one is right for them? We've taken a look at Apple's current line-up to find the best Mac for kids.

Before we start


Anyone can end with malware on their Mac, but it's even more likely with kids. They're more likely to click on the wrong thing or open the wrong file and get infected with malware. With MacKeeper, running a virus scan is quick and easy.

Click Antivirus in the left-hand menu in MacKeeper

Click Start scan

Wait for the scan to complete, and carry out any recommended actions.

MacKeeper also offers real-time antivirus protection, so your kids will always be kept safe, even without manual scans. Try MacKeeper out and see for yourself. You get one free fix, so you'll be able to properly test it.
The best Macs for kids in 2021:
What to look for when choosing a Mac for kids
Kids have a tendency to break things, so it doesn't make sense to spend too much on a Mac. Laptops are handy, but the more they can move their computer, the more likely it is they'll drop it. So depending on your children's age and their maturity, you might be better off with a desktop.
Remember children tend to be careless with technology, so get a protective case for the laptop to ensure it survives any occasional falls.
You don't need to worry too much about processing speed or RAM. Any Mac you buy today will be able to handle video, music, web browsing, and light gaming.
If your kids want to play more demanding games, then a discrete graphics card is a good idea. But to be honest, we'd save the money and put it towards a games console instead.
The display is important. Even young kids will appreciate a bright, sharp screen. But there's every chance they'll smash it, so a Mac mini might be a better option.
Size and weight will be a factor if you're looking at MacBooks. And battery life will be another thing to consider if they're likely to be using it away from a power source for extended periods.
MacBook Air (M1, 2020) — best MacBook for kids
The latest MacBook Air features Apple's own M1 processor. Fast and efficient, this chip includes 8GB of built-in RAM and a seven-core graphic processor.
Coming in a range of colors, the MacBook Air has a 13-inch 2560x1600 display, and you can extend it with one external screen up to 6K resolution. TV shows and movies look fantastic, thanks to the 400 nits brightness and True Tone technology.
As a smaller Mac, the MacBook Air is ideal for kids. Its keyboard is a great size for little hands. It's less than an inch thick. And it weighs just 2.8 pounds (1.29kg) — light enough not to be difficult to move but not so light it can be easily knocked down.
The 256GB SSD is fast, but you might want to upgrade to a bigger drive. If you do, though, bear in mind the more expensive MacBook Air starts off at 512GB and has an eight-core GPU and 16GB of RAM. It might make sense to buy that instead.
13-inch MacBook Air (2020) Specs
CPU
Apple M1 Chip
GPU
Seven-core integrated GPU or eight-core integrated GPU
RAM
8GB unified memory
Configurable to: 16GB
Storage
Basic: 256GB
Configurable to: 2TB
Display
13.3-inch IPS display with 2560x1600 resolution
Battery life
Up to 15 hours using wireless web. Up to 18 hours watching movies.
Ports
Two Thunderbolt 3
Weight
2.8lbs (1.29kg)
Mac mini (M1, 2020) — best overall Mac for kids
The new M1 Mac Mini is great for kids for a few reasons. Firstly, it's the most affordable Mac you can buy brand new, starting from $699. But like all M1 Macs, it's powerful and fast enough for the majority of common tasks.
And because it is essentially a small metal block with no keyboard or display, it's simply much harder to break than most Macs. You simply plug in your peripherals, one or two displays, and you're good to go.
As with the MacBook Air, you might want to upgrade the standard 256GB SSD. But most kids don't do much more than stream TV shows and play simple online games, so 256GB is probably going to be plenty.
The 8GB of RAM is more than enough for kids, so the 16GB upgrade is unlikely to be worth paying for.
The same applies to the Intel version of the Mac mini. It comes with either a six-core i5 or six-core i7, and it starts from $1,099 — too powerful and too expensive for kids unless you want to run Windows in Boot Camp.
Mac mini (2020, M1 version) specs
CPU
Apple M1 Chip
GPU
Eight-core integrated GPU
RAM
8GB unified memory
Configurable to: 16GB
SSD
Basic: 256GB
Configurable to: 2TB
Ports
Two Thunderbolt 3
Two USB-A
Gigabit Ethernet
HDMI 2.0
24-inch iMac (2021) — best desktop Mac for kids
The new 24-inch iMac stands out for a few reasons — not least because of its range of brightly colored designs. Reminiscent of the old plastic iMacs, these colors will look great in any kid's room.
Of course, that kid has to be pretty special if you're willing to spend at least $1,299 on them for an M1 iMac. At this kind of price, the iMac is probably best suited to older, more responsible kids.
Like the other M1 Macs, the starting model has a 256GB SSD and 8GB of unified memory. You can pay more to get up to 2TB of storage and 16GB of RAM.
Whichever version you opt for, you get a glorious 24-inch 4.5K Retina display, with 500 nits brightness. Everything your kids do on this screen will look great. And your children can expand their desktop to one external display with a resolution of up to 6K at 60Hz.
The cheaper model comes with just USB-C Thunderbolt ports, while the more expensive version has four. If that's a problem, it's probably a better idea to buy a USB hub than spend hundreds of dollars on the high-spec iMac.
24-inch iMac (2021) specs
CPU
Apple M1 Chip
GPU
Seven-core integrated GPU or eight-core integrated GPU
RAM
8GB unified memory
Configurable to: 16GB
SSD
Basic: 256GB
Configurable to: 2TB
Display
24-inch IPS display with 4480x2520 resolution
Ports
Two Thunderbolt 3
3.5mm headphone jack
Used or refurbished Macs for kids
Any new Mac is potentially going to be overkill for kids, particularly younger ones. They're all-powerful machines and come with prices to match. So if you're looking for a good Mac for your children, be sure to check out refurbished or second-hand models of the Macs as well.
Don't go too old, though. You don't want a Mac that can't download the newest apps or which isn't being supported by Apple anymore. If Apple doesn't release security patches for a particular model anymore, don't buy it.
Other than that, have fun choosing a Mac for your kids. They're great for everything from education to Netflix. They're also well built and have excellent resell value if you decide to sell them on and upgrade later. Just remember you'll need to use parental controls to keep your kids safe.
Protect your kids while they're online
If your kids are going to spend any time online, you should make sure their Mac is secure. MacKeeper offers a variety of security tools, including a Mac adware removal tool called Adware Cleaner, which removes unwanted advertising software your children might pick up when they're browsing the web.

1. Click Adware Cleaner in MacKeeper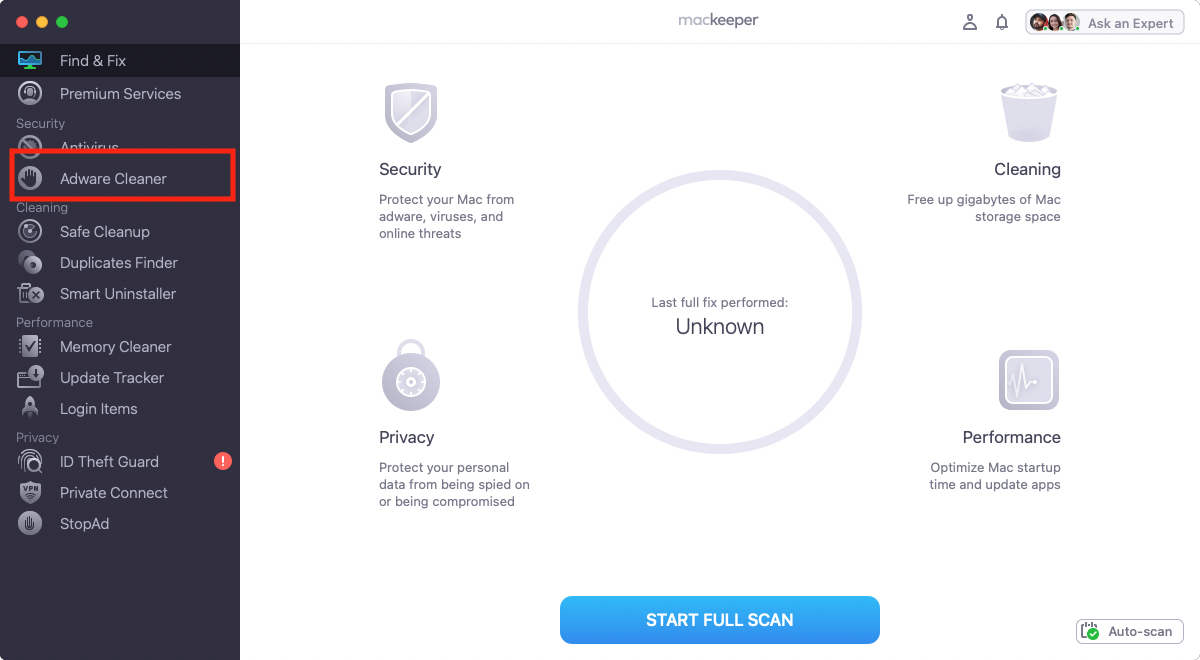 2. Click Open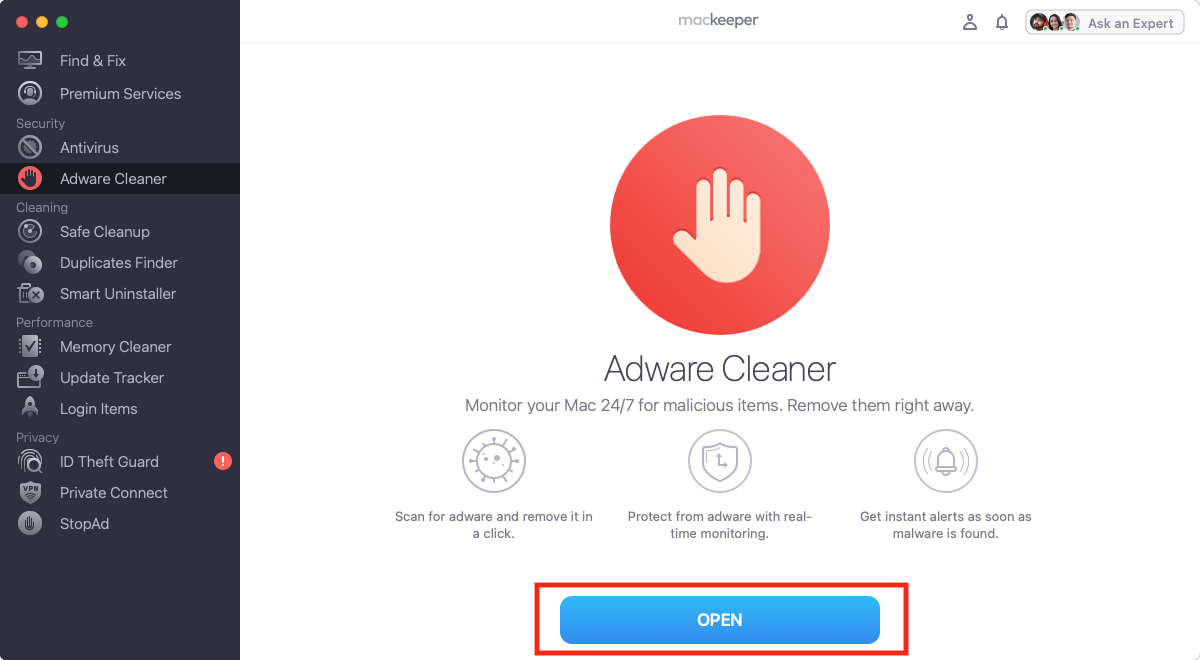 3. Click Start scan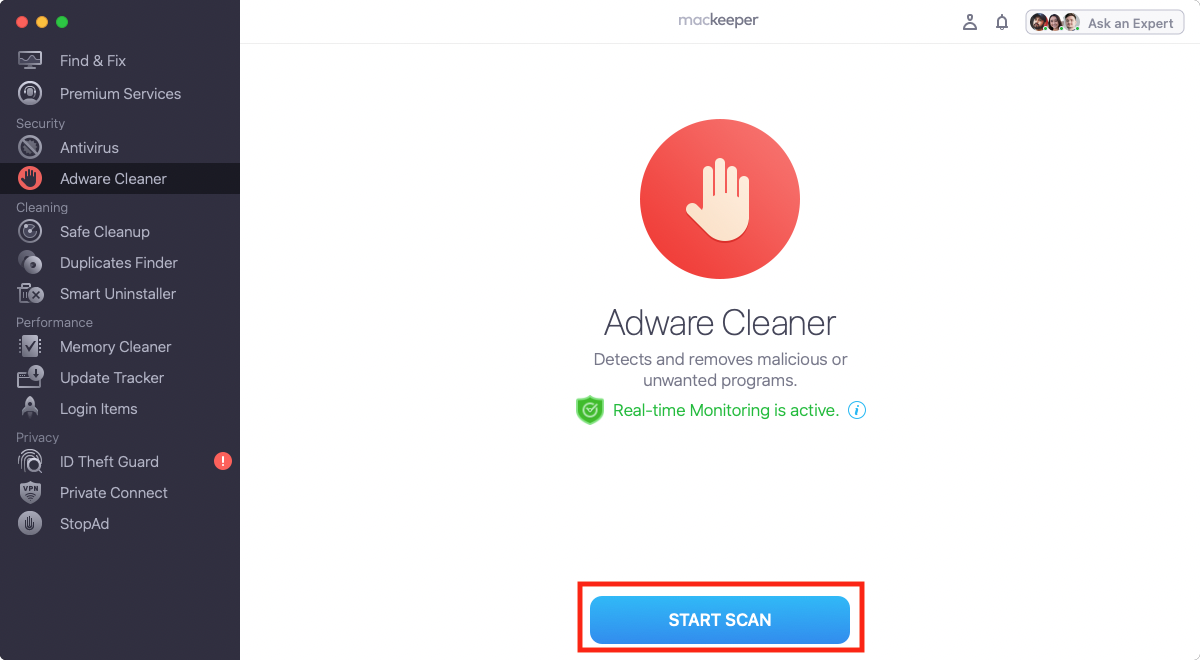 4. Wait while MacKeeper searches for adware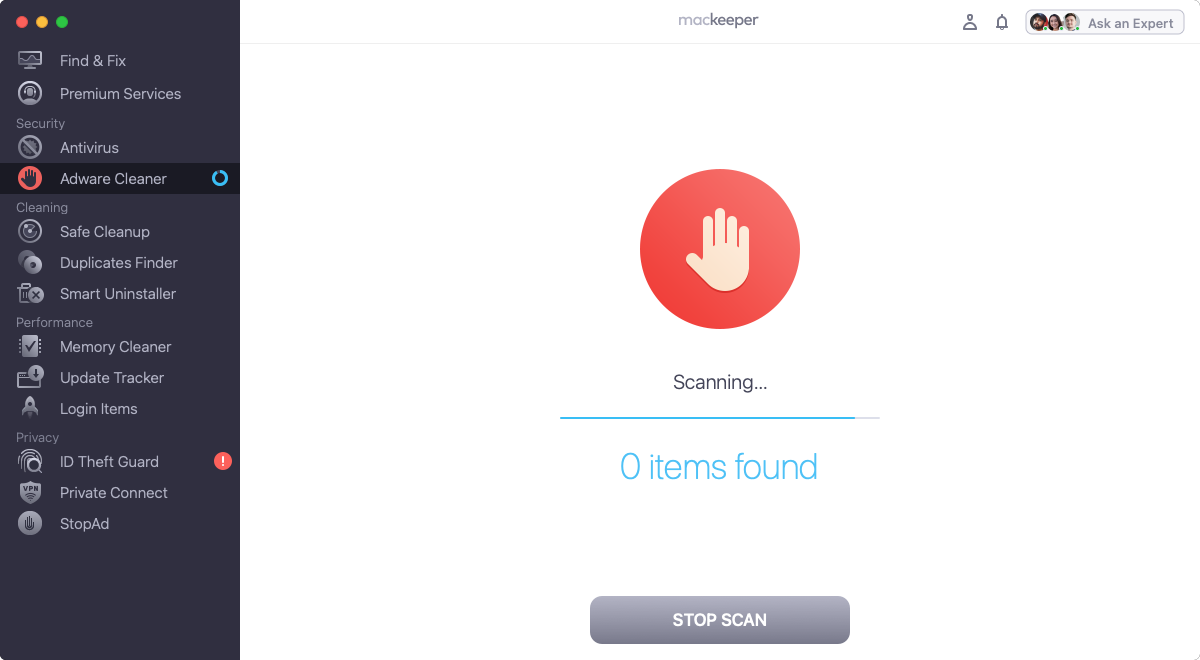 5. If MacKeeper finds any adware, you can remove it. Otherwise, you're all good!
FAQ
At what age should a child get a computer?
Nowadays, kids are surrounded by technology from the early days of their life. From about six months old, they can distinguish colors and shapes, but it's still best to limit the amount of time they spend in front of the screen. At the age of five to seven years, children become independent enough to use computers for learning and to play games. This is the best time to teach them digital literacy and think about buying them a Mac.
What is the best first Mac for a child?
Out of the Mac devices currently on the market, a Mac mini is perhaps the best option. It's the cheapest Mac you can buy brand new. And because it doesn't have a screen or a built-in keyboard, it's the hardest Mac to break.
Why buy your children a Mac?
One of the main reasons to buy a Mac for a child is macOS. It's easy to use, but it's difficult to break it. Macs are also robust, thanks to their metal body designs. If your kids drop their MacBook, for example, there's a good chance it will survive - which isn't true of many other computers. Plus Macs offer more than enough performance for everything kids generally want to do.
Read more: