Macs are an excellent choice for business users. They're fast, reliable and easy to use. And they look great, which can help when you're trying to impress clients.
But when you come to choose a Mac for business, you've got a lot of choices. Which Mac is right for you? Most business users won't need a ton of power, but all modern Macs have fast processors anyway. Portability might be a more important factor, though, especially if you're on the road a lot or need to take your computer into meetings.
In most cases, some kind of MacBook will be the best choice, but iMacs and Mac minis can be good too. Bearing that in mind, here's our guide to the best Macs for business users right now.
Before we start


When you're using your Mac for business, you might want to use VPN to make sure your connection is secured and not tracked. The ID Theft Guard tool in MacKeeper will notify you if your email gets leaked in any major breaches, so you change your password immediately.


You can download MacKeeper for free right now. It comes with one free fix, so you can test drive it first.
Here's the list of our top picks:
Mac system requirements for business
'Business' is such a broad category, it's not really possible to say what kind of spec you need from a Mac. Some users may need to run specialist software, which might influence their decision. But most business users never do much more than word processing, editing spreadsheets, and building presentations. For the sake of this article, that's the kind of business users we're thinking about.
If you make a lot of PowerPoint presentations with embedded images, videos, and animations, it helps to have a good processor and plenty of RAM. But with all the M1 Macs, that's not an issue, since they have the same processor and the same amount of unified RAM.
That leaves you with a few key things to consider: screen size, storage size, and portability. What screen size you choose depends on what you're doing and your personal preference. And in terms of storage 256GB is often enough, but if you know you're going to store a lot of big files, opt for something bigger unless you're happy to use cloud or external storage.
Best Apple laptop for business
Based on the points made above, here are the Macs we think are best for business.
13-inch MacBook Air (2020) — best for business users on the go
Like Apple's other new machines, the latest MacBook Air uses the new M1 chip, making it an excellent Mac for business users. It's fast and efficient, giving users up to 15 hours of battery life while surfing the web and up to 18 hours while watching movies. That's plenty for all but the most demanding of business users.
Like all M1 Macs, the MacBook Air has 8GB of unified memory and onboard graphics. You can choose between a seven- or eight-core GPU. In either case, that's plenty for business tasks.
The 13-inch screen is a good size, and because this Mac weighs just 1.29kg (2.8lbs), it's ideal for taking on the road or into meetings. The fact it's only 1.61cm (0.63 inch) is incredible too.
It comes with two Thunderbolt ports, which isn't a lot, but it's enough for most users to plug in peripherals or external displays.
13-inch MacBook Air (2020) specs
CPU
Apple M1 Chip
GPU
Seven-core integrated GPU or eight-core integrated GPU
RAM
8GB unified memory
Storage
Basic: 256GB

Configurable to: 2TB
Display
13.3-inch IPS display with 2560x1600 resolution
Battery life
Up to 15 hours using wireless web. Up to 18 hours watching movies.
Ports
Two Thunderbolt 3
Weight
1.29 kg (2.8lbs)
16-inch MacBook Pro — best laptop for power users
If you prefer a larger screen, the 16-inch MacBook is ideal. It uses an Intel processor, rather than an M1 chip, so you'll need to think about that before you buy it. But with either a Core i7 or Core i9, you're not going to be short of power. Plus Apple supports all its computers for several years, so you'll still get plenty of use out of this MacBook.
With such a large screen, the 16-inch MacBook is perfect for business users who do a lot of creative work. Its 3072x1920 resolution is impressive, and it's a pleasure to do any kind of work on.
In terms of storage, you can get a 512GB SSD, configurable up to a massive 8TB. If you need to store a lot of big files, this is ideal. And for memory, you can have 16GB or upgrade up to 64GB.
Unlike M1 Macs, this MacBook comes with discrete graphics, starting with an AMD Radeon Pro 5300M with 4GB of GDD6. That's good news if you want to do a bit of gaming in your downtime.
But all this power comes at a cost. The cheapest version of this MacBook is $2,399. There's also a weight cost: the 16-inch MacBook weighs a pretty hefty 2kg (4.3 pounds).
16-inch MacBook Pro (2019) specs
CPU
Basic: 2.6GHz 6‑core Intel Core i7

Configurable to: 2.4GHz 8‑core Intel Core i9
Storage
Basic: 512GB

Configurable to: 8TB
RAM
Basic: 16GB

Configurable to: 64GB
Display
16-inch Retina IPS
Battery life
Up to 11 hours
Ports
Four Thunderbolt 3 ports
Weight
2kg (4.3lbs)
24-inch iMac (2021) — best Mac desktop for business
Although it doesn't have the biggest screen or the most powerful components, the new 24-inch iMac is a great business machine. Coming in a range of bright colors and with a screen that's just 11mm thick, it's a computer that makes an impression.
But it's not just a pretty face. The iMac has an M1 processor, which means it's fast and efficient. It will blast through everyday office tasks with ease, and you'll never need to worry about loading times, thanks to its fast SSD storage.
Speaking of storage, it starts at 256GB. That's okay for many people, but if you do store a lot of files, you should choose one of the bigger sizes. Or you can just use cloud or external storage.
The 4.5K Retina display looks gorgeous. It's not as big or as sharp as the 27-inch iMac, which uses an Intel chip. But it's still excellent, and this Mac is hundreds of dollars cheaper.
If you want a Mac in your office that doesn't take up too much space but which looks good, this is the one.
24-inch iMac (2021) specs
CPU
Apple M1 Chip
RAM
8GB unified RAM
Storage
Basic: 256GB

Configurable to: 2TB
Display
24-inch 4.5K Retina display
Ports
Two Thunderbolt 3
Weight
4.46kg (9.83lbs)
The great thing about choosing a Mac for business is there aren't really any wrong choices. Every Mac you can buy from the Apple store is going to be up to the task for business users. You just need to think about what you'll be using it for and what your budget is.
How to prepare your Mac for business tasks
If you're using your Mac for business, then you need it to be secure. The data you store on your Mac could have value to hackers or competitors. As well as a number of cleaning and optimization tools, MacKeeper comes with security and privacy features too.
Here's how to run a virus scan with MacKeeper:

1. In MacKeeper, select Antivirus from the menu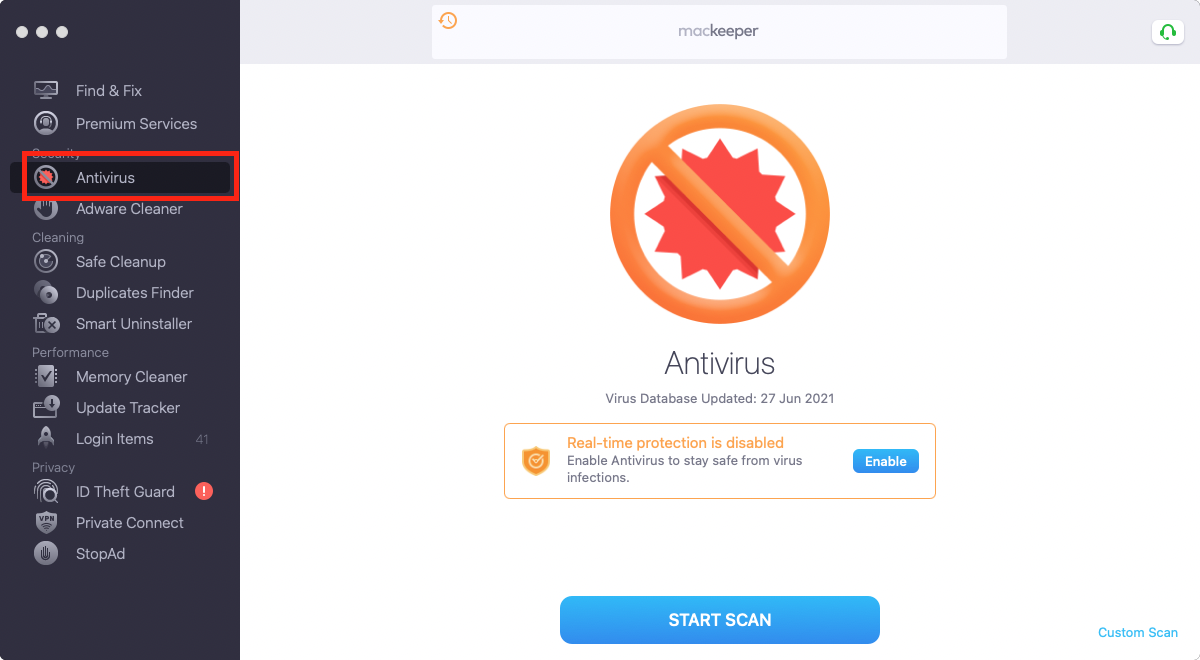 2. Click Start scan
3. Wait while MacKeeper scans your Mac for malware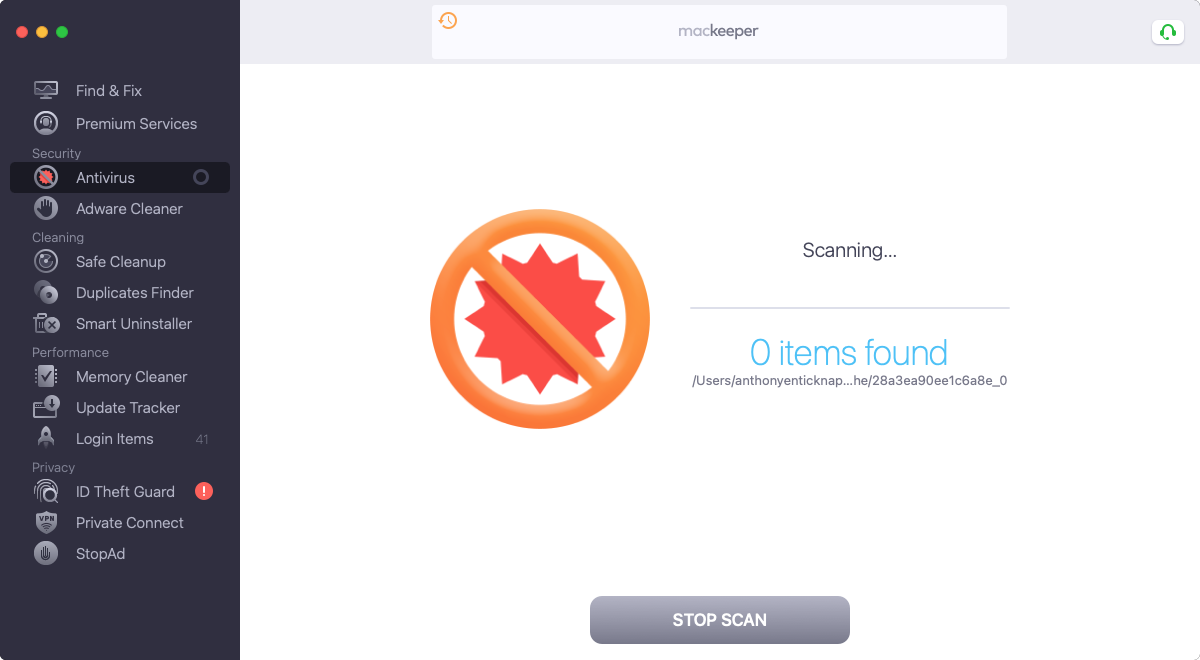 4. Review the results, and take action if necessary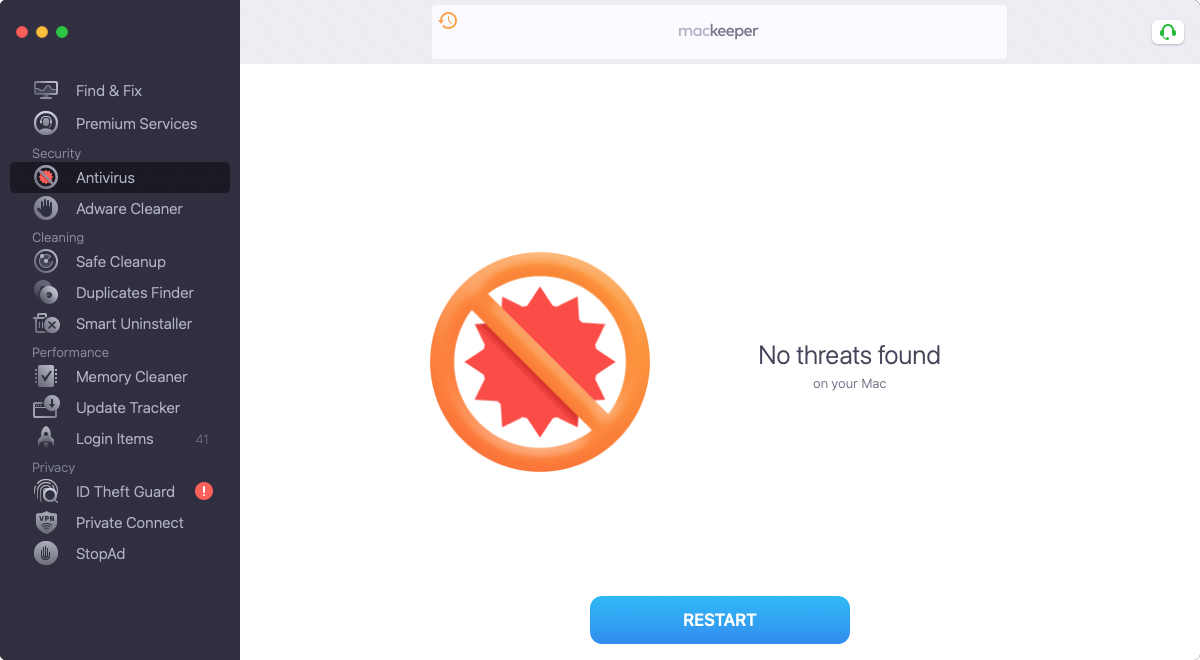 FAQ
Is macOS or Windows better for business?
Both operating systems have strengths and weaknesses. If you need to run Windows-only software, you'll either need a PC or an Intel Mac. However, the vast majority of apps these days run on Mac, so your choice is really dependent on which you prefer. A Mac might be better simply because the hardware is so good.
What is the best Apple computer for small business?
If your business is not related to digital graphics or making and storing content, a MacBook Air is great. These are light and productive laptops that you can carry around. If your small business is centered around content production and data handling, consider MacBook Pros, iMacs, and Mac minis.
Read more: