Macs have always been popular among creative people, including photographers, thanks to their blend of great performance and style. It's no coincidence that leading apps like Photoshop were Mac only for years.
But if you're a photographer looking for a new Mac, you've got a decision to make. Which model of Mac is right for you? You might just want the biggest screen you can get, so you look at your images in detail. Or if you take a lot of pictures, storage might be more important.
In this article, we'll take a look at what we think are the best Macs for photographers and photo editing right now.
Before we start

When you're running powerful photo-editing apps, you might occasionally find your Mac slowing down a bit. This could be because you're running out RAM. You can quickly fix this problem with MacKeeper's Memory Cleaner feature.

Start MacKeeper, and select Memory Cleaner from the left

Click Open

Click Clean memory

MacKeeper will end any unnecessary processes running in the background, freeing up RAM for you. Want to try it out? You get one free fix, so you can see for yourself how it works.
Top three Macs for photo editing:
Why use a Mac for photo editing?
As we've said, Macs are well loved by creative people, like filmmakers and app developers. Photographers will also be well served by the power and durability of Macs.
Macs also have a tendency to hold their value longer than other types of computer. That's great if you like to sell your old Mac every few years to help fund a new one.
Plus macOS comes with its own Photo app, which can be a great way to upload and organise the pictures on your Mac.
Recommended system requirements
Photography and photo editing don't require huge amounts of processing power, though, so really any modern Mac will be good enough. You want a decent amount of RAM and a good processor, but again all current Macs offer more than enough in these areas.
The most important choice is whether to get a MacBook or a desktop machine like an iMac or Mac mini. If you want to work on your photos while you're out and about, then you're definitely going to need a MacBook. But if you prefer to do photo editing at home, then it's not so important to get a laptop. Of course, if your budget allows, you could buy both to cover all bases.
Screen size is important too, because you'll need to be able to see your photos clearly when editing them. But that, of course, isn't an issue with a Mac mini, because you can plug in any monitor you like. Ideally, you want a high-resolution display with a substantial pixel density. You also want your display to be bright, with reliable color reproduction.
Storage might be another important factor as well. High-definition photo files can be huge, and a 256GB SSD will fill up fast. However, Apple charges a significant premium for larger storage sizes, so you might simply want to use external hard drives instead. Or you could store your photos in iCloud.

You also need to think about connectivity. Will your new Mac have enough USB plugs for your camera? Does it have an SD card reader? And will you need an adapter to use a new Mac's USB-C ports?
13-inch MacBook Air (2020) — best for portability
If you're a serious photographer, you might have to take a lot of equipment on the road with you — like your camera, additional lenses, a tripod, lights, screens and more. The last thing you need is a heavy laptop weighing you down as well.
That's where the new MacBook Air can really help. Weighing just 2.8lbs, it's just 0.63-inches thick, making it easy to carry around with you wherever you go.
That portability does mean sacrificing screen size, though. The MacBook Air's 13-inch display isn't ideal for photo editing, although it does have a sharp 2560x1600 resolution, giving it a pixel density of 227ppi (pixels per inch). The 400 nits brightness and True Tone technology are plus points too. And, if you need more screen space, you can plug in an external display with up to 6K resolution at 60Hz. Alternatively, consider the older, Intel-based MacBook Pro.
As one of Apple's newest Macs, the MacBook Air has an M1 processor, which is plenty for photo editing. It features integrated graphics, and you can either have a seven- or eight-core on-board GPU (graphic processing unit). Again, it doesn't really matter for standard photo editing.
M1 chips also have built-in, unified memory, and you can choose between 8GB or 16GB. For most people 8GB will be enough, but if you use a lot of resource-intensive filters and effects or do any 3D editing, 16GB might be a better option. You can't upgrade the RAM later, so it's important to choose wisely.
The MacBook Air's battery lasts for about 15 hours when browsing the web, so you can probably expect to get less than that when working on photos. In any case, it's likely to be a good number of hours, and enough for the majority of photo editing tasks. Plus you might be able to tweak the macOS battery settings to squeeze more life out of it.
In terms of storage, you can choose from 256GB up to 2TB. If you're only planning to use internal storage and not external hard drives or cloud storage, 256GB is quite small. Besides, system storage might be occupying a lot of space too. Again, this can't be upgraded, so think carefully before making a decision.
Finally, you should be aware this MacBook has two USB-C ports and a headphone port. That's it. So you might need to buy adaptors and a USB hub.
13-inch MacBook Air (2020) specs
CPU
Apple M1 Chip
GPU
Seven-core integrated GPU or eight-core integrated GPU
RAM
8GB unified memory
Configurable to: 16GB
Storage
Basic: 256GB
Configurable to: 2TB
Display
13.3-inch IPS display with 2560x1600 resolution
Battery life
Up to 15 hours using wireless web. Up to 18 hours watching movies.
Ports
Two Thunderbolt 3
3.5mm headphone jack
Weight
2.8lbs (1.29kg)
27-inch iMac (2020) — best for screen size
If you want an all-in-one Mac with the biggest display possible, then you have to get the 27-inch iMac. Although it uses an Intel processor, so it's not as future-proof as an M1 Mac, its 5K Retina screen is perfect for viewing and editing photos. With 500 nits brightness and a 5120x2880 resolution, images look fantastic on this Mac.
That Intel chip, meanwhile, is no slouch. The base model has a 3.1GHz Core i5, but you can also choose a faster i5, an i7 or an i9. For photography and photo editing, the i5 processors will be fine.
You can also choose between 8GB and 128GB of RAM, as well as a selection of discrete AMD graphics cards. And you can have anywhere between 256GB and 8TB of SSD storage space. Again, many of these are overkill for photography, but more storage space is something you might want to think about.
Another big plus point for this Mac is the connectivity. With four USB-A ports, two USB-C Thunderbolt ports, Ethernet and a card reader, it's perfect for photographers.
27-inch iMac (2020) specs
Processor
3.1GHz six‑core Intel Core i5 (Turbo Boost up to 4.5GHz)
Configurable up to 3.6GHz eight-core Intel Core i9 (Turbo Boost up to 5GHz)
Graphics
Radeon Pro 5300 with 4GB of GDDR6 memory
Configurable up to AMD Radeon Pro 5700 XT with 16GB of GDDR6 memory
RAM
8GB (two 4GB) of 2666MHz DDR4 memory, four SO-DIMM slots, user-accessible
Configurable up to 128GB
Display
27-inch diagonal Retina 5K display
Storage
256GB SSD
Configurable up to 8TB SSD
Mac mini (M1, 2020) — best budget Mac
If you're eager to use a Mac for photography but your budget is small, the M1 version of the Mac mini is the ideal choice. It's affordable, starting from $699, but it has more than enough power to run photo editing apps like Photoshop.
If you do go for the base model, you'll get the eight-core M1 chip, which has an eight-core GPU built in. It also includes 8GB of unified memory, which can be upgraded to 16GB, and a 256GB SSD, which is configurable up to 2TB. If you take a lot of large photos and videos, we'd recommend using external drives, because even 2TB might not be enough.
Connectivity isn't bad. With the Mac mini, you get two USB-C Thunderbolt ports, Ethernet, two USB-A ports and one HDMI.
Of course, you don't get a display with the Mac mini, which is either a pro or a con, depending on how you look at it. On one hand, it means you can hook up whatever size screen you want, up to 6K resolution, along with a second monitor up to 4K resolution. But it also means you have to pay for a display. If you don't already own one, that could wipe out the cost savings you get from buying a Mac mini.
Mac mini (M1, 2020) specs
Processor
3.2GHz eight-core M1 processor
Graphics
Eight-core M1 system-on-chip
RAM
8GB of unified memory
Configurable up to 16GB of RAM
The display must be purchased separately
Storage
256GB SSD
Configurable up to 2TB SSD
Are Macs better than PCs for photo editing?
The answer to this really boils down to personal preference. Some photographers choose Macs for their design, reliability, ergonomics and ease of use. Others prefer the PCs for their lower cost, better graphics card performance and upgradability.
Ultimately, if you already own a PC or a Mac, there's no need to switch, but there are reasons to consider getting a Mac for photo editing. They include:
High color accuracy
Strong malware protection
High durability
Excellent software optimization
High resale value.
How to optimize your Mac for photo editing
When you're dealing with hundreds or even thousands of photos, it's easy to end up with more than a few duplicates on your Mac. Sifting through them to delete the ones you don't need can be a long, tiresome task. But you can save yourself a ton of time by using MacKeeper's built-in duplicate file finder.
How to find duplicate photos with MacKeeper:
1. Open MacKeeper, and select Duplicates Finder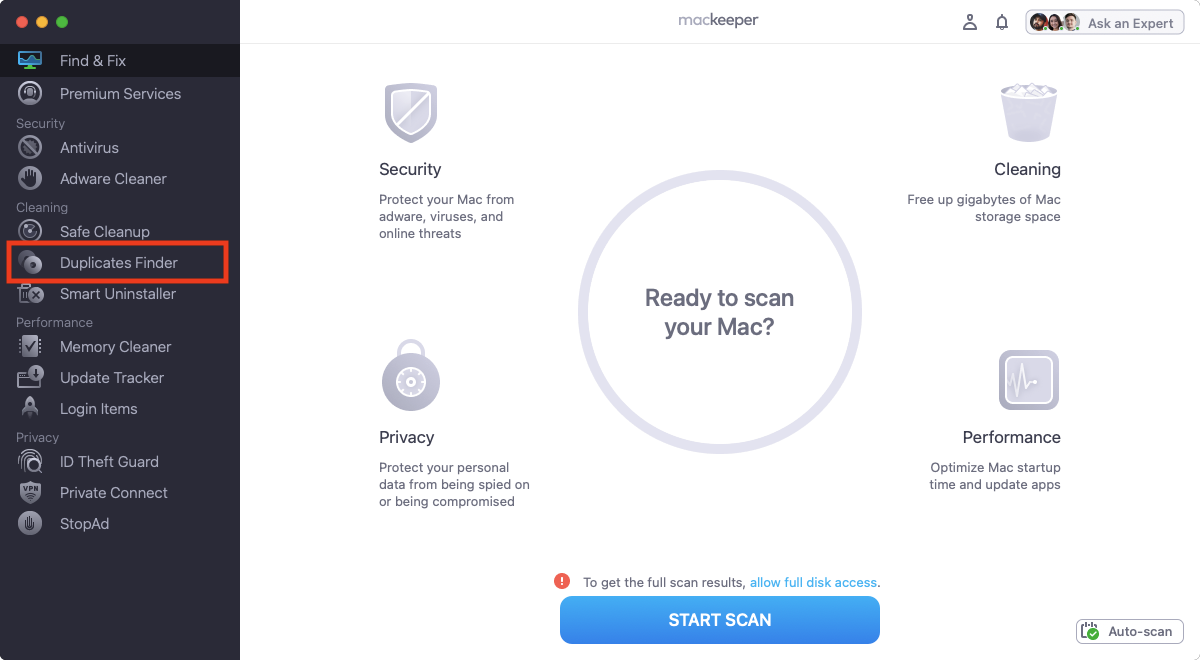 2. Click Start Scan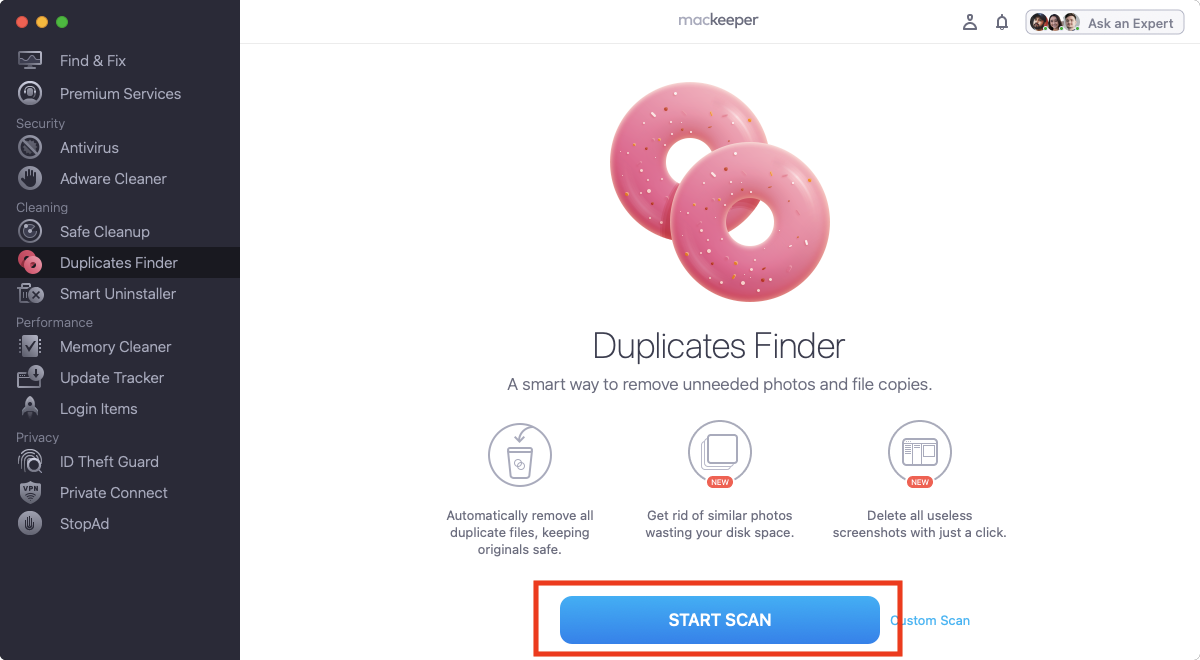 3. Wait for the scan to finish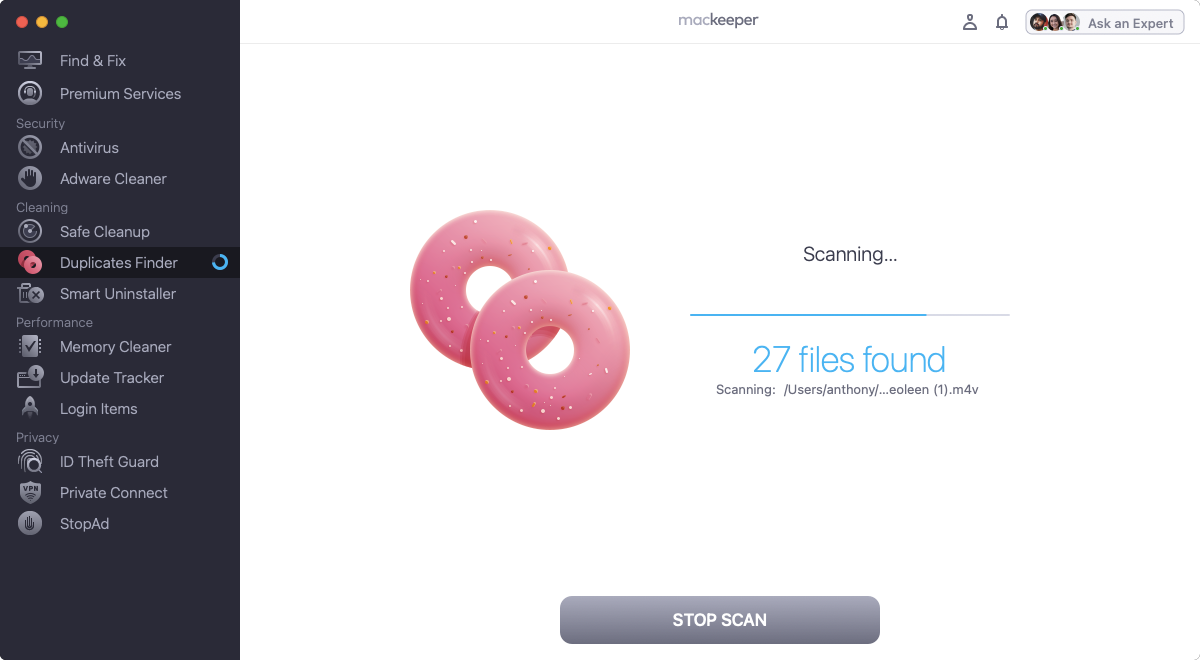 4. Select any duplicate or similar photos you don't want, and click Remove selected
5. If you see a message asking if you want to remove these files, click Remove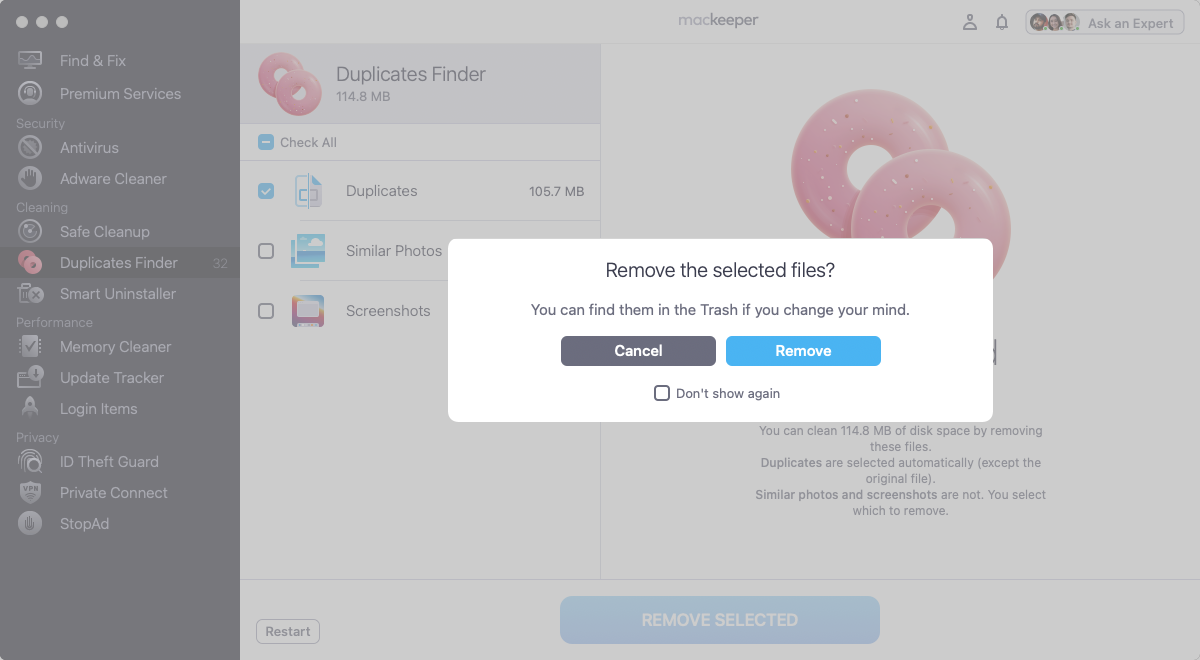 Conclusion
Photography and photo editing don't generally require the fastest Macs you can get. However, you might benefit from more power if you work with a lot of high-resolution images or 3D. You certainly don't need it for basic tasks like creating slideshows, though.
The cheaper Macs should be more than enough for most people, and the money you save can be put towards a better camera. Just weigh up what features you need, how much you want to spend and where you'll be doing most of your editing. Then, hopefully, you'll find what you think is your own best Mac for photography and photo editing.
FAQ
Why do photographers use Macs?
Many photographers use Macs because of the outstanding display quality offered by Apple devices. Whether it's gamut coverage, color accuracy or peak brightness, Macs deliver consistently great performance. Naturally, professional photographers consider these criteria crucial enough to base their buying decisions on them.
Does Photoshop work better on Mac or PC?
To understand whether Photoshop works better on Mac vs. PC, it's important to test the app performance on devices with similar configurations. Tests run on Mac and PC with similar Intel chips show no considerable performance difference. However, Mac blows the competition out of the water with its M1 chip.
How do I edit RAW photos on Mac?
To edit RAW photos on Mac, use either the Photos app or third-party apps. Although the Photos app does not have many bells and whistles, you shouldn't overlook it. The app has an intuitive interface and can be used to change brightness, contrast, and apply other basic tweaks to your images.
Can I edit RAW photos in iPhoto?
To edit RAW photos in the Photo app, double-click an image and click the Edit button. Then, apply the changes using the editing tools from the panel on the right.
Read more: