Made by the Ukrainian software developer MacPaw, CleanMyMac X is one of the most well-known cleaning, optimization, and security apps for Mac. It offers a rich variety of different tools, including antivirus, a file shredder, and a junk remover.
But it also has some limitations, which make it worth thinking about CleanMyMac alternatives. For instance, it doesn't offer a VPN client or duplicate finder, which you get in with some of its competitors. There are also free alternatives to CleanMyMac that offer some, but not all, of its features.
Which one is right for you? Let's find out.
CleanMyMac X alternatives
There are many alternatives for CleanMyMac, but here are some of the best:
In this article you will find the following:
1. MacKeeper
Like CleanMyMac, MacKeeper is an all-in-one utility for Mac users, offering a selection of tools for cleaning, security, and optimization. There's a fair amount of overlap in functionality, but each of them also has features that the other doesn't.
Both offer antivirus, junk file cleaning, app management, and a memory cleaner, for example. But CleanMyMac gives you a wider range of maintenance tools, a large and old file remover, a file shredder to securely delete files, and Space Lens — which creates a visual map of your Mac disk space.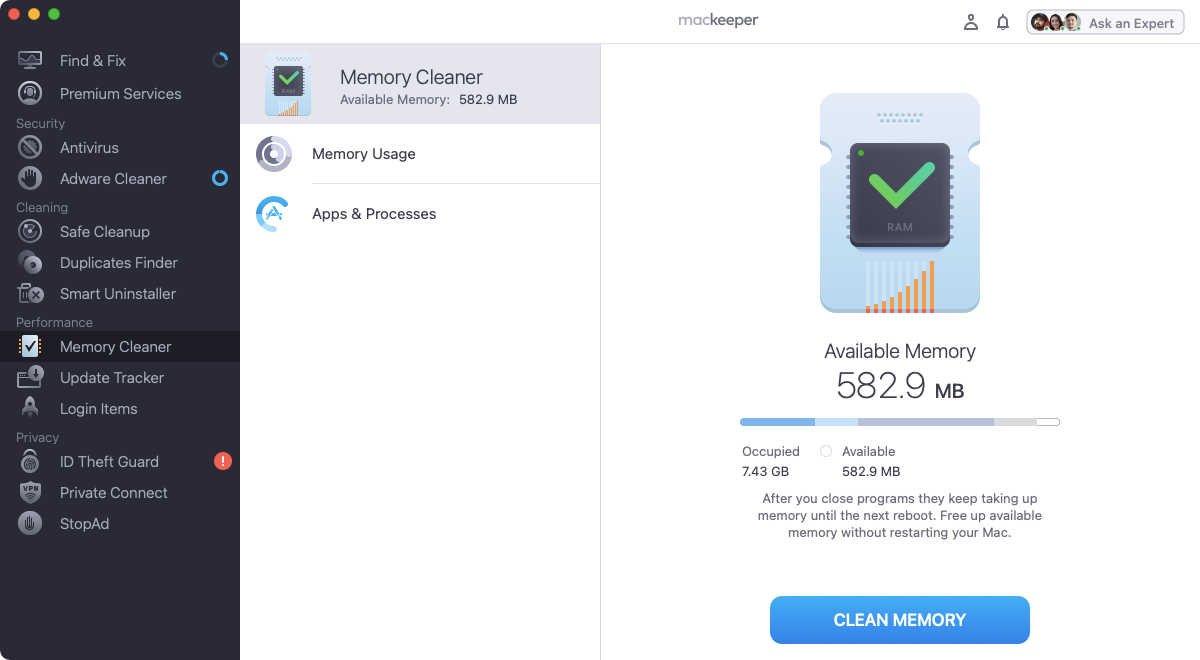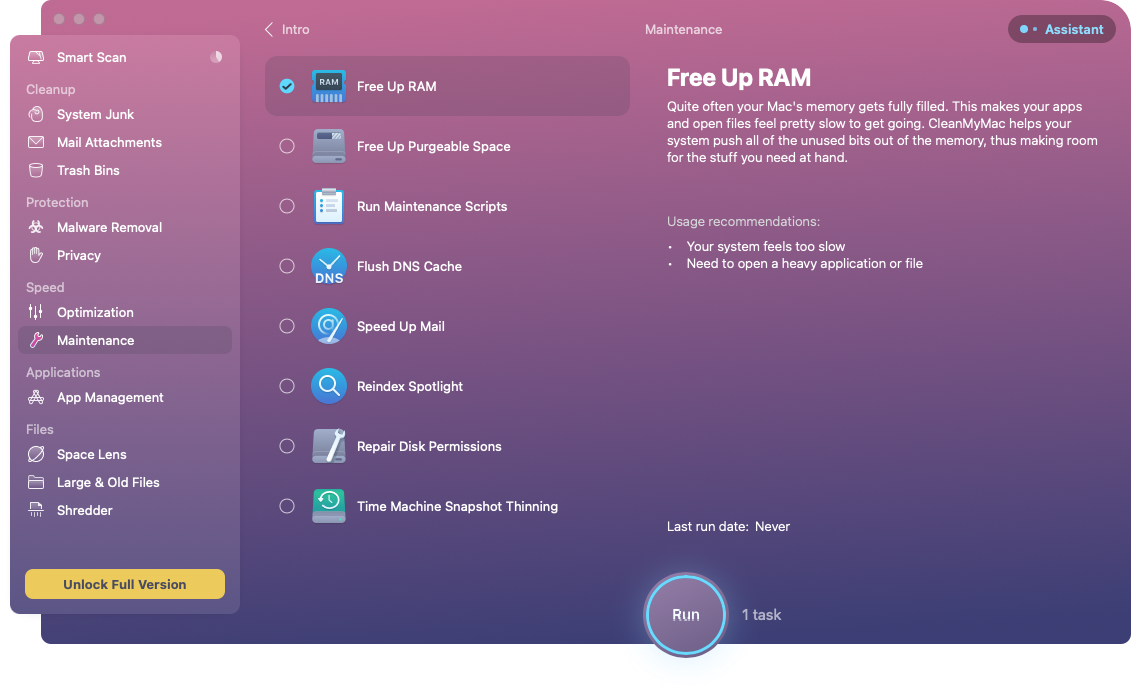 While MacKeeper doesn't offer these features, it has a few tricks up its sleeve that make it a great alternative to CleanMyMac. As well as keeping your apps up to date, it has a Duplicate Finder that will find unnecessary copies of files, as well as images that look similar to each other. Its ID Theft Guard lets you know if your email addresses are affected by data breaches. And it includes a full VPN client as part of its subscription.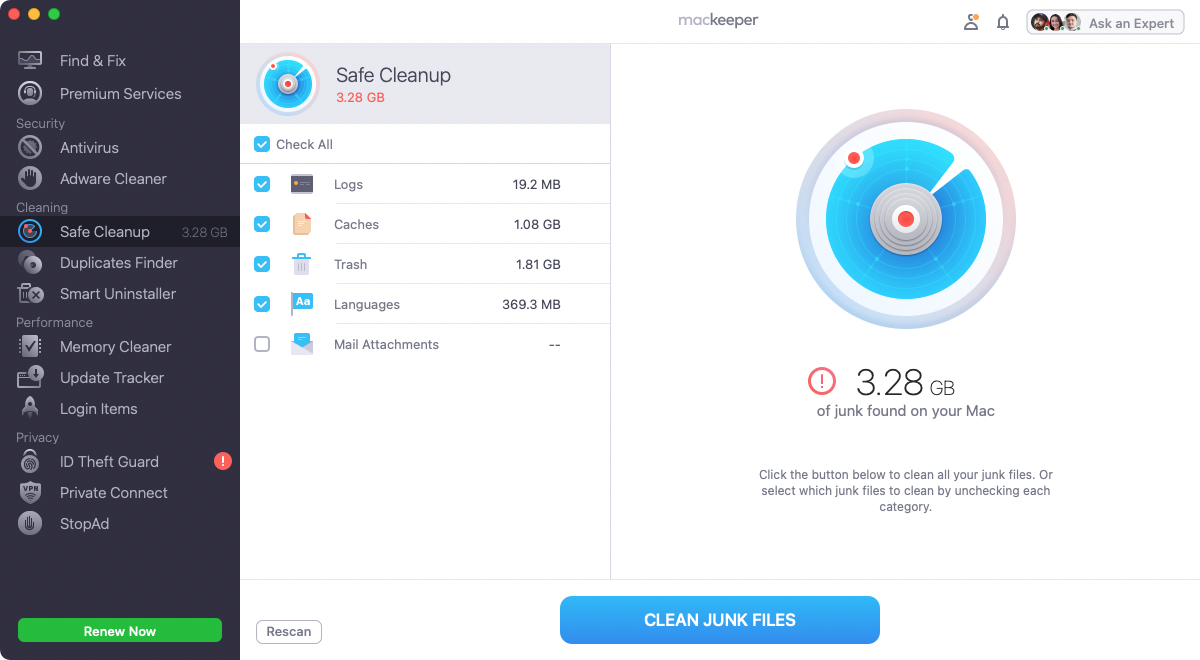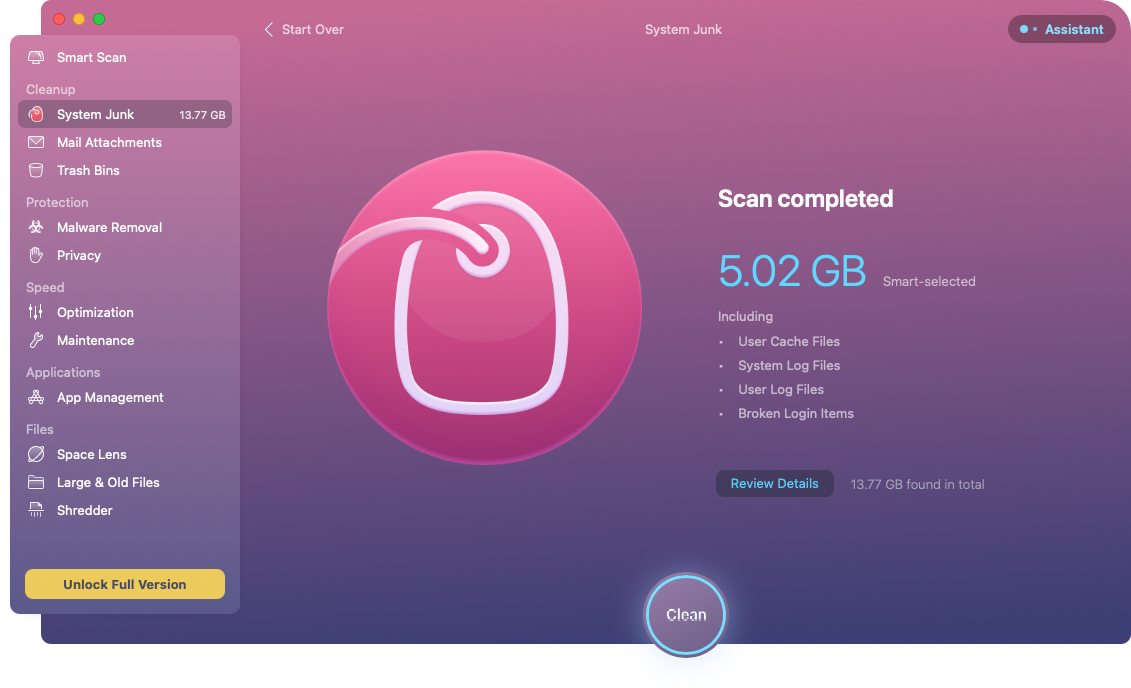 Comparing their cleaning functions, CleanMyMac suggested 5.02GB of junk files to remove, while MacKeeper came back with 3.28GB. Each app selected different types of files, however. And while CleanMyMac suggested clearing our 3.63GB of Spotify cache, MacKeeper skipped over it. Because of these differences, making a direct comparison is difficult, but both apps did a good job.
Price: From $10.95 per month
Official website: http://www.mackeeper.com
| | |
| --- | --- |
| Pros | Cons |
| Includes a full VPN client | Fewer maintenance tools |
| Duplicates finder | No disk space visualization |
| Extra privacy features | |
2. CCleaner
For a long time, CCleaner was a Windows-only app, and it built up a strong reputation on that platform. It did have some security issues at one point, but with those in the past, this Mac version is definitely worth considering as a CleanMyMac alternative.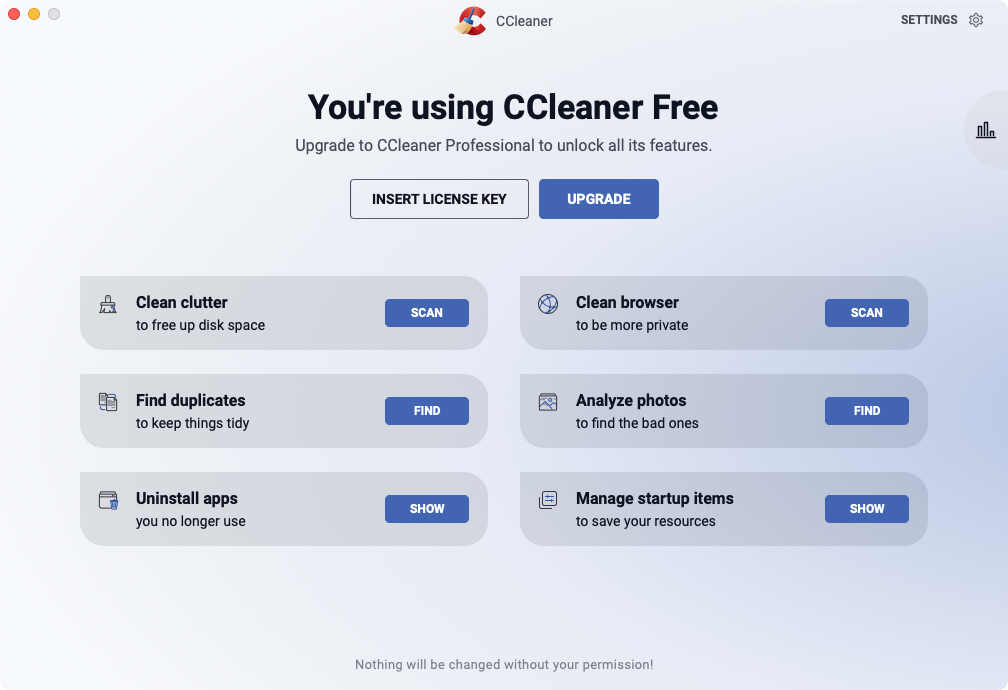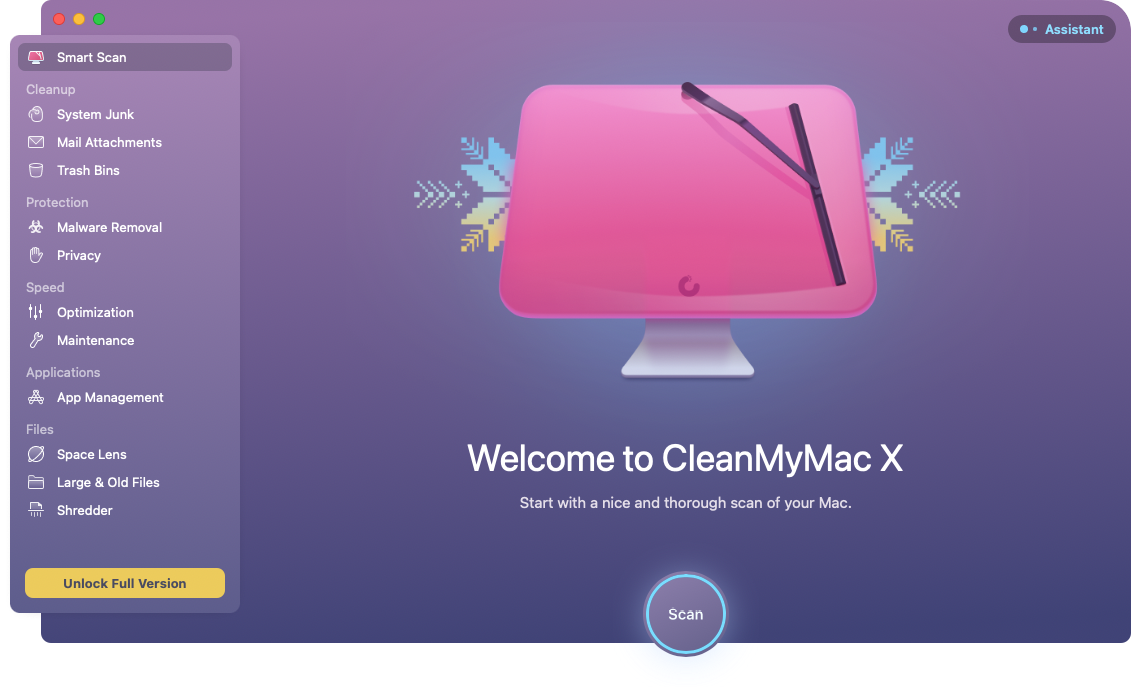 Although CCleaner does have a paid version, a lot of its functionality is included in the free version. You can find and clean junk files, as well as duplicate files. You can also manage installed apps, clean out browser caches, and manage your startup items. Without a Professional subscription, you can look for bad photos but you can't remove any of them.
This is a fairly limited feature set and doesn't really compete with CleanMyMac. But if you're looking for a free CleanMyMac alternative, then CCleaner should be on your list of options.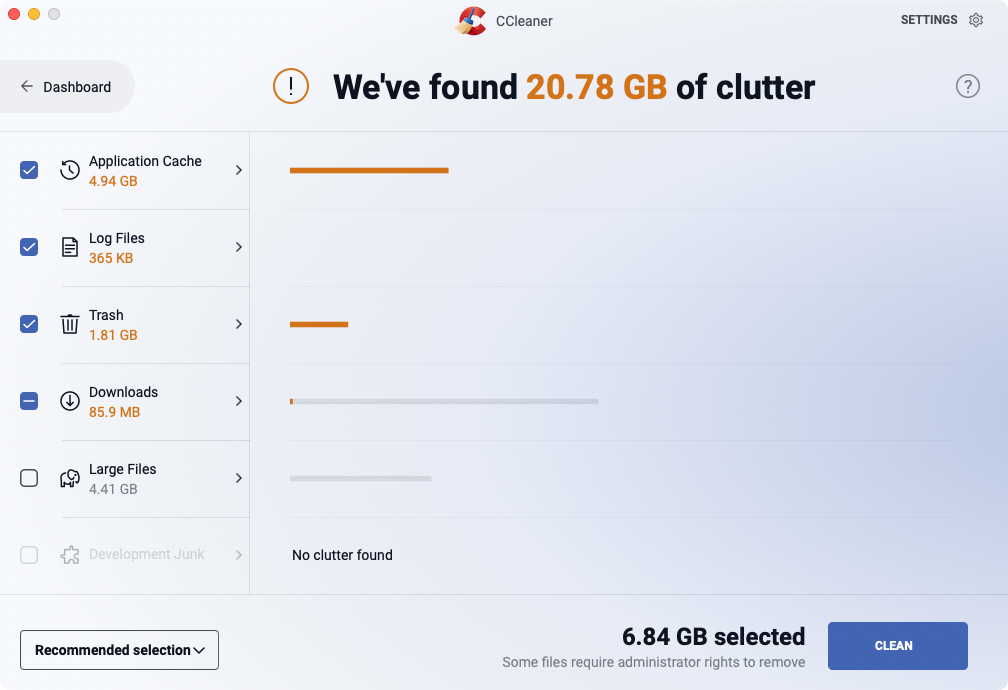 In our test, the CCleaner file cleaner suggested we clear out 6.84GB of junk. Like CleanMyMac, this included our Spotify cache.
Upgrading to Professional costs $29.95 a year. That's not bad, but CleanMyMac starts from $39.95 a year, and it offers many more features.
Price: Free or $29.95 a year for Professional
Official website: http://www.ccleaner.com
| | |
| --- | --- |
| Pros | Cons |
| Free version includes most features | No antivirus ability |
| Cheap paid upgrade | Paid version doesn't do much more |
3. GrandPerspective
GrandPerspective only does one thing: it creates a visual map of your disk drive contents, so you can quickly see what is on your Mac and how much space it's taking up. That makes it an alternative to CleanMyMac's Space Lens feature, but with one big difference — it's completely free. (You also buy it for $2.99 from the App Store.)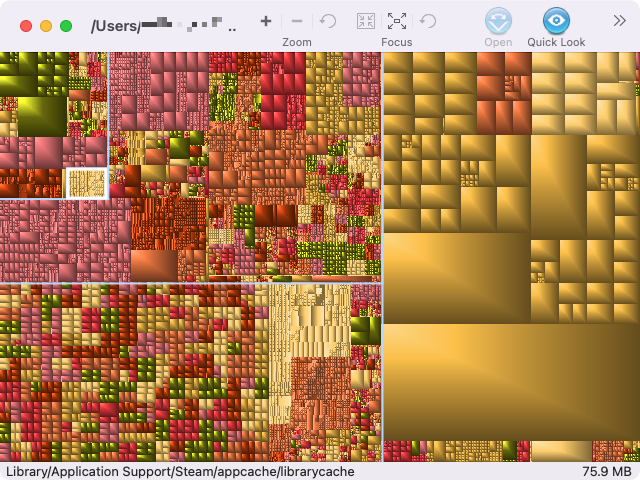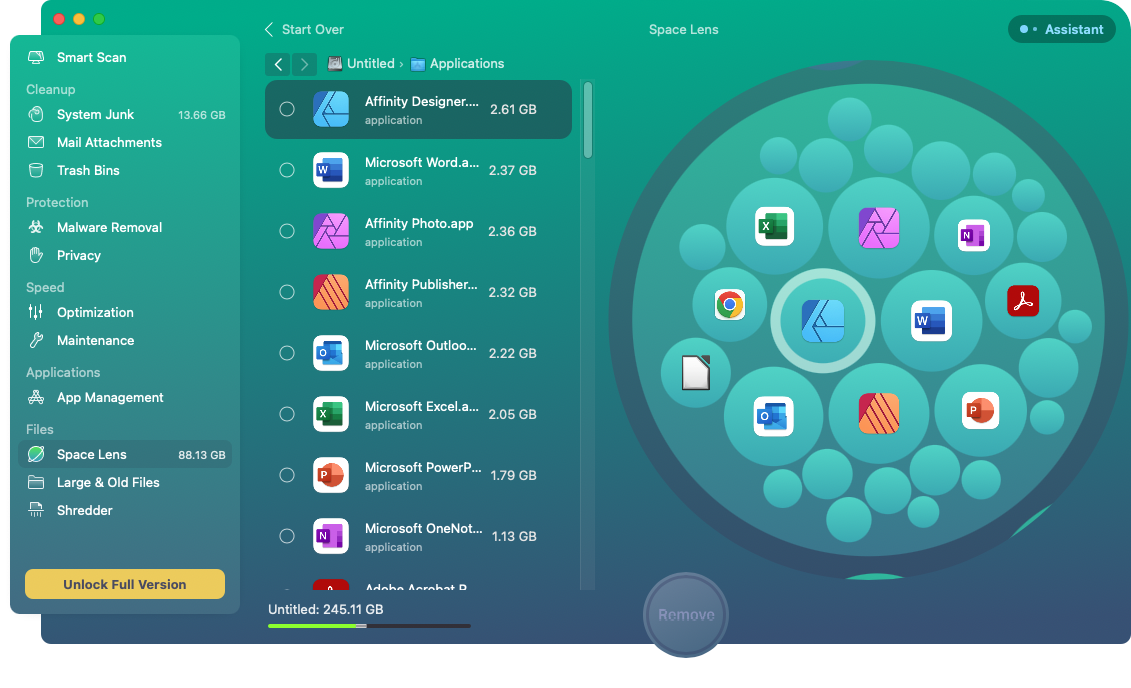 There are other apps that do the same thing, some free and some not, but GrandPerspective works well. Simply choose a folder or disk to scan, and it will build an image made of different sized blocks, each representing a file or folder. From there, you can open or delete anything, or get more information.
In comparison, Space Lens is much more attractive. It presents you with a list of files and folders, plus a visual representation made up of different sized circles. Clicking on these circles lets you drill down further into folders and learn more about individual files.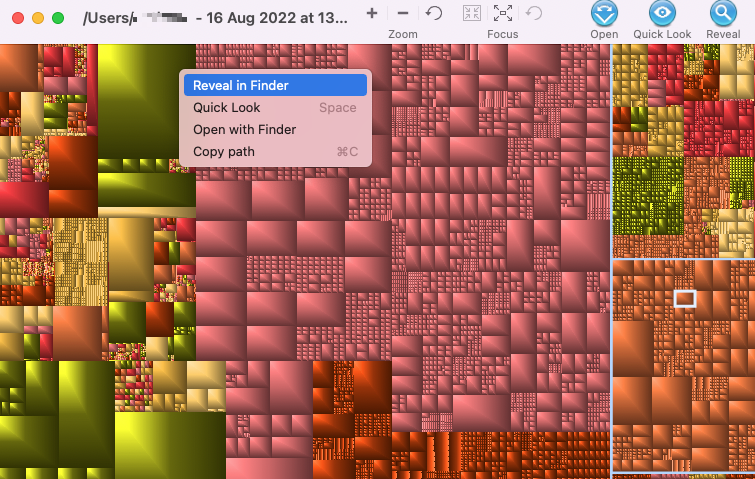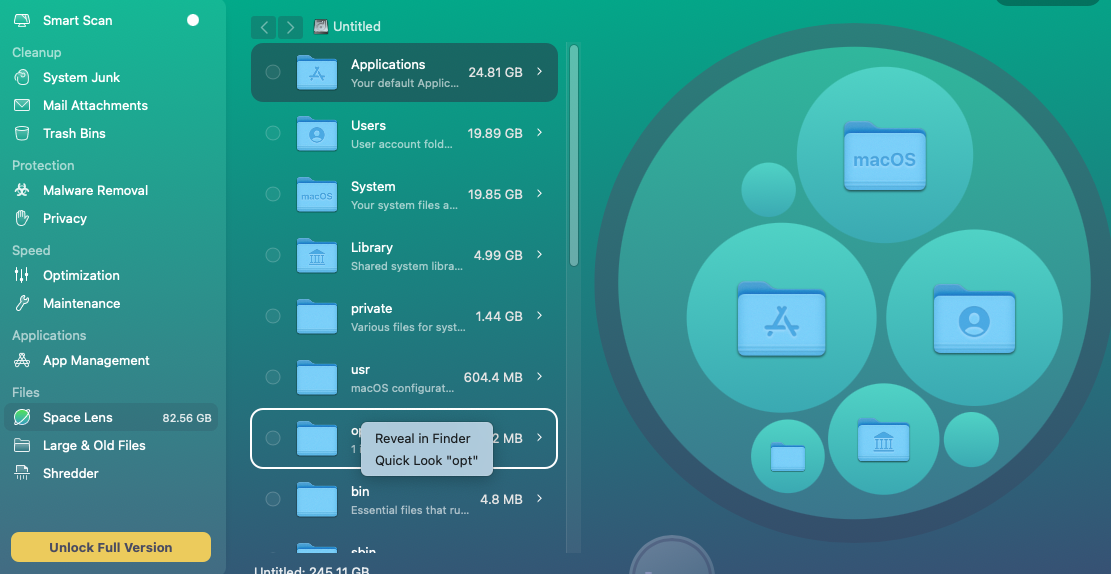 This is much more intuitive and easy to read than GrandPerspective. GrandPerspective simply can't compete with this level of professional development and polish. If it's the only feature you're interested in, though, and if you want to save money, GrandPerspective is still a great free CleanMyMac alternative.
Price: Free
Official website: http://www.grandperspectiv.sourceforge.net
| | |
| --- | --- |
| Pros | Cons |
| Available for free | Only does thing |
| Lets you easily clear up disk space | Not as easy to use as Space Lens |
| | Ugly visual design |
4. Cleaner One Pro
Cleaner One Pro is another multi-purpose utility, offering a broad range of features. The main similarities with CleanMyMac are a junk file cleaner, a big file finder, a visual disk map, and a file shredder.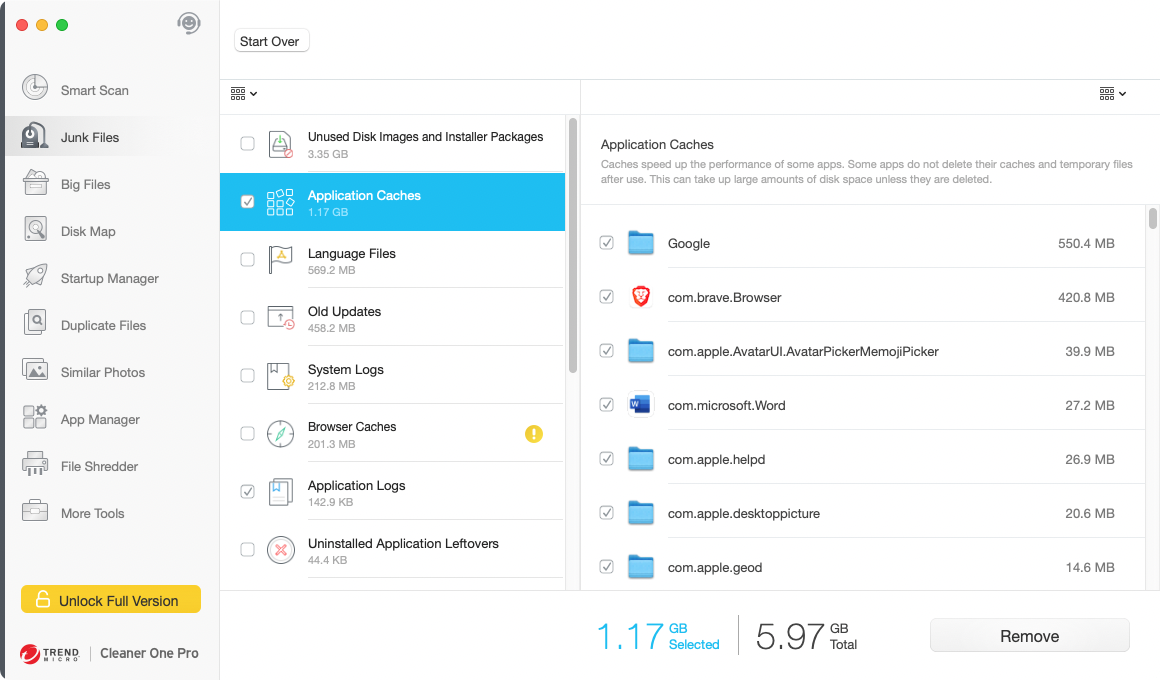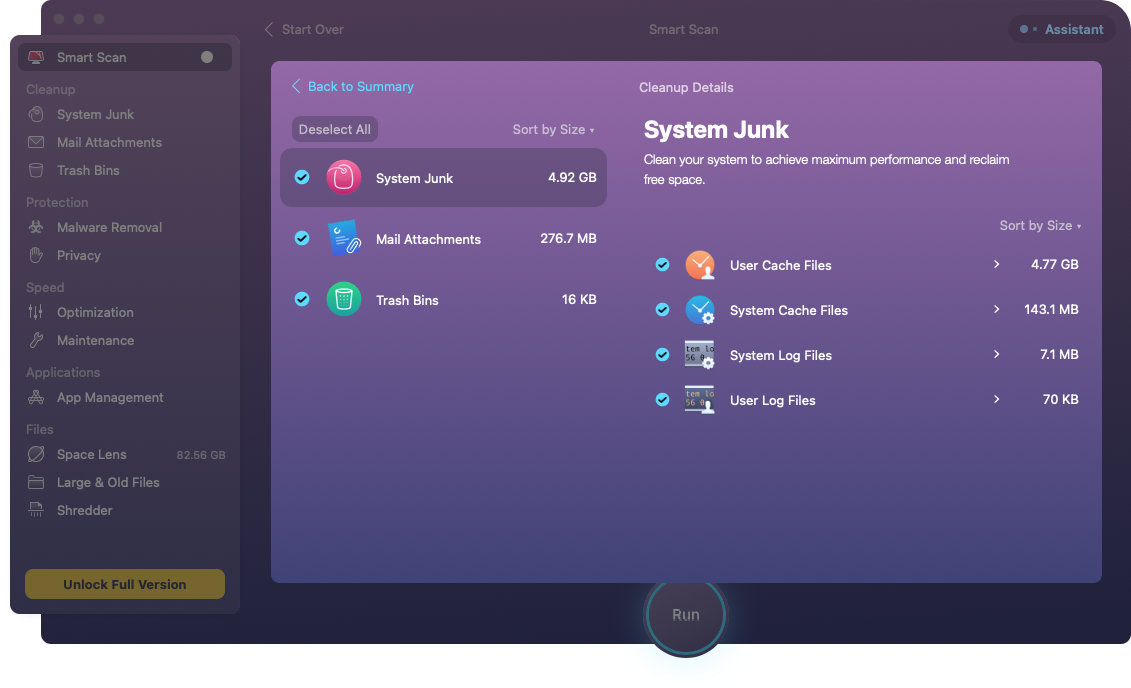 But CleanMyMac has many more features, including a collection of maintenance tools, antivirus, mail attachment removal, and antivirus. You can add various features to Cleaner One Pro, including a VPN and antivirus. Technically, these are free, but the VPN isn't limited and you can't delete malware without separate subscriptions for these services.
The Cleaner One Pro junk cleaner suggested we clean 1.17GB of files in our test. That didn't include our Spotify cache, so the result was actually fairly similar to CleanMyMac with that taken into account.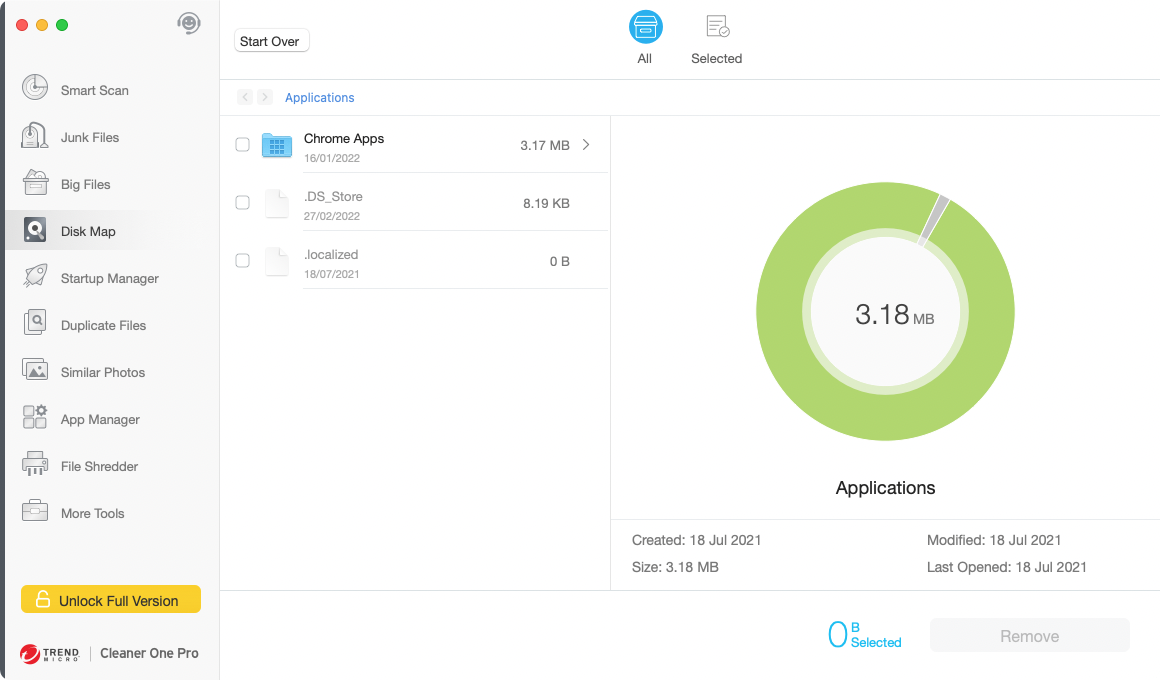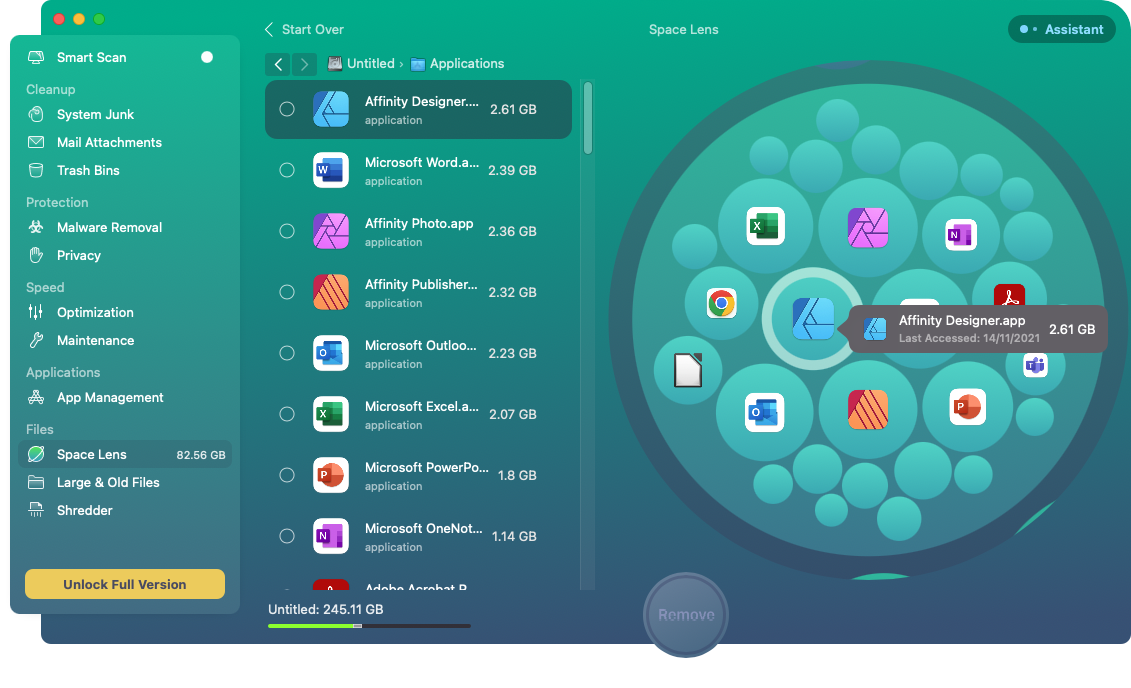 The Disk Map is similar to Space Lens, but it doesn't work as well and isn't as easy to read. We had a similar result comparing Cleaner One Pro's Big Files feature with CleanMyMac's Large & Old Files feature. They both have plenty of large files, but CleanMyMac also lets us sort them by type and the last time they were accessed.
In its favor, Cleaner One Pro includes a duplicate file finder and the ability to find similar photos - neither of which CleanMyMac does. It's also much cheaper, starting from $19.99 per month.
Price: From $19.99
| | |
| --- | --- |
| Pros | Cons |
| Not badly priced | VPN and antivirus are limited without paying more |
| Duplicates finder | Disk visualization not as easy to use |
5. Disk Doctor Pro
There are two versions of this app: Disk Doctor and Disk Doctor Pro. Both of them are one-off purchases from the App Store, but Disk Doctor only costs $2.99 and has a much more limited feature set. The Pro version lets you scan for more types of junk to remove and has a more intuitive user interface, but their functionality is largely the same — they let you search for and delete files that you probably don't need to keep.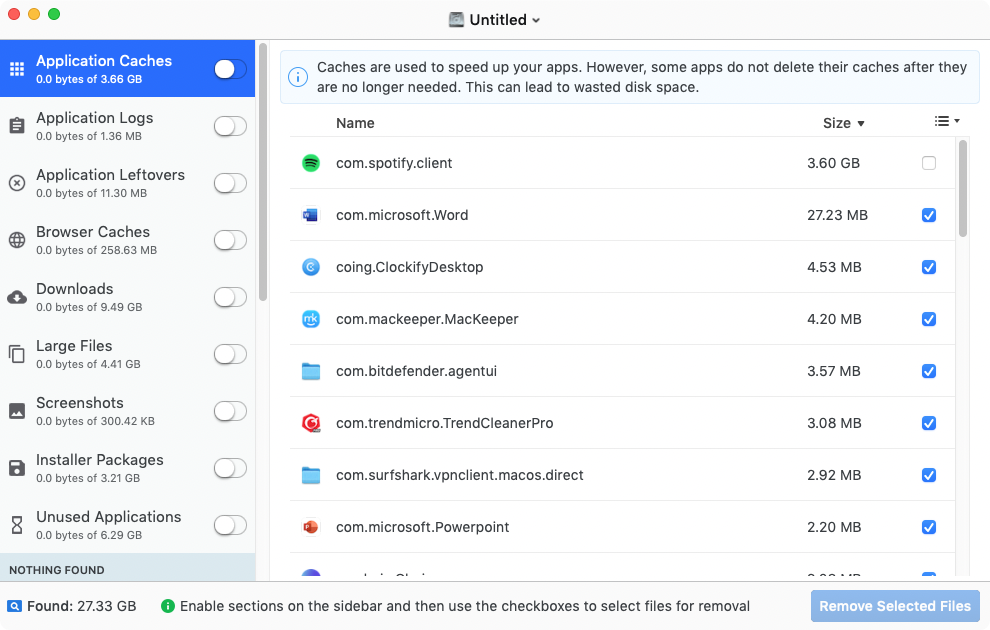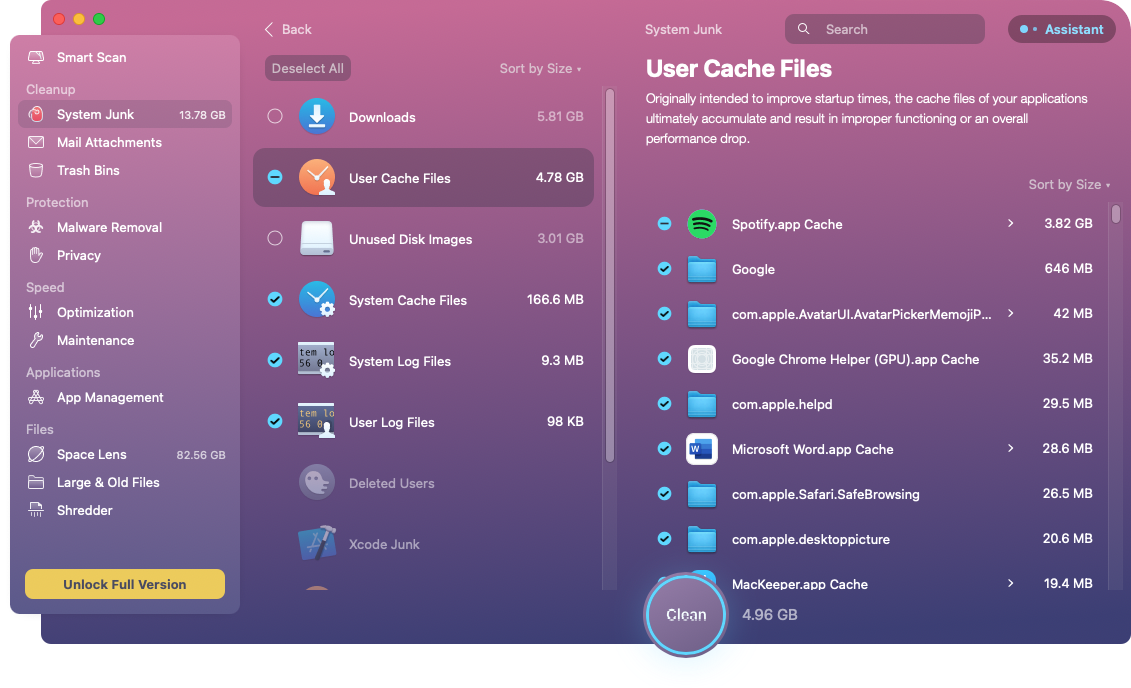 While all the other cleaning apps here automatically selected a list of suggested files to remove, Disk Doctor Pro doesn't do that. It found 27.33GB of potential files to remove, 3.66GB of which was application cache, including our Spotify cache.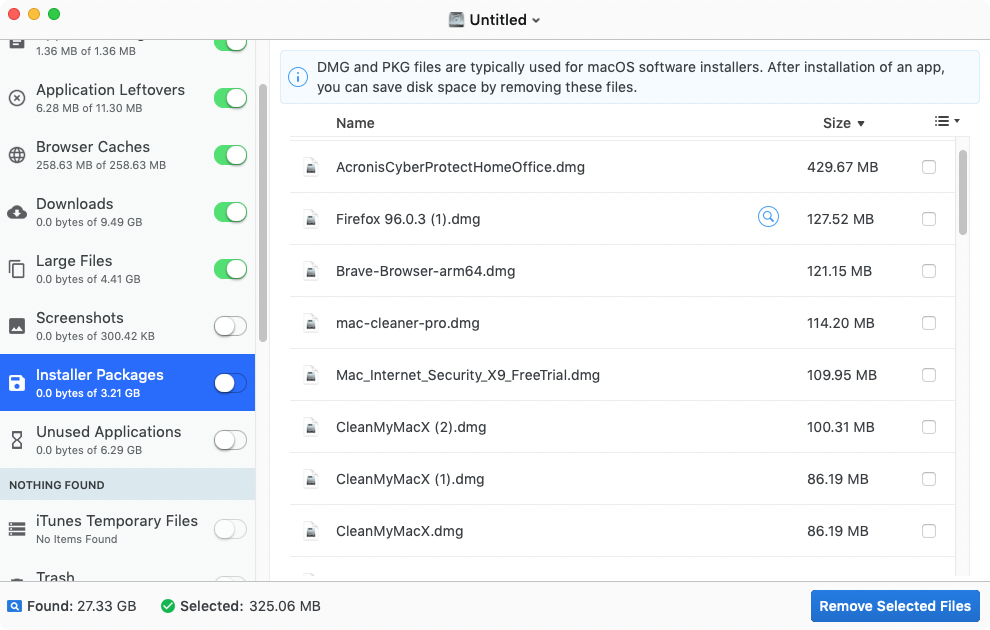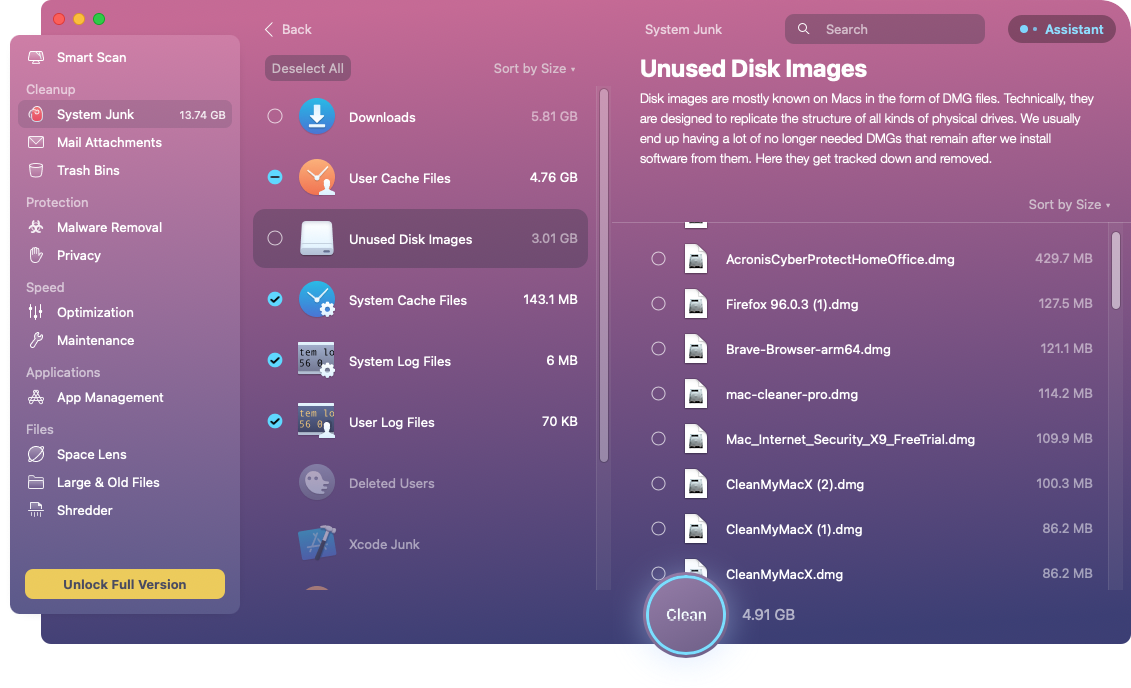 Once you've completed a scan, you can select categories and individual files to include. Then it's simply a matter of clicking Remove Selected Files to delete everything you've selected.
Disk Doctor is easy to use and affordable, but it doesn't offer any features beyond cleaning. If that's all you want, it's a decent, low-cost alternative to CleanMyMac.
Price: $9.99
| | |
| --- | --- |
| Pros | Cons |
| Cheap, one-off price | No security or privacy features |
| Cleans lots of different types of data | Pro version doesn't do much more than cheaper version |
Which CleanMyMac alternative is right for you?
It largely depends on what features you need and how much you want to spend. If your budget is tight, there are cheap or even free alternatives to CleanMyMac, but they don't offer anywhere near the same level of functionality.
If you want security, optimization or privacy features, solutions like MacKeeper and CleanerOne Pro are better alternatives, but again you should pay attention to their features lists. Each one of them has features you won't find in the others. If you want antivirus, for example, both CleanMyMac and MacKeeper include it as standard, but CleanerOne Pro doesn't. And MacKeeper is the only app that includes an unlimited VPN client as standard.
Many of these apps offer free trials or free versions, so it's worth checking them all out before you make a decision.