In this article you will find the following:
Alarm bells might ring if you see a notification saying that your device is infected, but it could also be a fake Apple security virus. Therefore, you must be careful.
Fake viruses can unknowingly let scammers your steal sensitive data, such as passwords and payment details. But fear not, as I'll help you identify fake virus on Mac and lower the risk of becoming a victim. You'll also learn how to efficiently and safely remove such alerts.
Before we start

Fake Mac viruses are often the result of present adware on your computer. MacKeeper's StopAd solution blocks malware of this kind from infecting your device, along with blocking annoying ads in general. The tool also prevents third parties from tracking your online activity.

To use MacKeeper's StopAd tool:

Select Privacy and go to StopAd
Click on the Enable button next to Safari or Google Chrome
Tick all MacKeeper boxes after going into your browser's preferences
Hit Turn On to activate the StopAd solution.
What is a fake virus on Mac?
Do Macs get viruses? Yes, they can—especially through illegitimate pop-ups. The Apple fake virus is a pop-up notification often seen in web browsers.
You can differentiate between real virus notifications and fake alarms because, in many cases, the spelling in fake virus notifications is mediocre at best. You'll also notice discrepancies in brand spelling, such as "MAC OS" instead of "macOS."
Most fake virus notifications also use language to scare you, such as prompting you to act now.
Other signs that a virus notification isn't real include:
Asking for payment details: You should never share your payment details with anyone, and Apple will never ask you to send your banking information to fix a virus
Requesting that you call a phone number: Avoid calling any numbers that a fake notification asks you to. If you need to contact Apple, go to the Apple Support app or website
Overuse of exclamation marks: If you see inflammatory punctuation, the notification is almost certainly fake. Some scammers use this scare tactic.
Dangers of clicking on fake virus notifications on macOS
A virus notification isn't dangerous just because it's fake. In fact, clicking on one can give scammers access to your computer. Once the hackers are in your system, you could unknowingly hand over information that others shouldn't see—such as account login details.
Below are the biggest dangers of clicking on fake macOS virus notifications:
Identity theft: Fake virus notifications often contain actual malware, including spyware. Criminals can then look at payment details, social security numbers, and passwords that you fill online
Computer performance issues: Because fake virus notifications often contain malware, your device might stop running at an optimal level after clicking on one
Possible hacks occurring elsewhere: If hackers obtain your social media information through fake virus notification spyware, they could gain access to your accounts. At best, they might post vulgar content or messages. But they could also infect your loved ones with malware through links.
You might have ended up on a phishing website or downloading the initial virus through one of the following:
Clicking on suspicious email links: Phishing links are often sent through emails. They're easily noticeable by suggesting that you've won a competition or asking you to send money
Clicking on ads appearing on other websites: Many website ads are genuine, but some include dangerous links. You should be especially concerned if Safari warned you about visiting a fraudulent site before you commenced.
What can you do about fake virus alerts on Apple?
You can always check for malware on your Mac if you suspect that you've clicked on a fake virus alert before. But if you've already been infected, remove viruses by following these steps for your browser.
On Safari
To get rid of fake alerts on Safari, follow the instructions below:
Click on the Settings tab under Safari. You can access it in the top toolbar
Select Extensions
Untick and uninstall any extensions that you don't recognize.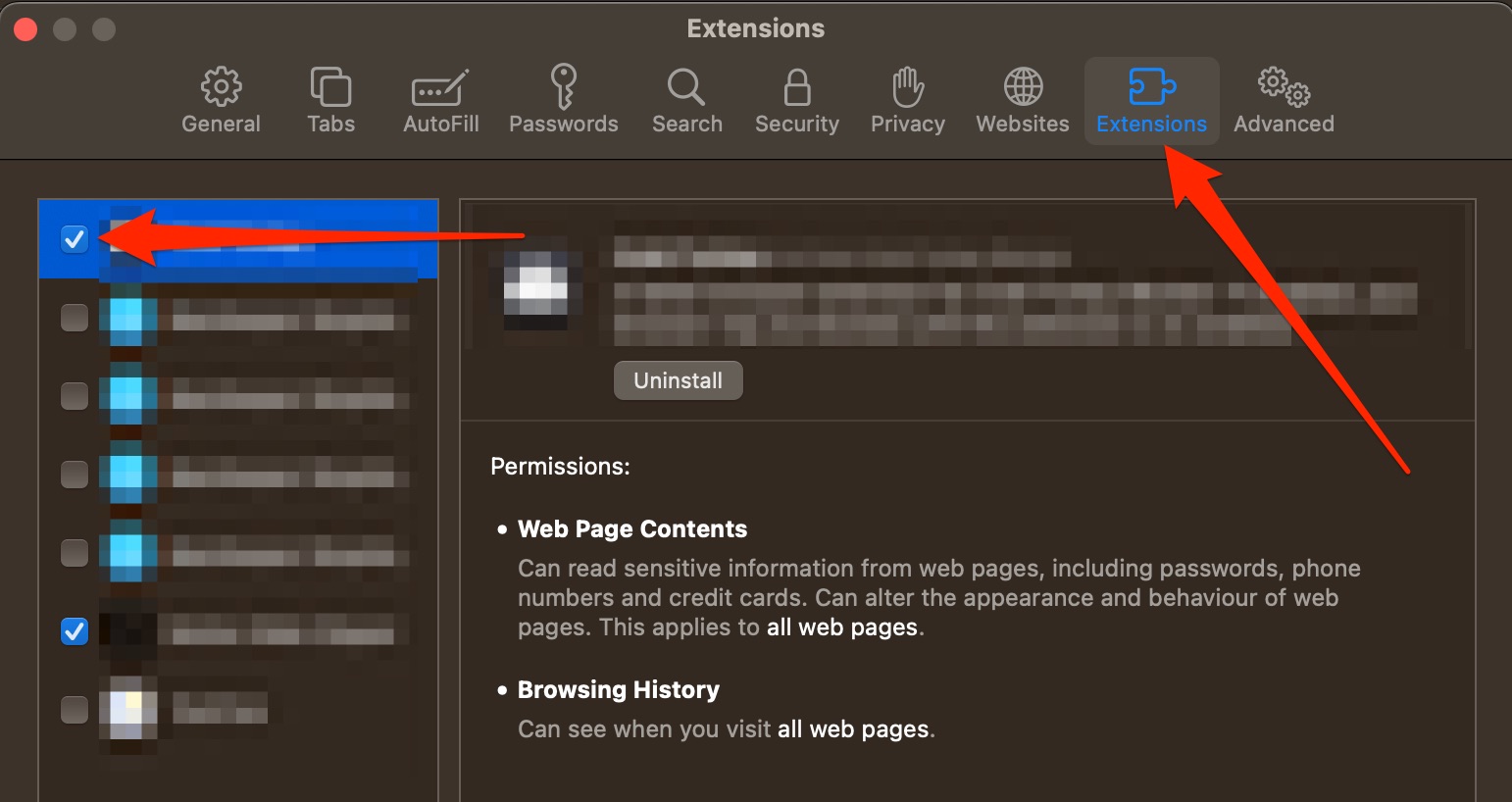 Note from our experts:

You can also protect yourself further by going to Safari > Settings > Security. Here, tick the box next to Warn when visiting a fraudulent website.
On Google Chrome
To delete fake virus alerts in Google Chrome:
Tap the vertical three dots in the top right and select Settings
Select Extensions > Manage Extensions
Click on Remove next to any suspicious-looking extensions
Hit Remove again when asked to confirm your decision.

Note from our experts:

You can also go to Reset settings > Reset settings to their original defaults if you want to completely wipe your extensions, cookies, and pinned tabs.
Stop fake virus alerts from causing bigger problems later
Fake virus alerts are more dangerous than they seem, and interacting with one could result in actual malware appearing on your Mac. Hackers might gain access to your computer remotely, leading to fraud and other potential crimes. You might also infect your Mac with viruses that hinder how your computer works.
Removing fake virus alerts from your web browser is, thankfully, easy. You can also download MacKeeper's StopAd tool to stop adware from reaching your Mac in the first place.