Updated: August 04, 2020 | 13 min read
Do Macs Get Viruses?
If you notice your Apple computer behaving in a strange way, you might wonder—do Macs get viruses? It's only natural for you to be confused, since there's a general misconception that Mac viruses are not a thing.
Although it's true that Apple created by far the safest operating system, there are still a number of malicious software items targeting it out in the web. In this article we will discuss the dangers that Mac users face, how Apple protects their computers, and what measures you can undertake yourself:
Apple security mechanisms
Despite the myth, Apple computers knew malware even back in the 80s. In 2001, Apple redesigned their operating system in a way which guaranteed more complex protection and new security layers for Macintosh users. However, soon after hackers found more system breaches and developed yet more malware of different kinds. In response to that, Apple created Mac OS X with its protection measures against Mac viruses.
OS X protection against viruses for Macintosh:
Quarantine. Ever download an application from the internet? Then you are familiar with the pop-up notification that you instantly receive. It serves to remind you that you should only approve downloads from trusted websites to avoid getting a Trojan virus.

XProtect. This tool prevents malicious files and apps from being opened on your computer if they bear a known signature. It utilises a database containing signatures of all known virus programs, and it's automatically updated
Gatekeeper. This is a barrier that stops applications that don't have an agreement with Apple to be installed on your Mac. If you go to System Preferences → Security and Privacy, you can choose your preferred Gatekeeper settings. You can restrict your downloads to the App Store and allow identified seller apps. However, many malicious items are able to obtain the signature as it only comes with a small fee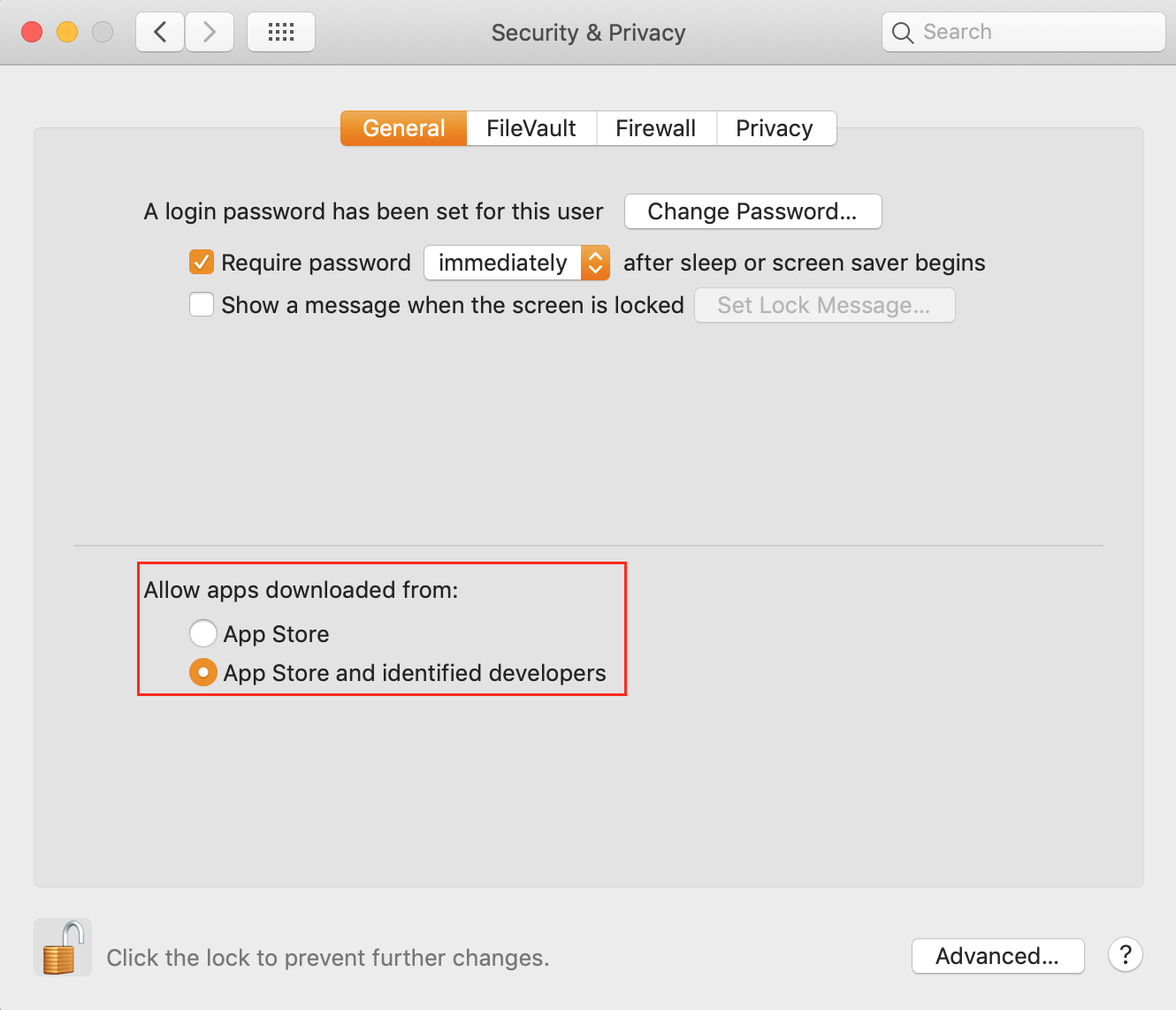 Malware Removal Tool.
Anti-phishing in Safari. The browser can detect suspicious websites and will display a warning before you attempt to visit one
Sandboxing. This important feature restricts applications from having access to the core components of your system and data, preventing them from doing any serious damage
FireVault. This built-in feature makes sure your data is protected by encrypting it. Additionally, Apple has their own rewards system for those who discover vulnerabilities in the software—the Security Bounty Program, with the prize amount of up to $1,000,000.
But what is the next step? It's clear that Apple needs to step up its game, as at this time their devices get more viruses than ever before. Mac malware development has been on the rise during the recent years.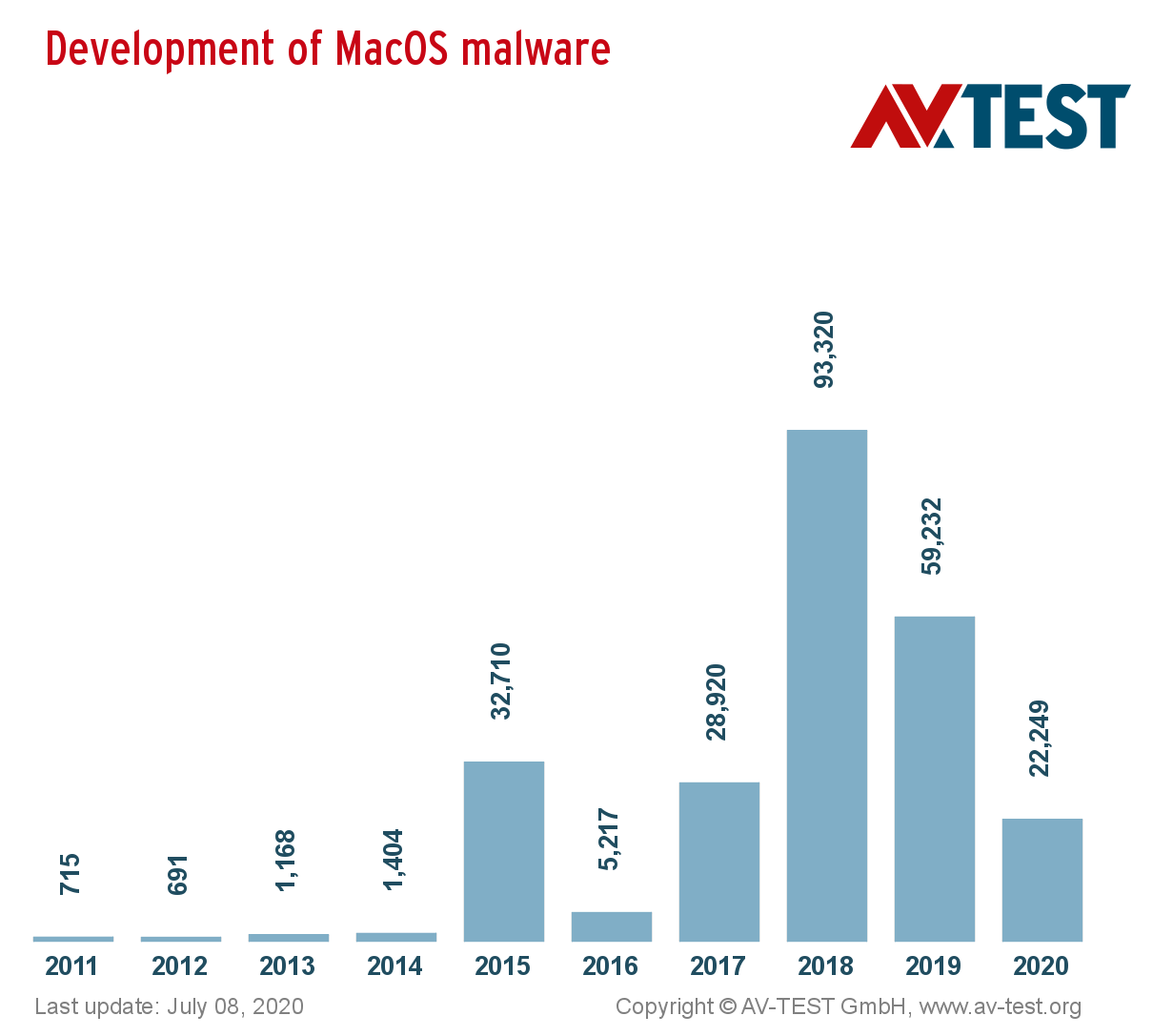 So what kind of viruses do MacBooks get? As of 2018, Trojans were the most popular, constituting nearly 62% of all Apple viruses, followed by backdoors, cryptominers and password Trojans. Learn more about Trojans prevention, the most widespread Mac viruses.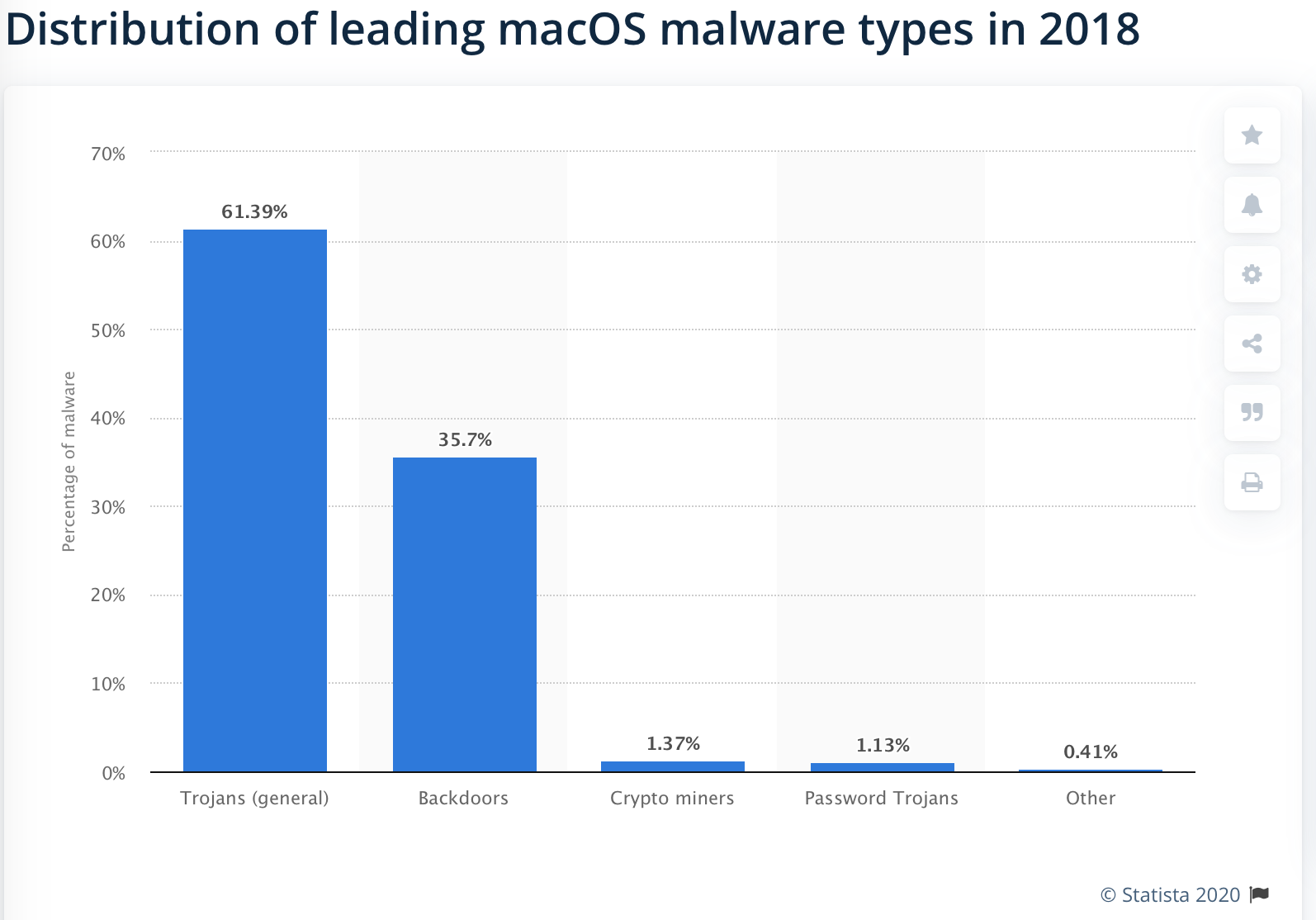 Security features in macOS Catalina
The launch of macOS Catalina in 2019 was big news in the security of Apple devices. Can Apple computers still get viruses with this new OS? By all means. However, this is the best effort the company has made so far to increase user safety.

There are several features worth mentioning:
The operating system and the data are stored on separate volumes. If you go to Disk Utility, you'll see the Home volume and the Data volume—such isolation makes system files more protected from malicious applications that try to access them
Applications are forced to ask permissions to access important locations on your computer. This means that nothing will get access to your files without your permission
Weak passwords are not allowed by the system. If you choose an easily hackable password, you'll be prompted to reconsider
Gatekeeper checks each application for signs of malicious activity every time you run it instead of just doing it once in the beginning. This protects you from "time-bomb" programs that release their malware after app launch
MacBooks with a T2 security chip get a new Activation Lock feature which allows owners to lock their Macs remotely
Security features in macOS Mojave
Many of us have already come across the problems that macOS Catalina presents. If you are downgrading to macOS Mojave from Catalina, you will ask yourself if your MacBook Pro can get a virus if it doesn't have all the extra protection measures. You will be surprised to find out how well-equipped macOS Mojave is when it comes to malware protection—it has plenty of surprises.
Notable macOS Mojave security features:
Safari browser helps users avoid being tracked by advertisers to reduce online fingerprint. This results in much improved personal privacy and makes it harder for companies like Google to create your profile
Apps are unable to use your camera, microphone, backups, and location unless you give them permission. This feature is especially useful against malware that takes control over your microphone and camera. This also reduces the risk of being targeted by criminals. Limited access to your Time Machine backups ensures that your data doesn't get stolen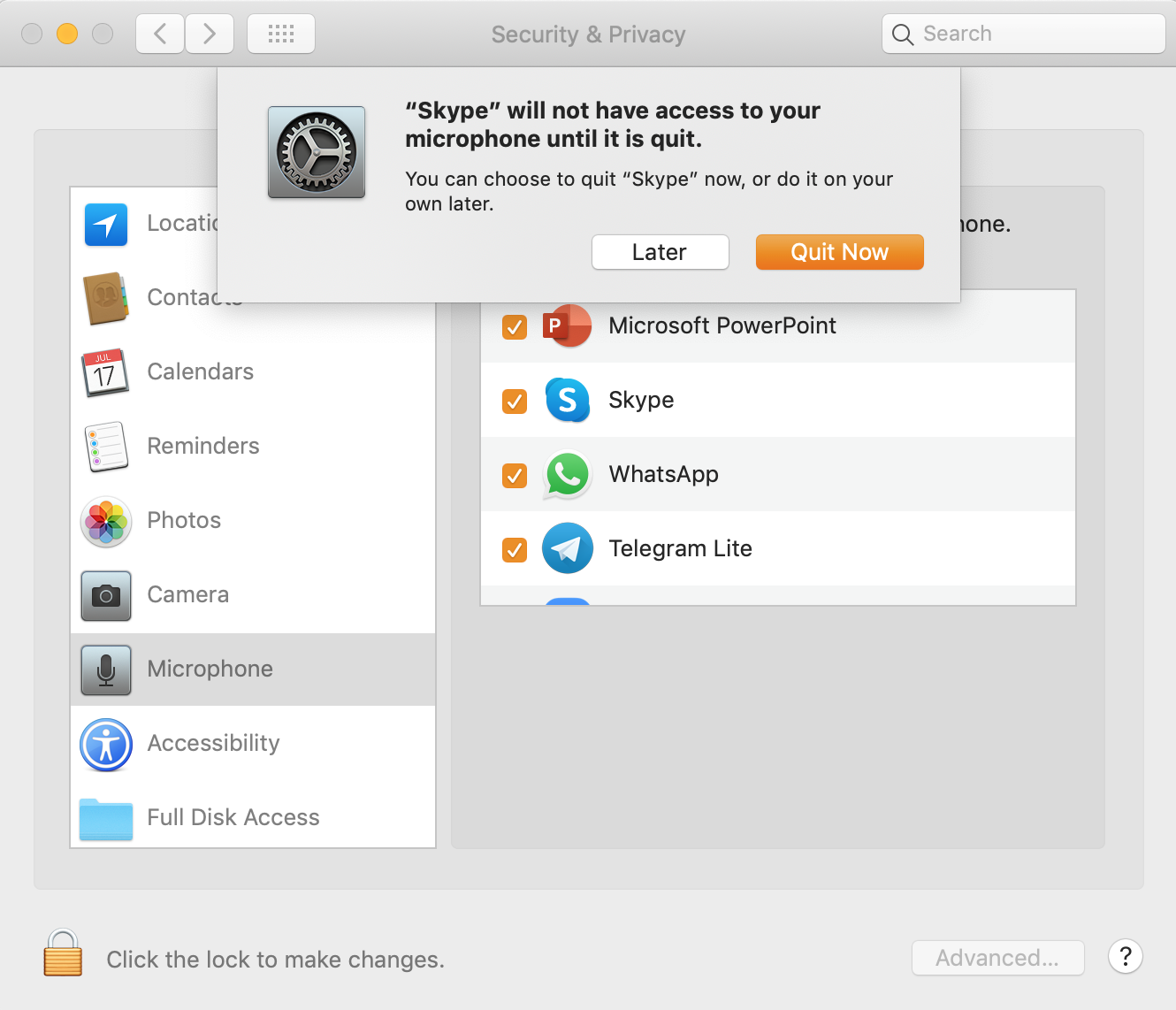 Safari automatically makes strong password suggestions when you attempt to register on a website. Naturally, the suggested passwords are practically impossible to remember, but since all your passwords are stored in keychain that doesn't present a problem. With stronger passwords your accounts are harder to hack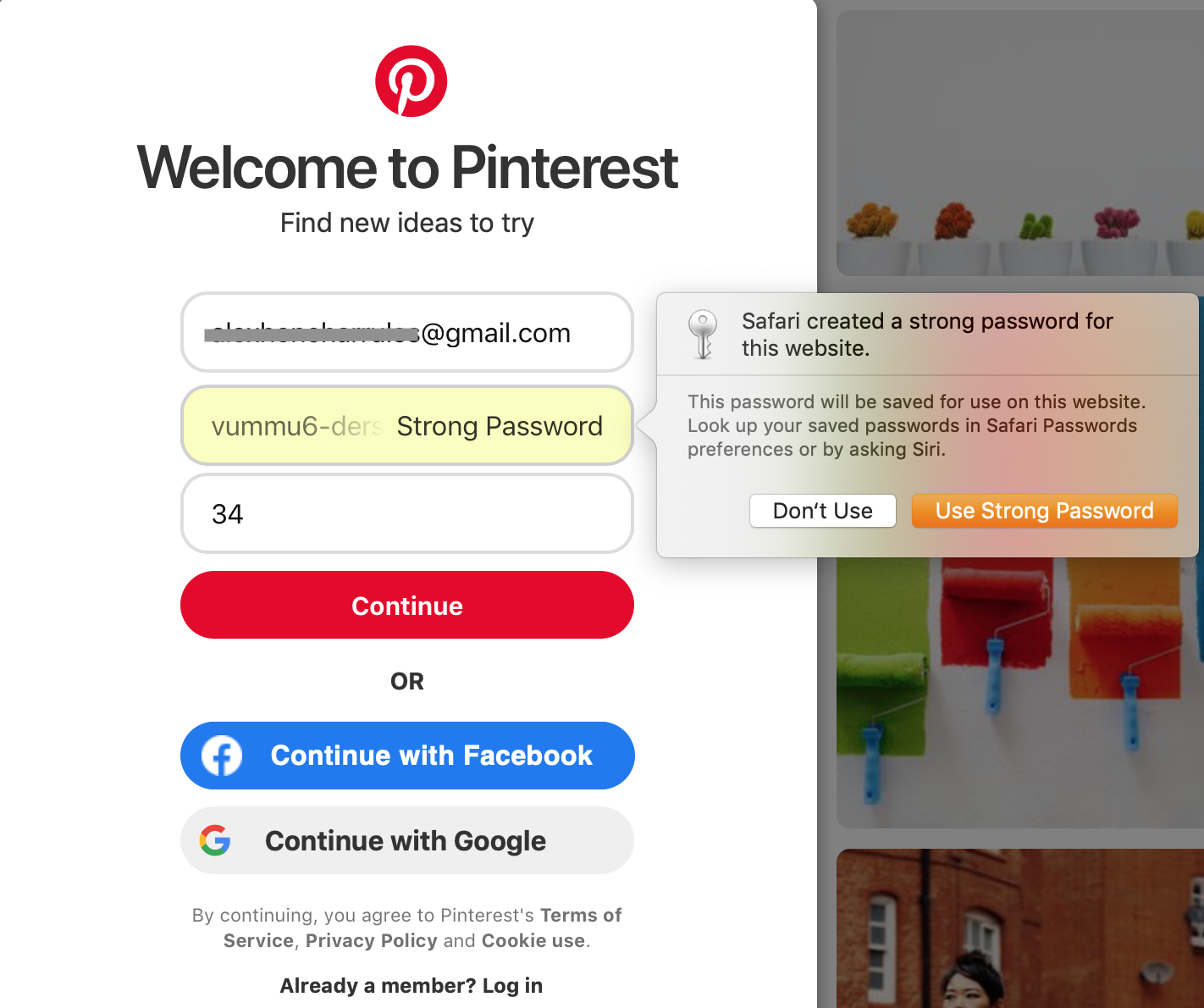 Owners of T2 security chip MacBooks are able to use Touch ID for enhanced sign in protection in this version of macOS
How to avoid getting viruses on a Mac
Now that you are familiar with all the security perks of macOS you might think that you can stop worrying about malware on your computer. Unfortunately, despite all of these measures, there is still malicious software that is able to bypass them and infiltrate your system. One type of such software can escape Gatekeeper by signing an Apple certificate—this can go unnoticed for days.
One example of this is a malware delivered as a .dmg disk image pretending to be an Adobe Flash Player update file—a typical Trojan horse virus. If the virus discovers that the computer it's being installed on doesn't have any antivirus protection, it proceeds to infect the system with the LaunchAgent.
So what can you do to protect your Mac computer from viruses?
1. Don't connect to public Wi-Fi networks
Public Wi-Fi presents a dangerous game. Hackers that set up such networks act as network administrators, which gives them extensive access to the computers of anyone who connects to their Wi-Fi hotspot.
It's very easy to install malicious files to the devices connected to the same network if you're its admin. It can get ridiculous—you risk getting all of the sensitive data you handle stolen when using such a connection. A hacker can even take control over your session and operate your Mac remotely before you're able to shut it down.
2. Beware of fake apps and updates
Fake updates to popular applications often become the gateway into your computer for malicious software. Macs get viruses especially easily through fake Adobe Flash Player updates.
If you are an experienced user, it's likely you've come across a request to update your Flash at some point. For example, when you want to watch a film for free or play a short clip on a random website you can see that you can't resume without a Flash Player update. Don't buy into it—most of the time it's a fake alert.
A word of advice—you don't even need Flash Player anymore. Most websites use a more modern plugin HTML5 after Google announced that they would stop supporting Flash in 2016 for the Chrome browser. Moreover, Adobe themselves made a statement that as of 2020 they would no longer support Adobe Media Player.
Conclusion—just avoid Flash Player and other unnecessary vulnerable plugins and apps as much as possible.
3. Disregard fake virus infection warnings
Fake virus warnings are rightfully called "scareware"—they are designed to persuade naive users to install cleaning software. The truth is, all these cleaning apps are actually Trojan horse viruses that will drive you insane before you manage to get rid of them.
Beware of suspicious websites that advertise antivirus companies and claim to perform a malware scan online. Don't click on anything if you see one of these and leave the page as soon as possible. You can also come across random browser pop-ups and system tray notifications.
The best thing to do in this situation is to close your browser window. You can also research the antivirus company that the ad is coming from to evaluate the threat. Last, scan your Mac with a real anti-malware program to make sure there is no adware in your system.
4. Avoid phishing emails
Phishing emails are the type of mail that attempts to obtain personal information from you. Mac users will often find that these emails ask them for their Apple ID and password and, commonly, credit card details. Bear in mind that Apple themselves would never ask you for this kind of information in an email—if you receive suspicious mail that seemingly comes from Apple, you should email their support team immediately to report phishing.
If you think you're a target of a phishing scam, there are several things you can do to protect yourself. First of all, make sure that your Apple ID is safe by using two-factor authentication. Don't share verification codes and passwords for your Apple ID and iCloud with anyone. Finally, don't click on suspicious links in emails from unfamiliar senders—you risk your Mac getting a virus.
FAQ
Do Macs have a built-in virus scanner?
Apple's own XProtect feature acts as an antivirus scanner every time you restart your computer, checking the system for the presence of the most common malware infections. Unfortunately, it's proven to not be quite enough to guarantee safety, as its database quickly becomes out-of-date and only protects against a handful of programs.
How do you know if your Mac has a virus?
There are several signs that you can look out for:
Pop-up adverts and annoying web-page headlines that open without your permission
Unfamiliar applications on your Mac that you've never installed
Sudden crashes of your Mac, loud fans, and Mac running hot
Excessive hyperlinks in webpages
High CPU usage
Does Apple notify you of a virus on a Mac?
Apple would never send a notification of your computer being infected. If you notice that you get frequent pop-ups and adverts suggesting that your computer has been infiltrated with malware, it's certain that you are being scammed. Many types of adware will send you unsolicited notifications and prompt you to install third-party software.
Unfortunately, it's virtually impossible for a general user to get rid of a virus. In this case, we suggest using a powerful antivirus such as MacKeeper to analyze your system and remove any malicious items.