In this article you will find the following:
Digital ads are a pain in the butt. No matter what you do, you can't escape them. So, you block them for peace of mind, but that doesn't always last because there comes a time when you must disable AdBlock—be it temporarily or indefinitely. But some websites that rely on ads don't grant you access when you've blocked them, which can be a huge inconvenience.
Have you ever searched for something you were interested in buying on Google, like a pair of Nike sneakers, only to notice ads for similar pairs everywhere on the internet? Sometimes, that is handy when you want to see options for similar items. But you can only achieve that by enabling AdBlock.
The benefits of using AdBlock are clear and compelling. That's why you should always consider the risks of disabling it and proceed cautiously.
Before we begin

Ads can dampen your browsing experience in many ways. They make it difficult to navigate websites, cover the content on webpages, and sometimes contain adware—which can compromise your privacy. MacKeeper's StopAd is a browser extension that blocks annoying ads in Safari and Chrome. This allows you to browse the internet safer and faster without getting interrupted or followed by online trackers.

If you want a peaceful browsing experience, use MacKeeper's StopAd tool.

Download MacKeeper on your Mac
Select StopAd in the left menu and click the blue Open button
Click Install next to each browser. This will take you to the relevant browser. Click the Add button and follow the on-screen prompts to add the extension.
Security is top of mind for anyone looking for a good web browser. Familiarize yourself with the implications of disabling AdBlock before removing it:
Advertisers will be able to track you again
You could unknowingly interact with adware.
Other risks include increased battery and bandwidth usage. Fortunately, you can implement some workarounds, like using Reader Mode to hide ads in Safari and whitelisting certain websites. Continue reading to learn how to disable AdBlock in the following browsers on MacBook Pro and MacBook Air:
Chrome
Safari
Firefox
Opera.
How to disable AdBlock on Chrome
You might be one of the 2.65 billion people who use Chrome. That's because Chrome has extensions for nearly anything you can think of—including AdBlock.
But there are more reasons why the Chrome browser is loved by so many users, many of whom set it as their default browser.
Chrome is a user-friendly browser that can be used by just about anyone—thanks to its simple, straightforward interface
It offers several privacy and security tools, including virus and malware protection, active password detection, and a built-in password manager
It can be easily personalized according to your preferences, like color themes and the content you see via the New Tab page
Chrome is generally a fast browser. According to a March 2022 Chromium blog post, Chrome tests have shown the browser's graphics performance is 15% faster than Safari. Overall, the browser is 43% faster since it launched on M1-based MacBooks toward the end of 2020.
Follow the steps below to disable AdBlock in Chrome on Mac.
Please note: These instructions are specific to Chrome on macOS. The steps could differ if you use Chrome on another operating system, like iOS (below) or Windows.
Let's start with the shorter method to block websites in Chrome.
In the Chrome browser, click the extension's icon (it's the one that looks like a puzzle piece) in the top-right corner
Click the three-dot menu, and select Remove from Chrome.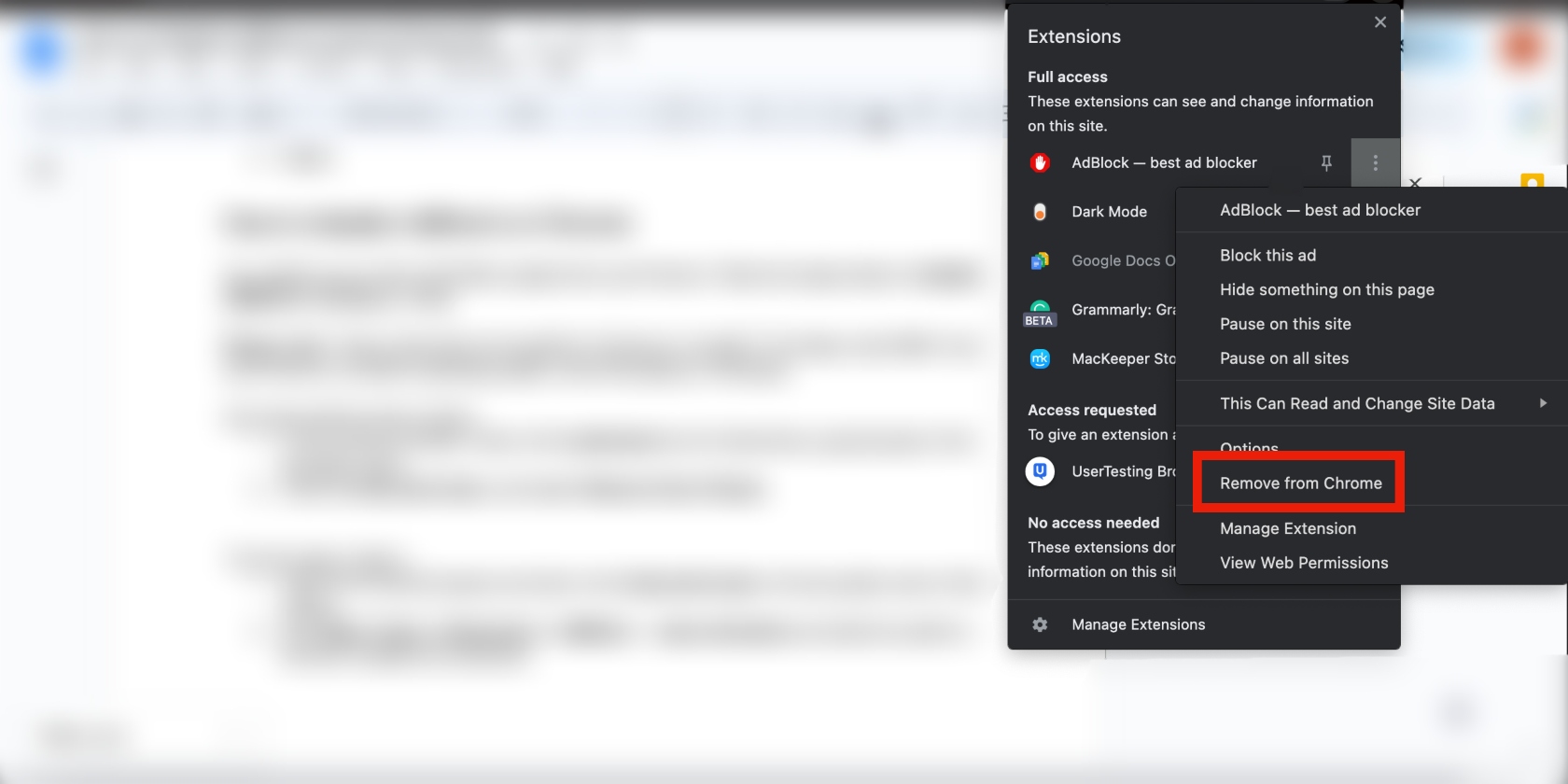 Or try another alternative way to achieve the same result (just a bit longer):
Open the Chrome browser and click on the three-dot menu in the top-right corner of the screen
Click More Tools > Extensions > AdBlock — best ad blocker and slide the switch to the left to disable the extension.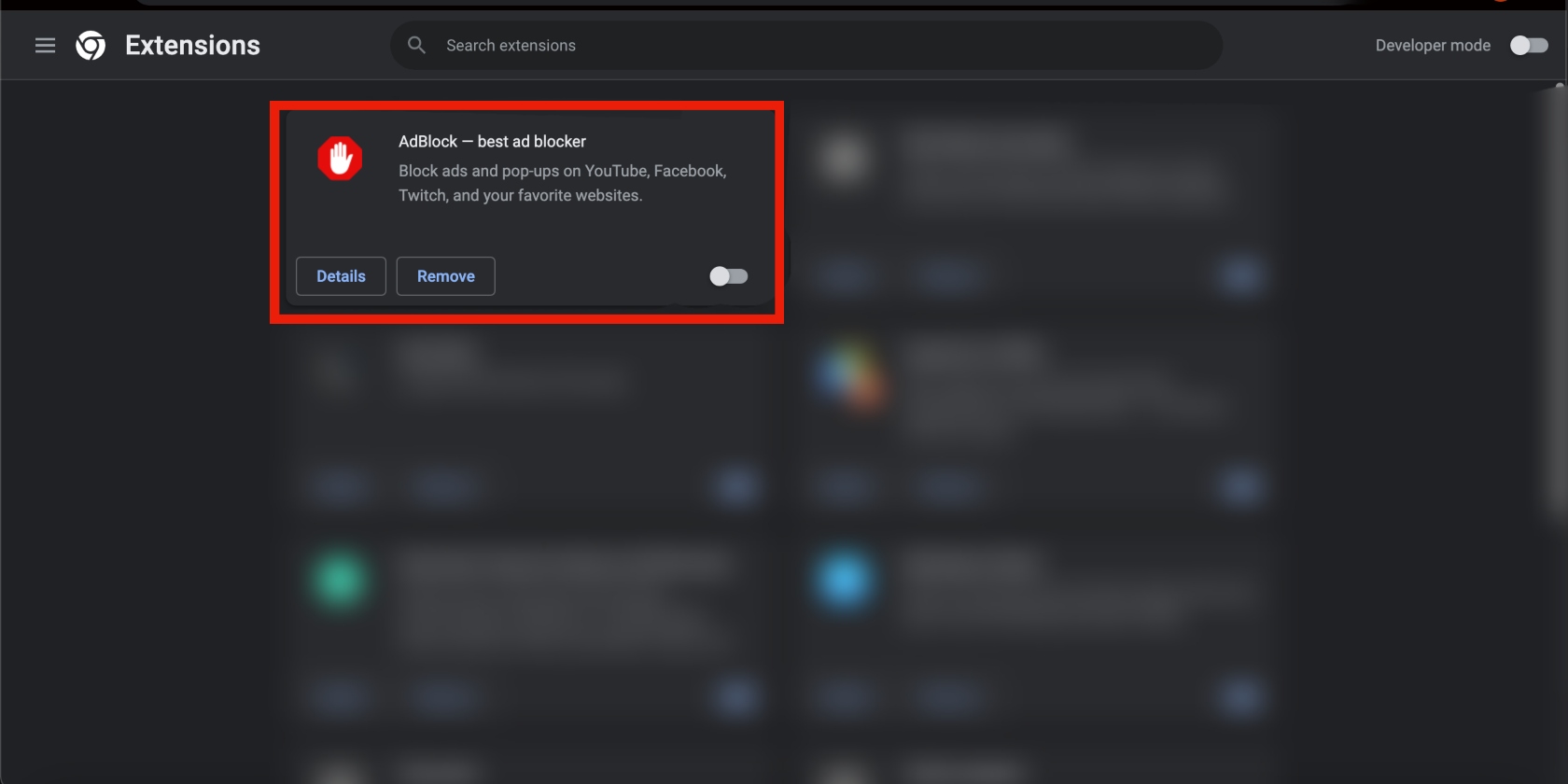 AdBlock is one of the many apps that can be used to block websites on Mac.
Please note that you can't get Chrome extensions on mobile, including iPhone and iPad.
How to turn off AdBlock on Safari
Safari is, by no means, the leading browser, although it's Apple's native browser for iOS and macOS. In May 2020, TechCrunch reported that Safari accounts for 19.16% of internet users, with just over a billion users worldwide. Safari has a lot going for it. Below are some of the benefits of using Safari:
It features a simple interface
It's straightforward to use
It syncs across your Apple devices seamlessly
It's packed with privacy and security features, including protection against cross-site tracking, ad management that doesn't infringe on user privacy, limiting the amount of data collected by the search engine, private browsing, and more.
You have two options for disabling AdBlock on Mac: disabling it on all websites and disabling it on one website. We'll tackle the former later.
Here's how to deactivate AdBlock on all websites in Safari on Mac:
Open the Safari app, click Safari in the top menu, and select Preferences > Extensions
Deselect AdBlock Engine and AdBlock Icon
Click Uninstall, select Show in Finder and drag the pre-selected application to the Trash (This step is necessary because installing the AdBlock extension on Safari on Mac also downloads the AdBlock app by default. To complete the process, you must delete the app, too)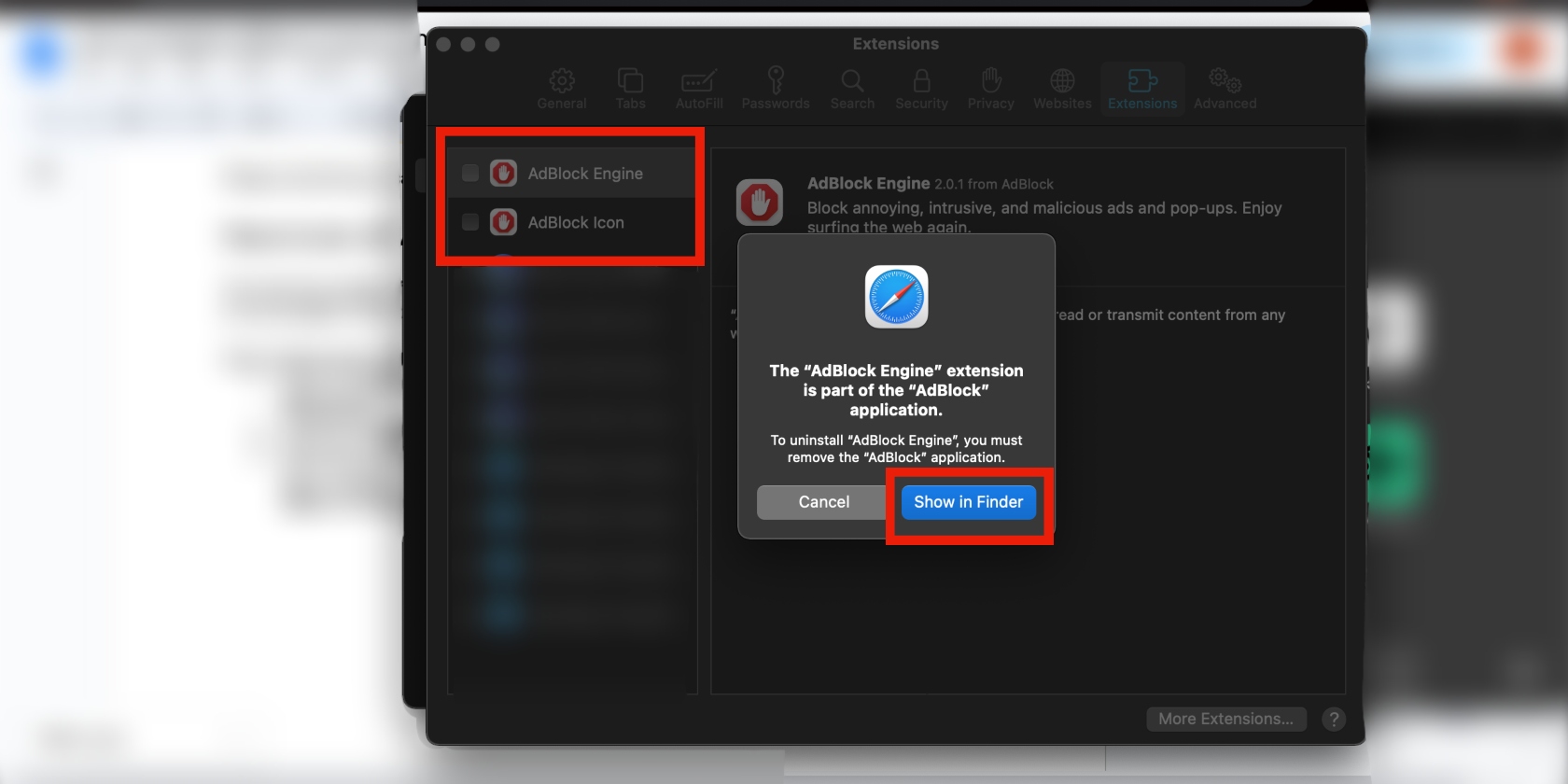 Note: Manually deleting applications from your Mac doesn't always uninstall them completely. If you want to do a thorough job of removing an app from your Mac, use MacKeeper's Smart Uninstaller. The tool removes every file associated with an app, including leftover files, which can be easily missed with the human eye.
The process of removing AdBlock in Safari is different on mobile. AdBlock doesn't have the option to pause the extension temporarily on mobile, so you have to turn off content blocking for the site you're on instead (unlike on desktop).
Follow the guide below to disable AdBlock in Safari on an iPhone or iPad:
Open the Safari app
Tap AA in the bottom-left corner of the screen and select Turn Off Content Blockers.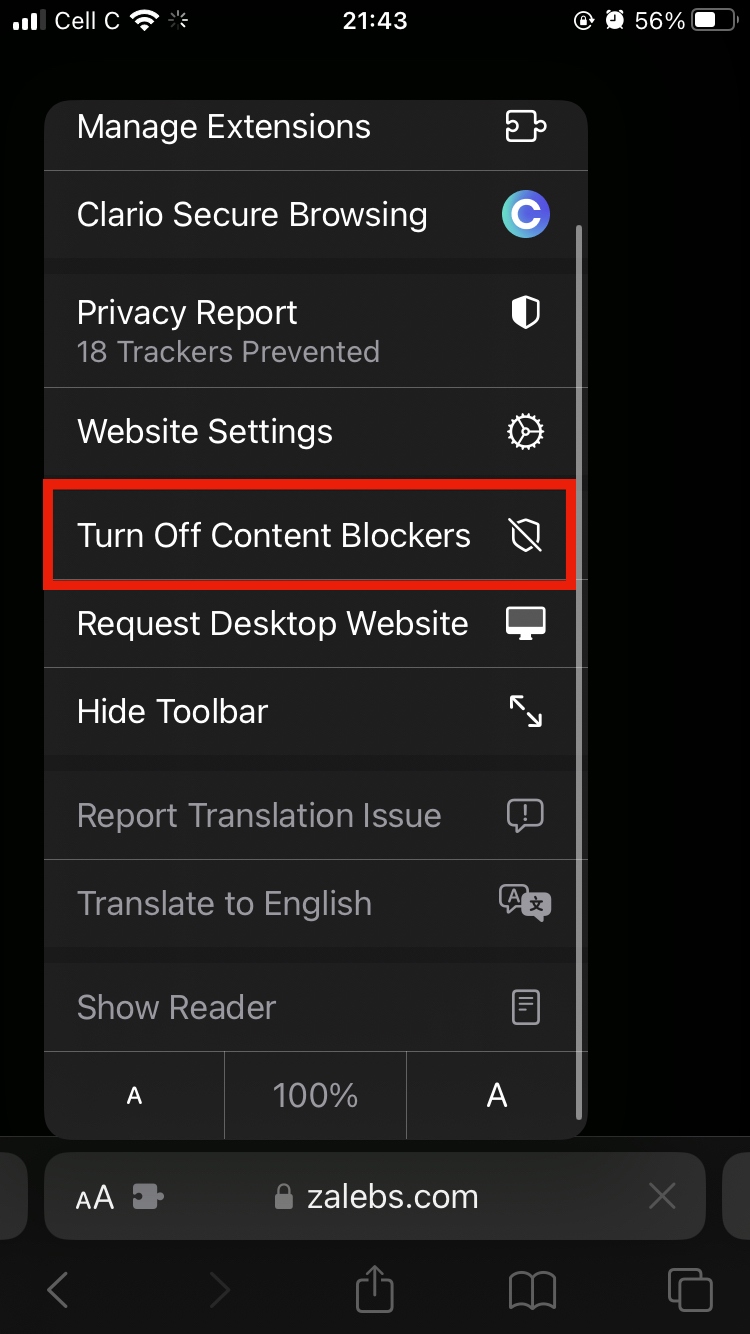 How to remove AdBlock from Firefox
As of April 2022, Firefox ranks third among the most popular browsers, with a 4.92% market share and 362 million users globally. Firefox offers key privacy and security features and add-ons for your safety. These include:
Enhanced tracking protection: Prevents known trackers from gathering data about your browsing activity
Total cookie protection: Prevents cookies from tracking you across various websites
DNS over HTTPS: Hides your online activity, particularly the websites you access, from third parties
Fingerprinting protection: Warns you about websites that collect settings from your device and browser. This prevents them from creating a digital fingerprint to profile you
Protection against phishing and malware: Allows Firefox to give you a heads-up when you're about to visit a page that has been reported for a phishing page or that contains malware. Don't fall victim to phishing—learn how to avoid the most common types of phishing attacks
Firefox Monitor: Lets you know if any of your online accounts were involved in a known data breach and warns you when you visit a website that's been breached in the past
HTTPS-Only mode: Improves security by compelling connections to websites to use HTTPS, which is a secure, encrypted connection
Multi-account containers: Allows you to separate cookies into "containers", so you can use the internet with multiple accounts. Facebook container makes it difficult for Facebook and other Meta sites to track you online
Firefox Relay: Masks your real email address to protect your account from hackers and possibly reduce the amount of phishing emails you receive.
The process of disabling AdBlock in the Firefox browser is straightforward. Here's how to do it in Firefox on Mac:
Launch the Firefox browser on your Mac
Click on Tools in the top menu, select Add-ons and Themes > Extensions, and toggle AdBlock - best ad blocker off.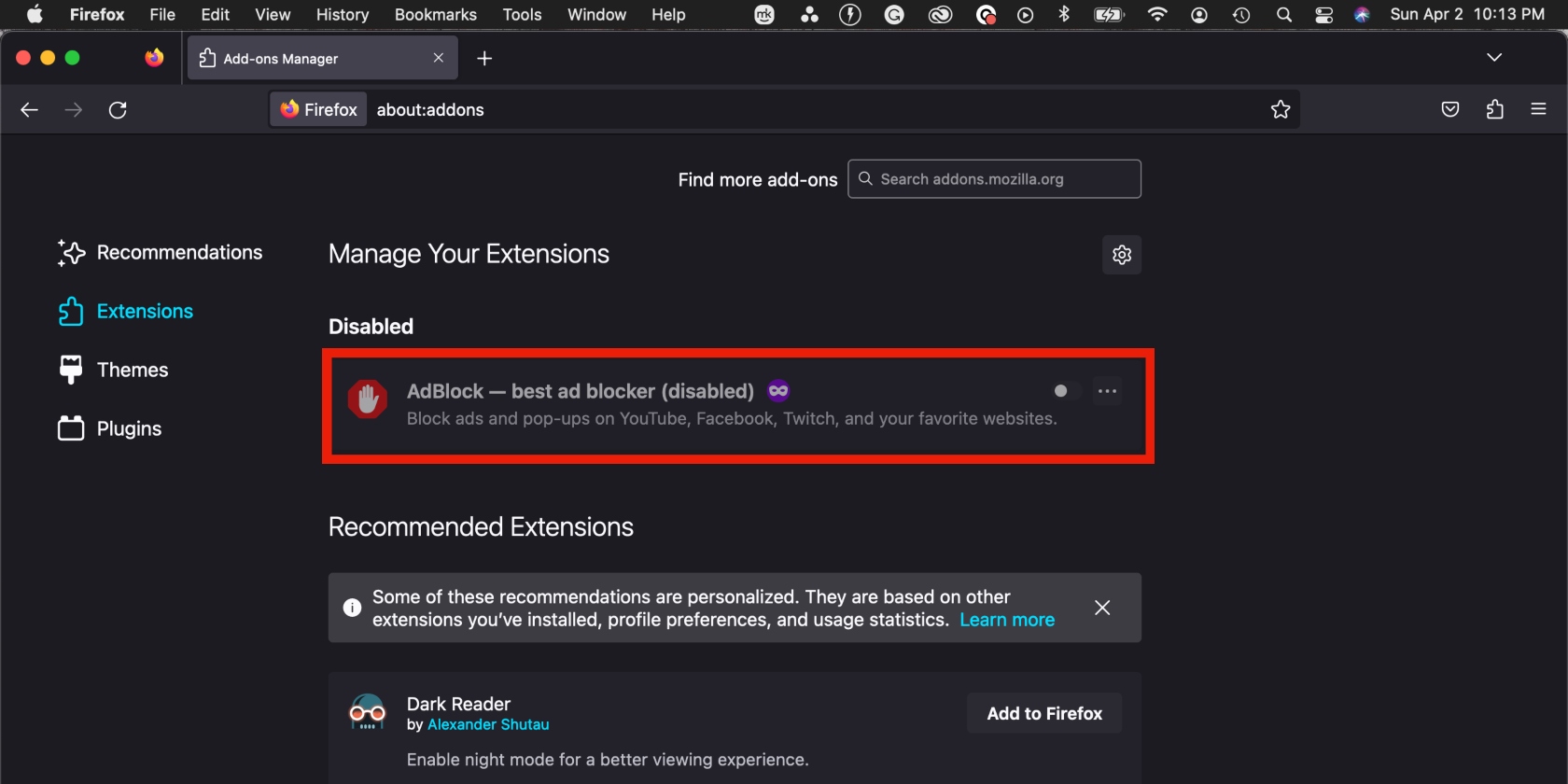 Please note that there's no AdBlock extension available for Firefox on an iPhone or iPad.
How to get rid of AdBlock on Opera
Opera is the browser for privacy-minded internet users. It has 350 million users and accounts for 2.26 percent of the market share (as of 2022). As a privacy-focused browser, Opera doesn't disappoint when it comes to privacy and security features. Have a look at them below:
Ad blocker: This is a multi-layered feature that also blocks crypto mining scripts and the source of tracking cookies, and speeds up page loading times
Tracker blocker: Prevents online tracking by data collection methods like tracking pixels and analytic scripts. Blocking trackers also makes web pages load faster
VPN: Protects your IP address by masking it and connecting you to a server in a different location, anywhere in the world. This prevents hackers from tracking you online
Paste protection: Precludes cybercriminals to hijack your clipboard and change your sensitive information by monitoring for changes and reporting them. For example, if you copy and paste your bank account number into the browser, hackers can replace it with their own. Opera warns you when this happens.
Even though Opera has a built-in ad blocker, some users prefer to use AdBlock instead. You can disable AdBlock in the Opera browser.
Here's how to cancel AdBlock in Opera on Mac:
Open Opera on your Mac and click View > Show Extensions in the top menu
Click Disable in the AdBlock section.
As with other browsers, there's no AdBlock extension for Opera's mobile browser.
How to stop AdBlock for one website
If you want to keep AdBlock enabled and only disable it for one website, that's an option. This method works best for those websites you visit regularly because it improves load time.
Here's how to temporarily limit AdBlock for a single website:
Go to the website you want to remove the AdBlock extension from
Right-click on the page, hover over AdBlock - best ad blocker and choose Pause on this site.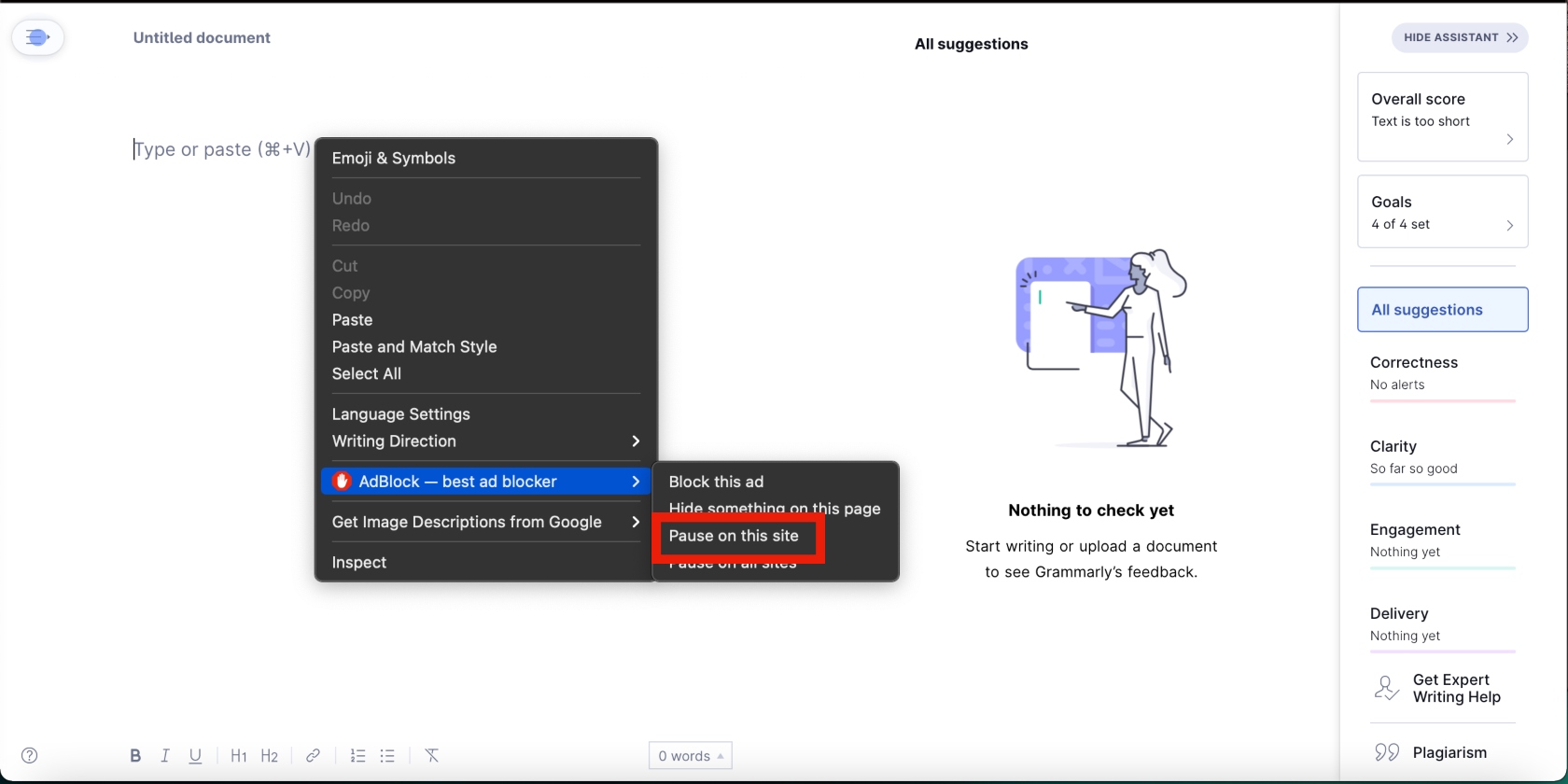 Access your favorite websites without interruption on Mac
Factors like web page load time and the security offered by browsers contribute to how we experience them. In addition to annoying pop-ups and banners, websites can compromise your privacy with hidden malware and adware.
Clicking on these could result in your personal information being compromised. Look out for these signs in your browser that your computer may be harboring viruses or malware:
Getting more pop-up ads than usual
New tabs refusing to close
The Chrome extensions and toolbars you've removed keep returning
The Chrome homepage or search engine randomly changing on its own
Chrome keeps redirecting to pages you don't recognize or strange ads
You receive warnings about a possible virus on your computer.
You can play your part in securing your device by staying away from unknown, suspicious, and unsecured websites. Avoid clicking on ads and downloading software from unknown or shady sites. But if you want to experience websites better, the solution is removing AdBlock.
The helpful tips in this article should work for removing AdBlock easily. But if you're looking for an efficient ad-blocking tool, MacKeeper's StopAd is your best option. It's an extension for Safari and Chrome that improves your experience by blocking banners and preventing advertisers from shoving ads in your face.