Something you should know


A secure connection can make your online Mac experience much more enjoyable because nobody will be able to track your browsing activity and bother you with annoying ads. The easiest way to keep your browsing private is to install a VPN tool.

Give MacKeeper's VPN Private Connect a try—this easy yet powerful VPN will allow you to keep what's yours private.
Another way of enhancing your privacy when you browse with Safari (although more limited than a VPN) is using an incognito mode. It allows you to surf the internet without leaving such traces of activity as browsing history, cookies, cache, autofill forms, etc.
In this article we will go through:
What is private browsing in Safari
When you surf the web, the data you send and receive, such as browsing history and cookies, are stored locally on your computer and anyone can see them.
This can be a problem when using a shared computer and you need some privacy whether it's checking your financial info, watching adult content, or simply looking for a gift for your beloved family member.
Therefore, in order to protect your privacy, Safari specifically created a Private Browsing mode, which doesn't store your web browsing history.
How can Safari incognito mode help me?
Well, Safari won't store the data locally on your computer. Simply put, no one can see your browsing history, and It will disable autofill including; website usernames and passwords.
However, it doesn't hide either your IP address nor makes you invisible. As an illustration, your internet provider and the websites you visited would still know what pages you visited using your IP address.
How to use private browsing in Safari
1. Open Safari browser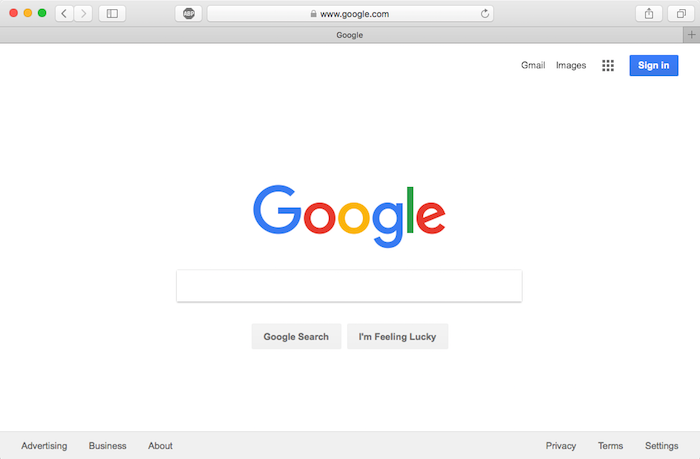 3. 2. Click File next to Safari in the top menu bar and select New Private Window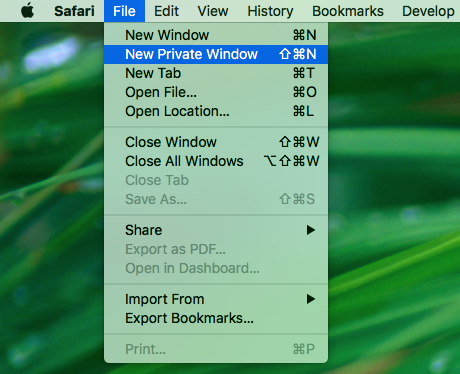 3. You're in, this is how your Safari will look like in a private window: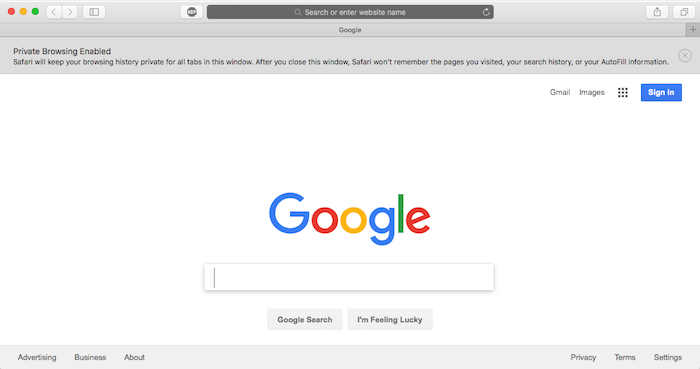 As you can see, the only visual difference is a darker address bar. Safari will also show you a brief explanation of what private browsing is—"Private Browsing Enabled. Safari will keep your browsing history private for all tabs in this window. After you close this window, Safari won't remember the pages you visited, your search history, or your AutoFill information."
From now on, you can use Safari as you usually do. Your activity is not recorded as long as you stay in this private window. However, it's important to mention that the bookmarks you make and the files you download will be saved.
Moreover, you can use the regular Safari window side-by-side with a private one. Or open an additional private window using Shift + Command + N shortcut. Do not worry if you often browse the same website in a private mode. It won't be recorded in the browsing history until you switch to the regular Safari window.

Forgot using a private window in Safari? Don't worry, check this article on how to delete history in Safari.
How to change Safari privacy settings
Sometimes, it can be a chore to open an incognito Safari tab every time you need to use your mac, and sometimes you may just forget. However, there is a solution to always browse privately.
You can easily set up Safari to be a private browser by default. All you need is to follow the following instructions:
Go to Safari Preferences from the menu bar
Select General (the first tab)
In Safari opens with select A new private window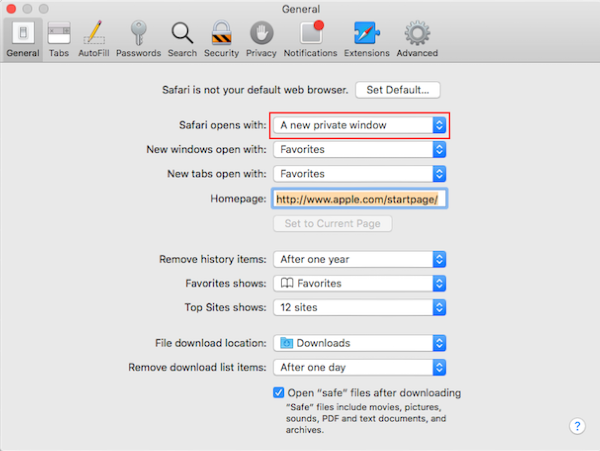 Doing this will ensure every time you open Safari the first window you open will be an incognito tab. To be more precise, only the first window will be in incognito mode and any new tabs you open will be in normal mode.
You can open a regular new tab by heading to File and choosing New Window or, in a more common way, press a shortcut of Command + N.
FAQ
1. Is Safari private search really private?
Safari incognito mode deletes your browsing activity, search history, auto fillers, and cookies from your browser and iCloud once it's closed. However, it only hides your activity, not the data. In other words, your IP is not hidden and your internet service provider (ISP) can clearly see your browsing activity.
2. How can I see what has been viewed in Safari private browsing?
Normally you can't trace Safari incognito tabs search history. However, there are a few third-party tools that you can use to trace private browsing in Safari.
These tools are easy to use and can't only trace browsing history but also calls, messages, contacts, and many more. Yet, they aren't free.
3. Can you disable Safari private viewing?
It is possible in macOS Catalina. Here's what you'll need to do:
Open Apple menu and select System Preferences
Select Screen Time
Click Options, you can see it on the lower-left corner
Turn on Screen Time for this Mac
On the side tab click Content & Privacy
In the Web Content section select Limit Adult Websites
Following these steps will disable private browsing and you won't be able to open incognito mode unless it's reversed.
4. Can the Wi-Fi owner see what sites I visited in incognito mode?
Yes. Incognito mode doesn't make you invisible as the data can be plainly seen on the router and ISP logs. If you use your Mac on your own, you probably won't need to hide your browsing history at home. Though, if you are sharing your computer with other family members, or using a borrowed Mac, these tips can be really helpful and save you some time on covering your tracks and keeping private information more secure.
For a stronger security and privacy on a Mac, we recommend MacKeeper. Make sure that your computer, accounts, and connections are safe and secure!
Read more: