When we surf the web, we leave a footprint of personal data behind us. Marketing agencies collect this data through cookies and history. Although Mozilla Firefox is one of the most secure and private browsers, it will still leave some of your personal information behind. Fortunately, you can easily change your preferences and clear the tracks behind yourself.
In this article, you will learn the steps on how to clear history in Firefox:
How to delete Firefox history manually
1. Open Mozilla Firefox and locate the menu button in the top right corner of the window.

2. Open the Firefox menu and click Library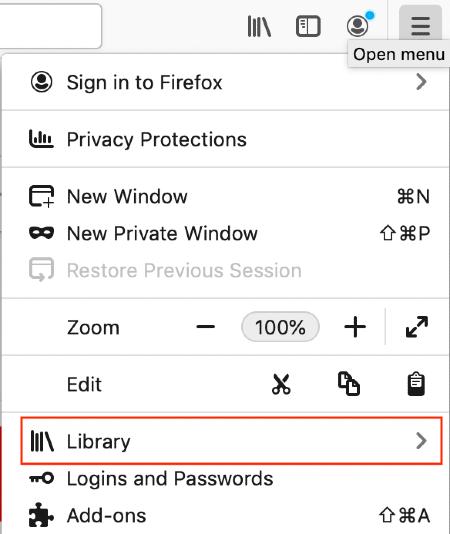 3. In a new menu, select History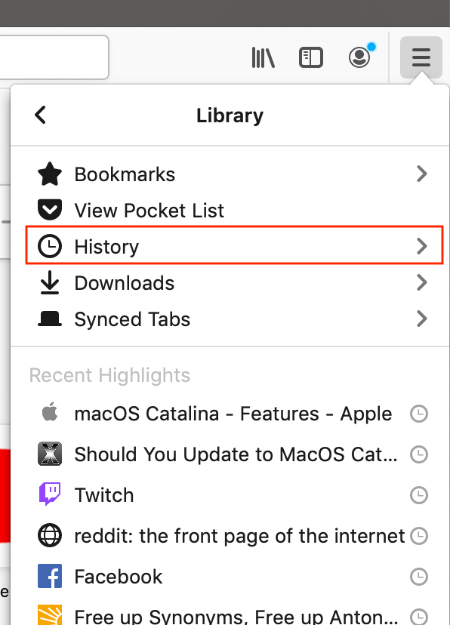 4. In an opened menu, click on Clear Recent History to open the settings to clear browsing history in Firefox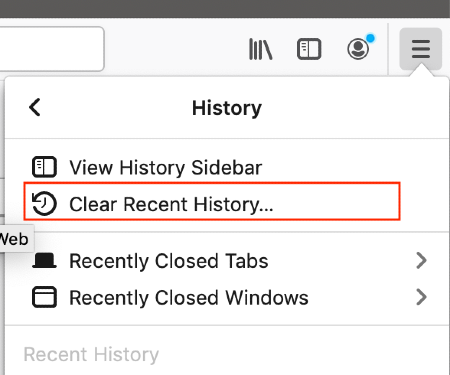 5. Select the options for the different types of browsing data that are collected during your time on the web to include them in your clearing choices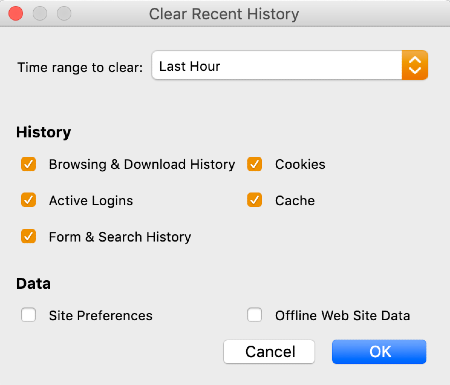 Time range to clear defines for what period of time you want the data removed. It can be anything from the past hour or your entire history.
The different types of history include the following:
Browsing and Download History. This is simply the record of websites that you've visited and what you've downloaded from them
Cookies. This is the information that creates your online footprint and helps form your identity as an internet user. Clearing it will make your browsing more private and anonymous
Active Logins. If you've logged in to a website, you can opt for it to remember your login details and keep you signed in. Clearing this data means that you'll have to log in and enter your password again, but it protects your account
Cache. This is temporary information stored on your computer to make browsing certain websites faster
Form and Search History. If you fill in an online form, the browser will remember your choices to make filling out similar forms easier. You can protect your personal information by clearing this data
The different types of data stored in Firefox history include:
Site Preferences. Any permissions or custom settings you've given to a particular website, such as allowing them to send you notifications or use your microphone, can be cleared
Offline Website Data. By using caches, some websites create an offline copy of themselves for you to use when you don't have a network connection. Clearing this data will make those websites only available online.
6. When you've picked your settings and decided which period of time you want Firefox history cleared for, simply click the blue OK button to finish the cleanup.
Note. You can also open a Clear recent history pop-up window with a shortcut. Just press Control + Shift + Delete while you're in a Firefox window.
How to make Firefox clear your history automatically
You can automatically clear your browsing history every time you quit Firefox if you tweak a few settings.
To automate clearing history in Firefox:
1. Open the Firefox menu in the top right corner
2. Click on Preferences
3. Go to Privacy and Security in the sidebar on the left
4. Scroll down until you see the History heading
5. By default, you should see Firefox will Remember history right below the heading. Open the menu and click on Use custom settings for history

6. Check the box next to Clear history when Firefox closes

How to remove a single website from your history
If you want to erase a single website from history on Firefox, you can pick one of the two available ways to do that.
Method 1:
1. In the Firefox menu on top of the screen click on History
2. Select Show All History from the drop-down menu

3. Find the website you want to delete from your Firefox history or search for it using the search bar on the top right
4. Right-click on the website's name to open another drop-down menu
5. Select Delete Page

Method 2:
1. Click on the Firefox menu in the top right corner of the browser window
2. Click on Library
3. Click on History
4. Select View History Sidebar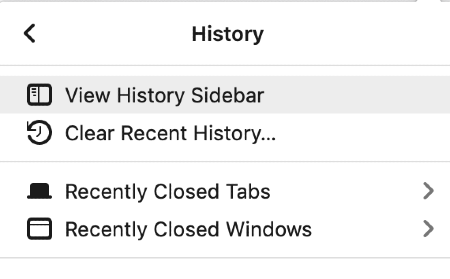 5. Locate the desired website in the sidebar that appears on the left
6. Right-click on the website's name to open a drop-down menu
7. Select Delete Page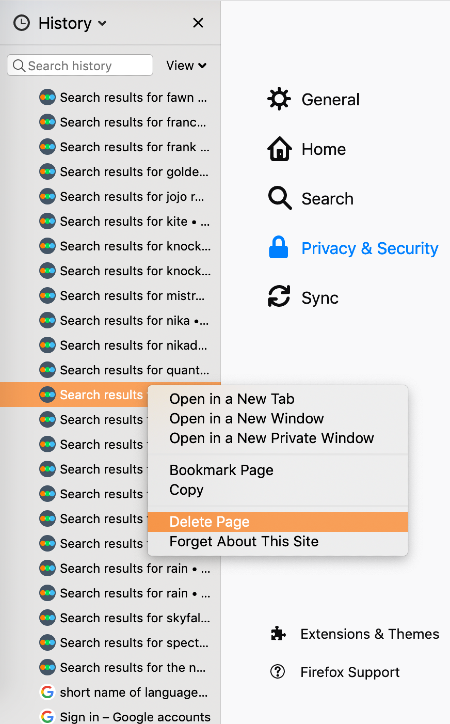 If you can't clear your Firefox history, it's likely that you've enabled permanent Private browsing mode and hence your history is not saved at all. To disable private browsing, go to the Firefox menu → Preferences → Privacy and Security. Scroll down until history and click on the history menu. Select Use custom settings for history and uncheck the box next to Always use private browsing mode. If Never remember history is selected instead, select Remember history instead.
How to clear Firefox cache with MacKeeper
When you browse, images and pieces of text from the websites are downloaded to your Mac. These files are called cache. The aim of cache is to make the websites load faster. Moreover, programs on your Mac create cache files as well to work faster. However, as time passes, these files just pile up and clutter up your disk space.
With MacKeeper, you can delete all types of cache in minutes. What's more, you can simultaneously get rid of other junk files. Learn more about MacKeeper's cleaning tools!
Here's also a dedicated guide to clearing cache on your Mac in case you want to learn more about it.
How to browse privately in Firefox
Private browsing mode makes your life much easier if you don't want to leave any tracks behind but don't have time to clear your history. When you use the internet with this mode on, it does not save any browsing data, including cookies.
To open a new private window in Mozilla, open the menu on the top right and select New Private Window. To open a specific link in a new private window, simply right-click on the link and select Open Link in New Private Window from the drop-down menu.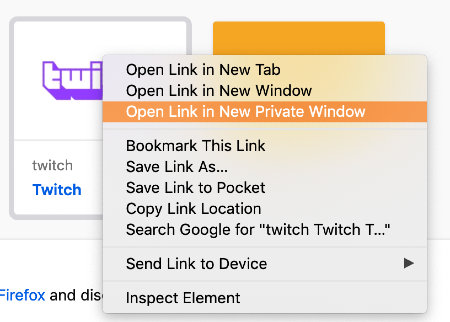 You can make Firefox start every session in Private browsing in settings. Go to the Firefox menu and click on Preferences. Select Privacy and Security from the sidebar on the left and scroll down until you see the History heading. Click on the settings for history and select Use custom settings for history. Check the box next to Always use private browsing mode.

Looking for an even more private connection? Check out MacKeeper's VPN Private Connect! With this tool, you'll be able to hide what you browse and where you browse from. It also encrypts the data you send online and receive.
Read more: