CCleaner Professional is a cleaning app developed by the British software company Piriform. Initially designed for PC, it now also works on Mac. Below is a detailed review of the entry-level version of CCleaner:
What is CCleaner?
CCleaner is a lightweight app for cleaning junk files and improving your Mac's performance. By removing browser history and cookies, the app also helps to maintain privacy. While the cleaner's basic functionality is free, its professional features are only available with an annual subscription for $19.95.
How to use CCleaner? Features overview
Every Mac user needs a simple way to remove useless files from their device and make it run faster. So what does CCleaner do to help you with that task? It offers a small yet powerful set of cleaning and optimization tools: Cleaner, Uninstaller, Startup Manager, Large File Finder, and Duplicate Finder. Let's look at each of these tools in more detail.
Cleaner
Cleaner allows you to remove cookies, caches, logs, and other junk files that gobble up space on your Mac, slowing it down. Depending on your app and browser usage, you might be storing dozens or even hundreds of such files. To get rid of them, simply click Run Cleaner.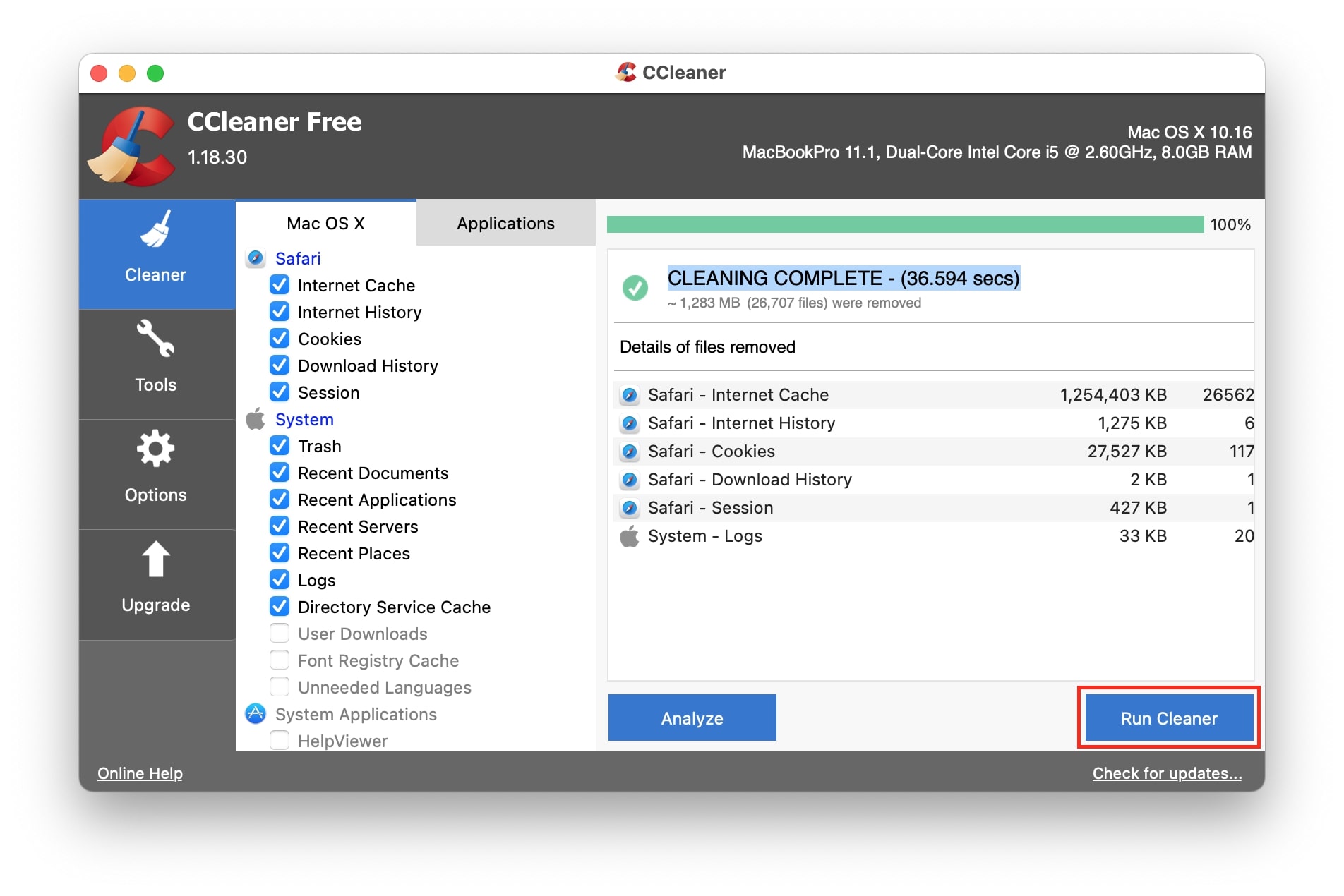 It took 36 seconds to clean our Mac with CCleaner.
Uninstaller
With this tool, you can easily uninstall an app and all the useless files it creates on your Mac. You might find it particularly useful when you can't delete an app by traditional means. To use this tool, select the app you want to remove and click Uninstall.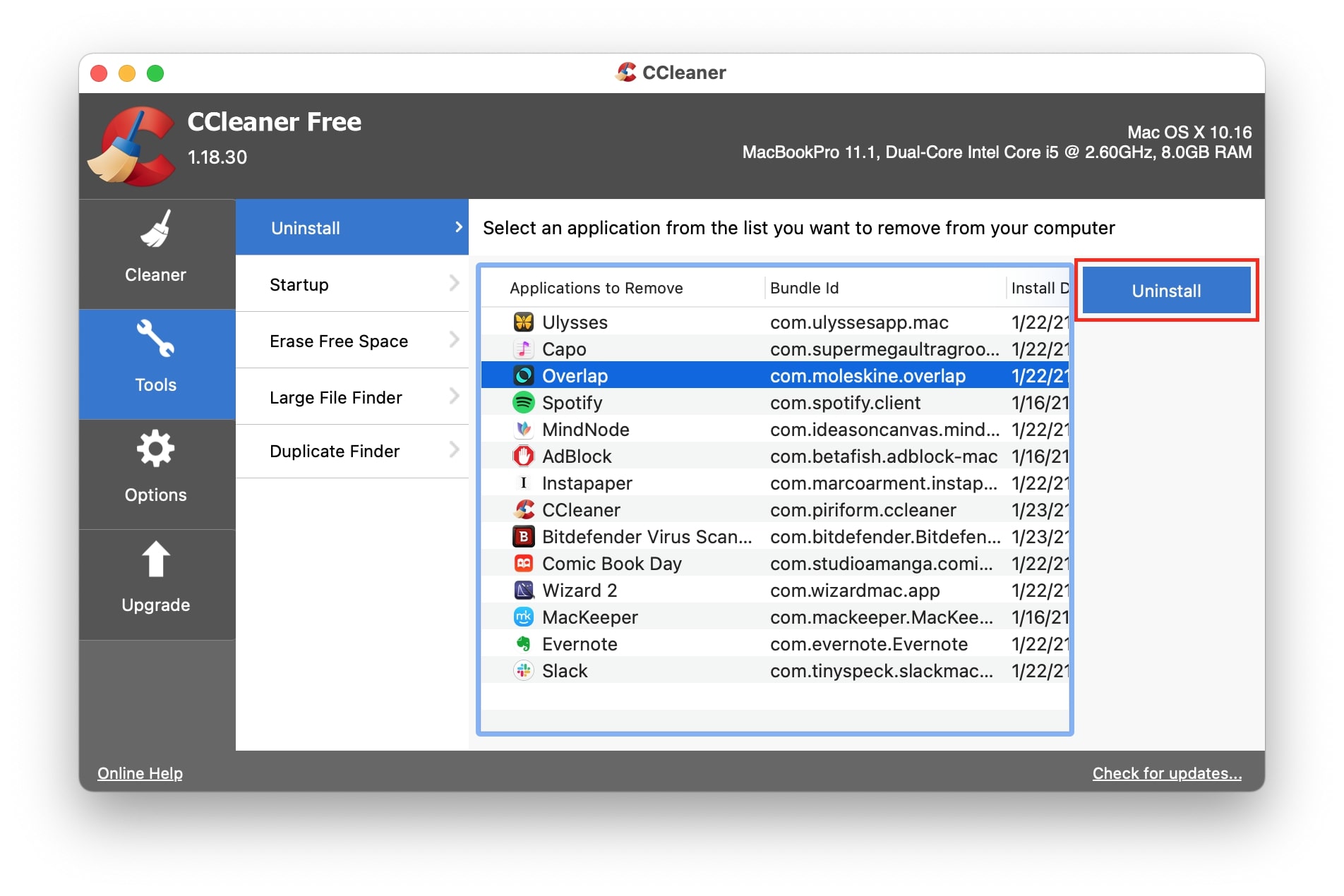 We instantly deleted both small and large apps with the Uninstaller tool.
Startup Manager
This CCleaner tool allows you to manage the startup apps that launch automatically when you turn on your Mac. The more startup apps you have, the longer it takes for your Mac to boot.
To get rid of unwanted startup items with CCleaner, select them from the list and click Remove or Disable.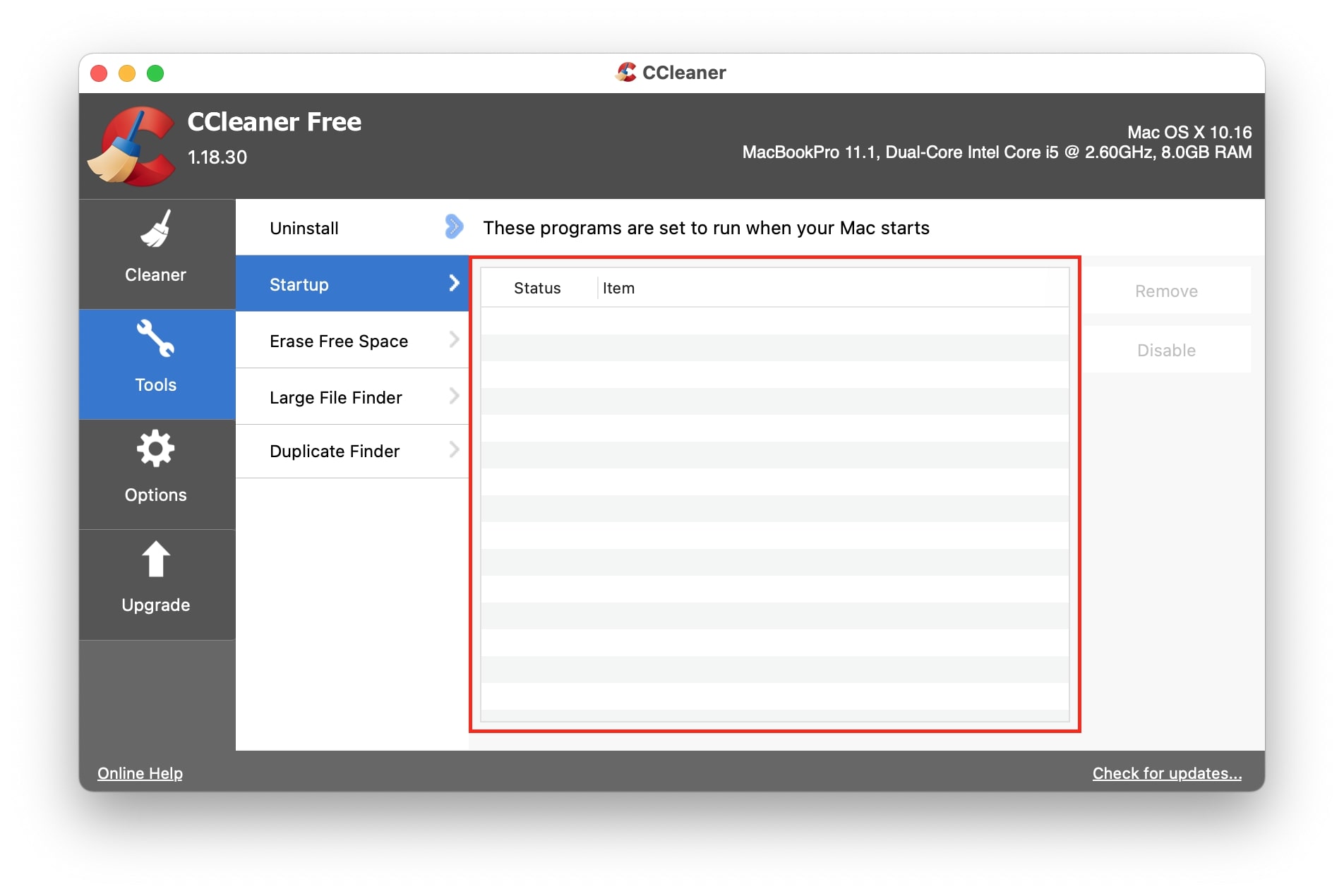 We tested the tool and, as you can see, it didn't detect a single startup app. However, let us assure you, the Mac used for testing had quite a few.
Erase Free Space
You can run CCleaner to securely erase the free storage space on your Mac, for privacy and security reasons. By wiping this free space, you make it impossible to recover deleted files. To wipe free disk space, select a volume and click Wipe.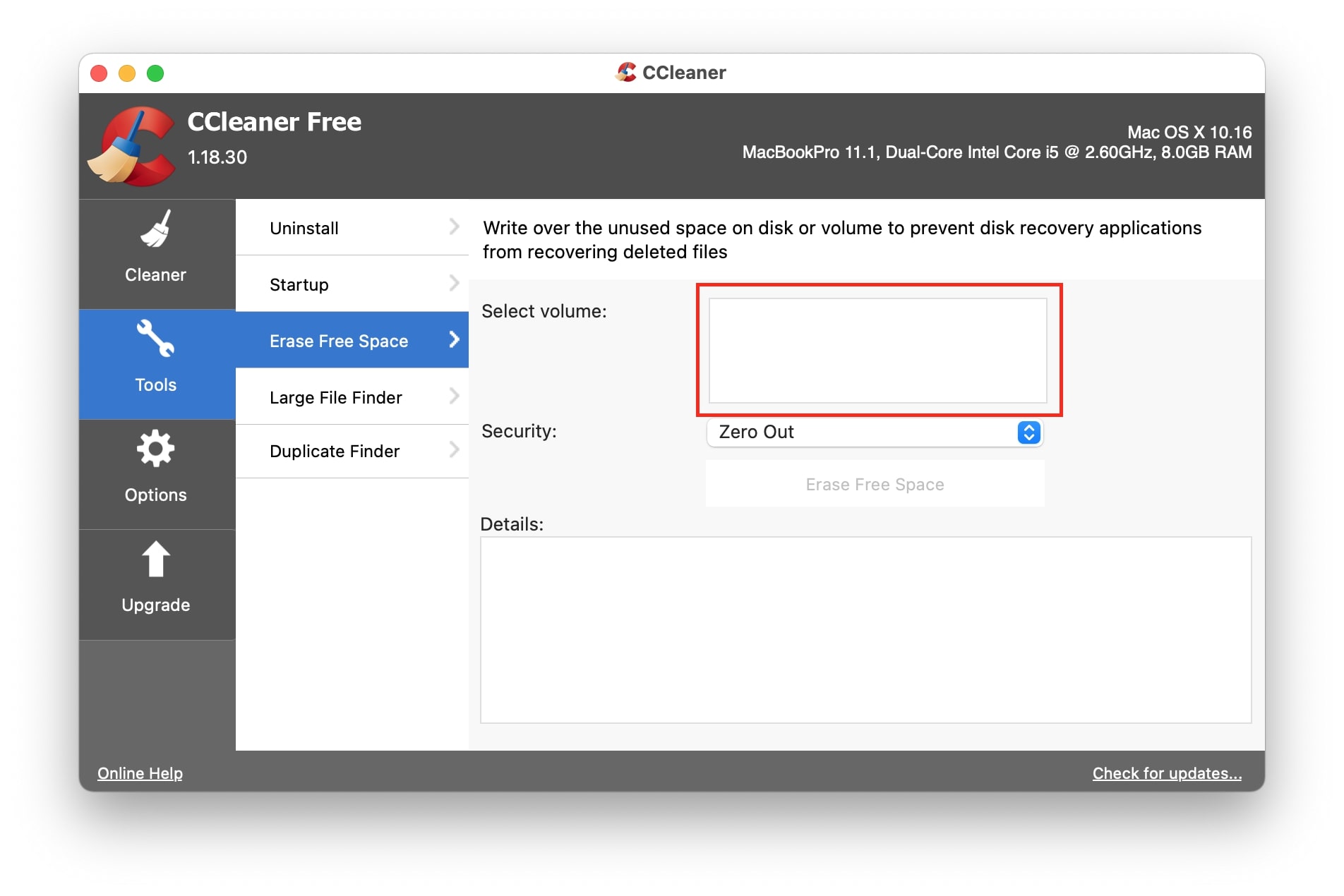 Yet another CCleaner tool came up empty-handed as it didn't find any volumes on our Mac, preventing us from assessing its efficiency.
Large File Finder
This tool allows you to find large files that are consuming too much storage space on your Mac. What is large? You decide. And once you do, set the value in the box and click Search.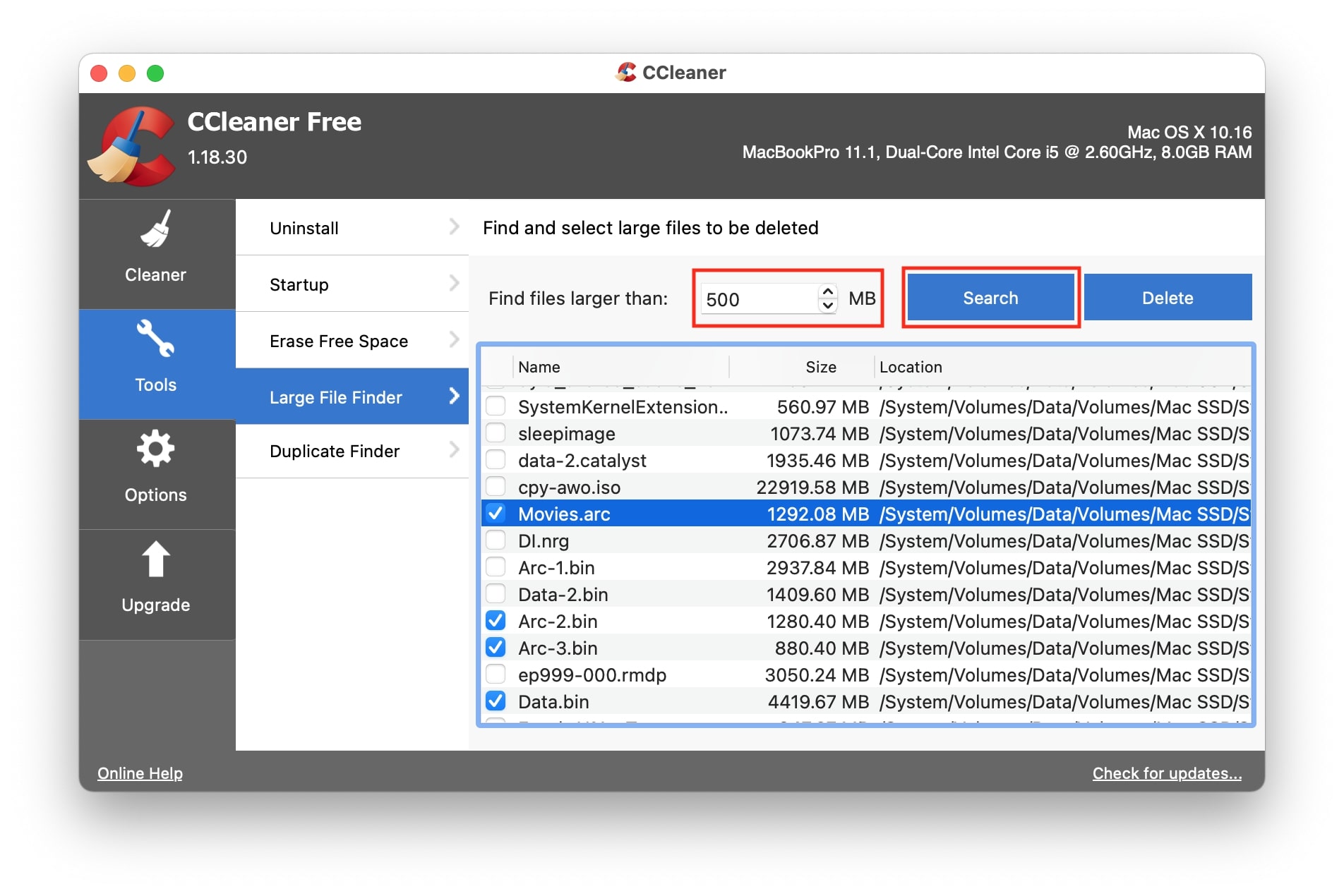 It took approximately 6 minutes to scan 128GB of our SSD storage and find files larger than 500MB. We looked through the list and deleted 7 files, freeing up over 9GB of storage space. Quite handy.
Duplicate Finder
CCleaner offers an excellent way to find duplicate files: installers you downloaded twice, pictures you saved multiple times, and other perfect candidates for deletion. To reclaim some storage space, set the scan parameters and click Search.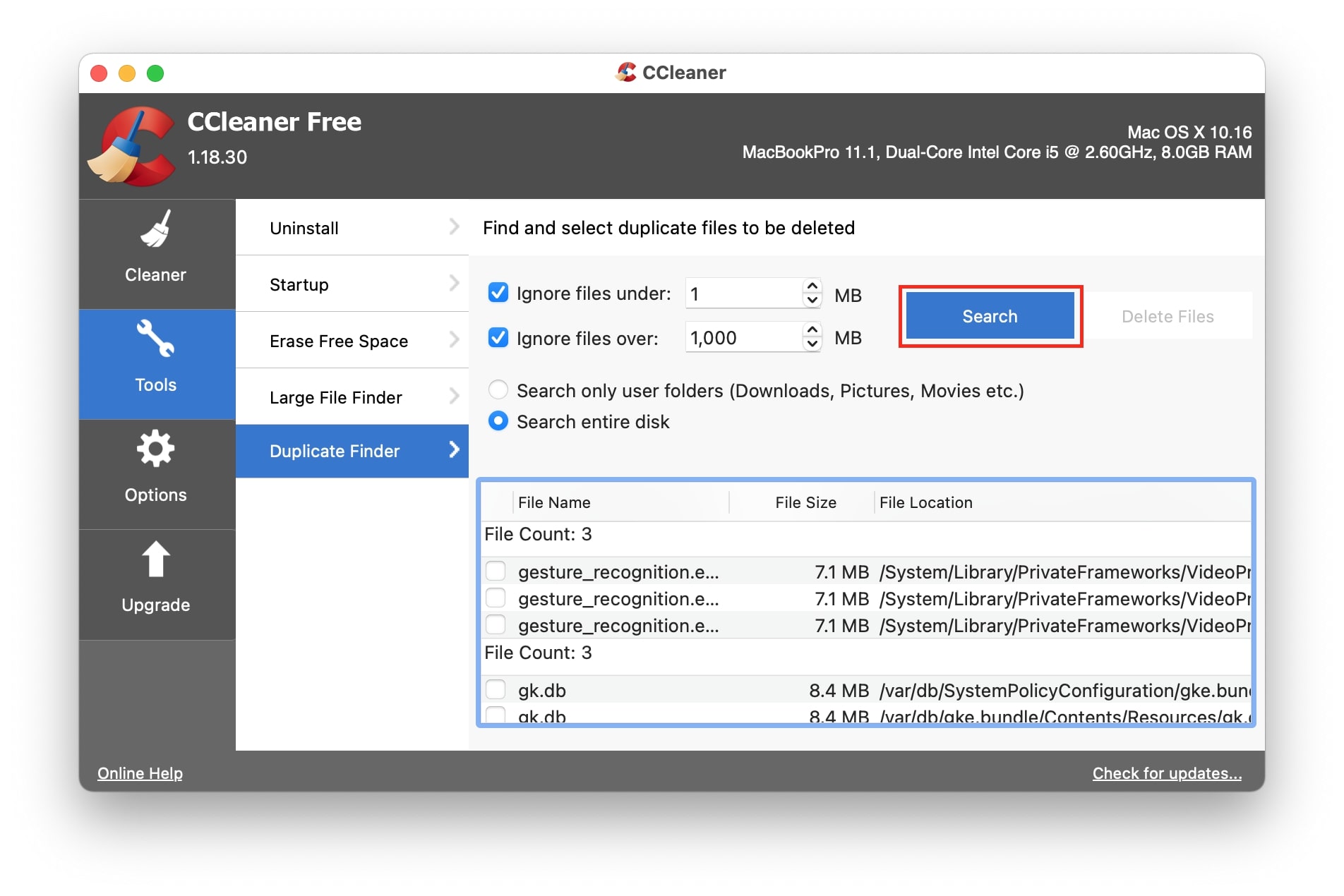 Over 40 minutes. That's how long it took CCleaner to search our Mac for duplicates. We opted out of scanning the files under 1 MB and over 1,000 MB, so it could have taken longer.
Unfortunately, the lengthy scan was not the only time-waster we had to deal with that day. The scan results consisted almost entirely of system files that shouldn't be deleted. It took forever to find duplicate pictures, videos, and documents in the endless list produced by CCleaner.
While the time-consuming scan is something we can live with, manually sorting through its results is too much to ask of users.
FAQ
Is CCleaner a virus?
No, it's a legitimate cleaning utility for PC and Mac. However, you should know that CCleaner was compromised by hackers in 2017. Over two million people downloaded a malware-infected version of the app, potentially allowing cybercriminals to illegally access their devices. Later, the company addressed the security issue and released a malware-free version of CCleaner.
The incident gave rise to CCleaner malware concerns. Perhaps, for this reason, CCleaner's website reassures the users that "this software does NOT contain any Spyware, Adware or Viruses."
Is CCleaner Professional worth it?
In addition to the features that come with the free trial, CCleaner Professional offers automatic cleaning of junk files, history, and cookies. At the price of $19.95, such a minor upgrade doesn't seem like a worthy investment.
Does CCleaner for Mac work?
Yes, it does. CCleaner helps you remove junk files that slow down your Mac. You can also use it to uninstall apps and find duplicates. The professional version of the app offers automatic removal of junk files, history, and cookies. Granted, not all CCleaner tools are exceptionally fast, but its main cleaning features work as promised.
Is CCleaner safe for Mac now?
CCleaner is a prime target for cybercriminals. Its PC version was hacked in the past, and there's no guarantee its Mac version will not get breached also. It's up to you to decide whether the app is worth the risk.
Related Articles: