In this article you will find the following:
Recently, CCleaner has undergone a transformation in both its appearance and functionality. When we last reviewed CCleaner, in 2021, it was a much different app to what you'll find today. But is it an improvement or not? Read on to find out.
What is CCleaner?
CCleaner searches your Mac for files that you don't need and may not want to keep. It then lets you delete them quickly and securely, which not only reclaims disk space but might also give your system a small speed boost.
The types of files it can delete include application caches, log files, duplicate, and startup items.
What's changed in this version of CCleaner?
The first and most obvious thing that's changed is the user interface. Before, it was essentially a clone of the Windows version, with all the main features accessible from a sidebar on the left, and the fine control on the right. But it now has a new look. When you start up CCleaner, you'll be presented with six tools, each with its own button that will whisk you off to a different part of the app.
Despite the redesign, most of the features in the old version of CCleaner are still here. The Erase Free Space tool is gone, but apart from that, the app has everything you'll need to remove unwanted files from your Mac.
CCleaner for Mac Features
Although the functionality of CCleaner remains largely the same, the way the tools are organized is different. So if you're coming to it from an earlier version, you might need to take a moment to familiarize yourself with the new layout.
Here's an overview of CCleaner's features and how they perform.
Clean clutter
Find duplicates
Uninstall apps
Clean browser
Analyze photos
Manage startup items
Clean clutter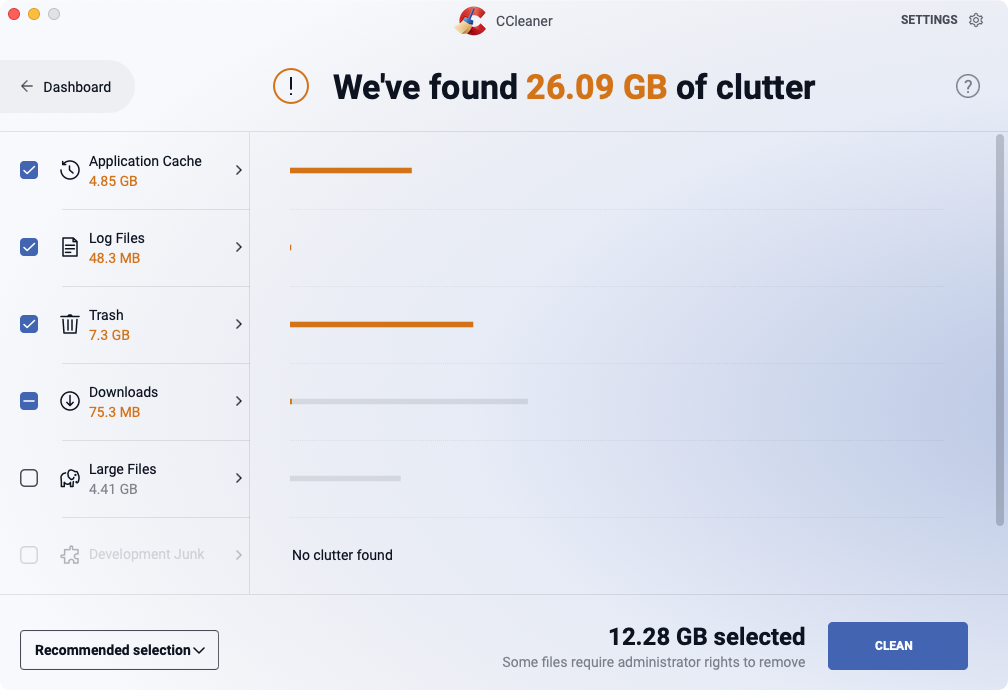 Click the Scan button, and CCleaner will immediately start searching your Mac for what it describes as 'clutter'. To be exact, that means:
Application Cache
Log Files
Trash
Downloads
Large Files
Development Junk
External Drive Junk
In our test, it found 26.09GB of data that we could safely delete. CCleaner will select what it recommends cleaning out, but edit this to your liking, and there are options to Select all and Select none too.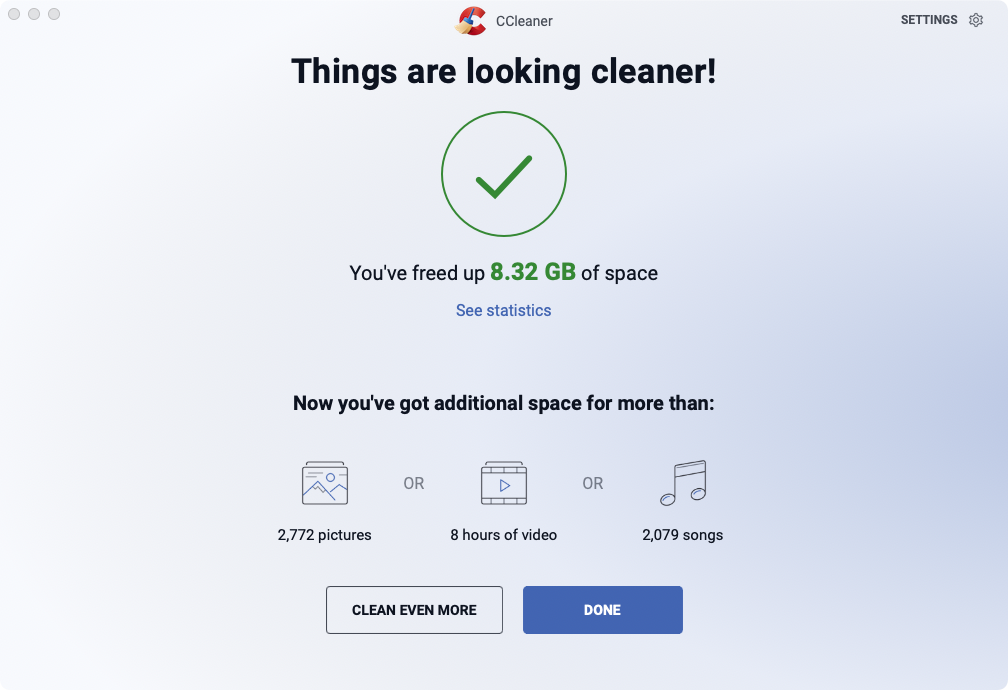 You might need to close some apps to clean out their cached files, but other than that, the process is quick and easy.
Find duplicates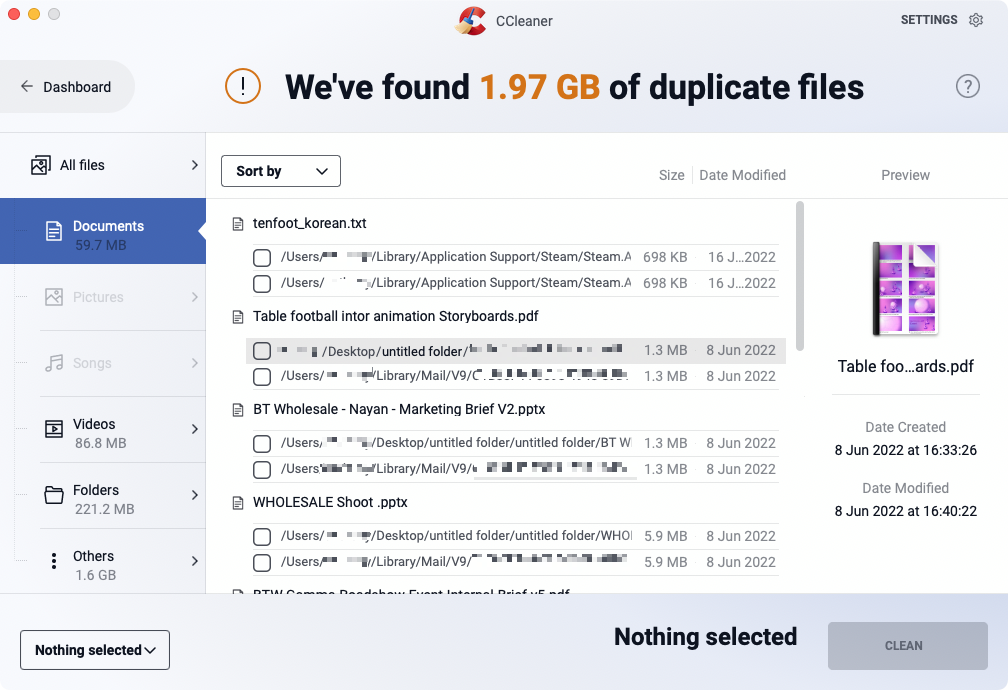 CCleaner can look for duplicate files on your whole Mac, just selected folders or external drives. This is useful, because you might just want to scan your photo or music collections, for example. On an M1 Mac mini, it only took a couple of seconds to scan the entire system, finding 1.97GB of duplicate files.
Helpfully, the results are sorted into the following categories: All files, Documents, Pictures, Songs, Videos, Folders, and Others. As with all duplicate finding tools, though, you should take a moment to look at the results before hitting the Clean button. There may be a good reason why you have duplicates, particularly if they're found in different parts of your system drive.
Uninstall apps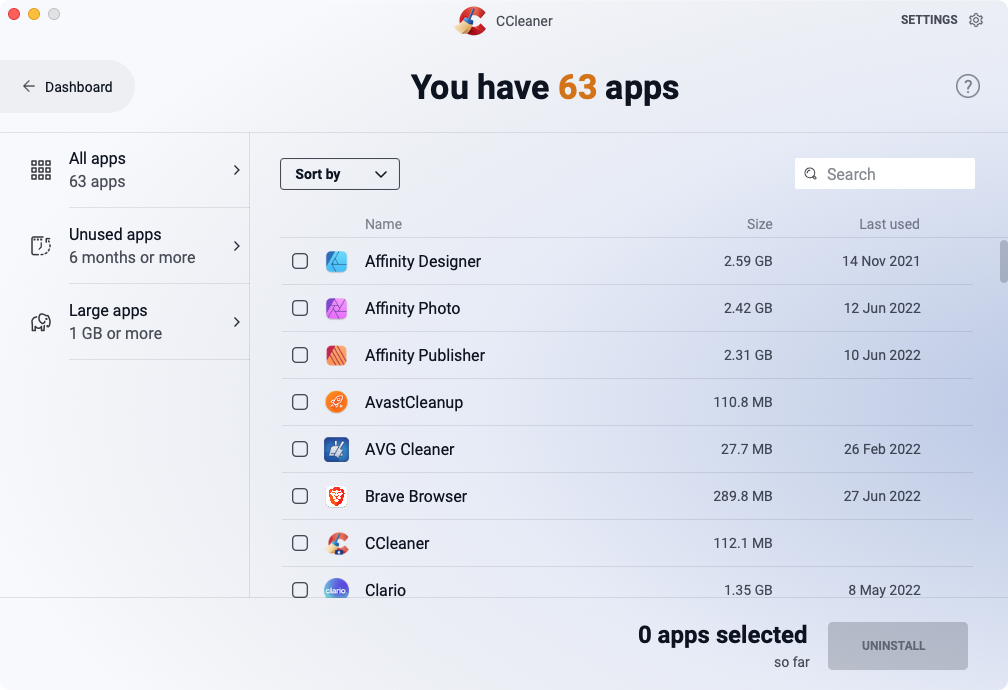 To delete an app from your Mac, you don't usually need to do anything other than dragging it to your Trash. If you have problems deleting an app or are worried about some files being left over, an uninstaller tool like the one in CCleaner might come in handy.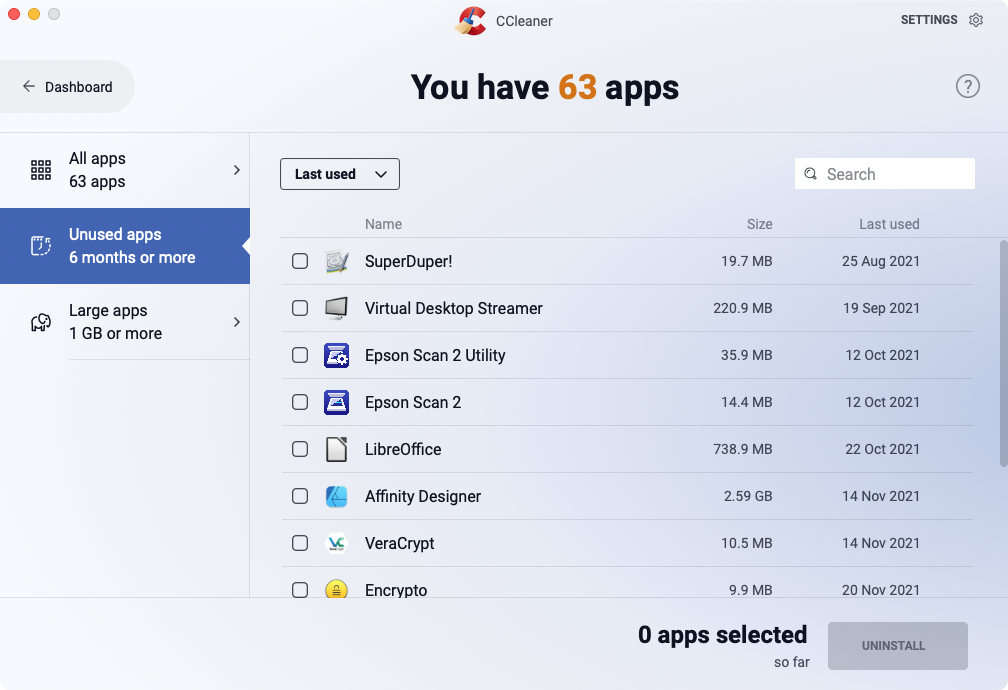 After a scan, CCleaner will show you all apps that can be uninstalled. You can also just look at large apps or, more helpfully, apps you haven't used for at least six months. It's easy to install things and forget about them, so this is a quick way to fix that issue.
Clean browser
Web browsers store all kinds of data on your Mac, including cookies, cached files, browsing history and autofill information. Over time, this can accumulate and start to eat up a noticeable amount of disk space — but there are privacy issues at stake too.
With CCleaner, you can scan the web browsers installed on your Mac and delete this data in a couple of clicks. You can do this in individual browsers too, of course, so the main advantage of using CCleaner is that you can target multiple browsers in one place.
Analyze photos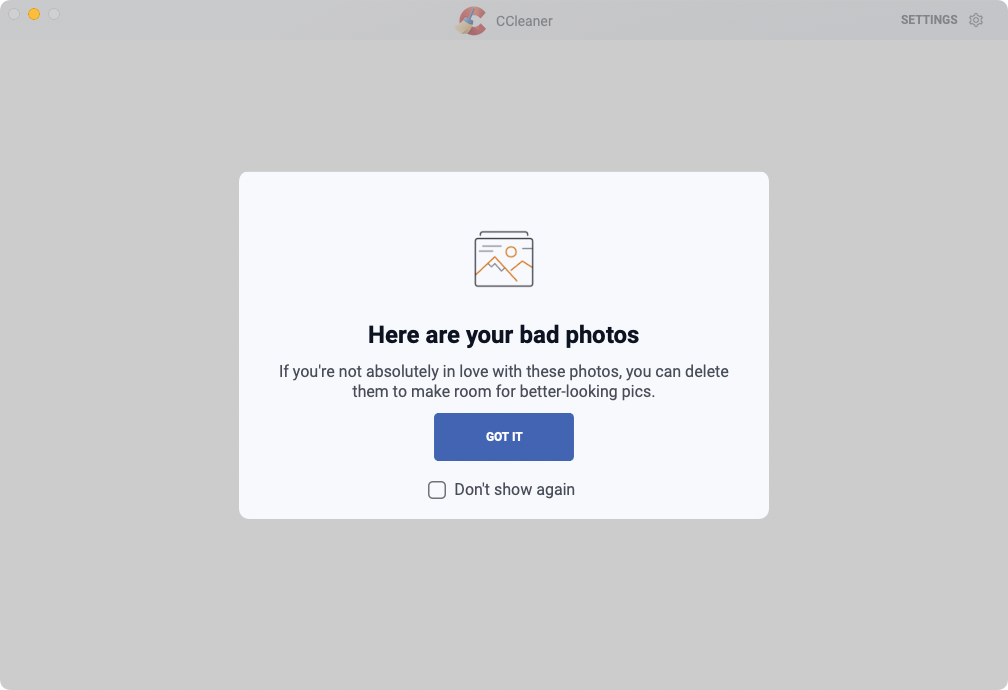 Although CCleaner's duplicate finder will find exact copies of images, its Analyze photos feature goes a step further. It will seek out both bad and similar photos. The word 'bad' is naturally subjective, but CCleaner will attempt to find photos that are blurred, overly dark or otherwise not likely to be of good quality.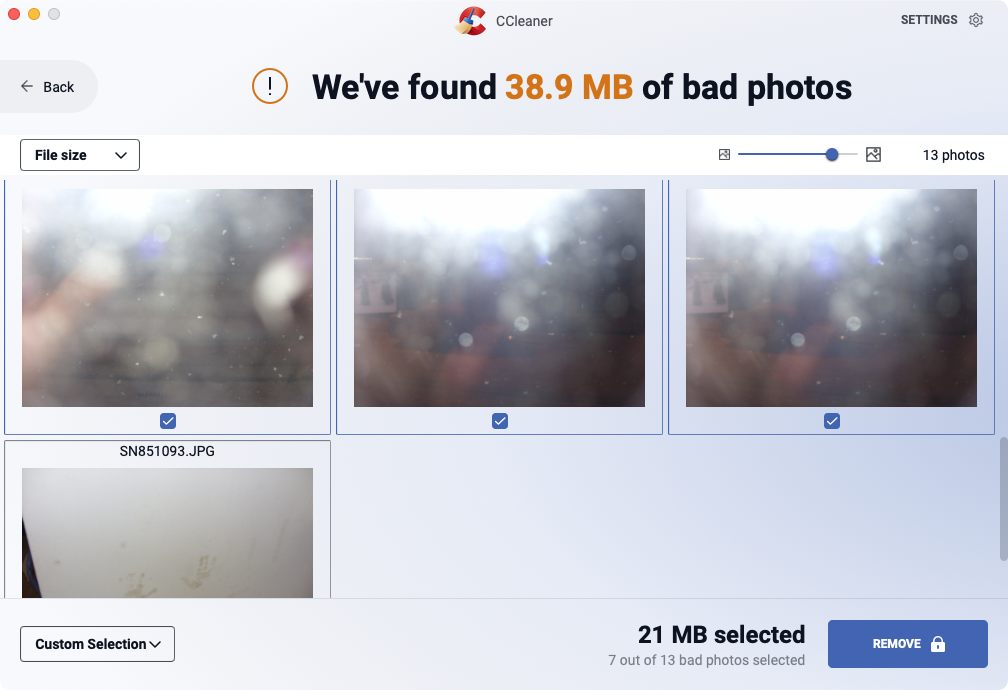 If you search your entire Mac, you're likely to get some inaccurate results, as it will pick up things like background images and icons, thinking they're 'bad'. That's not a huge problem, though, and it does a reasonable job of finding poor-quality images to delete. It's a similar story with similar images — there are some false positives, but overall this tool can be a big time-saver.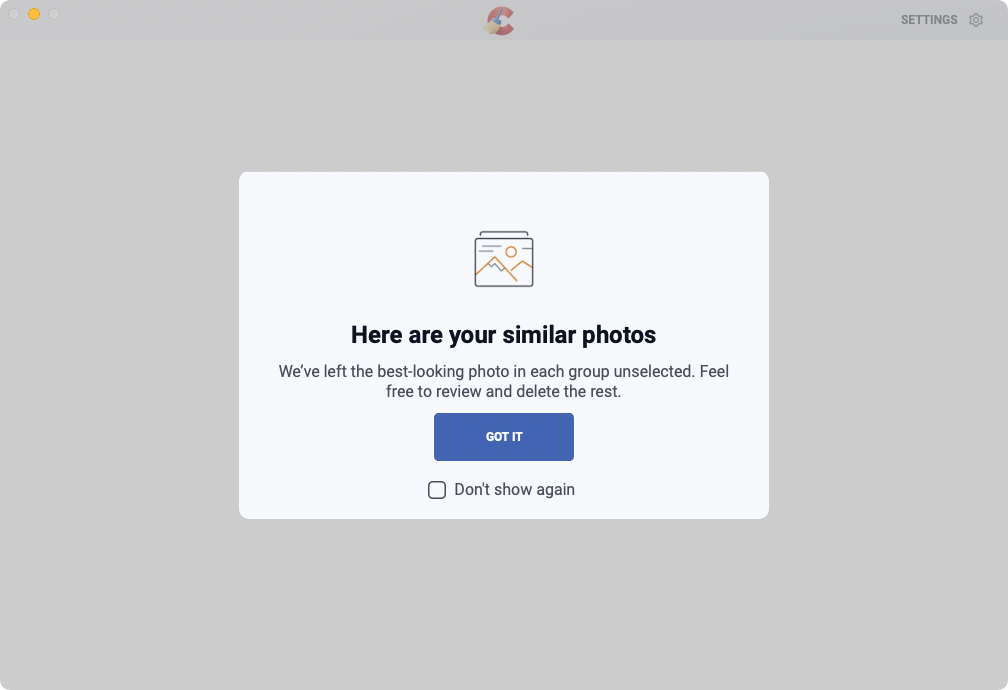 Manage startup items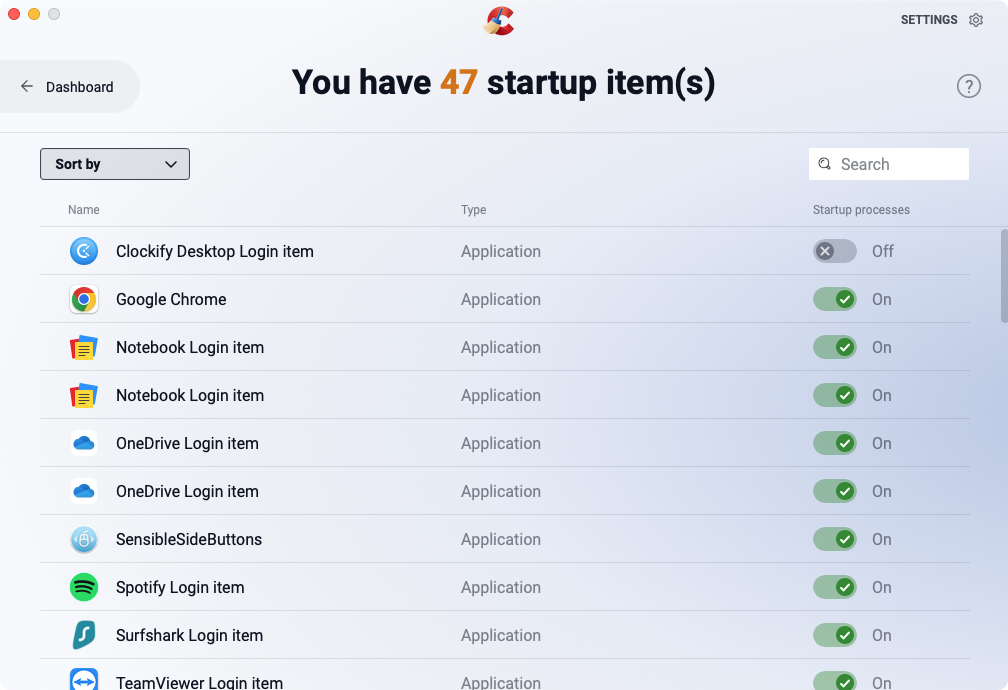 Login items, as the name suggests, are apps and other processes that run as soon as you log into macOS. The Users & Groups part of the macOS System Preferences lets you edit these, but it's extremely limited. Many apps that start in the background don't appear in the list.
CCleaner goes much further, showing not only apps but launch agents and launch daemons that start with macOS. You can then turn them on or off with a single click. There's also an option to see where each login item is stored on your Mac and to delete it. This can be useful if you suspect one of them is causing problems, like trouble starting your Mac or freezing issues.
How much is CCleaner?
There are two versions of CCleaner for Mac — a free edition and the Professional version which costs $29.95 a year. Upgrading to the CCleaner Professional unlocks the full functionality of the Analyze photos feature, as well as automatic browser cleaning, importing of browser bookmarks and automatic trash emptying.
Is CCleaner for Mac worth it?
CCleaner doesn't really do anything you won't find in other Mac cleaning apps, and it doesn't offer security or VPN features like MacKeeper. What it does have in its favor, though, is a pretty good free version. If you're after a cleaning tool for your Mac and you're on a budget, it's definitely worth downloading CCleaner and giving it a spin.
Read more: