Remember how fast your brand new MacBook Pro worked when you had just unpacked it? However, the longer you have it, the more frustrating moments will arise when its work slows down. Don't let this upset you: let's take a look at the most common cause of this problem.
Before we start

It's extremely important to keep it clean—this will prolong the operational life of your Mac and make this experience far more pleasant.

Download MacKeeper and start enjoying your cleaner Mac! Just a couple of clicks and it'll help you to find all the junk, cache, and unnecessary apps and remove them from your Mac.

What affects the operating system's speed and occupies a large amount of device memory is the cache data. The software needs these files for quick access to frequently used information, like things you always keep in real life.

When frequently visiting your favorite websites, opening your maps, or other popular applications, the data that is needed to reduce the server's load and increase the display speed on your device is saved in the device's memory.

But suppose the system accumulates files from uninstalled programs and websites that you rarely visit. In that case, they begin to slow down and interfere with the browser and applications' correct operation. Deleting cache is what your Mac needs at this point.

More about cache that we're going to cover in this article:
How do you know it's time to clear cache on your MacBook?
Cache is not the enemy of your computer. Suppose you do not see a critical decrease in memory or problems with the functioning of applications. In that case, you do not need to delete these files because regularly removing them will slow down the loading of applications that use cache. Moreover, many programs automatically delete cache files after you finish working with them.
But if you notice that the device is not working correctly or if you often need to use photo or video editing programs, messengers, and social networks—it's better to clean cache on your Mac regularly. Graphic editors often create massive backup copies that significantly affect the operation of the device.
Cleaning cache on Mac will also help protect your account and personal data on sites that use this data.
Types of cache memory
Depending on the type of data you want to clear, Macs have three main types of cache: browser, application or user cache, and system cache. Let's have a look at their differences.
Browser cache
When you first visit a website, all the necessary information is loaded into your device's memory to quickly and correctly display it on your monitor. Hidden folders with HTML files, CSS sheets, JavaScript scripts, and all necessary multimedia files, including video, audio, and pictures, are created in memory. When you revisit the website, your device will download only the relevant information, increasing the browser speed.
But if you do not visit the website regularly or it was a one-time case, all this information will be dead weight in your device's memory.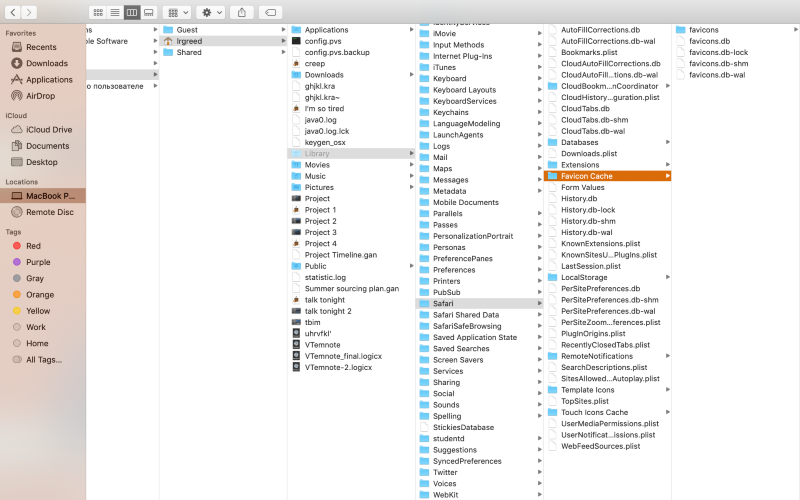 App cache
When developing applications, software engineers always indicate files that need to be cached. This is the key to the stable and fast operation of the application, even in the absence of the internet or poor connection. After creating the cache data, the application updates it only as needed. Still, this data takes up space on the hard disk, and the amount can be different depending on the app's functionality.
System cache
This is temporary data for faster access to any programs installed on the device. Extra cache files may remain after you install or update applications or the system itself, so it is best to clear the cache on Mac after doing any of these.
How to clear system cache on Mac
Each application on your device creates temporary cache data for its effective operation. Depending on the tasks and resources necessary for the app's operation, these files can be small (like maps, contacts, or Spotlight) or quite big (like photo and video editors, graphic programs with the function of viewing changes, or instant messengers). Cluttering the system with these files significantly slows down its operation.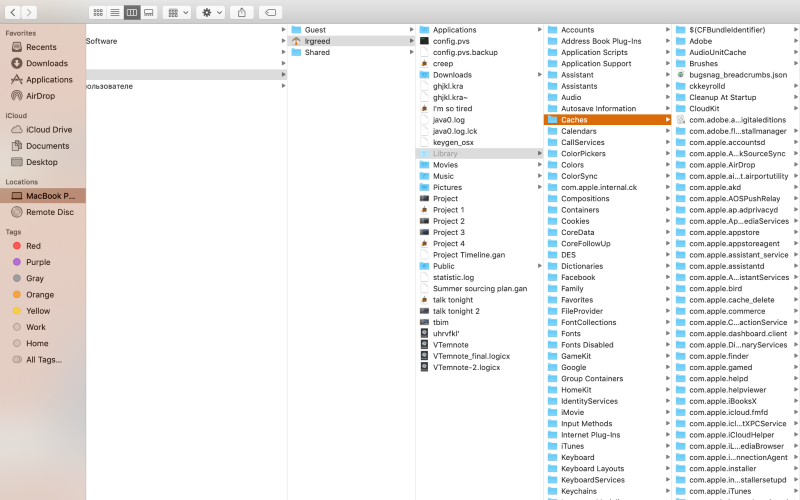 To clear cache on a Mac manually, use the following algorithm:
1. Launch Finder
2. At the top of the screen, select Go → Go to Folder → enter ~/Library/Caches in the window that appears
3. Click OK

4. You will be taken to the cache file folder, from where you can drag and drop all the extra files into the trash
5. Do not forget to empty the trash to permanently clear the space on your hard drive and delete cache from your Mac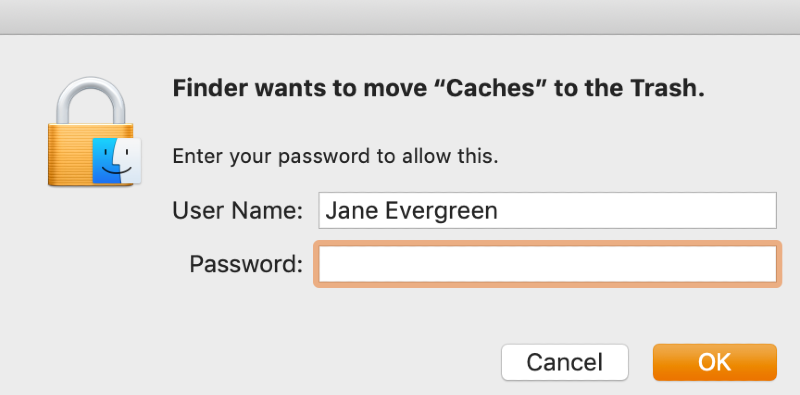 If your Mac has several users and you want to delete the cache from other user accounts, log in to the system to gain access to the user cache and delete shared files by entering /System/Library/Caches and clicking OK.
Clearing cache in safe mode
Sometimes, you may need to use safe mode to restore the applications' system's correct operation. IIn this mode, you can easily delete system cache files.
To start your Mac in safe mode, turn on or restart your device, and then immediately press and hold the Shift key.
You will see the Apple logo. (If it doesn't appear, read this).
Release the Shift key when the login window appears. If the disk is encrypted, enter the username and password both times.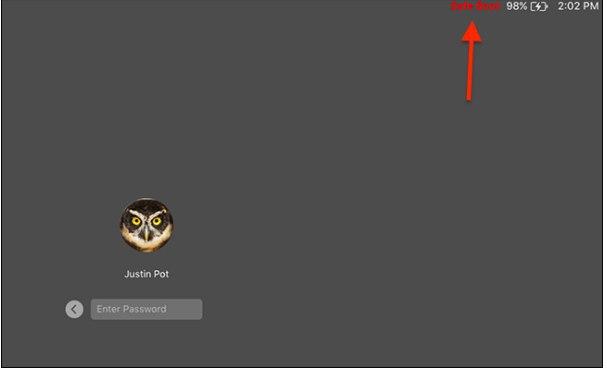 To exit safe mode, simply reboot the system.
To check which mode your Mac is currently running in, go to Applications → Utilities → System Information → Software section. In the Boot Mode section, you will see either "safe" or "normal" device operating mode. This is important to know since safe mode limits some functions of the system.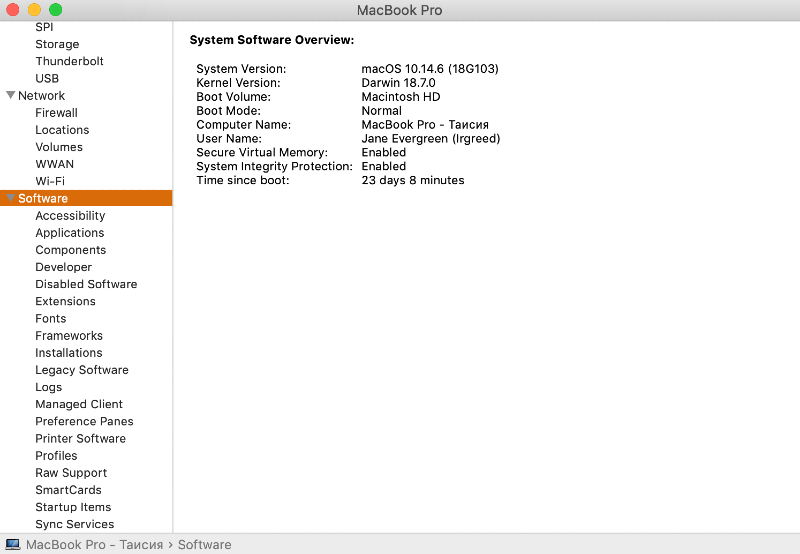 Clearing app cache manually
Applications store cache data on your device for smooth operation regardless of internet connection. For quick access to information, your device doesn't need to download all the data, but only the new or changed part of it.
But when too much data accumulates, files get damaged, and they interfere with the application's normal operation.
To find out how to clear application cache on Mac of programs that you no longer need, use the following algorithm to delete the system cache: Finder → Go → Go to Folder menu → enter ~/Library/Caches in the window that appears, and move the folder with the program name to the trash, paying attention to the largest files.
Please note that before you remove cache from your Mac, it is better to backup using Time Machine, so that you could easily restore your device in case of an error.
How to clear browser cache on Mac
When you surf the internet, the cache on your hard drive grows. The browser creates temporary folders for each site, uploading files for quick displaying of web pages.
The cache also stores the history of your visits, autofill forms and passwords, so clearing this data is important not only for freeing up space, but also for network security. But if you don't remember your username and password for some websites, be careful, as you may run into access problems after clearing the cache.
Depending on the browser you use, the cache clearing algorithm will differ. Let's look at the five most popular browsers and see how to clear browser cache in Mac and clear cookies on each of them.
Clearing browser cache in Safari
Safari has the option of choosing which data you want to delete: browser history for individual websites, login data, the entire browser history, or only logins or passwords in the autocomplete forms.
Before you clear cache on MacBook, close all active windows in the browser. To save cookies and browser history when clearing the cache, open Safari and find this option in the top menu.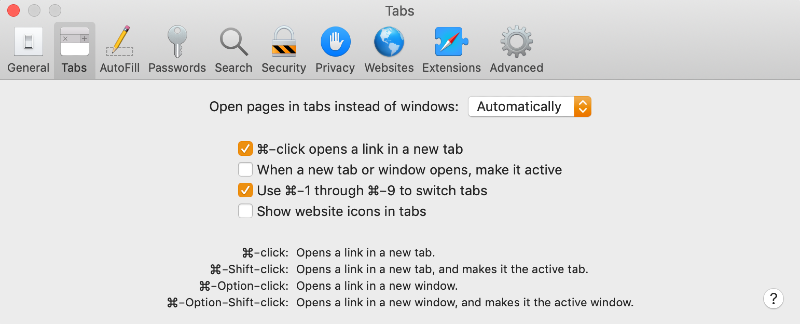 Select Preferences from the menu. In the window that opens, select the Advanced icon and click the check box in the lowermost window, Show Develop Menu.
After activation, in the Develop menu that you'll see, select Empty Caches or do it using the hot keys: Alt + Command (⌘) + E, then relaunch the browser.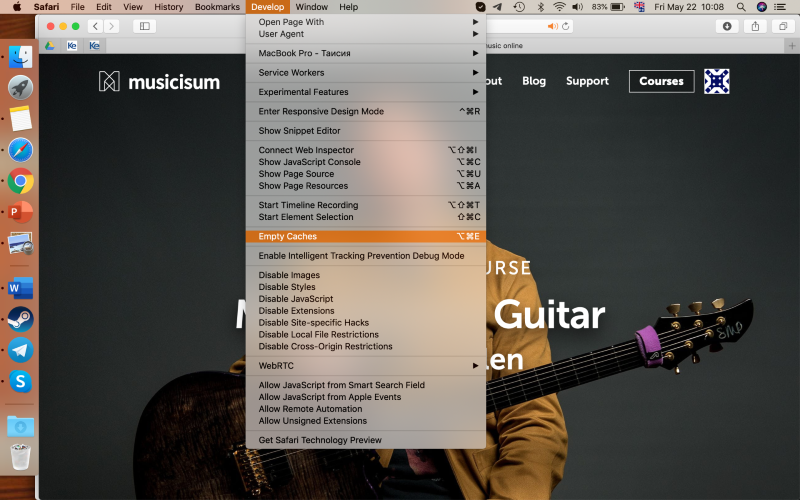 To select the menu in Google Chrome, click on the three dots in the upper right corner of the screen. Select More tools from the drop-down menu and go to Clear Browsing Data. Check the cache box—if you want your history and cookies cleared as well, check the other two boxes. You can choose the period of time before all the data is erased automatically.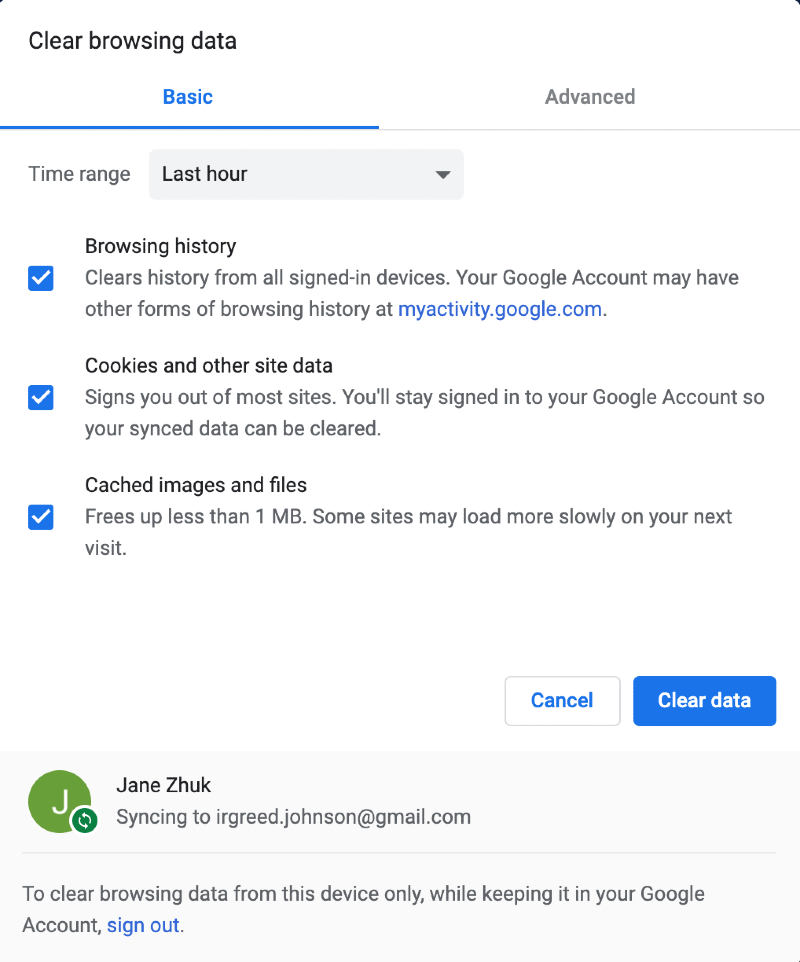 Clearing browser cache in Opera
Open the Opera menu (in the updated version it's located in the left side panel) and then the Privacy and Security menu. Here, you can change or delete the data available to websites on your device.
For quick access to clearing the cache, use the combination Shift + Command (⌘) + Delete.
Open your browser and select the menu button which you will find in the upper right corner. Open the Privacy & Security panel under Options. In the Cookies and Site Data section, select Clear Data. If you want to keep the cookies, then uncheck the corresponding box.

You can configure Firefox to automatically clear cached files when you close the browser. To do this, in the previously selected the Privacy & Security menu, go to the History section. In the pop-up window, select Use custom settings for history → Clear history when Firefox closes. In the advanced settings, check the Cache checkbox.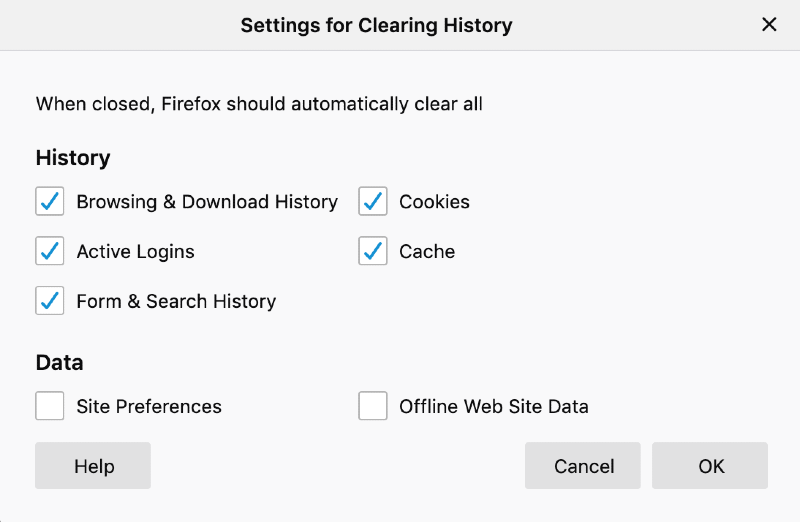 How to delete cache files on Mac from Finder
Press Shift + Command (⌘) + G to launch Finder on your iMac or MacBook Pro
Enter the following command into the search box: ~/Library/Caches
Click Go. This will bring you to the folder that contains all of your cached files
Press Command (⌘) + A to select all folders.
Click Command (⌘) + Delete
Empty the trash
Open your browser and select the settings menu
Open the Privacy & Security panel under Options. In the Cookies and Site Data section, select Clear Data
For quick access to clearing cookies and the cached files, use the combination Shift + Command (⌘) + Delete
Can I remove all caches automatically? MacKeeper can!
Knowing the cache types and having a step-by-step guide makes this task easier, but it still takes time.
For a simpler and automated solution to this problem, use MacKeeper software that is not only capable of analyzing which files are unnecessarily taking up space but also protects your system from accidentally deleting files that are important for the proper operation.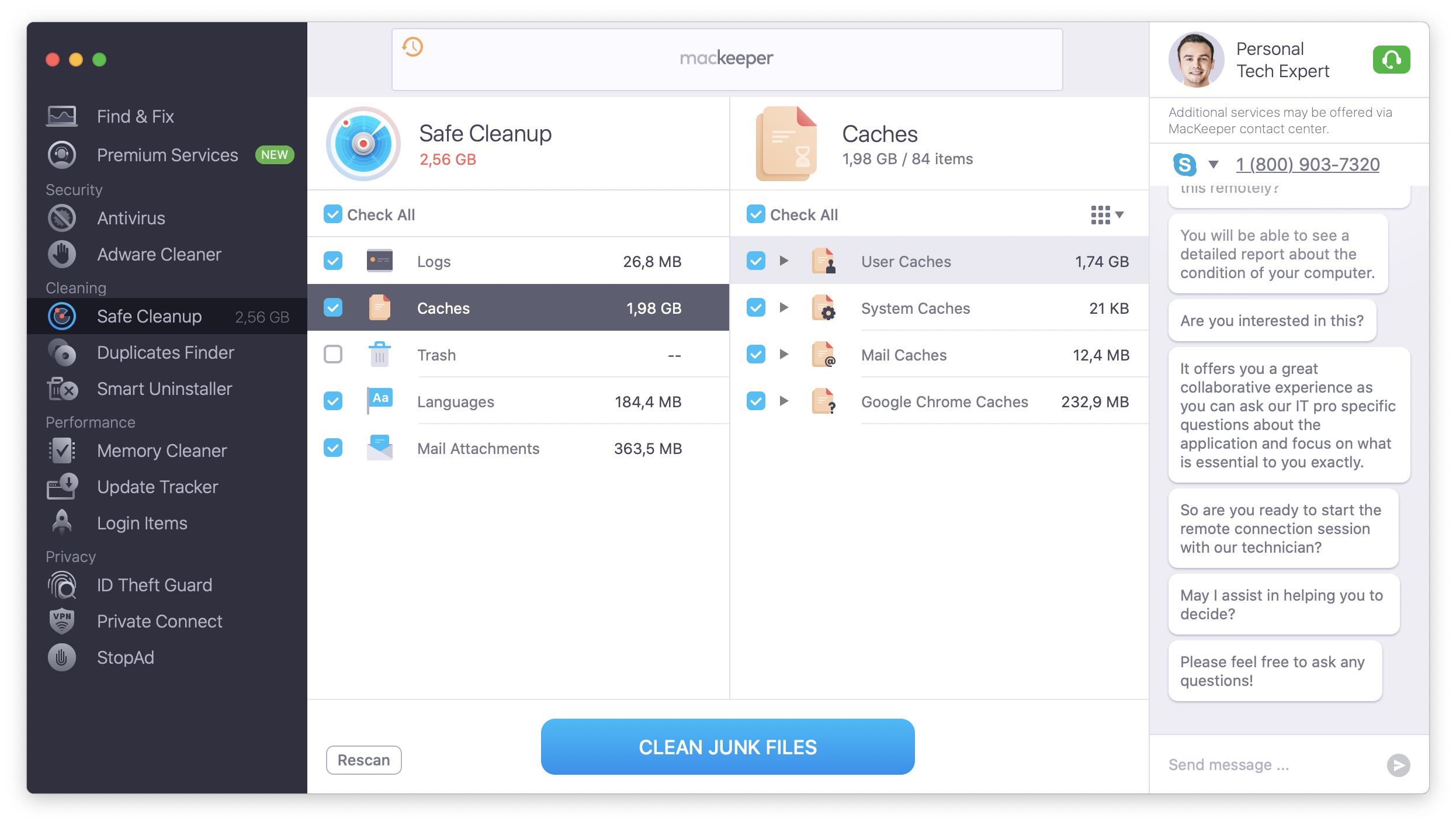 If you have several browsers and graphic or video editors installed, clearing the cache can become a regular and time-consuming task. An automatic cache clearing program such as MacKeeper can be a salvation. A few clicks will save you time to enjoy a cup of coffee while your Mac is being automatically freed from the junk that prevents it from working properly.

Related reading: Check out our special guide on how to free up system storage on Mac.
FAQ
What are cache files?
So what are cache files? Cached files are the temporary files downloaded and stored by your computer to make subsequent operations more efficient. For instance, your browser downloads and saves the images on a website when you visit it. The next time you go to the same website, your browser can pull out the images from the cache instead of downloading them. This significantly reduces loading time.
Your operating system and apps also store cache files on Mac. Hence, you may find temporary files accumulating in folders for iMovie, Spotlight, Maps, Skype, Slack, and other apps. The files may come in the form of scripts, videos, images, and multimedia.
Is it safe to remove cached data from my Mac?
Yes, it is safe to remove cached data from your Mac, particularly those located in the system-level (/Library/Caches/) and user-level folders (~/Library/Caches/).
You will have to be more careful when deleting cached files in the apps, as some developers store important files in the cache folders. Make a copy of all the folders, so you can reinstate them in case you encounter issues. Be wary of deleting cache files from apps you are actively using, as you run the risk of deleting all your progress.
Be wary of deleting cache files from apps you're actively using, as you run the risk of deleting all your progress.
If you're in any doubt, we recommend using MacKeeper. Its Mac and MacBook cleaner analyzes which files are safe to delete, so you don't accidentally remove essential files.
How is cache different from cookies?
While these are usually found in the same settings, they are two different things. Cache saves files such as images, audio and video, and cookies save user preferences and other user characteristics such as login info, IP address, etc.
What does Clear Cache mean?
Clearing cache means removing temporary files that are used by software or browsers for faster and more efficient operation since when these files accumulate, they begin to interfere with the proper functioning of the system.
What happens when you clear cache?
Removing non-relevant files and information speeds up your device and frees up space on your hard drive.
Won't my browser stop working?
The cache files do not contain information critical for the operation of the software, so removing them can improve speed, but cannot delete the program.