Do your downloads on Steam keep getting stuck? Or are your installed games not working properly? You can usually fix these issues in no time at all by clearing Steam's download cache in the Preferences.
The download cache is a hidden folder on your Mac that Steam uses to store downloads or temporary preferences. You can usually clear the cache without losing any valuable data, and it's one of the best ways to troubleshoot various issues with Steam.
Automatically clear other Mac caches with MacKeeper
Most apps on your Mac store a cache of some kind to save temporary data. For example, web browsers like Safari use a cache to help you load frequently visited websites faster.
Sometimes, these caches can take up a lot of space on your Mac's hard drive or become corrupt and start causing problems with macOS. Fortunately, it's easy to clear out all the unnecessary caches on your Mac using MacKeeper.

All you need to do is download MacKeeper and run the Safe Cleanup scan.
In this short article, we'll tell you:
Will I lose my data if I clear Steam's download cache?
Steam says that clearing the download cache shouldn't have any effect on your installed games, but you will lose any progress on your current downloads. Unfortunately, if your Steam download is frozen, the only way you can usually fix it is to clear the cache and start again from scratch.
After clearing the download cache, you'll also need to log into Steam again. So make sure you know your username and password before you go any further.
Finally, clearing the download cache could affect any mods you've installed on your Steam games. Although this shouldn't happen, we'd advise you to download and back up any mods you've installed before clearing the cache.
Clearing the Steam download cache doesn't usually create much more free storage on your Mac. If that's your goal, we suggest you follow these guides on how to create free space on your Mac and delete system storage instead.
How to clear Steam's download cache
Clearing the download cache in Steam is remarkably easy.
Just follow these steps:
Open Steam on your Mac and log in if prompted
From the menu bar, go to Steam > Preferences
Select Downloads from the Preferences sidebar
Near the bottom, click Clear Download Cache
Click OK to confirm you want to clear the cache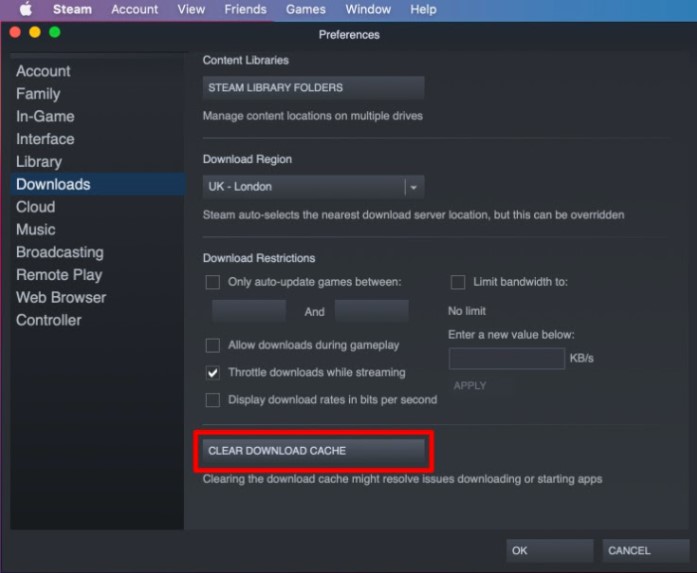 Issues with clearing Steam's cache
If clearing the download cache doesn't fix your games or downloads, it could point to a bigger issue with Steam. Before taking any further steps, quit the app by going to Steam > Quit Steam from the menu bar, then restart your Mac.
If Steam still isn't working properly, whether your downloads won't complete or your installed games won't open, contact the support team on Steam's website. They should be able to help you diagnose and fix whatever bugs are causing your Steam issues.
Read more: