The heyday of your old Mac is over and it is just sitting there collecting dust? So, what to do with an old MacBook or iMac? Unless you want to turn it into a home decor item, you could use at least these 7 creative ways to turn it into something new.
1. Install Linux on your old Mac
Linux is known as a lifesaver able to breathe some life into old Macs. In case you have no idea what Linux is—it's an open-source operating system with thousands of programs on board. There are plenty of reasons to be interested in Linux—it offers alternatives to office suites, such as OpenOffice and LibreOffice, as well as the Photoshop-like editor GIMP, mail clients, and popular web browsers. Linux even supports games, like Civilization V and Minecraft.
Installing Linux OS must be the best option since it runs on even the oldest computers. And no worries—Linux is able to do about the same things macOS can. However, Linux environment offers way more customization options than macOS does. You'll be surprised how many versions of Linux-based systems are available, and their interface can either mimic macOS (Ubuntu) or look more Windows-like (Linux Mint).
If your Mac is way too old and slow for any acceptable macOS version, Linux will make it run again. Also, Linux boots faster and helps eliminate the annoying spinning wheel of death problem. And, the chances of your computer getting infected with malware when running this operating system are rare. The only drawback of using Linux may be configuring some settings and the lack of peripheral compatibility—with printers, for example. Anyway, we highly recommend you to repurpose your old Mac and try installing Linux.
2. Make your old Apple laptop a Chromebook
This special kind of laptop called Chromebook was introduced in 2011. It runs Chromium, the Linux-based OS developed by Google. This one is a great choice for an old MacBook because its system requirements are minimal.
Chromium won't run any apps except Google Chrome and its extensions, but if you install it on your old laptop, it can work as an additional device to watch YouTube videos, search the web, and access cloud services. What's more, when going on a trip, a Chromium laptop can serve as a travel device for browsing. Just watch out for Chrome's notifications, which can get annoying.
Chromebook will work perfectly for all web-based tasks. And because all the data is stored safely in the cloud, there's nothing to worry about if your laptop gets damaged. If you feel like trying to turn your old Mac into a Chromebook—check out this guide on how to do this.
3. Make a network-attached system out of your old Mac
This one is better for repurposing an old MacBook or MacBook Pro rather than an iMac. If your old Mac laptop has a spacious hard drive inside, turn it into a network-attached storage (NAS) device to store your media and files at home. The idea is simple—connect the drive to your home network to be able to access the files from all your devices—be it another computer, a smartphone, or a tablet. Also, you can access your files anywhere with an internet connection.
Accessing your files easily at any time and at no cost makes sense. Instead of dumping all your photos to iCloud, you can move them to your NAS. Instead of storing movies on your phone, you can stream them from your NAS. Get the idea?

Although we totally love this idea, make sure the Mac you're going to use to store your files is well-protected. Running an antivirus program regularly is the first step, the second one - is having a real-time protection to secure you while going online.

Download and install MacKeeper
Navigate to the Antivirus tool
Click Launch Antivirus and enable real-time motoring (install an additional helper tool if prompted)
Stay secured

We would also recommend checking Adware Cleaner and ID Theft Guard tools for total protection.
4. Create an emergency Wi-Fi hotspot
Is there a weak Wi-Fi spot in your house or a dead zone with no wireless signal? No problem— reuse your old Mac as a router or a signal extender. This is handy if you often use a wired connection. Connect your old iMac or MacBook to the Ethernet and place it where you need to access the Wi-Fi signal. Adjust macOS settings for internet sharing, and in a few clicks, you will turn your old computer into a Wi-Fi hotspot, saving you the cost of a new router.
Recommended reading: How to Use Your Mac as a Hotspot
5. Sell or recycle your old Mac
Although not the most creative solution, this may be the right choice to earn some money. Sell it as-is or for parts. You never know what people may need for their do-it-yourself projects or repairs.
If you don't manage to sell it on your own, Apple has a free recycling program to recycle used Apple products responsibly. This is the last resort for Apple computers not worth repairing.
If transferring all of your data to a new Mac is stopping you from selling it—know your options on how to transfer your content with less effort.
6. Trade-in an old Mac
With Apple's Trade-In initiative, you can add credit to your next purchase. The great news is that it's possible to trade in not only your old iMac or MacBook but other Apple devices too. If your Mac is too old for some credit—you can always opt for an Apple Store Gift Card.
To give your old Mac an estimate:
1. Navigate to https://www.apple.com/shop/trade-in
2. Choose Computer

3. Click Apple or Other for Who Made it question
4. Insert Serial Number of your old Mac (you can copy it by clicking on the Apple logo—Overview)
5. Answer all the follow-up questions to get the estimate
The result may be like this one here: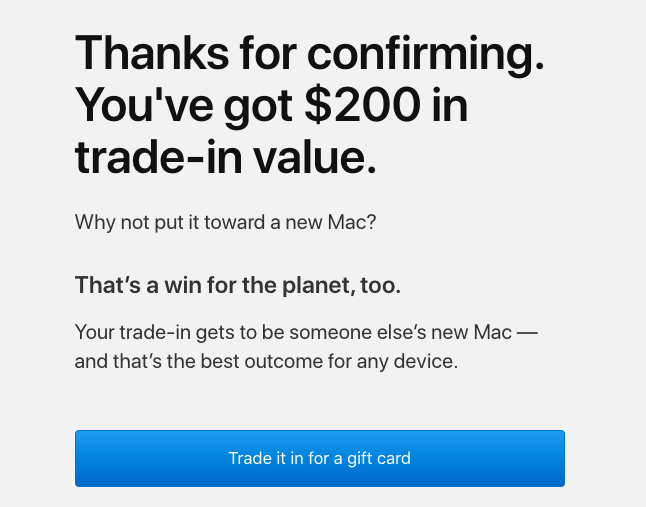 7. Fun things to do with your old Mac
If you're looking for new uses for your aging Mac, you can rekindle it in a creative way. Where to look for such ideas and inspiration? Of course at Pinterest! We've tried searching for such DIYs for repurposing old Macs and we completely got out of touch with reality! Let your imagination go wild with these pins! Use your old MacBook or Mac Mini and decide what to turn them into—a Macquarium—a fish tank, a wall clock, or a coffee table? You choose!
Our favorite idea is an old Mac turned into a mailbox. Have you ever seen such a mailbox? And which pin is your personal number one?
Remember that despite how old it is, some creative thinking can breathe new life into your Mac.
If you want to give your Mac a new lease of life—install MacKeeper and message our tech experts. They'll help you to breathe new life into your device and they'll share their secret tips on how to keep it up and running smoothly.