Before we start

A secure internet connection will protect your privacy and make your browsing experience even more pleasant—without all those annoying ads. All you need to do is install a proper VPN and enable it when needed.

Check out MacKeeper's VPN Private Connect and get multiple tools for Mac cleaning, protection, and optimization as a bonus.
Why turn your Mac into a Wi-Fi hotspot
Having an old-school Ethernet connection does not limit you to having internet access on your Mac only.
Your Mac can actually become a "hub" for all the internet activity of your devices. Let's see how to set it up as a personal hotspot for iPhones, tablets, MacBooks, or other laptops by turning on Internet Sharing on Mac.
How to create a Mac hotspot via Ethernet, USB Wi-Fi adapter, and Bluetooth
Before we get started, please note that Internet Sharing works for any computer running OS X Lion (10.6) or later.
So, let's begin by opening System Preferences. It's where all magic happens.
Click on the Apple logo. From the drop-down menu select Preferences.
Click on the Sharing icon. Tick the Internet Sharing option in the left pane.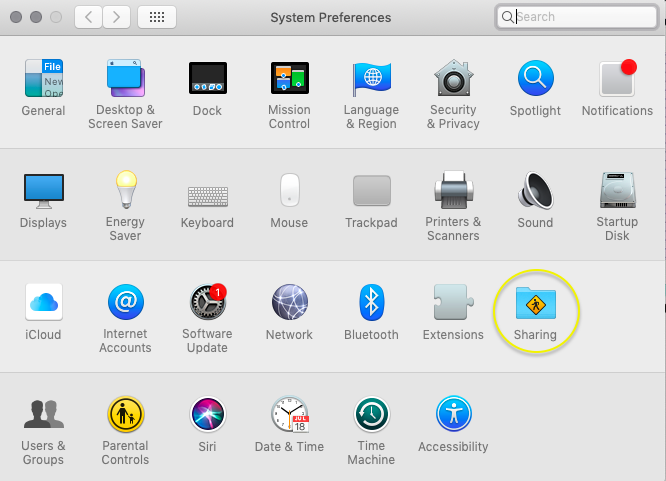 Next, choose any of the preferred options from the Share your connection field: Ethernet, iPhone USB, or Bluetooth.
Scroll down this section to find the one you need and pick the way other devices will access the Mac hotspot.
For Ethernet:
Tick Wi-Fi in the To computers using field.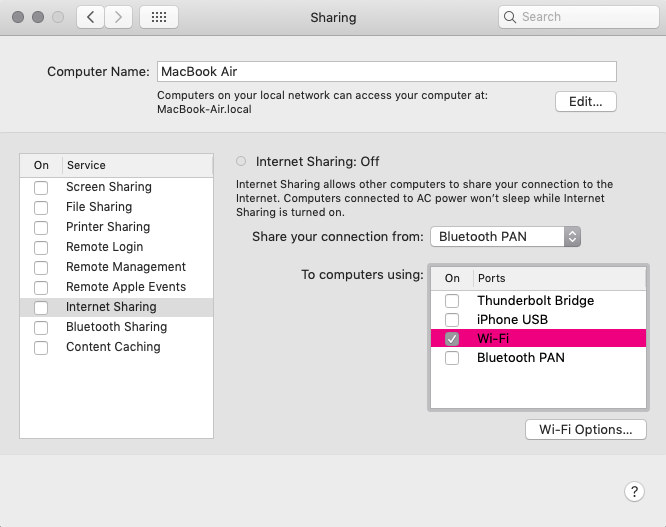 After that, click on the Wi-Fi Options box below to configure your hotspot.
When choosing any of the available sharing options, create a strong Wi-Fi password as initially this connection is not protected. To make it visible only to you, choose WPA2 Personal in the Security field and set up a secured pass.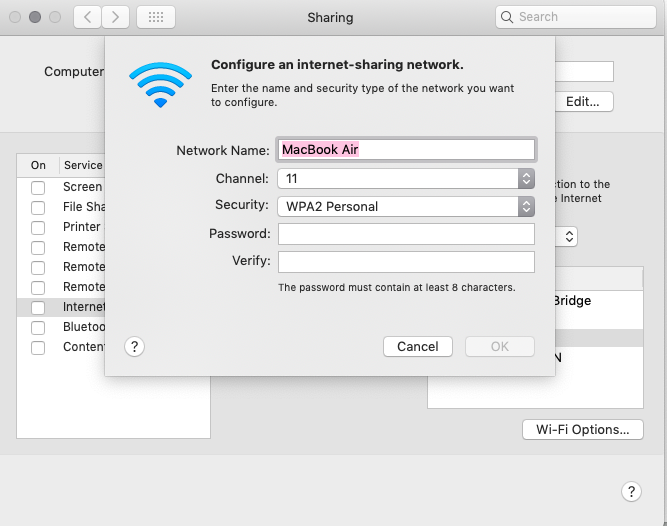 For USB Wi-Fi adapter:
Having plugged and installed your Wi-Fi adapter, follow the same instruction as provided above.
In the To computers using field, enable Wi-Fi instead of Ethernet as a source of your hotspot.
For Bluetooth:
Creating a Bluetooth PAN (Personal Area Network) and sharing the internet connection via Bluetooth is often a way out.
To go with the Bluetooth option, follow the same setup process, just make sure that you select Bluetooth PAN in the To computers using box.
Please note, there might be a small setback when opting for Bluetooth. Be prepared that it will be slower than your usual Wi-Fi connection or shared from Ethernet, and some devices may not be compatible.
Finally, tick the Internet Sharing checkbox to open a dialog window asking if you really want to share your connection. Click OK to confirm.
Don't forget to secure your Wi-Fi connection
Make your private connection even more private. To do so, install MacKeeper and activate the VPN Private Connect feature to create a Virtual Private Network (VPN) and have it on at all times or whenever you wish.
Enjoy a safe Wi-Fi zone!