Bookmarks in web browsers have a terrible habit of building up over time and becoming overwhelming to look at. While you may have initially saved a bookmark to make it easier to revisit your favorite sites, having too many bookmarks can actually slow you down. That's why you may need to delete some.
We'll show you how to delete bookmarks on a Mac in all the most popular web browsers: Safari, Google Chrome, and Mozilla Firefox.
Before we begin

Clearing out your old bookmarks isn't the only way to make your Mac more organized. You should also consider deleting old downloads, unused apps, and redundant system files that may have collected on your Mac over the years.

The quickest and easiest way to clean up your Mac is with the Safe Cleanup feature you can use for free when you download MacKeeper.
In this article we'll show you how to remove bookmarks in various browsers on your Mac:
How to remove bookmarks in all browsers on Mac
No matter which web browser you're using on your Mac, you can usually view all your saved bookmarks by clicking Bookmarks from the menu bar. This is also where you can go to create and manage your bookmarks.
However, deleting bookmarks on your Mac usually requires a couple of extra steps. Here's how to do that on each major Mac browser.
How to delete bookmarks in Safari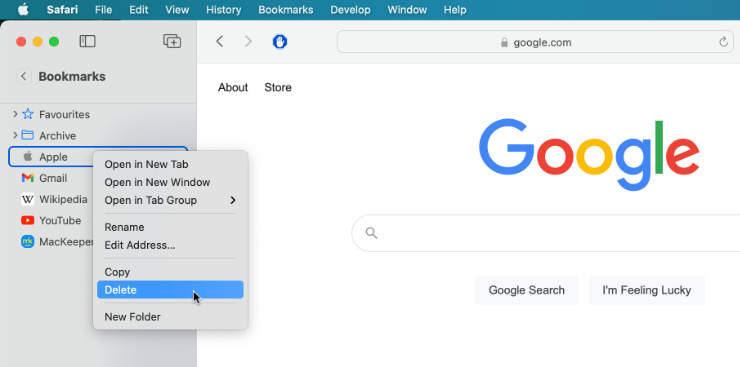 The quickest way to remove bookmarks from Safari is to click the Sidebar button in the top-left corner of the window, click Bookmarks, then Control-click the bookmark you want to delete and select Delete from the action menu.
The bookmark will vanish from the list immediately.
How to delete bookmarks in Google Chrome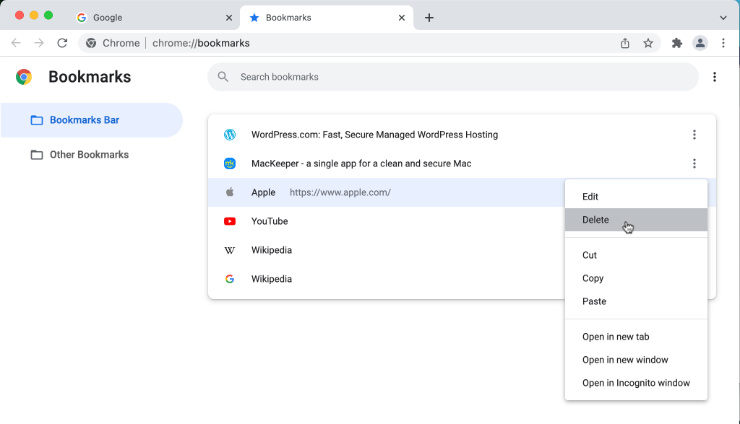 If you prefer to use Chrome over Safari – and it's often considered the best browser on Mac, so you wouldn't be alone – you still follow a similar process to remove bookmarks.
To delete a bookmark in Google Chrome on Mac, click Bookmarks > Bookmark Manager from the menu bar (you can also find this option in the More menu). Find the bookmark you want to delete, then click the More button to the right and select Delete from the popup menu.
How to delete bookmarks in Mozilla Firefox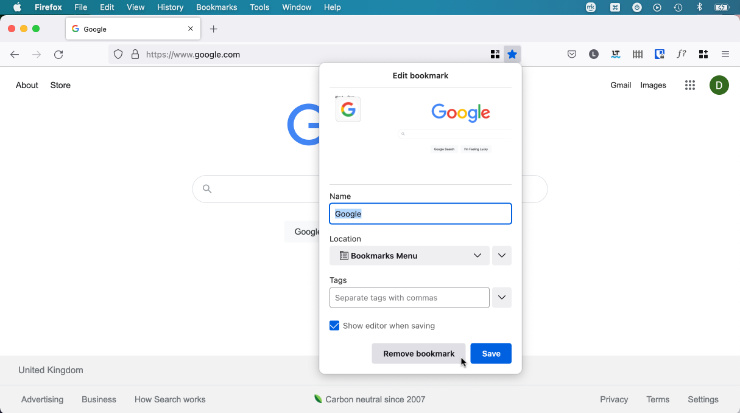 There are a couple of easy ways to delete a bookmark in Mozilla Firefox. The easiest option is to load the page you want to remove, then click the Star button that appears in the address bar and choose Remove Bookmark from the popup window.
The second way to delete Firefox bookmarks on Mac starts with opening the Menu, by clicking the three horizontal lines. Now click Bookmarks, find the relevant bookmark in the list, Control-click the bookmark and click Delete Bookmark from the action menu.
Keep your bookmarks organized with the bookmark manager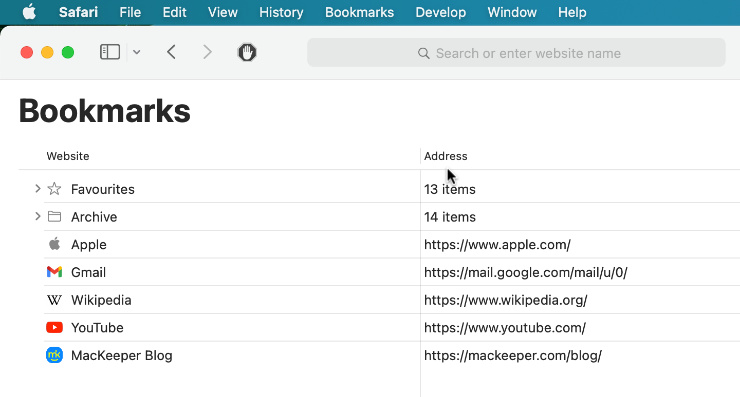 If you want to organize your Mac's bookmarks, deleting any you don't need is only half the battle. You should also spend some time using the bookmark manager in your browser to group related bookmarks into various folders and categories.
From any browser on your Mac – Safari, Chrome, or Firefox – just select Bookmarks from the menu bar, then choose Edit Bookmarks, Bookmark Organizer, or Manage Bookmarks to open a window showing all your bookmarks.
From here you can drag and drop to rearrange your bookmarks and use the various controls to create different folders and groups for them.
FAQ
How do you delete multiple bookmarks at once on Mac?
If you have lots of bookmarks to delete, you can save yourself some time by deleting multiple bookmarks at once. You'll need to open the bookmark manager in your preferred browser to do this.
After opening your bookmark manager, hold Shift and click on two bookmarks to select everything between them or hold Command and click to select multiple non-consecutive bookmarks. After making your selection, just hit the Delete key to delete them.
How do you recover deleted bookmarks on Mac?
Deleting bookmarks is permanent on a Mac. What's more, if you sync your browser settings to other devices, deleting a bookmark on your Mac will also remove it from all your synced devices as well.
That said, if is usually possible to recover a deleted bookmark if you press Command + Z to undo the action immediately after deleting it.
If it's already too late for that, you'll need to load the relevant webpage and create the bookmark again from scratch.
How do you delete Favorites in Safari on Mac?
The Favorites bar in Safari is really just another set of bookmarks. To edit sites in the Favorites bar, just open the bookmark manager in Safari and move bookmarks into or out of the Favorites folder.
Read more: