Think of some of your most loved Mac apps. Imagine what it would be like to not be able to download and use them. That would be your reality if it were not for DMG files.
These are files used by software developers to distribute their apps to Macs outside of the App Store. They're technically known as Apple Disk Image files and sometimes referred to as Mac OS X Disk Image files.
As with any other file type, DMG files should be deleted when they're no longer needed. Why keep excessive and unnecessary files on your Mac when you've successfully installed your apps?
Deleting files from your Mac is easy—anyone can do it. However, doing this yourself can leave behind junk files that can hide on your Mac. That's why it's best to use an app uninstaller to get the job done.

MacKeeper's Smart Uninstaller not only uninstalls apps, but it also finds and removes hidden files from the nooks and crannies of your Mac.

Download MacKeeper and open the app on your Mac
Select Smart Uninstaller on the left of the screen
Click on Start Scan > Remove Selected
Continue reading to learn more about DMG files and how to delete them.
In this article you will find the following:
What are .dmg files on Mac?
As previously mentioned, DMG files allow software developers to distribute their apps to Mac outside the App Store. They're typically files for apps you download from the internet.
DMG files are like digital versions of a USB or hard drive in that, when you open them, they mount a virtual drive onto your desktop, so the apps can be installed.
You can identify DMG files by the letters ".dmg" at the end of the file name. For example, "Slack-4.14.0-macOS.dmg".
Is it safe to delete .dmg files?
It is, no doubt, safe to delete .dmg files from your Mac, and it's easy, too. In fact, it's no different from deleting any other file type from your Mac.
How to remove .dmg files from a Mac
.dmg files can be removed in just a few clicks. Let's look at how to remove them to free up some space on your Mac.
Removing .dmg files on Mac in Finder
Open Finder on your Mac and search for the DMG file in question
Double-click on the file and select Move To Trash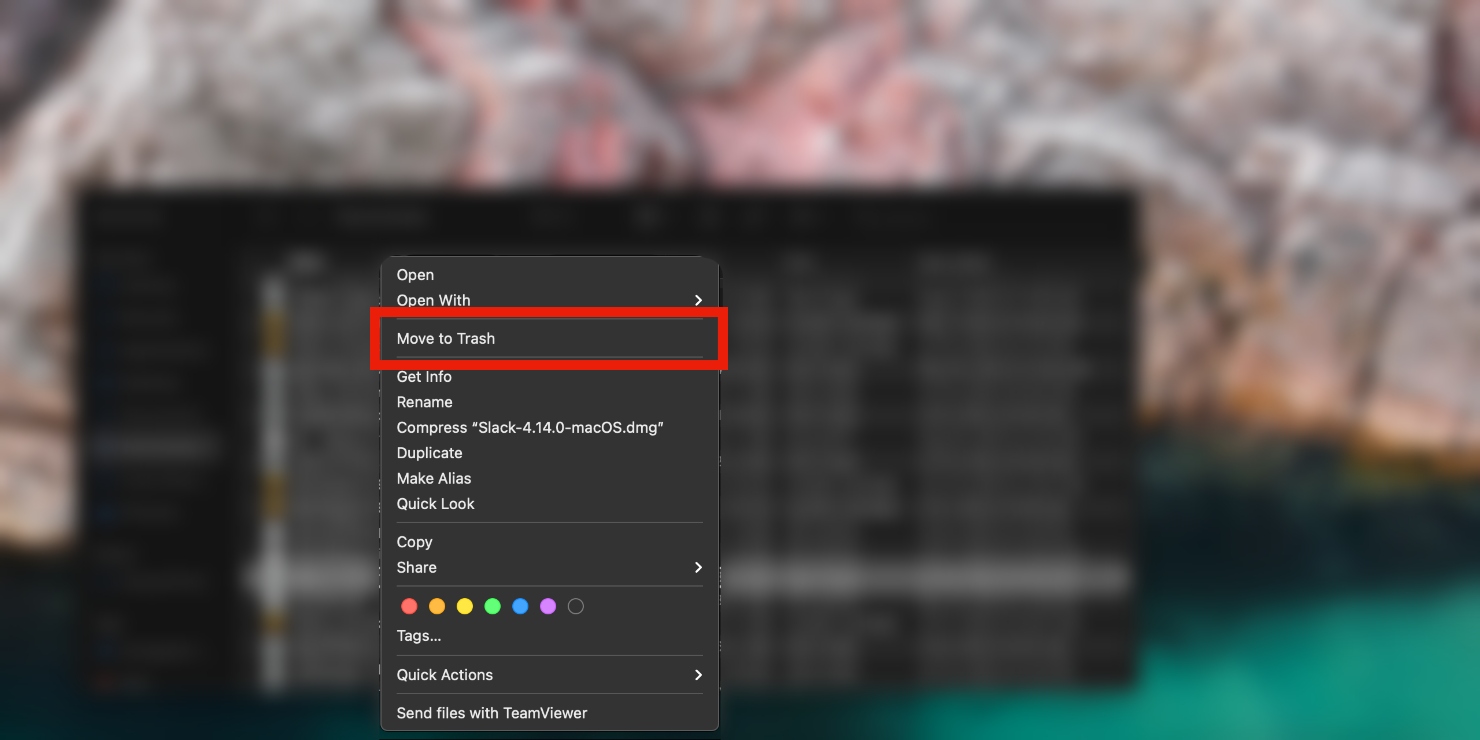 Consider emptying your Trash afterward to free up space.
Removing .dmg files on Mac using MacKeeper
While deleting .dmg files on Mac yourself works just fine, using a software tool designed to do that, like an uninstaller app, works better by far.
Uninstaller apps are a dime a dozen. However, they aren't created equal. MacKeeper is a safe, effective solution for removing unwanted apps from your Mac. Best of all, it offers a one-time use of every feature for free, so you can test-drive it before committing.
So, what does MacKeeper's Smart Uninstaller tool do?
Deletes unused apps
Gets rid of their crumbs (junk files) by searching in areas you wouldn't know to look to unearth them
Frees up space on your Mac
Improves your Mac's performance
All you need to do is click away and let it do what it does best.
Open the MacKeeper app on your Mac
Select Smart Uninstaller on the left of the screen
Click on Start Scan > Remove Selected
This is the most effective way to delete apps and all their hidden files on Mac in one go, saving you time and avoiding mistakes.
Remove unnecessary .dmg files on Mac
We're all guilty of keeping files we don't need on our devices longer than necessary—be it on our mobile phones or computers. Apps like .dmg files can clog up your Mac, making it run slower, which can be annoying.
Now that you know how to delete them quickly and easily, you can be more proactive about it, thereby keeping your Mac as light as possible.