Are you facing a "Your startup disk is full" situation? But you have no more movies or photos that you feel you can send to the trash? Don't despair! You can free up valuable disk space by cleaning the 'Other' storage on your Mac. Read our article to learn how to delete all the useless files occupying your precious storage.
Let's take a look at the Mac 'Other' section and optimize your storage.

Before we start

Managing your Mac's disk space usage can be really challenging if you decide to keep track of everything manually.


An alternative way to look after it is with an automatic tool, dedicated to removing unneeded files quickly. That's where MacKeeper's Safe Cleanup can come in:

Download and install MacKeeper
Go to the Safe Cleanup tool
Hit Start Scan
Click Clean Junk Files once the scan is complete.

Did you know?

You can enjoy a one-time cleanup for free, so you can take MacKeeper for a test drive without activating the full version.
What is 'Other' on Mac storage?
In a nutshell, the 'Other' storage on a Mac consists of different types of files that don't fall into any particular storage category (like videos, photos, music, apps, or mail). The 'Other' category also includes junk files and personal files.
To clarify, it might contain the following file types: .pdf, .psd, .doc, browser caches, voice files, message media files stored locally, system caches, archive files like .zip and .dmg disk images, fonts, extensions, app plugins, and other files that don't belong to the categories above.
These 'Other' files can occupy a lot of disk space—by cleaning out the 'Other' section on our Mac we were able to recover a whopping 26GB of storage!
How to check what's taking up 'Other' storage on Mac
To discover what's taking up space on your hard drive (including in the 'Other' category):
Open the Apple menu
Choose About This Mac
Click Storage.

Here you'll see an overview of all the available storage on your hard drive, along with the space taken up by various file types. You'll see a bar divided into several different colored sections, each representing different storage categories. You may need to wait for the system to calculate these sections first.
You'll see how much space is being taken up by apps, photos, videos, system files, etc. Our team can share that a major part of the used space is taken up by the 'Other' section—often between 10 and 40 percent of your used disk space.
To get more detailed information on what's taking up your storage, you can use the advanced macOS tools:
In the Storage tab click the Manage button
Use the left-hand panel to access any category. First, you'll see the Recommendations window.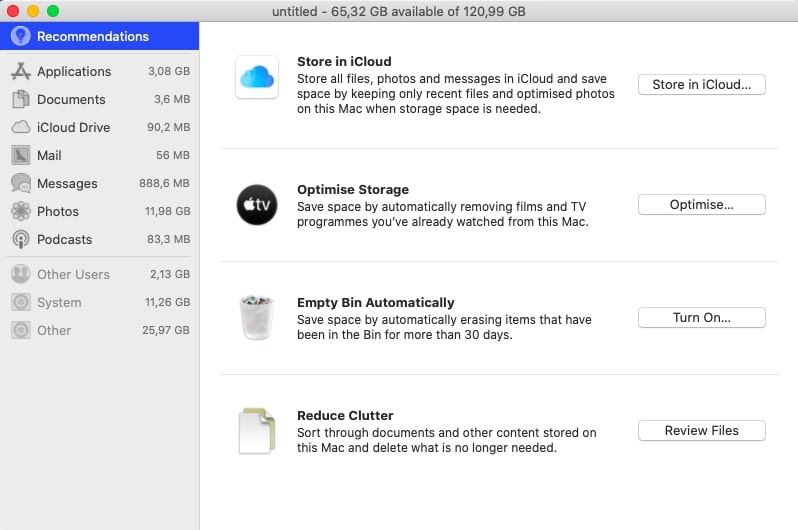 Have a click around to see how you can optimize your storage. It's an excellent idea to manage your Trash preferences from here. Turning on the Empty Bin Automatically option is a great example of how to free up storage regularly.
How to delete 'Other' storage on Mac
Before we take a closer look at the basics of storage management you need to note one crucial thing: starting with macOS Sierra, macOS categorizes files differently to previous versions. So, if you're running the latest macOS Monterey it'll take a lot less effort from you to clean files in 'Other'.
Note from our experts

You can't delete all files from the 'Other' category.
To clean the 'Other' category, use this method:
Click anywhere on your Desktop
Press Command + F
Select the This Mac tab
Open the first dropdown menu
Choose Other
Look for and tick File Size and File Extension
Click OK
Next, look for PDFs, Pages, DMG, or CSV files by typing their extensions in the search bar
Delete anything you don't need.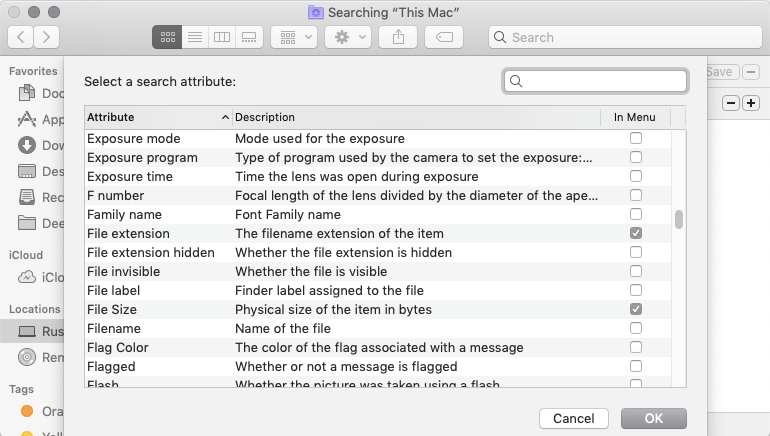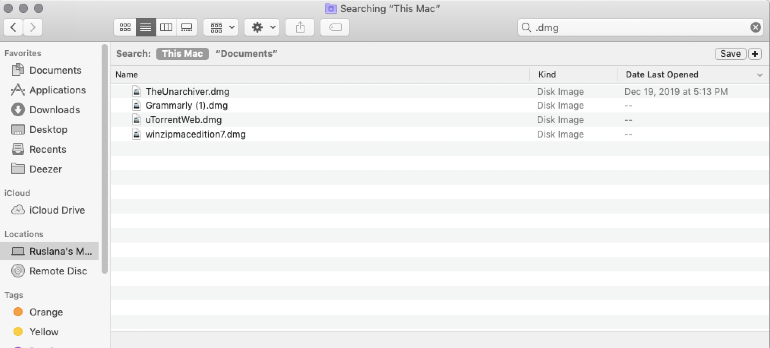 Clear temporary files located in 'Other' storage
What are temporary files? Well, macOS simply can't work without them. The macOS system creates temporary files at the launch of any app to perform various vital processes. However, after the operating system produces these files, they become outdated really quickly. These files aren't deleted automatically—instead, they're moved to the 'Other' category.
We recommend you clean temporary files from the 'Other' section regularly to optimize storage and avoid having to deal with a sluggish Mac. Use one of the following two methods to delete your 'Other' contents and, after it, take the instructions on removing old Time Machine backups as a bonus.
1. How to find and get rid of temporary files in 'Other' on Mac
Open Finder and select Go > Go to Folder from the menu bar
Type in ~/Library
Look for Application Support.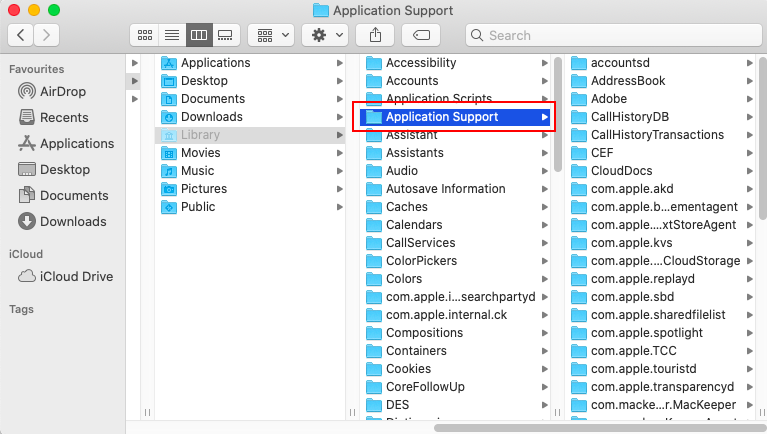 Application Support is a system folder that contains temporary files. The MobileSync folder, for instance, contains old device backups. Review the details of this folder and delete temporary files that you're sure you don't need anymore.
2. How to find and clear cache in 'Other' on Mac
Different types of cache files can waste disk space. Here's how to delete cache files from the 'Other' category manually:
Open Finder and select Go > Go to Folder from the menu bar
Type ~/Library
Find a Caches folder and copy its contents to the desktop for a backup
Move the original Caches folder to Trash
Empty your Trash bin.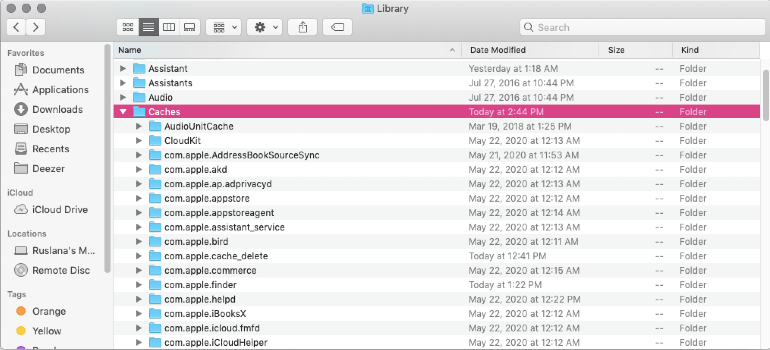 3. How to delete old Time Machine backups
To delete old backups via Time Machine, do the following:
Connect your backup drive to your Mac
Click on the Time Machine icon in the Menu Bar and choose Enter Time Machine
Note: if you don't have the Time Machine pinned to the menu bar: go to System Preferences > Time Machine > tick the Show Time Machine in the menu bar box
Look through your backups and choose the one to delete
Click on the Gear icon in the Finder window
Choose Delete Backup
Confirm the action and enter your admin password.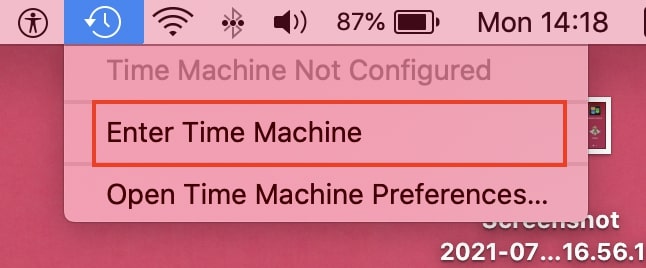 How to delete downloaded files
The Downloads folder can easily get cluttered with large files. In particular, the numerous DMG files that are left after an app is installed can, over time, take up a huge amount of available storage space.
Let's review first method to remove unneeded downloads:
Open Finder and go to Downloads
Look through the files
Control-click on the documents you don't need
Choose Move to Bin.
Or use the macOS storage management tool:
Click the Apple logo and go to About This Mac
Go to Storage then click the Manage button
Navigate to the Documents section and choose Downloads
Mark the files you don't need and hit the Delete button.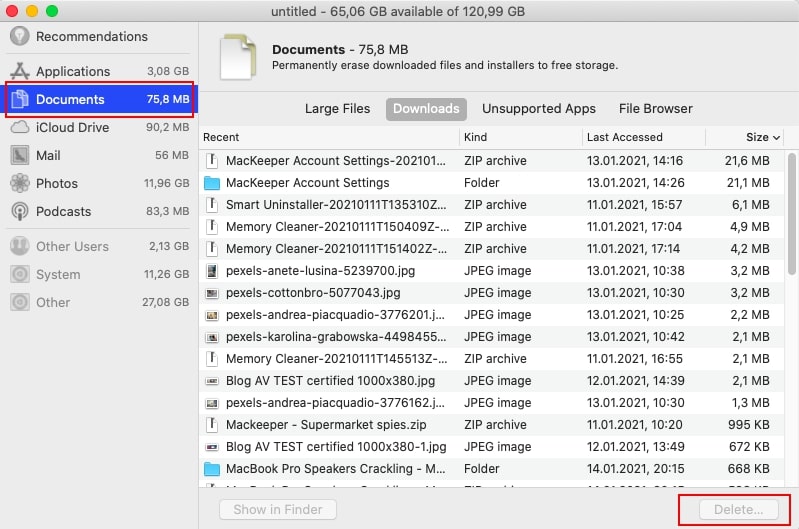 How to get rid of disk images and archives in 'Other' on Mac
Disk image file types are stored in 'Other' as well. These files don't belong to the system files. They're downloaded exclusively by users. That's why you need to clear 'Othe' disk images (DMG files) and archives (ZIP files) manually. To locate these 'Other' file types:
In the Finder window type .zip or ∫ in the search bar
Choose Search This Mac
You can also sort the documents by size to quickly find and delete the largest ones.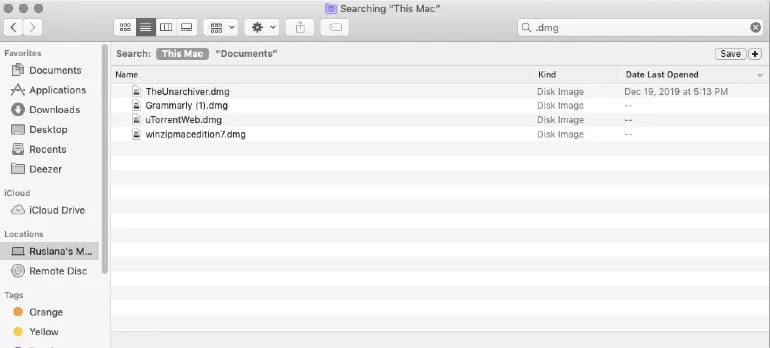 Delete files in 'Other' automatically
You can also scan and delete browser extensions by using the Smart Uninstaller tool. Instead of searching through all your web browsers, our experts suggest you to do it all from one tab. As an added bonus, you can also review the details of each one of them on the list.
To automatically delete browser extensions using Smart Uninstaller:
Navigate to Smart Uninstaller
Hit Start Scan
Wait for the scan results
Go to Browser Extensions
Tick the extensions you want to remove
Click Remove Selected.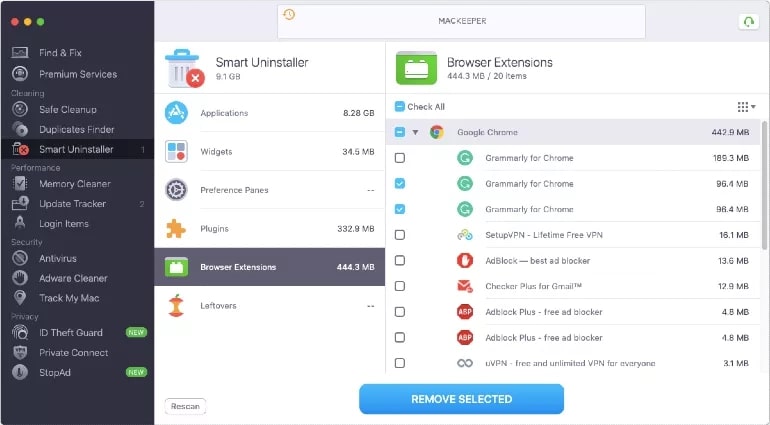 Remove app plugins and app extensions from 'Other' storage on Mac
App plugins and extensions can be categorized as 'Other' as well. To delete unnecessary extensions, you need to delete them from your web browser. It would be best to do this in each browser you use, although that is rather time-consuming.
Open your browser
Find the extension, plugin, or tab panel, or open Tools
Choose the add-ons that you don't use anymore and remove them.
Delete iTunes device backups
Device backups are files that also fall under the 'Other' category. If you've recently changed to a new iOS device, you might try removing iTunes device backups of your old iPhone or iPad. You'll be surprised how much storage space can be taken up by such files.
Get rid of everything else from 'Other' on Mac
In addition to all the previous steps, you can also remove screensavers from the 'Other' section. They don't usually take up that much space, but every bit helps.
To delete screensavers:
Open Finder and select Go > Go to Folder
Type in ~/Library/Screen Savers
Hit Go
Select any screensavers you don't want and move them to the Trash.
Hopefully, you've now learned a whole lot more about how to get back extra storage on your Mac. Although you can clean all of these files manually, it's often fiddly and time-consuming. Cleaning software can automate the process, and the best cleaners for Mac can do it in just a few clicks. Getting one can save you a significant amount of time and protect you from removing items that you still need on your hard drive, like system files.
Read more guides: