5 Easy Ways to Free Your Mac of Junk Files
Every now and then, it's a good idea to clear your Mac of junk files. Doing so can free up precious disk space, giving you more room for the files you want and potentially speeding up your Mac in the process. There are several different types of junk file you can remove and a few different ways to do it.
Ways to clear your Mac of junk files include:
Why do you need to clean junk files from your Mac?
The more you use your Mac, the more files it accumulates. That's fine if you need those files or if they're easy to find and remove. But that's not always the case. Over time, your Mac will also fill up with data it doesn't need, hidden in obscure places on your system drive. On top of that, Macs and macOS apps often come bundled with unnecessary language files, which waste disk space.
Cleaning up system cache on your Mac
The idea of system caches is simple: macOS apps will store certain temporary information on your Mac, so it doesn't need to be created again the next time that app runs. The idea is to speed up loading times, but if caches grow too much, they can be counter-productive. They take up space and can actually slow your Mac down instead of speeding it up. That's why it makes sense to clear these unnecessary files from your Mac occasionally.
How to clear system cache on a Mac:

1. Click on your Mac desktop or a Finder window

2. In the menu bar at the top, click Go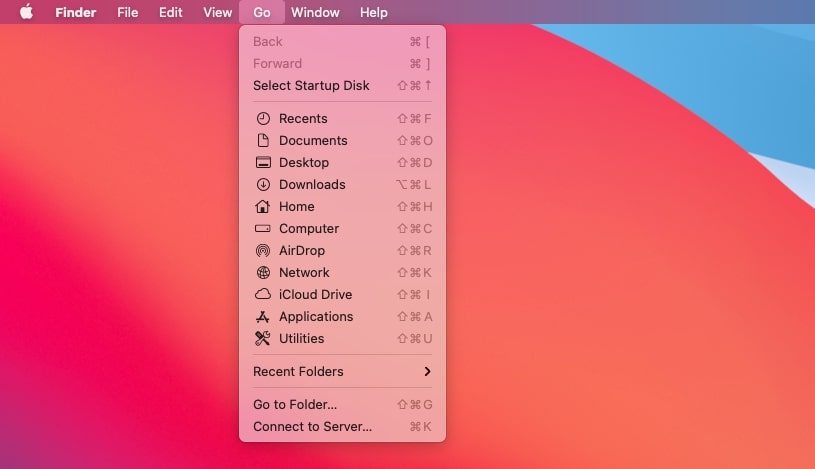 3. Hold down Option. Select the Library folder when it appears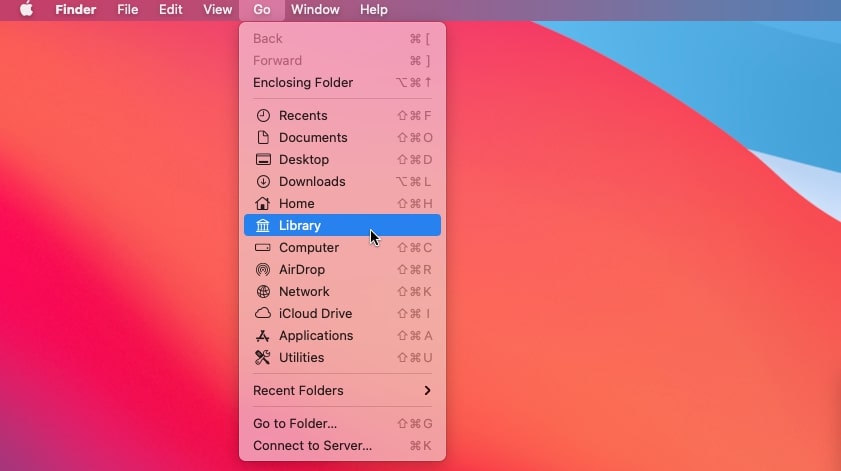 4. Navigate to the Library > Caches folder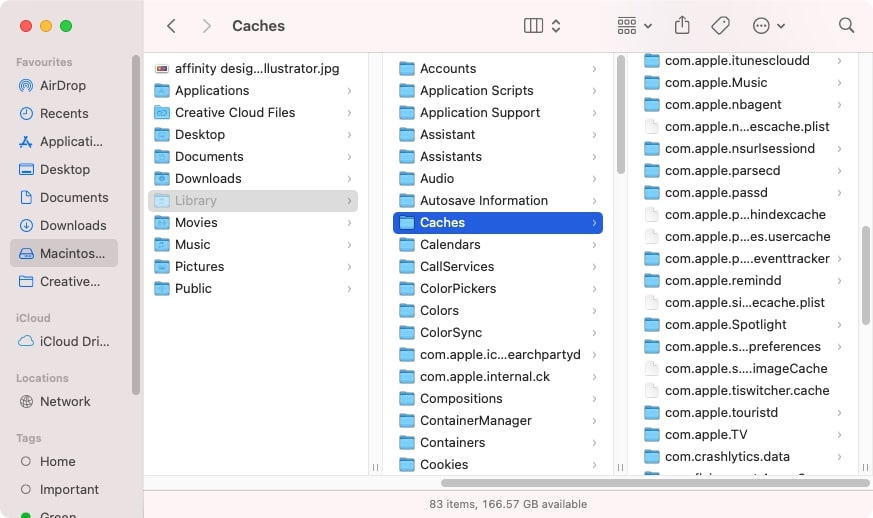 5. Delete some or all of the files and folders in the Caches folder
Check out our full guide to clearing Mac caches, which covers this and browser caches in more detail.
Removing leftovers from uninstalled macOS apps
Although some macOS apps have uninstallers, most don't. To uninstall them, you have to go into the Applications folder and drag their icons to the Trash. The problem with that is some apps leave behind files in other folders on your Mac. If you don't intend to install those apps again, you should delete these unnecessary files from your Mac.
How to find and delete app leftovers on a Mac:

1. In Finder, click Go from the menu bar

2. Hold down Option to make the Library folder appear. Click Library

3. In the search bar in Finder, type the name of an app you've deleted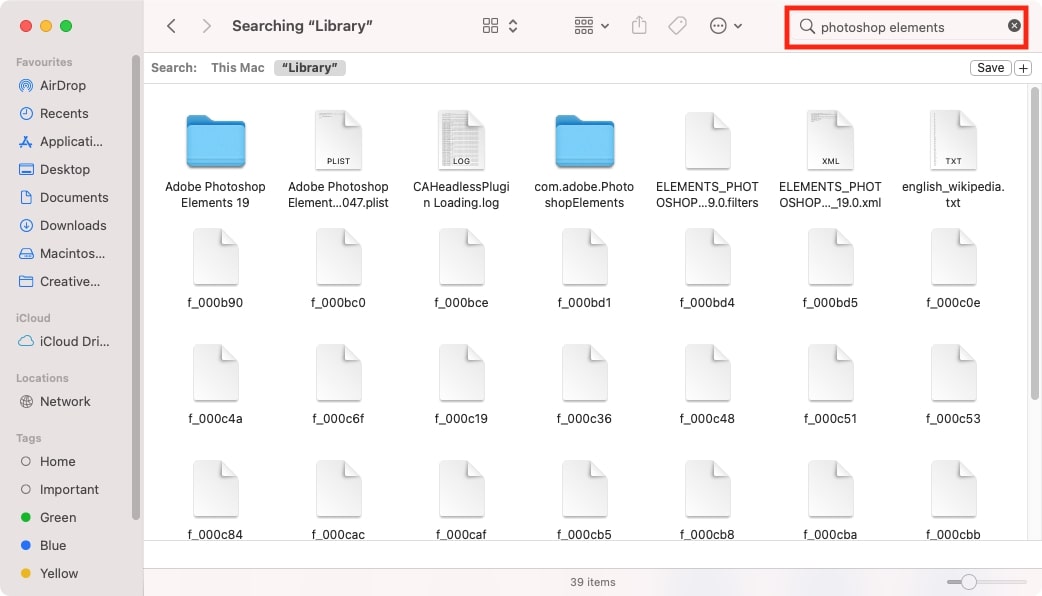 4. Make sure you've restricted your search to the Library folder
5. Delete any files that come up in the search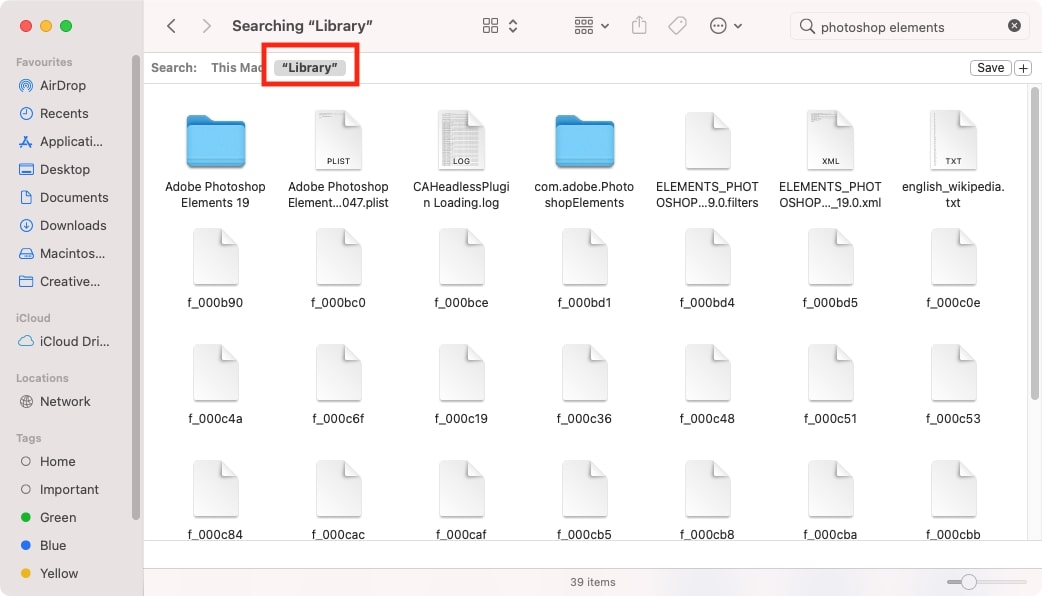 Learn more about deleting macOS app leftovers in our dedicated guide.
Deleting log files on your Mac
Log files are pretty much what they sound like: a record of things that have happened on your Mac. As with system caches, they serve a purpose, but they can also accumulate and waste disk space. In such cases, they can be considered as junk files and removed from your Mac.
How to delete log files on a Mac:

1. From Finder, click Go in the menu bar

2. Click Go to Folder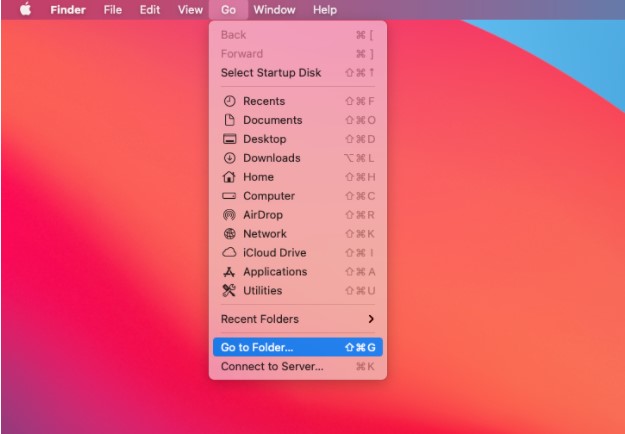 3. Enter ~/Library/Logs, and click Go. This will take you to the Logs folder

4. Delete some or all of the files in this folder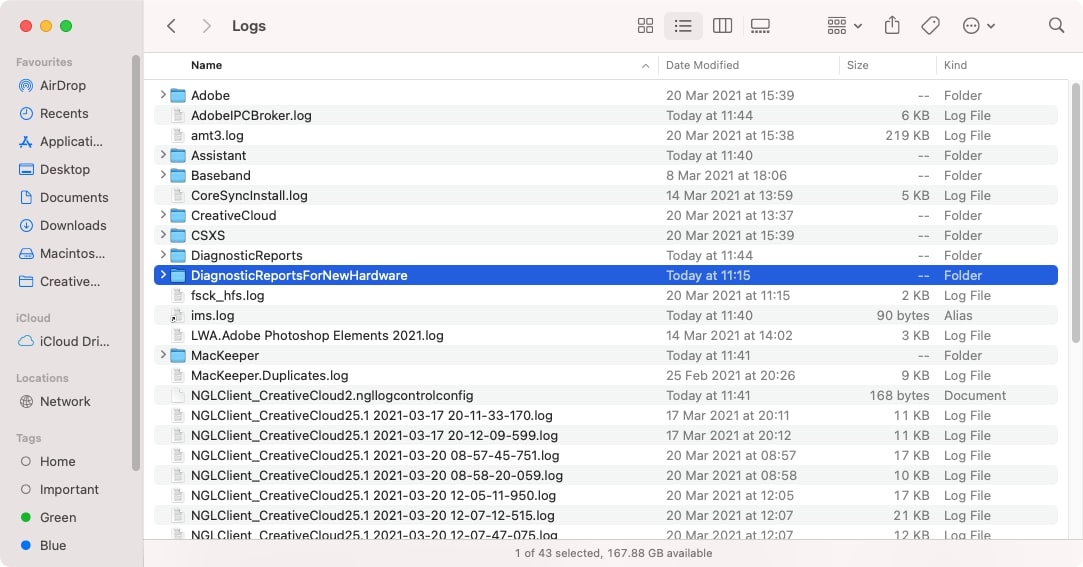 Removing junk Xcode files from your Mac
Xcode is Apple's programming tool, used to develop software for macOS, iOS and other Apple products. If you use it, you might benefit from occasionally cleaning out the caches and other data it creates. But be careful when deleting developer files from your Mac, as you risk losing files you need.
Where to find junk files from Xcode on a Mac:
~/Library/Developer/Xcode/DerivedData
~/Library/Logs/CoreSimulator
~/Library/Developer/Xcode/iOS DeviceSupport
~/Library/Caches/com.apple.dt.XCode
You might also want to delete archived files in ~/Library/Developer/Xcode/Archives. Take a look and remove anything you don't need. Of course, if you don't use Xcode but you have it installed on your Mac anyway, you may want to uninstall it.
It's worth bearing in mind, too, that MacKeeper's Safe Cleanup feature can help you remove junk files from your Mac without running into problems later.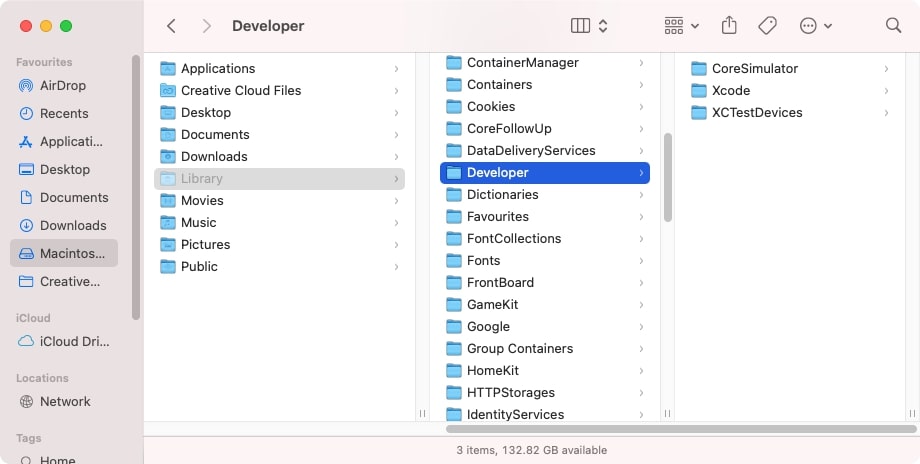 Deleting unused language files
Practically every app you have installed on your Mac will support multiple languages. If you're like most people, you probably only speak one or two of them. And because each app installs its own language files, there are potentially gigabytes of unneeded language files on your Mac, which you can safely delete.
You can delete junk language files from your Mac manually, but you have to do it for each individual app. If you have a lot of apps installed, that's going to take a long time. Thankfully, MacKeeper can automate the process of deleting these unwanted files from your Mac.
How to delete unnecessary language files from a Mac:

1. Download and install MacKeeper

2. In the sidebar, select Safe Cleanup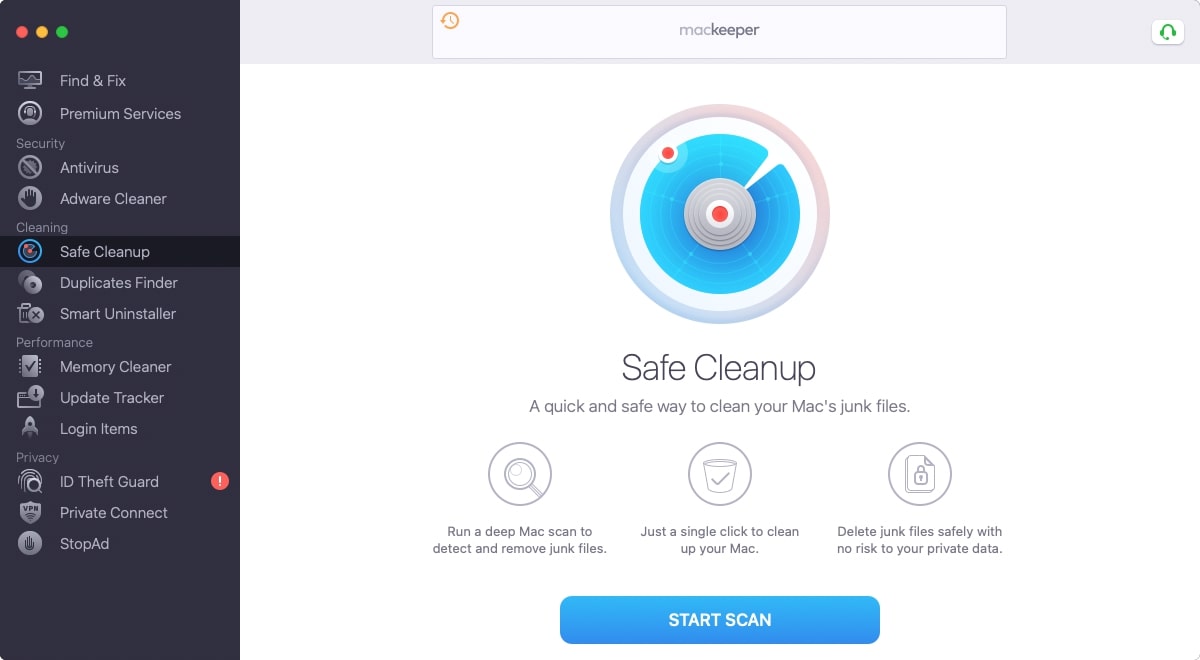 3. Click Start Scan

4. When the scan is finished, click Languages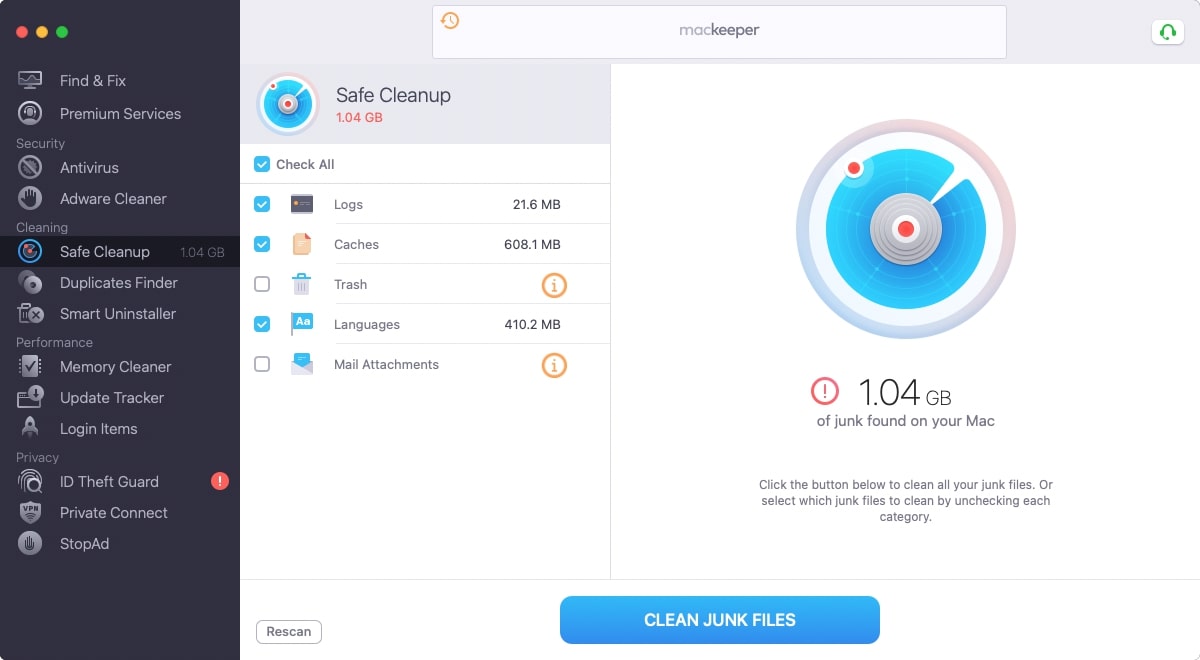 5. Select all the languages you want to delete, and click Clean junk files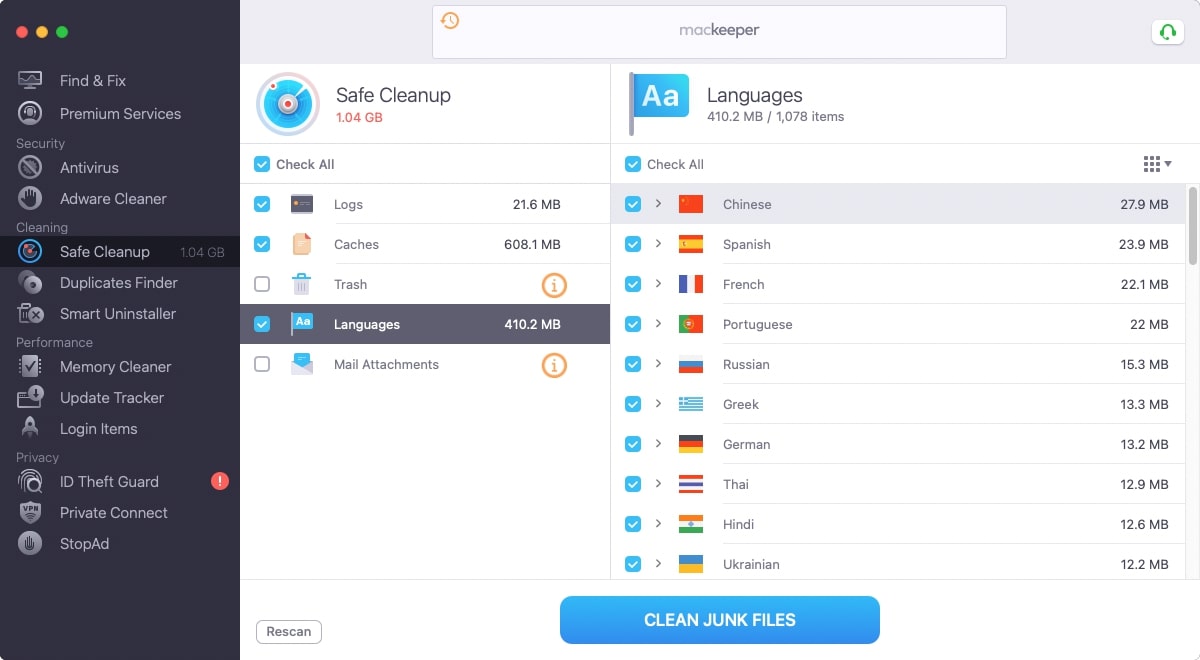 Cleaning Mac junk files with MacKeeper
Although we've only looked at using MacKeeper to clean out junk language files from your Mac, it does much more than that. In fact, it clears out every type of junk file we've looked at in this article, as well as things like duplicate files and old mail attachments. And, best of all, it automates the process, so you don't have to go trawling through loads of different folders looking for junk files to remove from your computer.
So if you want to clear the junk from your Mac as easily as possible, give it a try. Not only will it do the job in record time, it offers antivirus, privacy protection, memory cleaning, and much, much more.
Read more guides: